Edward Wormley Dining Room Chairs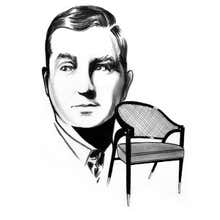 American, 1907-1995
As the longtime director of design for the Dunbar furniture company, Edward Wormley was, along with such peers as George Nelson at Herman Miller Inc., and Florence Knoll of Knoll Inc., one of the leading forces in bringing modern design into American homes in the mid-20th century. Not an axiomatic modernist, Wormley deeply appreciated traditional design, and consequently his work has an understated warmth and a timeless quality that sets it apart from other furnishings of the era.
Wormley was born in rural Illinois and as a teenager took correspondence courses from the New York School of Interior Design. He later attended the Art Institute of Chicago but ran out of money for tuition before he could graduate. Marshall Field hired Wormley in 1930 to design a line of reproduction 18th-century English furniture; the following year he was hired by the Indiana-based Dunbar, where he quickly distinguished himself. It was a good match.
Dunbar was an unusual firm: it did not use automated production systems; its pieces were mostly hand-constructed. For his part, Wormley did not use metal as a major component of furniture; he liked craft elements such as caned seatbacks, tambour drawers, or the woven-wood cabinet fronts seen on his Model 5666 sideboard of 1956. He designed two lines for Dunbar each year — one traditional, one modern — until 1944, by which time the contemporary pieces had become the clear best sellers.
Many of Wormley's signature pieces — chairs, sofas, tables and more — are modern interpretations of traditional forms. His 1946 Riemerschmid Chair — an example is in the collection of the Museum of Modern Art — recapitulates a late 19th-century German design. The long, slender finials of his Model 5580 dining chairs are based on those of Louis XVI chairs; his Listen-to-Me Chaise (1948) has a gentle Rococo curve; the "Precedent" line that Wormley designed for Drexel Furniture in 1947 is a simplified, pared-down take on muscular Georgian furniture. But he could invent new forms, as his Magazine table of 1953, with its bent wood pockets, and his tiered Magazine Tree (1947), both show. And Wormley kept his eye on design currents, creating a series of tables with tops that incorporate tiles and roundels by the great modern ceramicists Otto and Gertrud Natzler.
As the vintage items on 1stDibs demonstrate, Edward Wormley conceived of a subdued sort of modernism, designing furniture that fits into any decorating scheme and does not shout for attention.
Edward Wormley dining room chairs for sale on 1stDibs
1stDibs Edward Wormley dining room chairs are available for sale. These distinctive objects are often made of
wood
and designed with extraordinary care. There are many options to choose from in our collection of Edward Wormley dining room chairs, although
brown
editions of this piece are particularly popular. There are currently 68 vintage editions of these items in stock, while there is also 0 modern edition to choose from. Many of the original Edward Wormley dining chairs were created in
North America
during the
20th century
in the
Mid-Century Modern
style. Many customers also consider dining chairs by
Dunbar
,
Charles Eames
and
Paul McCobb
if you're looking for additional options. The prices for Edward Wormley dining room chairs can vary depending on size, time period and other attributes. Price for these items starts at
$1,950
and tops out at
$42,000
, while pieces like these can sell for
$8,750
on average.
Creators Similar to Edward Wormley