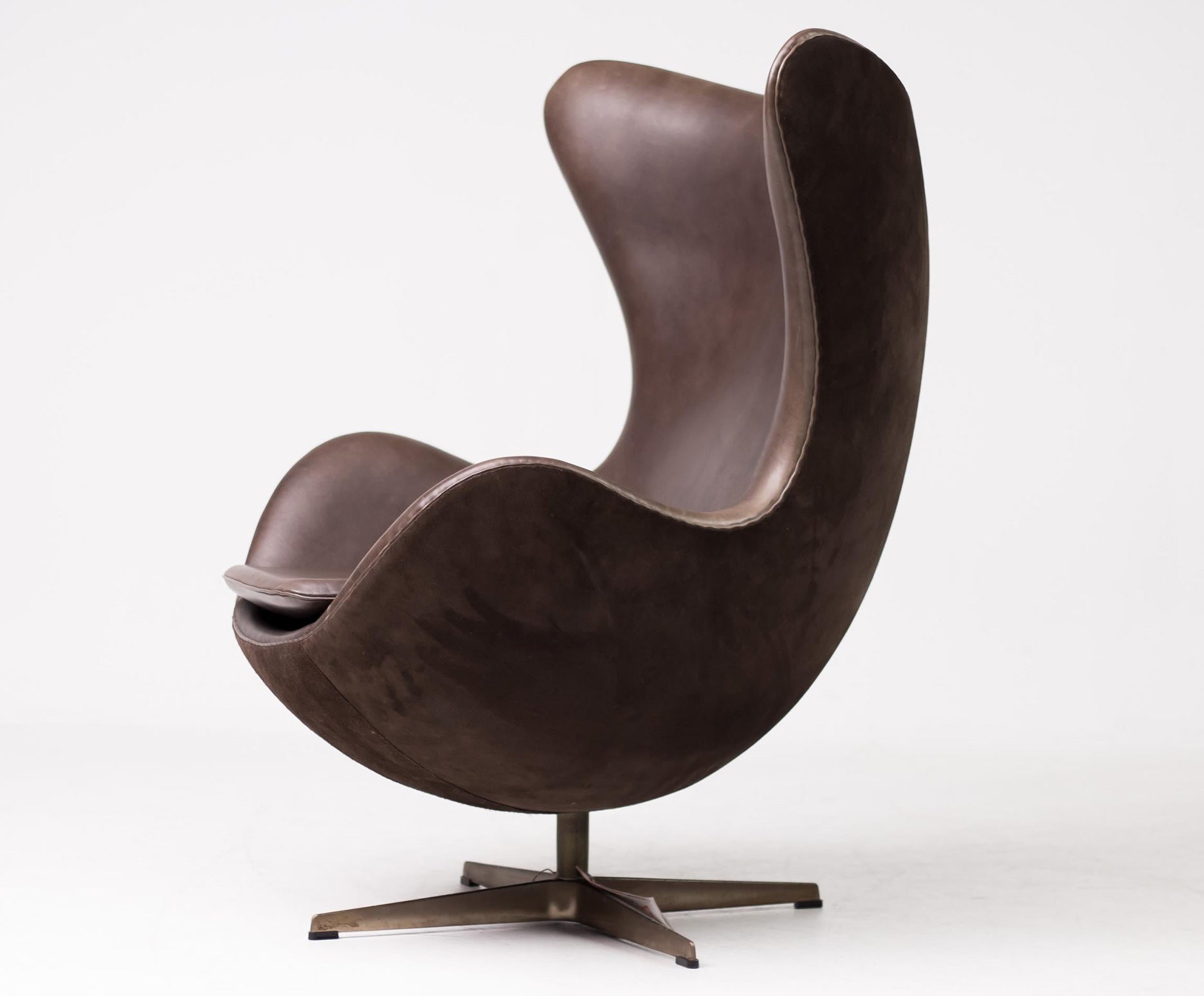 About the Design
Designed in 1958 for the SAS Royal Hotel in Copenhagen, the Egg chair is a Scandinavian classic that has over the years become a fixture of corporate offices. It bears every mark of Arne Jacobsen's (1902–71) outsized perfectionism, for which the Danish architect was widely known. 
The Egg chair was notable for its overtly organic appearance, which Jacobsen achieved with craft-based padding and upholstery finishing. Unlike the furniture maker's previous range of shell chairs designed in laminated wood for Fritz Hansen, the Egg — and the Swan chair along with it — reflected a soulful new vision of modernity. Both created for the accomodation property, which opened in 1960, the chairs were meant to contrast with the SAS Royal Hotel's straight lines as well as showcase Jacobsen's eye for interiors. 
A graduate from the Royal Danish Academy of Fine Arts, Jacobsen was a polymath who made just about everything — light fixtures, ashtrays, silverware and even door handles. For the SAS Air Terminal and Royal Hotel, he handled every detail, from textiles to furnishings. In the 1940s, the one-time mason found considerable success as an industrial designer, most notably with the Ant chair and Series 7 chairs for Fritz Hansen.
Jacobsen was influenced by modernism and designers like Ludwig Mies van der Rohe. Forward-looking projects like the "House of the Future" — codesigned with Flemming Lassen in 1929 and featuring a then-revolutionary automatic garage door opener — cemented his status as an innovator. Throughout his career, Jacobsen earned many awards, including the prestigious RIBA Bronze Medal in 1963.
With the Egg chair, Jacobsen continued his ongoing experimentation with synthetic materials. First, he devised small-scale clay models in his garage. The prototypes' finished shells were made of fiberglass-reinforced polyurethane foam, padded with cast latex foam rubber and then, upholstered with leather — or, in the cost-conscious hotel's case, fabric. Today, the Egg chair is supported by welded steel tubing and is mounted on a lightweight aluminum base. It is available from Fritz Hansen.
More Arne Jacobsen Designs