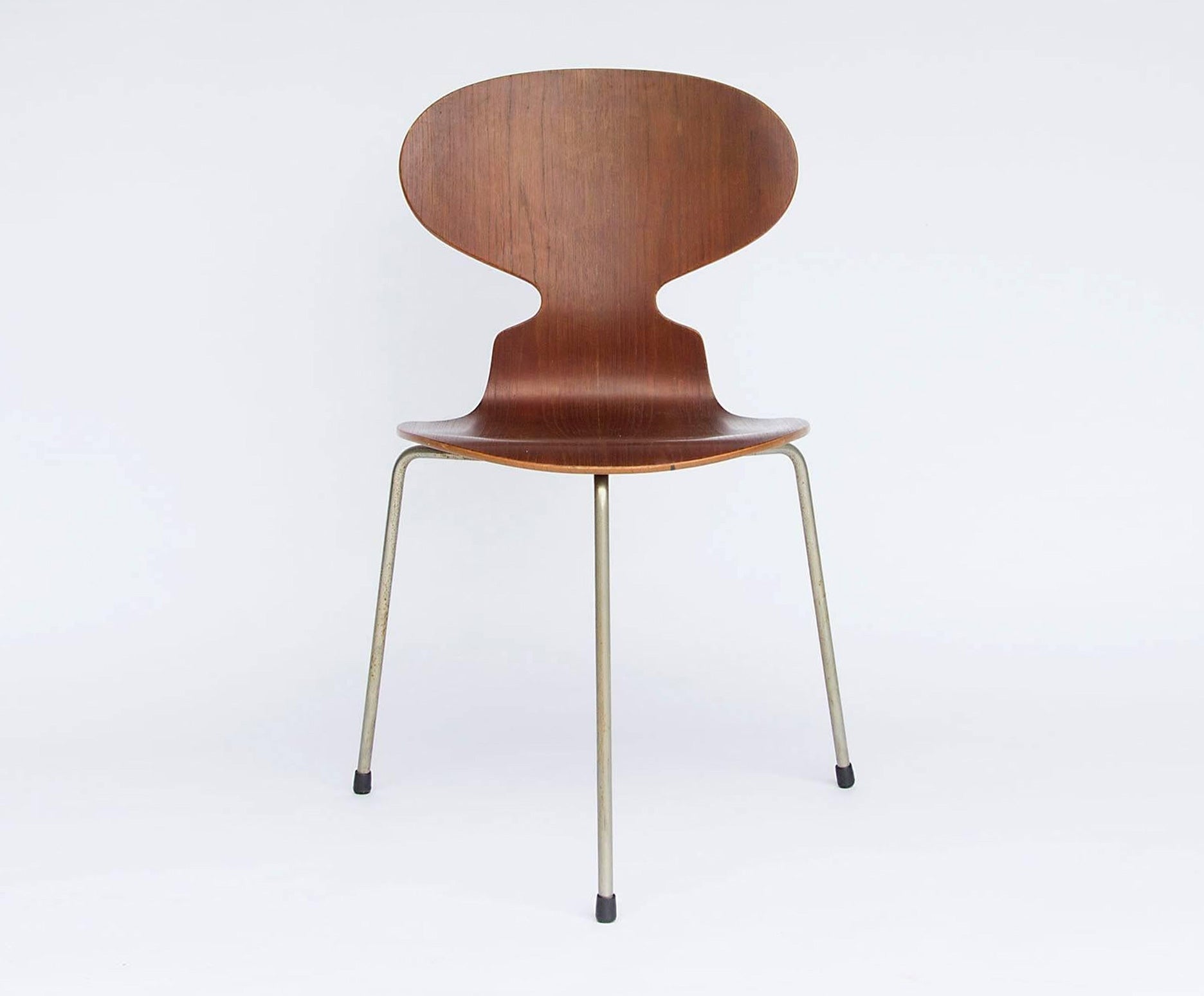 About the Design
For almost anybody else in the early 1950s, designing a three-legged chair inspired by the shape of an ant with its head raised would be unthinkable. But Arne Jacobsen (1902–71), the modernist Danish designer and architect, was always ahead of his time. His Ant chair is part of his legacy of designing avant-garde, unusual and revolutionary chairs like the Egg, the Swan and the Drop.
As a child, Jacobsen covered the Victorian wallpaper in his bedroom with white paint, the beginning of a lifetime of pioneering new ideas in design and architecture. Soon after graduating from the School of Architecture at the Royal Danish Academy of Fine Arts, Jacobsen set up his own practice, through which he could further his ideal of "total design." This meant that for the architecture projects he undertook — such as the revered SAS Royal Hotel in Copenhagen — he was involved in the design of everything down to the last detail: from the exterior structure to the door handles to the carpets.
Over time, this attention to detail evolved into a pursuit of perfect proportions, a quality that is most prominent in his organic furniture pieces like the Ant chair. Originally called the Model 3100 and designed for the cafeteria of Danish pharmaceutical company Novo Nordisk, the spare Ant chair (Myren in Danish) was inspired by plywood furniture crafted by American designers Charles and Ray Eames. Assisted by his then-apprentice Verner Panton, who would apply what he learned at Jacobsen's practice to his own Cone chair and more, Jacobsen applied the Eameses' groundbreaking ideas to the construction of his two-piece Ant chair — a seat and backrest made from a single piece of molded plywood supported by tubular metal legs. While the chair's silhouette was unusual for the time, so too were its three legs. But Jacobsen insisted that in order for the chair to be functional and stackable — also uncommon in the 1950s — it couldn't be any other way.
"I based my work on a need. What chairs are needed?" asked Jacobsen. In working toward his mission of creating functional furniture, Jacobsen inadvertently also created some of the most imaginative designs of the 20th century. The Ant chair is one of his most well-known designs.
Jacobsen's longtime collaborator, Fritz Hansen, introduced the three-legged Ant chair as stipulated in 1952, despite complaints about its instability, and only introduced a four-legged version after Jacobsen's death. It's still manufactured today by Fritz Hansen and is in the collection of the Museum of Modern Art in New York and elsewhere.
Previously Available Items
More Arne Jacobsen Designs