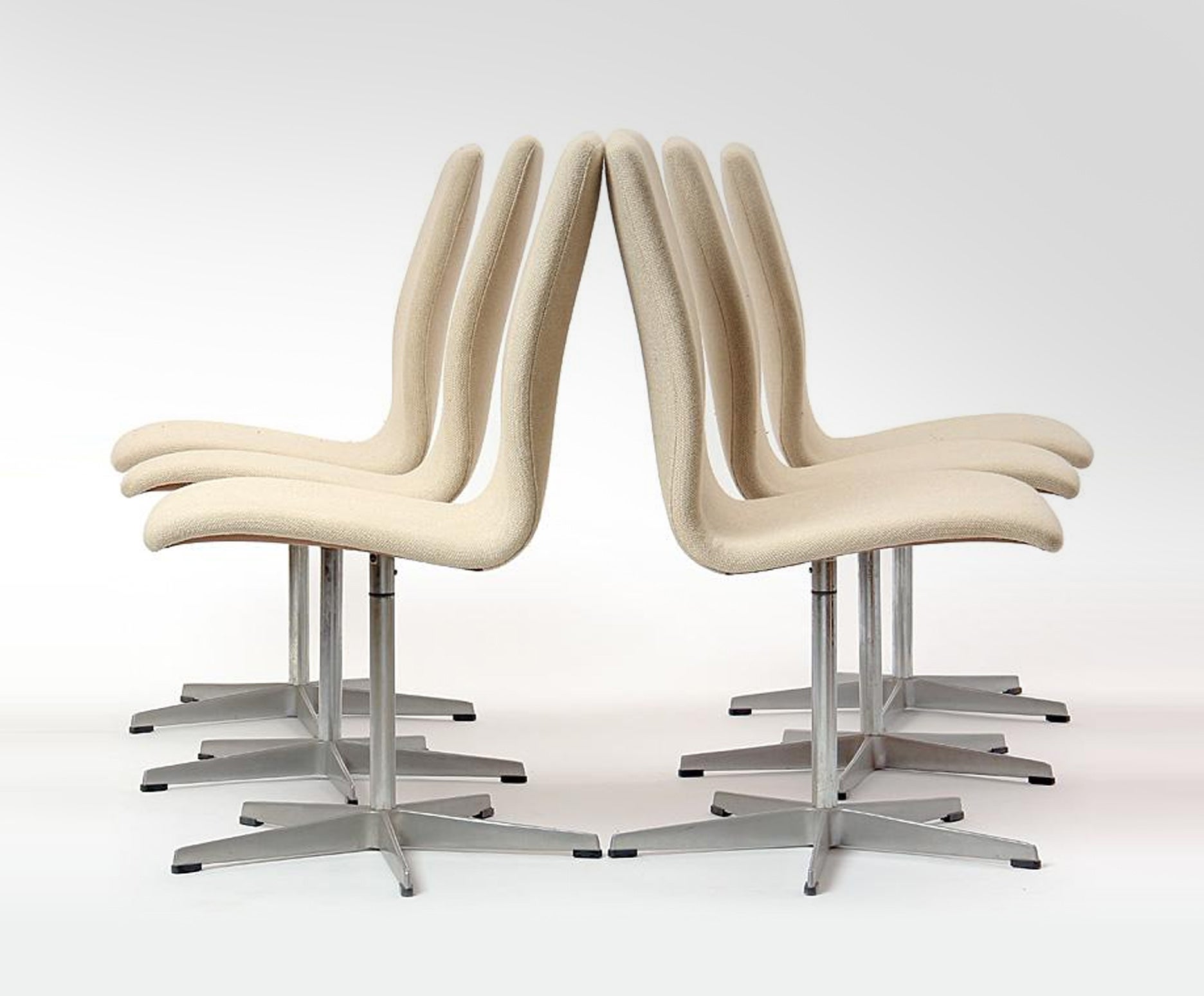 Iconic Designs
Oxford Chair
About the Design
Characterized by clean lines and an application of ergonomics, the Oxford chairs in the banquet hall at Oxford University's St. Catherine's College suggest style and prestige, and the professors who sit in them wouldn't have it any other way.
Celebrated Danish architect Arne Jacobsen (1902–71) created the graceful high-backed chair as part of his 1960 architectural commission to design the campus. Not unlike the work he had just completed at the SAS Royal Hotel in Copenhagen, Jacobsen's modernist vision for what became the esteemed institution on England's River Cherwell was all-encompassing: He created clocks, flatware and all of the furnishings for the school. In the dining hall, the students would be seated in his low, lightweight 1955 Series 7 chairs, while their teachers relaxed in the regal Oxford chairs.
Jacobsen excelled at product and furniture design, achievements that owe to his careful attention to every detail of his architectural work. A one-time bricklayer who became a leading figure in a field largely dominated by former cabinetmakers, the Copenhagen native is widely known for his sophisticated chairs. 
While he was still an architecture student in 1925 at the Royal Danish Academy of Fine Arts, Jacobsen won an award for a chair he designed at the Exposition Internationale des Arts Décoratifs et Industriels Modernes in Paris. Later, in 1952, following years of executing successful architectural projects out of his own practice, Jacobsen designed his revered Ant chair, a slim and stackable piece for the employee cafeteria of a pharmaceutical company. The Ant is a modernist marvel — its one-piece plywood seat and backrest derived from the work that American designers Charles and Ray Eames had advanced in their plywood furniture making. Jacobsen's improvements on the Ant yielded the curvy Series 7, which he utilized in his commission at St. Catherine's College.
Made of molded sliced veneer, the fully upholstered shell of the Oxford chair produced for St. Catherine's College was specifically crafted with a high back to offer privacy for professors as they dined at the banquet hall's long tables. The chair was intended to symbolize the faculty's authority over the student body. St. Catherine's was still under construction when it officially opened in 1962, as Jacobsen didn't complete the project until the following year. Fritz Hansen introduced the Oxford chair in 1965. In addition to the towering professorial original, it is now available in low- or medium-height versions, privacy and authority be damned.
Arne Jacobsen Oxford Chair
Previously Available Items
More Arne Jacobsen Designs