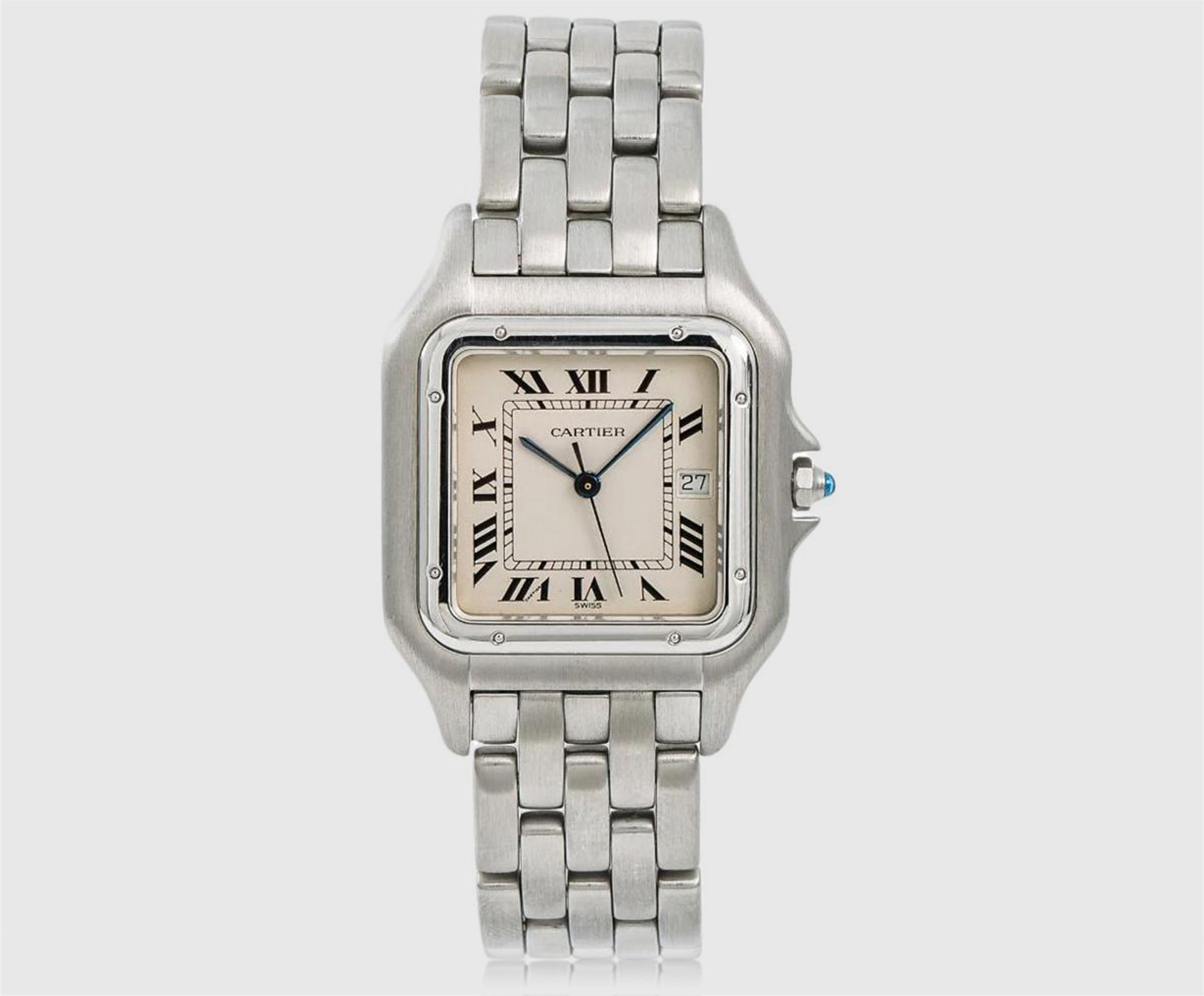 Iconic Designs
Panthère de Cartier Watch
About the Design
Even as luxury timepieces go, the Panthère de Cartier watch boasts an impressive list of admirers: Madonna sported a gold one while filming Evita in the early 1990s; Gwyneth Paltrow wore a steel model to the 1997 premiere of Boogie Nights and — despite its launch as a woman's timepiece — the Panthère also graced the wrists of Keith Richards and Pierce Brosnan in the 1980s and 1990s.
Cartier first released the watch in gold and two-tone options in 1983 and then added a steel version in 1991. Its stylistic history, however, dates back much further.
In 1904, Louis Cartier (1875–1942), the grandson of Cartier founder Louis-François Cartier, designed the legendary jewelry house's first men's wristwatch — and, indeed, the world's first pilot's timepiece — a leather-strapped model for his friend Brazilian aviator Alberto Santos-Dumont. Cartier's design was functional above all else; the wearable version was far more practical for in-flight consultation than the pocket watches of the era. In 1911, Cartier released the Santos de Cartier watch, which was modeled after Santos-Dumont's original and bears a rounded square face that is undoubtedly familiar to modern-day admirers of the Panthère.
When the Panthère watch emerged many decades later, during the 1980s — panther spots made an appearance on a women's watch in as early as 1914 — Cartier had already long been recognized as a manufacturer of haute horlogerie, which refers to the highest standard in watchmaking. In addition to the Santos, the luxury jewelry house had released the Tank, Baguette, Tortue and Maxi Oval watches. The Panthère was a seductive new addition to Cartier's stable: Its rounded square face shape and visible bezel screws, paired with Cartier's signature serifed Roman numerals, made it feel at once modern and classic.
After the timepiece was discontinued in the early 2000s, vintage Cartier Panthère watches remained considerably valuable in resale, and in 2017, it made its triumphant return. Cartier now offers dozens of versions of the timepiece, including double- and triple-wrap bracelets, a series of cuffs and a diamond-encrusted panther spot version. Although some early 2000s models have date boxes, they are absent on most vintage and all current models, which run on a standard quartz movement.
For Panthère enthusiasts, it's the most comfortable Cartier on the market, and understandably so: In addition to its curved lugs, the Panthère boasts a strap comprised of much smaller and slightly rounded links than Cartier's other models, lending it a silky, sultry, almost serpentine movement on the wrist — much like its namesake animal.