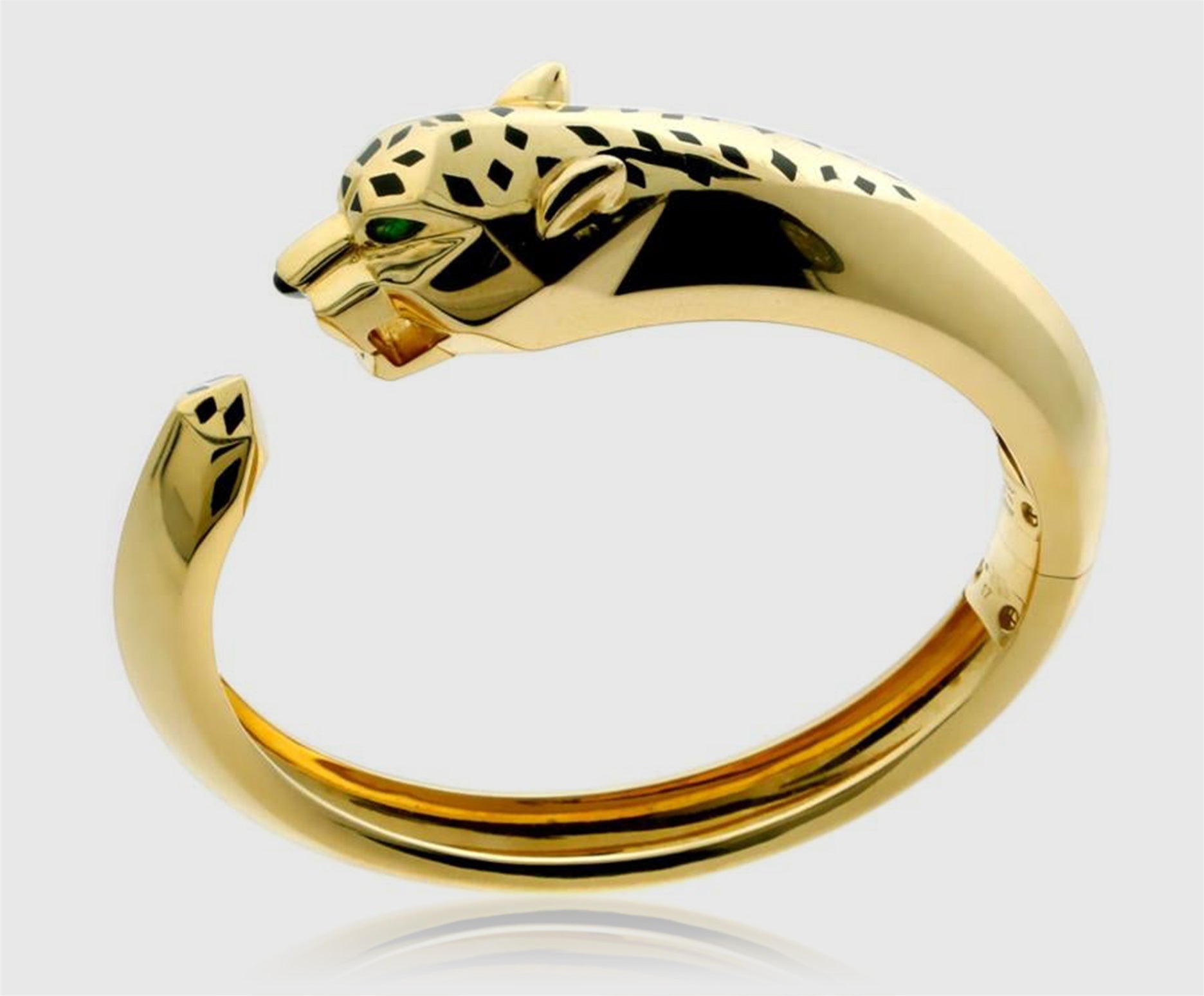 Iconic Designs
Panthère de Cartier Bracelet
About the Design
Purchased by the Duke of Windsor for his wife, the Duchess of Windsor — otherwise known as Wallis Simpson — in 1952, the original Panthère de Cartier bracelet is more like a sculpture for the wrist than a piece of jewelry. It features a diamond-and-onyx-encrusted panther with marquise-cut emerald eyes positioned as if they were fixated on prey. Craftsmen at the internationally acclaimed French jewelry house Cartier had already introduced similarly themed pieces, and the Duchess was by then an ardent admirer of the motif.
The panther motif was not a novel concept created specifically for the bracelet. It was instead a long-established icon for Cartier. While the brand was launched in 1847 by Louis-François Cartier, it was his grandson Louis Cartier who incorporated the feline figure into its design lexicon. In 1914, Cartier hired illustrator George Barbier to design advertisements for the jewelry house. Barbier drafted a drawing that featured a glamorous woman with an elegant panther at her feet and Cartier loved it. He had an additional connection to the panther in the form of his alleged romantic interest, fellow Cartier designer Jeanne Toussaint, who adored the animal so much that she decorated her apartment with furs and donned a coat of panther fur. Cartier gave her the long-lasting nickname Panthère.
While panthers appeared on Cartier vanity cases and more in as early as 1917, the icon didn't take on its best-known three-dimensional form until the late 1940s, when the Duke of Windsor purchased a brooch from the house for his wife. This piece, designed by Toussaint — the first of at least two brooches bought by the Duke in this era — featured a gold panther lying atop a cabochon emerald. The couple ordered a panther clip in 1949 — this one accompanied by a 152.35-carat Kashmir cabochon sapphire — followed by the bracelet three years later. While the bracelet is not accompanied by a large gem, it stands out from its predecessors in that its form is articulated so that its linked pieces can move along the wrist rather than remain fixed in place.
The Windsors were not the only customers enamored of Cartier's panther. Socialites and royalty purchased their own cat jewels from Cartier over the years. Since then, the brand has released numerous Panthère pieces, from the 1983 Panthère de Cartier watch to the 1987 Panthère de Cartier perfume. A special collection of panther-adorned jewelry debuted in 2014 to celebrate the centennial of the icon, although none can quite compare to the Duchess's original bracelet — it fetched $7 million at auction in 2010.
Cartier Panthere Bracelet
Previously Available Items