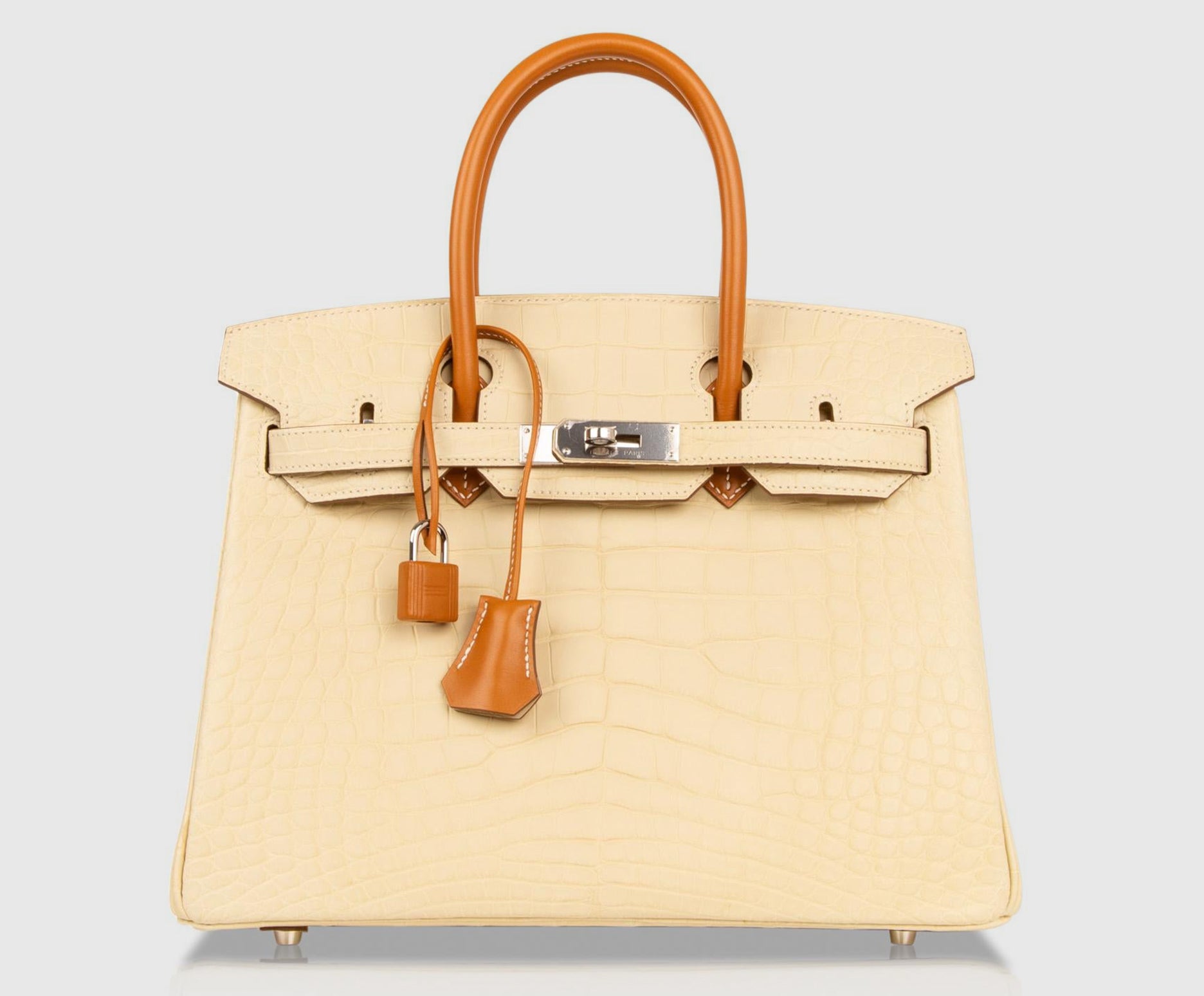 About the Design
Since its 1984 debut, the Hermès Birkin bag has become a coveted status symbol as much as it has an exclusive collector's piece. The handbag is among the most expensive in the world, and the appetite for the accessory is well-known inside and outside the fashion industry.
The history of the Birkin bag owes to a chance meeting on a flight from Paris to London in 1981, when British actress, singer and model Jane Birkin found herself describing her ideal handbag to another passenger. The two travelers hadn't properly met, so it wasn't immediately clear that she was practically brainstorming a future product with Hermès chairman Jean-Louis Dumas. When the latter identified himself, he told the star that Hermès was prepared to produce the accessory of her dreams. A discussion followed that involved rough sketches on an Air France airsickness bag, and the Birkin was introduced three years later.
A spacious and symmetrical rectangular bag that features dual handles as compared to the trapezoidal single-handle frame of the company's popular Kelly, the Birkin has amassed a rabidly enthusiastic fan base since its inception. Because it is so pricey and sought after, the goatskin-lined Birkin has frequently been targeted by counterfeiters, and its modest aesthetic and understated branding prevent it from being easily discernible from fakes. An array of metallic hardware fixtures, most often produced in gold or palladium, helps distinguish this dynamic handcrafted tote, and likely assisted the French police officers who broke up an international counterfeit Birkin operation in 2012.
Among the characteristics that are integral to determining a Birkin's authenticity as well as rendering it a truly desirable collector's item are the signature lock and accompanying keys. The latter are tucked inside a lanyard made from a single piece of leather and draped around one of the handles. There are scuff-resistant base studs, too — a defense system to shield the durable leather exterior from damage should its owner park it on a gritty sidewalk. The studs are hammered in and can't twist off, so there isn't any danger of the bag losing its feet.
Each tote is hand-sewn according to Hermès's centuries-old saddle-stitching technique, and the exotic leathers — a variety that includes ostrich and crocodile — are subsequently painted and polished by house craftsmen in France. Owing to the artisan construction effort behind this globally adored accessory, it may take up to several days to produce a single Birkin bag.
Jane had to wait for hers, too.