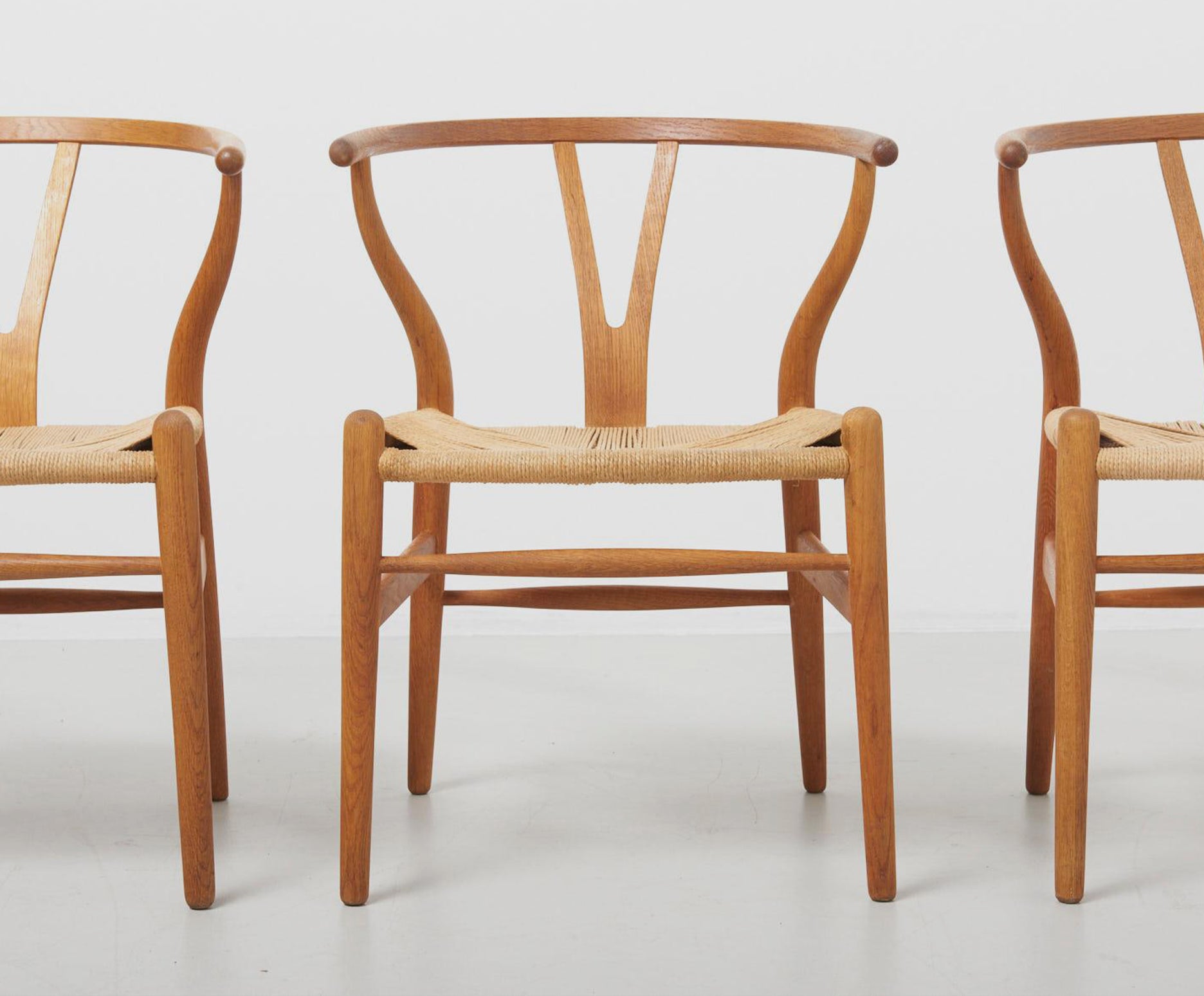 Iconic Designs
Wishbone Chair
About the Design
Although Hans Wegner's (1914–2007) Wishbone chair stands as a classic exemplar of mid-century Danish design, its aesthetic roots actually begin farther east. In the 1940s, Wegner, then a recent graduate of the Royal Danish Academy of Fine Arts and working for Arne Jacobsen and Erik Møller, was inspired by a series of photos of Danish merchants sitting in Chinese Ming Dynasty–era armchairs. The chairs were recognizable for the single, curved shape that made up their back and arms, a simplified style that intrigued the furniture maker.
For Wegner, the first result of the experiments that followed was his aptly named China chair, a solid wood model that Fritz Hansen began manufacturing in 1944. Soon after, Wegner was approached by Holger Hansen, son of Danish manufacturer Carl Hansen (no relation to Fritz), who wanted the designer to produce a similarly shaped piece for his family's company. Production was slow following World War II, and Hansen wanted a chair with universal appeal that could be produced entirely in the company's own factory.
This requirement — coupled with Wegner's ambition to create a chair that weighed even less than the China chair — resulted in the development of the Wishbone and, with it, its most recognizable feature: a woven paper-cord seat, which takes Carl Hansen's craftsmen over an hour to make.
Despite the intricate process behind it — the chair requires 100 steps to complete — the Wishbone, in its final form, boasts a graceful simplicity. This is largely thanks to its namesake Y-shaped back, a simple support structure that allows for the back and armrest to function as a single piece and dispenses with the need for multiple back slats, lending the chair an effect of weightlessness.
The sturdiness of the paper cord (all 120 meters of it per chair), meanwhile, makes the Wishbone both long-lasting and blessedly comfortable without the need for a cushion, which would diminish the impact of its pure form. Today, the Wishbone — official name, CH24 — is one of the most recognizable seats in the world, and it has been in continuous production by Carl Hansen & Son since its 1950 debut. The company offers it in its original bent oak and natural seat as well as in variations of that model. For Carl Hansen & Son's 110th anniversary in 2018, the company released a select number of Wishbone chairs in eight limited-edition colors, a testament to the chair's lasting legacy.
Previously Available Items
More Hans J. Wegner Designs