Danish, 1914-2007
Best known for his chairs and seating pieces — though a master of many furniture types like sofas and tables — Hans Wegner was a prolific designer whose elegant, often ebullient, forms and devotion to the finest methods in joinery made "Danish Modern" a popular byword for stylish, well-made furniture in the mid-20th century.
Wegner considered himself a carpenter first and a furniture designer second. Like his peers Arne Jacobsen and Finn Juhl, Wegner believed that striking aesthetics in furniture were based on a foundation of practicality: a chair must be comfortable and sturdy before it is chic.
In keeping with that tenet, several of Wegner's best chair designs, seen in dealer listings below, have their roots in traditional seating forms. The Peacock chair (designed in 1947) is a throne-like adaptation of the Windsor chair; pieces from the China chair series (begun in 1944) as well as the 1949 Wishbone chair, with its distinctive Y-shaped back splat, are derived from 17th-century Ming seating pieces, as is the upholstered Ox chair (1960). Wegner's comfy Papa Bear chair (1951) is an almost surreally re-scaled English wingback chair.
Wegner's most representative piece, the Round chair (1949), gained a footnote in political history when it was used on the TV stage of the first Kennedy-Nixon debate of 1960. That chair, along with Wegner's more bravura designs, for example the 1963 Shell chair, with its curved surfboard-shaped seat, bring a quietly sculptural presence to a room.  Wegner was a designer who revered his primary material — wood — and it shows. His wood gathers patina and character with age; every Hans Wegner piece testifies to the life it has led.
Iconic Designs from Hans J. Wegner
Explore timeless pieces that have earned their place in history.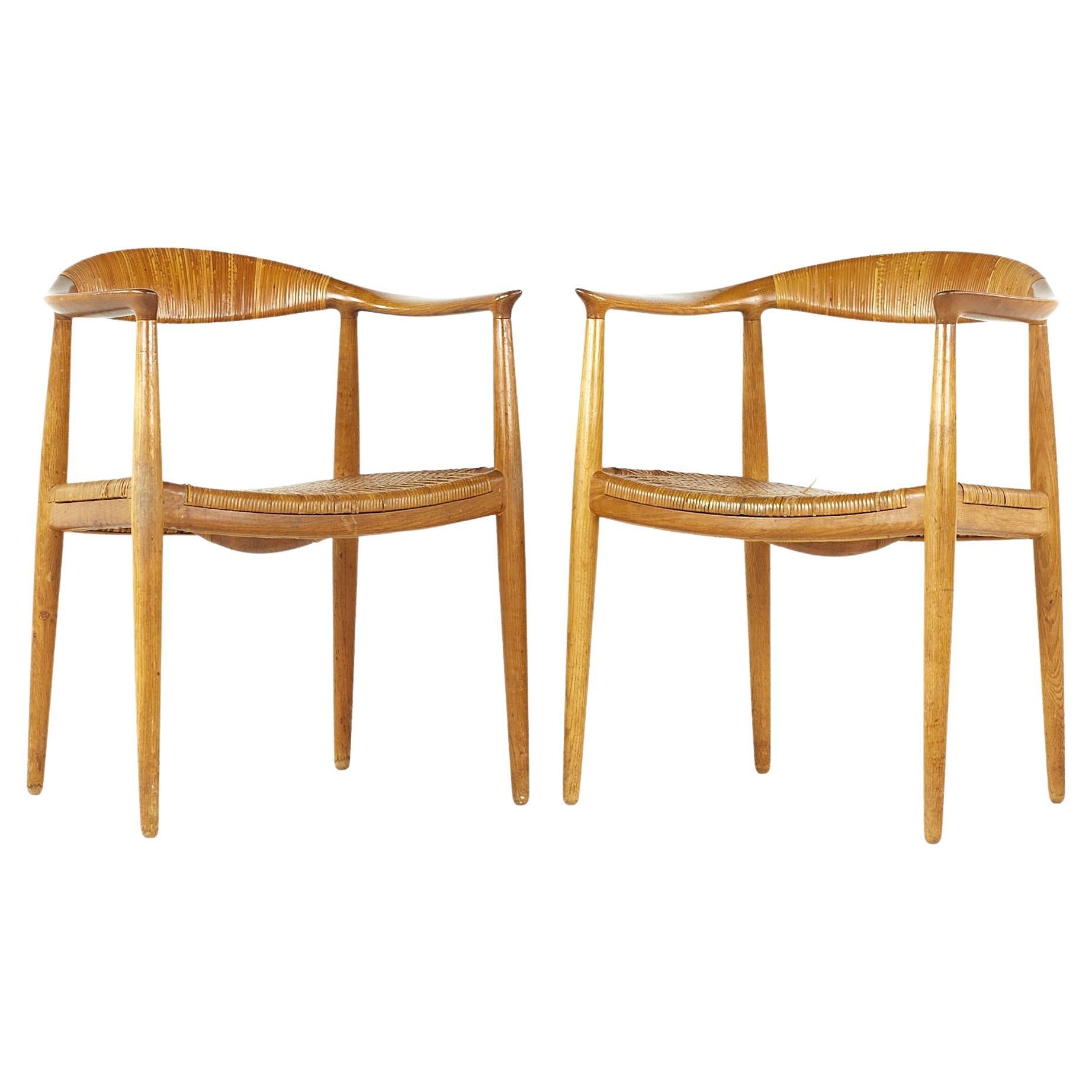 Hans Wegner Round Chair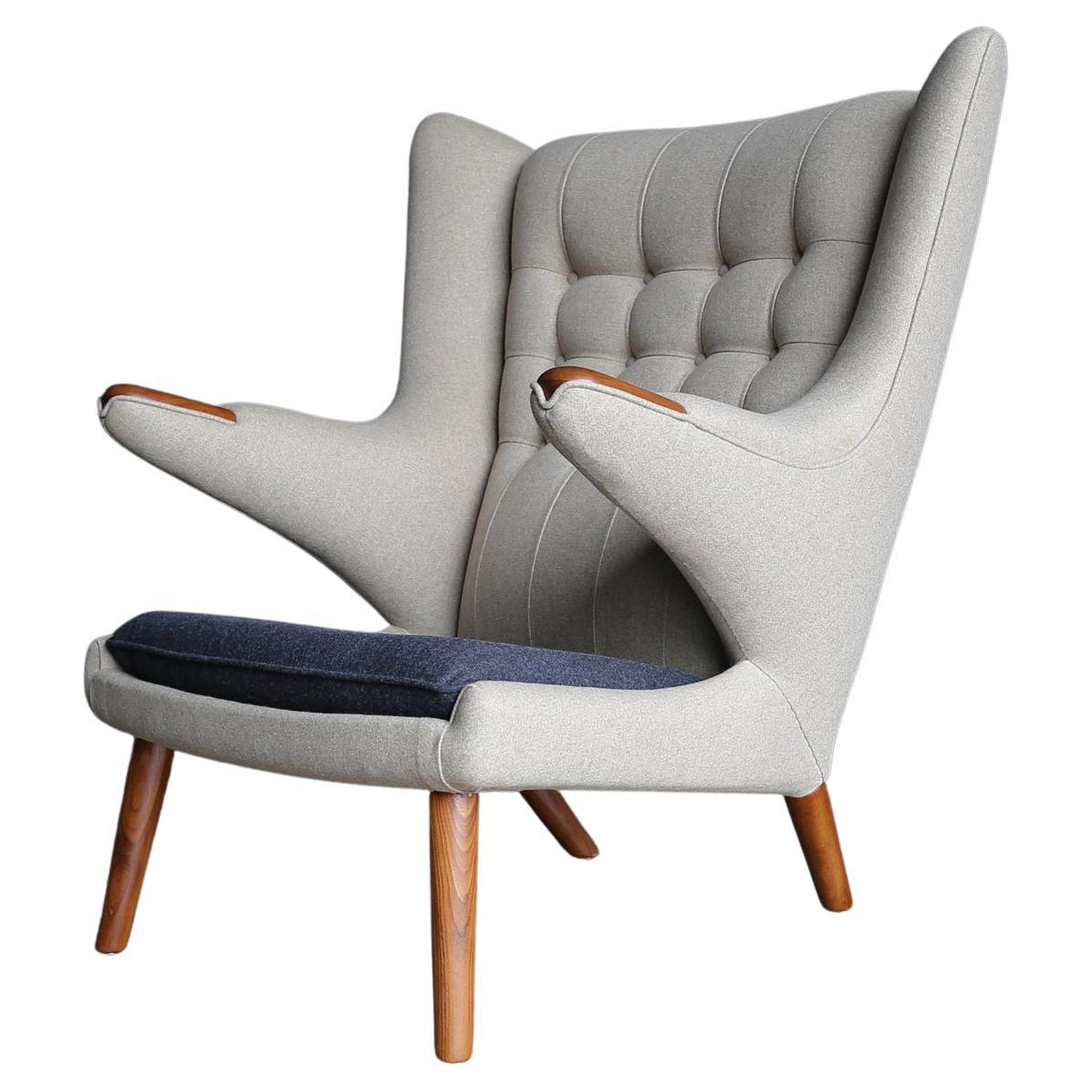 Papa Bear Chair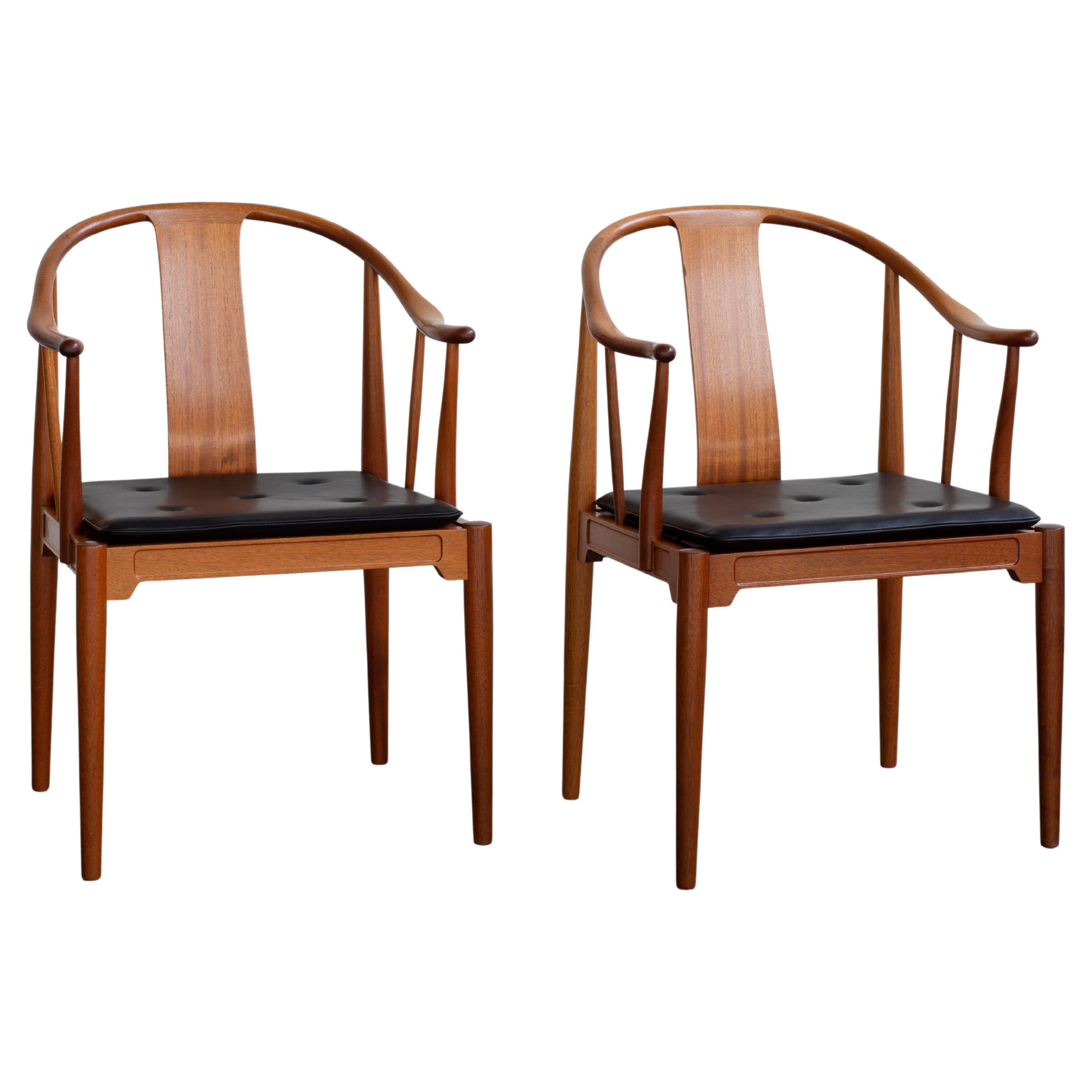 Hans Wegner China Chair
Browse all Furniture from Hans J. Wegner
Shop Now
Creators Similar to Hans J. Wegner
More Hans J. Wegner Designs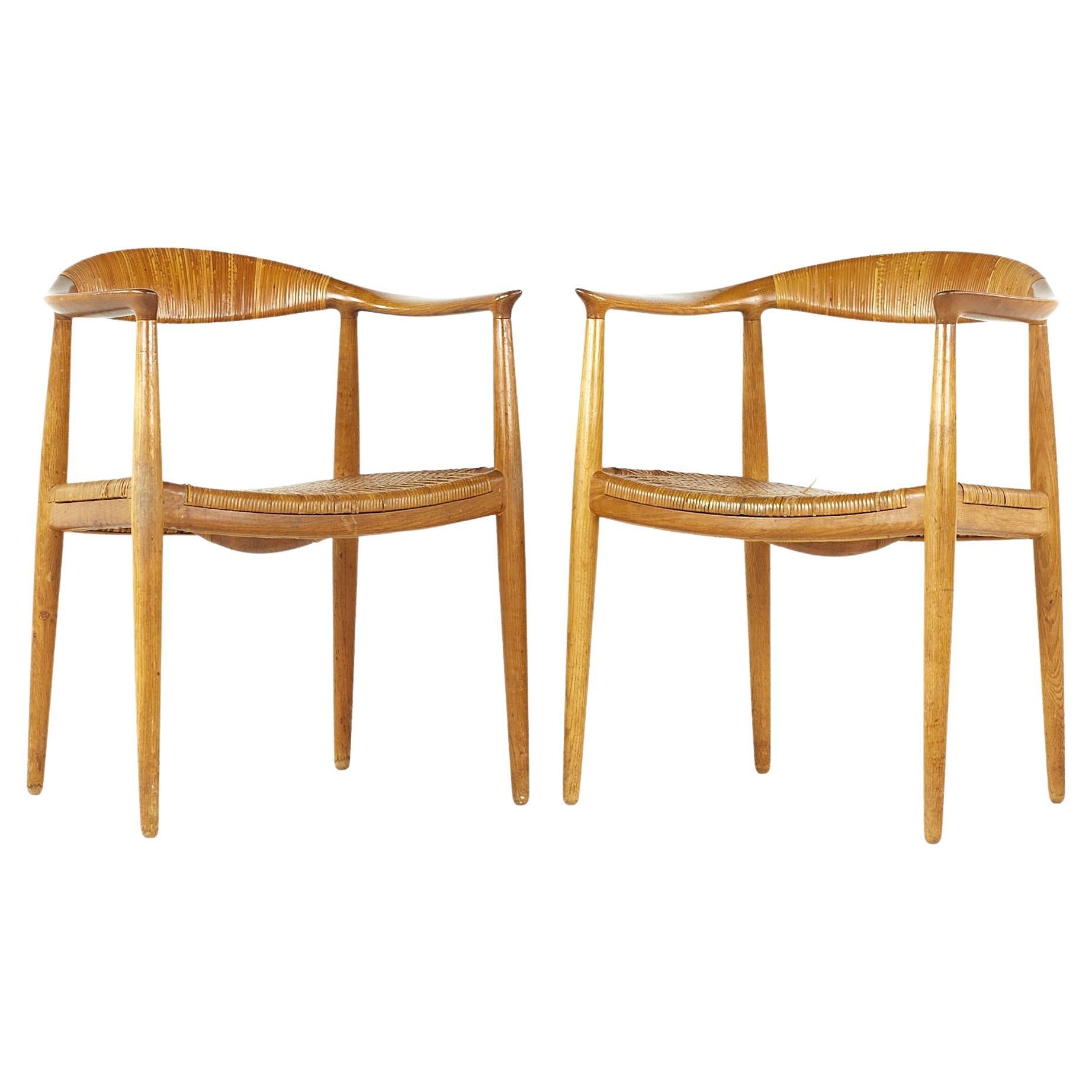 Materials
Wood, Hardwood, Teak, Oak, Natural Fiber, Animal Skin, Leather, Cane
Styles
Scandinavian Modern, Mid Century Modern
In September of 1960, when Richard Nixon and John F. Kennedy sat down for the first nationally televised presidential debate, the two candidates rested on one of the most celebrated designs of the 20th century. Often called simply "The Chair," the Round chair is one of hundreds designed by Hans J. Wegner (1914–2007). As he once said, "The good chair is a task one is never completely done with." Nicknamed the "Master of the Chair," influential Danish designer Wegner inventively used natural m...
Shop All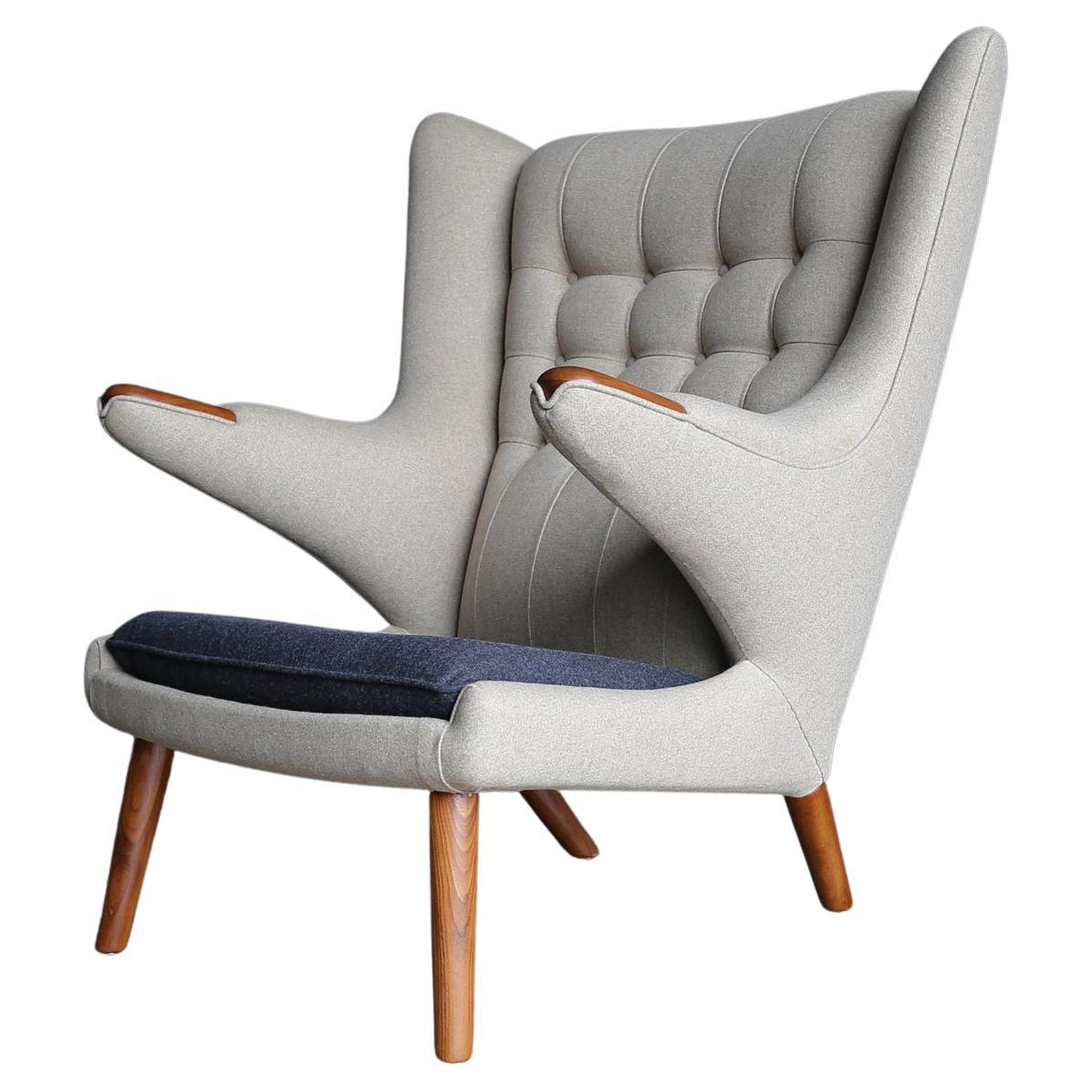 Materials
Wood, Fabric, Hardwood, Teak, Wool
Styles
Scandinavian Modern, Mid Century Modern
The wingback Papa Bear chair, also known as the Teddy Bear chair, has two outstretched arms with wood detailing once described by a critic as "great bear paws embracing you from behind" — hence the name. The piece was designed by Hans Wegner (1914–2007), a pioneer of Danish modernism who crafted nearly 500 chairs over the course of his long career. Not many of them, however, have the anthropomorphic qualities that this one does. Wegner was raised in the south of Denmark, where he served as an...
Shop All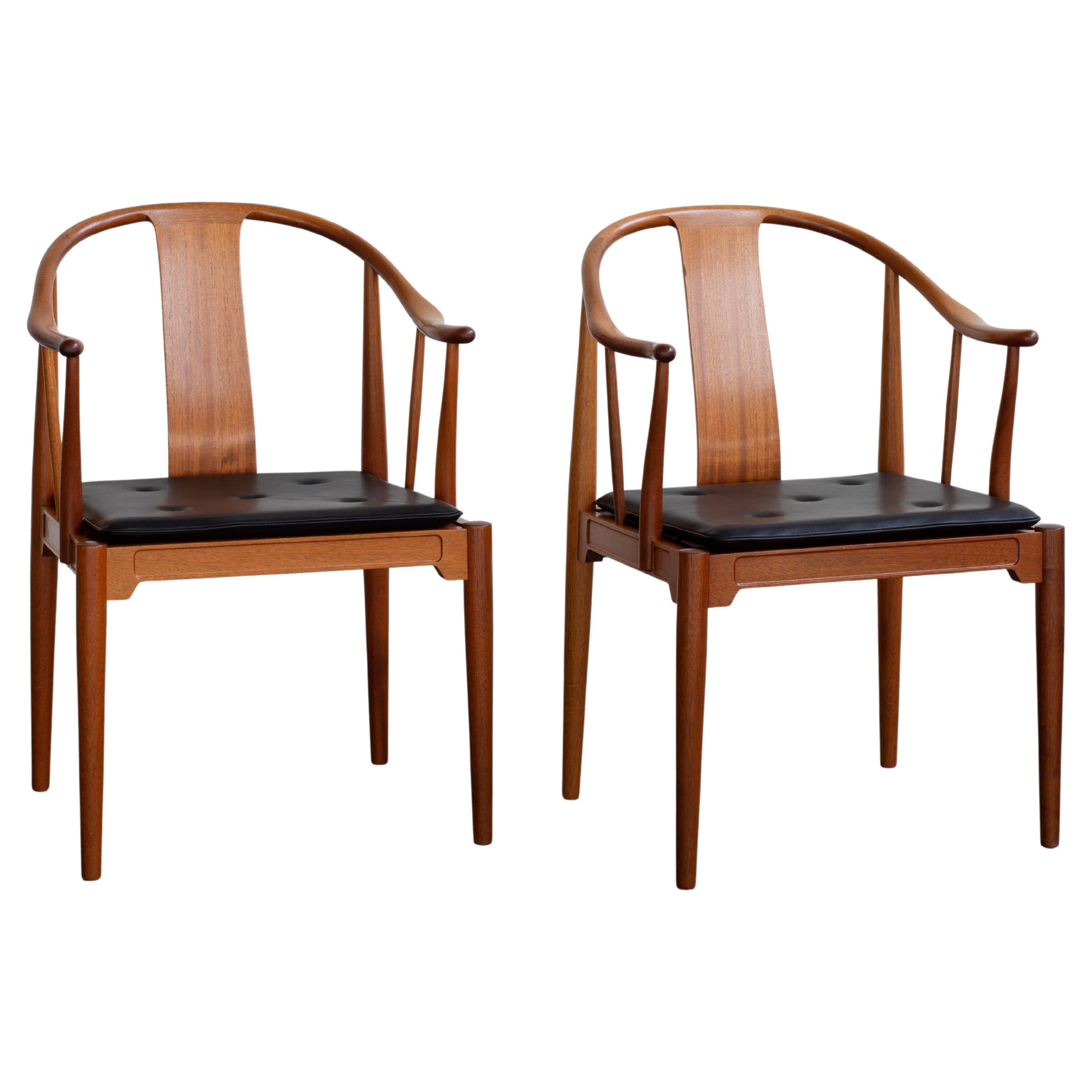 Materials
Wood, Animal Skin, Leather
Styles
Scandinavian Modern
When he designed the first edition of his modest Chinese chair — or China chair — Denmark native Hans Wegner (1914–2007) had been reportedly moved by portraits he'd seen of Danish businessmen relaxing in traditional round-backed Ming dynasty–era chairs. While the legendary furniture maker's tribute to East Asian seating — a minimal cherrywood chair with a curved bentwood back support and removable leather seat cushion — called on Oriental forms that preceded him by hundreds of years, it merge...
Shop All
Hans J. Wegner furniture for sale on 1stDibs.
Hans J. Wegner furniture are available for sale on 1stDibs. These distinctive items are frequently made of
wood
and are designed with extraordinary care. There are many options to choose from in our collection of Hans J. Wegner furniture, although
brown
editions of this piece are particularly popular. We have 1,102 vintage editions of these items in-stock, while there is 346 modern edition to choose from as well. Many of the original furniture by Hans J. Wegner were created in the
Scandinavian Modern
style in
europe
during the
20th century
. If you're looking for additional options, many customers also consider furniture by
Fritz Hansen
,
Arne Jacobsen
, and
Børge Mogensen
. Prices for Hans J. Wegner furniture can differ depending upon size, time period and other attributes — on 1stDibs, these items begin at £257 and can go as high as £129,143, while a piece like these, on average, fetch £4,347.
Questions About Hans J. Wegner
1stDibs Expert

April 5, 2022

Hans Wegner is indeed a real person. He was a prolific furniture designer affectionately referred to as "the master of the chair". Throughout his lifetime, he created 500 chairs, all considered masterpieces. Shop a collection of Hans Wegner's furniture from some of the world's top sellers on 1stDibs.

1stDibs Expert

March 22, 2022

To pronounce Hans Wegner, say "Hans VEG-ner." His last name is Danish. Native speakers of the language may say the surname like "VAY-ner," but "VEG-ner" is the standard in English. Find a selection of Hans Wegner furniture on 1stDibs.

1stDibs Expert

March 22, 2022

To identify a Hans Wegner chair, look for hallmarks of his style. Most joints feature mortise and tenon construction, and armrests and seat supports are often hand-sculpted. Nearly all of his chair frames are solid wood. A piece fashioned out of wood composites is unlikely to be genuine. Find a collection of expertly vetted Hans Wegner chairs on 1stDibs.

1stDibs Expert

March 22, 2022

Whether or not Hans Wegner chairs are comfortable is largely a matter of personal opinion. The Danish furniture designer did design his pieces with functionality in mind, striving to craft chairs that users would enjoy sitting in. Many of his chairs built upon traditional designs, such as the Peacock chair inspired by the classic Windsor chair. On 1stDibs, find a large selection of Hans Wegner chairs.

1stDibs Expert

March 22, 2022

Hans J. Wegner was famous for creating chairs and other types of seating. Some of the Danish designer's most well-known pieces include the Papa Bear chair, the Round chair, the Wishbone chair and the China chair. Find a collection of Hans J. Wegner chairs on 1stDibs.

1stDibs Expert

March 22, 2022

What pairs well with the CH07 chair by Hans Wegner is largely a matter of personal preference. To keep the eye focused on its dramatic curves, some interior decorators pair it with simple boxy sofas and tables. Feel free to experiment and create your own furniture layouts using the CH07 or shell chair. Find a collection of Hans Wegner CH07 shell chairs on 1stDibs.

1stDibs Expert

March 22, 2022

You can cord a Hans Wegner peacock chair in a number of ways. Traditionally, the chair featured an over-under weave created by first wrapping the seat with vertical pairs of cord running from the back to the front. Then, artisans worked horizontally, pulling the cord through the vertical pairs. However, you can find many other patterns to try online. On 1stDibs, shop a range of Hans Wegner peacock chairs.