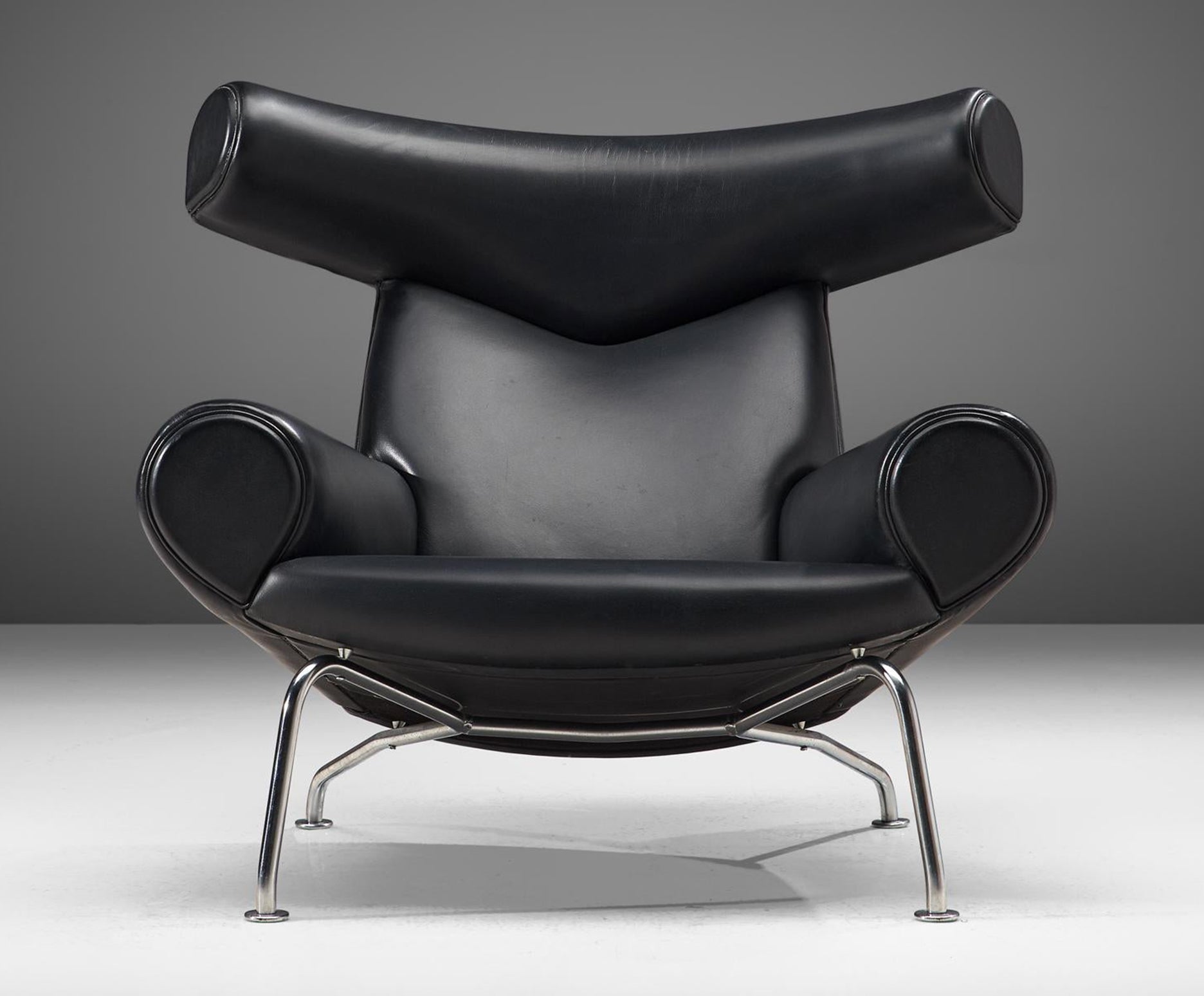 About the Design
Part furniture and part sculpture, the Ox chair is, in fact, a practical chair, even as its playful animal-like form draws on Pablo Picasso's 1940s-era abstract representations of bulls. Danish designer Hans J. Wegner (1914–2007) was enamored of Picasso's work and was inspired to break from his more typical Scandinavian modern aesthetic to create this sculptural statement piece, which was eventually manufactured by A.P. Stolen. 
Raised in southern Denmark, Wegner was a cabinetmaker's apprentice as a child, honing his skills in the workshop until early adulthood. He then studied architecture and design in Copenhagen at the Royal Danish Academy of Fine Arts before opening his own practice in 1943. From there, Wegner went on to earn recognition not only as an influential force in modern Danish design but also as an expert in chairs, specifically. Over the course of his career, Wegner designed nearly 500 chairs, including his signature Wishbone chair— a number of which are housed in the collections of major museums, such as the Museum of Modern Art in New York and Die Neue Sammlung in Munich.
The 1960 Ox chair and ottoman, with its handsome leather finish and chrome-plated steel legs, became one of Wegner's many world-renowned pieces, but it was particularly revolutionary for its bold form as well as its seductive design that allowed for multiple seating configurations. (Wegner ensured that sitters could drape their legs over the armrests and brace themselves against the "horns.") Originally, the Ox chair was manufactured for only two years, as its unusual shape was notoriously difficult to upholster. With permission from Wegner in 1989, however, Erik Jørgensen reissued the chair and continues to produce it today.
Previously Available Items
More Hans J. Wegner Designs