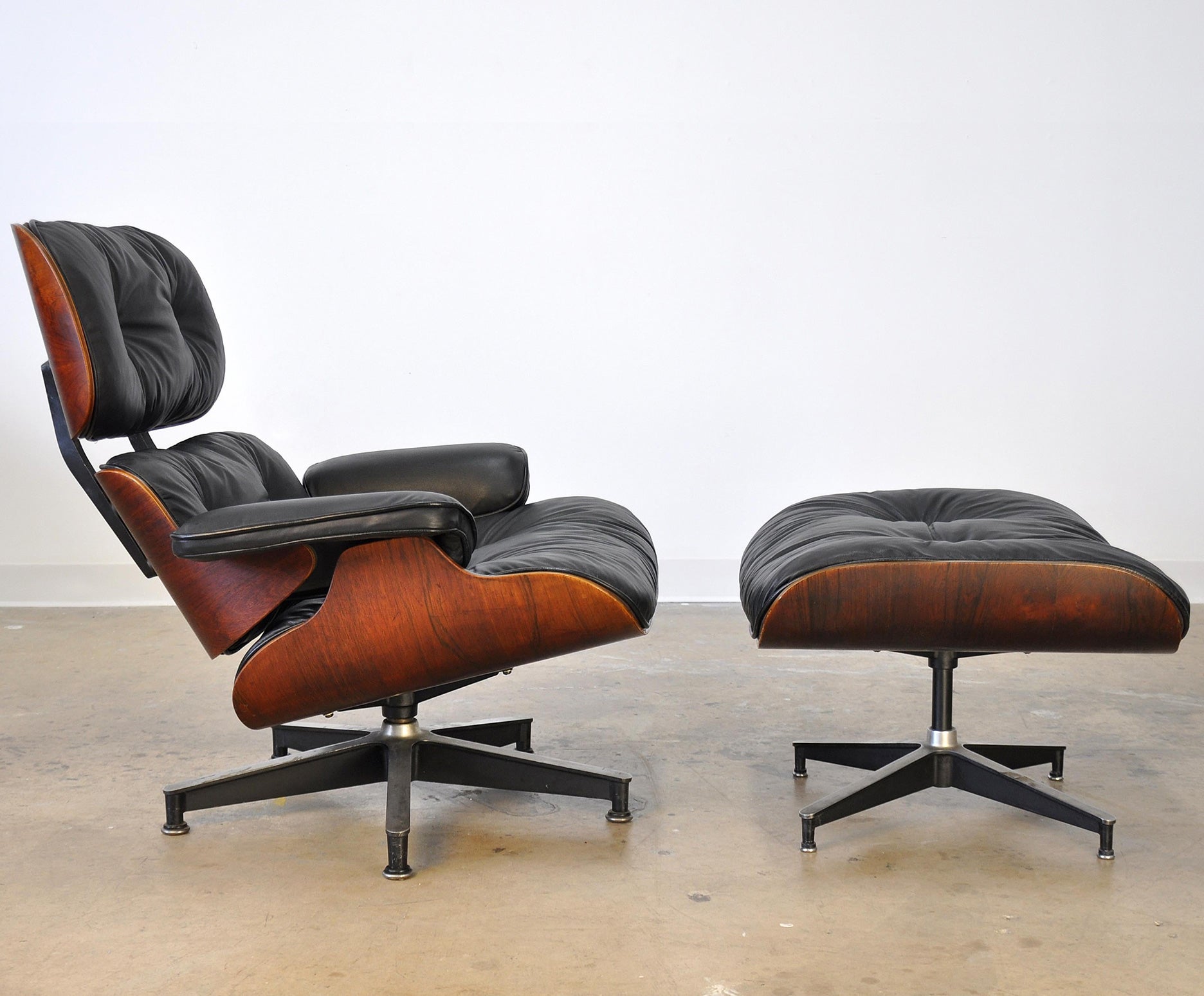 Iconic Designs
Eames Lounge Chair and Ottoman
About the Design
Long before it was the pièce de résistance in a collector's office or an upscale bachelor pad — landing in ample design magazines, on television and in well-appointed offices over the years — the Eames lounge chair was a fresh, subversive new take on a classic club chair and a culmination of experimentation by its inventive creators.
Charles and Ray Eames (1907–78; 1912–88) met while studying at the Cranbrook Academy of Art, the prestigious Michigan institution that drew such illustrious design minds as Florence Knoll, Eero Saarinen and more. After graduation, they formed the Eames Office, where they spent much time exploring and formulating new techniques in bent plywood and fiberglass with the goal of producing affordable furniture for a mass market. The Eames lounger, on the other hand — with its signature wood-grain back and sumptuous (usually black) leather seat — was different.
While the couple's DCW chairs, introduced in the 1940s, prioritized ease of production and affordability of materials, the lounge, which debuted in 1956, was Charles and Ray's interpretation of luxury furniture. And to the Eameses, luxury meant, above all, comfort. The couple famously called the lounge chair and ottoman "a special refuge from the strains of modern living" and described their design as having the "warm receptive look of a well-used first baseman's mitt."
Although the seat makes use of the same bentwood technique the Eameses pioneered using their famous "Kazam! Machine" (a handmade apparatus for molding plywood) for their DCW chairs, it tops off this frame with supple leather over a plump, upholstered shape. Ever fascinated by ergonomics, the Eameses carefully calibrated the pitch of the seat. It has enough flexibility for comfort but not so much that stability is sacrificed. This precise shape comes by way of three connected plywood pieces, which, on early models is covered in five layers of Brazilian rosewood; owing to an early 1990s-era embargo on the material, however, the Brazilian rosewood has since been replaced with either ash, walnut or palisander. The accompanying ottoman is the icing on the comfort cake, inviting the sitter to quite literally kick back and relax.
Today, imitations of the Eames lounge chair and ottoman abound. The seat is currently manufactured by both Herman Miller and Vitra, and when it was launched initially by the former, the supporting marketing blitz emphasized the chair's versatility — an effort that, given the seat's current ubiquitousness, was clearly successful.
Eames Lounge Chair Ottoman
More Charles and Ray Eames Designs