When D.J. De Pree purchased the Michigan Star Furniture Company in 1923 with his father-in-law's help, he showed his gratitude and respect by renaming it after his benefactor: Herman Miller.
Today, the firm is best known for its iconic mid-century modern furniture. These pieces helped usher in a new era of design characterized by sleek lines, bold colors and luxurious materials.
The mid-century aesthetic seen in TV shows and movies such as Mad Men and The Big Lebowski (famously shot at the John Lautner–designed Sheats-Goldstein house) is widely credited to Herman Miller and its cadre of creative and innovative designers.
Thanks to their trailblazing efforts, pieces with organic shapes and vibrant colors began to replace their more formal counterparts. Although the company focused on the office, people loved its furniture for their homes, too.
Here, we dive into the world of Herman Miller furniture — from the mid-century modern classics to the equally coveted postmodern and contemporary pieces — and the talented designers behind the creations.
---
Herman Miller Designers
The company's initial and continuing success is largely due to its collaboration with more than 70 gifted designers, including some of the best-known names in the industry. Here are a few of its most important.
Gilbert Rohde
New York City native Gilbert Rohde started out drawing political cartoons and catalogue illustrations but soon discovered a passion for designing furniture. By 1929, he had opened his own studio. Rohde met with De Pree during a business trip to Michigan in 1930.
He explained to De Pree, whose company was then facing bankruptcy, that the traditional Victorian furniture it was producing was too large for newer, smaller homes and wouldn't sell — especially in the midst of the Great Depression.
His insight changed the company's design — and financial — trajectory. He went on to create sleek, modern pieces for Herman Miller, such as the 1942 Executive Office Group collection, which was the company's first full line of office furniture, as well vanities, credenzas and sideboards for the home.
George Nelson
George Nelson entered the design field through architecture and journalism. As a student in the early 1930s, he won a fellowship to study at the American Academy in Rome, which led to his writing a series of articles for U.S. publications based on interviews with European avant-garde architects. This was the beginning of Nelson's journalistic career, over the course of which he introduced then-radical and now-commonplace ideas like modular storage systems and family rooms.
In 1945, De Pree convinced Nelson to work with Herman Miller and, by 1947, had named him director of design. Nelson created some of the company's most celebrated furniture, including the Thin Edge Group of dressers, cabinets and chests.
Ray and Charles Eames
Charles and Ray Eames met at Cranbrook Academy of Art, where he was an instructor and she a student. They married in 1941 and became a creative team. In their early designs together, they often experimented with molded plywood.
This caught Nelson's attention. He reached out and enlisted the Eameses to design for Herman Miller, leading to such classic pieces as the Eames Lounge Chair and Ottoman and the DCW chair.
Isamu Noguchi
Japanese-American designer Isamu Noguchi, who began his career in 1927 as assistant to Romanian sculptor Constantin Brancusi, was a pioneer of organic modernism, characterized by natural, sustainable materials and a simple, clean aesthetic.
In 1944, for an article he was writing on coffee tables, Nelson visited the designer, who was working on a prototype for what would be known as the Noguchi coffee table.
Nelson used the prototype to illustrate the article and later recommended that Herman Miller bring him on as a creator. The company produced Noguchi's famed coffee table in 1948 and his Rudder table in 1949.
---
Herman Miller Chairs
Arguably the company's most popular and instantly recognizable pieces, its chairs for the home and office are built to last and enjoy a well-earned reputation for comfort.
Coconut Lounge Chair
George Nelson created the Coconut lounge chair in 1955 based on a concept presented by fellow designer George Mulhauser, who had been inspired by the shape of a sliced coconut.
The curved, triangular Coconut lounge has generous padding and gently cradles the body. In this way, it fulfills Nelson's mission to "give lounge seating comfort, together with great freedom of movement." Its three-legged base of bent steel forms dynamic triangles that echo the shape of the chair.
Eames Lounge Chair and Ottoman
The Eames Lounge Chair and Ottoman, which debuted in 1956, were designed as a "special refuge from the strains of modern living," according to Charles Eames, who described them as having the "warm, receptive look of a well-used first baseman's mitt."
The Eameses used molded plywood and added supple leather cushioning for a soft, inviting chair that looks as good at the office as it does in the living room.
Eames Executive Chair
The Eames Executive chair — also known as the Eames Time-Life Lobby chair, the Time-Life chair and simply the Lobby chair — was designed in 1960. In exchange for Henry Luce's granting them access to Time, Inc.'s vast photo archives — which they needed for another project — the Eameses agreed to design a number of areas in the company's new Midtown Manhattan headquarters.
Created first and foremost for comfort, with extra-thick seat and back cushions and padded armrests, the chair was originally produced for the executive floors of the Time-Life Building.
Its adjustable seat height and tilt-swivel mechanism make it extra comfortable and versatile. The chair was notably featured in the boardroom of ad agency Sterling Cooper on the TV series Mad Men.
Aeron Chair
Herman Miller's Aeron is the quintessential computer chair and a best seller — for good reason. Codesigned by ergonomics pioneers Bill Stumpf and Don Chadwick in 1994, it is constructed mainly of recycled materials. What makes it stand out among its many imitators is its high quality and fully customizable seat height and depth, arms and recline.
The Aeron is available in three sizes: A, B and C. According to the company, A, with roughly 17 inches between the arms, is ideal for people under five foot four and under 150 pounds; C, with 20.5 inches between the arms, is for those taller than six foot three and weighing up to 300 pounds; while B suits everyone in between. Of course, the right choice comes down to personal preference.
Setu Chair
Unveiled in 2009, the Setu was created for Herman Miller by German design group Studio 7.5, with the goal of producing a chair that was simple, stable and affordable.
The piece's curved, high-back form recalls the Eameses' 1958 Aluminum Group chairs. Although its arms are not adjustable because of the minimalist specs, the Setu molds itself to the body and is easy to maneuver.
Caper Multipurpose Chair
Nimble, casual and versatile, the Caper has a contoured polypropylene backrest that adjusts to fit almost all body shapes and sizes and holes in back that provide air flow.
Designed in 1999 by Jeff Weber, who began as an apprentice to Stumpf, the Aeron's codesigner, the chair is as suitable for a contemporary dining table as it is for the office and stacks easily for space-saving convenience.
---
Other Herman Miller Furniture
Although best known for its chairs, Herman Miller produces a wide array of coveted designs for home and office.
Desks and Writing Tables
Made according to the same high standards as the company's iconic chairs, Herman Miller desks have been produced over the years in a number of versions, created by designers like George Nelson, Gilbert Rohde and Bruce Burdick.
Case Pieces and Storage
As beautiful as they are practical, Herman Miller storage pieces include filing cabinets, credenzas, bookcases and shelving units. These minimalist office essentials range from enormous wall units to stand-alone shelves.
Tables
Dining, coffee and side tables from Herman Miller are staples in mid-century-style offices, living rooms and dining rooms around the world.
Charles and Ray Eames's round pedestal dining room, conference room and coffee tables pair tops in materials like natural wood, stainless steel and marble with sturdy aluminum bases.
Perhaps most celebrated, however, is the Noguchi coffee table, which its namesake designer believed was his only truly great piece of furniture. Two identical wood pieces interlock to form an asymmetrical base that looks different from every angle. A triangular piece of thick glass forms the top, offering a bird's-eye view of the clever architecture underneath.
Sofas
Of all the sofas George Nelson designed for Herman Miller, the 1956 Marshmallow is the most memorable. Cocreated with Irving Harper, who was initially uncredited, it features individual round cushions that appear suspended in midair.
Other Herman Miller sofas include compact and modular versions by such mid-century masters as Charles and Ray Eames, along with contemporary designers like Yves Béhar and Mark Goetz. All feature the slim, bold lines and comfort Herman Miller furniture is known for.
---
The Future of Herman Miller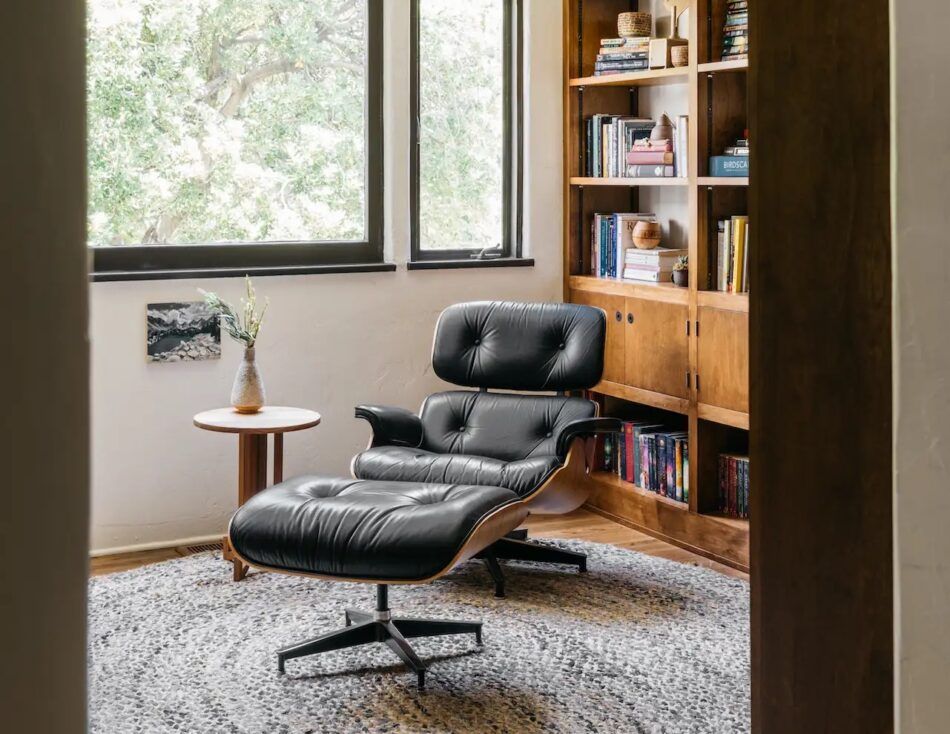 Herman Miller is as relevant today as it's ever been. In 2021, it completed a $1.8 billion merger with venerable maker Knoll, expanding its catalogue of historic designs. The new entity, known as MillerKnoll, encompasses the individual Herman Miller and Knoll brands, as well as others, like Holly Hunt and Maharam.
And as organizations and individuals adapt to the "new normal" of hybrid and remote work, the company's impeccable pieces offer attractive solutions for making the office more welcoming or for working from home in style.
George Nelson once said, "Design is a response to social change." Herman Miller embodies that sentiment as it continues its legacy of reinventing the way we live and work.