On a Friday afternoon in early autumn, Kersti Sandin and Lars Bülow are getting ready to head from their home in Stockholm to their country house for some much deserved R & R. "We're quite tired actually," Sandin says, with a generous laugh that punctuates much of her conversation.
The previous evening, the couple hosted the opening for "Braided & Laced," the second temporary exhibition at their recently opened Museum of Furniture Studies. Occupying 10,700 square feet of a 1960s warehouse, the museum was conceived, Bülow says, to serve students as well as professionals. The more than 700 pieces of original furniture and applied art by some 250 designers are from the duo's private collection, built over the past 40 years.
"The pieces, spanning from the late eighteen hundreds until now, are from the Nordic countries, along with Continental Europe and other places, including America," says Bülow. "Now, they have a permanent home."
The couple's impressive career began in the late 1970s, following their studies in architecture and furniture design at the Konstfack University of Arts, Crafts and Design, in Stockholm. In 1978, they began designing furniture together as Sandin & Bülow.
Success came quickly, with their very first design: Supporter, a serving cart that combines chrome tubing with removable black sheet-metal trays lined with cork and that features a solid-beech cutting board and a wine/heating rack. Today, it's one of a number of their pieces in the permanent collections of some of Sweden's most important museums, as well as the Museum of Applied Arts in Cologne.
Kersti Sandin & Lars Bülow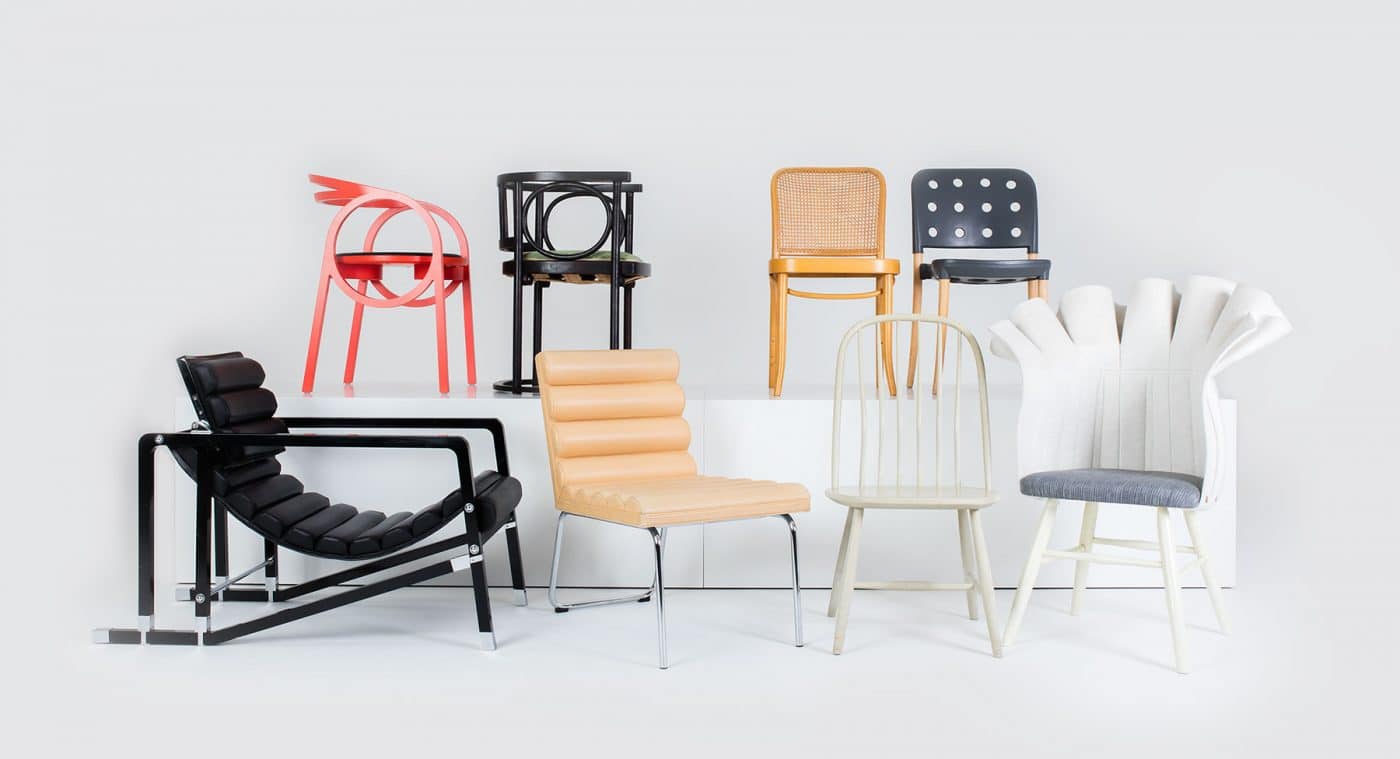 In 1992, following years of consulting on everything from product creation to brand management, they founded Materia, which became known for its innovative office furniture and accessories designed to bring people together. "We were not so afraid of doing things," says Sandin. "And we had a lot of fun." After 12 years and much acclaim, the couple sold the company to Kinnarps but continued to work with the still-independent brand for several years.
In 2005, they hung up their hats as designers. Bülow took on the roles of CEO and design manager at Swedish brand Lammhults. Sandin, meanwhile, has taught design for a decade, including at the University of Gothenburg, where she is currently pursuing a Ph.D. in the School of Design and Crafts.
Throughout their careers, "We were always promoting Swedish design," says Sandin, who has sat on the board of multiple design organizations. With the opening of the Museum of Furniture Studies, they're now passing on all the lessons they've learned. Speaking with the couple in Stockholm by phone, Introspective dug deeper into the museum and their collection.
How did your collection start?
Lars Bülow: The first pieces we found in waste containers. In the seventies in Sweden, people didn't know the value of what they were throwing away. The first valuable piece we found was the famous Alvar Aalto stool No. 60. I remember it was rather damaged, but nothing we could not easily fix. From then on, we kept on looking.
Kersti Sandin: In addition to all of our other activities, we are hunting design. And we are collecting only with love.
What are the highlights of the collection?
Bülow: We have pieces from some of the pioneers of Swedish furniture design, including Carl Malmsten's Stadshusstolen chair, designed in 1916 for Stockholm City Hall; Gunnar Asplund's GA-1 chair, designed in 1931 for the boardroom of the Swedish Society of Crafts and Design [Svensk Form]; and Bruno Mathsson's Eva chair from 1933, which was the first of many chairs designed with Mathsson's new ergonomic thinking. I had the opportunity to intern with him in the early nineteen seventies, before my design studies. I learned a lot about design history and design work through him.
On the other end of the spectrum, we have items from the unknown Swedish designer Bengt-Johan Gullberg. He designed just a few pieces, including the Easy Chair in 1953. We also have pieces from Josef Frank, who fled from Vienna to Sweden, where he started his collaboration with Estrid Ericson and her store, Svenskt Tenn. [Sandin was on the company's board for many years.]
He was different from other designers from the thirties and forties. His works were more humanistic, or traditional in a modern way. In our collection, the Mod 1165 chair from 1947 is a typical Frank design.
Sandin: We also have a lot of original furniture from the Memphis Group. We were in Milan when Memphis launched in the eighties. We didn't really like it. [laughs] But now it's really interesting. In our collection, the Sirio vase, designed by Ettore Sottsass in 1982 for the group, is a good example of artifacts that show the ongoing trends in society.
Why did you decide to open a museum?
Bülow: We have found that the historic knowledge of young students and young professionals is quite low. Young people are narrow-minded. Our contribution to the industry is to highlight design milestones in furniture to show young and up-and-coming designers the great history of design furniture.
Sandin: The pieces are displayed in chronological order, so you can follow how design, society and trends developed. There are lots of stories you can tell. Each piece is labeled with basic information, but we have plans to digitize everything, which will include more detailed information.
Bülow: We also have a gallery within the museum where we hold specialized temporary exhibitions like the current "Braided & Laced." This shows the technique and craft of braiding and lacing in furniture design and features the Knotted chair by Marcel Wanders and a braided version of the Aluminum chair by Mats Theselius.
Can you tell us about future exhibitions you have planned?
Bülow: In February, starting during Stockholm Design Week, we will show the work of Carl Öjerstam, a talented designer who has created a number of well-known furniture pieces, lamps and cookware for Ikea, among other clients. He also designs technical equipment, such as medical devices and transportation products. We like to take pieces in the collection and put them together in an exciting way.
You've designed this museum as a place of study. How do you imagine people using it?
Bülow: We decided to have our collection very open to students. They can feel it, experience it tactilely. They can take it down. Our museum is hands-on.
Sandin: Also, students from other disciplines can come. There are so many interesting things you can see: upholstery, the technical side and so on. But the museum is for design lovers.
Are you continuing to collect?
Bülow: Yes. Unfortunately, we are not yet cured from the disease of collecting. We still have some gaps to fill — David Rowland's 40/4 stacking chair, Jean Prouvé's Standard chair with the green steel base — which we are constantly looking for.
Get the Look