American, Canadian, b. 1929
With magnificent buildings such as the Guggenheim Bilbao, Disney Concert Hall in Los Angeles and the new Foundation Louis Vuitton in Paris, Frank Gehry has changed the nature and spirit of contemporary architecture. Yet the world's best-known living architect has also enjoyed a prolific career as a designer of artful and functional objects, ranging from furniture to jewelry, that even at smaller scale are as lively and captivating as his architectural designs.
Gehry was born in Toronto and moved with his family to Los Angeles in 1947. He received a degree in architecture from the University of Southern California in 1954 and — after several years of casting about that included a stint in the U.S. Army and studies at Harvard — Gehry opened his architectural practice in L.A. in 1962.
Idiosyncratic renovations to his small, traditional house in Santa Monica — such as cladding portions of the exterior in chain-link fencing and corrugated metal — drew attention to Gehry in architectural circles. Corporate and institutional commissions added to his reputation, culminating in the global acclaim that greeted the opening of the Guggenheim Bilbao in 1997. But the combination of visual dynamism and structural integrity expressed by that building had been evident for decades in Gehry's designs. In 1972 he introduced a much-admired line of furniture he called Easy Edges. The curves and flowing lines of the pieces, which include the Wiggle chair, seem antithetical to the material are made from: cardboard — a presumably flimsy material that, when stacked, laminated and folded, is actually extraordinarily sturdy.
Many of Gehry's designs feature an abstracted fish motif. For the architect, it is a symbol of vitality, strength and flexibility. The fish appears in a group of 1982 plastic lamps created for Formica (and exhibited by the Jewish Museum in New York in 2010). Gehry used the motif in crystal goblets for Swid Powell (1990), his Pito kettle for Alessi (1992) and as earrings for a 2006 jewelry collection for Tiffany that also includes torqued rings, necklaces and bangles.
Gehry returned to furniture design in 1992 with a remarkably energetic line of furniture for Knoll with frames and seating made of bent, lightweight wooden strops. (The pieces' names, such as Power Play and Cross Check, derive from ice hockey.) In 2004, Heller released a group of twisted, faceted furnishings in molded polyethylene meant to evoke Gehry's architecture. But — whether its tableware, jewelry or furniture — all Gehry's designs do that--sharing an animated aesthetic built on a solid foundational core. To possess a piece of Gehry design is to own one of his buildings, in miniature.
Find vintage Frank Gehry chairs, tables and other furniture on 1stDibs.
Browse all Furniture from Frank Gehry
Shop Now
Creators Similar to Frank Gehry
More Frank Gehry Designs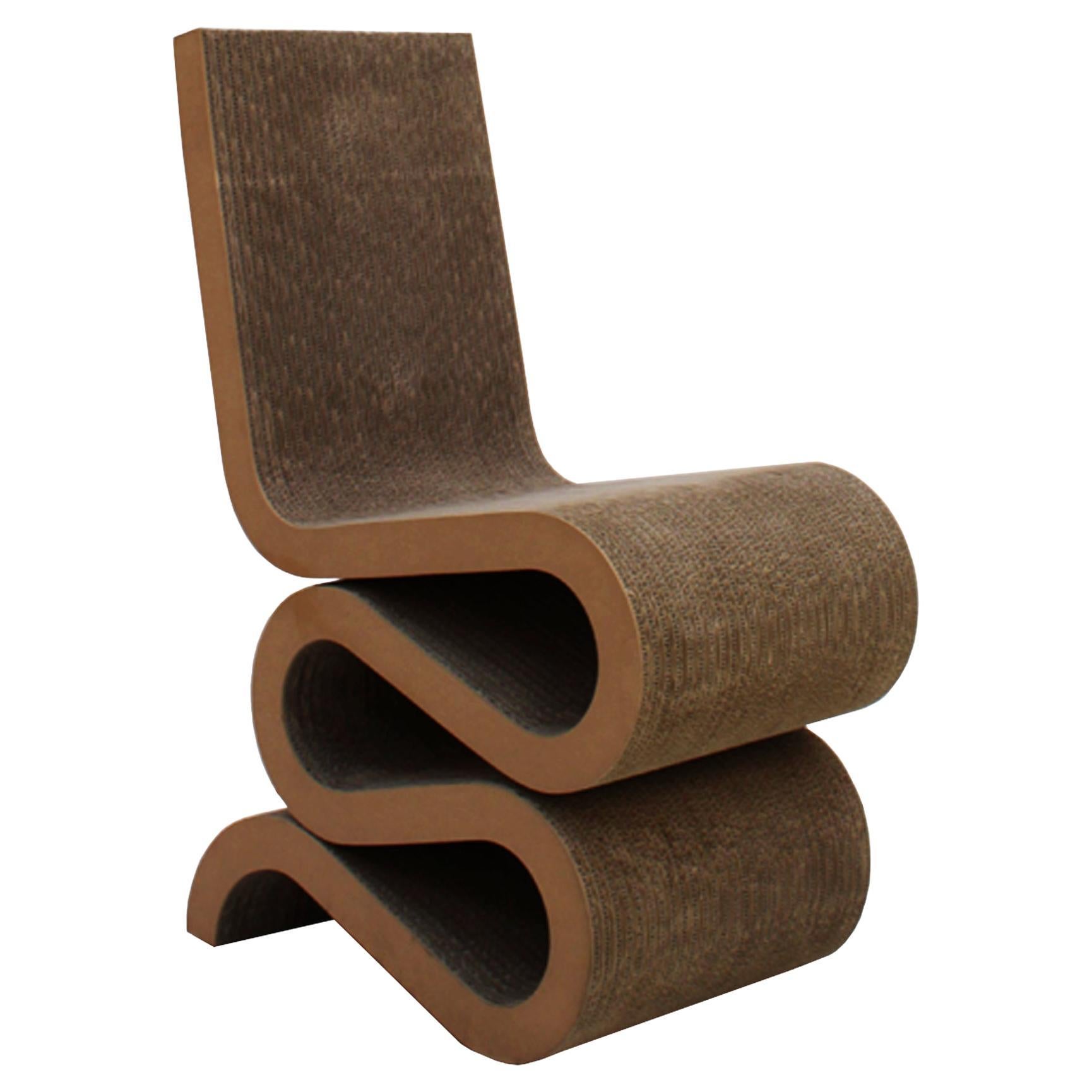 Styles
Mid Century Modern, Modern
​​In April of 1972, the New York Times Magazine heralded the introduction of what it dubbed "Paper Furniture for Penny Pinchers." In his recently launched studio, Canadian-American architect Frank Gehry (b. 1929) had invented a new kind of furniture from the cardboard used to make architectural models. The venturesome, sculptural line included the Wiggle chair."If the cost of living keeps rising, we may all be taking a fresh look at paper furniture," pronounced the magazine. "If it's as fanci...
Shop All
Frank Gehry furniture for sale on 1stDibs.
Frank Gehry furniture are available for sale on 1stDibs. These distinctive items are frequently made of
wood
and are designed with extraordinary care. There are many options to choose from in our collection of Frank Gehry furniture, although
brown
editions of this piece are particularly popular. Many of the original furniture by Frank Gehry were created in the
mid-century modern
style in
north america
during the
20th century
. If you're looking for additional options, many customers also consider furniture by
Preview
,
Erwine & Estelle Laverne
, and
Charles Pfister
. Prices for Frank Gehry furniture can differ depending upon size, time period and other attributes — on 1stDibs, these items begin at £61 and can go as high as £14,410, while a piece like these, on average, fetch £3,606.