July 30, 2023Henri Fitzwilliam-Lay appreciates clients who push her beyond her comfort zone. The first thing to know about the Malta-born, New York–raised and London-based interior designer, however, is that her "comfort zone" begins where most clients' comfort zones end.
Among the tools of her particular trade are richly saturated color, bold pattern mixing, adventurous blends of decorative periods and genres and extravagant yet carefully deployed flourishes (particularly in lighting).
Fitzwilliam-Lay seems to have met her match in a fearless fiftysomething couple whose Notting Hill townhouse she had renovated and who contacted her again for a 1700s stone rectory they purchased in Oxfordshire, about an hour and a half from London. "We didn't want to fall into the trope of the English Cotswold manor house, which is very pretty and all very muted, worn-in interiors," she recalls. Such a restrained approach might have pleased the parsonage's former clerical inhabitants, but Fitzwilliam-Lay and her clients' proclivities leaned toward the impious. "I didn't lose any sleep over the priests," says the designer.
"We started out with some pretty punchy colors," Fitzwilliam-Lay continues, elaborating on the couple's dynamic. "She had the deciding vote, but he was definitely pushing for more. She is actually the bolder of the two, but on this project, she edited him a bit."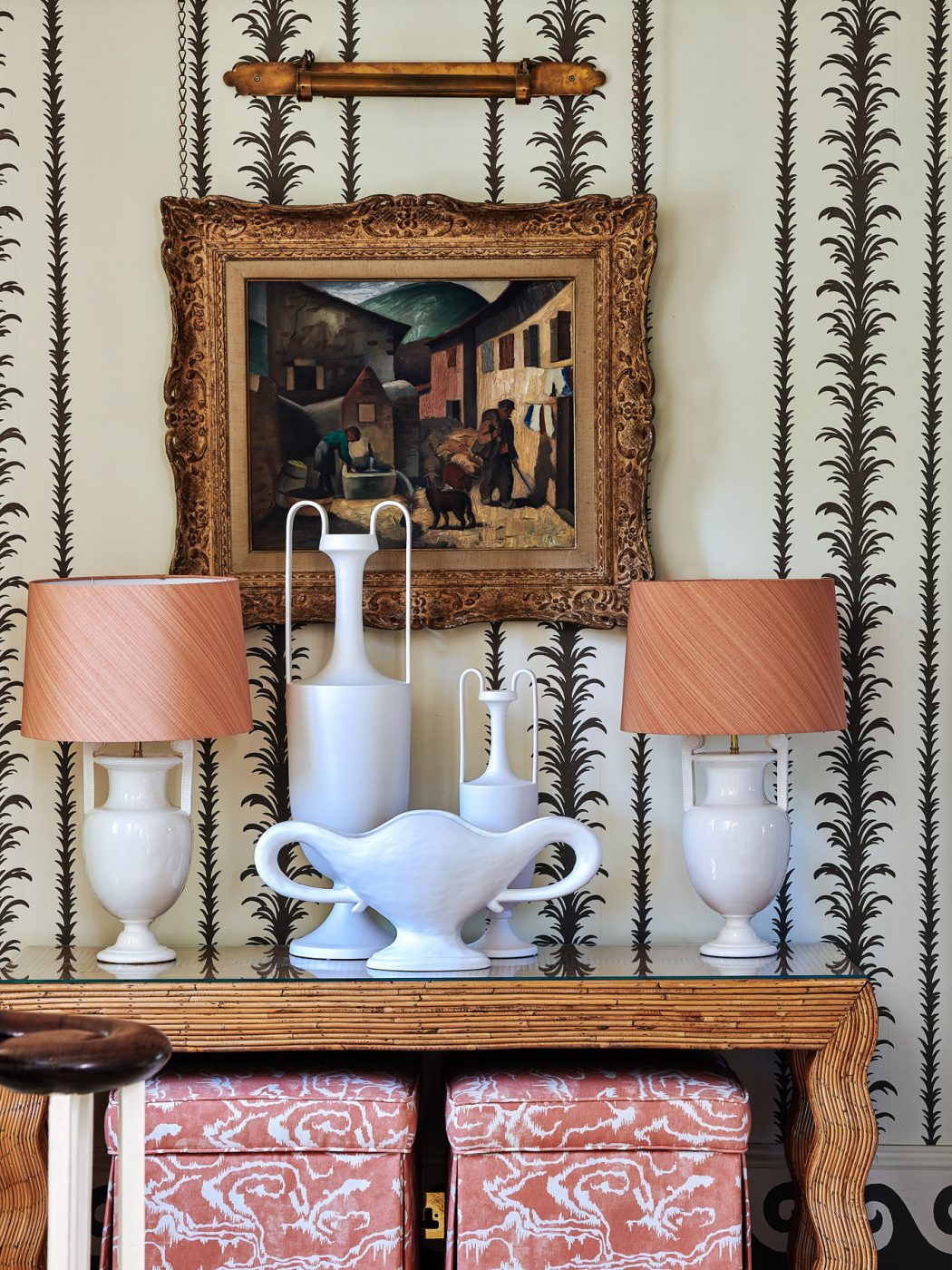 Indeed, the 5,000-square-foot, six-bedroom manse, complete with chamfered quoins and Cotswold hipped roofs, welcomes guests sedately enough. The foyer is papered in a discreet palm-frond-stripe wallpaper, simply rendered in chocolate brown against a creamy white ground and bordered in a chocolate brown scrolled wave pattern. "We're not knocking them over the head immediately," explains Fitzwilliam-Lay.
Yet the entry hall is far from ascetic. A pair of frothy Dorothy Draper–style sconces from 1stDibs — inspired by the legendary designer's 1946 renovation of the Greenbrier resort, in West Virginia — flank a white-lacquer-framed mirror above one of a pair of bamboo consoles with wavy silhouettes. On one of the consoles are white Gio Ponti–esque amphorae and lamps. Under it, Fitzwilliam-Lay added a hint of chinoiserie in the patterning of two upholstered ottomans whose peachy-pink color evokes Draper's 1940s heyday.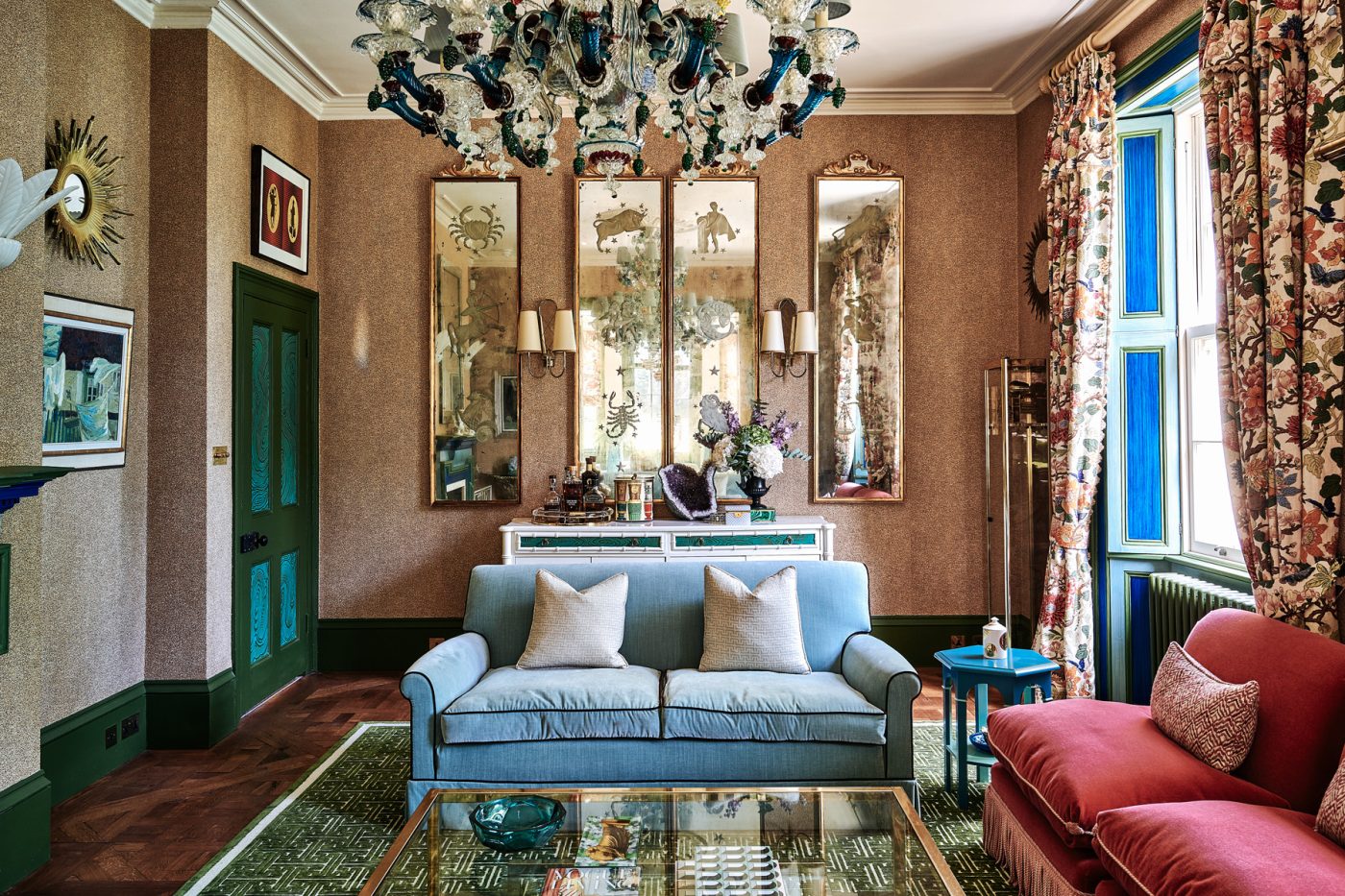 "You're always trying to keep your pace up," she says of her strategy. "Not overwhelming visitors at first but, as you go from room to room, taking it up a notch."
Or several notches. The central feature of the drawing room is a spectacularly outré Murano palazzo chandelier from The Craftcode in Milan that has "every color of the rainbow in it," observes Fitzwilliam-Lay. She pulled many of those jewel tones into the decor, including a malachite decorative finish on door panels and on the drawer and door fronts of an antique faux-bamboo sideboard turned bar. These finishes were executed by London artist Ian Harper, who also dressed up plain pine window shutters with a sapphire strié panel treatment.
An emerald-green Greek-key-patterned rug grounds a pale blue sofa and carnelian-red armchairs. Above the bar is a set of four 1940s French antiqued-glass mirrors etched with symbols of the zodiac. Colorful painted Moroccan tables from Soane Britain provide surfaces for cocktails.
Off the drawing room is a small garden salon Fitzwilliam-Lay converted into an exotic sitting room. If any space is uncharacteristic of the Cotswolds, this is it, its maximalist aesthetic supercharged by the many high-impact elements the designer crammed into the diminutive space. It appears to be tented with a green-striped fabric, but this is an illusion: The ceiling is flat and covered in an Iksel wallpaper.
Playing off the garden views, Fitzwilliam-Lay had window shades made in a fabric with an ebullient all-over floral motif. A pair of 1955 Dorothy Draper persimmon-colored España cabinets from 1stDibs seller Interior Motives flank the faux-malachite paneled doors. Above these are symmetrical arrangements of paintings, gilded-bronze palm sconces and, also found on 1stDibs, giltwood starburst mirrors from VAN DEN ANDERN.
Lighting here reinforces the Eastern inflections that thread through the whole house. Crowning the scene is a trio of 1970s Tommi Parzinger–style polished-brass lotus pendants from Feldman Lighting, also unearthed at Interior Motives. On side tables are vintage Italian gold-colored glass pagoda lamps. Taking in this room, you believe Fitzwilliam-Lay when she says, "We kind of threw it all in — Indian, Moroccan, Hollywood Regency, chinoiserie — rather than do an ode to a specific style. It's crazy and fun to mix it all up."
In the dining room, Fitzwilliam-Lay established a dialogue between contrasting patterns, with Adelphi Paper Hangings' French 1800s Coffered Rosette wallpaper on the ceiling and a rug underfoot with a pattern that reminded her of the carved Paris stonework patterns that resemble worm trails. The paper made the relatively low ceiling feel taller, while the rug design, she explains, "is a play on scale, taking something that should be very small and blowing it up."
Between these resides a custom tabletop that was her way of reinterpreting traditional English colored marquetry by "putting it on acid." Against one wall is a 1950s Asian-style dresser by American of Martinsville lacquered in Olympic blue and used here as a sideboard. Lending some classical gravitas to the scene are two silver-leaf neoclassical urn lamps from Vaughan.
Fitzwilliam-Lay did not confine her pattern mixing to fabrics, wallpapers and rugs. It also shows up in tile work, most luxuriously in the primary bath, where no fewer than five bands of eggplant- and green-glazed tiles in different designs — channeled, spiral, Greek key, herringbone and zigzag stripe — envelop the wall dados, while hexagonal white marble tiles framed in bands of green and black marble adorn the floor. The tile work is interrupted by one of the many original fireplaces, above which Fitzwilliam-Lay hung a Dorothy Draper mirror from Redefined Decor on 1stDibs.
In the 1950s-style kitchen, five alternating patterns of white tile on the fireplace and two additional all-white tile patterns on backsplashes offer relief from the bright terracotta-turquoise-yellow palette without becoming monochromatically bland shrinking violets. The large-scale tile pattern on the floor also employs substantial expanses of white amid its deep turquoise and terracotta hues.
Bedrooms are similarly steeped in color and pattern, especially a lavender, green and yellow guest room. The key, Fitzwilliam-Lay explains, is "constantly weighing scales of pattern, or florals versus geometrics, against each other to create a play and tension." In the primary bedroom, for instance, the bed draperies juxtapose a tiny black-and-white Raoul Textiles leopard print inside the custom bed's canopy with a bold large-scale dragon-pattern Schumacher fabric on the outside (and the windows) and medium-scale ikat prints from Robert Kime on pillows.
Because the property was historically listed, says Fitzwilliam-Lay, "we couldn't just plow our way through the building." It had been added onto in 1847 and experienced other renovations under various previous owners, however, so the rules were looser, opening the way for the designer's and clients' more audacious approach. The results might make the original residents blush (or wag their fingers at such flagrant immodesty), but Fitzwilliam-Lay says, "It was fun to be a bit wild. The house could take it."