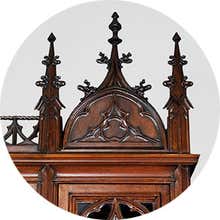 Gothic Style
The Gothic Revival movement (also called Victorian Gothic or Neo-Gothic) emerged in Britain in the 1740s, and reached its height in the late-19th century. The style is characterized by such decorative flourishes as pointed arches, floral details, finials, heraldic motifs and linenfold carving. The movement was rooted in religious and social conservatism. Its proponents, who included Charles Barry and A.W.N. Pugin, the architects of London's Houses of Parliament (designed in 1840), believed that the art and architecture of the Middle Ages were authentically spiritual and inherently moral.
In the United States, the Gothic Revival movement shaped both public buildings and private houses. Numerous American schools were built in the early-19th century in a style now called Collegiate Gothic. Many builders and craftsmen were inspired by Andrew Jackson Downing's widely read 1850 book Architecture for Country Houses, which posited that a family's home should exemplify their values — and that the Gothic Revival style was particularly well-suited to scholars and clergymen. Furniture with detailing that mirrored that of Gothic Revival buildings appeared in the same period. Such pieces typically feature dark, intricately carved wood, and upholstery in velvet or leather.
Much like the castle or cathedral that inspired it, a Gothic Revival chair makes a bold design statement. And while you probably don't have to cross a moat or raise a portcullis to get through your front door, a Gothic Revival piece might make a statement that your home is indeed your castle.