Tables might not be the first thing that comes to mind when you consider ways to revamp your home. But the right table can serve as an elegant centerpiece in your dining room, a supportive wingman for your reading chair or the perfect solution to filling the blank space behind your sofa.
And perhaps because they are intrinsically utilitarian, tables achieve a fusion of form and function found in few other pieces of furniture.
To help you decide which types of tables resonate with your interior design tastes, we'll take you on a curated tour of the most notable ones — from timeless antiques to mid-century modern marvels, with plenty of eye-catching designs along the way.
---
Dining Tables
Historical charm or contemporary chic? A dining table should integrate seamlessly into the overall design to become a harmonious centerpiece of your dining space.
Round Dining Tables
Round dining tables offer a more intimate feel for families and dinner guests. They come with a variety of bases, the most popular being the pedestal. Eero Saarinen's Tulip table is an iconic example of the pedestal design, with a round top that tapers smoothly into the central column of the base.
For a contemporary home, the Paperclip dining table by Lella and Massimo Vignelli could be an attractive choice. It features clean lines and a cleverly streamlined design that uses a few simple shapes to make a three-dimensional form.
Square Dining Tables
Square dining tables, which adapt easily to any dining room style, are a contemporary favorite. Smaller ones are fantastic for compact rooms, where they can both act as the focal point and provide a cozy dining experience. Large square dining tables make stylish statements in bigger spaces.
The visionary Italian designer Aldo Tura was known for his diverse body of work and his eclectic use of materials, as in this light green parchment table with a top of lacquered goatskin balanced on an Art Deco–style base.
Rectangular Dining Tables
Rectangular dining tables have been around for millennia, from those used by the Greeks and Romans to centuries-old French monastery tables to modern glass-top options and beyond. The versatility of the rectangular design allows endless opportunities for personalization — and plenty of elbow room for holiday feasts or for unexpected guests.
Perfect in elongated rooms, rectangular tables — like Milo Baughman's burlwood Parsons dining table — serve as gathering places, with ample surface area for dishes and decor. Pair the clean lines of a Parsons with antique dining room chairs for added interest in your dining room.
Foldable and Extendable Dining Tables
Folding dining tables are suited to smaller areas, providing a locus for extra seating without sacrificing style. Expand their wings to accommodate dinner party guests, and tuck them away when not in use to save space. With intuitive mechanisms and seamless integration, modern extendable dining tables strike an effortlessly elegant balance between functionality and aesthetics.
A notable design is the Heywood Wakefield wishbone dining table. A mid-century modern dining table on a distinctive wishbone-shaped base, it comes in round and rectangular shapes, equipped with two drop leaves to bring maximum flexibility and distinctive style to any dining area.
---
Coffee Tables
A coffee table can promote conversation, adding an inviting touch to your living room, or it can cede the spotlight to your other pieces.
Round Coffee Tables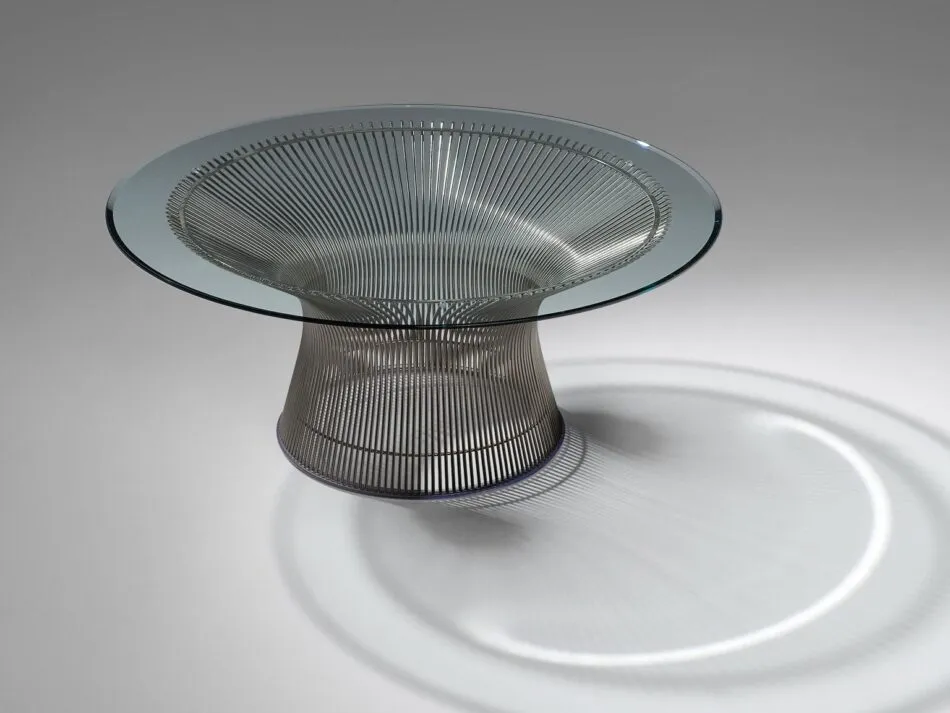 With its smooth shape, a round coffee table blends flawlessly with a variety of interior design themes, from traditional to eclectic. Cylindrical tables add a cosmopolitan pop to flashy living room decor, while sculptural handmade coffee tables impart an artisanal feel to minimalist or farmhouse-style spaces.
Influential American architect and interior designer Warren Platner made a significant impact on mid-century modern design with pieces like his round coffee tables, produced by Knoll, which are highly sought after by collectors of furniture from that era.
Square Coffee Tables
With their clean lines and pleasing, balanced proportions, square coffee tables go beautifully with modern decor and geometric square or sectional sofas. For a hit of the unexpected, pair a square coffee table with seating in eccentric shapes, like an Eero Aarnio Ball chair or an asymmetrical sofa.

Whether you're a minimalist devotee or pray at the altar of maximalism, this pair of square chinoiserie coffee tables would look gorgeous in your living room. The vibrant colors and ornate details of chinoiserie pieces add rich texture to many interior design styles.
Rectangular Coffee Tables
Versatile and classic, rectangular coffee tables accord with a wide range of seating arrangements. Asymmetrical versions, like those by Isamu Noguchi, or ones with surprising splashes of color, like Yves Klein's creations, are ideal for multifunctional living spaces, which call for practicality as well as beauty. And their ample surface area affords enough space for your favorite coffee-table books.
Ottoman Coffee Tables
Ottoman coffee tables add interest with their upholstered details — and they double as comfy places to prop your feet or extra seating options during cocktail parties. Ottomans with glass, wood or metal tops offer sturdy surfaces for drinks and decorative items. Larger poufs with soft tops add an undeniably luxurious élan.
The Forsyth checkerboard ottoman is handcrafted from the company's recognizable wool-and-jute checkerboard rugs. Its flat top and generous size make it a queen of versatility in the living room.
---
Console Tables
Generally tall and shallow, console tables add style and practicality to otherwise empty areas like foyers, hallways or the back of a couch.
Demi-Lune Console Tables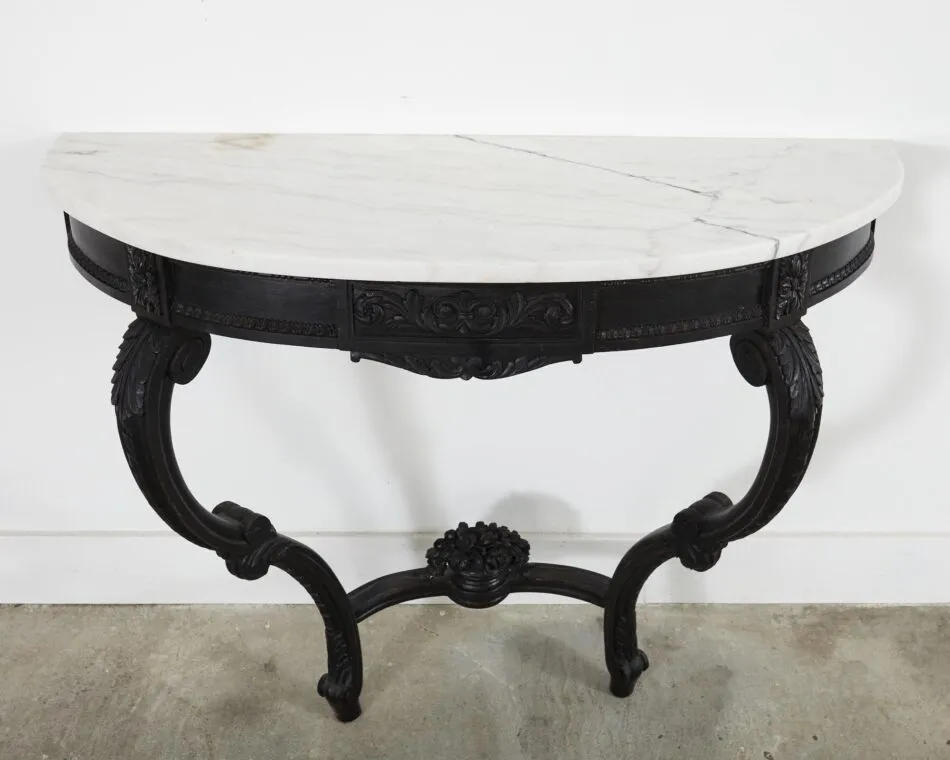 French demi-lune ( half-moon) consoles are semi-circular tables with graceful curves and ornate filigree that can lend an old-world charm to your home. They are a striking choice for transitional spaces that could use a bit of character.
Half-moon consoles are often French provincial in design, like this wall-mounted Louis XV–style example from the 20th century, whose black lacquer, curved rococo legs harmonize gracefully with its Carrara marble top.
Rectangular Console Tables
Pleasing to the eye and functional to boot, rectangular console tables often come in pairs and sometimes contain drawers or shelves for storage — an elegant way to keep small spaces clutter-free. Their elongated shape makes them ideal focal points in your entryway or behind a sofa, offering a stylish platform for decor or lamps or a place to put a catchall tray by the front door for your wallet, keys and lip balm.
If you're hunting for a head-turning design, you need look no further than the Globo console table by Jonathan Adler. Its glamorous silhouette nods to the opulence of Hollywood Regency, with an ultra-modern twist.
Credenzas
From the Italian word for sideboard or buffet, credenzas are usually longer than other console tables and have more storage compartments. Historically, they were placed in dining rooms to display and store valuable tableware and other decorative items. Antique and vintage credenzas are highly sought-after, elevating a space with their fine craftsmanship and distinctive character.
Created for the Swedish studio Ringvide by Lukas Dahlén, who was inspired by traditional weaving techniques, the Weave credenza features a minimalist yet expressive design.
---
Side Tables
Available in many stunning designs, side tables enliven your living space while providing handy surfaces to hold your daily essentials.
End Tables
Placed beside sofas and chairs, end tables can tie a room together visually and functionally. Victorian end tables inlaid with materials like brass and leather are stunning. But decorators with more contemporary tastes might prefer mid-century modern versions, which add alluring angles to a decor.
These calligraphic end tables by Misaya are a sensory delight that captures the essence of Chinese ink paintings in three dimensions.
Nesting Tables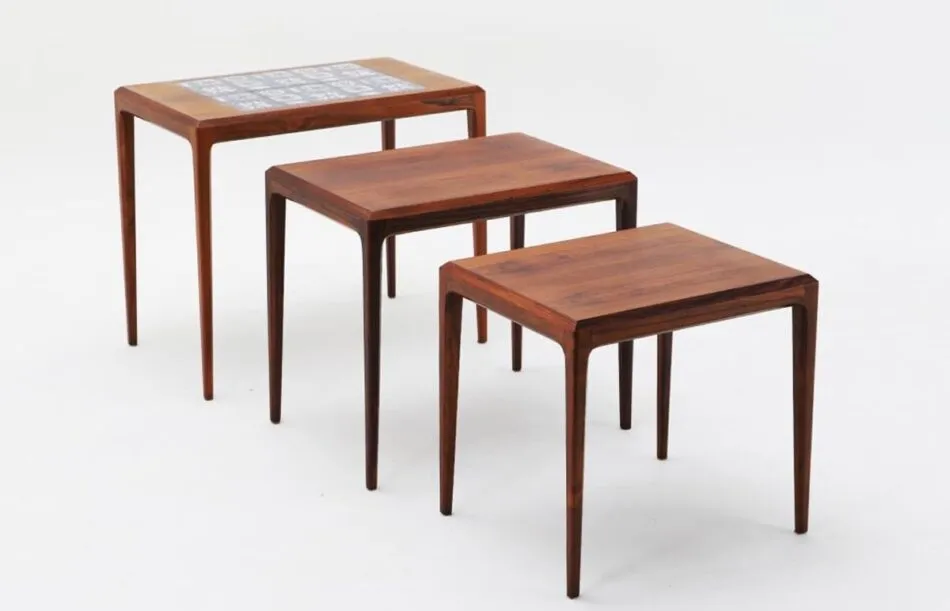 The clever engineering of nesting tables, also known as stacking tables, allows them to add aesthetic appeal to rooms while pulling their weight functionally. When not in use, they can be neatly stowed away to save space — then separated again when needed to create extra table tops for parties or to display newly acquired tchotchkes.
Johannes Andersen, a prominent Scandinavian modernist, is known for his exquisite nesting tables and innovative use of teak, mahogany and rosewood.
Accent Tables
The intricate detailing of accent tables infuses panache into spaces in need of something extra. With their unique designs and materials, these decorative pieces, including credence and console tables, add character to quiet corners, dark niches or between a pair of armchairs.
Italian architect and designer Angelo Mangiarotti designed these modernist Carrara marble accent tables, which epitomize practical artistry.
Bedside Tables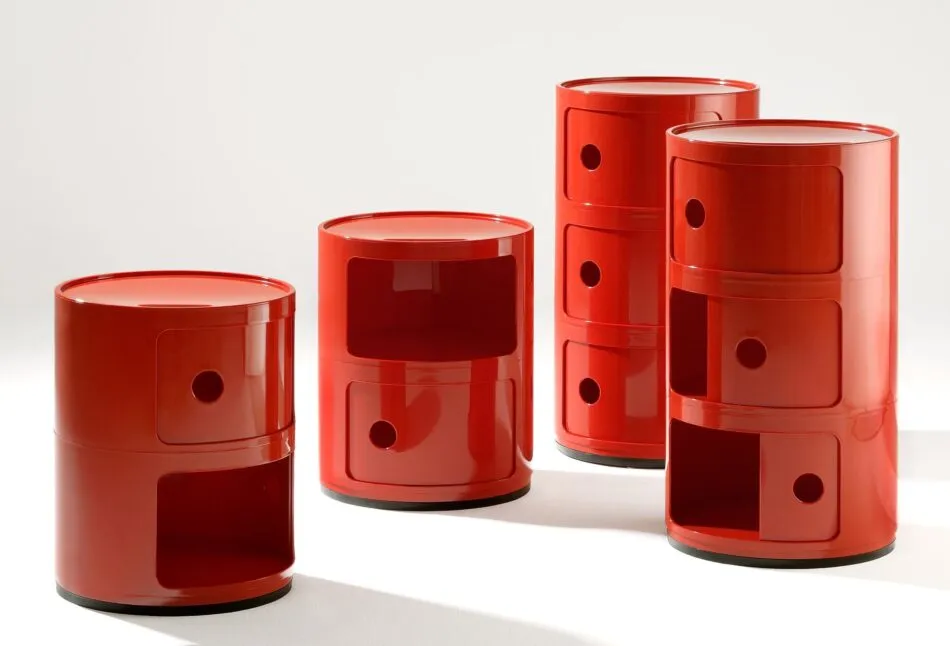 Nightstands and bedside tables provide sturdy surfaces and additional storage while enhancing a bedroom's decor and keeping your reading material, lamp or glass of water within arm's reach.
Embodying functional simplicity with mid-century modern flair, the cylindrical Componibili side tables by Anna Castelli Ferrieri for Kartell double as mini storage units.
---
Most Popular Table Styles Today
In the ever-evolving world of interior design trends, the most popular table designs reflect wider cultural movements. The diversity of these coveted styles ensures that options exist for every space and taste.
Industrial Tables
Industrial tables combine clean lines and moody color schemes with materials — like solid wood, metal and concrete — that convey a strong sense of utilitarianism. Their distinctive look and focus on durability have made industrial-style tables and lighting top choices for both urban lofts and contemporary country homes.
This pair of brushed-steel nightstands from the 1920s displays practical details like those found in Industrial Age manufacturing spaces.
Antique Tables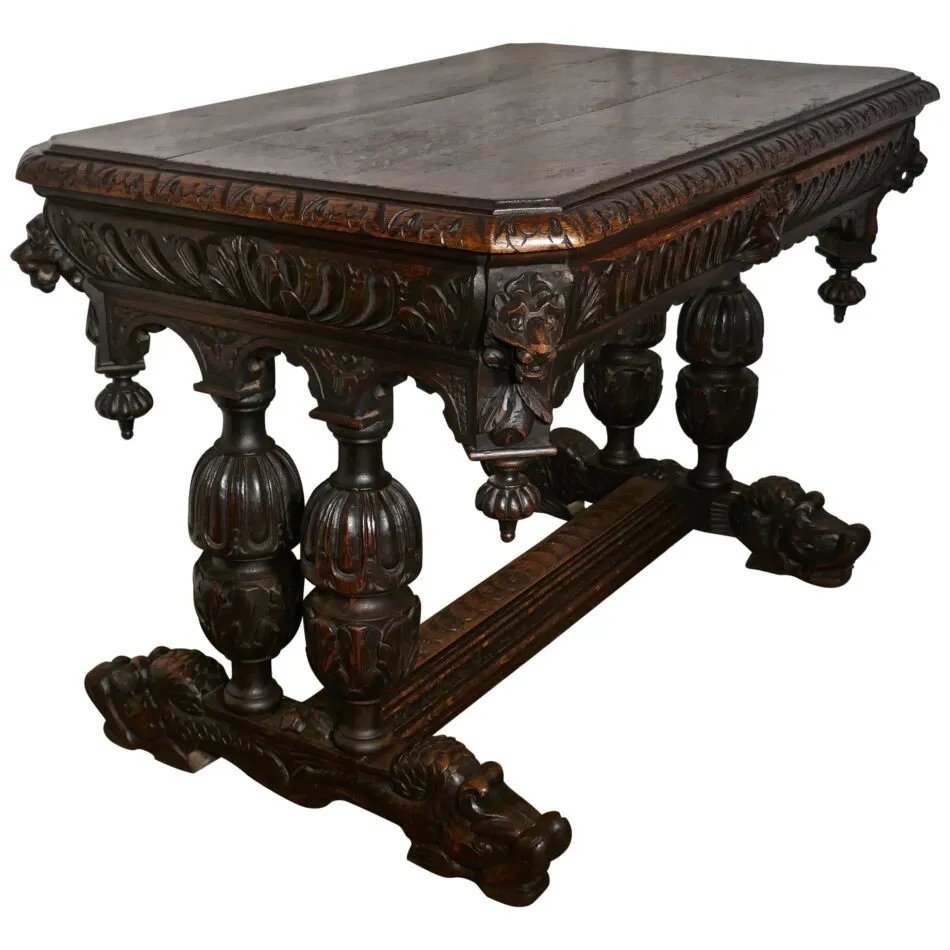 With their often exceptional craftsmanship and historical significance, antique tables never go out of style. Victorian, Gothic and Louis XV tables lead the list of sought-after antique furniture, for good reason — their exquisite design and the traditional craftsmanship they embody are endlessly alluring.
The intricate inlay top and ornate scrollwork of this Victorian coffee table from 1870 are wonderful examples of the antique details sought after today.
Mid-Century Modern Tables
Mid-century modern tables are typified by warm woods, bold colors and uncomplicated structures. Celebrated for their minimalist yet elegant designs in a range of materials, they often become statement pieces in the interiors they occupy.
These boomerang-like Artist's Palette tables from the 1960s display many characteristics of mid-century modern design: playful asymmetry, fine woodwork and an aesthetically pleasing shape that also serves a practical purpose.
---
Frequently Asked Questions
How many types of tables are there?
There are between 30 and 40 distinct types of tables serving a broad range of functions — and no, you don't need to own them all.
What's the difference between a coffee table and a console table?
Coffee tables are generally placed in the living room. They're low-standing to align with the heights of sofas and armchairs, and they have large top surfaces handy for holding drinks, snacks, books and decorative objects. Console tables are typically placed against walls and have longer legs and narrower surface areas suitable for storage and display.
How do I choose the right type of table for my space?
In choosing the right table, you should consider factors like its intended use, the existing decor and the dimensions of the room where it will reside. Measure your space carefully and determine your form and function preferences.
Are there types of tables designed specifically for outdoor use?
Yes, tables designed for outdoor use are called outdoor or patio tables. Made from weather-resistant materials like wicker, wood, stone, glass, resin and aluminum, either singly or in combination, they come in various styles and are designed to fulfill various functions, from dining and coffee tables to side tables, to create inviting outdoor spaces around your home.