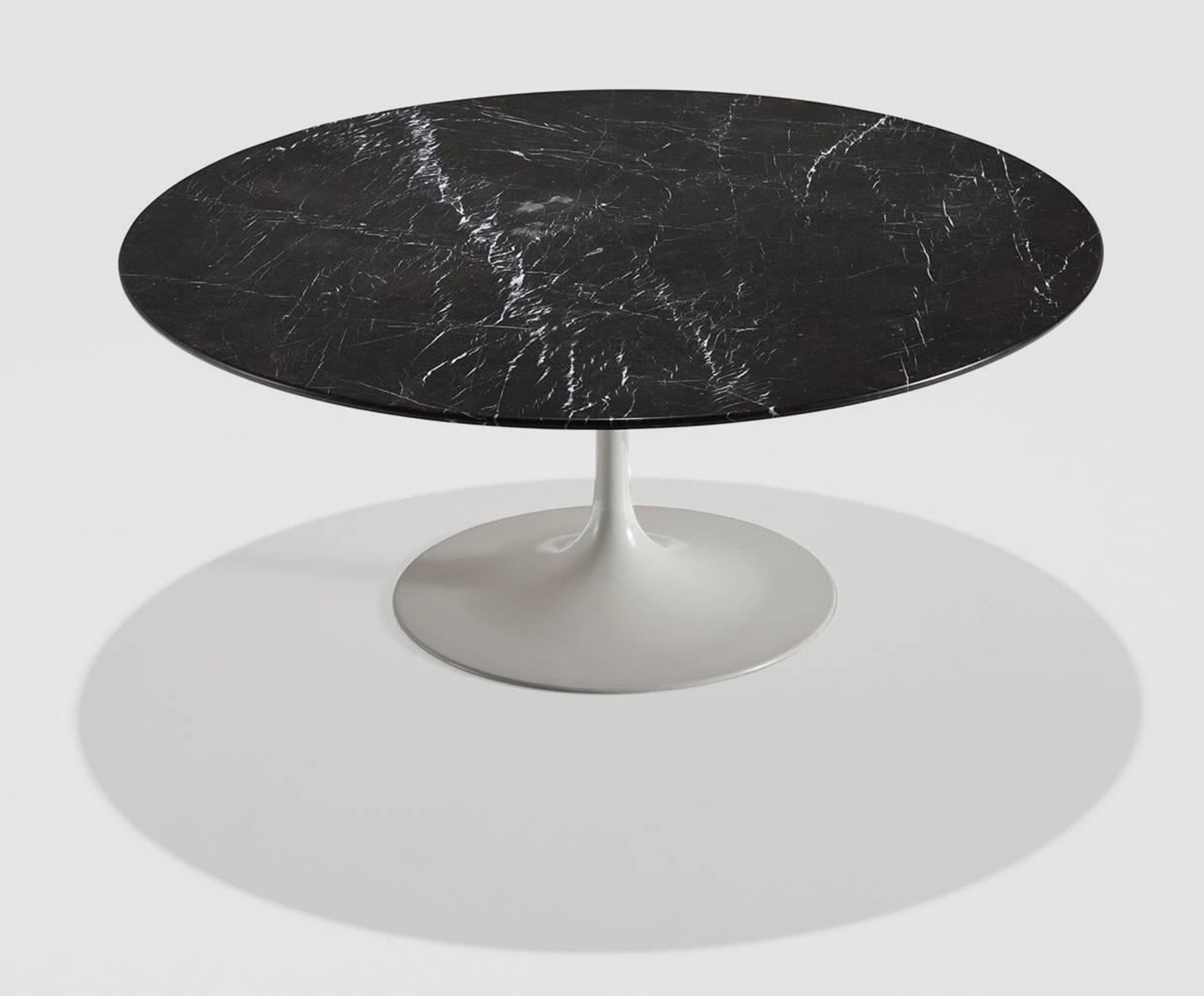 Iconic Designs
Pedestal Table
About the Design
Finnish-American architect and furniture maker Eero Saarinen (1910–61) declared that he "wanted to clear up the slum of legs" crowded beneath tables. Enter his Pedestal collection, which Knoll launched in 1958. The collection included chairs, stools and tables of various sizes all balanced on a single supporting leg.
Saarinen got his start in furniture as a student at Michigan's Cranbrook Academy of Art, where his father, architect Eliel Saarinen, was director. Some of Eero's earliest work was designing furniture for Kingswood, a Cranbrook school for girls that opened in 1931. The pieces included a table with four gathered legs in order to make room for both people and chairs' legs. At Cranbrook Academy, Saarinen met Florence Knoll, who would become a lifelong friend and professional partner, especially when she was leading the Knoll furniture company. He also met fellow designer Charles Eames, and together they created the molded plywood Organic chair, which placed first in the 1940 Organic Design in Home Furnishings competition organized by the Museum of Modern Art in New York. As with Saarinen's future practice, the Organic chair was emblematic of a design approach that was informed by a consideration of the human body as well as the possibilities of new machine processes.
Although America's involvement in World War II disrupted plans to manufacture the Organic chair, Saarinen continued to explore organic shapes in industrial design. His interest in using seamless plastic forms was clear with his Pedestal series, but the technology was not advanced enough for their stability. Instead, the Pedestal table and its accompanying Tulip armchairs were comprised of cast-aluminum bases. Each table, stool and chair was crafted with a single, tapered cylindrical leg that descends to a base that flares into a circle, giving the illusion of being one piece. Like his Gateway Arch in St. Louis, the series' pieces appear to float, and although austere in silhouette, they reflect intense attention to engineering.
The Pedestal table was released with several additional options, including marble and wood veneer for its round and oval tops for dining, side and coffee tables. Because of their modest footprint on a room and streamlined design, these tables can harmonize with nearly any interior style. The Pedestal table's status as a modern classic has inspired numerous imitators, but Saarinen's original — still manufactured by Knoll — maintains the grace and quality that distinguishes it from the rest.
Eero Saarinen Pedestal Table
The Saarinen Pedestal Series
More Eero Saarinen Designs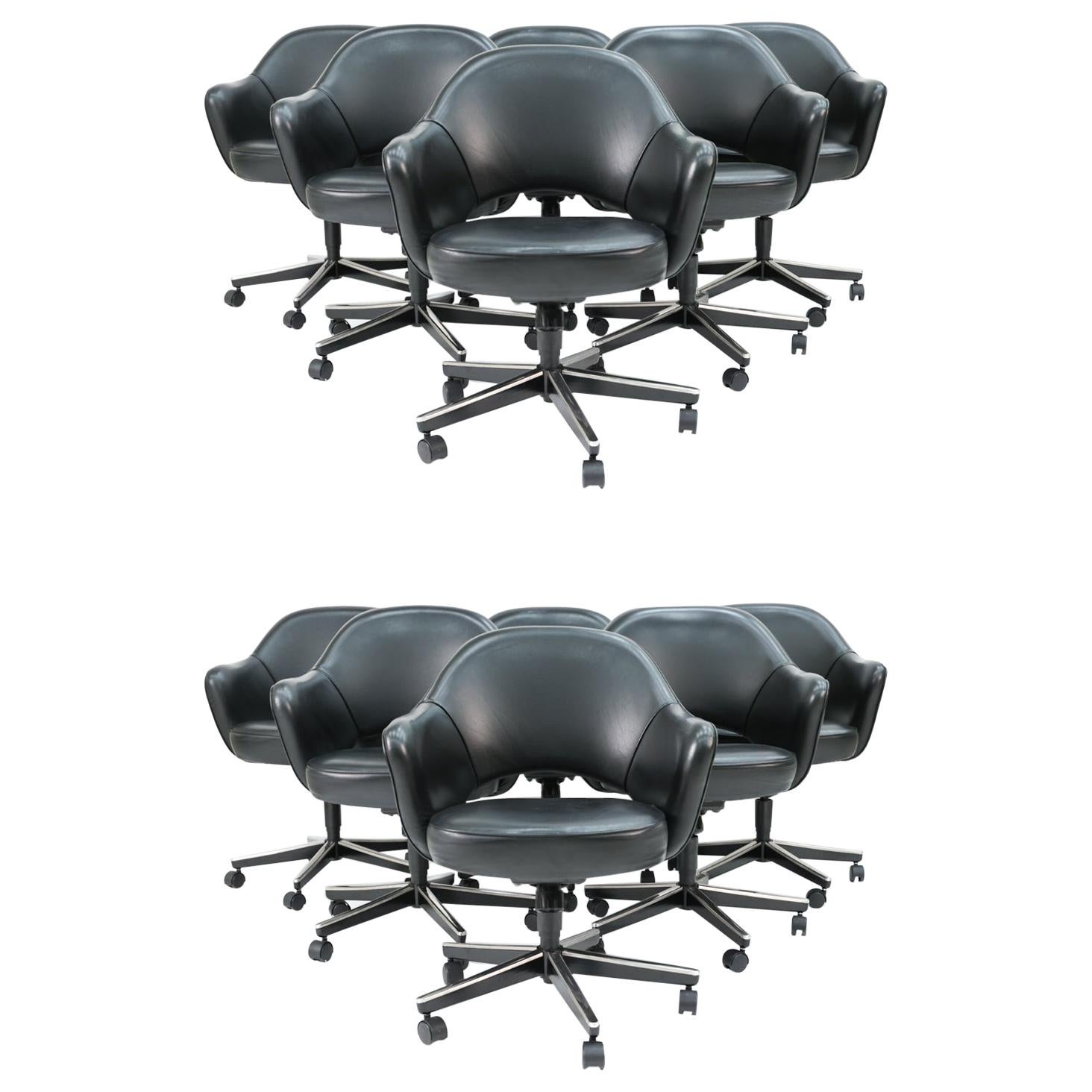 Materials
Fabric, Metal, Upholstery, Chrome
Shop All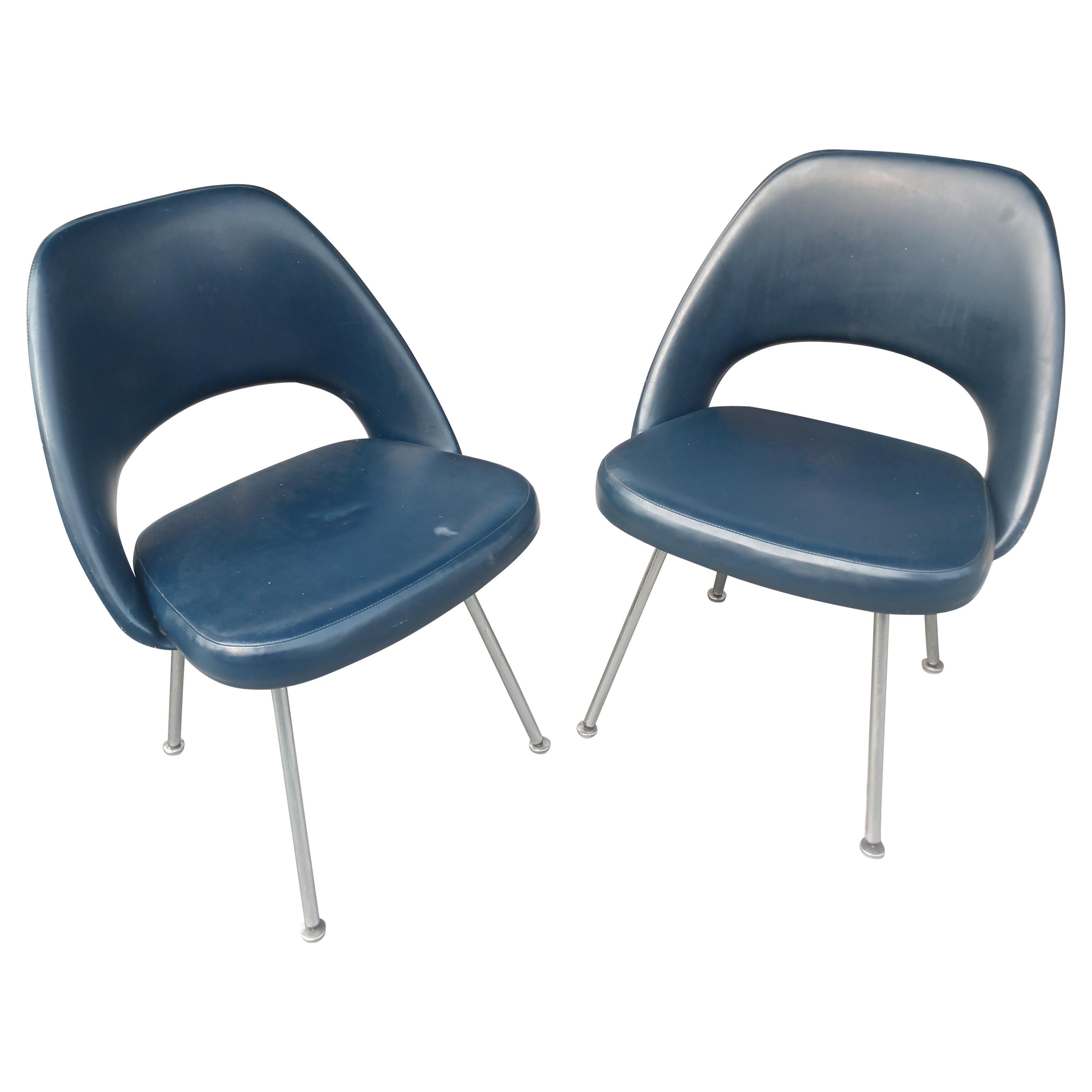 Materials
Metal, Fabric, Upholstery, Steel, Velvet
With the founding of the Knoll Planning Unit at Knoll Associates in 1946, the modern open-plan office was born. Soon after the launch of the internationally celebrated design firm's workplace-focused division, the Saarinen Executive Armless chair would emerge as one of its seating staples. A departure from more rigid office seating, the 1950 design by Finnish architect Eero Saarinen (1910–61) offered some of the comfort of his 1948 Womb chair in a more formal shape. Nicknamed "that chair with...
Shop All