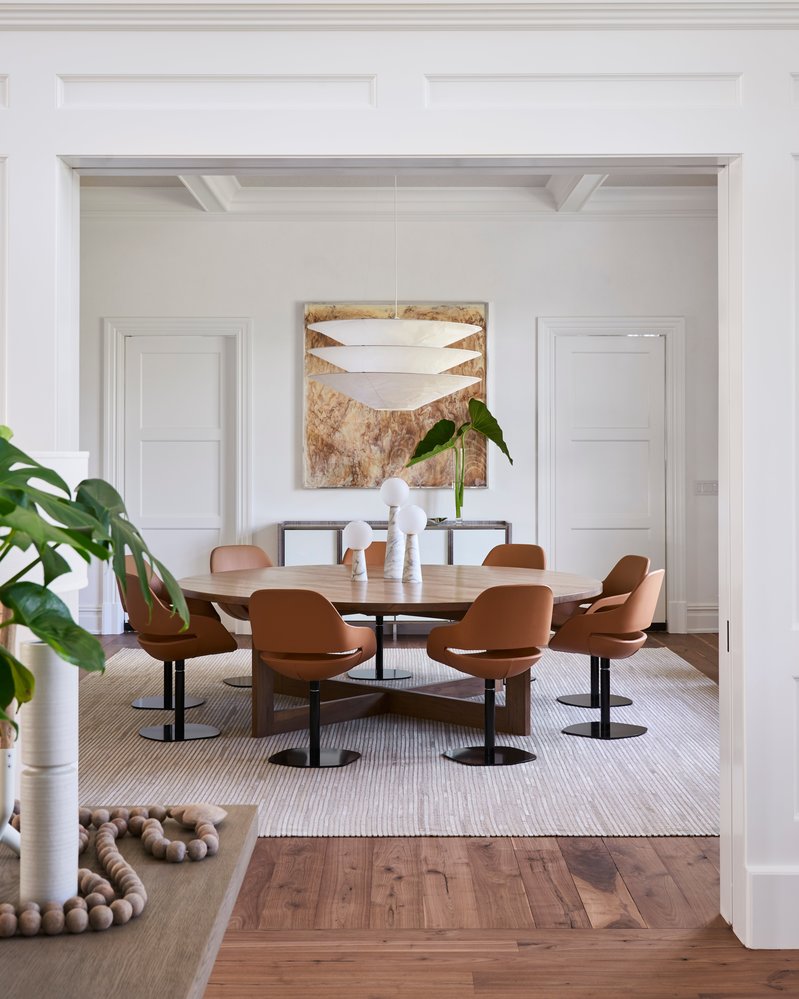 The neutral palette in this Bridgehampton, New York, dining room by Timothy Godbold sets a serene mood, and the round table encourages conversation.
Photo by Alec Hemer
---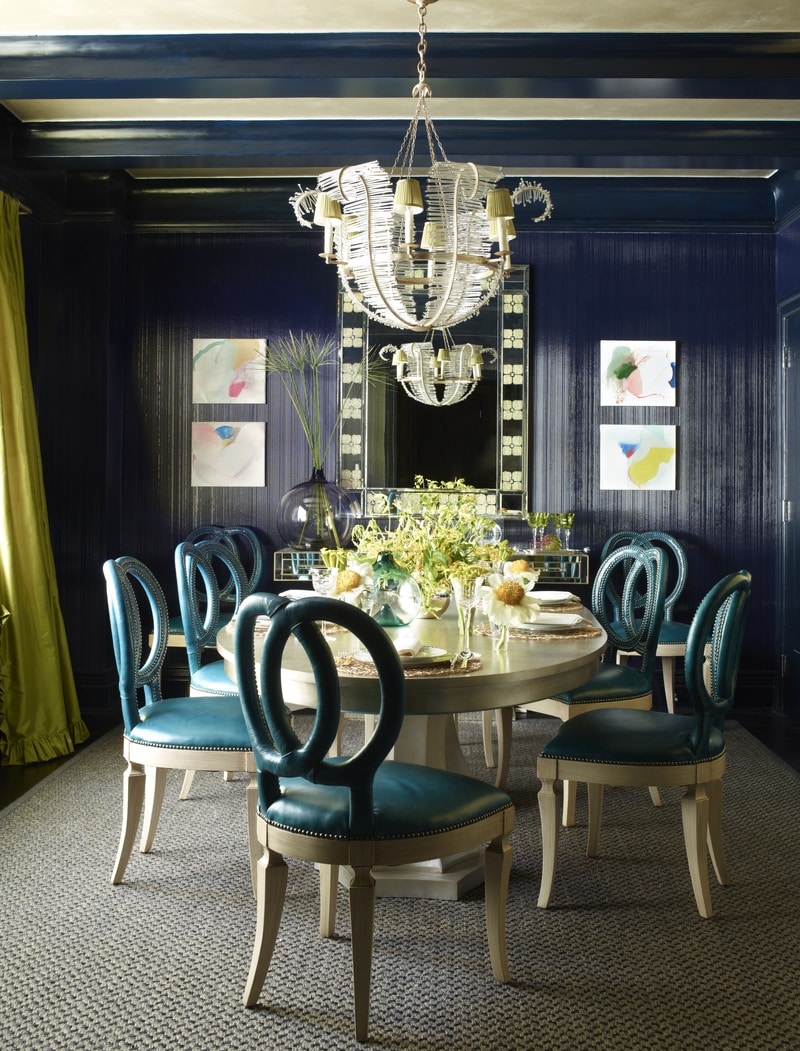 In this Manhattan dining room by Kemble Interiors, a Niermann Weeks chandelier hangs over the table, which is surrounded by Barry Dixon chairs.
Photo by Simon Upton
---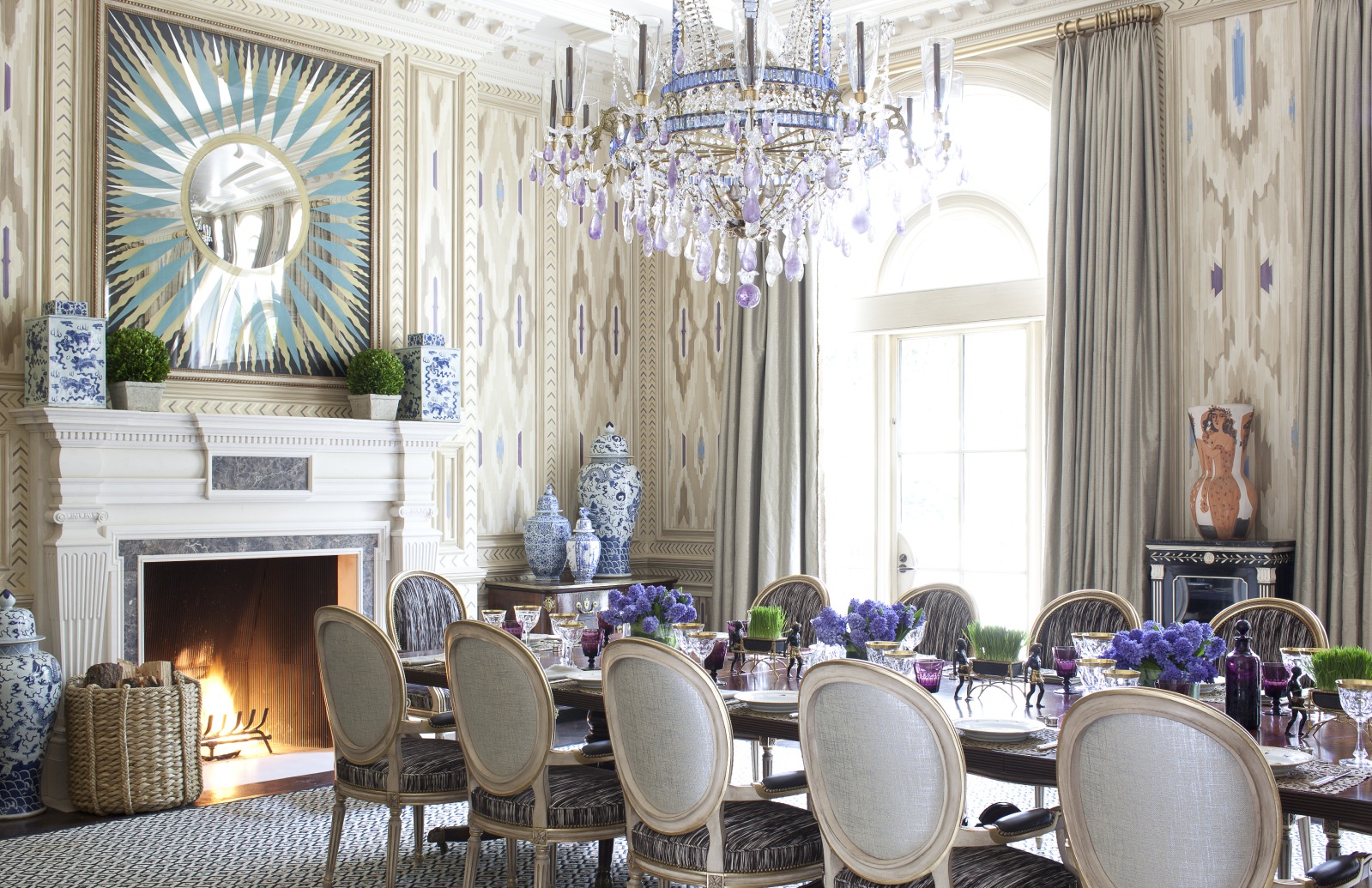 The Dallas dining room of Kelli Ford, part of the Kirsten Kelli design duo, features soaring ceilings, a pair of massive chandeliers and a stunning sunburst mirror over the fireplace.
Photo by Max Kim-Bee
---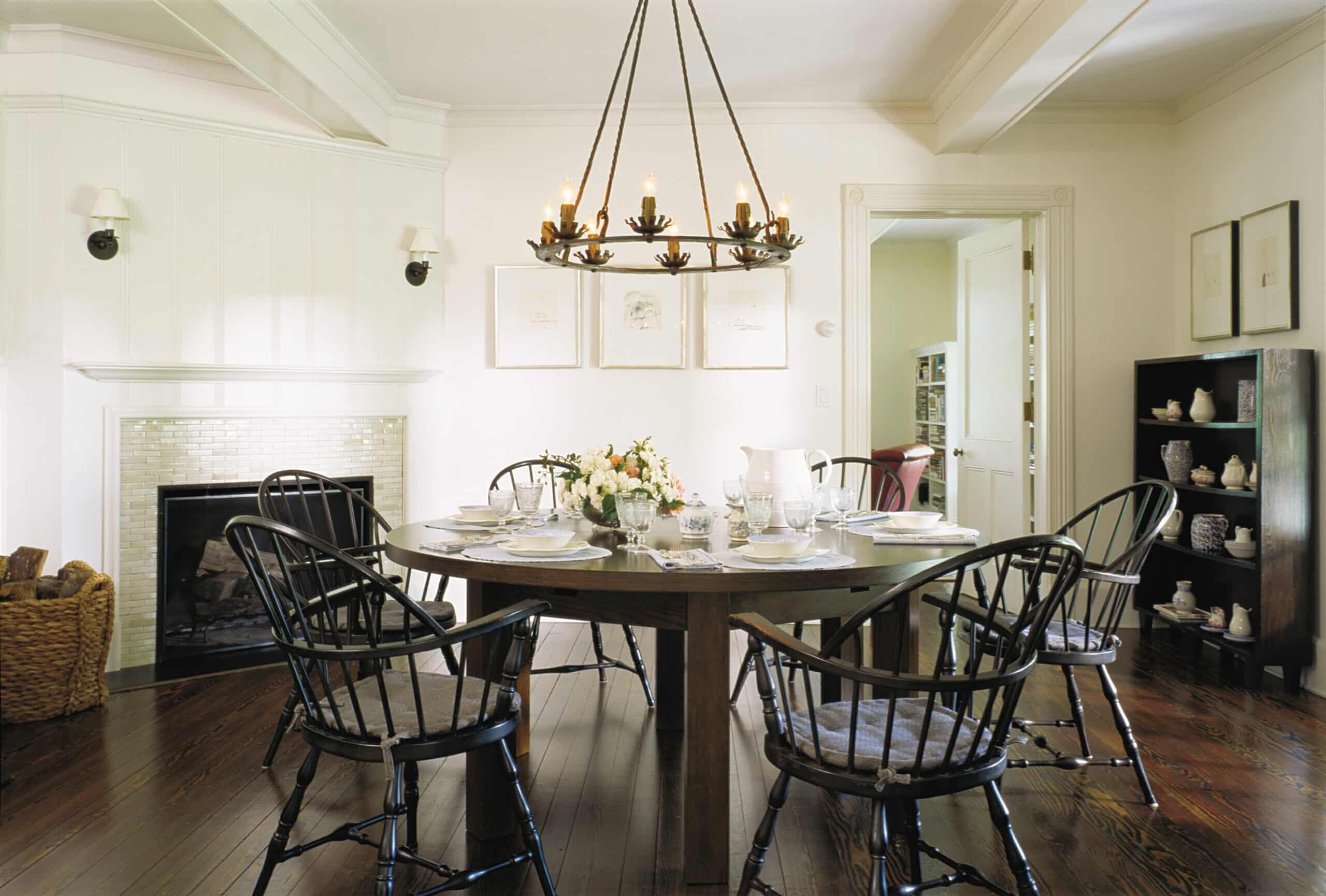 Thad Hayes updated this turn-of-the-century shingle-style house on Long Island, whose dining room features a round iron chandelier and a set of bowback Windsor armchairs.
Photo by Scott Frances
---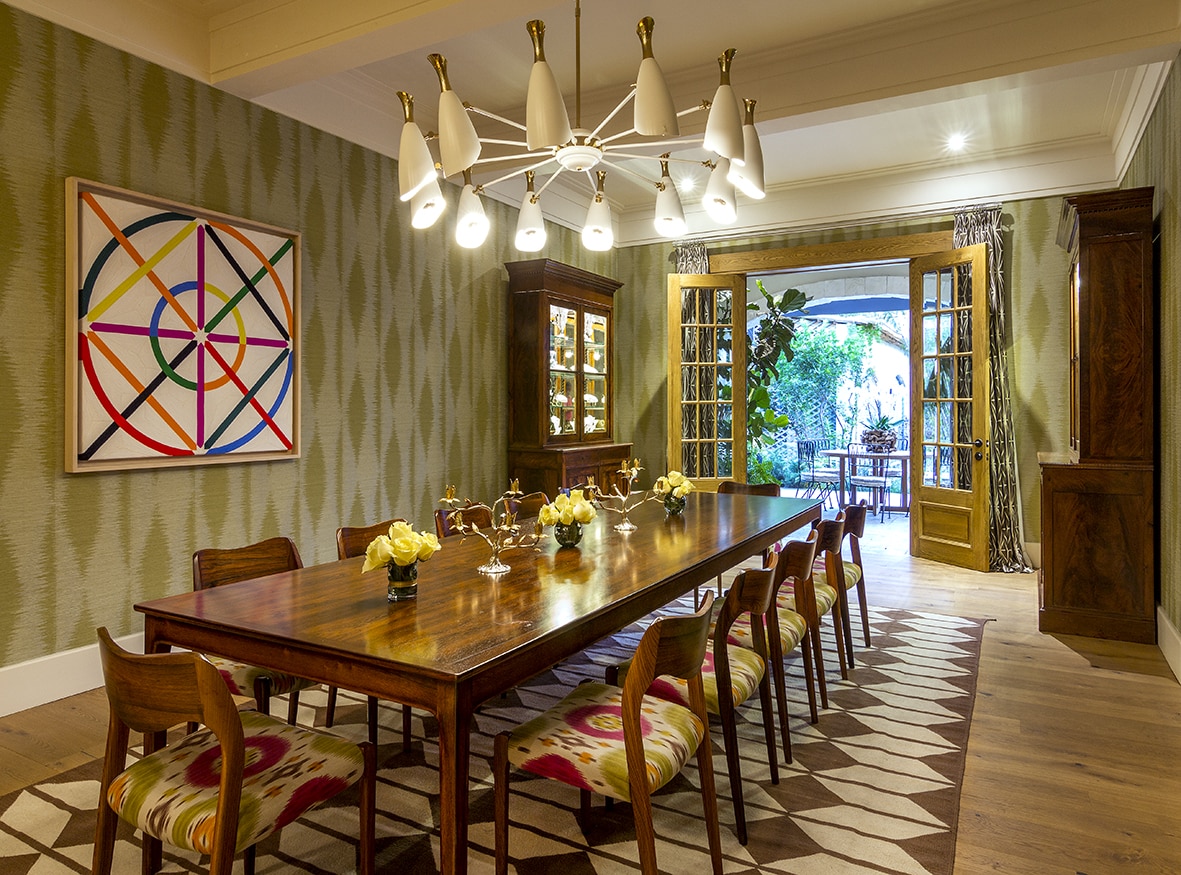 Sofia Aspe didn't shy away from mixing color and pattern in this Mexico City dining room, which includes 1stdibs-sourced items like a table by Ole Wanscher and vintage chairs by Niels Otto Møller covered in a vibrant Kravet fabric.
Photo by Alfonso de Bejar
---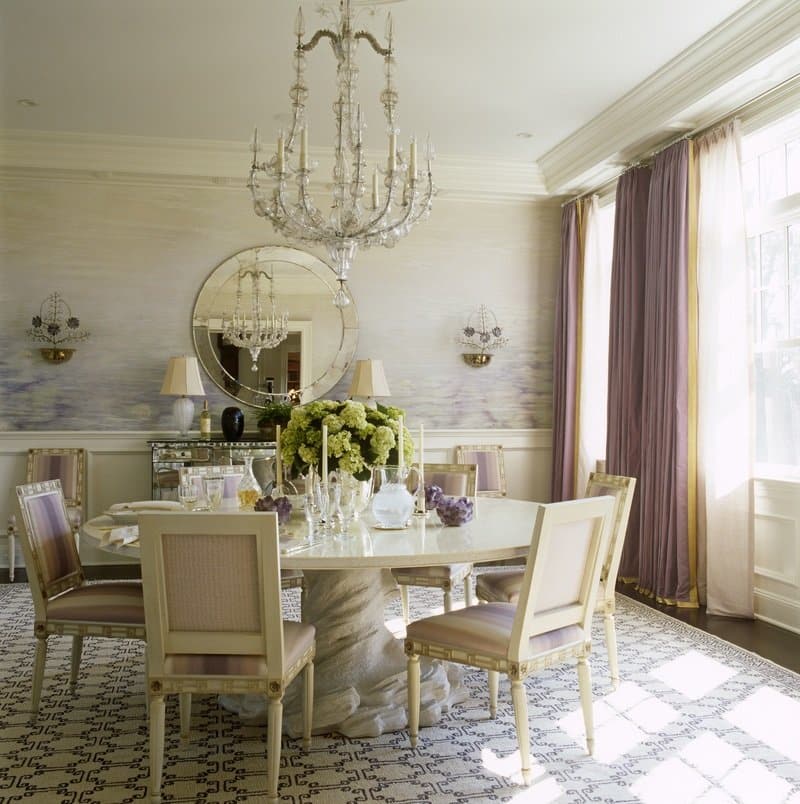 A wall mural based on Monet's water lilies adorns this Brian J. McCarthy-designed dining room on Long Island. The space also features a dining table with a sculptural base and a mirrored sideboard.
Photo by Fritz von der Schulenburg
---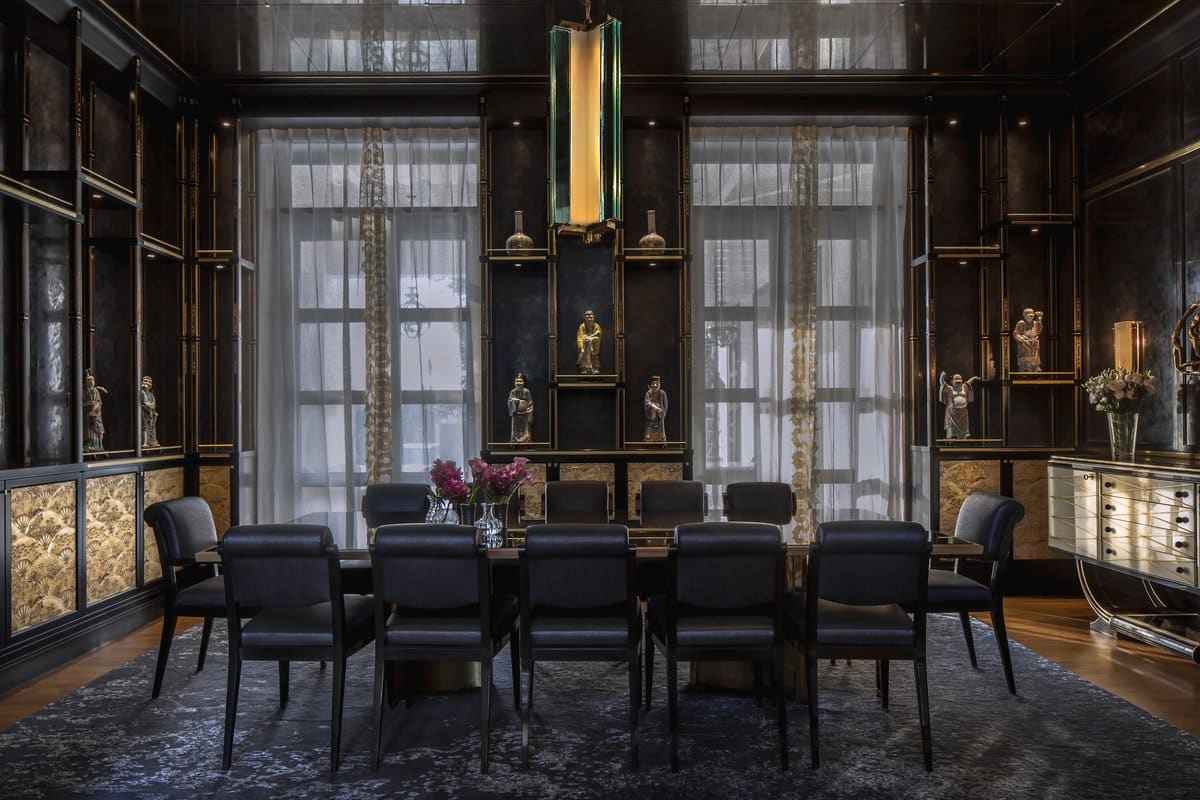 Embossed leather-inset millwork panels line the walls of this Sara Story–designed dining room, whose brass detailing and gilded and oxidized silver-lead verre églomisé ceiling by Miriam Ellner make the space even more dramatic.
Photo by Masano Kawana
---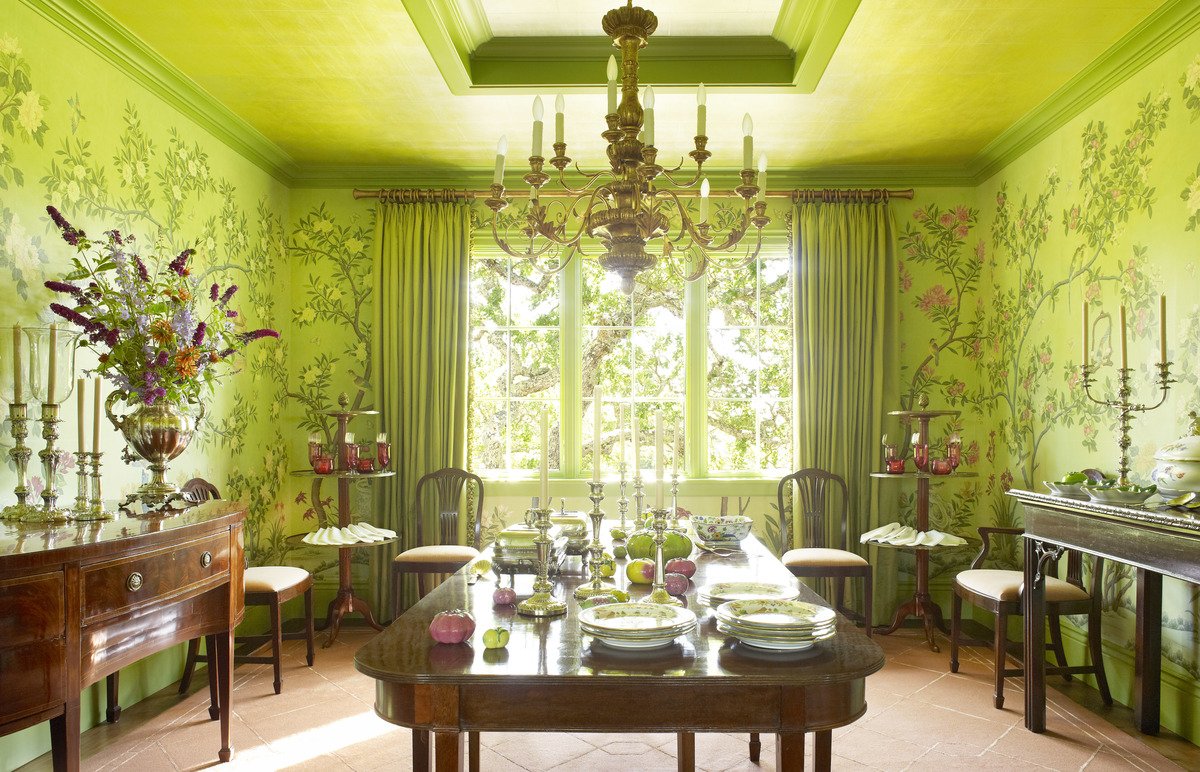 Hand-painted wallpaper by Gracie and gilded-gold de Gournay tea paper on the ceiling imbue this Marin County, California, dining room with warmth and color. Suzanne Rheinstein and Associates designed the space, which features a circa-1780 Chippendale mahogany serving table, a pair of circa-1825 Georgian Sheffield silver-plate three-candle candelabras and 19th-century Chinese glazed stoneware altar fruit, all from Rheinstein's shop, Hollyhock.
Photo by Pieter Estersohn
---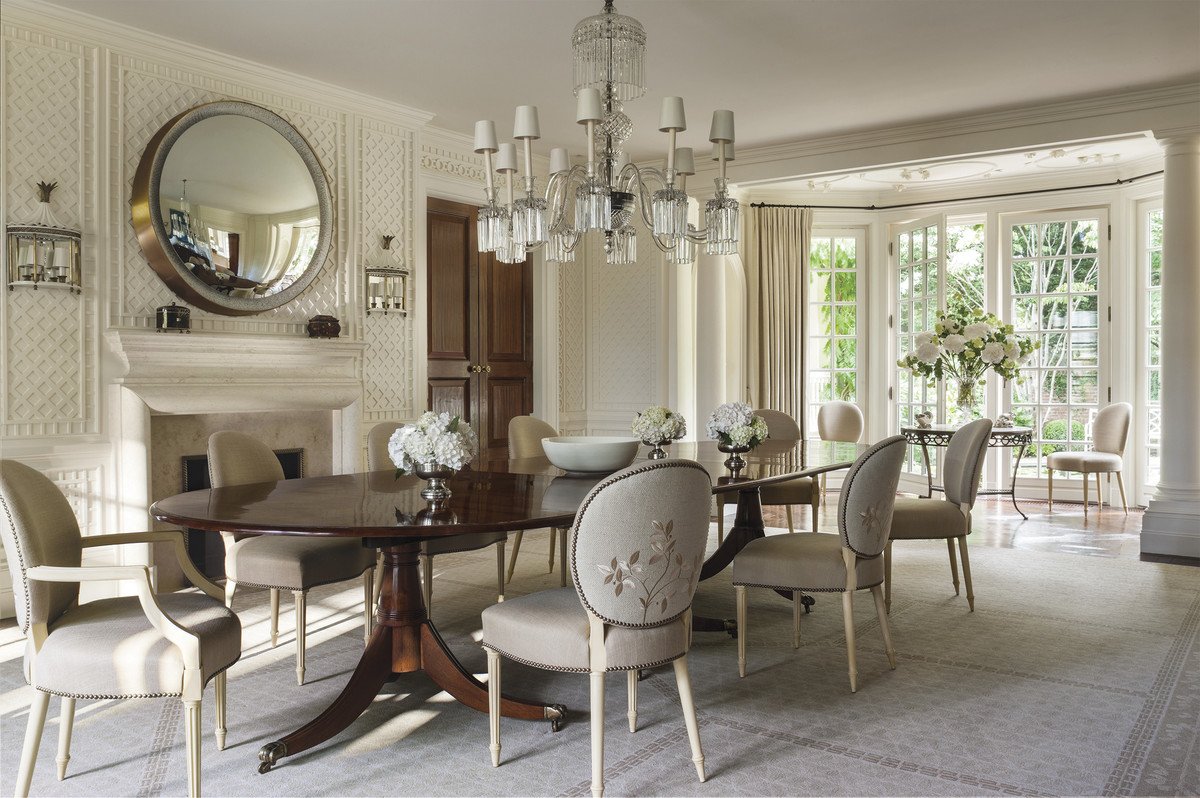 In this house in Southampton, New York, a former residence of Consuelo Vanderbilt, the dining room's wall treillage and floral ceiling design were fabricated in plaster. Thomas Pheasant Interiors designed the space, as well as the convex mirror hanging above the French limestone mantle.
Photo by Durston Saylor
---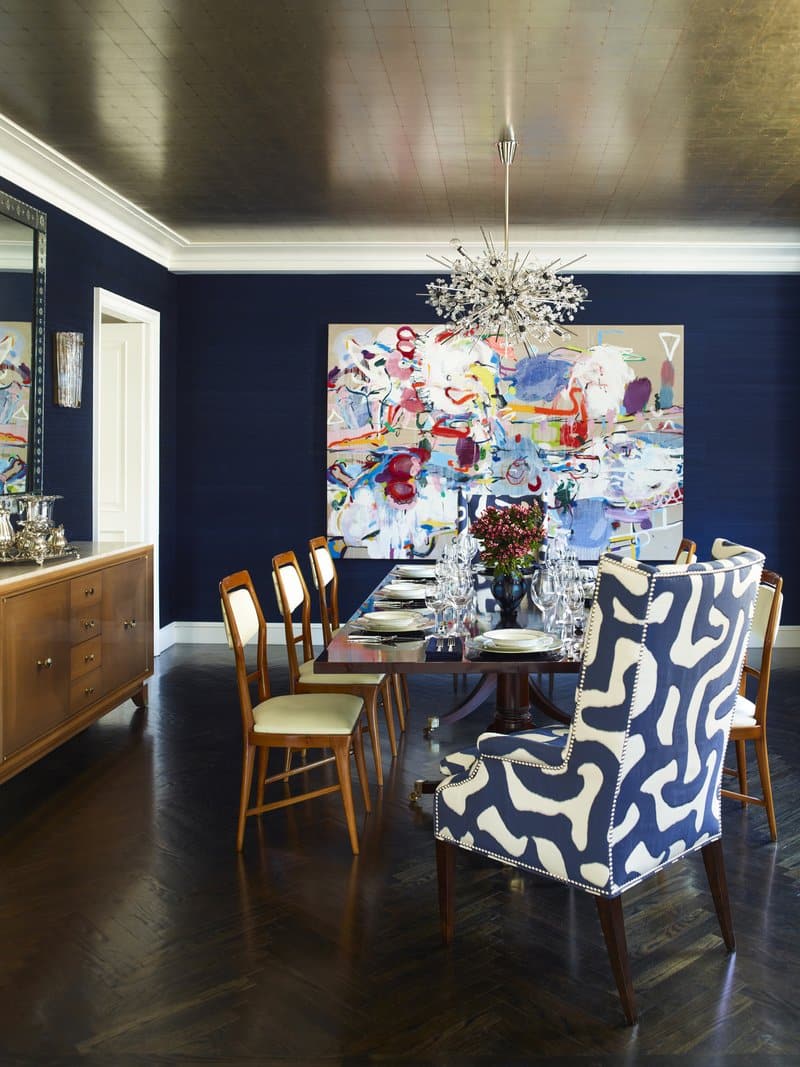 Metallic ceiling paper by Stark pops against the navy silk Designtex wallcovering in this Manhattan dining room by Mendelson Group. Vintage Carlo di Carli side chairs are from Van den Akker, and the host chair is upholstered in a John Rosselli fabric with nailhead trim.
Photo by Eric Piasecki
---
---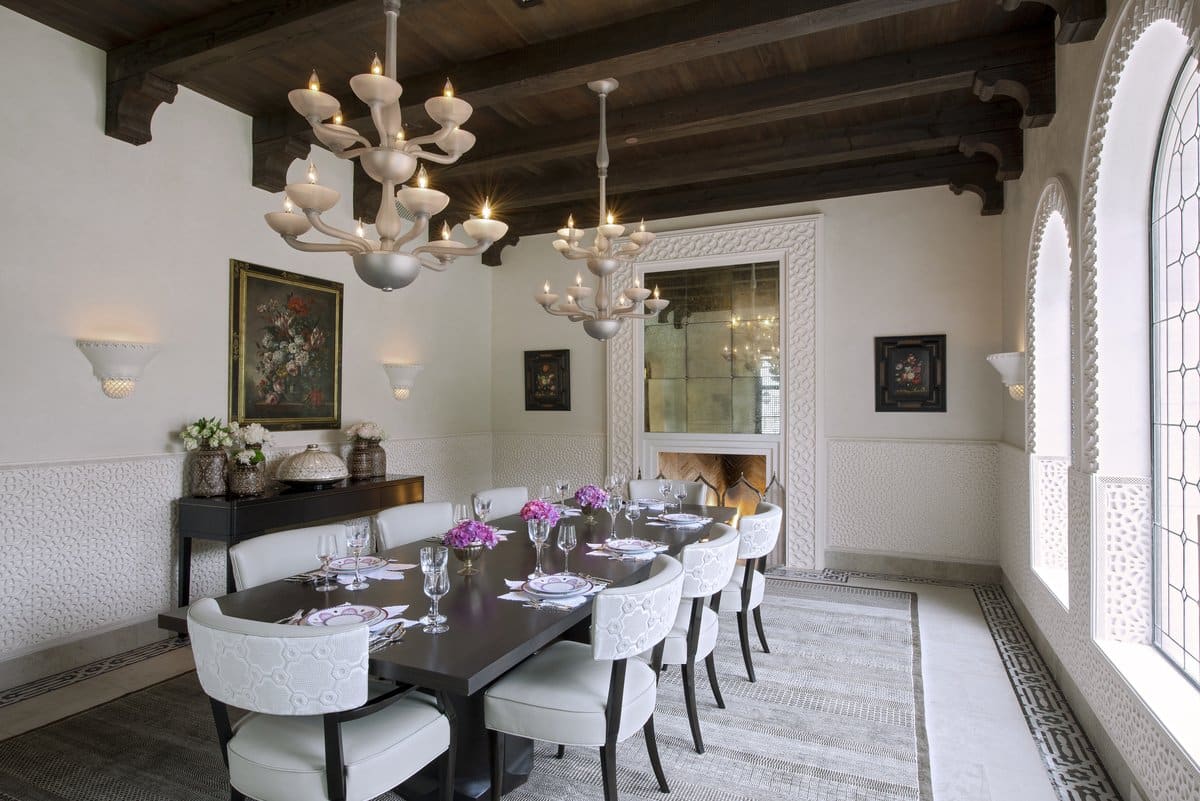 A pair of custom Murano glass Mizar chandeliers by Pierpaolo Seguso are a focal point in this Dallas dining room by Emily Summers Studio. A Moroccan mosaic tile border adds texture to the neutral space, and it ties into the custom embroidery on the back of the Martino dining chairs by Nancy Corzine.
Photo by Laura Wilson
---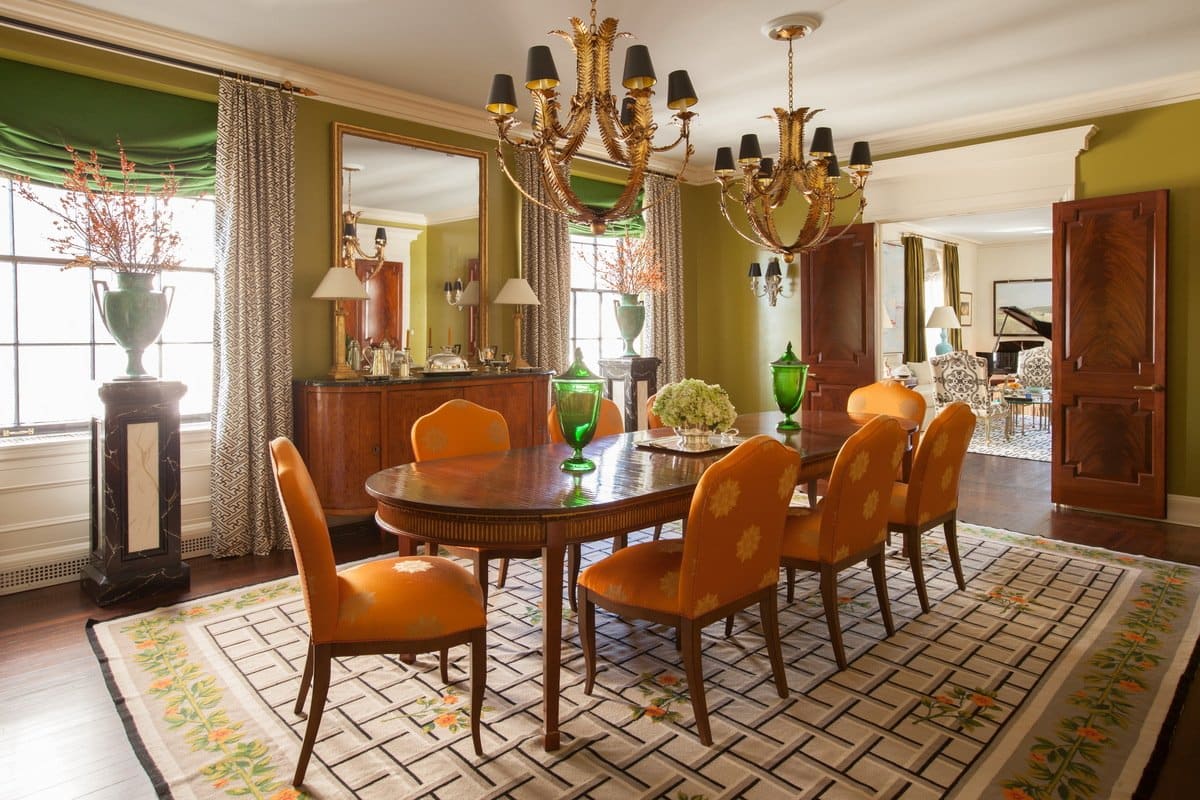 A custom-designed needlepoint rug by Beauvais Carpets anchors this richly hued Manhattan dining room by Brockschmidt & Coleman, which includes chairs upholstered in Christopher Hyland Inc.'s Starburst satin, a pair of emerald-green Italian glass urns from Matt Murphy Studio and curtains in Quadrille's China Seas Saya Gata pattern. The pair of Argentine gilded tole chandeliers are from Greenwich Living.
Photo by Brian Shumway
---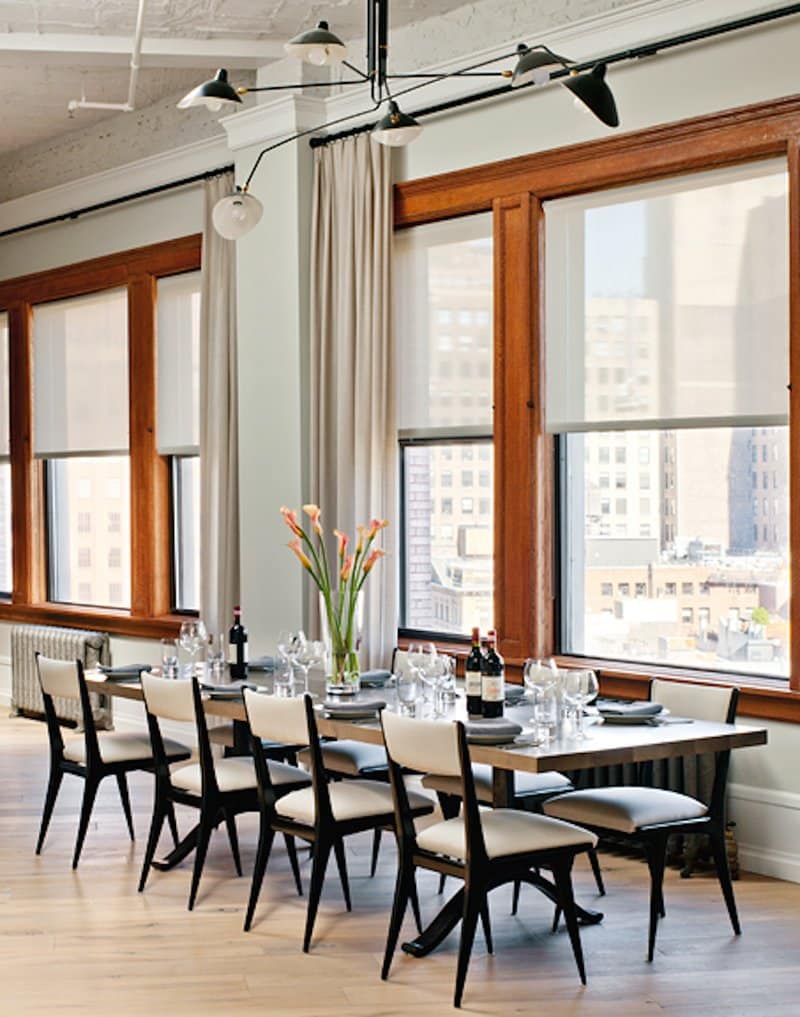 In this airy Lower Manhattan loft by Damon Liss, a Serge Mouille chandelier hangs over a BDDW Slab dining table with a oxidized maple top and blackened bronze wishbone base. Carlo di Carli dining chairs, 1954, from Donzella, complete the space.
Photo by Trevor Tondro
---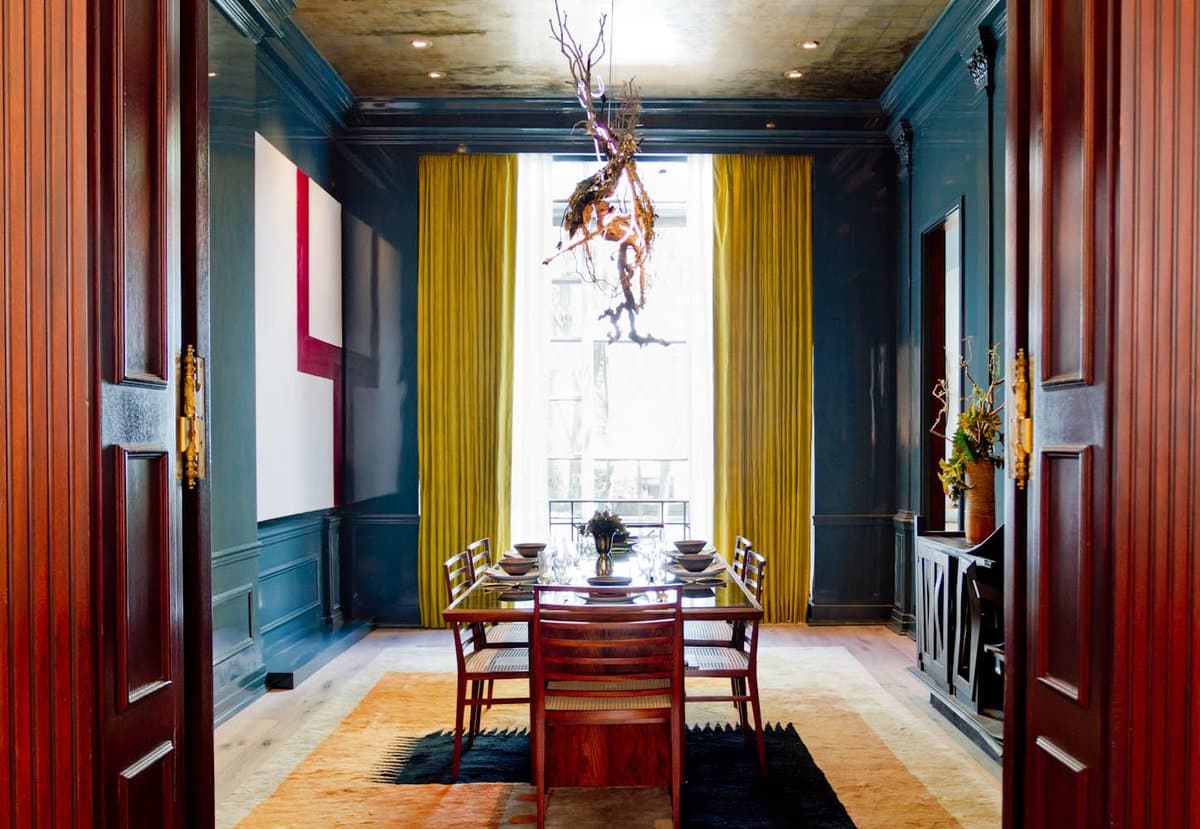 For the 2013 Kips Bay Show House, Kristen McGinnis paired custom high-gloss wall with patinated Japanese gold-leafed paper on the ceiling by Maya Romanoff. The Joaquim Tenreiro dining table and chairs are from R & Company, and the neon light installation was a collaboration between McGinnis and her best friend of 30 years, Elliott Hundley.
Photo by Rikki Snyder
---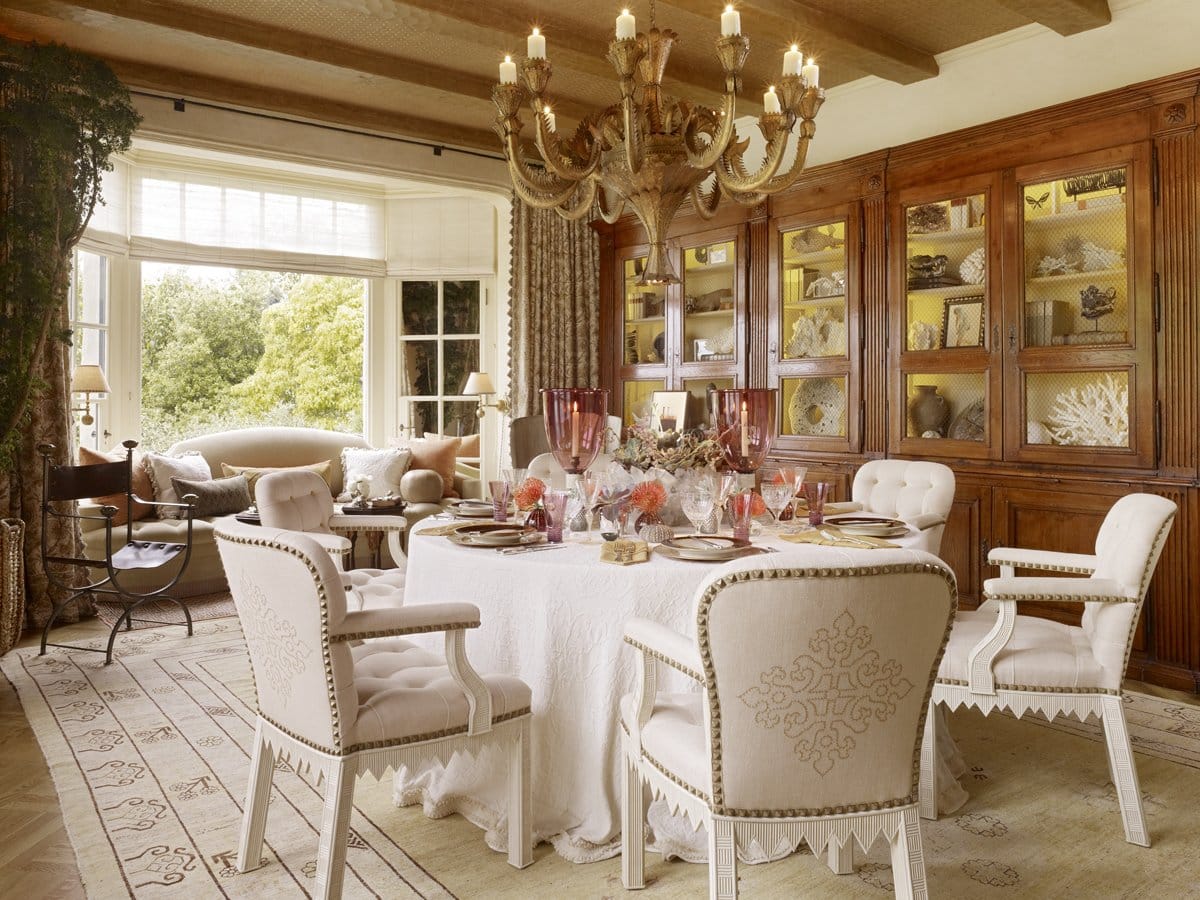 Tucker & Marks designed this intimate dining room for the 2010 San Francisco Showcase in a 1929 Normandy-style mansion designed by Albert L. Farr. The massive 18th-century French oak, ash and walnut archival cabinet, from C. Mariani Antiques, inspired the space, which also features a gilded 1920s Spanish 12-armed chandelier from Amy Perlin Antiques.
Photo by Matthew Millman
---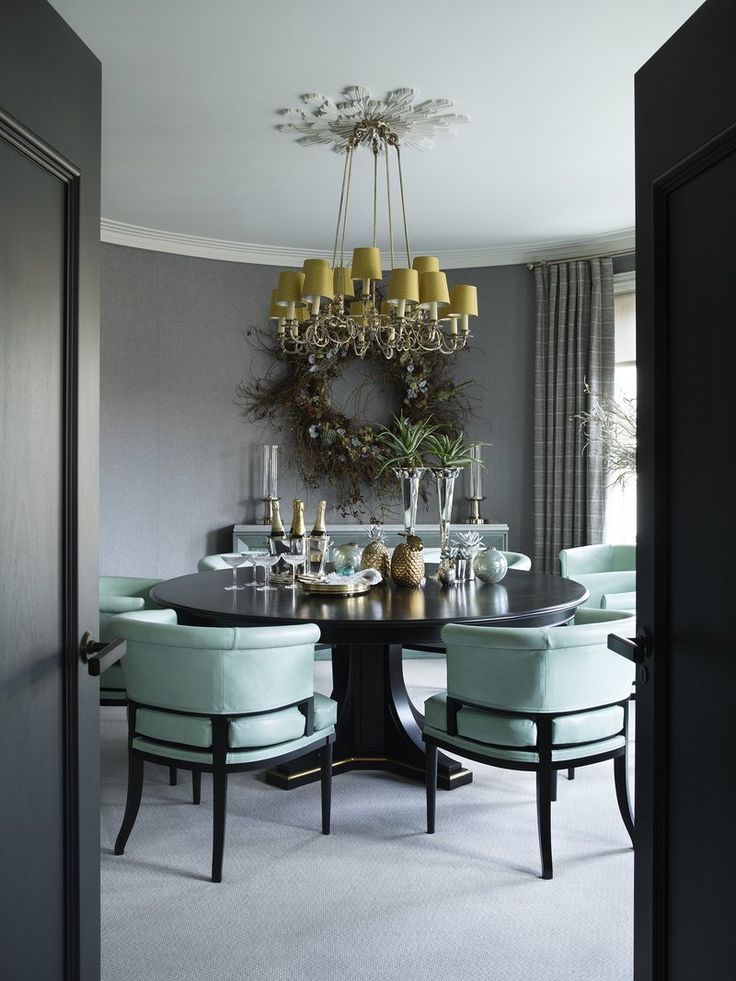 Hubert Zandberg Interiors designed this London pied-à-terre as a contemporary take on a traditional gentleman's club, and in the dining room, pale blue chairs by Soane surround a custom dark-wood table by Zandberg.
Photo by Simon Upton
---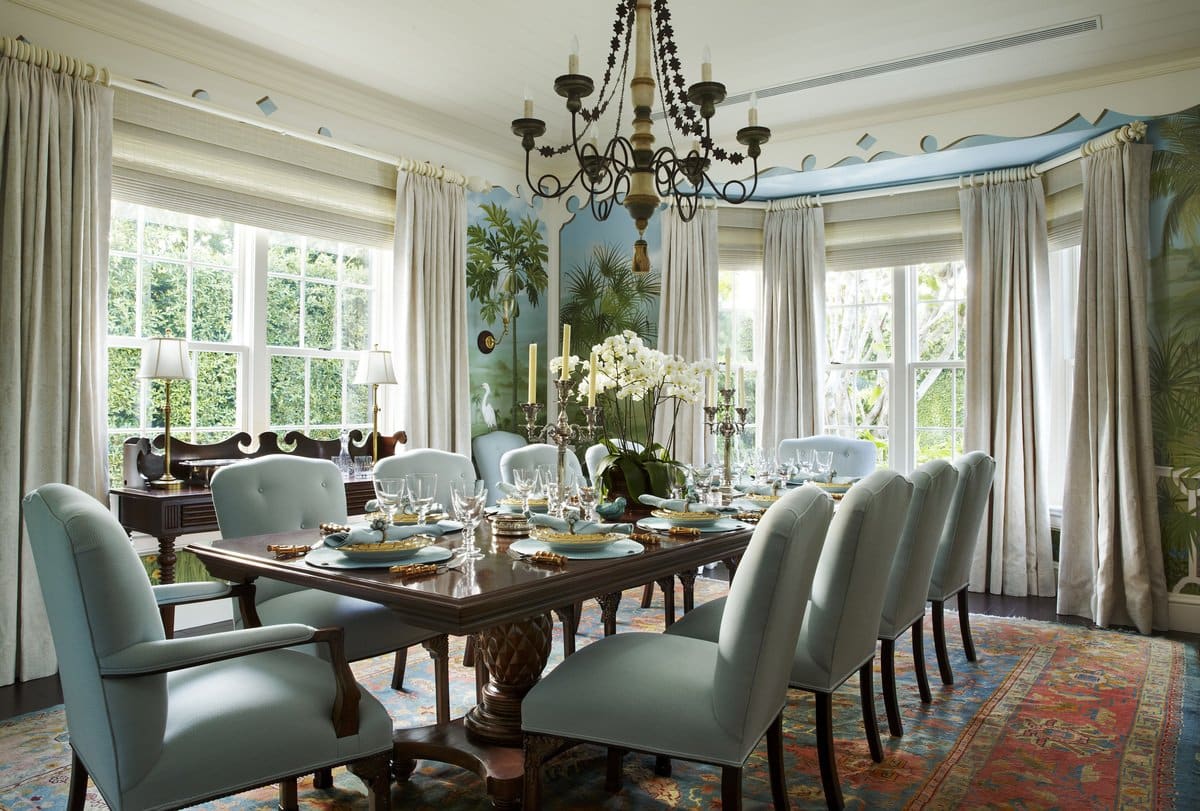 In this Palm Beach residence by Celerie Kemble Interiors, pale blue tufted chairs surround the dining table, which has a carved-wood base.
Photo by Kemble Interiors
---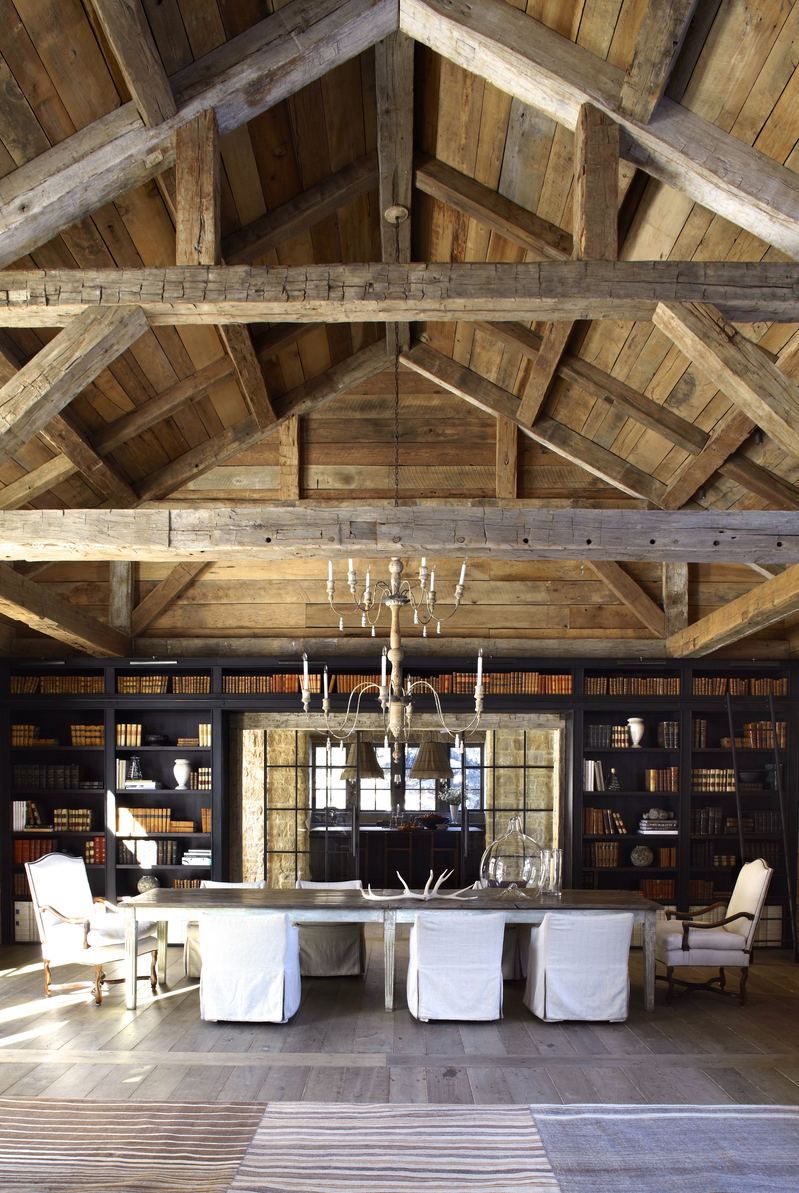 For this Sun Valley, Idaho, residence, M. Elle Design created a simple, elegant dining room where the slip-covered chairs surround a rustic table, keeping the focus on the dramatic vaulted ceiling.
Photo by Miguel Flores-Vianna Photography