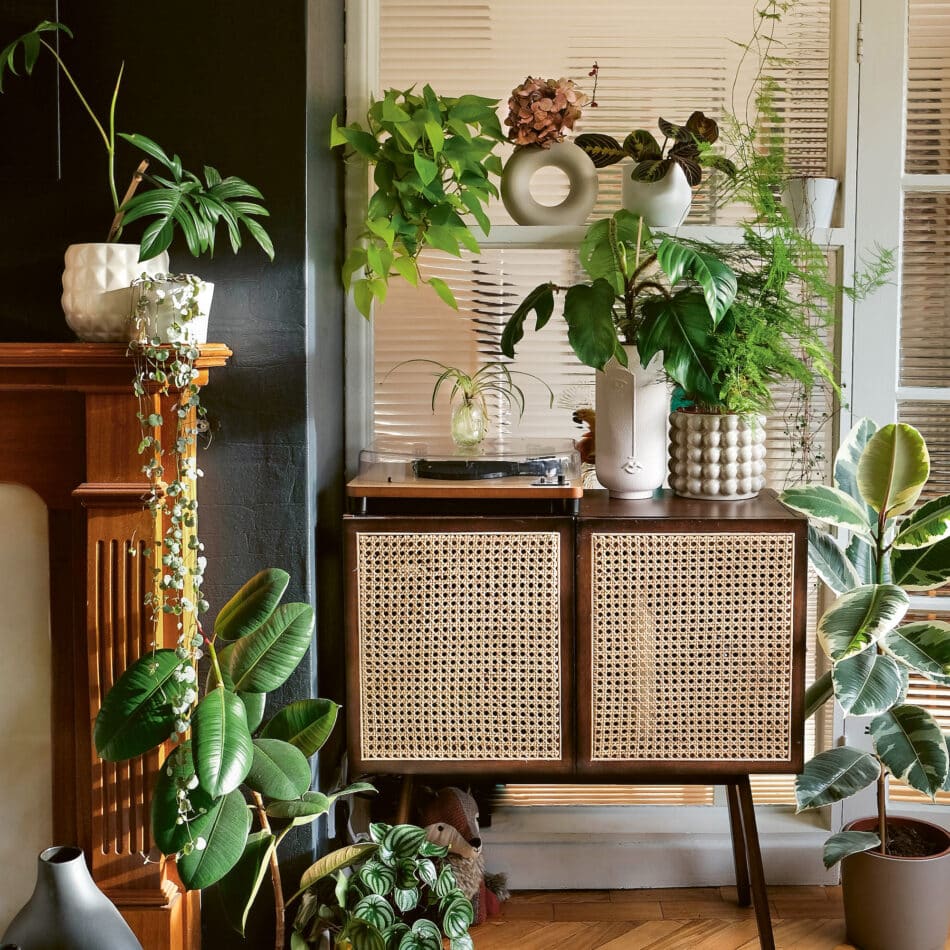 Erin Harding and Morgan Doane know their way around an indoor plant. The duo behind the wildly popular Instagram account @houseplantclub is on a mission to share the gospel of greenery with fellow enthusiasts and newbies alike, spreading the good word that keeping plants alive isn't daunting but rather fun and — dare they say — easy.
While their first book, How to Raise a Plant and Make It Love You Back, was geared toward those looking to try a green thumb on for size, their sophomore work, How to Plant a Room and Grow a Happy Home, takes things a step further. "This book is for anyone and everyone who wants to up their plant game and get ideas for how to decorate with plants in a fun, more individual way," says Harding.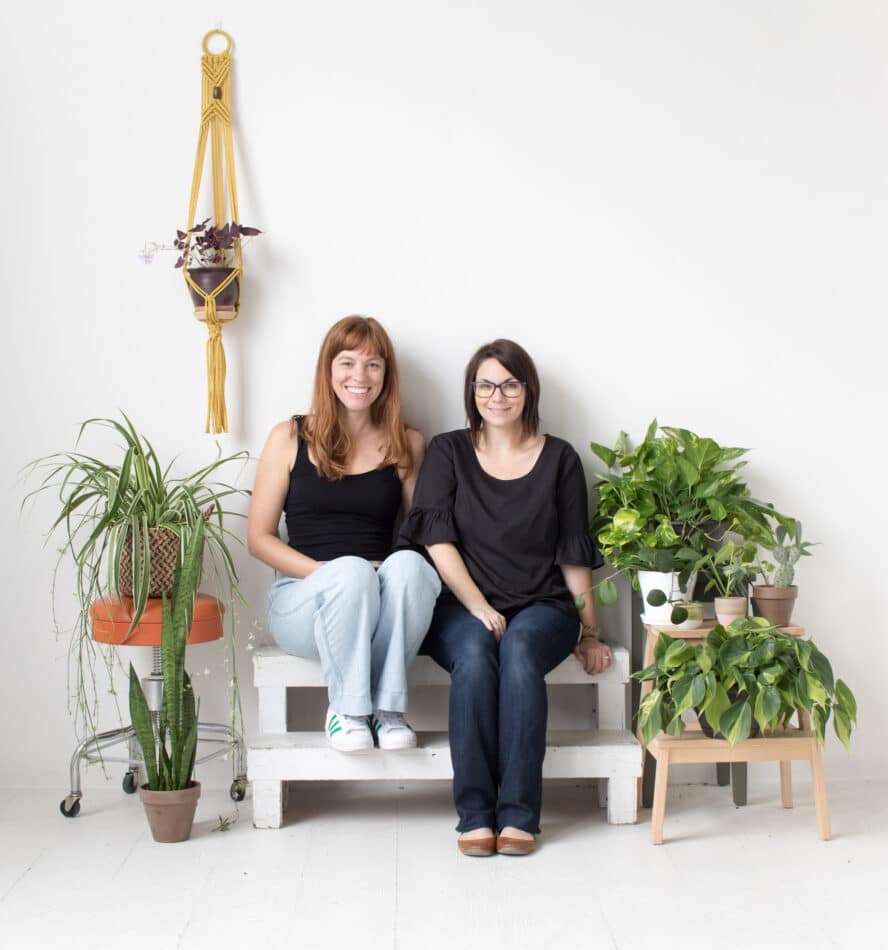 Those eager to get their hands dirty will find numerous projects to tackle, but for the interior-design-minded, Harding and Doane also impart sophisticated and creative ways to showcase a collection of favorite flora and enrich a space with a layer of leafy decor.
Their most important piece advice — beyond avoiding the mistake Harding says everyone makes with their plants, "overwatering and over-caring, which leads to their demise" — is that holding out for the one might be the most impactful design decision you can make. "Instead of just buying a bunch of different plants and finding a space for them, it's really about connecting with one or two notable plants that speak to you when you're looking for something for a particular spot," she explains. "That adds so much structure and uniqueness to the style of your home. The plants I bring into my home in that way are the ones I love the most and take the most care of."
Here, we share Harding and Doane's eight tips for filling a space with plant life, from their chapter "The Planted Room," paired with interiors created by foliage-loving designers who know how to make the most of a monstera or a fuss-free succulent. From using shelving and other storage pieces as oversize plant stands to mastering the maximalist indoor jungle, these recommendations will make a home greener in no time.
---
Deck Out the Shelves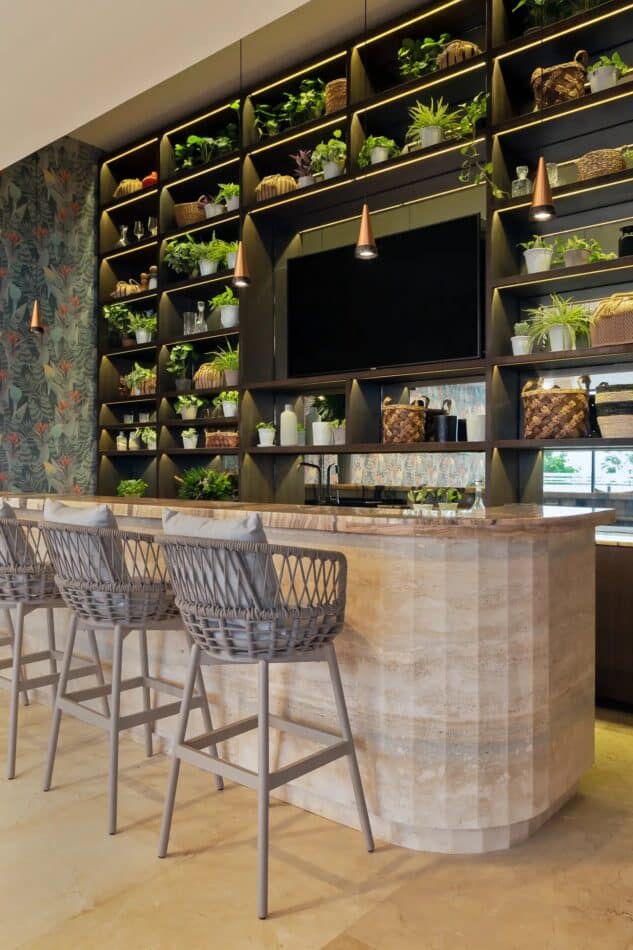 Where there's a shelf, there's a way — to display more plants. In the bar and game room of a beach house in Komchen, Mexico, designer Sofia Aspe softened the hard edges of the natural stone floors, countertops and island with an explosion of greenery in the large shelving unit.
Trailing vines like pothos break through the linear grid to give the arrangement a more organic look, while a mix of other varieties in matching pots keeps things cohesive yet just varied enough.
---
Create Clever Groups
When the architecture of a space is stunning from top to bottom, there's no better way to celebrate all the details than to keep the eye moving from crown molding to baseboard. And when the light that streams in is soft and varied, well, that's an added bonus.
Designer Casey Kenyon cashes in on the natural-light jackpot in the parlor of an eclectic Brooklyn brownstone by taking full advantage of bright patches directly in front of the bank of windows. Here, he groups tall, sun-hungry varieties, but he doesn't ignore the shadier corners, which can be welcoming for those requiring less exposure.
Low-maintenance varieties that need less watering and don't have to be accessed as often are perfect for spots that are a bit more out of reach. Set such plants atop an armoire or bureau to take advantage of vertical space in a room and draw the eye up.
---
Make a Statement with a Sideboard
Pieces like sideboards, credenzas and console tables are ripe for deploying as extra-large pedestals. Rather than have a single pot share the spotlight with an array of decorative objects, why not lean in and create a lush and eye-catching display of green?
That's the approach boutique design firm VERDOIER took in the Brooklyn Heights apartment of a young newlywed couple. The blank surface atop a storage cabinet in their home office was transformed into a cheerful tableau with a smattering of friendly houseplants — the perfect workday companions.
---
Set Up a Propagation Station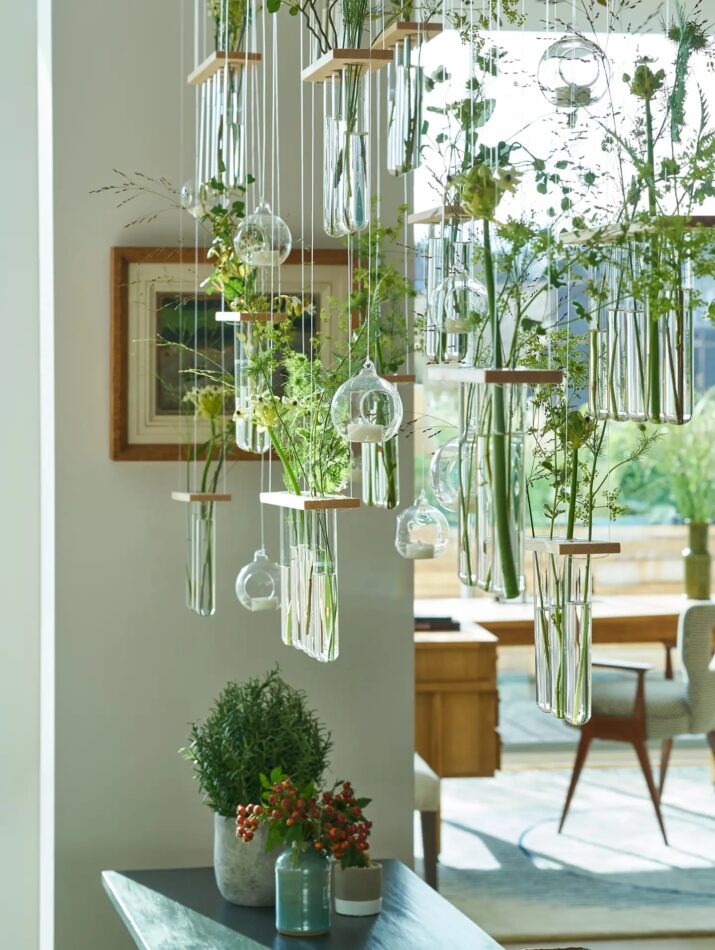 Not every plant in your home needs to be rooted in a pot of soil. In fact, ditching the dirt and opting to propagate smaller varieties, stems and clippings in water can open up a whole new approach, particularly from a visual perspective.
Take this stunning hanging screen. Designed by Susie Atkinson for a modern penthouse in central London, the bespoke piece is composed of glass test tubes holding cut wildflower stems. It takes on the role of room divider while also playing off the sculptural and minimalist furniture throughout the home.
---
Do Let Plants Drive You Up the Wall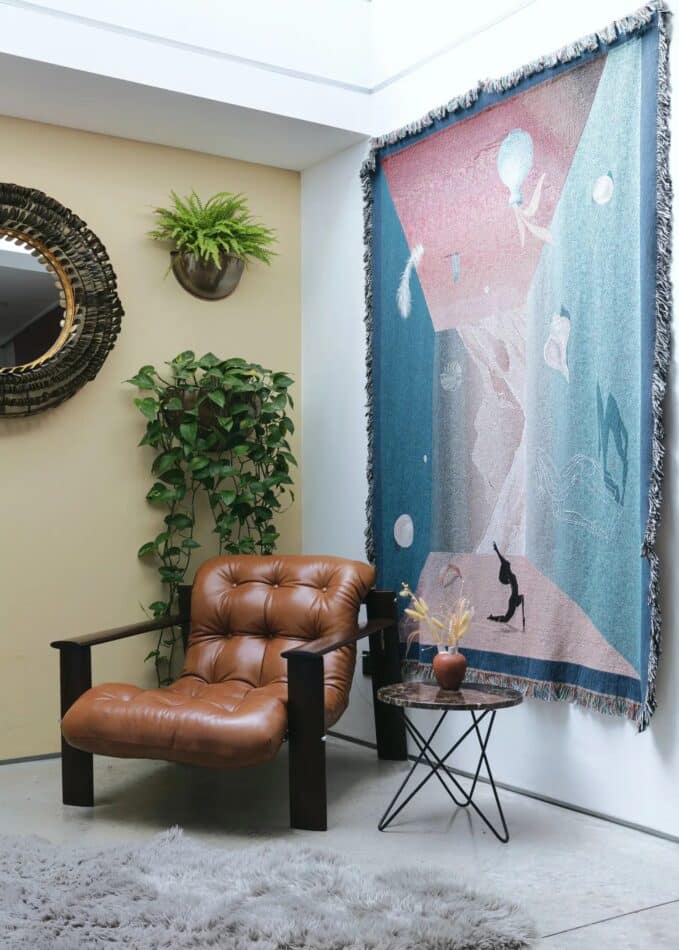 Utilizing your walls is an excellent strategy for bringing in nature without cluttering up usable square footage, especially when floor space is scarce. That was Anouska Tamony's strategy for the seating area off the kitchen of an artist's East London home.
A frothy fern adds considerable texture and brightness to an eclectic corner, while a pothos cascades down behind an inviting Percival Lafer chair. The curated composition, with just two contrasting picks in sleek metal planters, doubles as an art installation.
---
Keep It Simple with a Single Species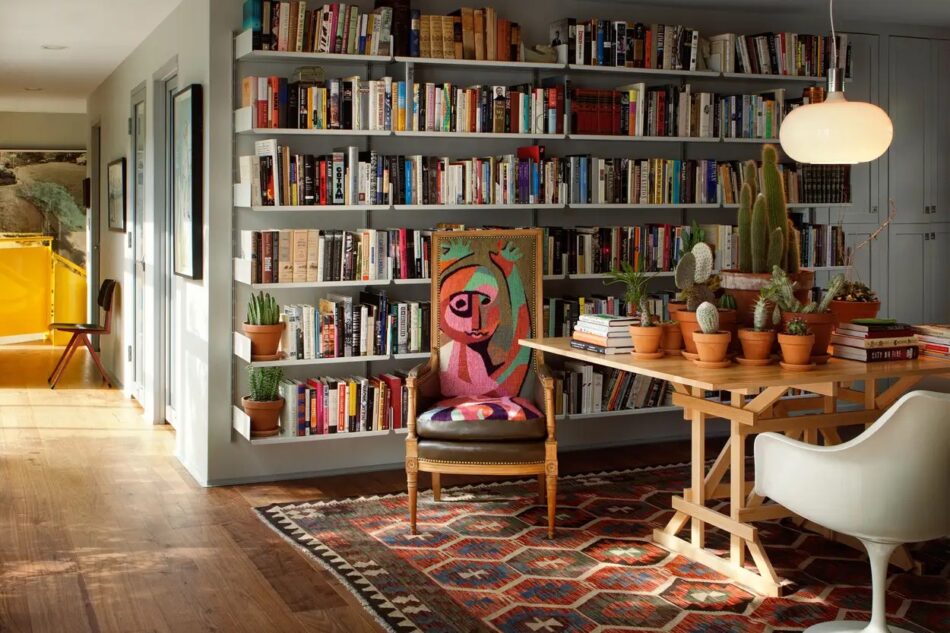 Displaying a collection is one of the most effective ways to bring individuality to a home, and that applies to groups of like plant species as well as art and objects. Perhaps you have a particular fondness for ferns or fiddle-leaf figs. Picking a plant variety and sticking with it is a beautiful way to add a bit of modernity to a room's styling.
Take this study in a 1940s post-and-beam house by multidisciplinary firm the Archers. The cluster of cacti in matching terracotta pots grounds an eclectic mix of furnishings. The result is an arrangement that feels intentional and almost sculptural.
---
Find a Good Place to Hang
Floor and wall space are often at a premium in a well-outfitted room, but that's no reason to forfeit the plant game. Instead, look up to find a prime spot for a show-shopping greenery moment, as Michael Del Piero did in the garden room of a Chicago-area showhouse. A hanging plant crowns her Lake Forest dining table in a bold move meant to emulate a living chandelier.
If a major statement isn't right for your room, a selection of hanging plants can also be effective. Try suspending them at different heights to create a sense of movement, or group different colors, species or styles together for a bohemian vibe.
---
Curate a Jungle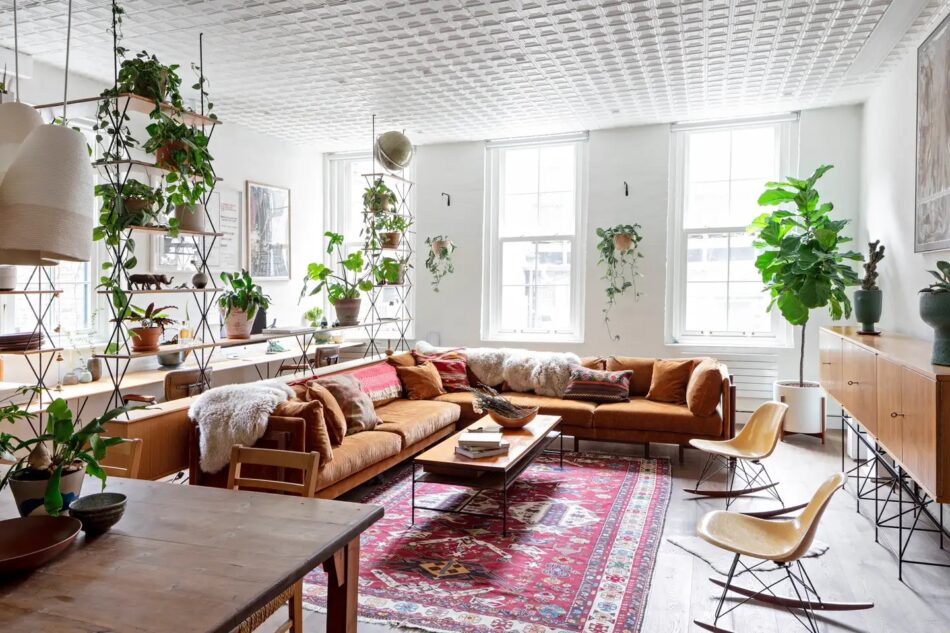 A more-is-more aesthetic lends itself to breaking any and all rules and employing not just one or two of the strategies explored here but as many as desired. Displaying plants on the floor, atop furnishings, hanging from the walls, on the shelves — it's all fair game, particularly in an airy, open interior like the New York City loft created for actor David Harbour by Gramercy Design.
The living room of Harbour's home — a retrofitted wagon factory — becomes an indoor garden where high ceilings make space for a profusion of outstretched vines and fronds without the design feeling heavy-handed or crowded. Then again, for people like Harding, Doane and their fans, there's really no such thing too many plants.