By now it's common knowledge that millennials love plants — and they're not alone. The Instagram hashtag #indoorgarden has hundreds of thousands of posts, and the success of direct-to-door plant stores like the Sill underscores the fact that we're dying to bring the outdoors in. With spring finally hitting full bloom, we feel it's only right that we equip you with the most on-trend planters to show off your darling botanical babies.

Read on to find gorgeous planters worthy of your flora, plus tips from their makers for styling them.
---
Love in Bloom by Marcantonio for Seletti
Normally, a vase has only one opening for holding flowers. But Love in Bloom features multiple apertures to stick buds into, in the form of blood vessels jutting from an anatomically correct human heart. Italian designer Marcantonio calls it "modern love translated into a romantic but unpredictable gift."
Now, Seletti is offering a blinged-out gold version of Love in Bloom, available exclusively on 1stdibs through July 1. Marcantonio adds of the piece, cheekily, "It's not a dream, it's love in bloom. It's not springtime, it's love in bloom."
---
Facet Vase by John Sheppard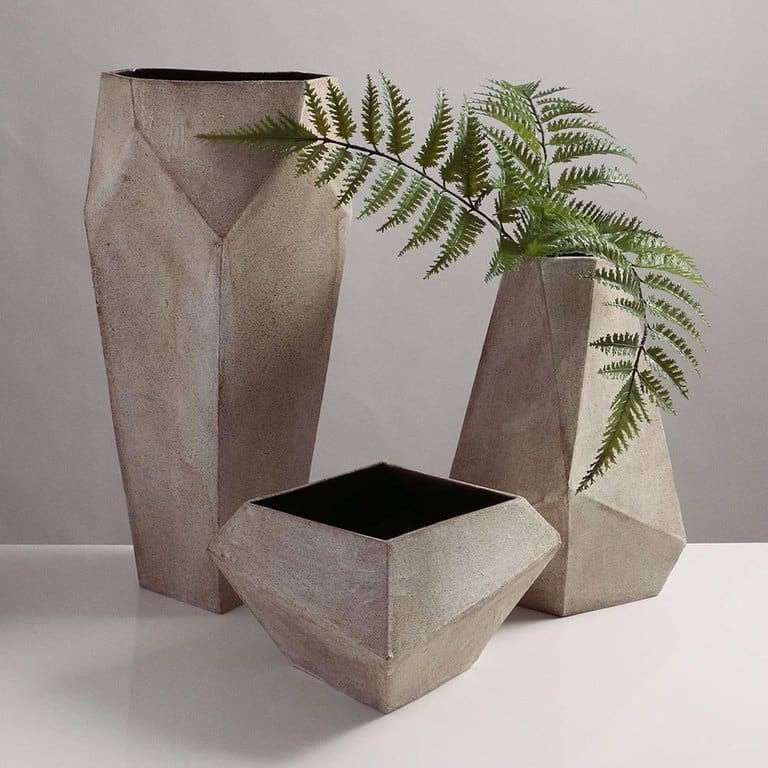 "I love the balance between the man-made and the things that grow in between," says Bronx designer John Sheppard, who fills his monumental clay vase, which reminds him of "weathered concrete," with bright tropical flowers and grasses from Caribbean Cuts, in Chelsea. "I've also styled it with bunches of dried pampas grass for a dramatic monochromatic display."

Plant Tip: Sheppard admits to being a neglectful plant parent, so he opts for low-maintenance varieties, which are ideal for those on the go. "Right now, my superstars are a ZZ plant that has managed to survive nearly 10 years of inattention," he says, "and a very delicate-looking fern that is, inexplicably, thriving on my bedroom windowsill."

---
Stacked Stone Vessel by Fort Standard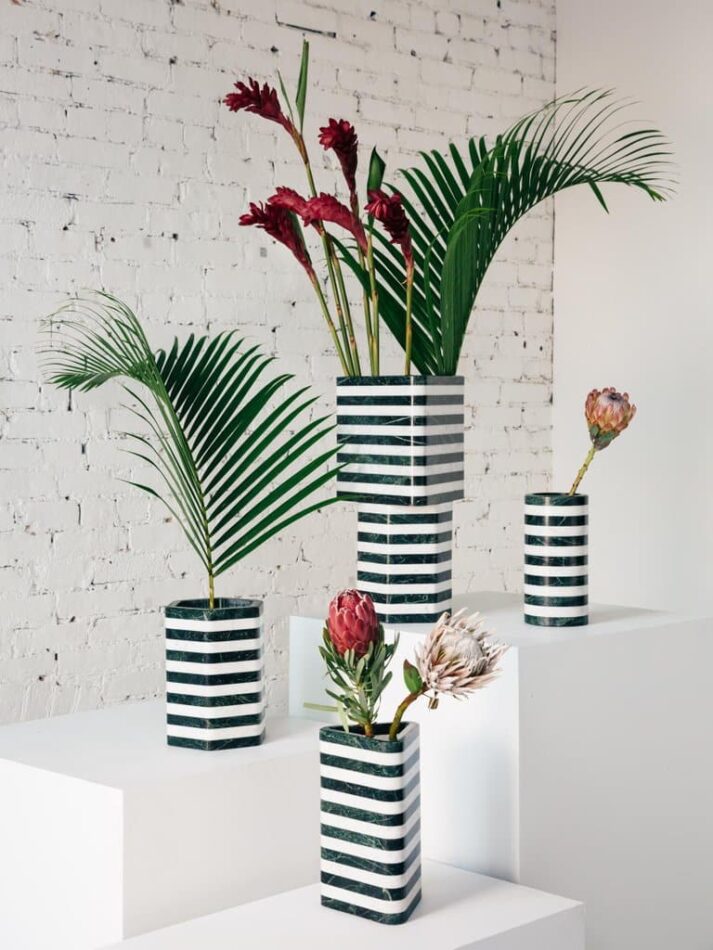 This glamorous marble vessel doesn't need adornment, but if you want to use it as a vase, Fort Standard founder and principal designer Gregory Buntain says cherry blossoms would be perfect. Large palm fronds or a dried arrangement would also work well, especially if you score them from his go-to source: Chelsea Garden Center, in Red Hook, Brooklyn, just around the corner from his plant-filled studio.

Plant Tip: "There was a time when I had over 30 plants in our apartment, and my wife started calling me Plantman," Buntain confesses. Because of his busy travel schedule, though, he decided to edit his collection. Today, his most-prized plant is a giant split-leaf philodendron purchased 13 years ago, when he moved into his current apartment, in Fort Greene, Brooklyn.
---
Stacked Vase by Another Human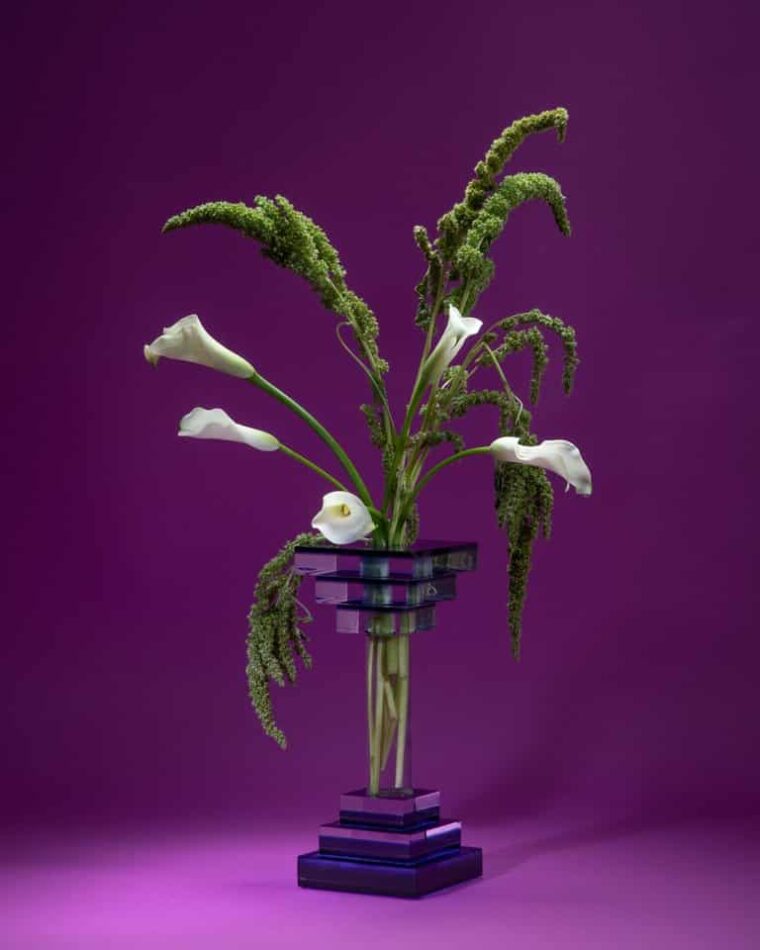 Los Angeles designer Leah Ring, who goes by the moniker Another Human, created five vases, all in acrylic, for her Transparent Series, which explores, she says, "the visual play between the vessel and the flowers it displays." The vases allow you see "the full journey of the flower," from exposed scraggly stems to water. The color of this particular example, which Ring would style à la the 1980s, with tall, dramatic flowers, changes with the viewer's perspective, at certain angles appearing mostly clear, at others a shocking blue.

Plant Tip: Know what kind of light your home gets and which varieties will survive there, says Ring, who's devoted to caring for her succulents, ZZ plant, spider plant and philodendron. "I think plants add such a softness to a space — totally essential to an interior, in my opinion!"
---
Steps Planter by Pieces by an Aesthetic Pursuit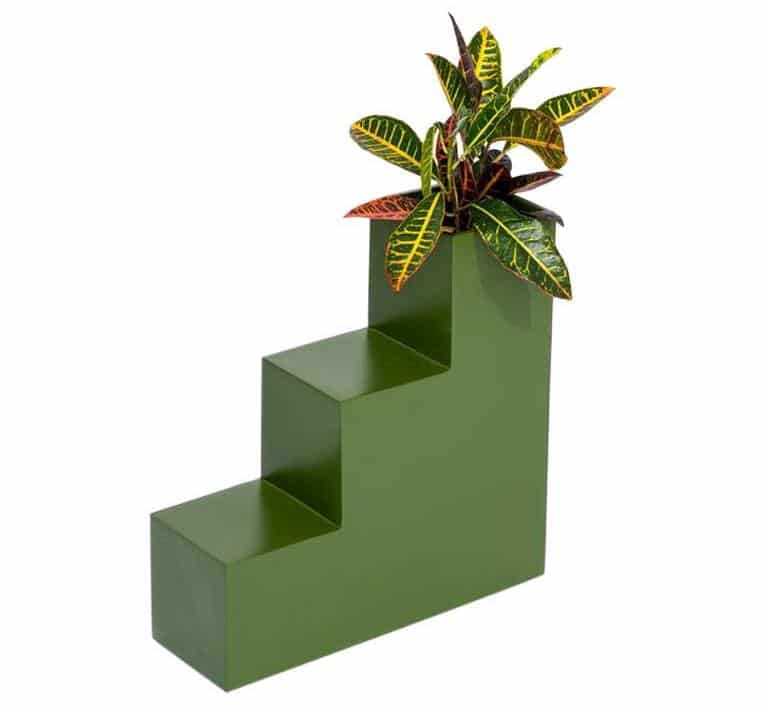 According to Pieces cofounder Jenny Kaplan, the firm's Tetris planter is actually inspired not by the 1980s video game but by shapes that look "interesting and playful." Right now, Kaplan is loving the exotic look of bromeliads, which can grow indoors or out, in the Steps planter and red-tinted Dracaena colorama in the Zig Zag. "The shape and size of both plants work really well," she says.

Plant Tip: It's OK to go a little bit overboard, says Kaplan, who patronizes Crest Hardware, in Brooklyn. She and her husband and business partner, Chris Corrado, keep over 10 plants in their apartment and even more on their terrace. Kaplan credits Corrado with keeping them going: "It's one of his hobbies and ways of decompressing when he gets home."

---
Gu Vase by Robert Kuo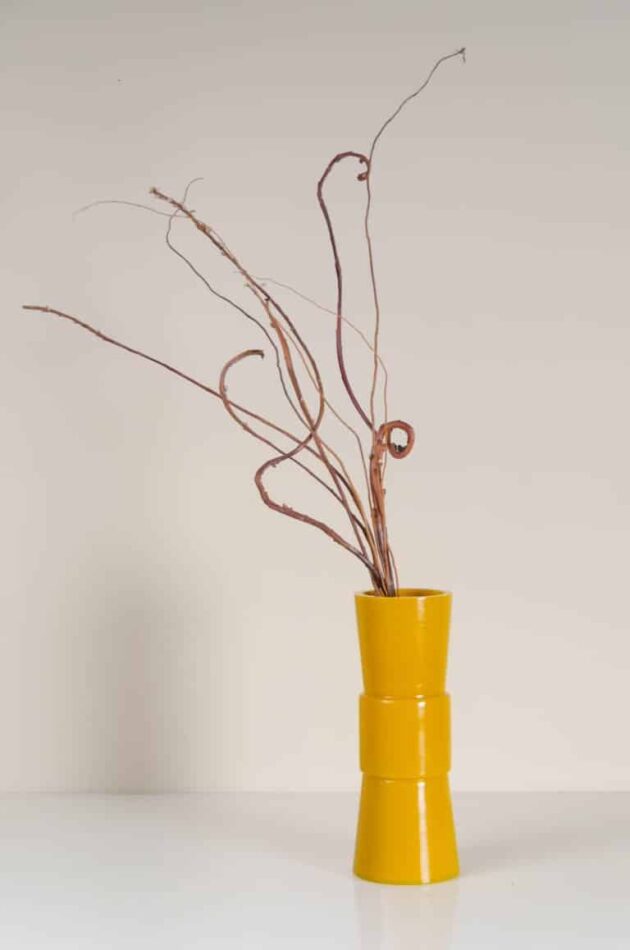 Prolific Chinese artist Robert Kuo modeled his Gu vase after the ancient ritual vessel of that name, altering its proportions to give it a more modern look. Composed of yellow Peking glass, which was used during the Qing dynasty to emulate precious stones, the vessel has "layers and layers of glass," says his daughter Karen. Jade-carving techniques and tools like a lapidary wheel produce the stone-like finish.

Plant Tip: To play up the vase's height, Kuo likes using branches in his displays. It's a simple way to bring out the arrangement's beauty without being showy.

---
Spun Planter by YIELD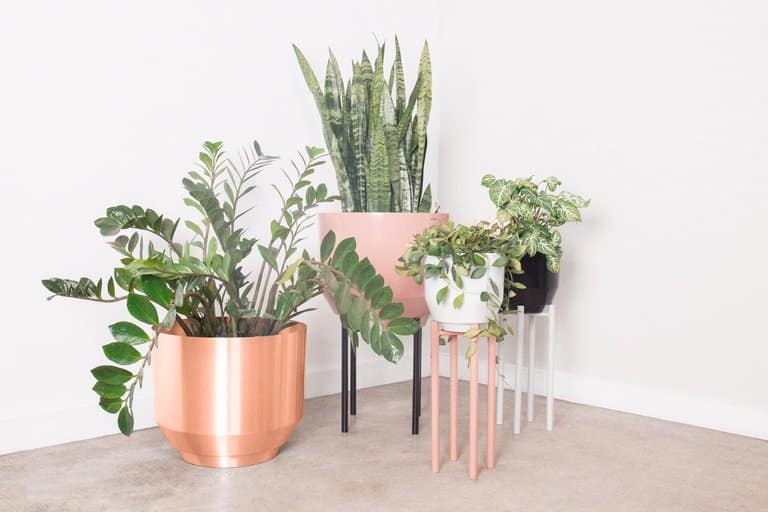 Combining self-watering with an elevated aesthetic was the goal for the Spun planter, says YIELD cofounder and principal designer Andrew Deming. Large enough to hold a small tree, it's made from a single sheet of copper spun at a high speed and drawn over a mold. Metal is durable and a "distinctive departure" from terracotta, Deming points out, while the powder-coated finish ensures that the piece can withstand the elements.

Plant Tip: The proud parent of more than 20 Monsteras, philodendrons, palms and ZZ plants, Deming, who lives in balmy St. Augustine, Florida, appreciates a knowledgeable nursery — like the family-owned Southern Horticulture, whose selection is downright dizzying and where, he says, he asks lots of questions about each plant he buys.

---
Force/Collide's Deca Planter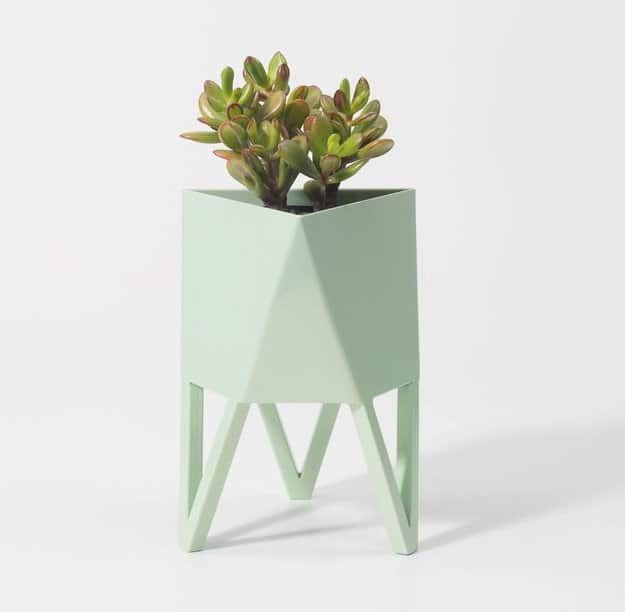 "The Deca adds dimension to a room and plays on perspective as you walk around it," looking different from different angles, says Force/Collide founder Chelsea Gaddy, who crafts each powder-coated piece by hand in her Seattle metal shop. The piece, whose clean lines and seamless joinery make it appear effortlessly flawless, was intended, she says, to evoke "how we feel from the street view looking up at architecture, signage and graphics to the point where those things become abstract."

Plant Tip: "I love to see multicolored clusters of Decas in various sizes casually arranged as a centerpiece or on an entryway sideboard with a mix of succulents and houseplants," says Gaddy, who goes for low-light (and winter-friendly) botanical varieties like Pileas and herringbone and tricolor prayer plants. "You can't go wrong with any color combination."

---
Futurist Primitive Terracotta Planter by Bari Ziperstein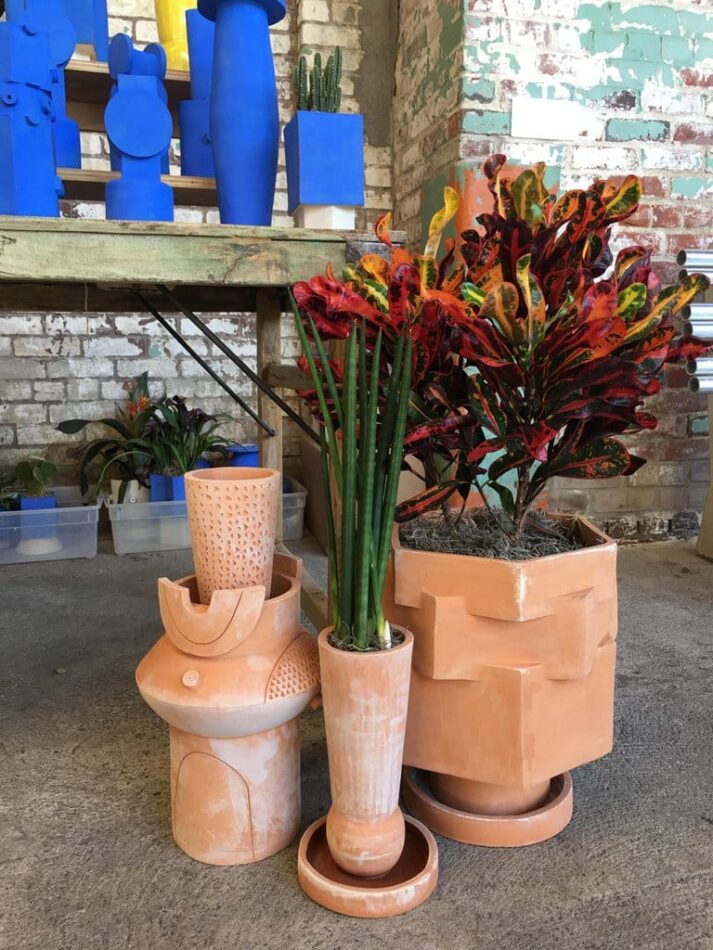 Los Angeles–based sculptor Bari Ziperstein has worked with terracotta for years, so when she decided to create something that looked both futuristic and as if it had been dug up from the earth, she knew that was the material to use. "We're trying to think about how terracotta is prevalent and how to modernize it," says Ziperstein, who fills her giant vessels with mini pineapples, Licuala palms and spiky Banksias. "It's very much a part of California's landscape design."

Plant Tip: Don't be overly delicate with planters, even especially beautiful ones. Ziperstein keeps her family of potted cacti in her yard, along with a diverse array of eye-catching shrubbery.

---
Trio Air-Plant Holder by Daikon Studio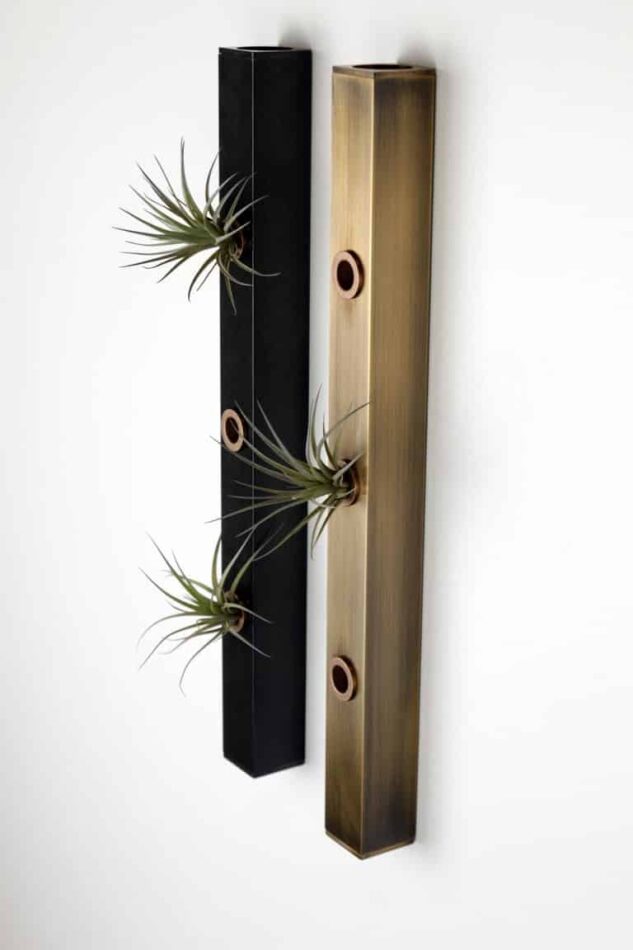 Like its companion piece, the Stilk sconce, Daikon's Trio air-plant holder is made out of brass, which is softer than steel. Not only does this streamline production, says Austin Daikon, but the softness translates to the overall feel of the fixture. In addition, brass can withstand the humidity air plants crave.

Plant Tip: Daikon begins each day in his studio in Chester Springs, Pennsylvania, by caring for his bioactive terrarium, which houses such tropical varieties as pteris and Southern shield ferns, Neanthe Bella palms, Peperomia ripples and an array of bromeliads and air plants. "I find starting the day by tending to and balancing this microcosm to be a grounding and rewarding practice," Daikon says.