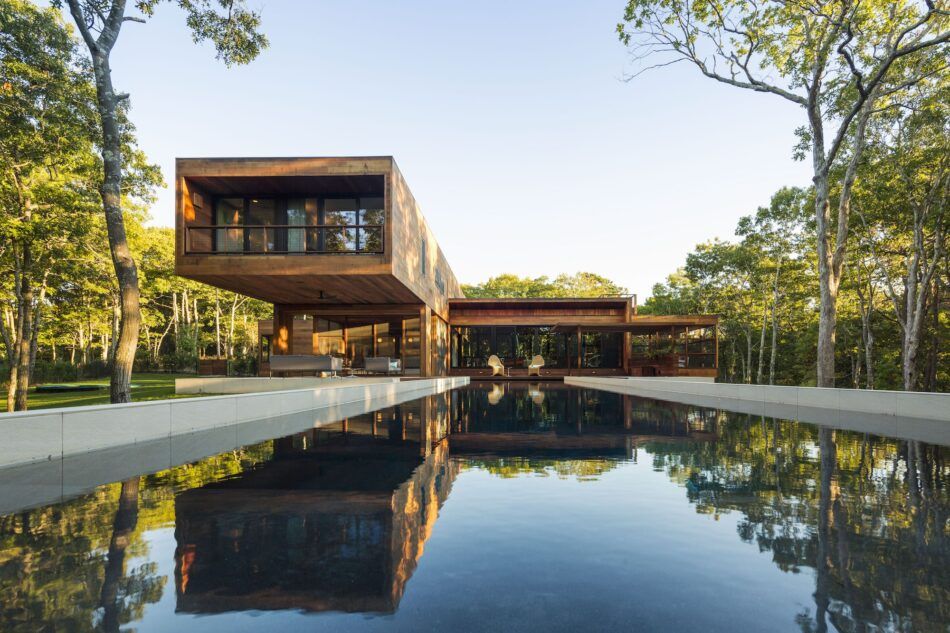 For a couple seeking something subtler and more suited to the surrounding nature than the classic bright blue pool, Tamara Eaton designed this chic cabin in the East Hampton, woods with a dark-hued version that at first glance looks like a pond. Photo by Paul Warchol
---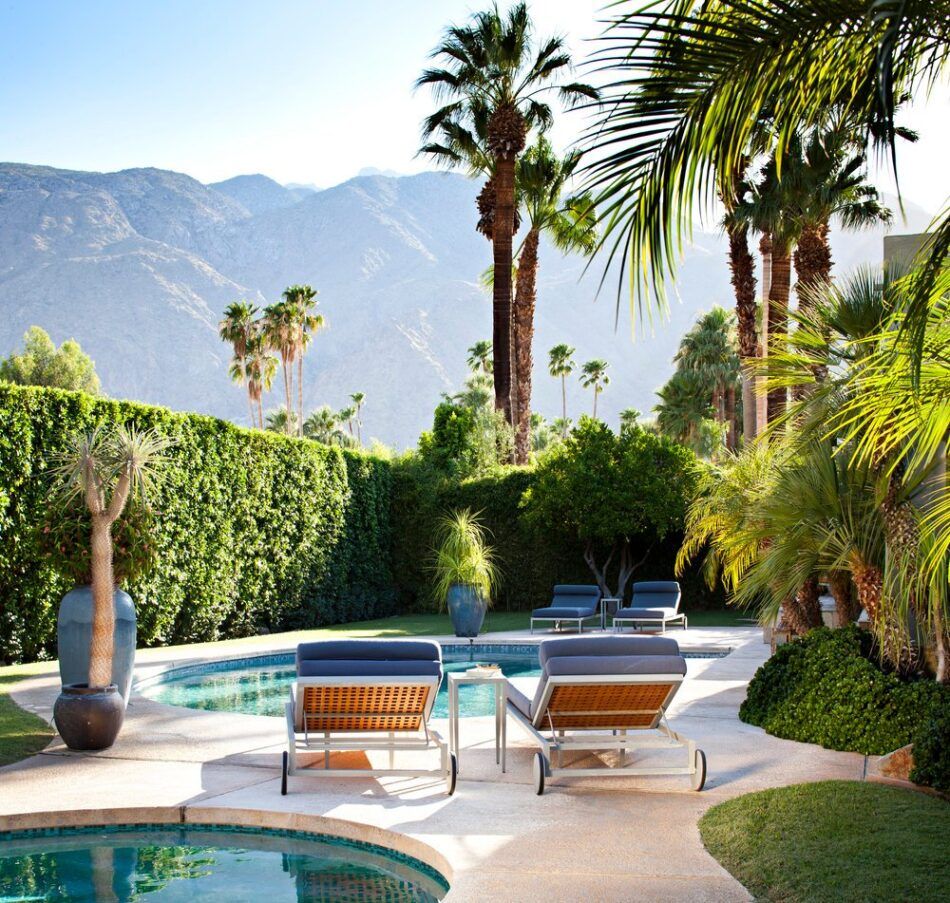 Bradley Bayou envisioned this Palm Springs home as a desert oasis centered on the pool, with nearly every room opening onto it. Photo by Blake Marvin
---
San Francisco–based Paul Wiseman collaborated with Ricardo Legorreta on the design of this Hawaii home with a "floating bedroom" looking out to the pool. Photo by Matthew Millman
---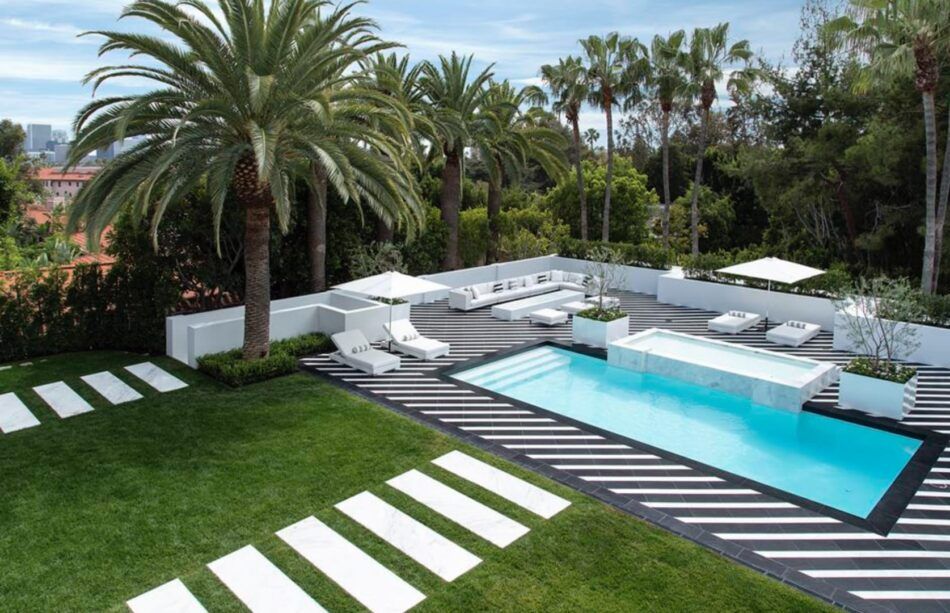 Designer Stephen Stone gave this Beverly Hills pool area a French villa vibe with a modern spin. You'd never guess from looking, but the pool and its striped-marble surround sit atop the home's guest quarters, a movie theater and garages. Photo courtesy of Stephan Stone
---
To avoid detracting from the classic architecture of this Hamptons beach house, New York City–based Pembrooke & Ives decided to forgo elaborate landscaping in favor of clean and simple hardscape and decor. Photo courtesy of Pembrooke & Ives
---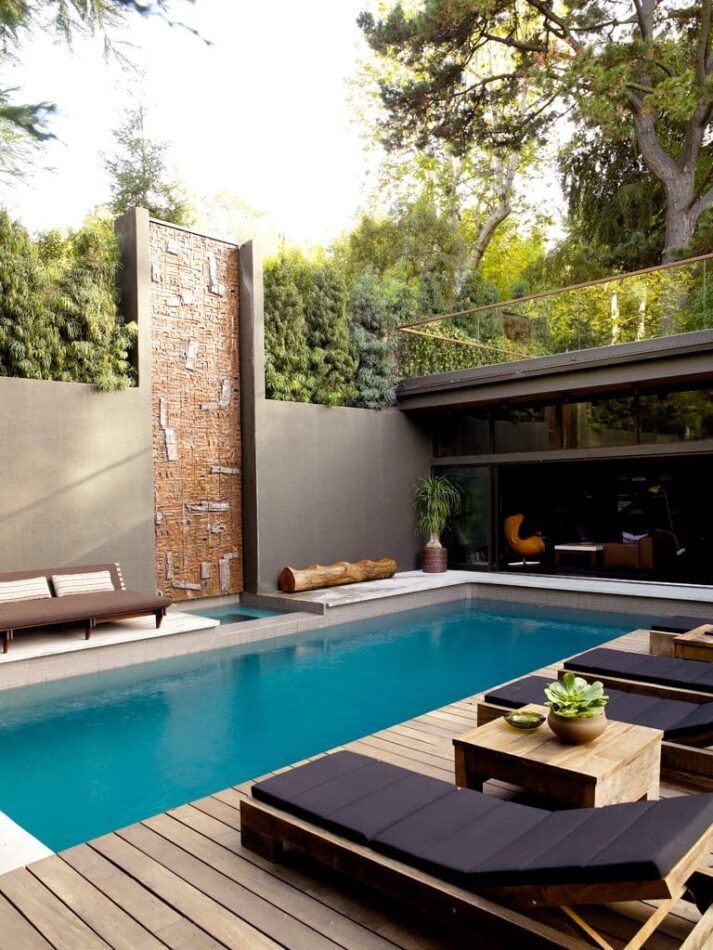 Designed in 1961 by famed architecture firm Buff & Hensman and in dire need of renovation, this L.A. home was given a makeover by Studio Shamshiri, which maintained its mid-century look while creating contemporary additions. Most noticeable is the pool area, with its sharp, clean lines and minimalist decor. Photo by Richard Powers
---
Playing off the Canary Island date palm, which acts as a natural umbrella, Napa, California–based Hurley Hafen made the pool area all about symmetry. The main attraction: the sweeping views of the surrounding vineyard in nearly every direction. Photo by Douglas Friedman
---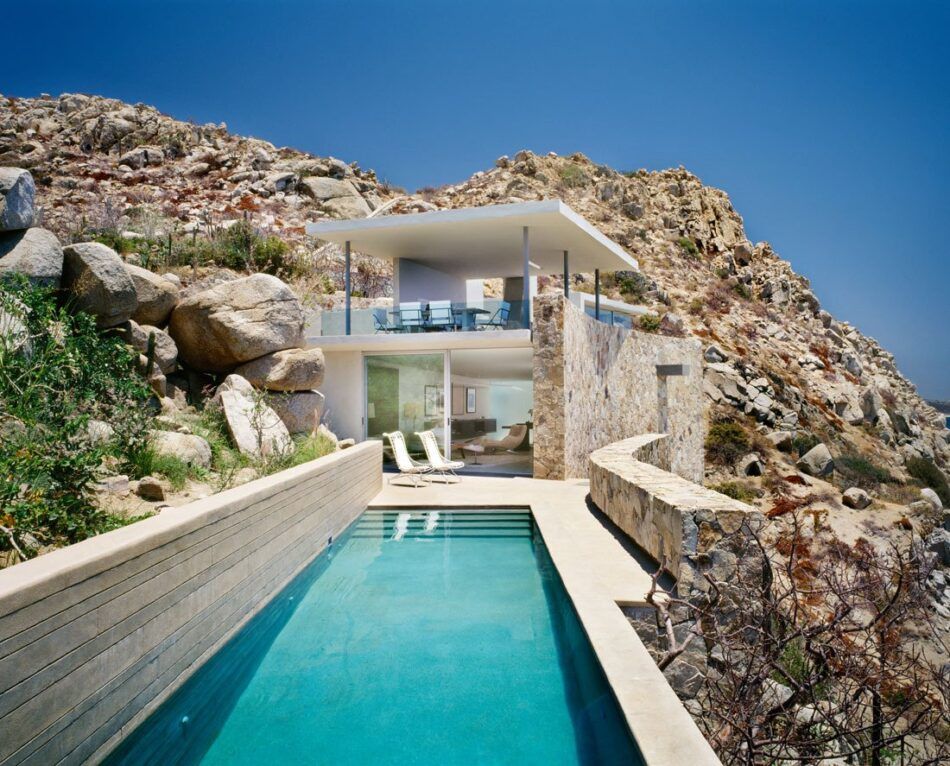 Rees Roberts & Partners and Steven Harris Architects designed this glass and stone retreat on a promontory in Cabo San Lucas, Mexico, where the pool appears to jut out over the sea. Photo by by Scott Frances/OTTO
---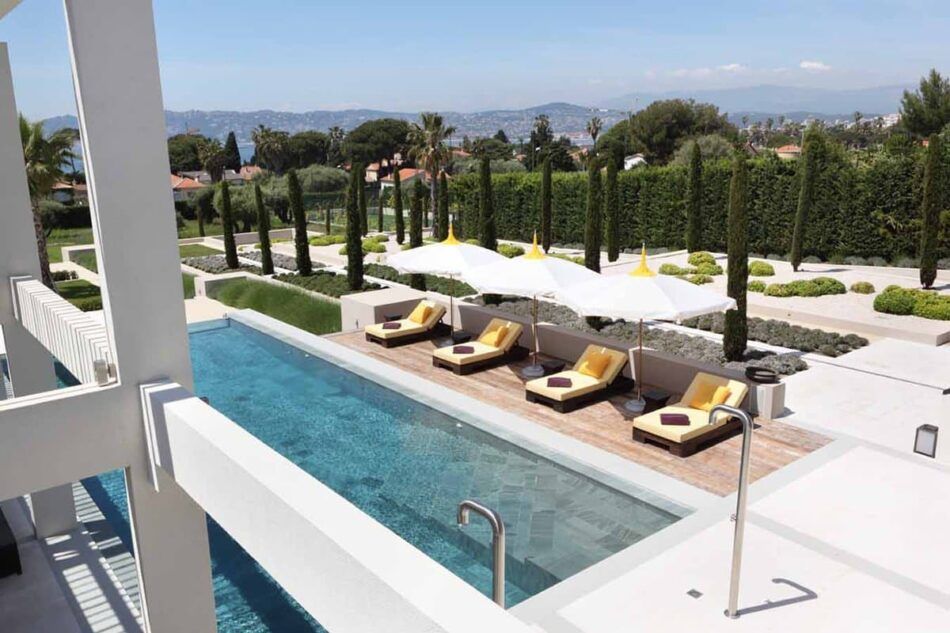 Carden Cunietti designed all the exterior furniture for this home in Cap d'Antibes, France, collaborating on the project with garden designer Luciano Giubbilei. Photo by Alexander James
---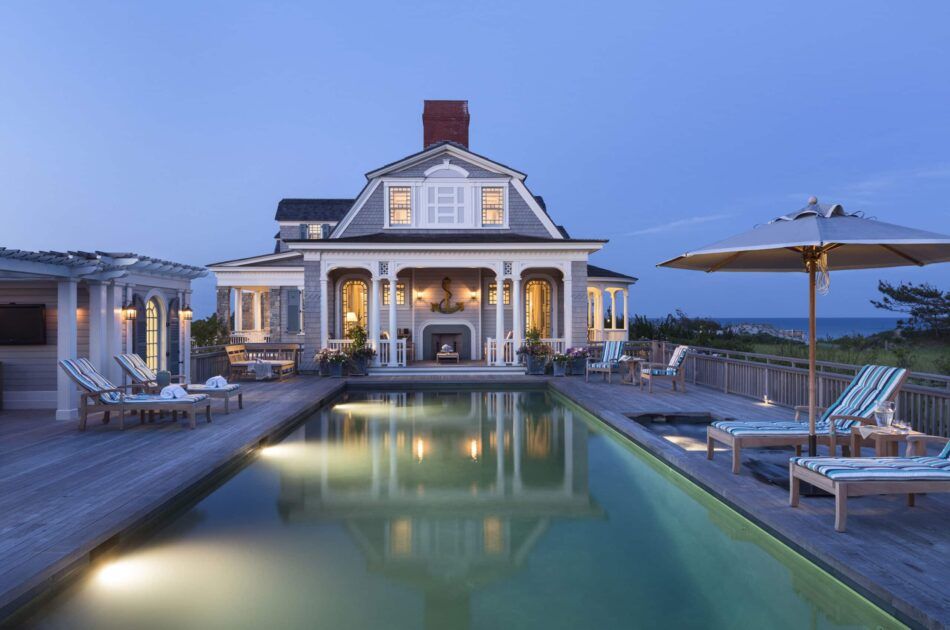 An outdoor living room with a fireplace leads to the pool at this East Quogue, New York, beach house by Robert A.M. Stern Architects. Photo by Peter Aaron/OTTO
---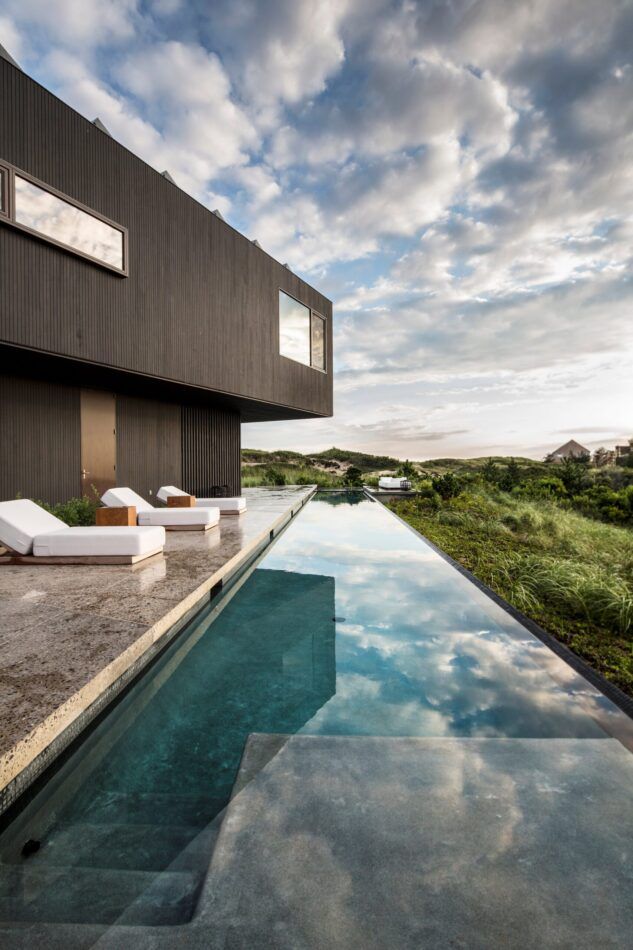 This Long Island, New York, vacation home by Christoff:Finio Architecture has a black-stained cedar exterior and polished terrazzo floors. An infinity lap pool runs the length of the back patio. Photo by Mark Jenkinson
---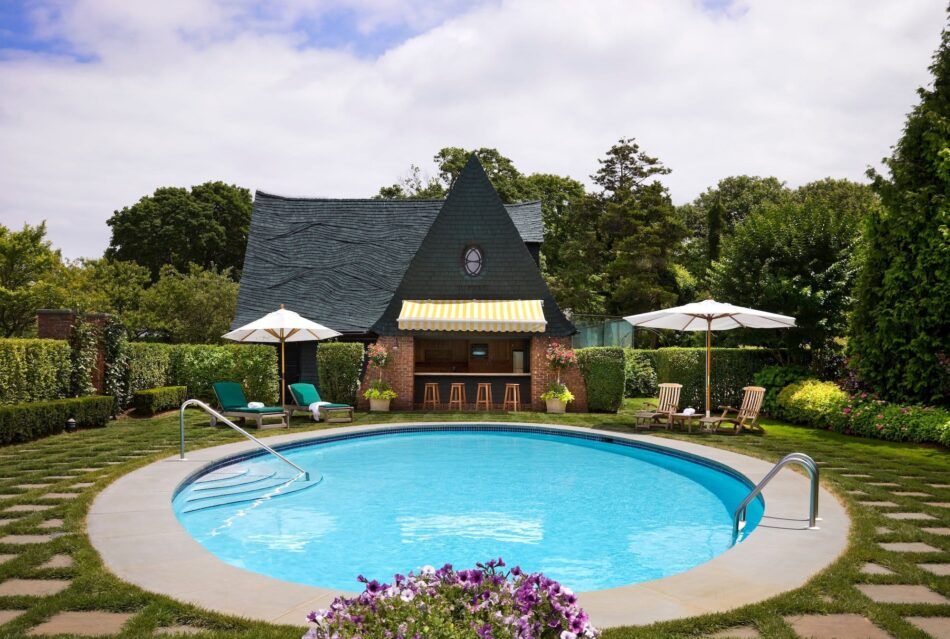 Ike Kligerman Barkley designed this New Jersey residence, which combines a steeply sloping shingle-style roof with English Cottage–style brick buttresses, resulting in a "Shinglish" hybrid. Paired with a circular pool, it creates a whimsical effect. Photo by Peter Aaron
---
This Los Angeles residence by Landry Design Group, which was inspired by old villages in Northern Europe, features a sprawling pool that wraps around the rear of the home. Photo by Erhard Pfeiffer
---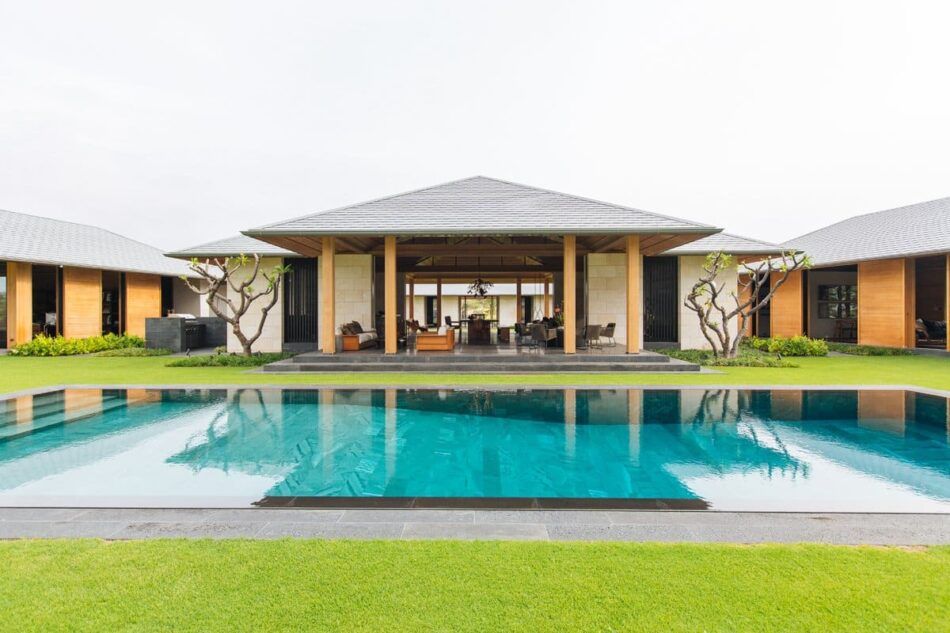 This Nicole Hollis–designed retreat in Kailua-Kona, Hawaii, consists of seven pavilions that look out over the pool, the verdant grounds and the ocean beyond. Photo by Laure Joliet
---
Kemble Interiors designed this home in Palm Beach, Florida, placing an open-air living room and patio near the manicured landscaping and pool.
---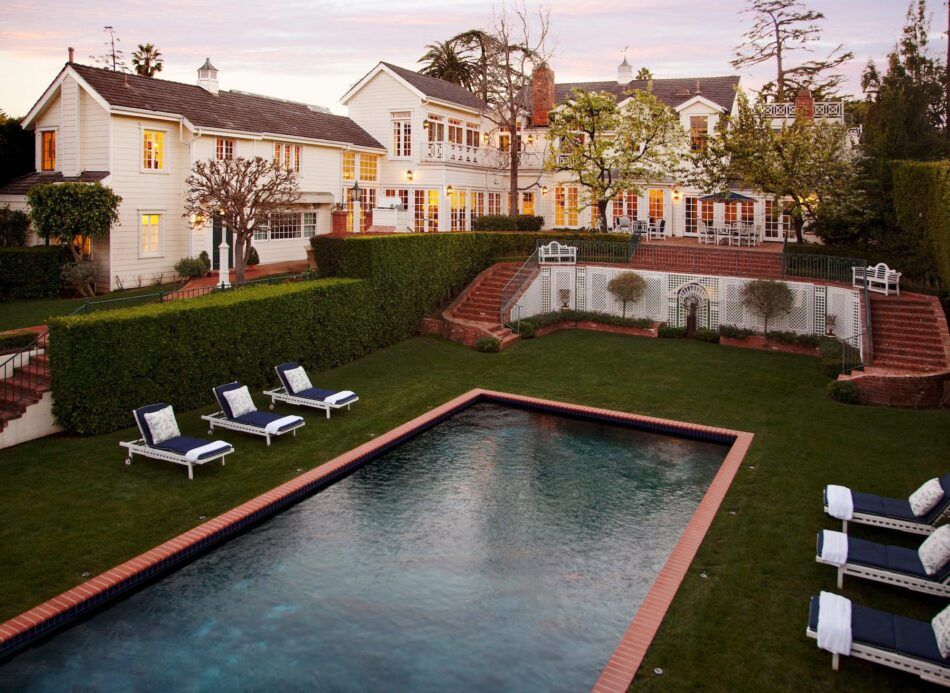 Timothy Corrigan completely transformed this Cape Cod–style house in Los Angeles. It had originally been built in 1930 as a one-story 3,500-square-foot house, but Corrigan turned it into a two-story, 9,000-square-foot mansion. French doors open onto terraces and gardens, and matching brick staircases lead down to the pool. Photo by Jim Bartsch
---
At Will Meyer of Meyer Davis's East Hampton, New York, home, a patio off the kitchen includes a grill, pool and lounge area enclosed by mahogany slats. Photo by Eric Laignel
---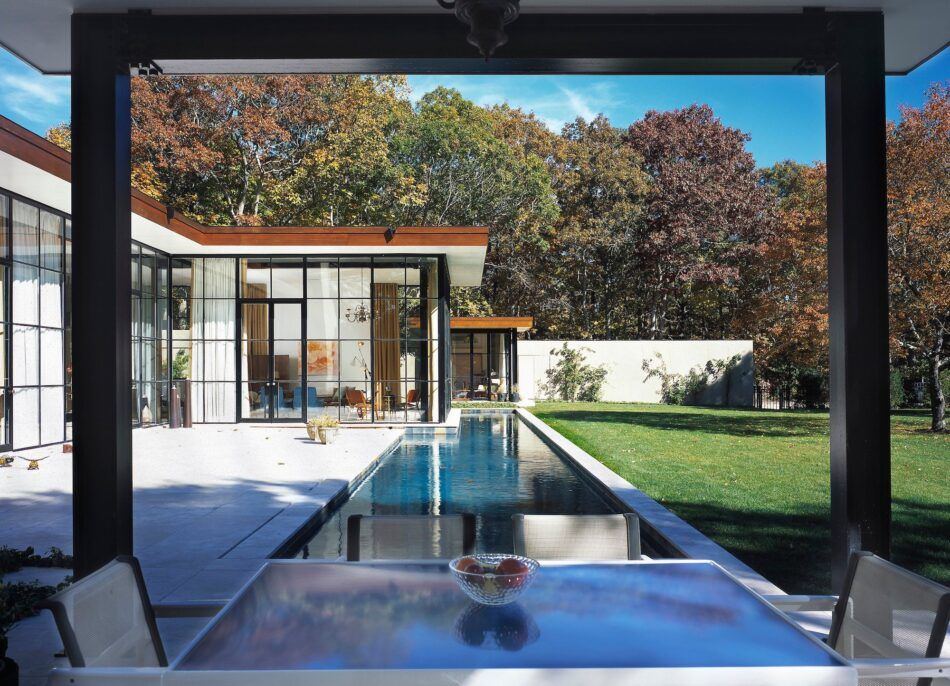 At Glass House, architect Michael Haverland's East Hampton, New York, residence, the pool extends from a covered patio area to beyond the living room. Photo by Chris Bausch
---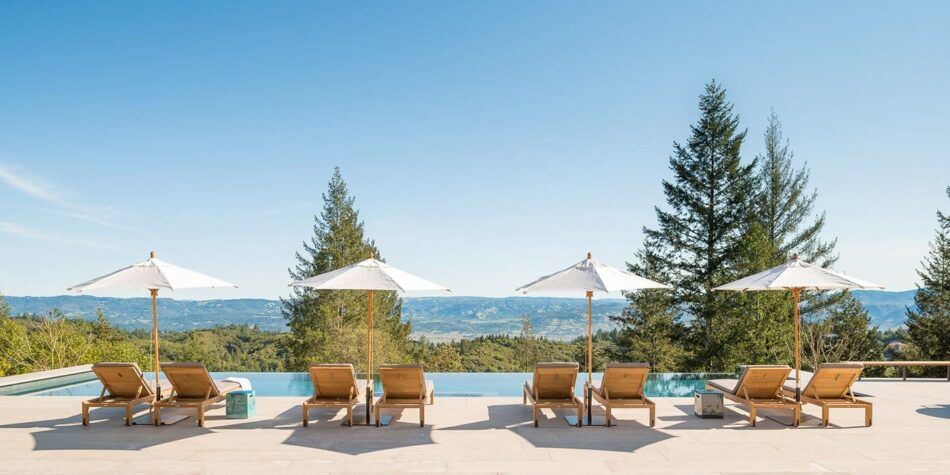 Designed by Groves & Co., this mountain ridge estate includes an infinity pool that overlooks California's Napa Valley. Photo by Patrik Argast
---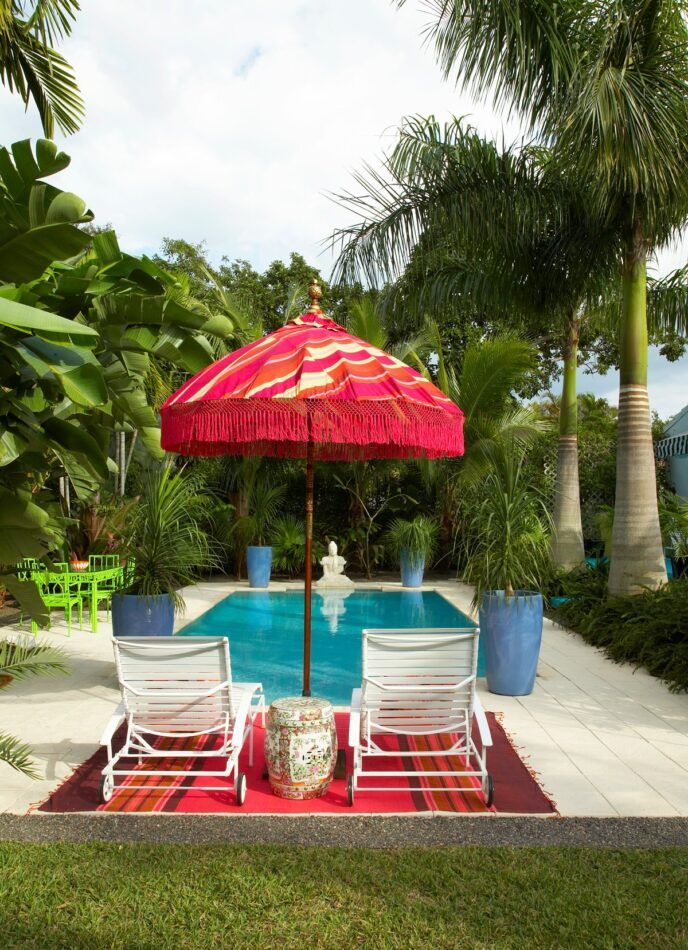 For a home in Miami Beach, Doug Meyer Studio created tropical outdoor "rooms," like this lounge space with a vibrant fringed umbrella and area rug. Photo by Mark Roskams
---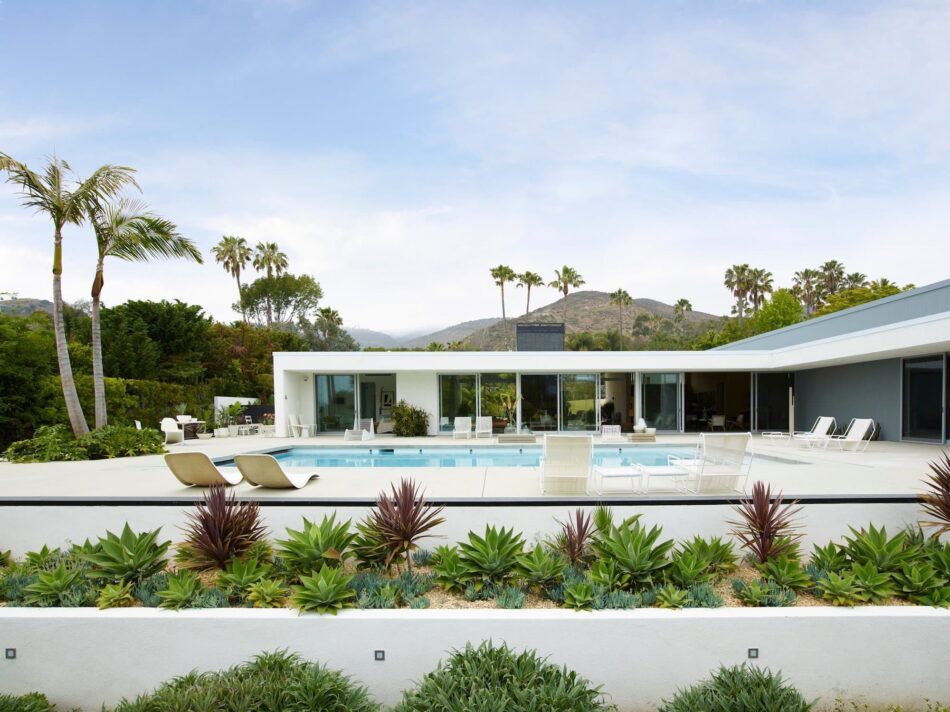 BoydDesign created Shed House, a modernist Malibu home, in the tradition of postwar Southern California architecture and the Case Study program. The firm also designed the gardens with the goal of tying the natural environment to the living space. Photo by Richard Powers
---
Thomas Callaway designed this Spanish Colonial compound in Los Angeles, which was informed by his research of California's missions and 1920s estates. Photo by Lise Romerein
---
Jennifer Post's client wanted the grounds of this Georgian Tudor home in Beverly Hills to feel like all the places he had been in the Caribbean. She added a huge new stone loggia with wide platforms of cascading steps and a new 67-foot-long pool. Photo courtesy of Jennifer Post Design
---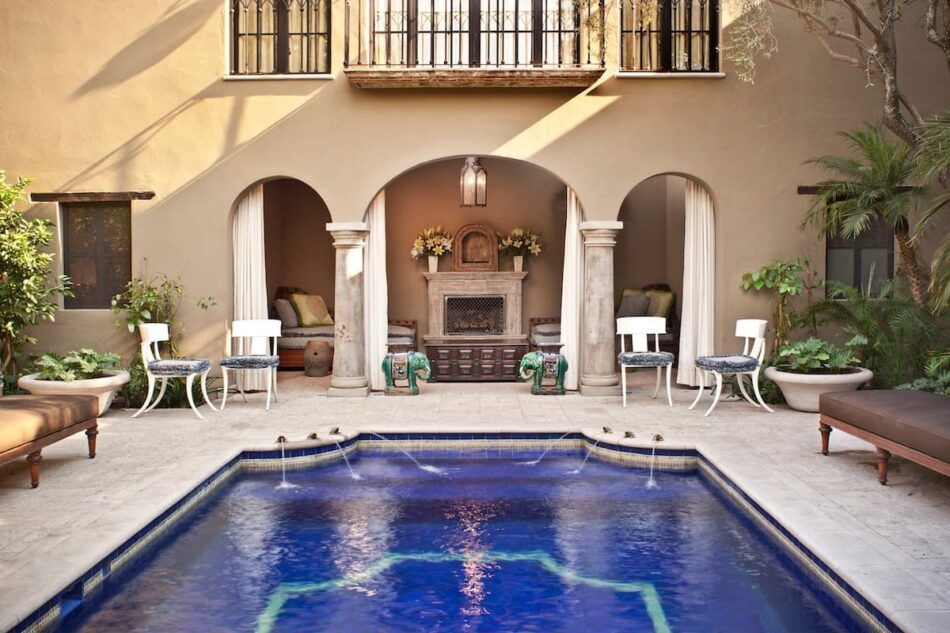 Fisher Weisman updated Casa Acanto, a former 18th-century tannery in San Miguel de Allende, Mexico. The firm built a three-level casita by the pool, featuring an outdoor living room.
Photo by Grey Crawford
---
Rios Clementi Hale Studios updated this 1930s Paul Williams-style house in Beverly Hills, with a pool surrounded by a stone patio and lush landscaping.
Photo by
Dominique Vorillon
---
This sleek 12,000-square-foot Miami residence by Argent Design features a pool area that echoes the home's clean lines. Photo courtesy of Argent Design
---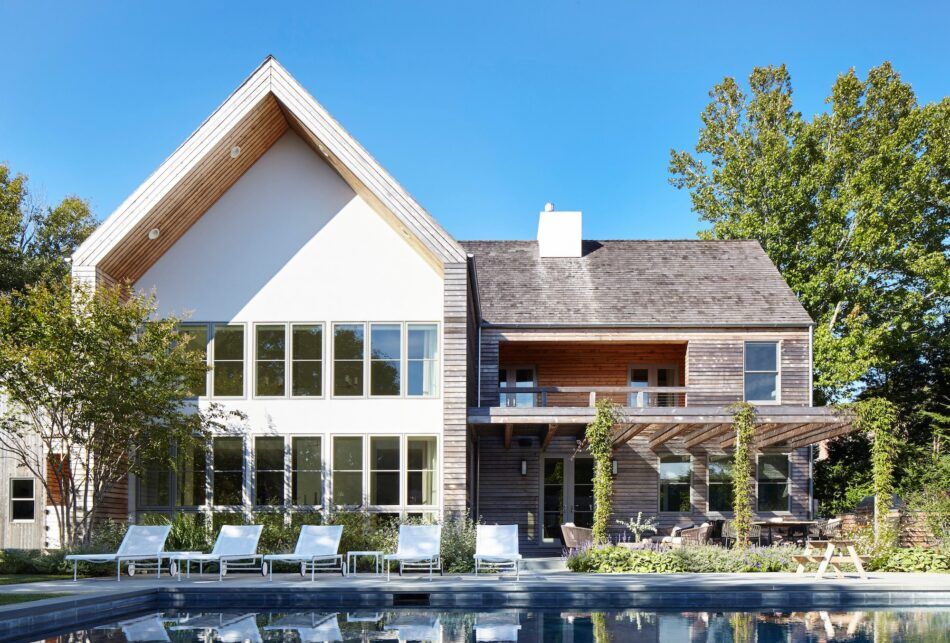 Climbing plants creep up the poolside pergola at this Amagansett, New York, beach house by Damon Liss. Photo by Joshua McHugh
---
The 1956 Craig Ellwood–designed Steinman House in Malibu was updated by BoydDesign in 2008. The firm designed a swimming pool and cabana and reimagined the gardens. Photo by Richard Powers
---
Bestor Architecture designed this Carpinteria, California, vacation home on the edge of the Los Padres National Forest, offering expansive views of both the mountains and the Santa Barbara coastline. Photo by John Ellis