For years, William Hefner was best known as the designer of a 60,000-square-foot house in Bel Air that could have been in the Loire Valley. "The lady of the house always dreamed of having a château, and after six projects together, it was time," says Hefner, who is determined to make all his clients happy. Still, he's never wanted people to think of him as a devotee of faux-French architecture.
"I've always been careful not to typecast myself," says the Sacramento-born, UCLA-trained architect, who founded Studio William Hefner in 1989. (It now has offices in Los Angeles and outside Santa Barbara.) In fact, he works in a variety of styles, including many varieties of modernism. As he was putting together his new book, California Homes II (Images Publishing), which includes 11 recent houses, he realized that almost all the projects had open plans and minimal ornamentation. That, he writes in the monograph — which follows the first volume by seven years — reflects "the growing interest in more adventurous modern design among our clients and in the culture here generally."
A history buff, Hefner tells 1stDibs that his houses "draw something essential from modernism, but they're not imitations, or revivals, of anything." And he's right. These are not houses that could have been done by such mid-century California greats as Richard Neutra or Rudolph Schindler, who tended to work within self-imposed constraints — all white walls, say, or repeated aluminum-framed windows.
Hefner prefers to be unconstrained, shaping residences to reflect their owners' particular needs and desires, and taking pride in the diverse architectural languages he develops along the way. "We're fortunate to have clients who are pretty open-minded about what modernism looks like," he says.
One of Hefner's clients loved Southern California's Case Study Houses — the famous post–World War II experiments in indoor-outdoor living designed by the likes of Charles and Ray Eames and sponsored by Arts & Architecture magazine. For more than a decade, this client had been looking to buy one of the originals, but they were too small for his collection of contemporary art. Eventually, he purchased a plot in Trousdale Estates, part of Beverly Hills known for its jazzy modernism. He hired Hefner to design a house with Case Study elements but, at 7,000 square feet, a lot more elbow room than its mid-century forebears. "There's some Case Study House nostalgia," Hefner says, adding, "It's not a deliberate attempt to make a Case Study House, but it takes you back there."
The nostalgia is evident outside the house, in the carport, the barrel cacti set into gravel beds and the terrazzo bridge that leads to the front door. But that door opens onto a dramatic 18-by-36-foot gallery, which Hefner left unfurnished to accommodate art installations. Also nostalgic, but more luxurious than anything from the Case Study era, is the owner's bedroom, set a few steps down from the rest of the house so that it's level with the pool deck. When the two glass window walls of the bedroom slide into pockets and disappear, "the pool is practically part of the room," says Hefner.
Combining the house's 21st-century amenities with its mid-20th-century mien required a particularly skillful touch. This was provided by Kazuko Hoshino, Hefner's Tokyo-born wife. The two met in the 1990s. Hoshino had moved to California to study English and interior design and was working in a showroom where Hefner sometimes shopped. A few years after they married, she joined her husband's studio. Despite the couple's different backgrounds, "[w]e have very similar aesthetics," Hoshino told Introspective in 2017. "It's become a little joke in the office. He'll pick a finish or fabric, and someone will say, 'That's what [Kazuko] chose, too.' "
Hoshino died last April, after a 15-month battle with cancer, when the new book was already in production. Of the 11 featured houses, she was the lead interior designer on seven. "She's so much a part of it," says Hefner. The release is bittersweet, he notes, since the two couldn't share in it together.
Nor is she here to share one of the most dramatic houses in the book — the one that she and Hefner designed for themselves and their son, now 12, on a hillside plot in Montecito. As he often does with houses on large sites, Hefner broke up the building into separate volumes, creating a kind of rustic compound. "That heightened the feeling of being on vacation," Hefner says. Indeed, he and Hoshino often slept in the guest house; their much larger, cathedral-ceilinged bedroom in the main building "seemed too grown-up, too serious for us," he explains.
As for the house's stripped-down but rustic appearance, Hefner says he thinks of it not as modern but as "a vernacular style that's been tightly edited." He had planned to clad the house in wood and stucco until excavators discovered a cache of Santa Barbara limestone on the property. Hefner ended up using the stone for many of the exterior walls, as well as for the house's five wood-burning fireplaces. "We wanted it to be a kind of rugged, indestructible place where we didn't have to tell our son no very often," he says. "That helped us feel relaxed there."
As in many of the modern houses they've designed for clients, the couple opted to mix new custom pieces of their own design with vintage furniture and lighting. "Using items from the fifties and sixties confuses people. They think the house has been here a long time," says Hefner. "And we didn't want it to look brand-spanking new." Even their bespoke items don't give away the house's age. In the living room is a 48-inch-deep sofa that they gave classic lines, says Hefner, "so you couldn't tell when it was made."
Back in L.A., the couple designed a particularly efficient house for a bachelor client. "We studied what his day was like," explains Hefner. "Starting in the morning, going from the bedroom to the bathroom and then to the workout room, then to the kitchen for breakfast and then to the home office." Because the client wasn't going to use the great room much, Hefner says, "we made it a kind of courtyard he passes through on a bridge. That way he can enjoy the room even when he's not spending time there."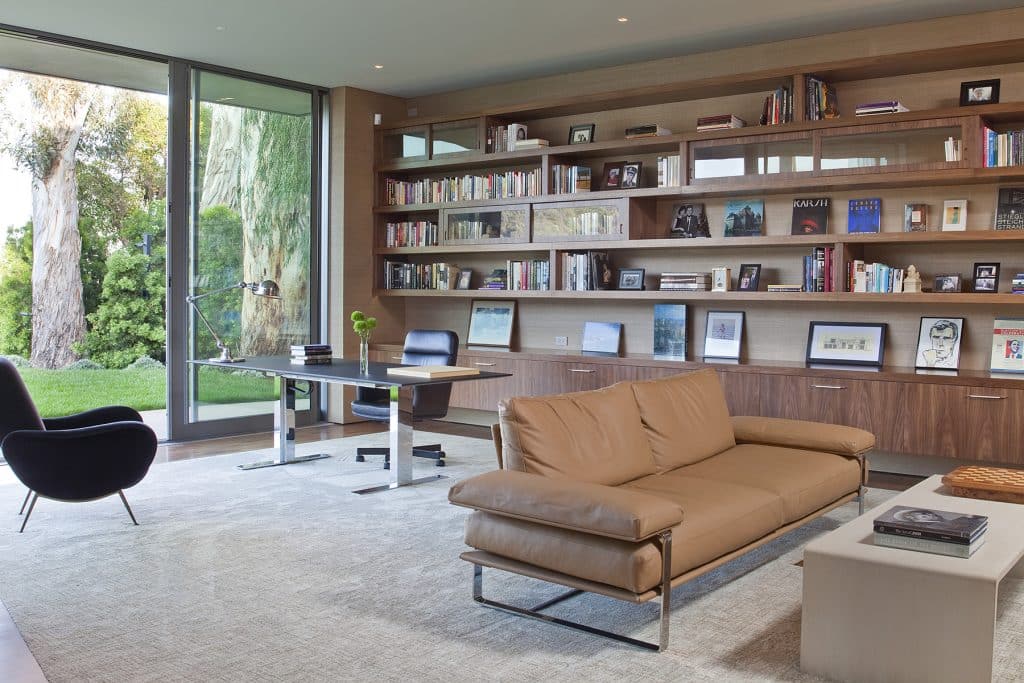 The house's interiors are "masculine, warm, and natural," Hefner writes. In the living room, an array of pendant light fixtures from Moooi illuminates a low-slung Turner sofa, designed by Hannes Wettstein for Molteni, and side tables by Barbara Barry and Isamu Noguchi. The home's main stairway, meanwhile, "is like one of those Japanese step chests with built-in storage," says Hefner. "It was constructed as carefully as a piece of furniture, to give the room a focus." 
One of Hefner's most recent projects was for a couple who had raised four children in a large Spanish Colonial and now wanted a smaller place, he says, "with a very open feeling and no rooms they wouldn't use regularly."
Their site, however, presented a challenge. It was in an L.A. neighborhood that requires houses to have pitched roofs (a way of promoting traditional architecture), and pitched roofs didn't go with the modern house Hefner and the clients envisioned.
For months, "I would call the review board, try to get out of it, beg for mercy," he recalls. No dice.
Eventually, he came up with the idea of making two sections of the roof — those over the second-floor principal bedroom and bathroom — slant up at the same angle. This enabled him to create north-facing clerestories that let in light and gave the house a handsome sawtooth geometry while avoiding any semblance of a hip or gabled roof. Now, he says, "when I look at the house, I feel like without those angled roofs, something would be missing."
Inside, the house is similarly stunning, with an eight-seat theater and a powder room with plaster walls sculpted into deep honeycomb shapes. Hefner lit the cast plaster panels dramatically from below. The space, he says, "is small, and it's under the stairs, and there had to be some wow."
Hoshino helped create that wow. "She would insert an unexpected twist now and then," her husband says. "But really, her legacy was keeping designs simple. She'd always say, 'Err on the side of simplicity.' "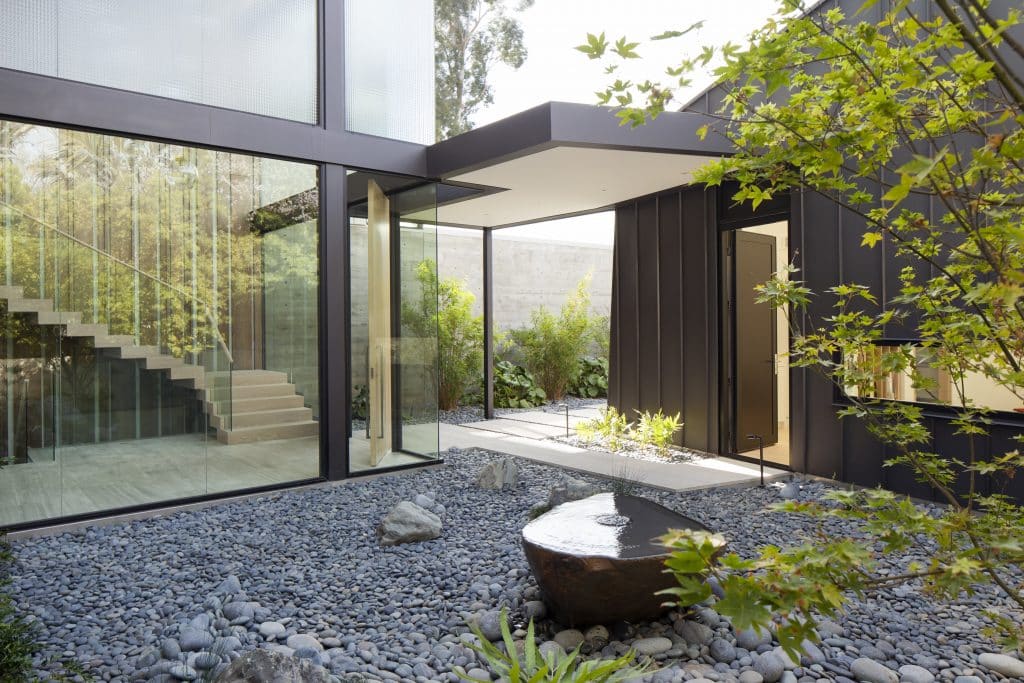 Because his wife was a great mentor, Hefner says, there are many people at the firm to carry on her work. "Sometimes, when we have a particularly hard problem, we'll say, 'What would Kazuko do?' And then, we find the answer."
William Hefner's Quick Picks