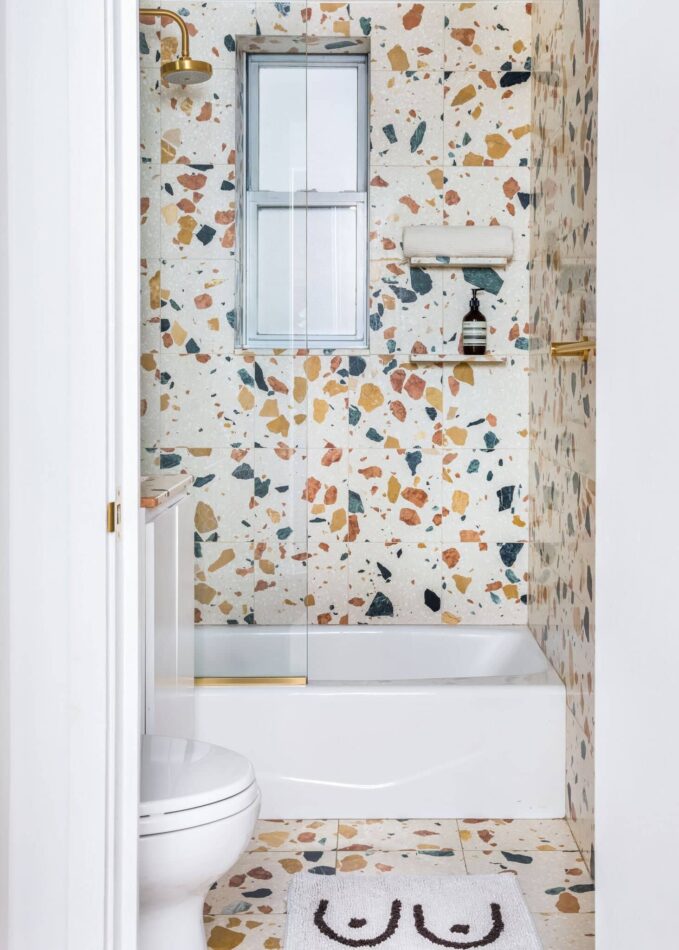 Terrazzo is everywhere. Forget the drab material used for school and hospital flooring in 1960s and '70s. Today, terrazzo comes in an array of fresh and stylish varieties, including multicolor and white with black dots, like chocolate-chip ice cream, its characteristic speckles delicate or chunky. It graces the interiors of top hotels, luxury boutiques and contemporary homes. And it's incorporated into lamps, benches, bookcases and tabletops.
"Terrazzo has been around forever. It is so vast and varied and lasts a lifetime," says New York–based Australian interior designer Tali Roth. "The Instagram and Pinterest age leave us all wanting more uniqueness in our spaces, and I think terrazzo really does that for many interiors."
The mosaic material originated in 15th-century Venice, where workers gathered marble scraps left over from the construction of palazzos and villas and embedded them in clay for their own terraces. Soon the clever composite was being used for the floors of Venetian palaces and Milanese entry halls. Eventually, it made its way to the U.S., where, in the 1920s, it became the flooring of choice.
Along the way, clay was replaced by cement and concrete, then epoxy resin These stronger binders allow a larger variety of chips to be used, differing in material — from marble to granite to recycled glass — and size, from tiny specks to statement-making hunks.
As these 10 creators demonstrate, the design possibilities of the Renaissance's favorite DIY material are endless.
---
Alberto Bellamoli
Although based in Denmark, designer Albetro Bellamoli is very attuned to the terrazzo's Italian roots. Bellamoli was brought up in a small town near Verona, the heart of today's terrazzo production. "Not so many people know that the material is still being made in the original area where it's always been made and has been used for centuries," he says.
For his Collecta table, Bellamoli went back to Verona to reconnect with its people, its creativity — and his childhood. Growing up, he was fascinated by the terrazzo-cast floors he played on in his grandparents' house. "I have always been curious about how some poor materials — such as marble waste and concrete — make it possible to create a beautiful new material."
---
Trueing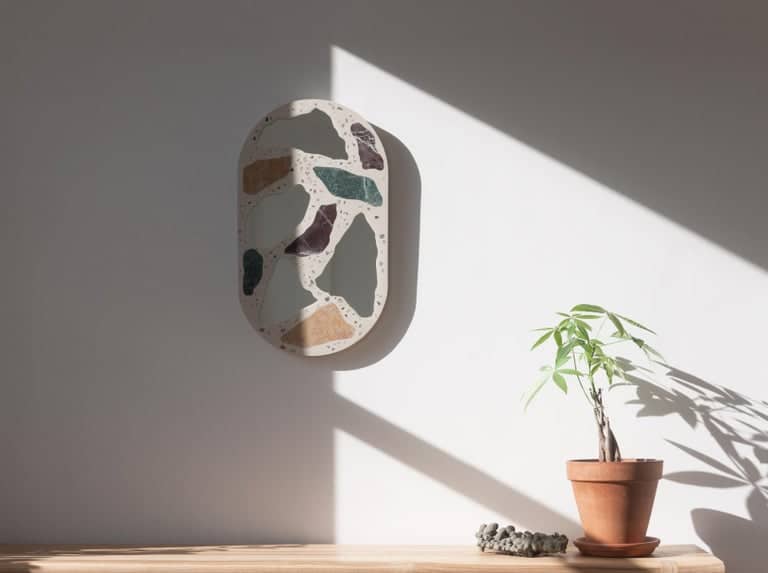 Aiden Bowman and Josh Metersky, of New York–based Trueing, use a mix of marble, mirrored glass and pebbles in their personalized take on terrazzo. "Everything is cast in one piece and then polished to a subtle, honed texture," says Bowman. "Soft to the touch but still maintaining the look of something more rugged that could have been pulled from the floor of an old palazzo."
A perfect example of that soft but rugged look is Trueing's 3000 mirror, which combines a modern sensibility with a centuries-old polish.
---
Oliver Whyte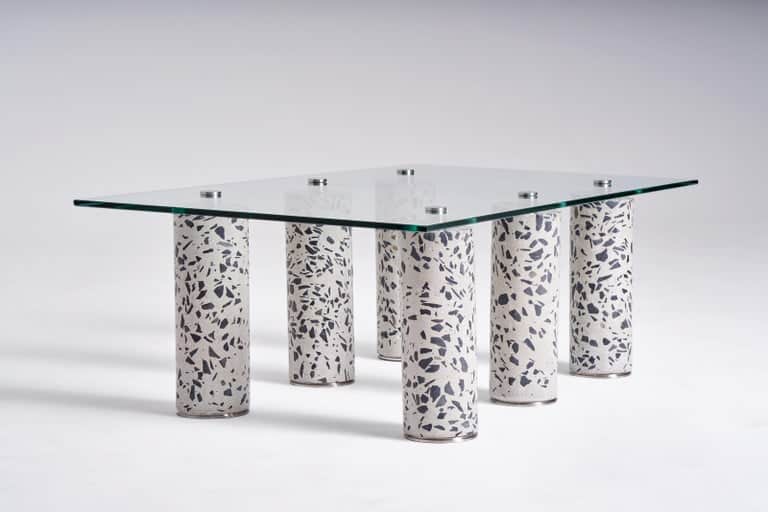 The terrazzo-like elements of Oliver Whyte's Core collection were "a beautiful by-product" of the design process, says Ross Robertson, the Cape Town–based firm's founder. "I knew that once the pieces' bases had gone through the various stages of polishing, the final product would have a lovely terrazzo feel to it."
In crafting the collection, Robertson combined white cement with semi-precious stones, creating a mosaic mix whose dramatic contrast between light and dark is beautifully exemplified in the 6 coffee table.
---
Tino Seubert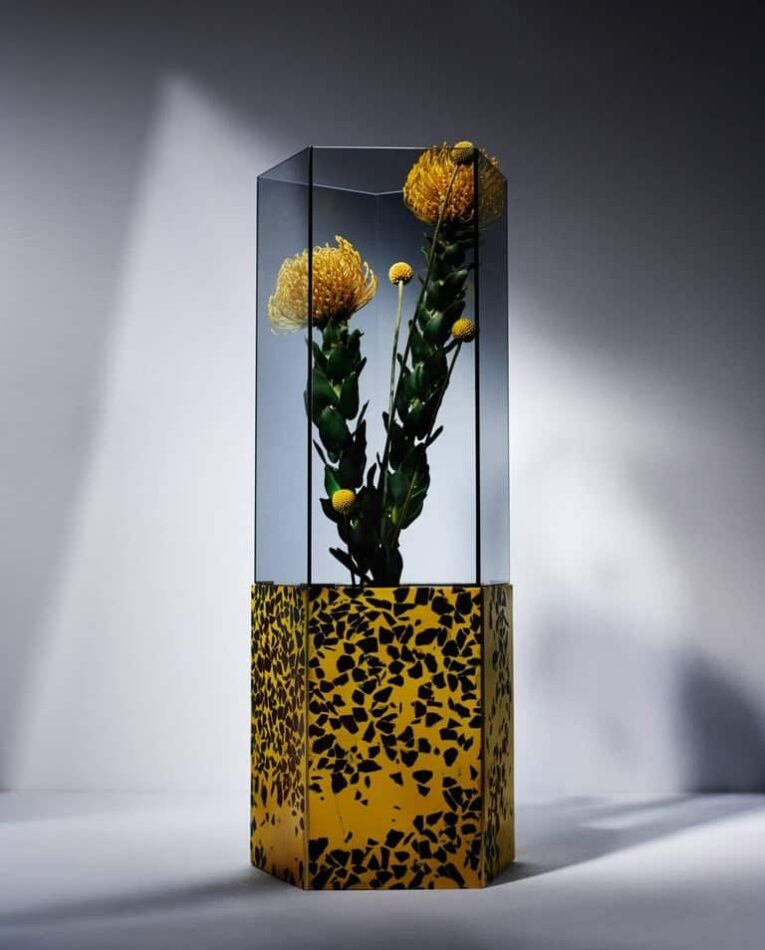 "When I started working with terrazzo, seven years ago, it was a bit of a forgotten material from the middle of the 20th century," says London-based Tino Seubert, who uses Rosa Perlino and Rosso Levanto terrazzo in his Narcissus collection.
"I found terrazzo extremely intriguing and wanted to bring it to people's attention. I also like the idea that you can basically throw all sorts of shapes and materials into terrazzo, and once you cut it open, it reveals itself in a completely new and beautiful way," Seubert says.
The collection takes its name — an allusion to the mythical youth fatally attracted to his own reflection — from the partially reflective, partially transparent surface of the glass used in the pieces. In the enormous Narcissus Pentagon vase, the material creates an optical illusion in which the flowers it holds appear to multiply.
---
Felix Muhrhofer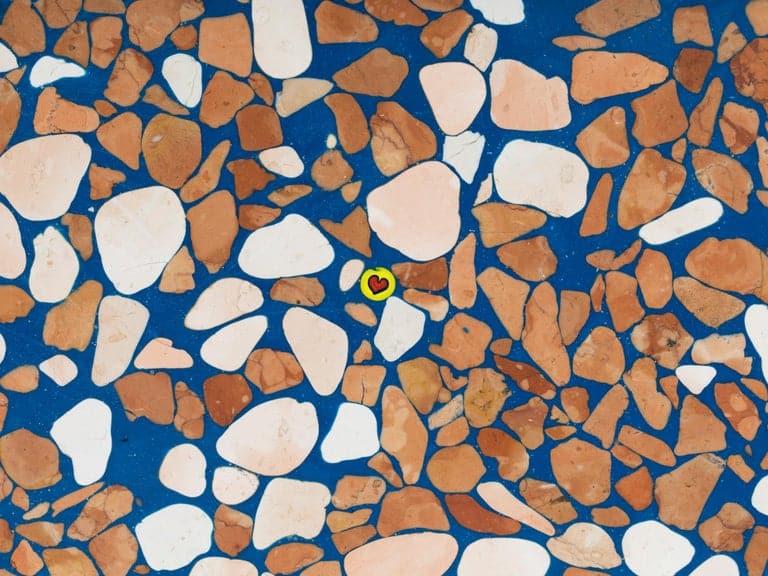 "I understand terrazzo as an ancient material but with many undiscovered features to uncover and develop," says Austrian designer Felix Muhrhofer. To create pieces like his Wild Jakob table, Muhrhofer collects stones from around the world, then adds modern elements, such as anodized-aluminum legs and little embedded trinkets. "The outcome," he says, "is an exciting hybrid between nature and artificiality."
---
Merve Kahraman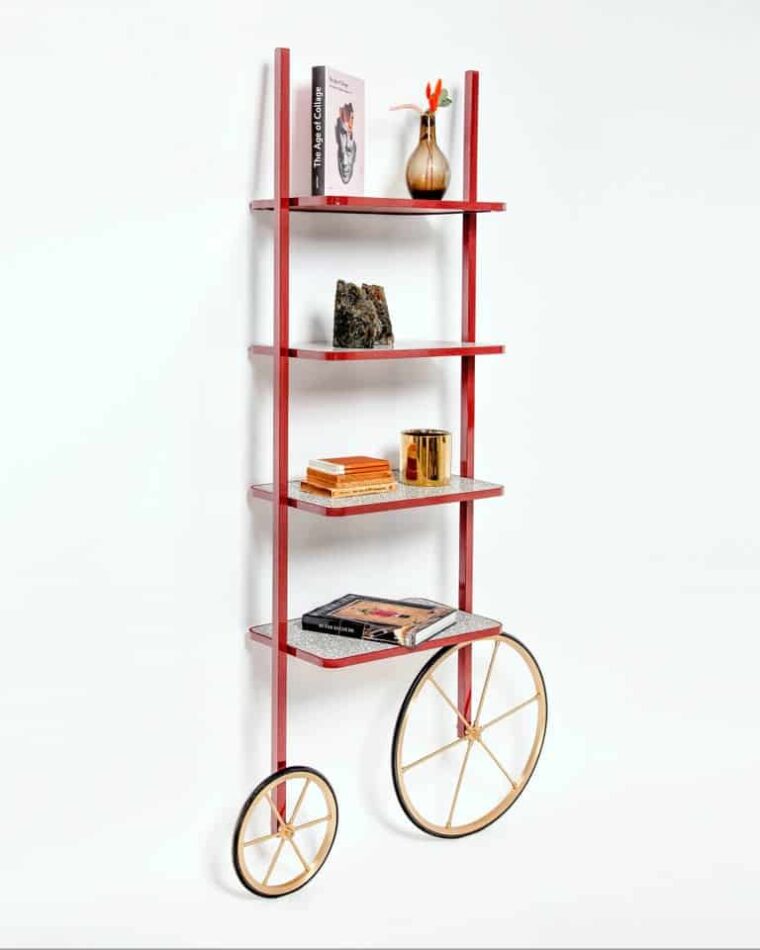 "Terrazzo is so versatile and colorful, and it reminds me of the building entrances from my childhood," says Turkish designer Merve Kahraman, who crafts her whimsical pieces in her New York studio. "It is nostalgic and has character." She exploits both those qualities in her Cyclopedia bookshelf.
"I think the subtle terrazzo shelves in Cyclopedia create an elegant harmony with the brass frame and wheels," Kahraman says. "Putting your books and accessories on a shelf like this is so much more fun than using a regular wooden one."
---
FOAM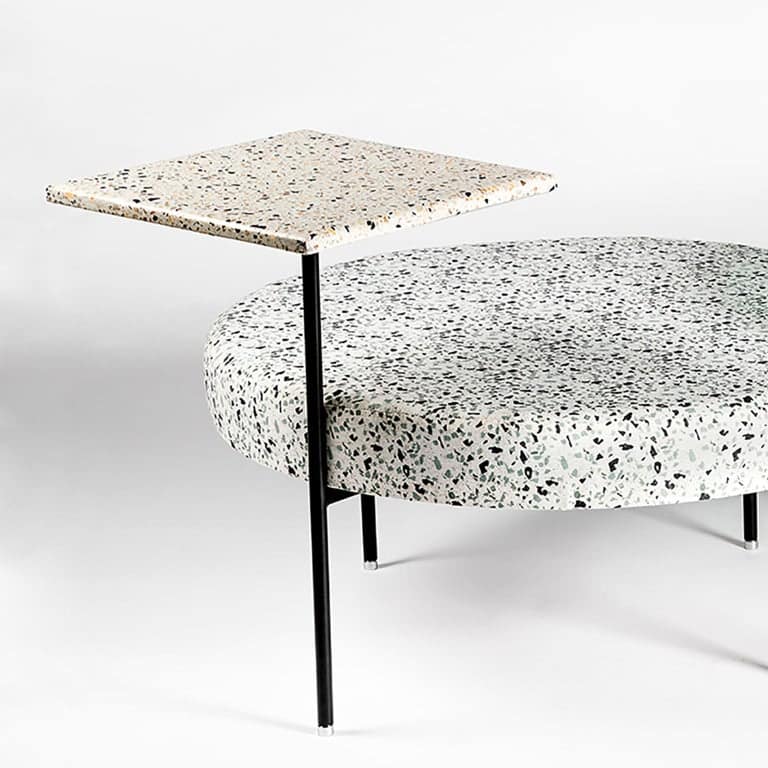 "Terrazzo is a material that's been used in Mexico since the '40s and '50s," says Alejandro Grande, who, together with Omar Ramos, leads the Mexico City–based FOAM. "For us, it is a matter of nostalgia, remembering our grandparents' houses, floors and wall finishes."
Those nostalgic finishes make a playful, even mischievous appearance in the Stracciatella chair and table hybrid. "We developed a print on fabric by digitalizing terrazzo's texture, and then we used it to make covers for the seat's cushion," Grande explains. And that's where the mischief comes in: When you sit on the chair, you expecting it to be hard and dense, but it's actually a plush and comfortable seat.
---
Örn Duvald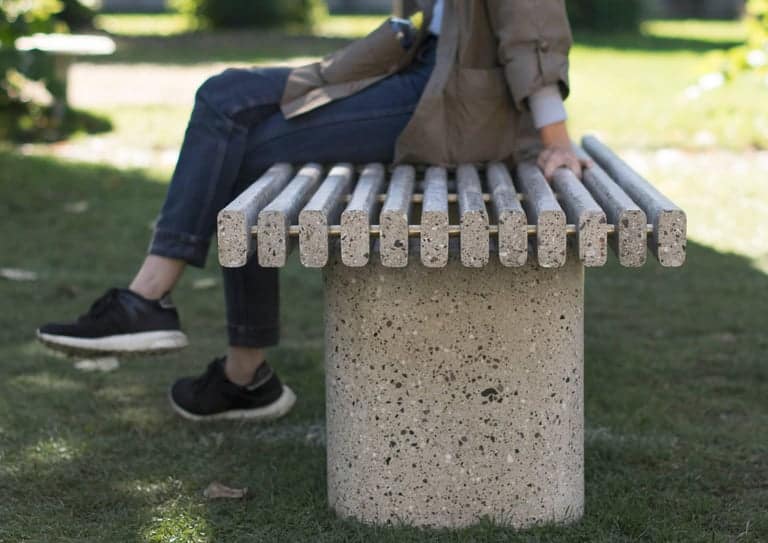 While traditional terrazzo contains pieces of marble, the Danish version takes a cue from the country's construction industry and incorporates local granite. "We discovered that what the building industry uses as a concrete floor casting material is very nice when combined with a color dye," says Søren Oskar Duvald, founder with Pétur Örn Eyjólfsson of design co-op Örn Duvald.
---
ROOMS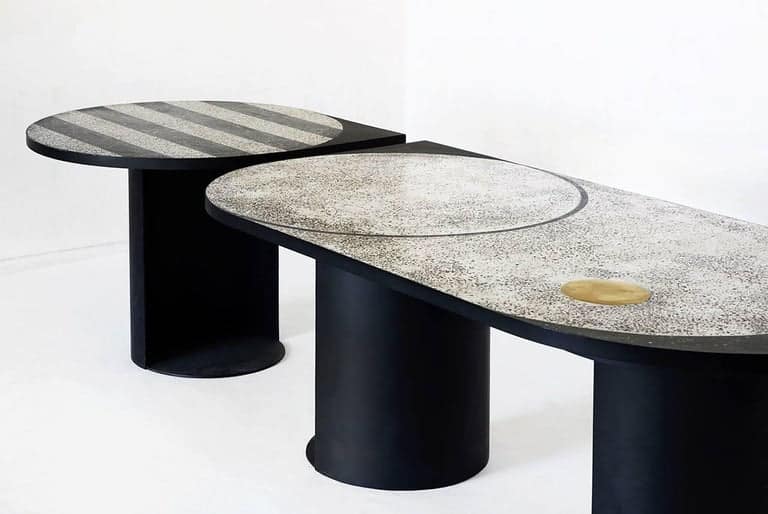 In designing their funky furniture, Nata Janberidze and Keti Toloraia, the creative duo behind ROOMS, were inspired by the terrazzo floors of the grand entrance halls in their hometown of Tbilisi, Georgia. "We encounter the [terrazzo floors] daily and thought it would be interesting to change their function by turning them into tabletops," says Janberidze. "Terrazzo offers both a solid and tactile character and an opportunity to add different natural stones."
---
Bentu Design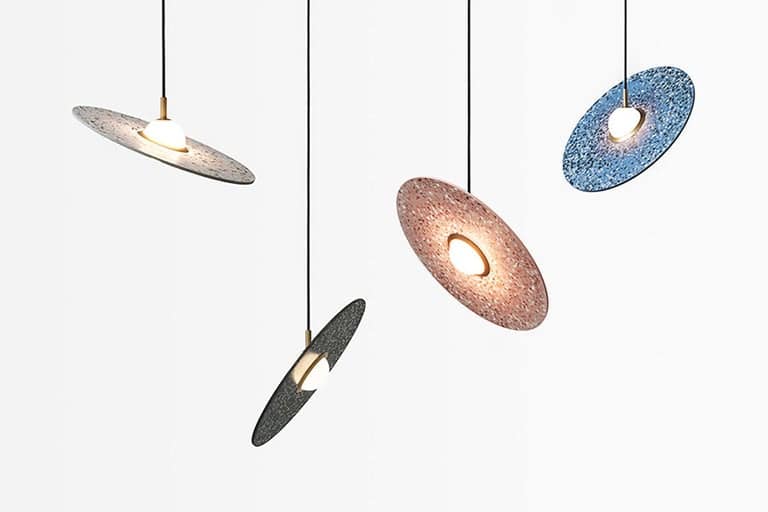 "In Bentu's pieces, terrazzo is not a decorative finish but a deep reflection on material," says Lena Jaroschek, of Paris-based Savannah Bay Gallery, referring to the work of Cantonese studio Bentu Design. "There is a desire deep inside ourselves pushing us to find the terrazzo that belongs to us." Bentu uses a grid structure to mold terrazzo panels into dreamy pieces like the Planet pendant lamp, with its colorful Saturn-like rings.