I was born with a three-dimensional mind," says San Francisco designer Paul Vincent Wiseman. "I'm always looking at, and talking about, design." Armed with this passion, he has perfected the art of creating interiors that are sophisticated, elegantly proportioned and detailed, and — regardless of the formal vocabulary — relaxed and comfortable. As a result, his firm, the Wiseman Group, has built a roster of elite clients in the business and tech worlds.
Wiseman's stylish nonchalance comes naturally. He grew up surrounded by a pear orchard in the Sacramento Delta, and although his hometown had just 800 residents, it also had two houses by the Bay Area modernist master William Wurster. "I'm a Californian that way," Wiseman says. "There's a casualness and richness that's earthy but sophisticated." Wiseman studied political science at the Davis and Berkeley campuses of the University of California, but he realized that his future lay elsewhere. Travel beckoned; he had already been to Athens and spent a semester in Tasmania, and when a friend of his mother's told him, "Don't buy a car and a stereo like the other kids — go to Europe," he didn't need persuading. In 1980, after working for two prominent San Francisco antiques dealers and a number of fabric showrooms where he says he "learned the business from the ground up," he started his own design firm, which now employs 35 people.
Wiseman is fluent in a number of stylistic languages. In a Cotswolds-style cottage in California, designed by architect Joel Barkley, of Ike Kligerman Barkley, and inspired by the structures of Sir Edwin Lutyens, he hung a work by modern American painter Milton Avery over an original Lutyens fireplace in the living room, while in the dining room, he mounted a flower picture by Georgia O'Keeffe above a Carlo Bugatti table and, on the stair landing, surrounded a table reproduced from Lutyens's drawings with four Charles X steel stools.
For his best childhood friend, a fourth-generation pear farmer in the delta, Wiseman designed the interiors of an abstracted, Wurster-esque farmhouse in an orchard. (David Morton was the architect; Kurt Melander completed the project after Morton's death.) The monochromatic tones of the pared-down, comfortable rooms harmonize perfectly with Morton's dramatic high ceiling of folded planes. A guesthouse on the property with a striking slanted roof is where you'll find Wiseman and his partner, Richard Snyder, an attorney, on many weekends.
For a modern house on the island of Hawaii, Wiseman collaborated with the famed late Mexican architect Ricardo Legorreta, who designed an upswept roof that brings abundant daylight into the living and dining rooms, together with guest rooms that appear to float on a shallow pool. Wiseman's sculptural furnishings and rich colors create a suitably strong backdrop for works by artists like Martin Puryear and Robert Mangold. He is adept at showcasing his clients' blue-chip art collections. In a San Francisco penthouse designed by the architects Atelier Ugo Sap, Wiseman's elegant neutral color scheme works well with paintings by Adolph Gottlieb and Lucio Fontana and sculpture by Auguste Rodin and Alberto Giacometti.
Wiseman's own home, a 1912–13 Craftsman-style "summer house" on Belvedere Island, in California's Marin County, is warm and welcoming, with lush gardens and arbor-covered terraces. He and Snyder bought it 18 years ago and later restored it thoroughly, using bronze for the window frames and zinc for the roof — "materials that were meant to age well," Wiseman explains. In the living room, linen-covered sofas modeled after those found in the Turkish wooden mansions called yalis are made of recycled wood and wool — "no foam," he notes. Swing-arm wall lights, part of a collection by the Wiseman Group, give the space an air of casual luxury.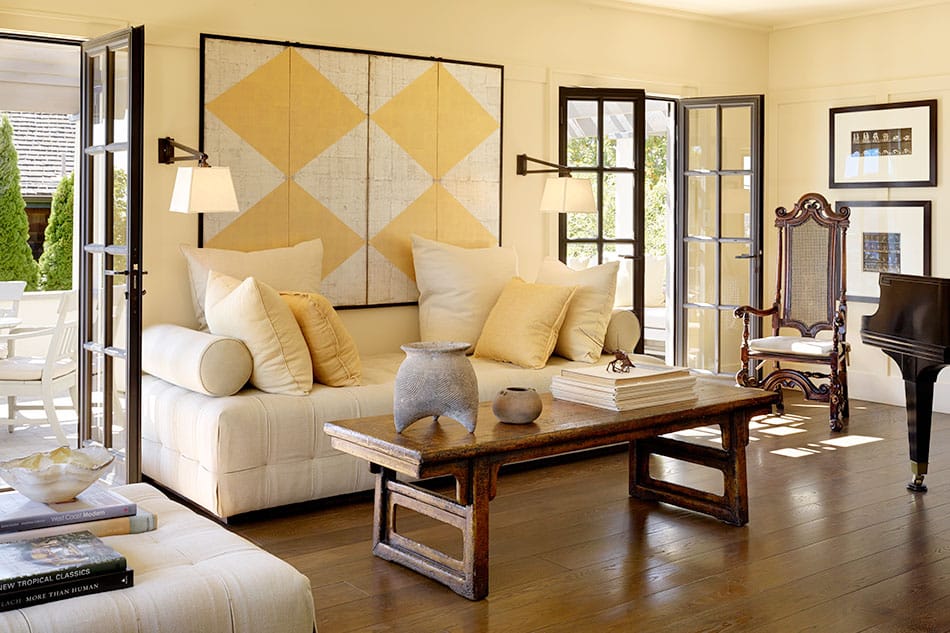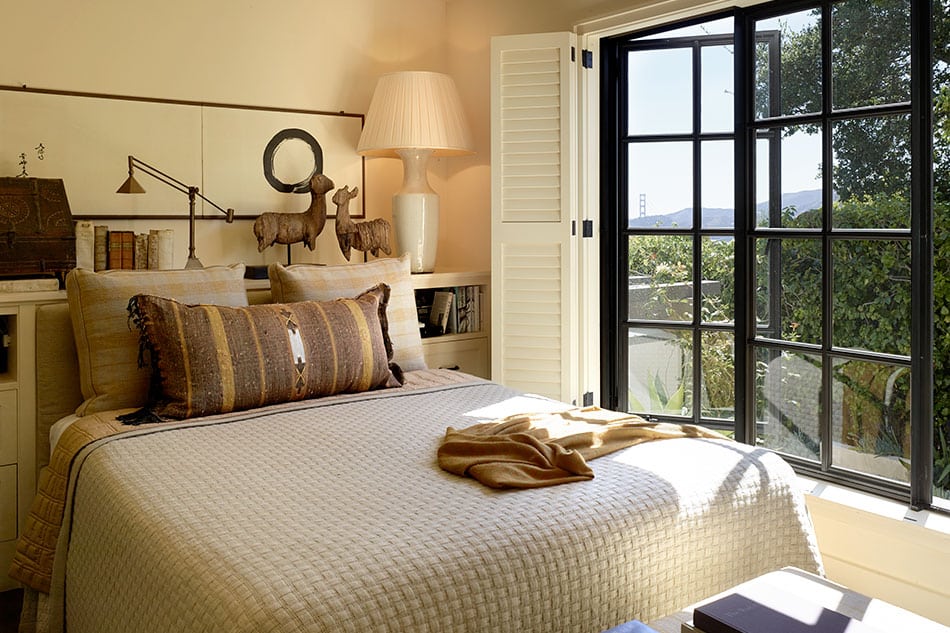 Wiseman's current project list is impressive: a house near San Francisco with Frank Gehry; a Lake Tahoe ski house with Peter Bohlin, of Bohlin Cywinski Jackson; an Adirondack-style lodge, also in Tahoe, with Barkley; the restoration and renovation of a Joseph Esherick house with the San Francisco architect Richard Beard; a sprawling Los Angeles house with panoramic views designed with the architect Richard Landry; and a 200-foot "Scandinavian-chic" exploration yacht — the firm's first.
The Wiseman Group, under design principal James Hunter, is also consulting on furnishings and materials (in collaboration with Mark Cavagnero Associates) for the offices of cloud-computing company Salesforce in several urban centers, including San Francisco. (The recently completed Pelli Clarke Pelli–designed Salesforce Tower, the company's headquarters, is the tallest building in that city.) Wiseman calls Marc Benioff, Salesforce's founder and CEO (and a longtime residential client), "a true visionary — the project is all about movement, energy and curves." Wiseman's designs for the offices include a conference table inlaid with a slice of 80-million-year-old petrified wood that he found on one of his and Snyder's annual trips to the Tucson Gem and Mineral show. He collects minerals himself, and, he says, buys "them a lot for clients, because everything is one of a kind." Which is entirely appropriate, given Wiseman's talent for making rooms that are as singular as their owners.
---
Paul Wiseman's Quick Picks on 1stdibs