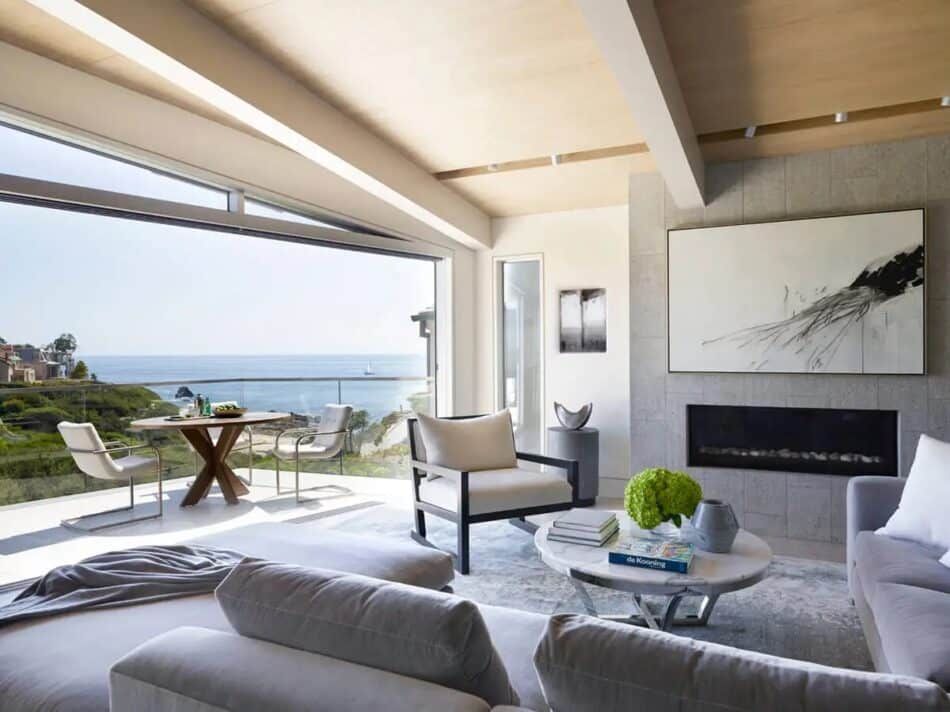 Anyone living in California knows the value of rooms that open to the outdoors. Ohara Davies-Gaetano's design for a residence in Corona del Mar embodies her beach-house philosophy: "Maximize the ability to be a part of the view."
"The desire was to create a really comfortable living room that flowed seamlessly between the interior and exterior spaces," she says. Inside, chic, soft grays are accented with an abstract painting by her father, artist Nick Gaetano. Beyond the completely retractable door, white dining chairs face a custom table designed by Davies-Gaetano herself.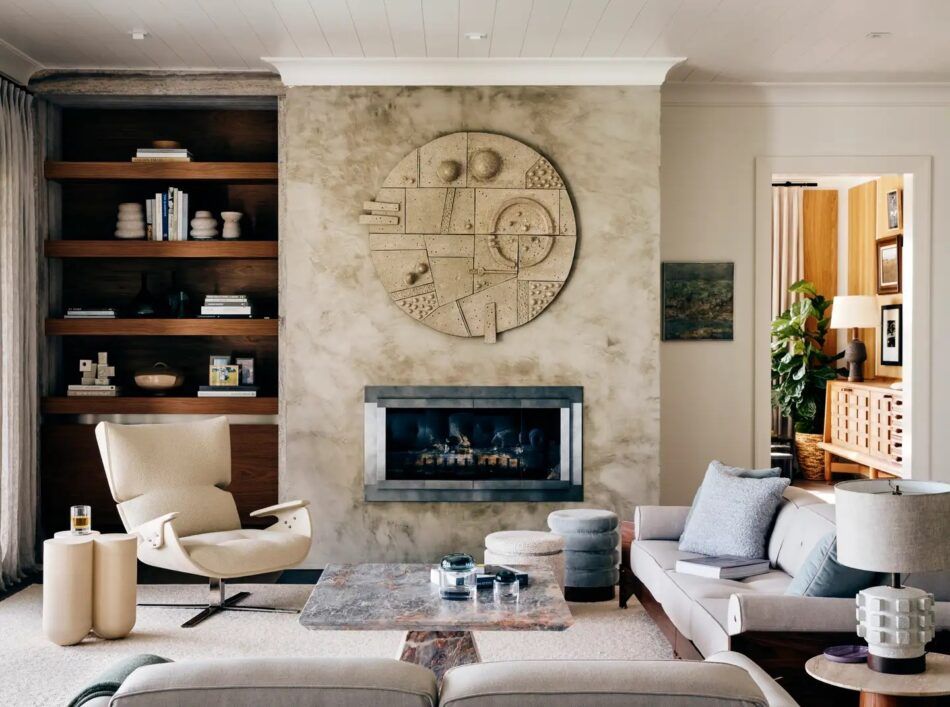 Asked by a couple with young children to create a relaxed yet stylish retreat, Timothy Godbold suggested embracing pastel hues "in a new, sophisticated way." In the living room of the family's Hamptons beach house, he focused on two serene shades. "Everything has a slight blue wash mixed with a fossil beige," the designer says. In other words, he skipped the more saturated tropical colors.
Godbold gave the fireplace surround a polished-stucco finish, adorning it with a large-scale ceramic artwork by Carlos Otero. For the furnishings, he chose pieces with simple, modern silhouettes, such as a sculptural Jorge Zalszupin chair and a vintage marble coffee table.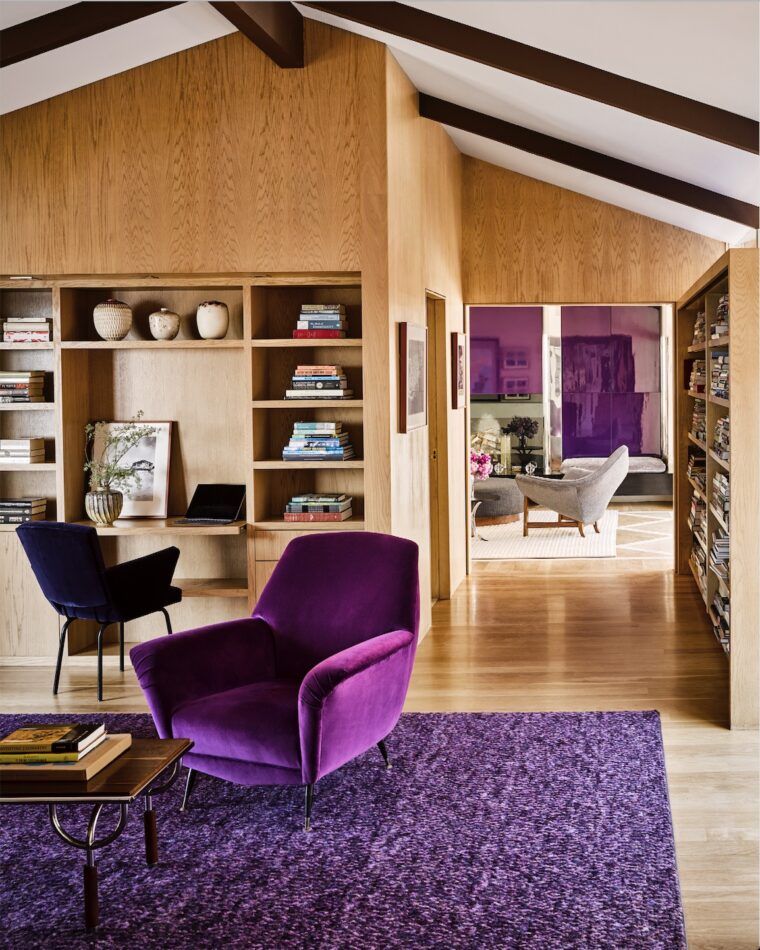 Eddie Lee's clients didn't want a shabby-chic look for their 1958 Frederick Liebhardt–designed oceanfront bungalow in La Jolla. Although an abundance of natural-toned wood lends a beachy feel to the modernist home, he leaned away from a full palette of sun-faded neutrals.
"One of my client's favorite colors is purple, so we lacquered the living room's fireplace wall and coordinated with purple velvets on the library chairs to draw your eye into the space," he says. The library's violet-hued rug is by Patterson Flynn Martin.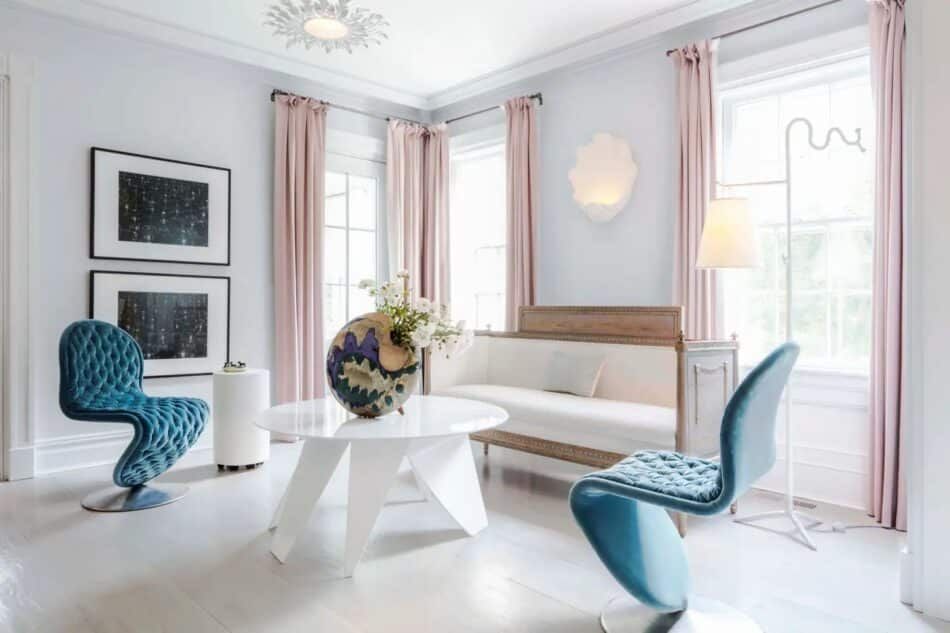 Formarch design director Brent Leonard took a novel approach to beach house decor in Sag Harbor, where he refreshed a Greek Revival home with clean, bright interiors.
"We wanted the space to be infused with light, giving it a sophisticated summertime feel," he says, describing his vision for the living room. "We pulled part of our inspiration from old seaside hotel lobbies and played with adding layers of different design eras for a balanced yet eclectic sensibility."
Aqua Verner Panton System 1-2-3 swivel chairs and blush drapes endow the space with an undeniably feminine edge. The table, designed by Formarch, provides a hint of gloss under the glow of the 1940s flush-mount ceiling light.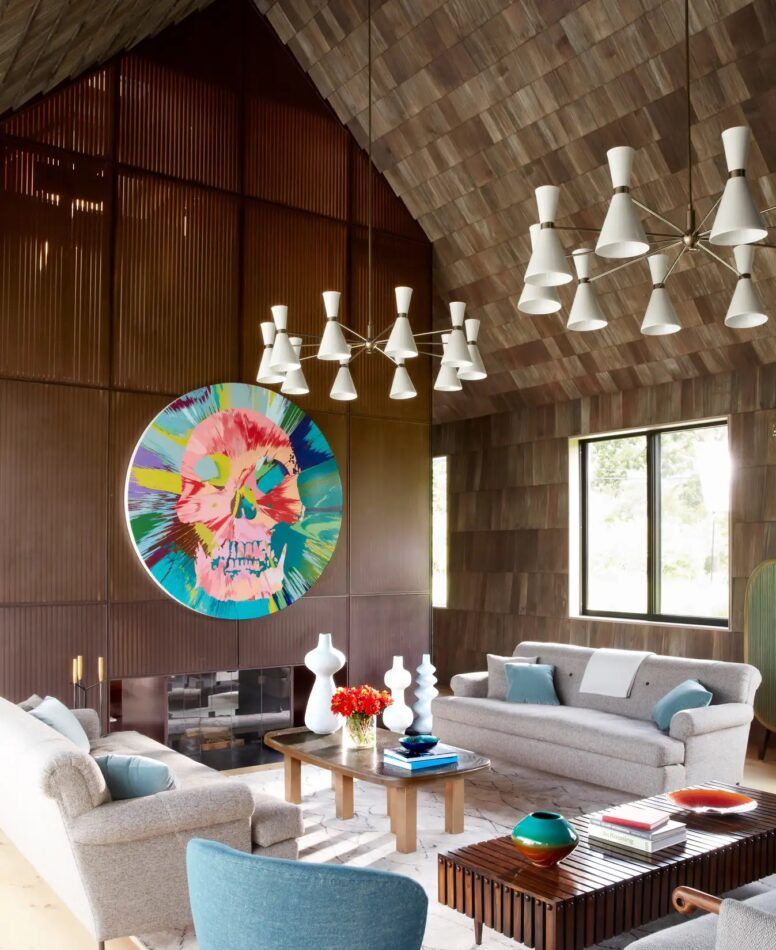 Damon Liss encourages his clients to stray from the classic blue-and-white palette that characterizes so many Hamptons beach houses. In the living room of a home in Wainscott, he broadened the color spectrum with an expansive and kaleidoscopic Damien Hirst painting, mounted beneath two equally large Stilnovo chandeliers.
"We envisioned a playful, down-to-earth room where friends and family comfortably gather with carefully curated vintage," says Liss, noting that the pieces come from Brazil, Belgium and Italy. Ceramic vessels, like the trio of tall vases by Lone Skov Madsen, add a bohemian touch. "The design is a complement to architect Bates Masi's use of weathered cedar shingles in the interior of the home."
For a grand seaside villa in Sullivan's Island, South Carolina, Cortney Bishop and her team "chose elements that were more polished and incorporated colors that tied in with the natural environment."
One piece that brought the outside in was a landscape painting already owned by the clients. Bishop played off the art with a pair of curved Nancy Corzine sofas, an Orley Shabahang rug in the colors of the sand and surf and a Thomas Pheasant for Baker Furniture cast-brass coffee table and leather ottoman.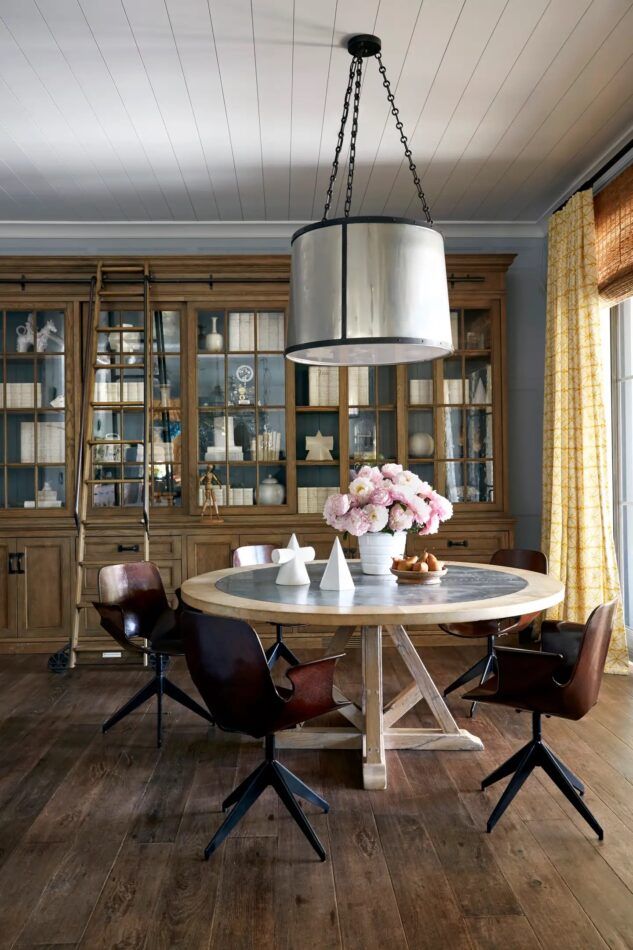 Two qualities Martyn Lawrence Bullard insists are essential in a beach house are evident in the breakfast nook of a Mediterranean-style home he conceived in Malibu: "The space was designed to feel warm and welcoming," he says, an effect he achieved in part by hiding all traces of large electronics. Cool-toned woods are another must for the designer, and in a cozy dining area, he covered the floors with wide oak planks.
Bullard polished the room's look further with a round vintage dining table from Lucca & Co. and a custom pendant made from an old zinc wash basin that he banded in bronze.