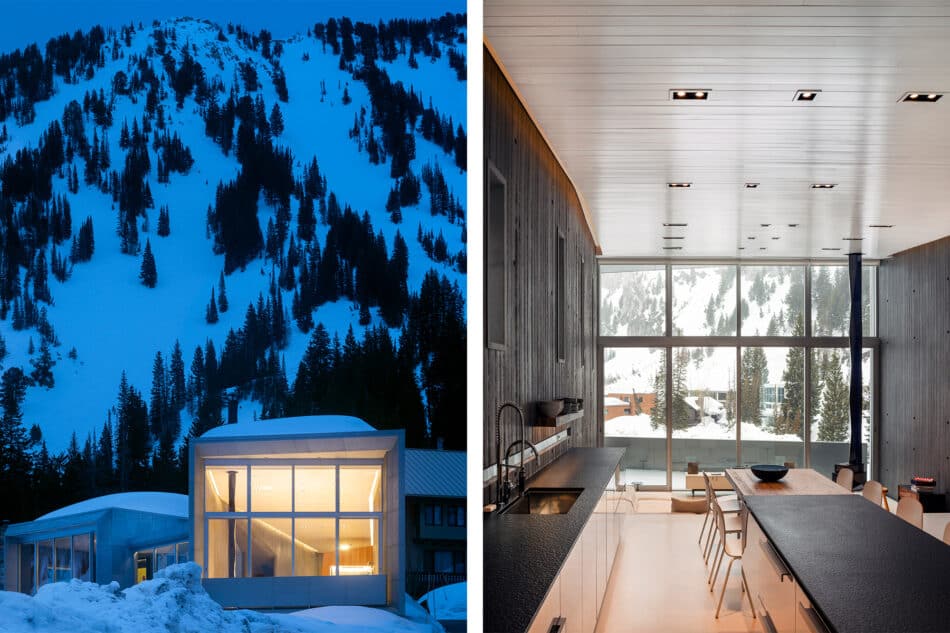 David Howell and Steve Wakenshaw, of DHD Architecture & Interior Design, faced challenging conditions in building a stylish mountain getaway for a client with collections of contemporary art and modern furnishings, including lighting by Gerrit Rietveld, Le Corbusier and Gio Ponti: a narrow site on a hillside in Alta, Utah, where average annual snowfall measures 40 feet.
Their solution, says Howell, was a "sculptural insertion" into the landscape with two concrete volumes connected by a glass bridge. The larger volume, called the Tube for self-evident reasons, features radiant-heat terrazzo floors and a Boffi kitchen whose island morphs into a casual dining area.
Beyond that space is a sunken living room, where Piero Lissoni's Extrasoft sectional for Living Divani faces a breathtaking 17-foot-high wall of glass. Low-slung cabinets by BDDW and a Charlotte Perriand stool huddle around a wood stove by Martino Gamper with a totemic Brancusi-like flue.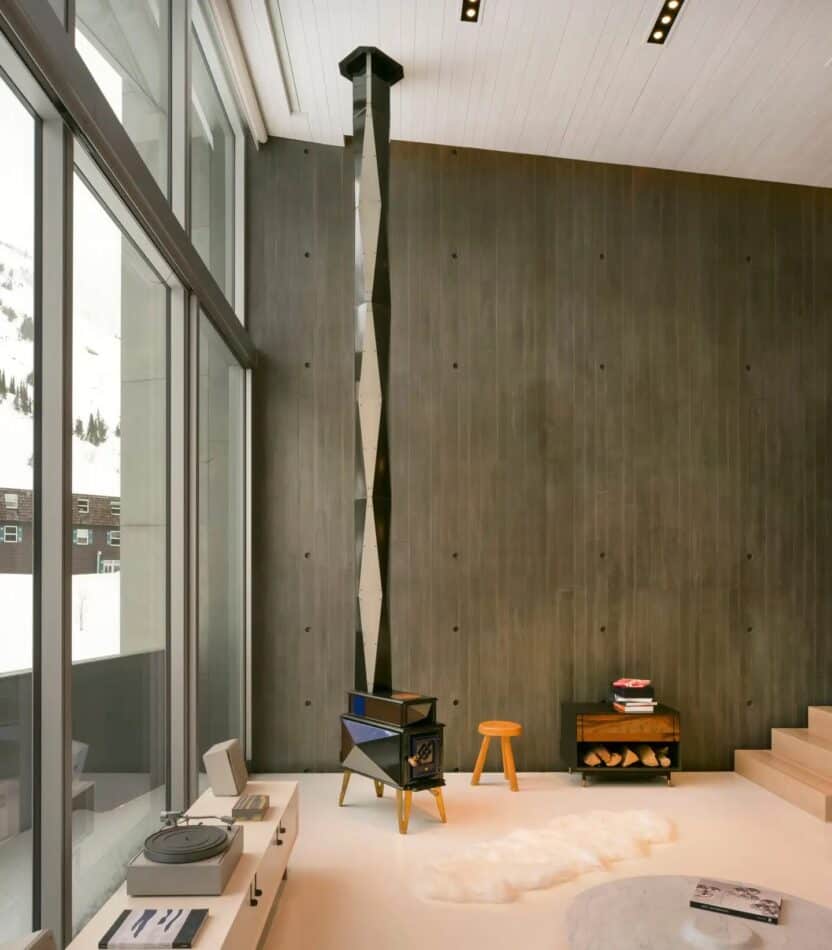 "This room is so much about framing the view of the mountain at Alta," says firm partner Steffani Aarons. "I feel it's almost like a sculpture but with really comfy furniture and a killer fireplace!"
---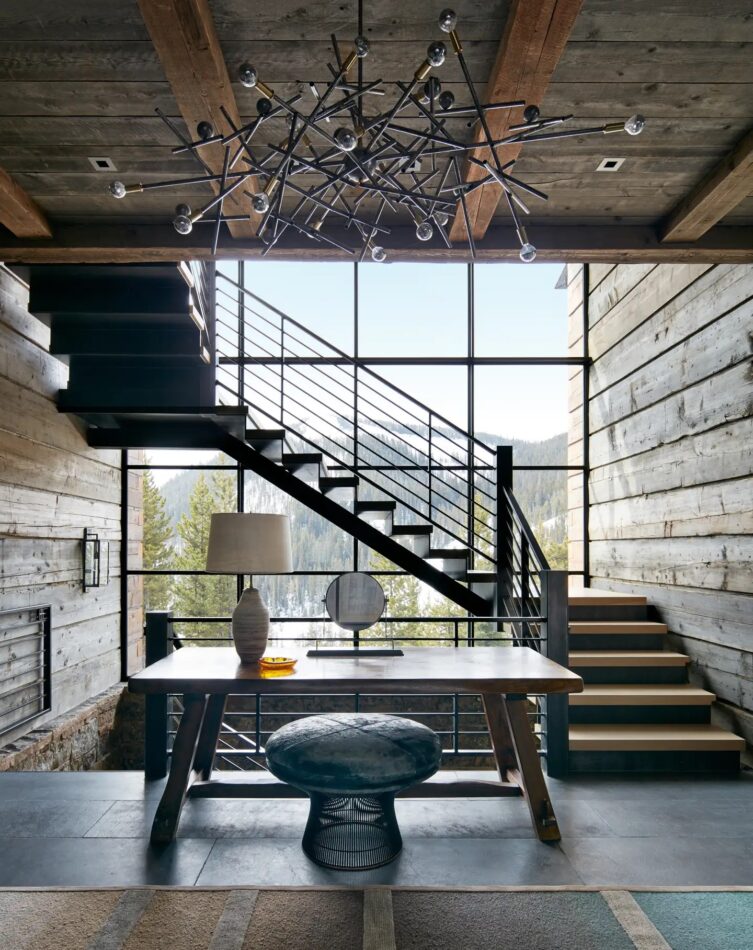 "She always said this was his baby," notes Shawn Henderson, recalling the young couple who owns this house in Big Sky, Montana's Yellowstone Club. The wife handled the decor of their Los Angeles residence but left this home's aesthetics to her husband, Henderson and architects at Pearson Design Associates.
"It definitely has some heft to it, a masculine slant," says Henderson, pointing out all the steel, rustic reclaimed timber and stone floors. That theme is carried on in such pieces as the metal-rod light fixture by Lou Blass and 1970s plank table by Finnish designer Olavi Hanninen from Bloomberry in the entryway.
But the designer mixed these with more curvaceous, feminine silhouettes: a mid-century ceramic lamp from Thomas K. Libby and a 1970s–80s bronze vanity mirror in the style of Karl Springer. Finally, bridging hard metal and round contours is a Warren Platner ottoman covered in burnished leather.
---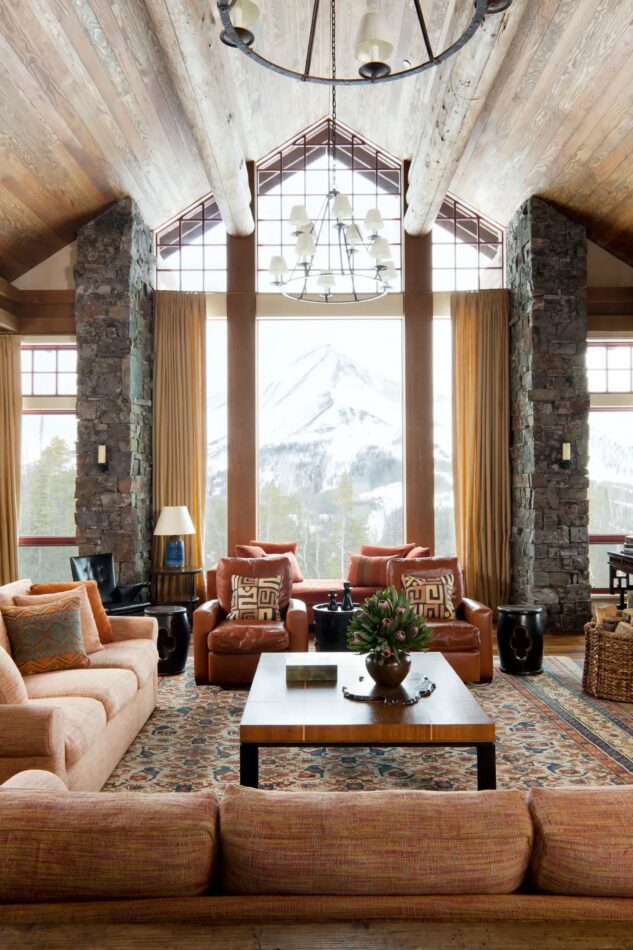 "I was trying to create warmth and textural interest that would provide a real sense of place without using any obvious cues," says Michael S. Smith, referring to his design for an almost 10,000-square-foot ski house also in Big Sky, Montana.
In the living room, Smith eschewed antler chandeliers in favor of iron versions from Formations and rustic wood furniture in favor of more-refined specimens: a coffee table in the manner of Paul Dupré-Lafon (who was fond of blackened-steel bases), a 1930s Frits Henningsen black leather armchair from Wright and custom sofas for which he nixed plaid upholstery, covering them in a complex woven fabric from his Jasper collection.
Chinese stoneware occasional tables, toss pillows swathed in African Kuba cloth and a 19th-century Persian carpet bring worldly sophistication to the space, diverting it substantially from the expected Western vernacular of many mountain homes.
---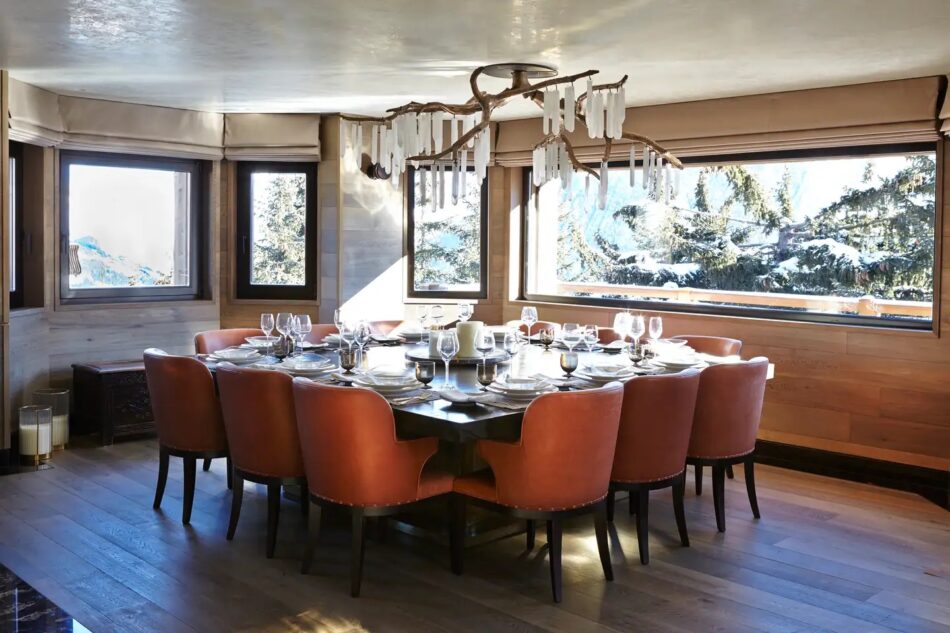 For a historic building in Courchevel, France, transformed into an inviting chalet, the London-based owners hired Brigitta Spinocchia, of Spinocchia Freund, to appoint the interiors. Her MO? Deploying "the warm tones of the timber and leather, with minimal furniture," she says. "The space simply asks to be inhabited by friends and laughter."
But if the decor is spare, the details are luxuriously bespoke. The custom chairs were crafted in the UK with vegetable-tanned hides. The unique light fixture, also made in England, is hung with selenite crystals and mimics the frozen branches outside the window. A carved antique French trunk adds country flair to the contemporary furnishings.
---
Model apartments are about illustrating potential. Good examples employ design that maximizes the rooms' visual possibilities and encourages prospective buyers to imagine themselves living there. To achieve that decorative ideal, the developers of One Snowmass, in Aspen, turned to KES Studio. The firm responded, says owner and principal Kara Smith, with "luxurious simplicity, bringing in warmth with layered textures and rich materials."
The model condominium's clean, contemporary bedroom includes a custom four-poster bed that combines ebonized and bleached white oak with caramel suede, as well as custom bedside tables that pair blackened steel and Calacatta marble. E.F. Chapman's Russell lamps for Visual Comfort grace the latter, while beige plaid dresses the windows, invoking a familiar motif in an updated way. To add a note of whimsy, KES hung above the bed the giclée print Elk in the Room.
---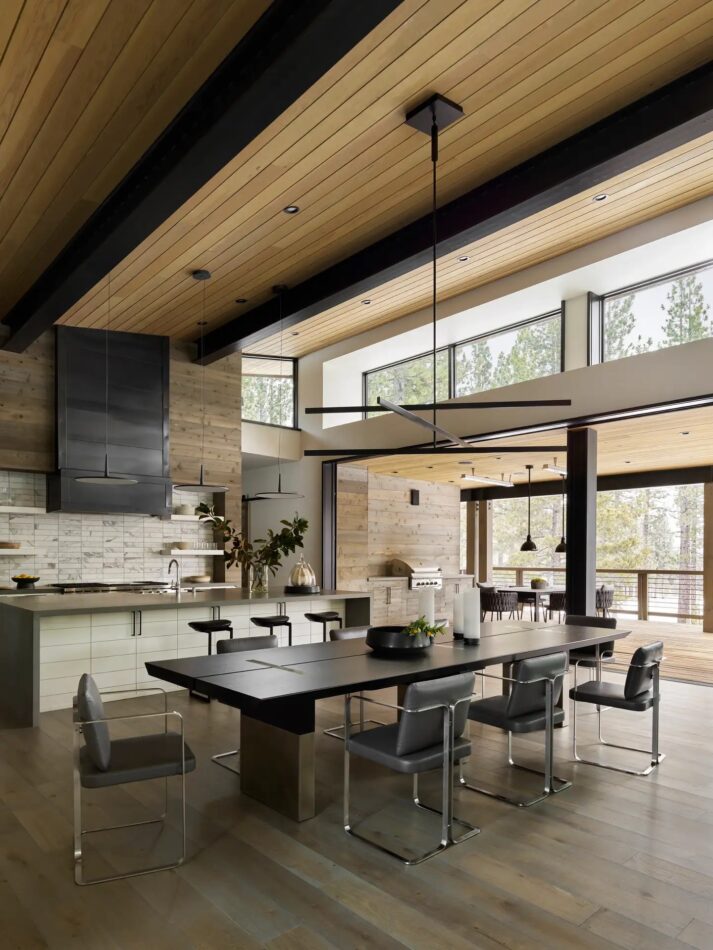 You don't need a lot of fuss inside when you have spectacular views of the fir-covered High Sierras outside your windows, as this family does at its Martis Camp residence, in Truckee, California. Accordingly, Chris Weir, principal of Studio Collins Weir, emphasized the materiality of the wood and steel walls and beams by juxtaposing them with rich textures.
"This home is about sophisticated and layered comfort that greets you as soon as you arrive," he says. "It is rendered in mohairs and leathers that highlight and contrast with the metal finishes and contemporary art throughout the space."
The kitchen and dining area are at the far end of the high-ceilinged great room. "The narrative of an open family kitchen is so wonderful," says Weir. Again, he kept things restrained: Marta Sala chairs surround a Holly Hunt table from Kneedler Fauchère, while a Ralph Pucci–designed pendant hovers overhead.
---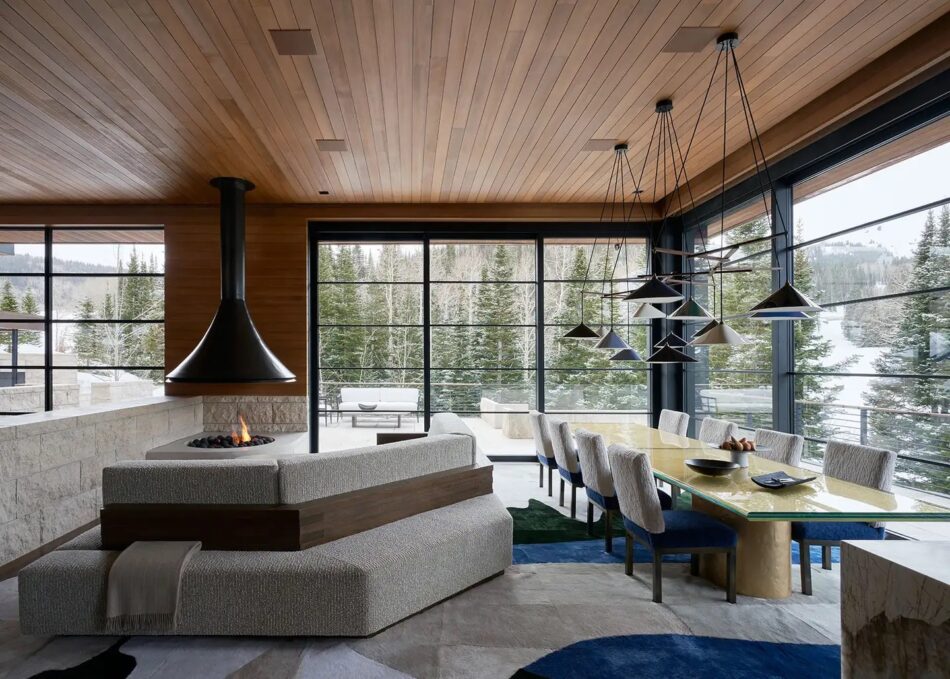 Although a rough-hewn wooden chair by a double-height stone fireplace is for many the essence of a winter house, it's not everyone's cup of cocoa. For a client in Park City, Utah, CLB Architects aimed instead "to design a timeless legacy home that supports the idyllic ski experience" with more sophisticated features, says cofounder Eric Logan. The resulting project includes cool sliding-door systems that shift entire walls and interiors that "showcase a curated mix of high-end vintage finds and custom-designed pieces."
Not surprisingly, "the client was drawn to luxurious finishes and unique furnishings that speak to craft," says Logan. CLB worked with development company the Illuminus Group on the decor, which included, for instance, the restored brass Parsons chairs by mid-century designer John Stuart from Tom Robinson Modern encircling an Invisible Collection dining table from Newell Design Studio under the custom chandelier by Daniel Becker Studio.
Supporting the "idyllic ski experience" also required flexibility. Hence, the Ortal fireplace, which, Logan notes, is part of "an asymmetrical layout that allows for various conversation areas while maintaining an effortless flow throughout the space."
---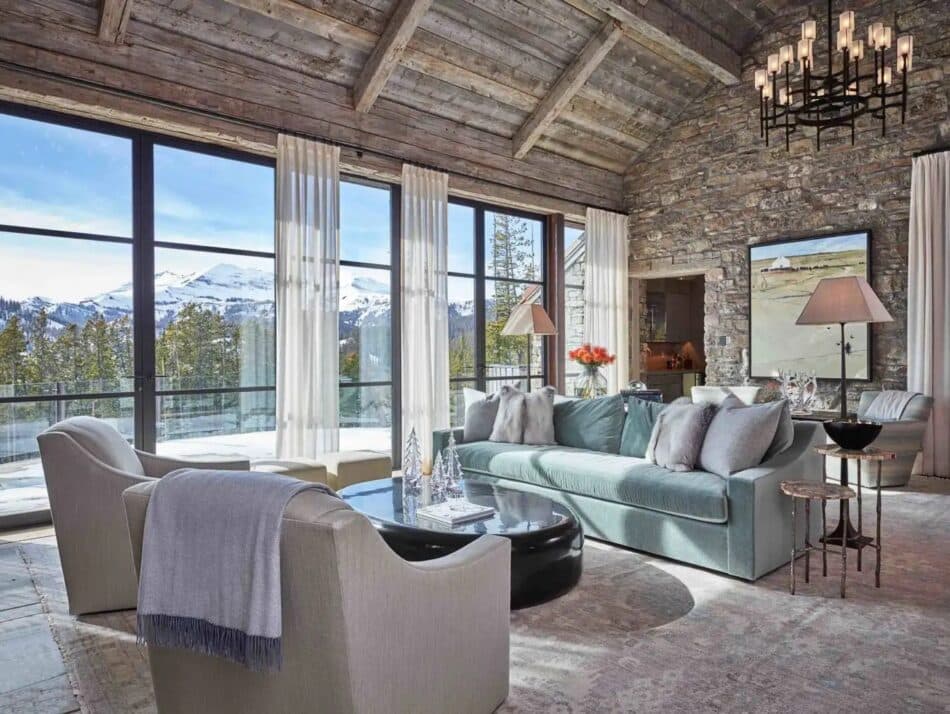 For New York clients immersed in the busy financial world, Rush Jenkins, cofounder of WRJ Design Associates, wanted to assemble "a harmony and blend of rustic finishes combined with sophisticated fabrics, furnishings and lighting." To create this winter retreat, located in Montana's exclusive Yellowstone Club and overlooking Lone Peak, Jenkins collaborated from the outset with the architect, landscape architect and builder, selecting all materials and finishes.
The furnishings evoke the area's materials and colors, interpreted through a supremely elevated aesthetic: a blue mohair sofa with fur pillows, a River Rock cocktail table from Holly Hunt and side tables from Galerie Glustin, in Paris, that feature cast-bronze legs supporting petrified-wood tops. Underfoot is a silk-wool Mansour Modern carpet. These elements inject shimmer and polish into a large living room with a reclaimed-wood ceiling and walls made of roughly chiseled stone, creating an intriguing yet comfortable textural tension.
---
"Winters are long in Western New York," notes Lyndsay Caleo, who leads the Brooklyn Home Company with Fitzhugh Karol, a sculptor by training. Rather than ignore that meteorological reality while executing a gut renovation in Rochester for a young family, she embraced the snowy season (as well as the other three) by opening a larger view onto it. "We lofted the ceiling and installed a wall of glass to let nature take center stage," Caleo explains.
Inside, she continues, "I kept the furnishings comfortable enough for a family but spare enough to not interrupt the view." The home's occupants can take in the spectacular display from the comfort of B&B Italia sofas that delineate two seating areas — one paired with a Barcelona chair and the other with Thin Frame lounge chairs from Lawson-Fenning.
Caleo designed the coffee table, as well as the console between the sofas, which is topped by Lawson-Fenning lamps. A curved floor lamp welded to the gas fireplace provides a sculptural focal point.
---
Describing his approach to an apartment in the Montage Deer Valley residences in Park City, Utah, designer Adam Hunter quotes the writer Paul Theroux: "Winter is a season for recovery and preparation." To that end, he explains, "I wanted the cabin-like atmosphere to conjure feelings of comfort and relaxation in a natural, woodsy setting."
The latter was already abundantly evident outside the large windows. Hunter emphasized it and the clients' passion for skiing — their primary activity while taking refuge here from Los Angeles — with two aerial scenes from photographer Gray Malin's "À la Montagne" series, which flank the fireplace.
"I love using taupes and deep chocolate colors in the room because they have an intimate feel that can help create a comfortable and inviting atmosphere," says Hunter, who included a pair of classic X benches in cowhide and a custom sofa covered in Paul Smith fabric.