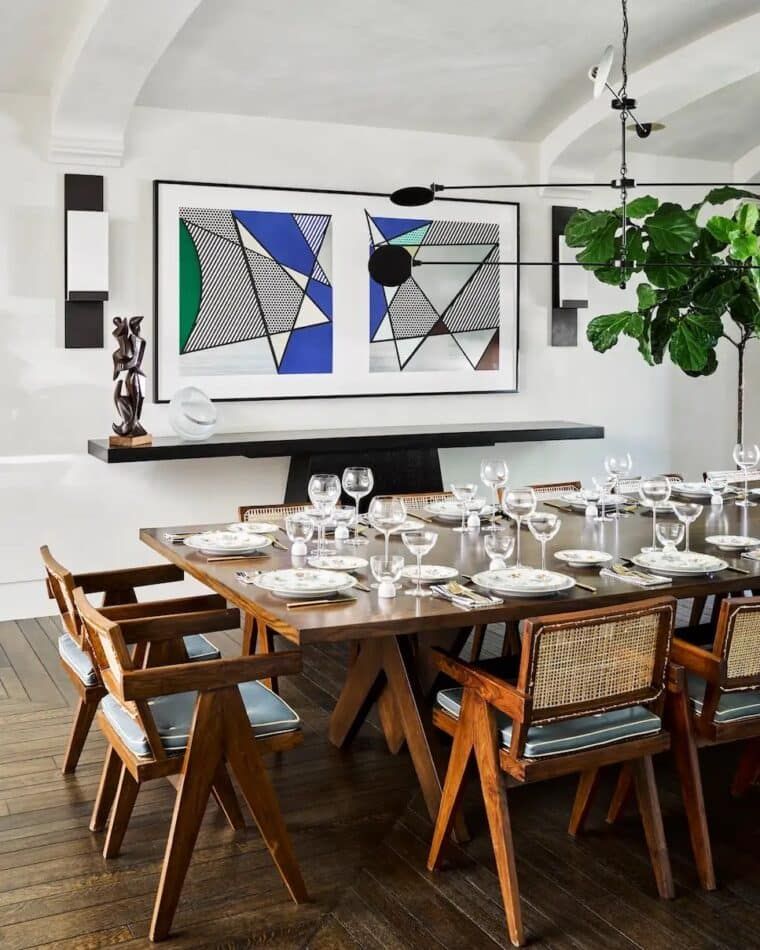 Design magic is often conjured by contrasts. In this Calabasas, California, dining room, a Roy Lichtenstein diptych animates the warm organic furnishings with a graphic punch.
"The piece holds its own in the space and complements the lines of the original Jeanneret dining chairs," notes Martyn Lawrence Bullard, who designed the room in the home of reality-TV-star-cum-pop-culture-icon Kourtney Kardashian. "It adds excitement yet allows the space to breathe rather than taking over, which I think is very important when choosing art for a room."
Regarding its placement, Bullard shares a handy rule he employs regularly: "A piece should not usually be longer than the furniture below it, so a work over a console or sofa, for instance, should lie within the lines of that piece and not beyond its boundaries."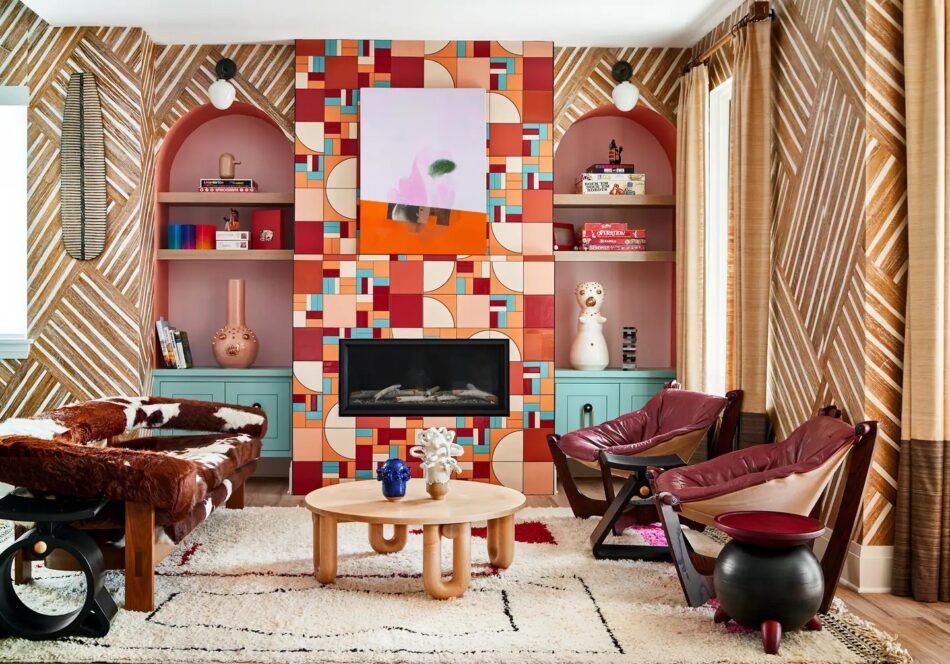 Showhouses rarely deliver standard-fare design. But even by those standards, the sitting room Noz Nozawa dreamed up for House Beautiful's 2020 Whole Home Concept House, in Franktown, Colorado, is a feast for the eyes with its explosion of pattern and color.
"Despite how visually activating our fireplace tile is, this piece's large swaths of solid color stand out and add a centeredness to the wall," she says of the oil-on-canvas by Kuzana Ogg. "It felt like this painting and some of the colors and shapes I'd chosen for my tile work and arched shelving had a simpatico relationship."
Nozawa also sourced vintage 1960s burgundy leather Luna lounge chairs by Odd Knutsen for Hjellegjerde, a '70s Brazilian cowhide sofa by Jules Heumann and a contemporary cherrywood coffee table, to round out the palette of jewel tones and textured neutrals.
She often suggests that her clients use abstract works as conversation starters. "If you're putting an abstract piece into a room where you entertain, it can offer an opportunity for guests to have their own reaction to and relationship with it, and I love that for a hosting space!"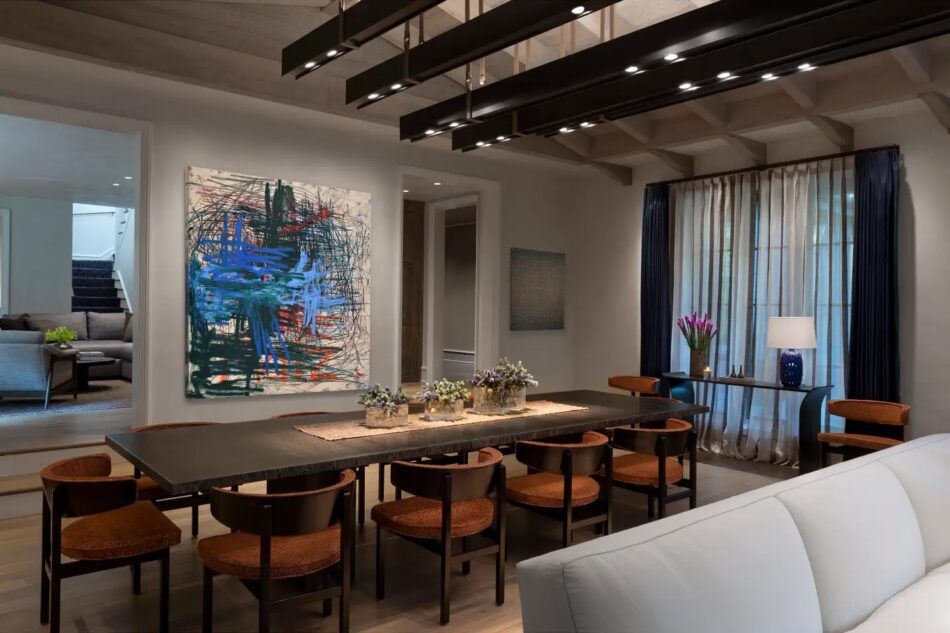 "This room is very structured and ordered, and this piece adds a vibrancy that creates a strong tension," says Clive Lonstein, describing the dining room he designed in an Aspen, Colorado, home.
With its high energy, the untitled 2020 work by Oscar Murillo counterbalances the organic nature of the end-grain oak table — a custom design by Lonstein — as well as the soft curves of the vintage Børge Mogensen dining chairs.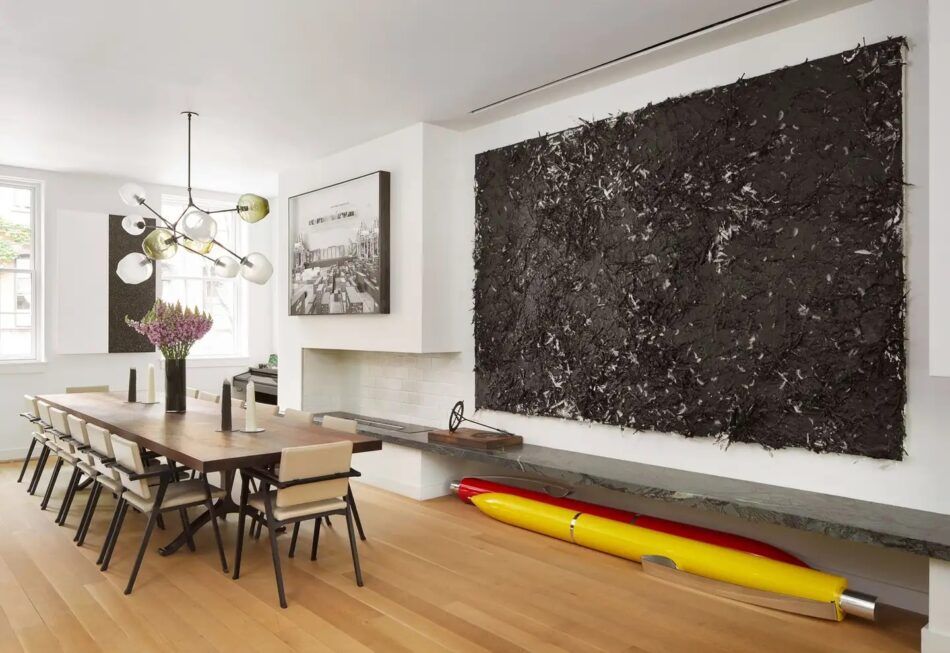 "This piece adds some much-needed texture to the room," says Kati Curtis, referring to Hippity Flippity!, the tar-and-feather-covered Dan Colen work that holds pride of place in the dining room of a contemporary West Village home she designed for art-loving New York clients.
Given the clean-lined furnishings — a custom wood-slab dining table manufactured by BDDW, Luisa chairs designed by Franco Albini for Cassina and a delicate glass-and-brass chandelier from Lindsey Adelman — there was plenty of visual wiggle room for exploring curated moments of drama. "We needed a little edginess, and this piece, as well as the playful large-scale pens by Johannes Albers, did just the trick."
Pulling off such a drastic, large-scale work isn't as effortless as Curtis makes it look here. "I like to make sure there's some room for a piece to breathe on the wall. I would give an absolute minimum of six to eight inches from the ceiling, adjacent walls or floor."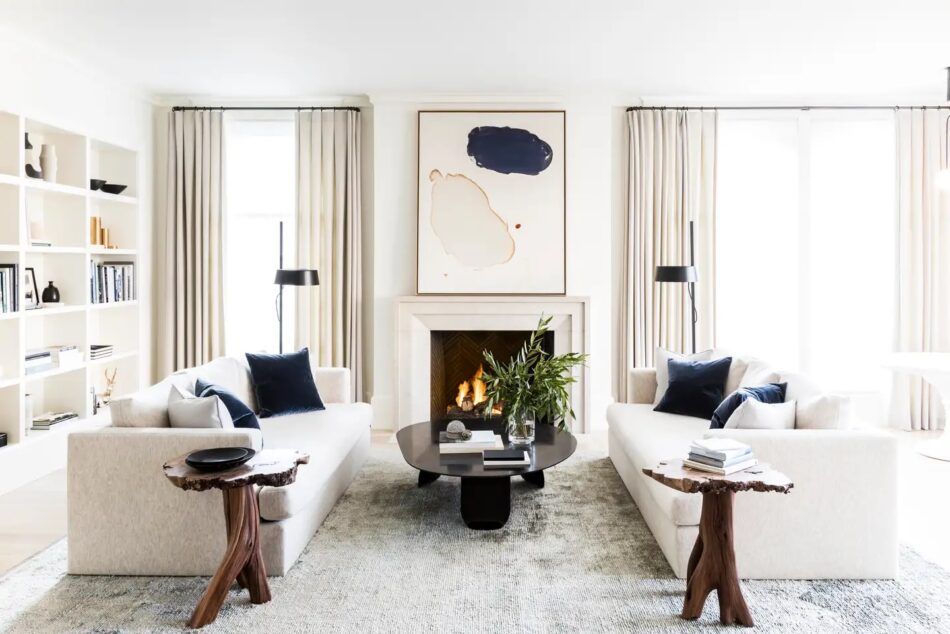 "This piece is a perfect example of art with presence and a point of view — it's restrained and elegant, which supports the rest of the room," Chloe Warner, of Redmond Aldrich Design, says of the Landon Metz ink-on-canvas she selected to grace the wall above the minimal fireplace surround in a San Francisco home. "The room is successful because of the balance between light, design and art. Nothing overpowers anything else."
Case in point: The work's cream-and-inky-blue color scheme is echoed in the facing sofas and WYETH Chrysalis coffee table, while the live edges of the custom wood side tables hark back to its organic shapes.
Kelly Wearstler is known for her risk taking, perhaps most notably in her designs for the Proper Hotels. At the Santa Monica Proper, Wearstler injected her signature whimsy through mix-and-match seating and a fanciful sideboard that set the scene for Untitled (kaputt aber gemütlich), a 2017 wood-framed oil-on-denim work by Clemens Behr.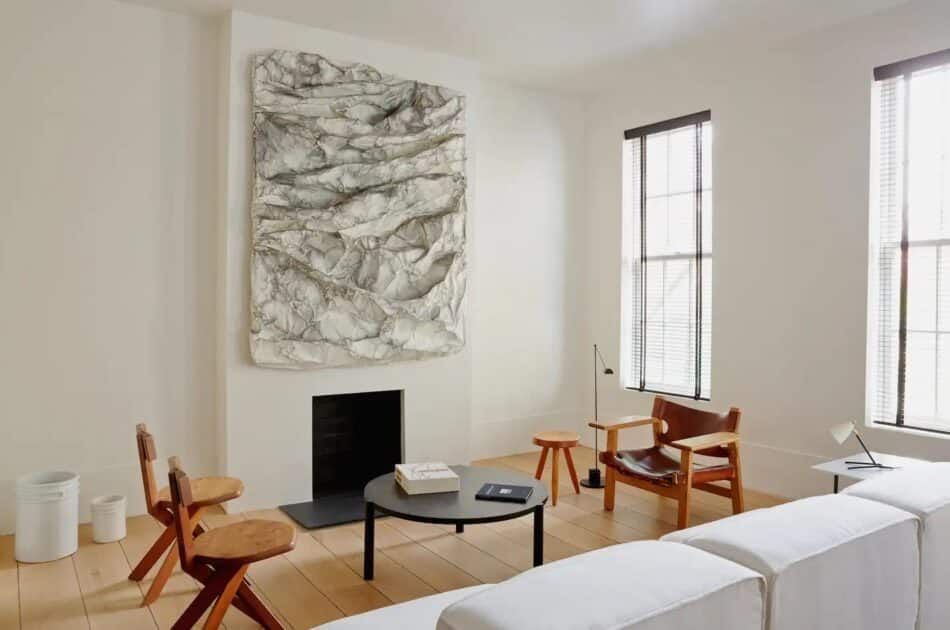 Dylan Stilin, of ASH NYC, hand selected a graphite-on-paper work by Lauren Seiden for the living room of a townhouse in New York's West Village.
The piece's vertical orientation above the fireplace maximizes the ceiling height and draws the eye up to take in the space's volume. "Scale is crucial!" Stilin says. "We feel we can get the most out of a room by bringing in the largest pieces possible without it feeling overwhelming or cluttered."
The Seiden work adds texture to an otherwise minimal, highly curated space, featuring S34 chairs by Pierre Chapo and a Børge Mogensen Spanish chair.
"We wanted a very dramatic focal point over the bed on the very tall wall," explains Neal Beckstedt, the creative force behind this New York City bedroom.
Keeping a cohesive palette throughout the furnishings and finishes, including a cherry-hued vintage Renzo Rutili chest of drawers and a Ligne Roset bed upholstered in a dusty blue, Beckstedt selected the acrylic-on-canvas by Dan Christensen to maximize scale without overpowering the room's other elements.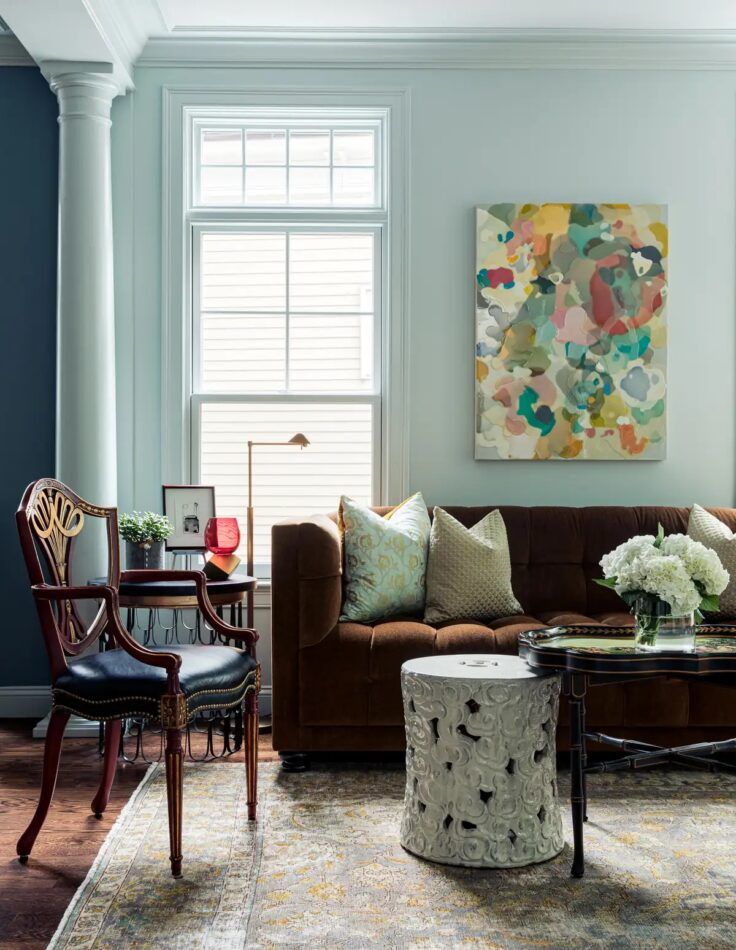 In designing the first room off the main entry of a Brookline, Massachusetts, home, Evolve Residential principal Josh Linder felt it was important for the art to set the right tone and balance the seriousness of the architecture and furnishings.
The contemporary piece by artist Ken Sloan "tips the scale of the room a bit more toward modern," Linder notes. "The right abstract art can help to soften the feeling of a traditional room. Most people do not want to live in a museum." The bounty of color brings out the warmth in the rich hues of the antique armchair and mohair Ferrell Mittman sofa. "It says 'Welcome! Come in and relax.' "
For Adam Charlap Hyman, of Charlap Hyman & Herrero, tension and variety are key to designing with art. "I think it's compelling to see works from across multiple time periods and styles in one room, mixed with furniture in dynamic ways," he says. "I believe that one can appreciate each piece more if they are contextually distinct, and that one's experience of the room will be richer for it."
In a home office in a Brooklyn townhouse belonging to a curator and artist, he paired Enoc Perez's Prada Aoyama, Tokyo, 2012, with a Pierre Guariche desk and a sculptural stainless-steel and leather chair from Aranda\Lasch's Railing series.
Although Perez's work seems to be the perfect scale for its placement, Charlap Hyman suggests shaking things up and pushing the limits to create visual interest — for instance, by "isolating a small work on a large open wall" or mounting "a large work in a small room."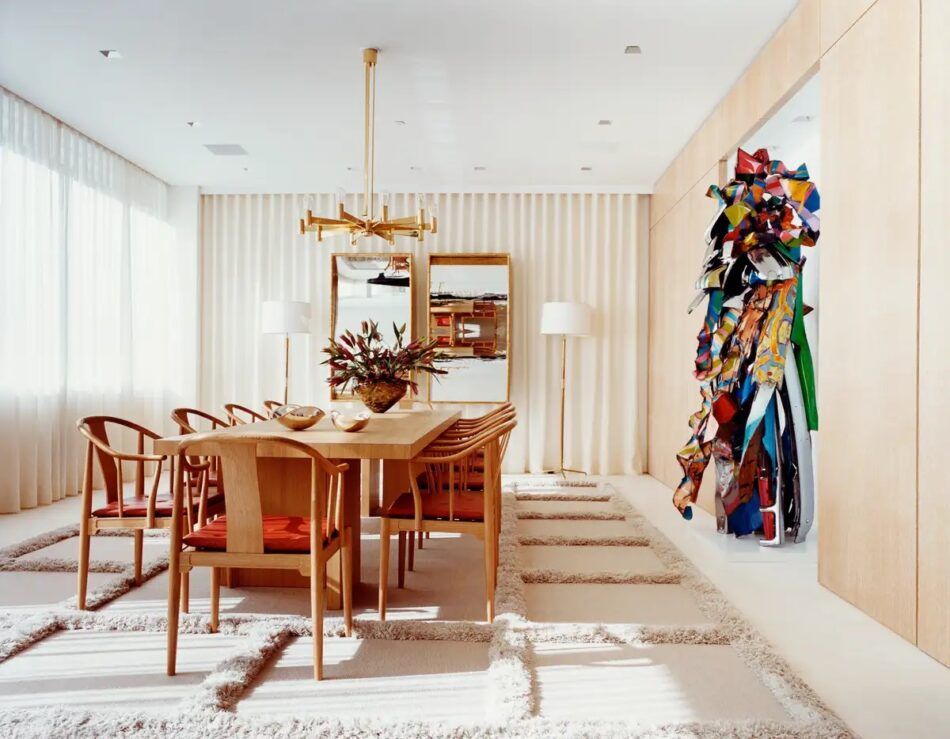 "All too often, people try to cram too much art into their homes," says David Mann, of MR Architecture + Decor. "In this loft, you can really appreciate the uniqueness of each work. They each have the room around them to allow the viewer to focus on the works as isolated and individual expressions."
In the New York apartment's elegant dining space, a John Chamberlain sculpture made of steel car parts provides a contemporary counterpoint to the 1940s Hans Wegner China chairs and enlivens the otherwise muted palette.
Jay Jeffers drew inspiration from the vistas surrounding a Lake Tahoe vacation home when selecting the Barbara Vaughn photograph to hang above its custom steel fireplace.
"Vaughn is known for her photographs of the reflections visible on the surface of water," he explains. The works' earthy colors reflect those of the slope-armed Italian sofa, cushy chairs by HBF and custom CasaMidy ottomans, which provide an updated, family-friendly lodge setting.