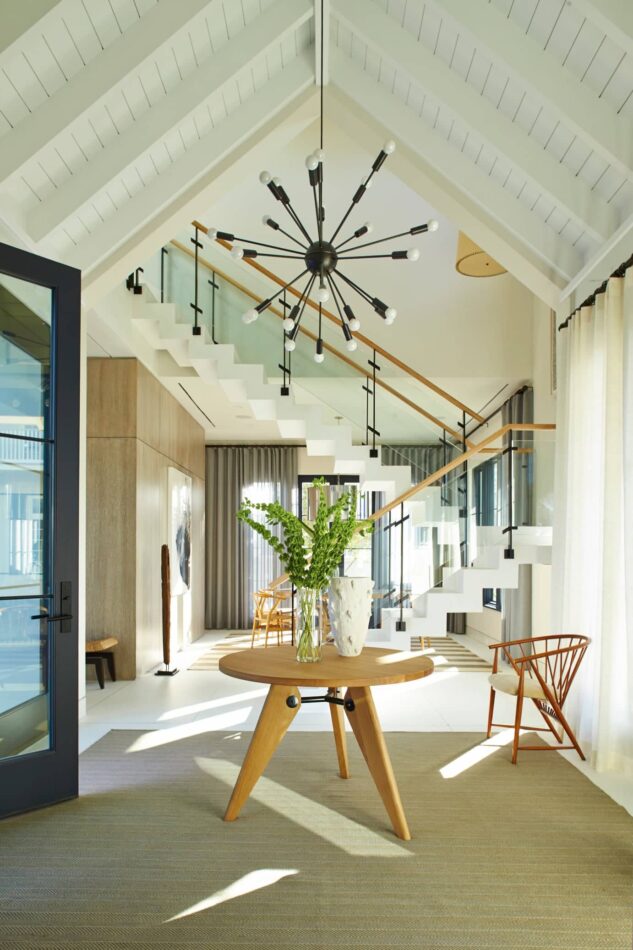 "The foyer was designed to be the center and core of the home," designer Kevin Dumais says of this space in a Vero Beach, Florida, home, where he sought to evoke a beach vibe without specific seaside references. "We kept the furnishings simple and fresh. It's a neutral palette infused with blues, golds and an abundance of white oak."
A Jean Prouvé gueridon table provides a focal point in the room, which Dumais further furnished with vintage spindle-back chairs from 1stdibs and an overscale Sputnik chandelier. Photo by Hector Sanchez
---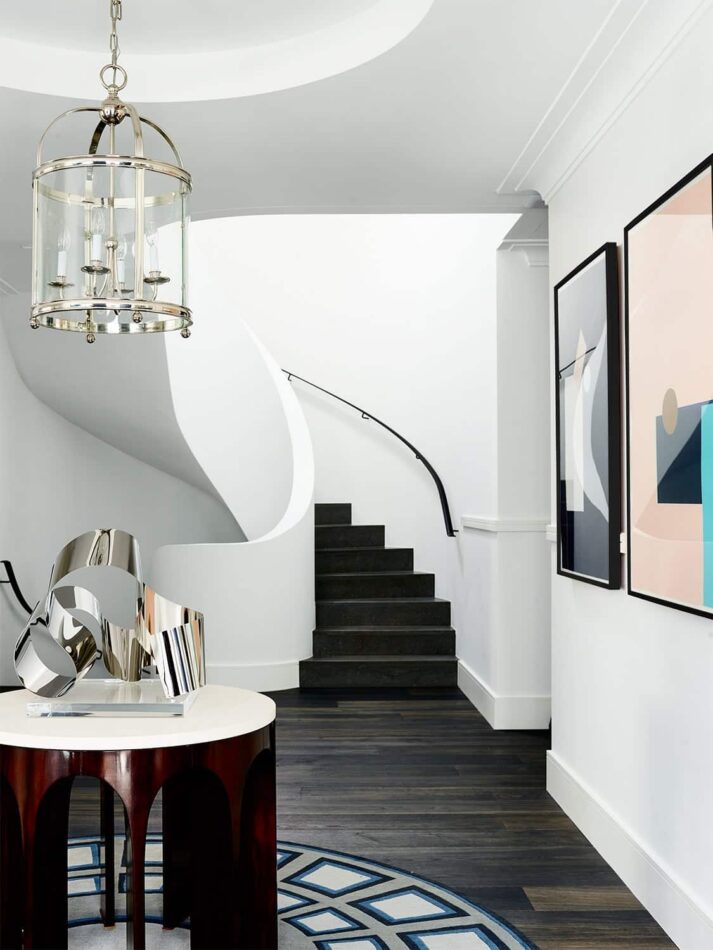 Wanting to bring the Art Deco style of the Rose Bay, Australia home's architecture inside, designer Greg Natale opted for geometric shapes and stark white walls. "The house spans three floors, so this ribbon staircase winds its way up through the middle of the home and connects each level with its sinuous curves," Natale says. "A real sense of arrival is paramount. The palette is clean and pleasing, and the dark timber floor helps to really warm the space."
A Thomas Pheasant Arcade center table from Baker Furniture sits on a rug designed by Natale himself. Photo by Anson Smart
---
This grand foyer may look like it belongs to an English country manor, but it's actually the entry to a Pikesville, Maryland, home designed by Cashmere Interior. The eclectic mix of Indian art, classic furnishings and antiques reflects the different places the well-traveled homeowners have visited over the years, creating an effect that is serene, luxurious and exotic all at the same time. Photo by Alan Gilbert
---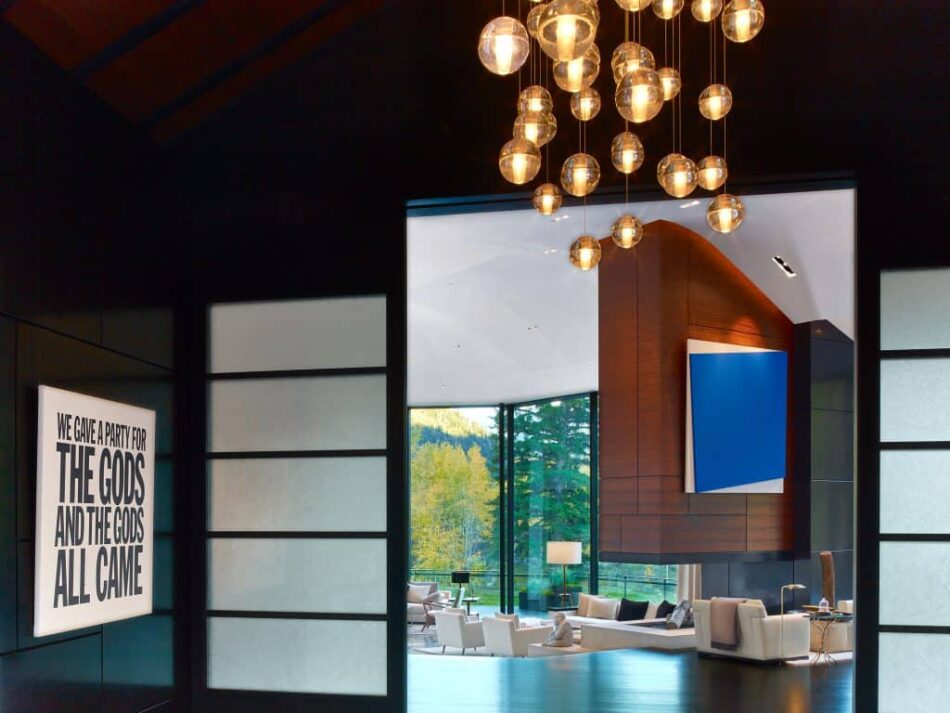 Avoiding ski chalet clichés, StoneFox Design went for colorful and modern in a sprawling 14,000-square-foot family home in Aspen, Colorado. The entryway proudly displays several large-scale works from the homeowners' avant-garde art collection, which pop against the black walls, while the chandelier heightens the drama. Photo by David Land
---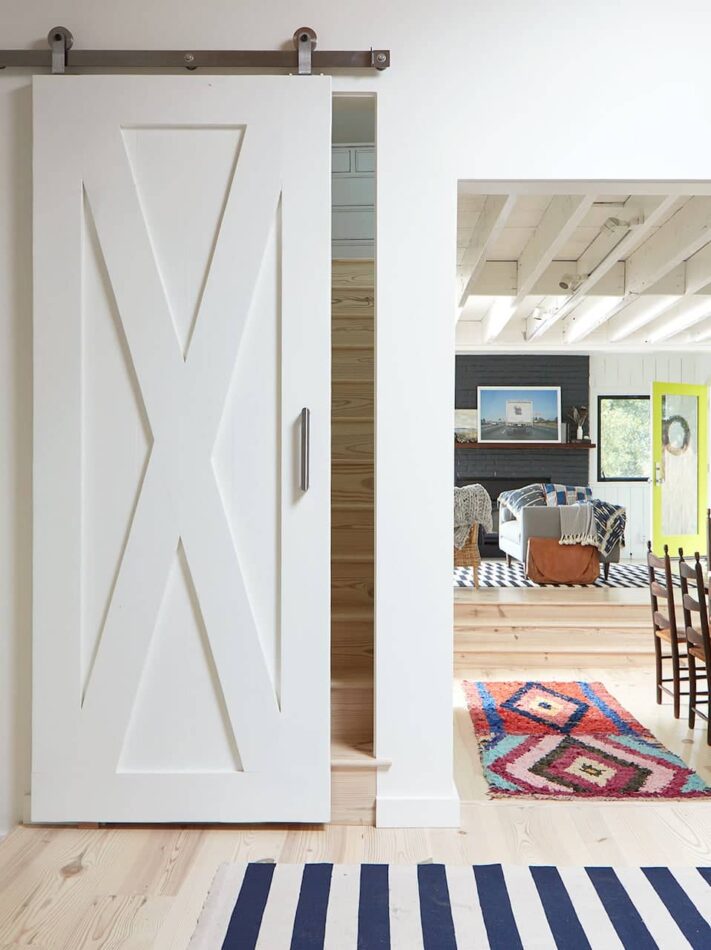 "For this Sonoma farmhouse, the directive was to make it fun and family friendly, with lots of colors and hard-working vintage pieces," says designer Allison Dehn Bloom. The furnishings Bloom chose radiate a sophisticated whimsy. Case in point: the paired Dash + Albert striped runner and vintage Moroccan boucherouite rug. Photo by John Merkl
---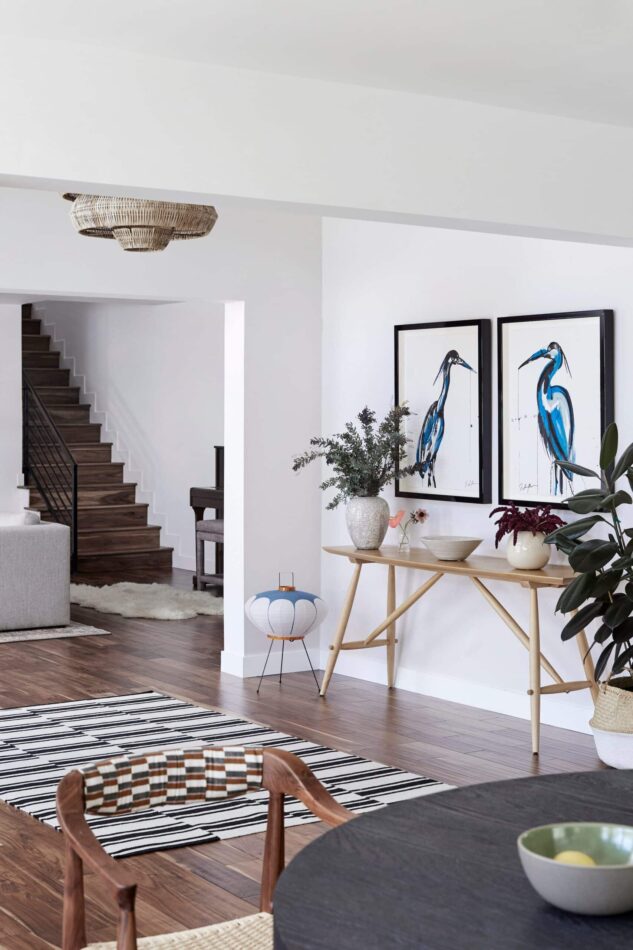 "Inspired by a holistic view of the open plan, the entry provides balance and unification between the adjacent spaces," Stefani Stein says of this space in an L.A. home she designed. Despite the abundance of stunning distractions, the eye is drawn to the homeowners' sumi-ink and gouache herons by Jenna Snyder-Phillips.
The birds look perfectly at home among the plants and vintage pottery on and around the modern farmhouse-style console table, all overseen by textural lighting. "The selections were made to complement the clients' relaxed lifestyle and fondness for a quintessential California aesthetic," Stein explains. Photo by Jenna Peffley
---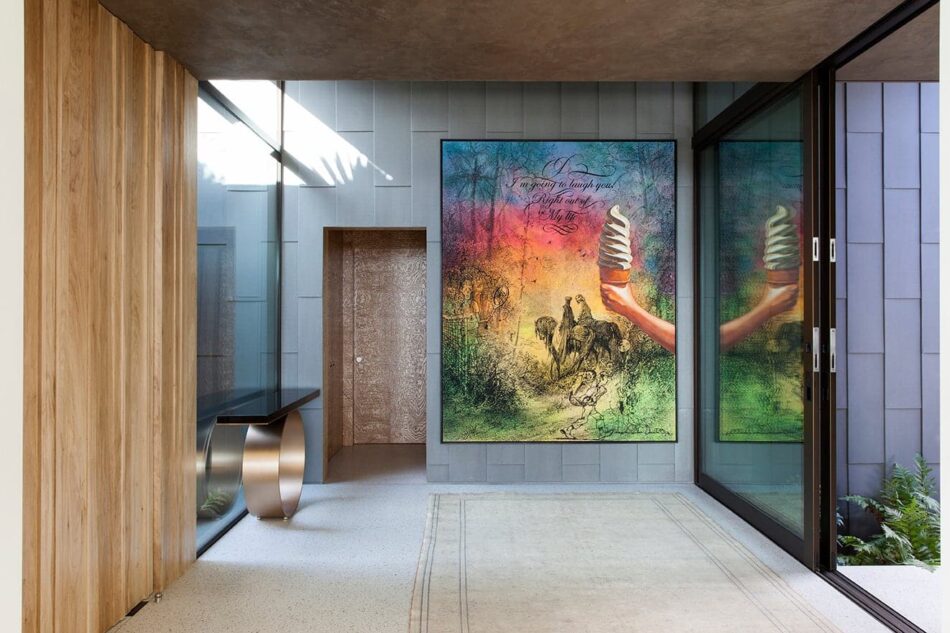 This Beverly Hills foyer provides a stylish connection between the indoors and the outdoors. "For this home, the Friedrich Kunath artwork inspired our design, making a bold gesture against the neutral color palette of the surrounding terrazzo, zinc and wood," says Ron Radziner, design partner of Marmol Radziner. The Hervé Van der Straeten console introduces a graphic element in the otherwise natural and pared-down space. Photo by Roger Davies
---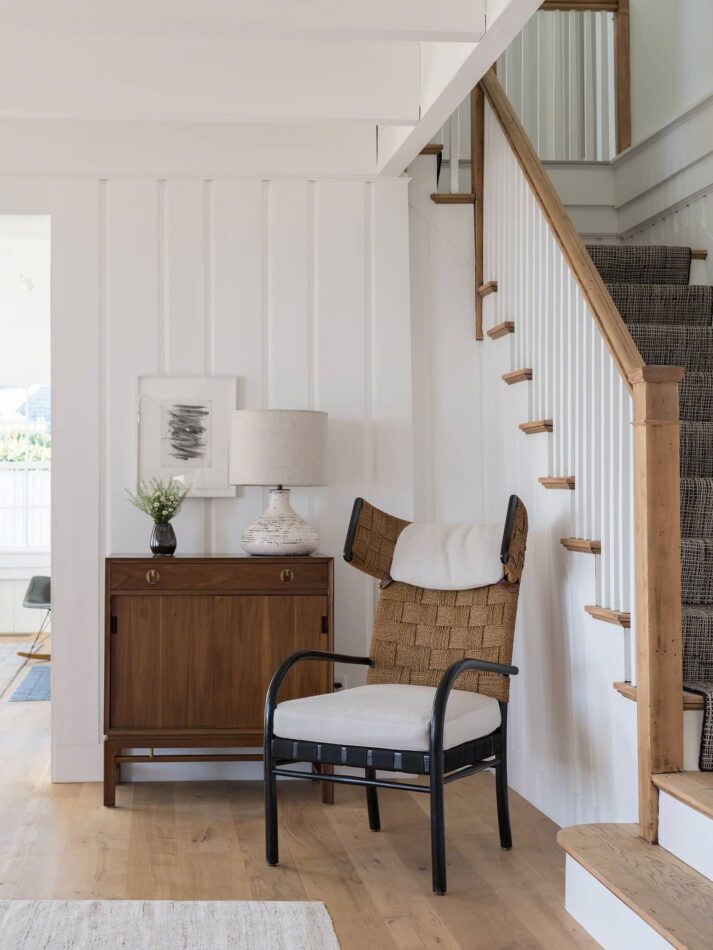 A welcoming alcove in a Cape Cod beach house by Heather Wells offers a lesson in coastal design sans the classic blue-and-white scheme. Neutral tones reign, and woods of different colors and grains contrast quietly with the white walls and ceiling. Wells has clearly mastered the art of balance. Photo by Robert Krivicich
---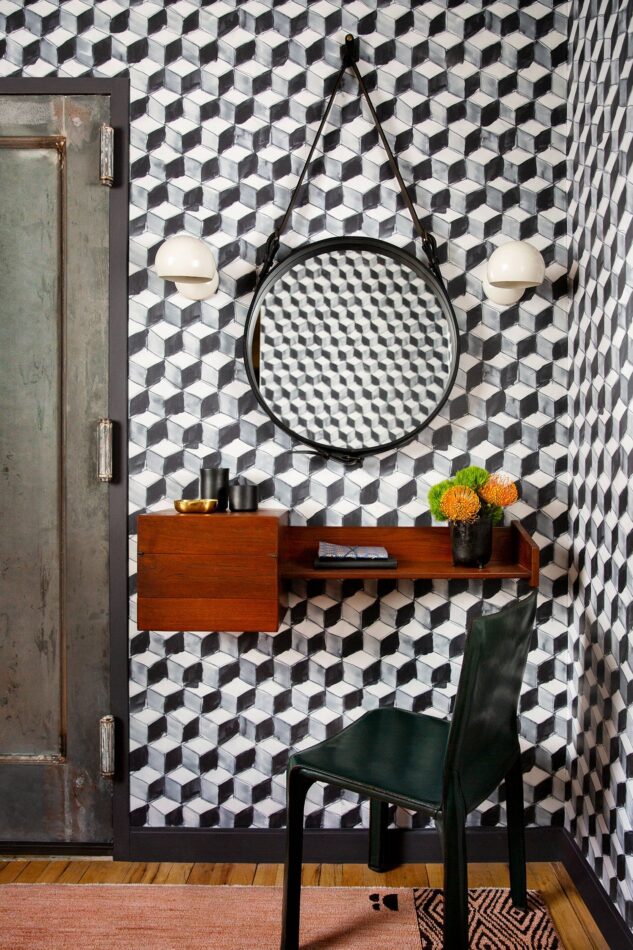 In Brooklyn, Bella Mancini transformed a dark industrial loft into an open and airy home that caters to the clients' fondness for a black-and-white color scheme and bold designs. To harmonize rather than compete with the geometric wall pattern, Mancini chose simple, laid-back furnishings like the built-in desk, leather chair and floating mirror. Photo by Brittany Ambridge
---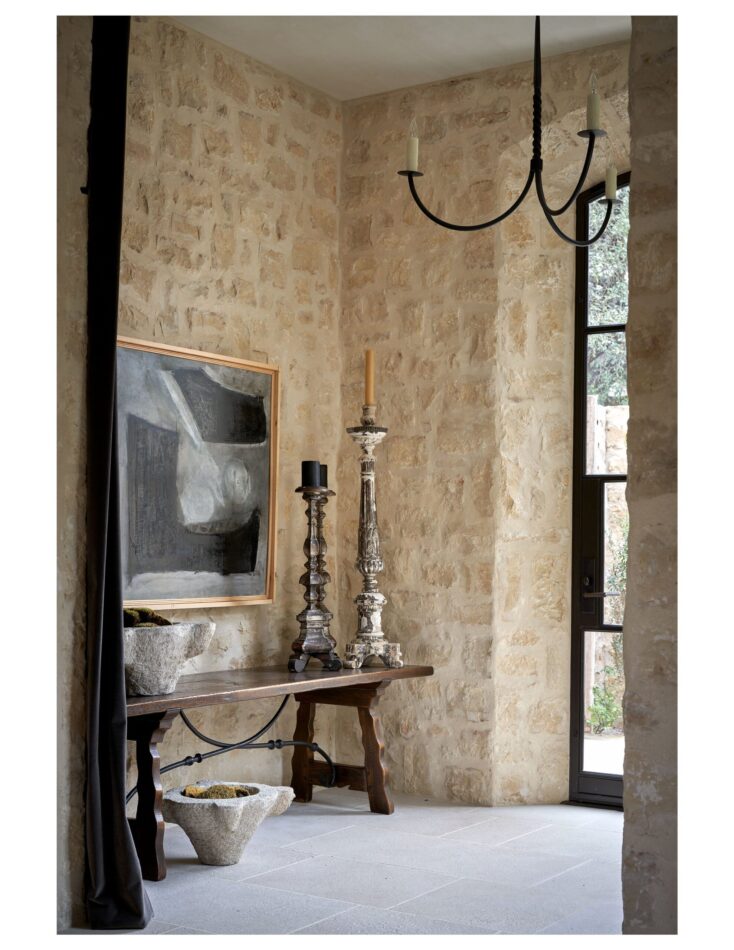 "I've always had a wish to go on a retreat to a series of monasteries, but I've never found stylish ones," says Marcus Mohon. "This Austin foyer is what I've imagined they would look like. I love the contemporary painting my client found at the local shop Round Top, and the nonchalant placement of candlesticks on the bench is an intentional way to make guests feel relaxed upon entry." Photo by Dror Baldinger
---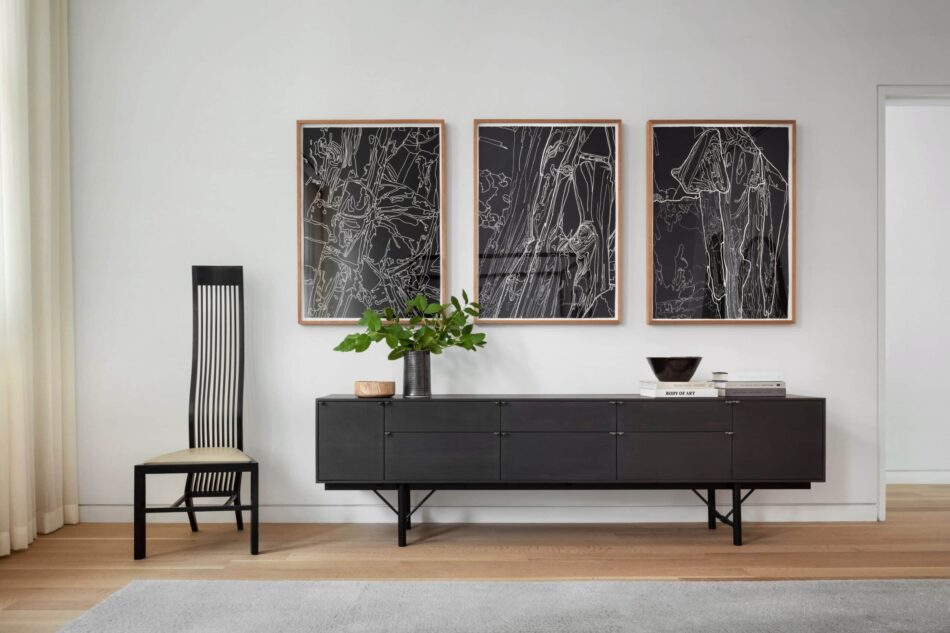 Understated, elegant, timeless — these are the watchwords of Brad Ford, who designed this New York foyer with layered textures and high-quality materials to create a feeling of balance and light. Photo by Scott Frances
---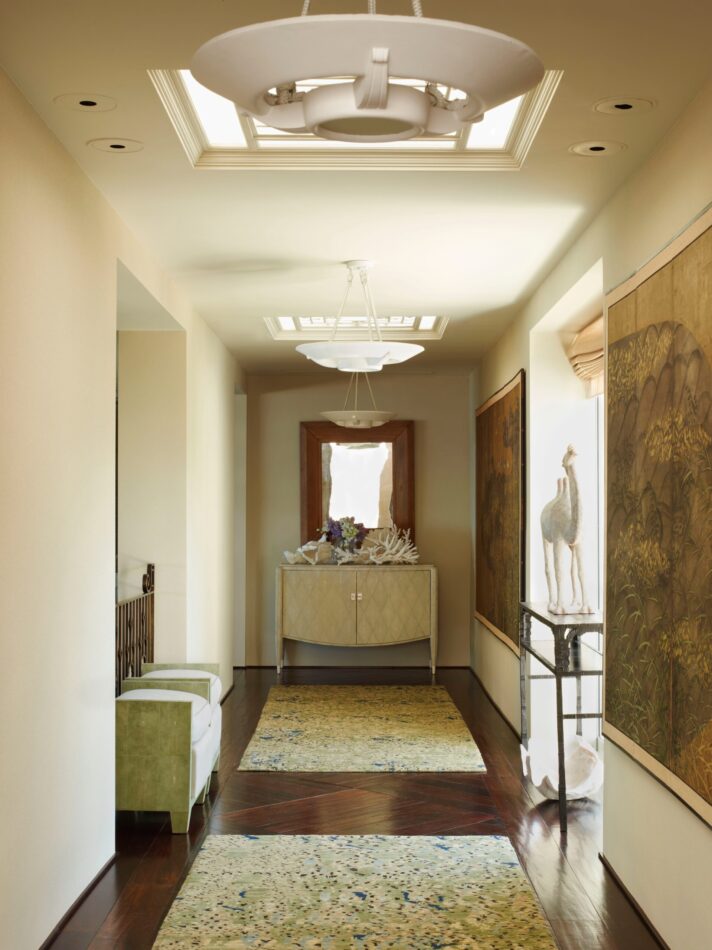 This entry in a Malibu beach house by Michael S. Smith demonstrates the renowned designer's love of timeless, traditional decor. The soft tones and subtle Moroccan-inspired touches create an atmosphere of peaceful elegance. Photo by Simon Upton
---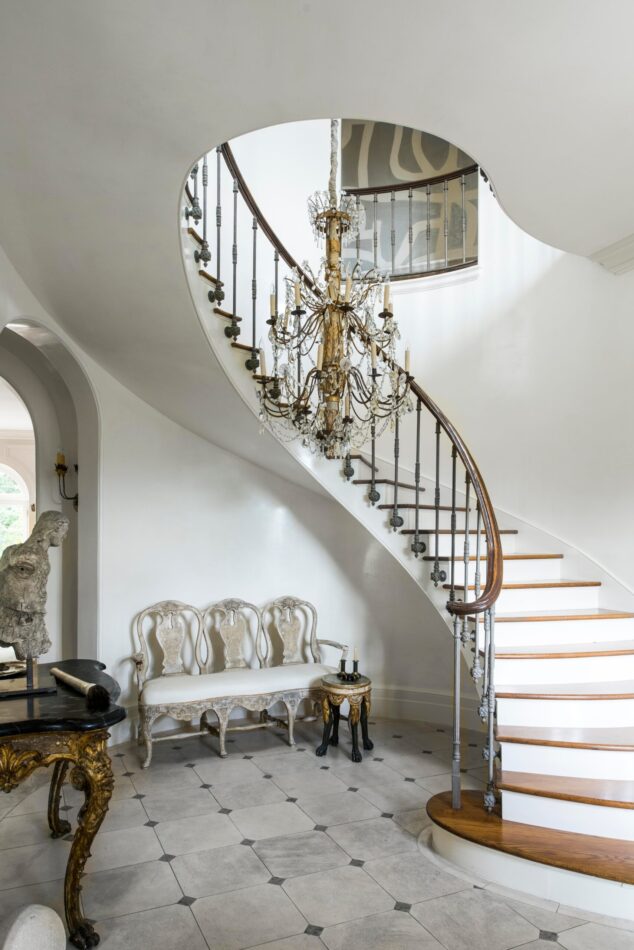 "I wanted to create a bold impact upon entry into the home, so I used Venetian plaster on the walls and ceiling," says interior designer Tara Shaw, describing this New Orleans foyer, where an 18th-century Italian chandelier and 19th-century footed side table add to the éclat.
"The Porter Teleo hand-painted wallpaper on the second floor of the foyer is a nod to contemporary style in the midst of European antiquity," adds Shaw, whose attention to detail is evident in the De Medici gilded console with hand-carved faces on its legs and the perfectly preserved 17th-century statue of a Roman soldier. Photo by Timothy Dunford
---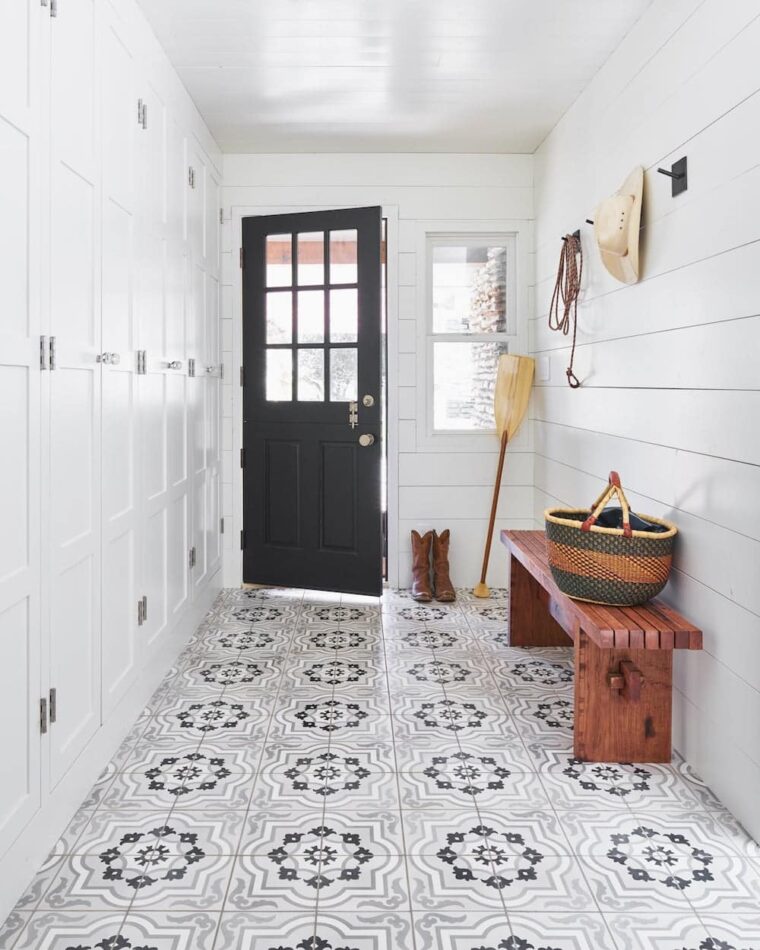 In Texas Hill Country, Christina Simon, senior designer at Mark Ashby, had big ideas for a diminutive home. "Since the house is so small and had little to no storage, we built up the wall on the left with floor-to-ceiling storage," she says. "The back side didn't open up to a lot of light, so it was important to keep it bright and fresh." The bold tile pattern from Cle and glossy black paint on the Dutch door do the trick.
The bench, which has an unmistakably rustic feel, was custom built for the space in Austin. Another local find: the handmade JM Drygoods hooks on the wall. Photo by Clay Grier
---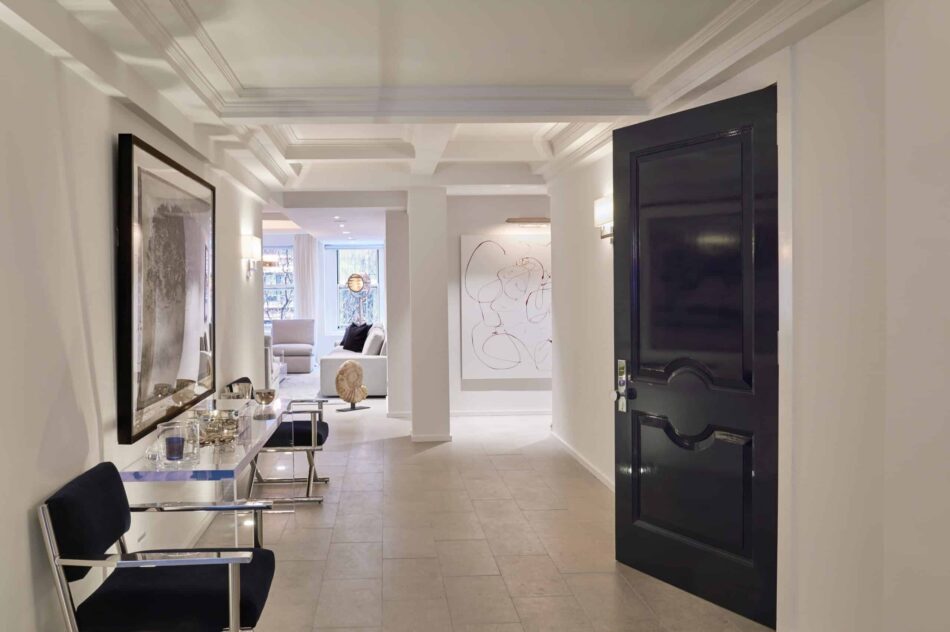 With its refined textures, tailored finishes and contrasting hues, this entry in a spacious New York townhouse designed by Ana Luchangco, founder of InSpace NY Design, embodies an elegant minimalism that allows the bold artwork to take center stage. Photo by Michel Arnaud
---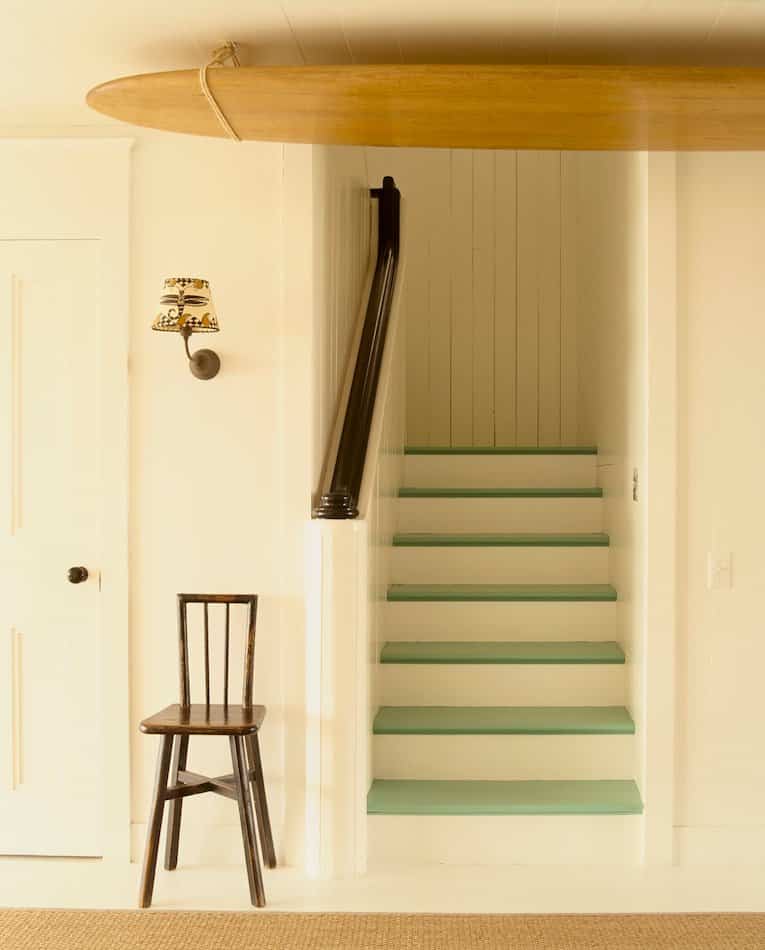 In this Malibu home, Kerry Joyce designed the interior architecture to look like it was from a 1930s California beach house. The surfboard hanging from the ceiling is from the collection of the homeowner, a Hollywood actress. The stairs are painted in Farrow and Ball's Arsenic #214, and the chair and lampshade are vintage. Photo by Dominique Vorillon
---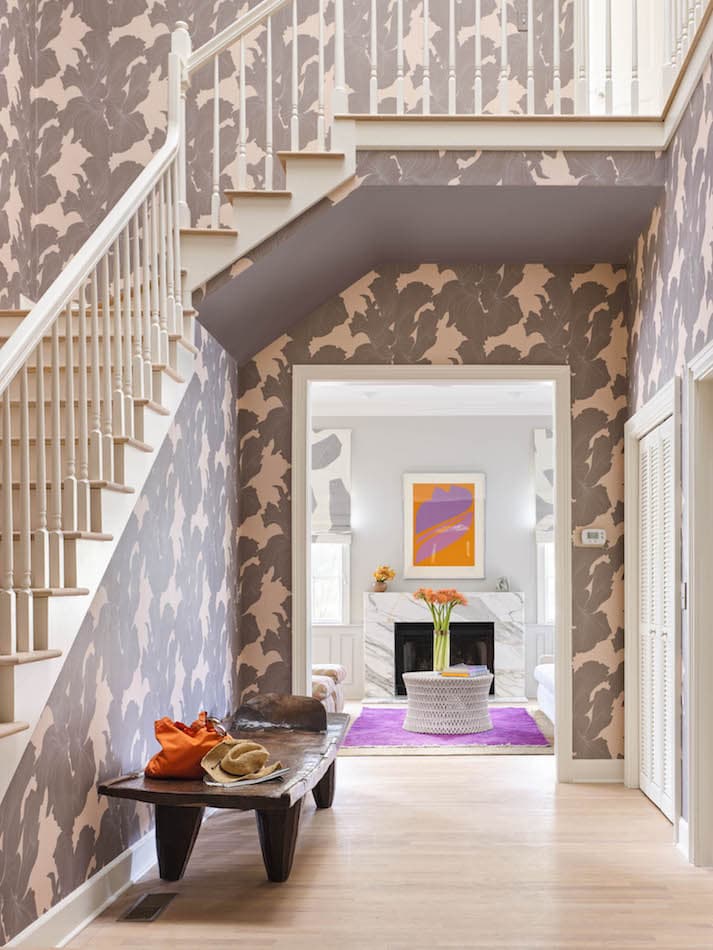 The entryway of this Kiawah Island, South Carolina, home by Angie Hranowsky features Osborne & Little wallpaper and an Oly Studio coffee table. A Jack Youngerman lithograph hangs above the mantel in the room beyond. Photo by Julia Lynn
The foyer of Kelly Hoppen's London home features a lacquer-topped table designed by Hoppen and made by Matt Stanwix, above which hang three bespoke pendant lights by Hervé Langlais for Galerie Negroponte. A black and white marble floor and portrait of Marilyn Monroe complete the space. Photo by Mel Yates
---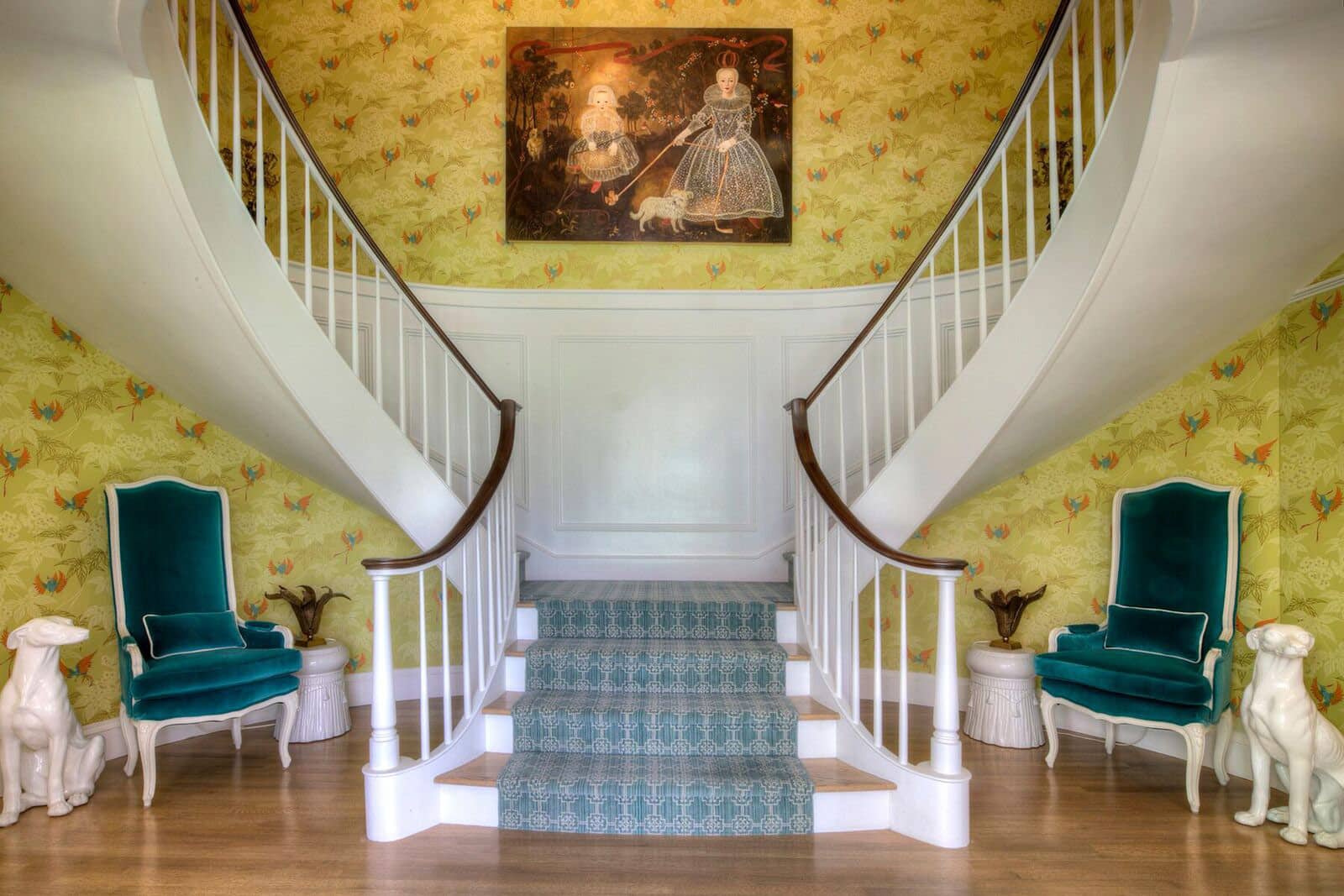 "For this foyer in Newport, Rhode Island, I embraced nature-inspired fantasy," Fawn Galli says. "I love to design stylish foyers because it creates a transformative experience upon entering the home. The Osborne & Little Tara wallpaper is meant to set the tone of a wild, inspired and fun interior." Galli added to the playful vibe with a pair of Regency chairs and dog statues. Photo by Costas Picadas
---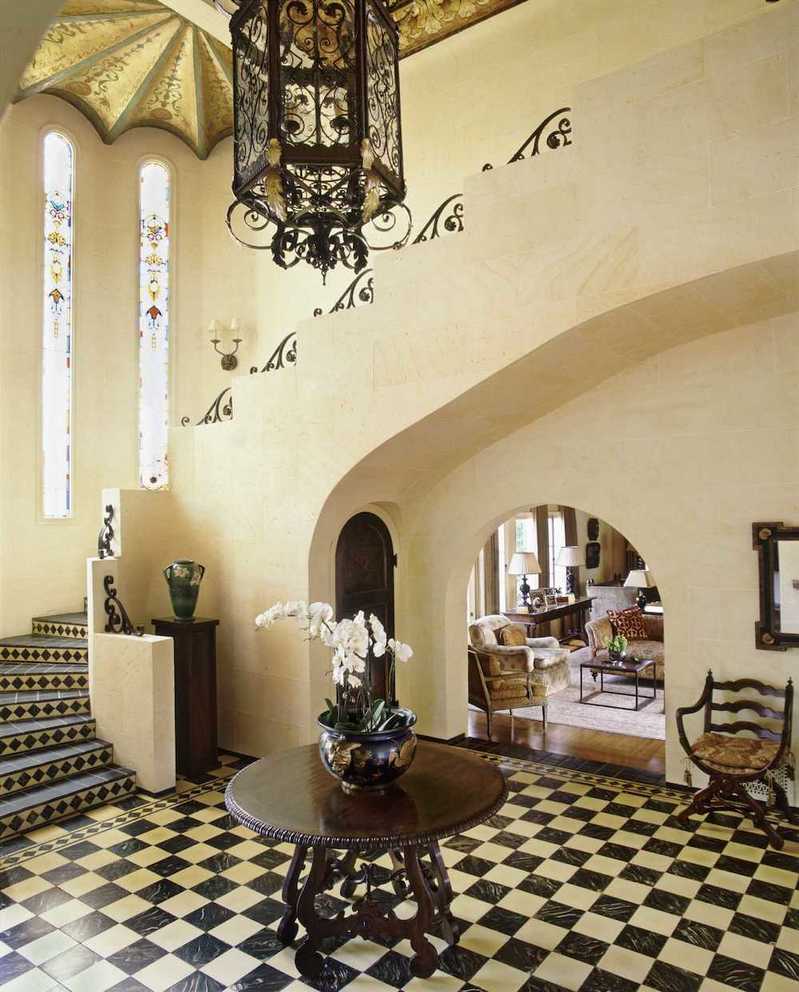 "The black and cream, checkered marble floor was original to this 1920s Spanish Revival home in Beverly Hills," says Thomas Callaway. Here, the stained-glass windows and the gilded ceiling were also original, but the ceiling was suffering from a bit of water damage. "Esther Carpenter, a decorative painter from Natchez, Mississippi, repaired this ceiling, and at my request, painted the existing plaster walls to appear as blocks of limestone," Callway adds. The remainder of the rooms in this residence did not disappoint after the first dramatic impact of its entry foyer." Photo by Lisa Romerein
---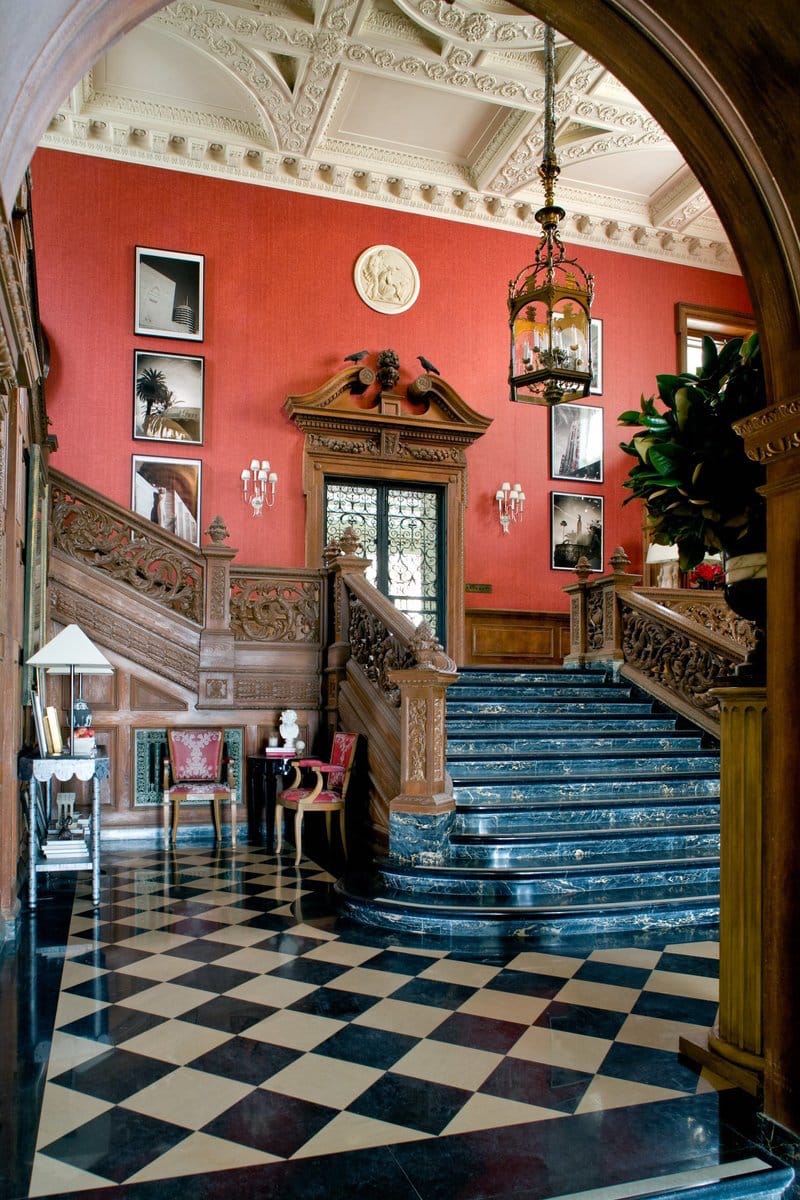 For the Maison de Luxe showhouse at a historic mansion in Beverly Hills, Timothy Corrigan chose red wallpaper for the entryway to make the space feel warm and inviting, and because it works well with the dark wood paneling. Photo by Lee Manning
---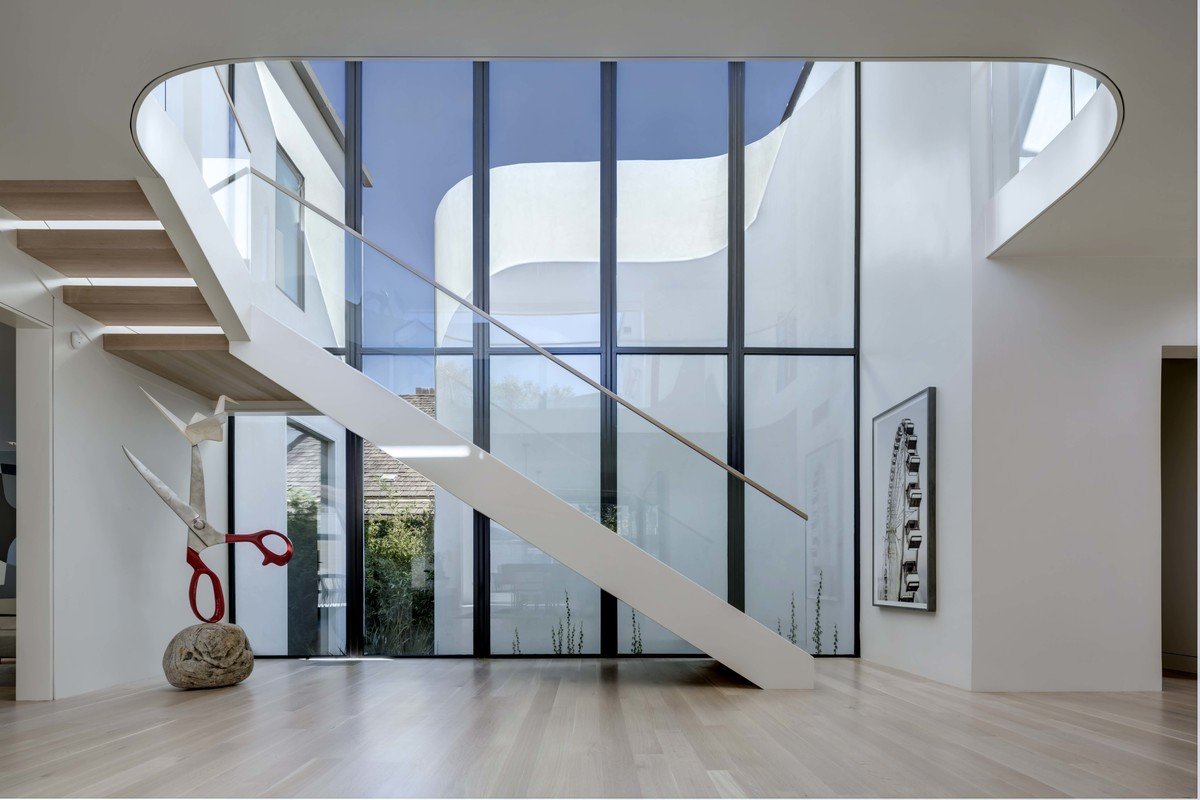 This Dallas home, which was an architectural restoration project by Emily Summers Studio and Chad Dorsey of More Design Build, the spare entryway has rift-cut white oak floors and a glass, metal and wood staircase. Summers highlighted the homeowner's art collection in the space, including collection including La Grande Roué, Paris No. 2 by Mark Mackinnon and Conversation Peace, a sculpture by Kevin Box. Photo by Charles Davis Smith
---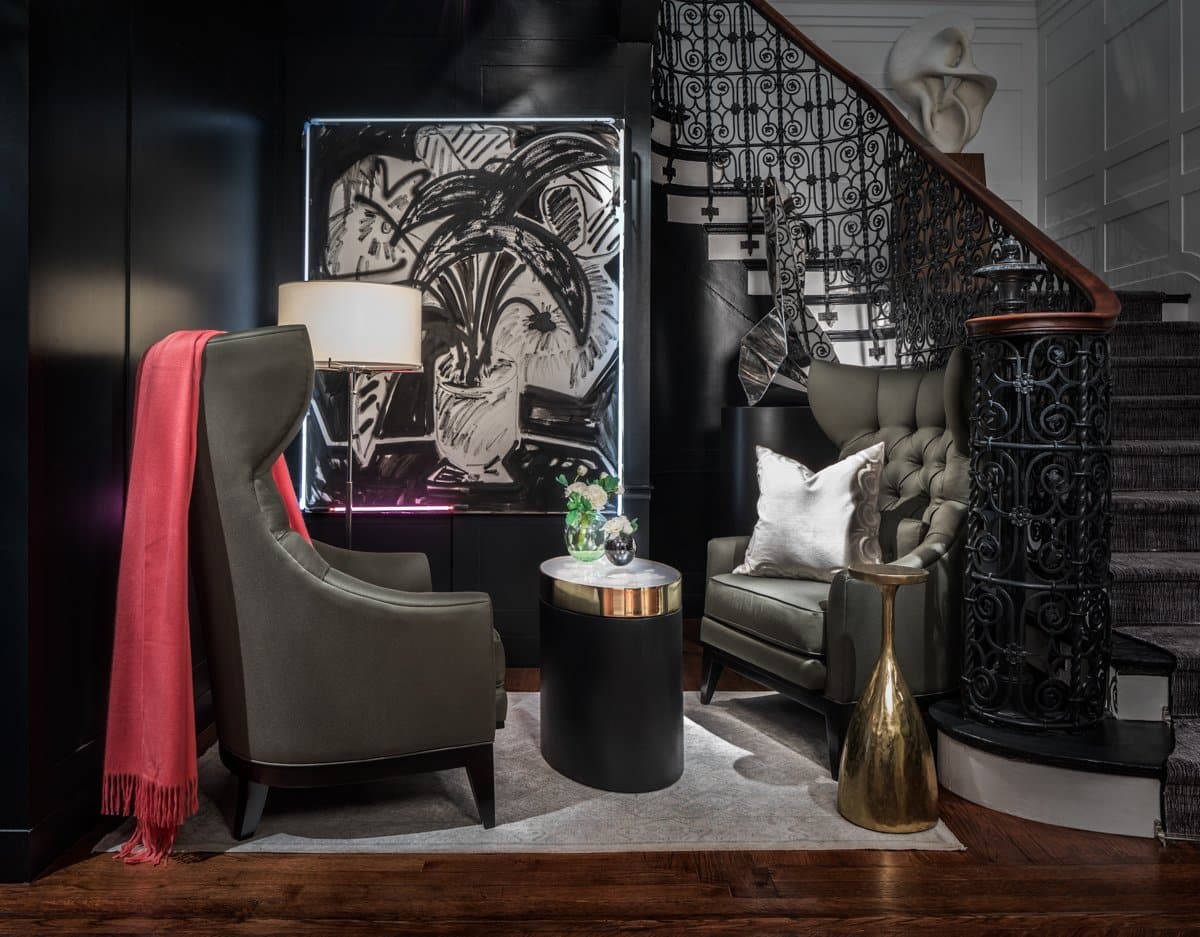 For the 2017 Kips Bay Decorator Show House in New York, Powell & Bonnell designed the grand entryway, creating a moody, intimate feel. The sitting area at the base of the stairs features the firm's Kudu chairs, Narcissus table and Sentinel floor lamp, as well as a Thrush Holmes painting in a neon frame. Photo by Marco Rica
---

This 1929 Spanish Colonial Revival house in Los Angeles, updated by Brown Design Group, includes features like its original ironwork. The designers highlighted the clients's art collection, along with antiques and vintage pieces from Blackman Cruz, Lucca and Lawson-Fenning. Photo by Matt Wier
---
The owners of this London townhouse requested that Carden Cunietti stick to a neutral palette to highlight the architectural beauty of the residence. Photo by Alexander James
---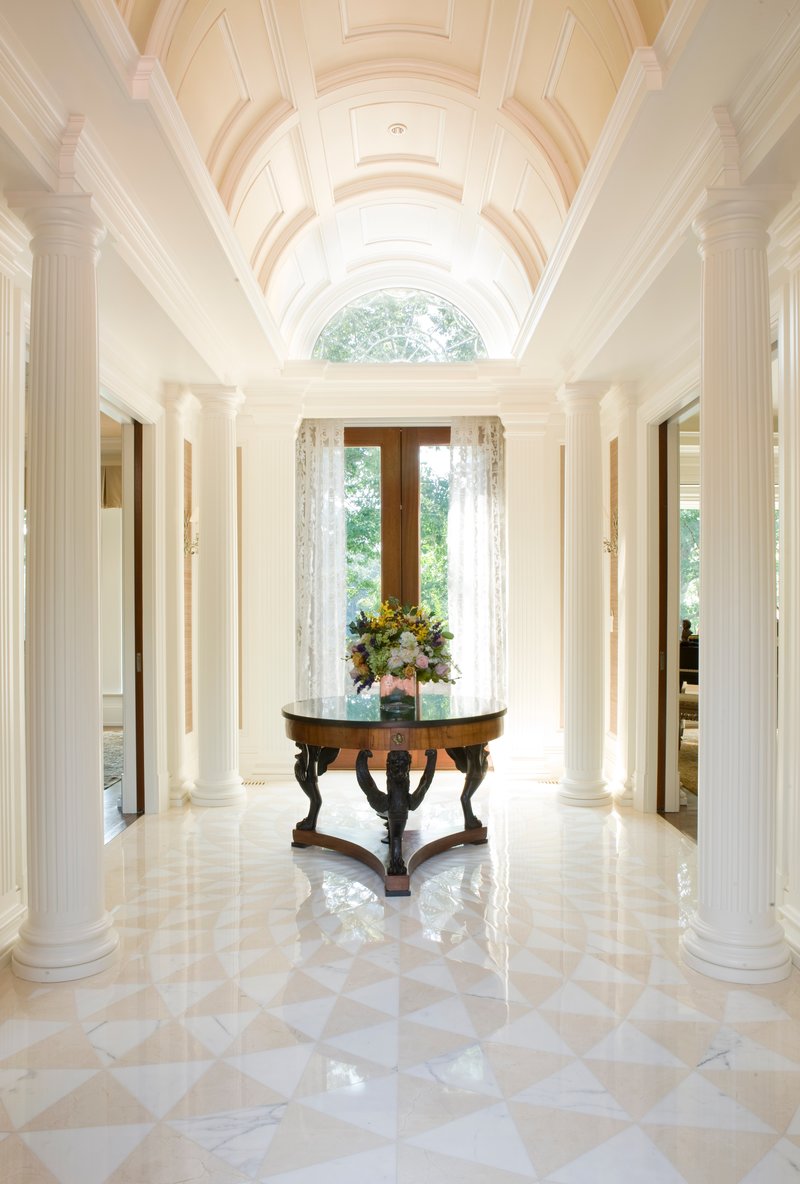 "Foyers are a wonderful opportunity to invite and welcome us and guests into our homes. They set the tone of our space and hint at the style and mood within," according to Brown Davis Interiors, who designed this home in Annaoplis, Maryland. They added a barrel ceiling to the foyer, plus an elaborate stone parquet floor and French doors at the far end of the space to bring in light and frame the home's river views. "The main focus of the space is a 19th-century Russian center table, with marble top and griffin embellished legs, which we secured through 1stdibs." Photo by Gordon Beall
---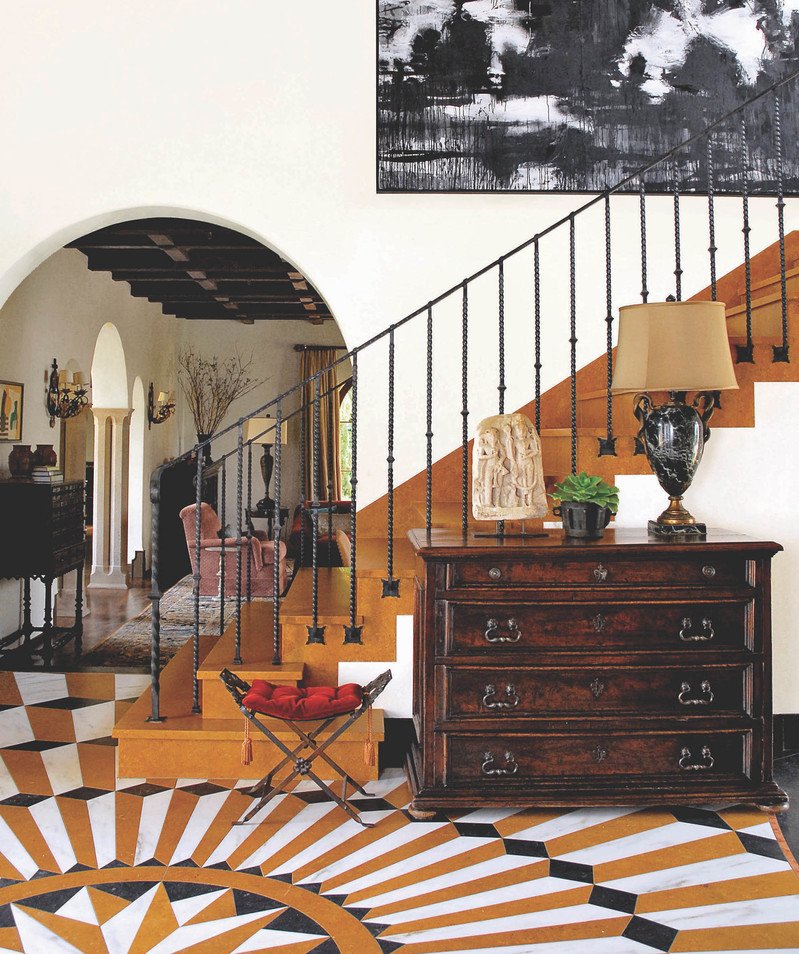 Madeline Stuart designed this Spanish Revival home in Santa Monica, California, which includes an intricate marble floor devised by Stuart, which consists of three different colors of honed marble: Inca Gold, Imperial Danby, Rose Verona and Petite Granite. The space also includes pieces like an 18th-century Italian chest and Landscape No. 556, 1998, by John Virtue. Photo by Janice Barta
---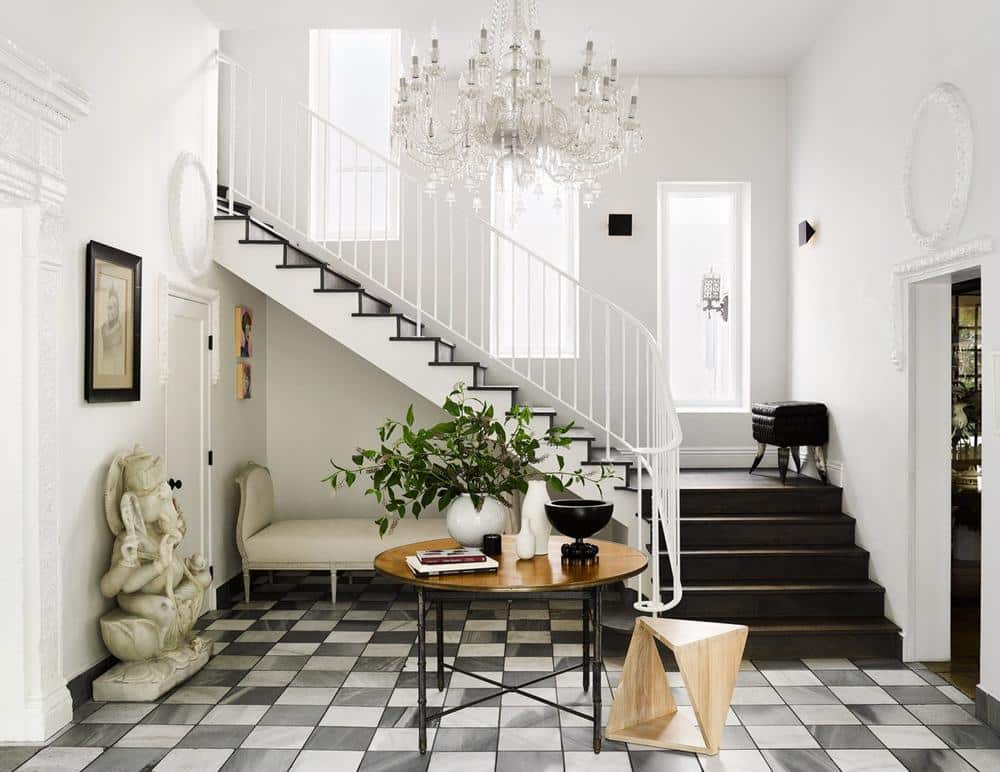 The marble floor in this Los Angeles home by Romanek Design Studio was reclaimed from a chateau in France. The Jacques Adnet center table is from Galerie Half, and the tufted leather stool on the stairway is by Blackman Cruz. Photo by Douglas Friedman
---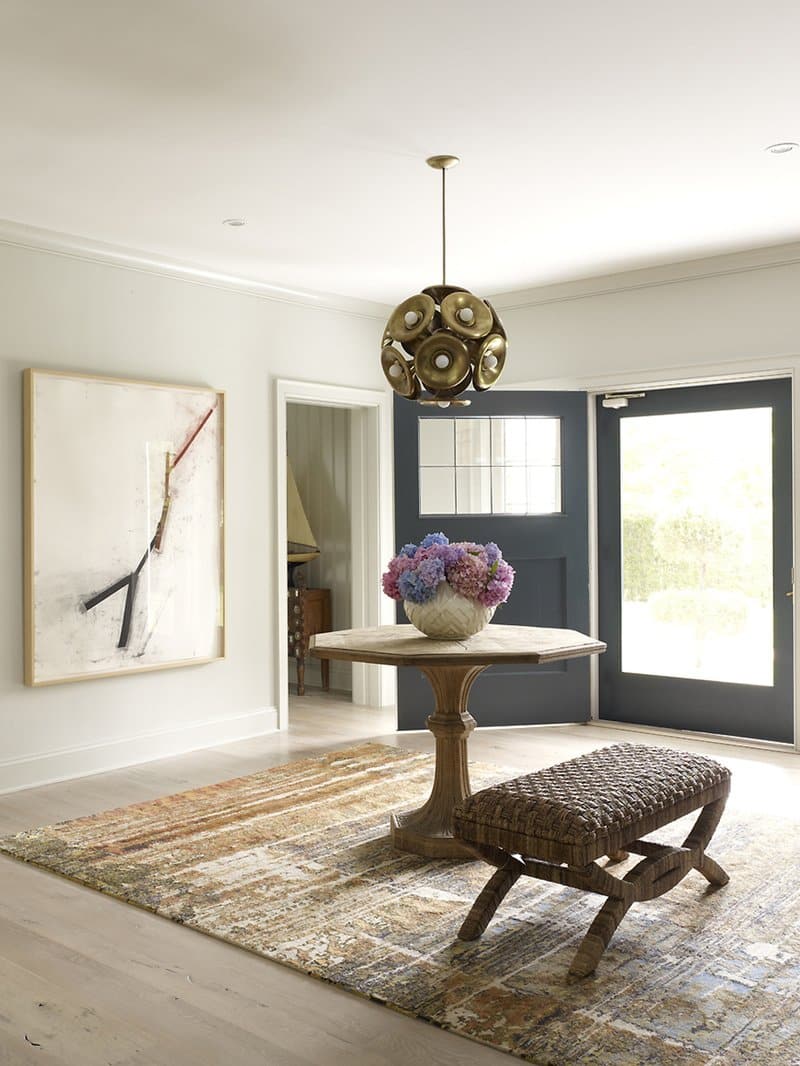 When Fox-Nahem Associates renovated a 1980s shingle-style house in Southampton, New York, they introduced a soothing, textured palette throughout the home. They started with a painterly silk and wool rug by Kyle and Kath and added a French mid-19th-century center table from Balsamo and a 1960's Italian modernist pendant from Kerson Gallery. Photo by Peter Murdock
---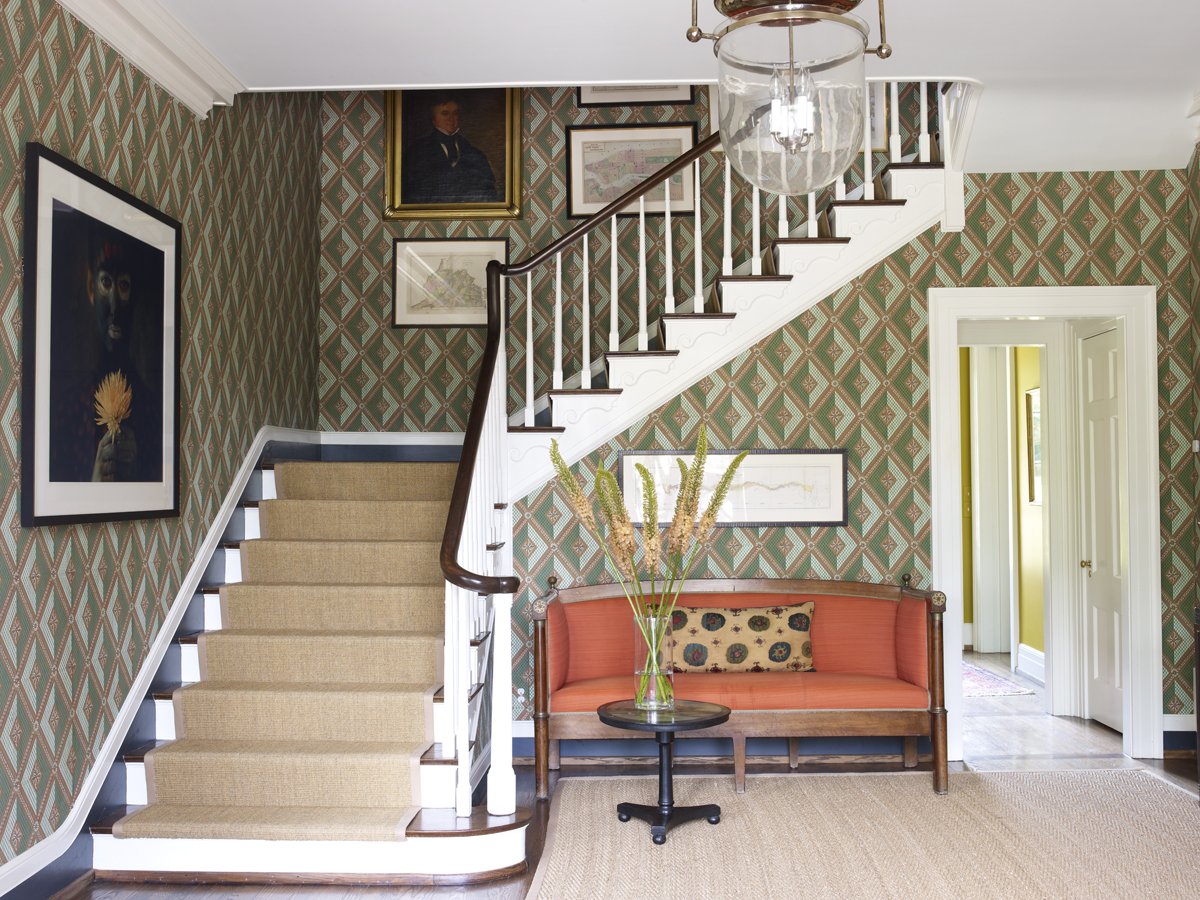 The foyer of this Nashville home by Brockschmidt & Coleman features wallpaper by Adelphi Paper Hangings and a pendant light by Urban Electric Co. The home includes a mix of French, English and American antiques, including this circa-1820 settee. Photo by William Waldron for Elle Decor
---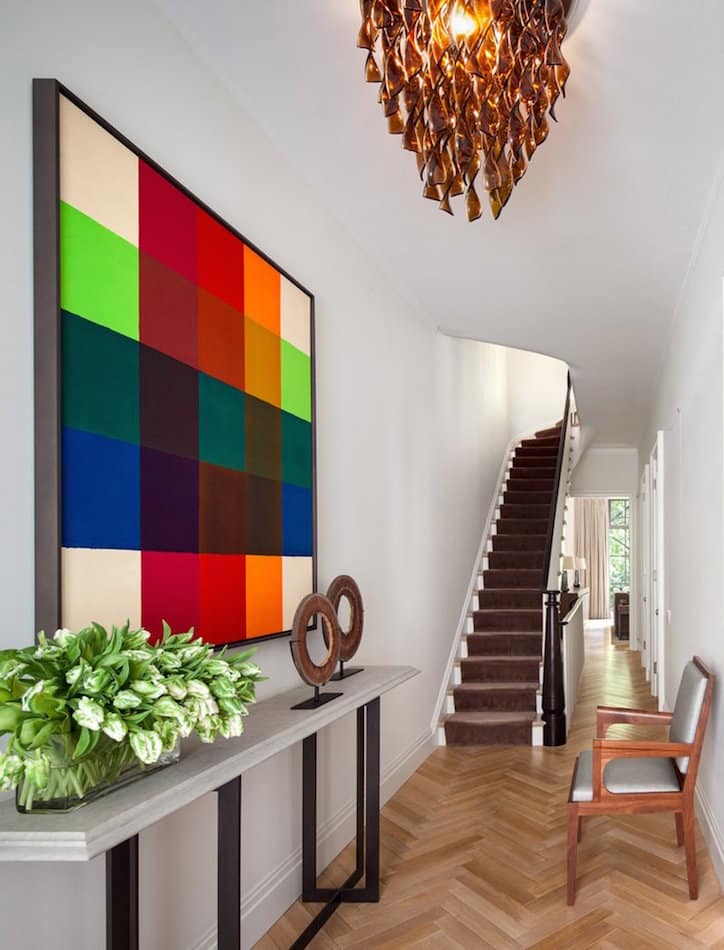 Shawn Henderson added a vibrant punch of color to this Greenwich Village townhouse by hanging Inside Out IV, 1966, by Paul Reed in the narrow foyer. Photo by Steven Freihon
---
For the foyer of a townhouse in Toulouse, France, Suduca & Mérillou chose a black and white palette with a flash of red in the form of a Maison Jansen chair. The space also includes a 1960s brass chandelier and a glass table lamp by Madeleine Castaing. Photo by Manolo Yllera
---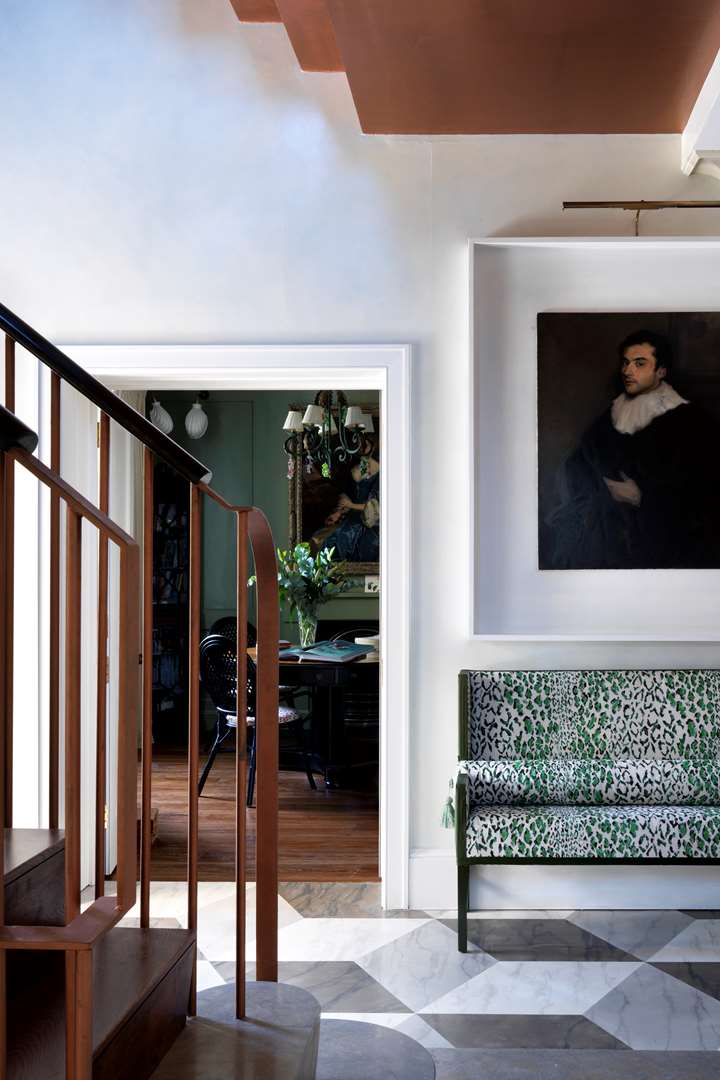 For this West London townhouse, Beata Heuman wanted to create a striking, imaginative and colorful space that felt current. The firm designed the bench, which is upholstered in a Rose Cummings fabric. The floor and walls have bespoke paint finishes. Photo by Simon Brown
---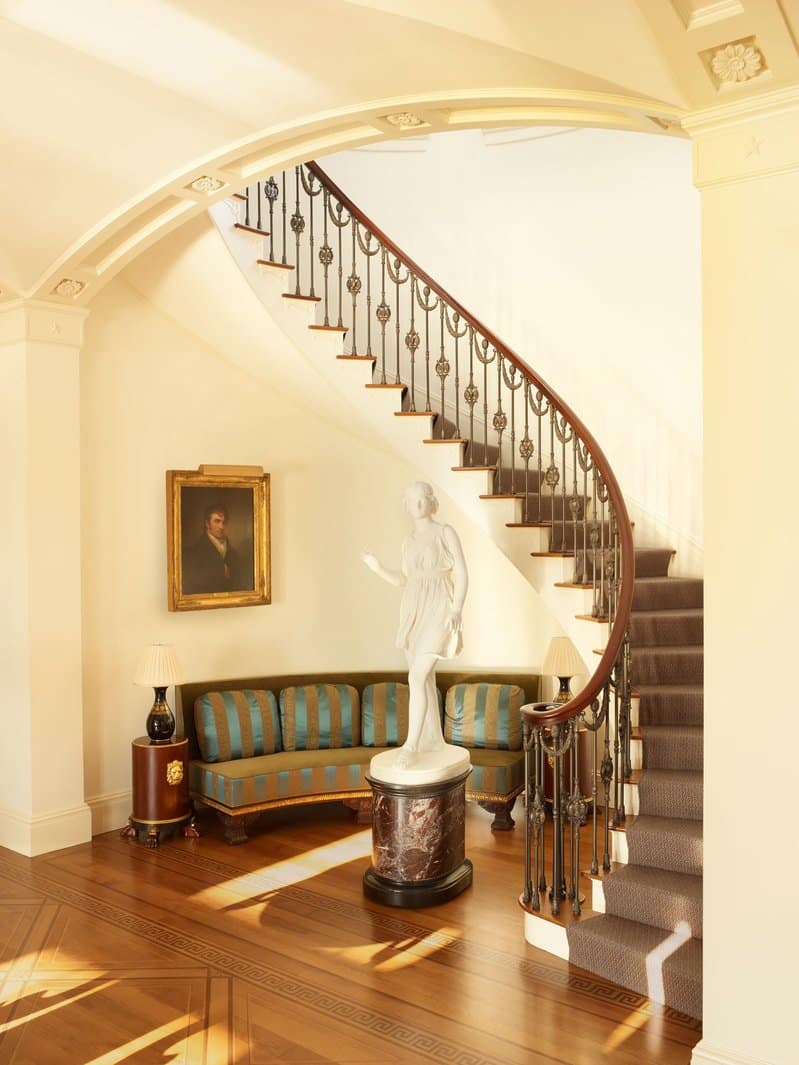 In Upstate New York, Jayne Design Studio worked with Peter Pennoyer Architects on this new home that was meant to evoke the spirit of great Hudson River Valley homes nearby. The foyer features the sculpture Atalanta by William Henry Rinehart and custom designs that include a curved settee and column tables that reference the fate of Atalanta and her lover, who were turned into lions by an angry god. Photo by Pieter Estersohn
---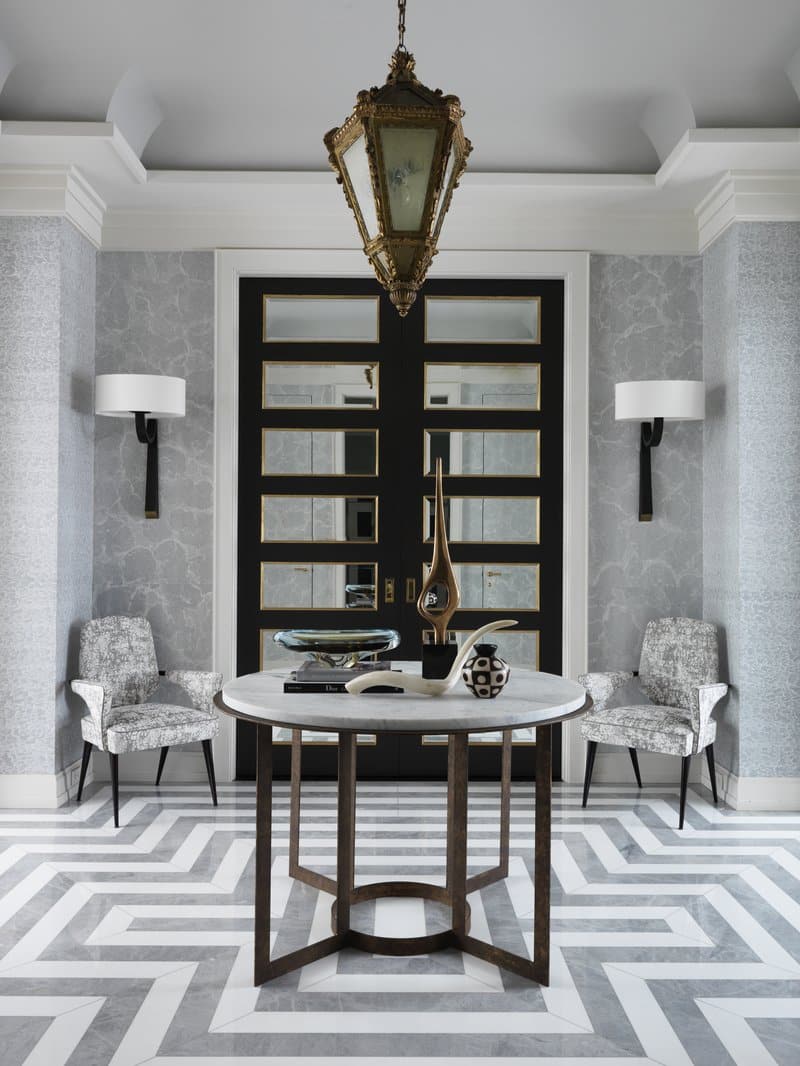 A Louis XVI wood lantern hangs above a table by Jean-Louis Deniot in this Manhattan apartment, which he also designed. The two vintage chairs are upholstered with a fabric from Houlès. Photo by Jonny Valiant
---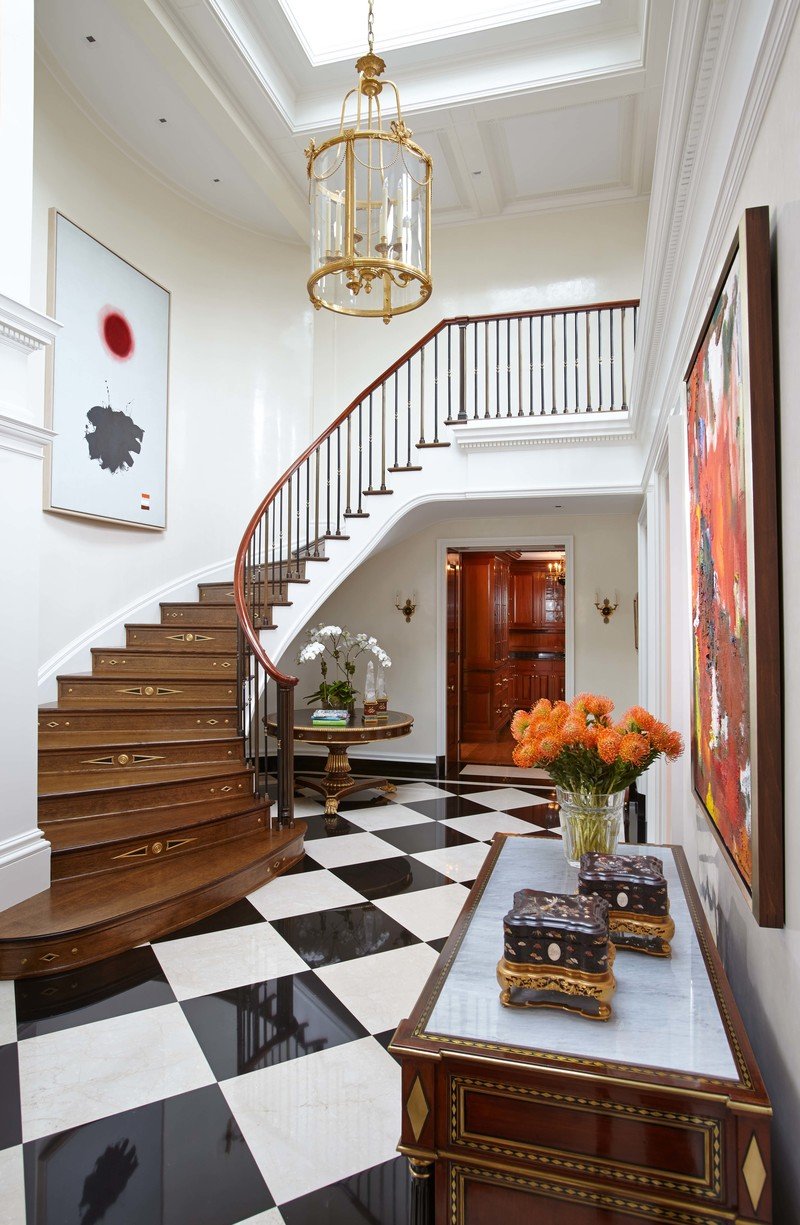 The inspiration for the dramatic entry of this Manhattan duplex penthouse, which was designed by Cullman & Kravis in collaboration with architect John Murray, was a photograph Ellie Cullman had clipped many years prior of the staircase from West Wycombe Park, an 18th-century English country estate. Instead of using a carpeted stair runner, the designers embellished the stairs with gilded three-dimensional motifs, or what they refer to as "staircase jewelry." The foyer features a French 20th-century Louis XVI–style gilt bronze lantern and the painting Bowery Burst, 1970, by Adolf Gottlieb. Photo by Keith Scott Morton
---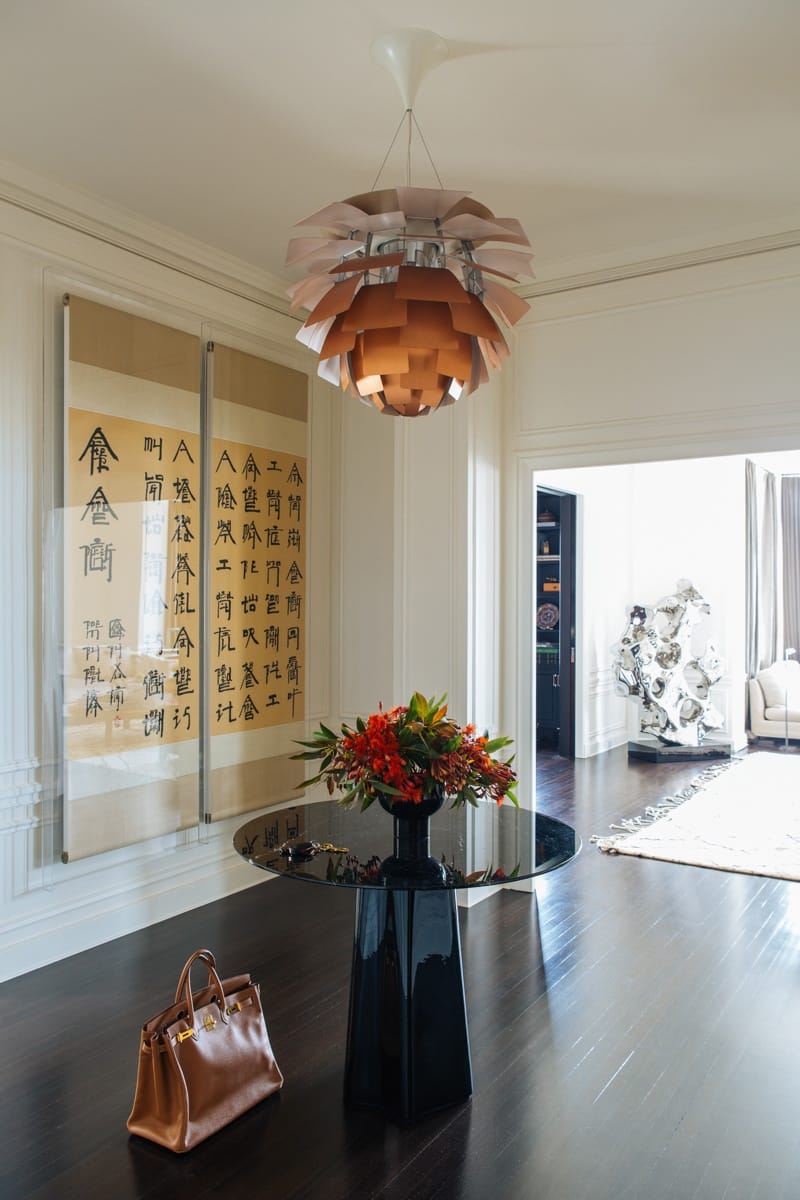 The foyer establishes the refined tone of this 1920 apartment in San Francisco's Pacific Heights neighborhood by Nicole Hollis. The space showcases part of the family's contemporary art collection, specifically Square Word Calligraphy: After Apple Picking, 2003, by Xu Bing. Photo by Laure Joliet
---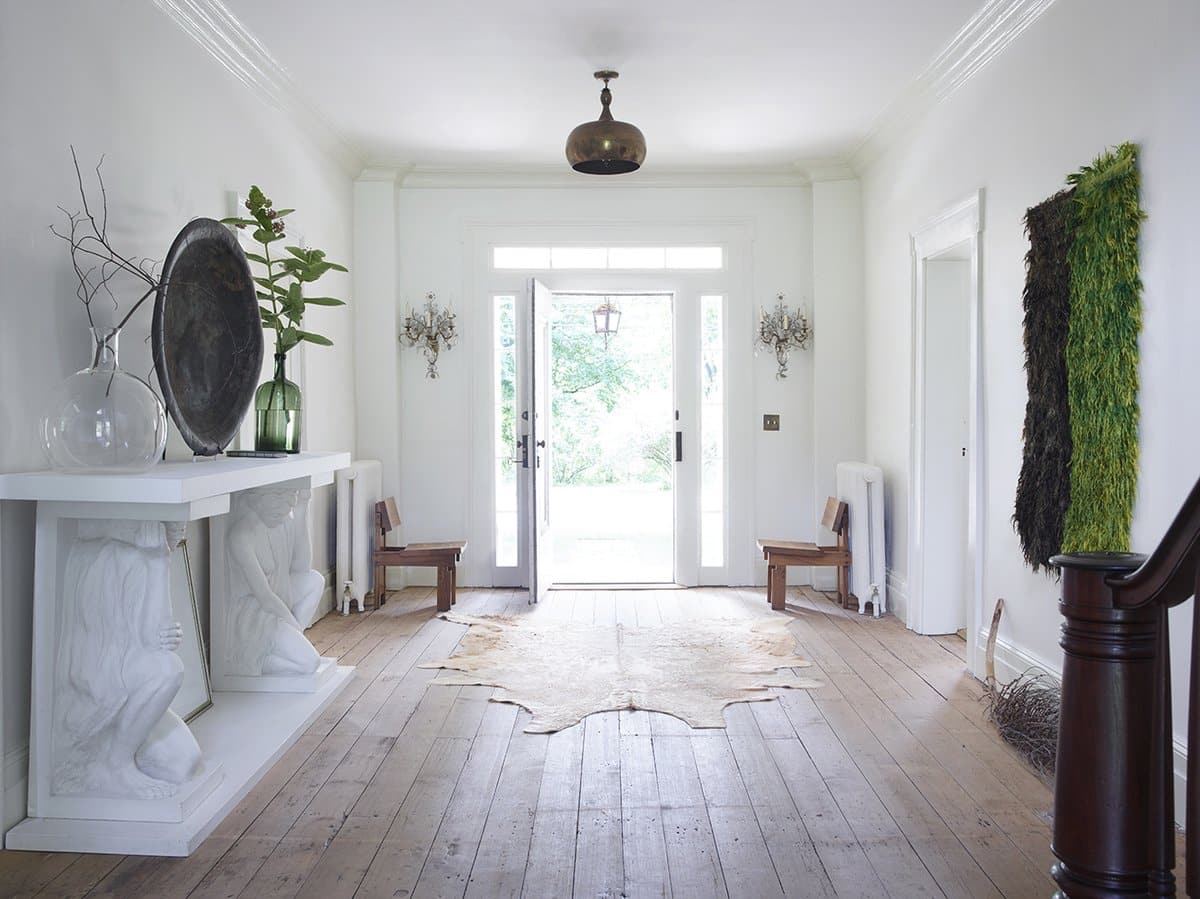 Flanking the front door of this Hudson, New York, home by MR Architecture + Decor are 18th-century baguette candle sconces that have been electrified. Pierre Chareau–style chairs are positioned in front of the radiators, and hanging on the wall is a green and black Tulu rug. Photo by Simon Upton
---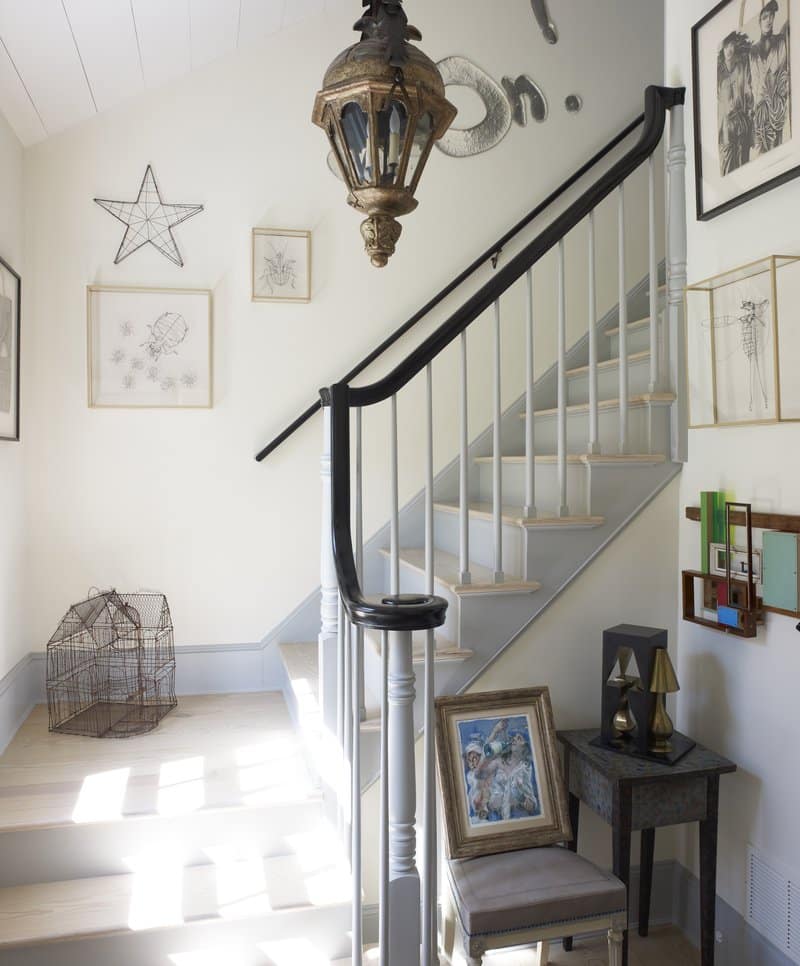 A collection of wire insect sculptures by Jonathan Chaillou and glass text "Soon" by Rob Wynne adorn the walls of Brian J. McCarthy's Hudson Valley weekend home, which he shares with companion and business partner, Daniel Sager. Photo by Francesco Lagnese
---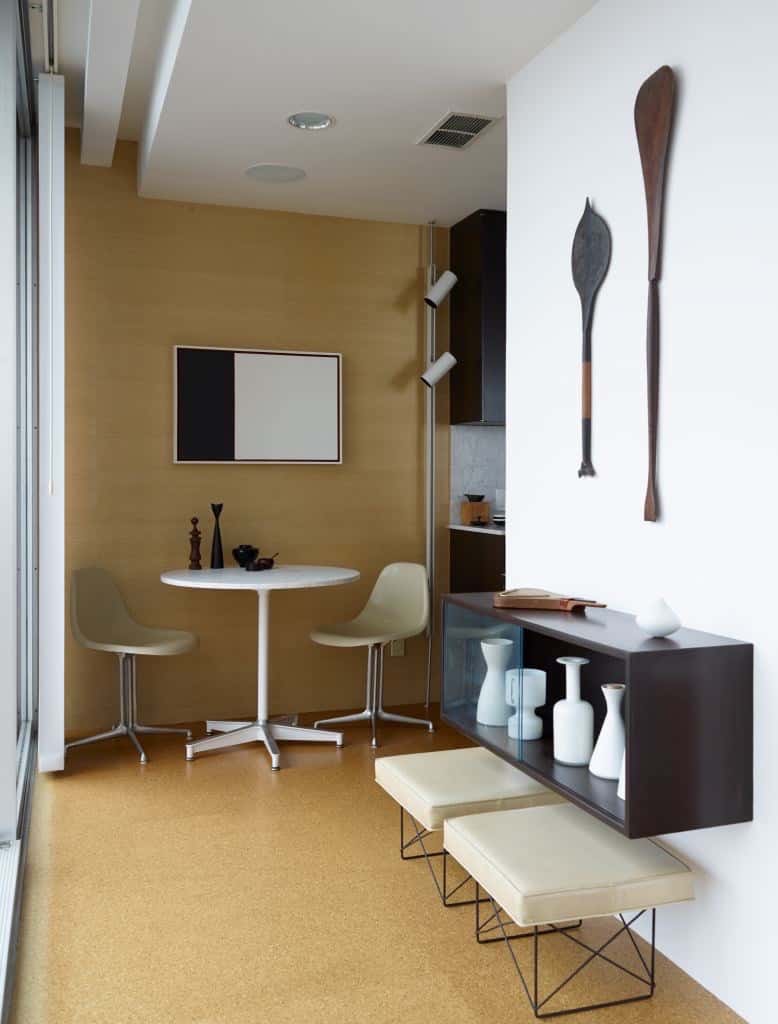 BoydDesign juxtaposed primitivism with modernism in this apartment in San Francisco's Nob Hill neighborhood, which has linen grasscloth wallcoverings and cork floors. Eames + Girard La Fonda Chairs flank the table, above which hangs Black/White Diptych, 2001, by Michael Boyd. Photo by Richard Powers
---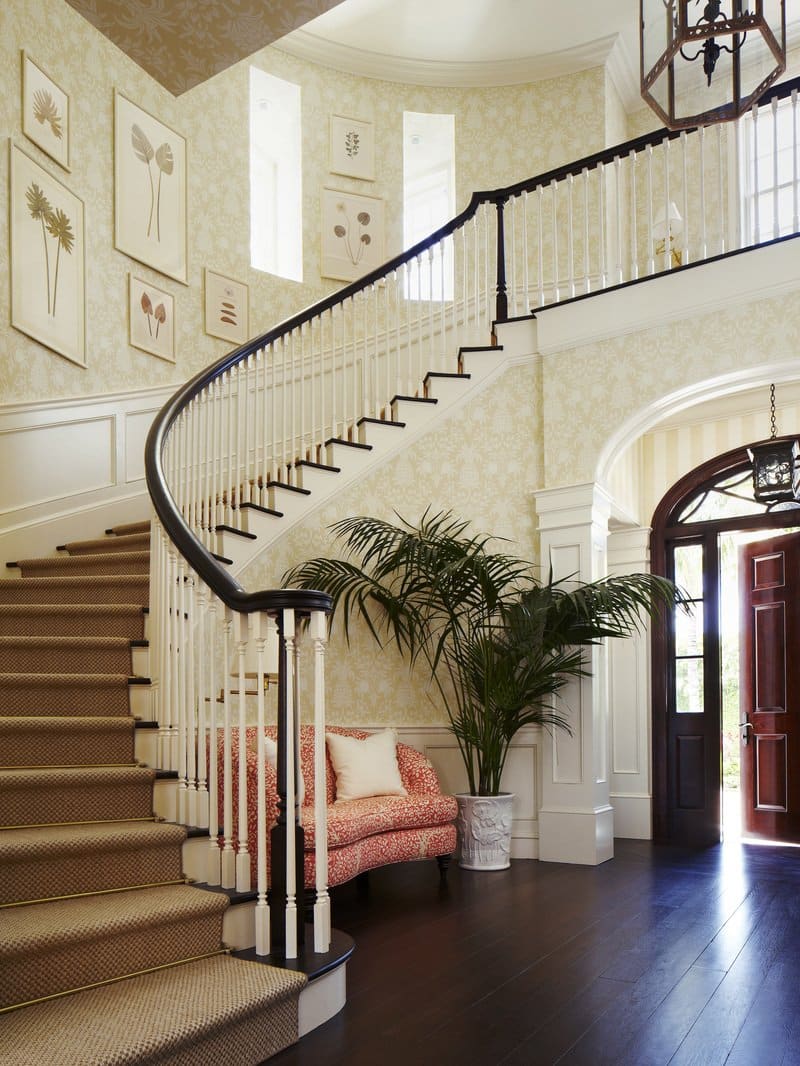 Kemble Interiors, Inc., wanted to keep the foyer of this Palm Beach home light and welcoming. The pineapple-patterned wallpaper suggests warmth and hospitality, and it sets the stage for the British colonial theme throughout the house. The framed botanicals reference the outdoors, and the sisal runner keeps the flavor casual and tropical. Photo courtesy of Kemble Interiors, Inc.
---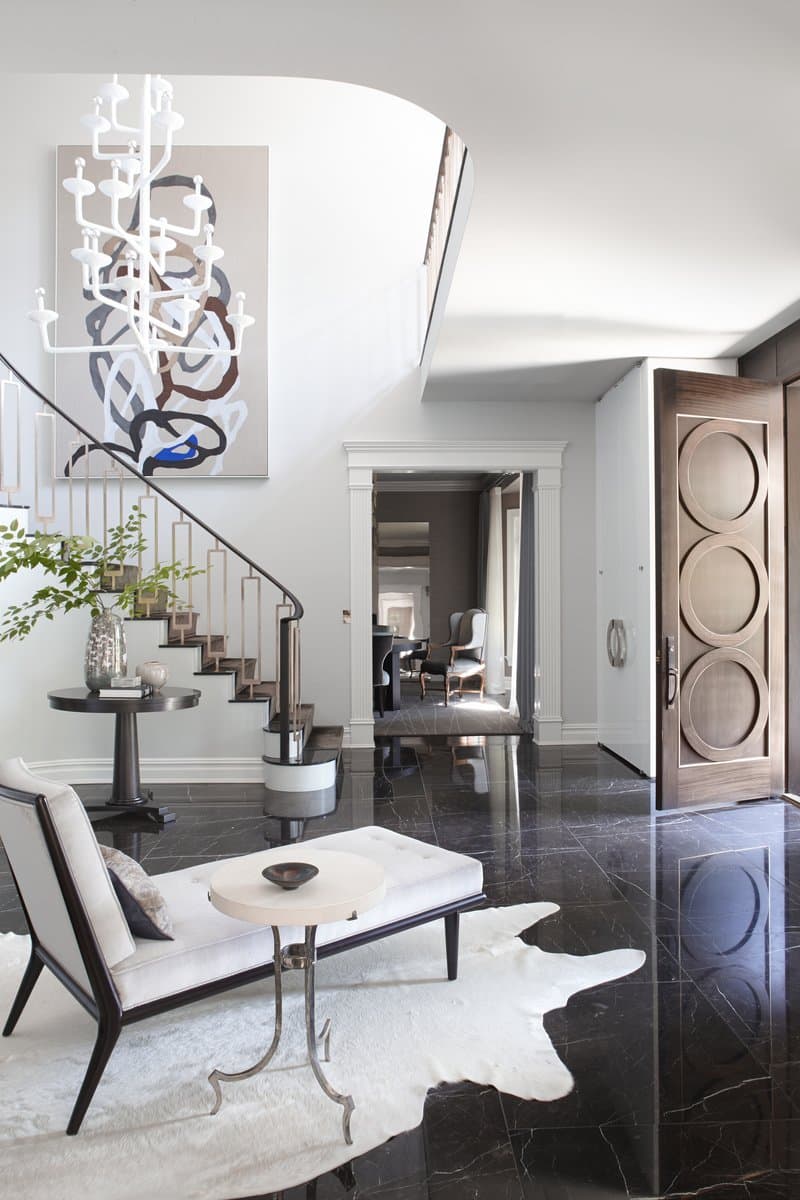 Designed by Neal Beckstedt Studio, the foyer of this home in New York's Westchester County features a black St. Laurent stone staircase and cast bronze balustrade. Photo by Marili Forastieri
---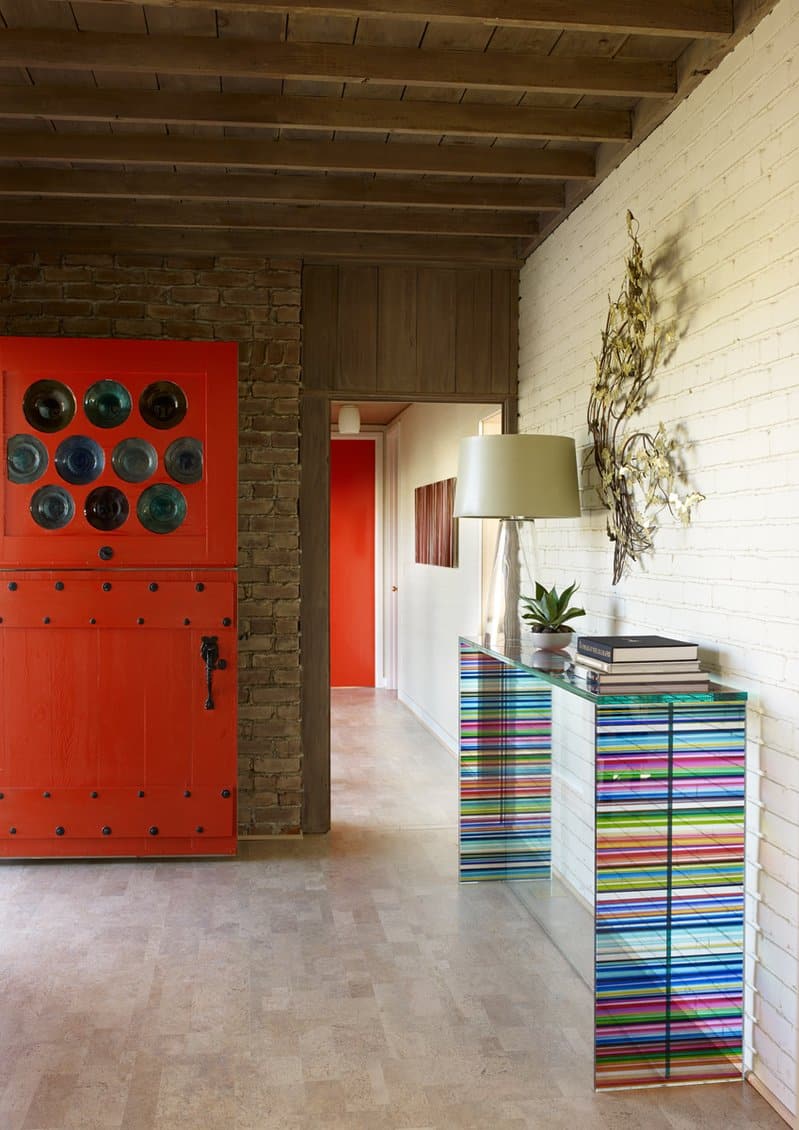 John Ike of Ike Kligerman Barkley's second home is a two-level flat-roofed structure in San Diego, which was built in 1945 by a naval officer. The entryway features a bright red Dutch door and a multicolored glass table from a furniture collection Ike designed with photographer Irene Mamiye. Photo by William Waldron
---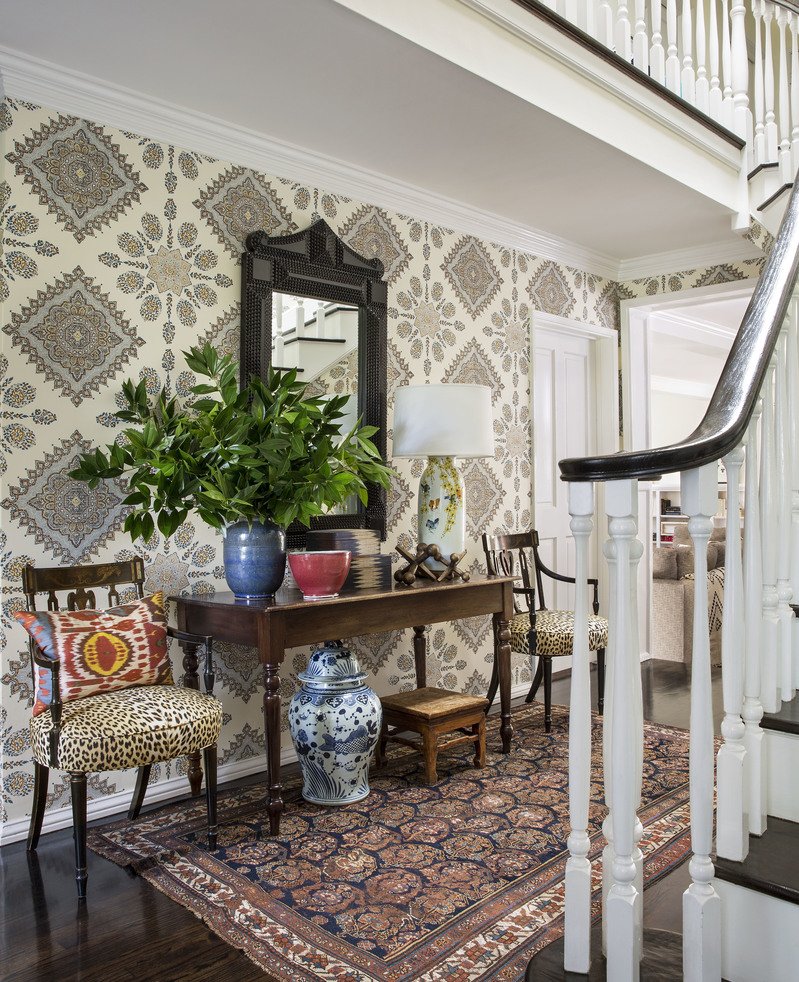 This 1930s family home by Burnham Design in Santa Monica, California, is owned by longtime clients with a fearless design sensibility. So Burnham created a layered, eclectic space that includes bold patterned wallpaper and chairs upholstered in leopard print with an ikat pillow. Photo courtesy of Burnham Design
---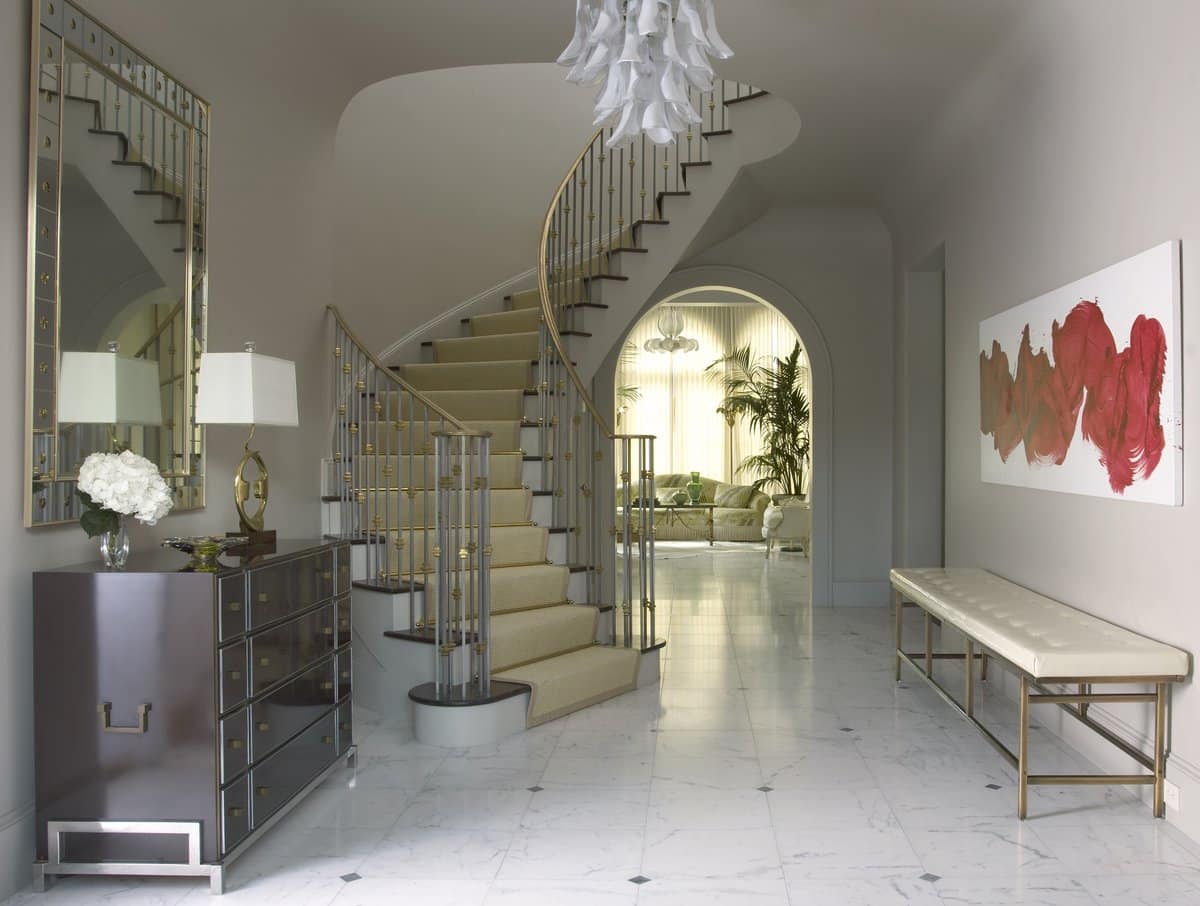 A 1950s Vistosi Murano chandelier hangs in the entryway of this Austin, Texas, home by Jan Showers. The space also includes a bronzed framed mirror by Maison Jansen and a James Nares painting. Photo by Jeff McNamara
---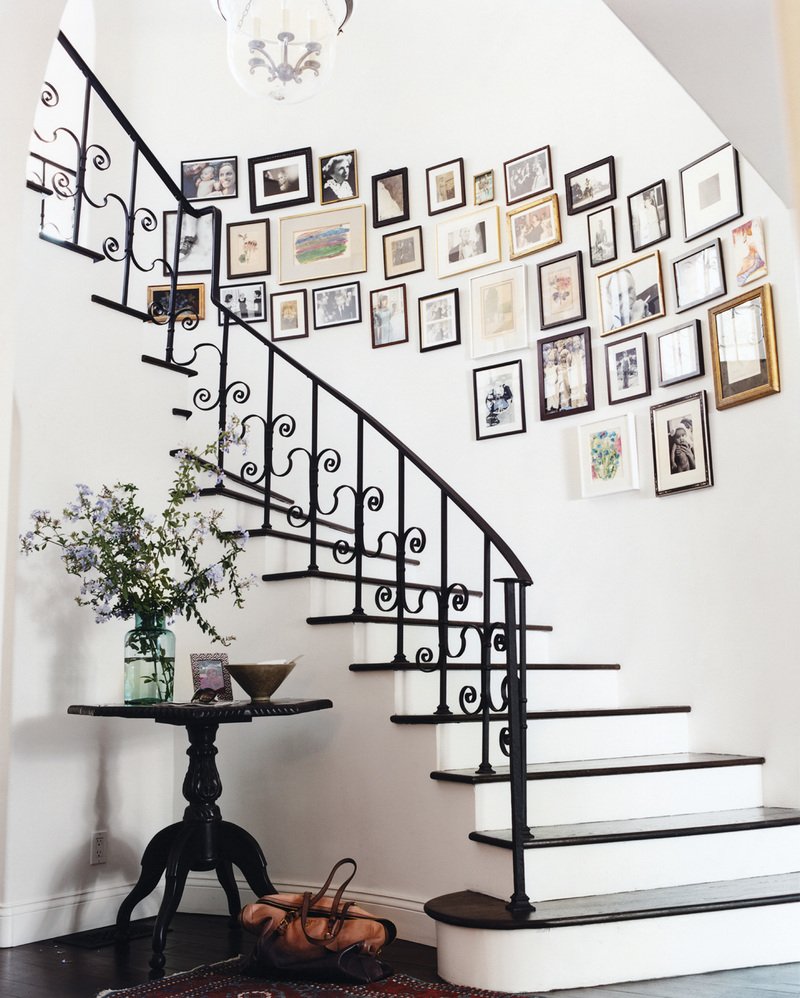 The foyer of this Los Angeles home by Nathan Turner has a simple black and white palette, which keeps the focus on the curving gallery wall of family photos and art in mismatched frames. Photo by Coliena Rentmeester
---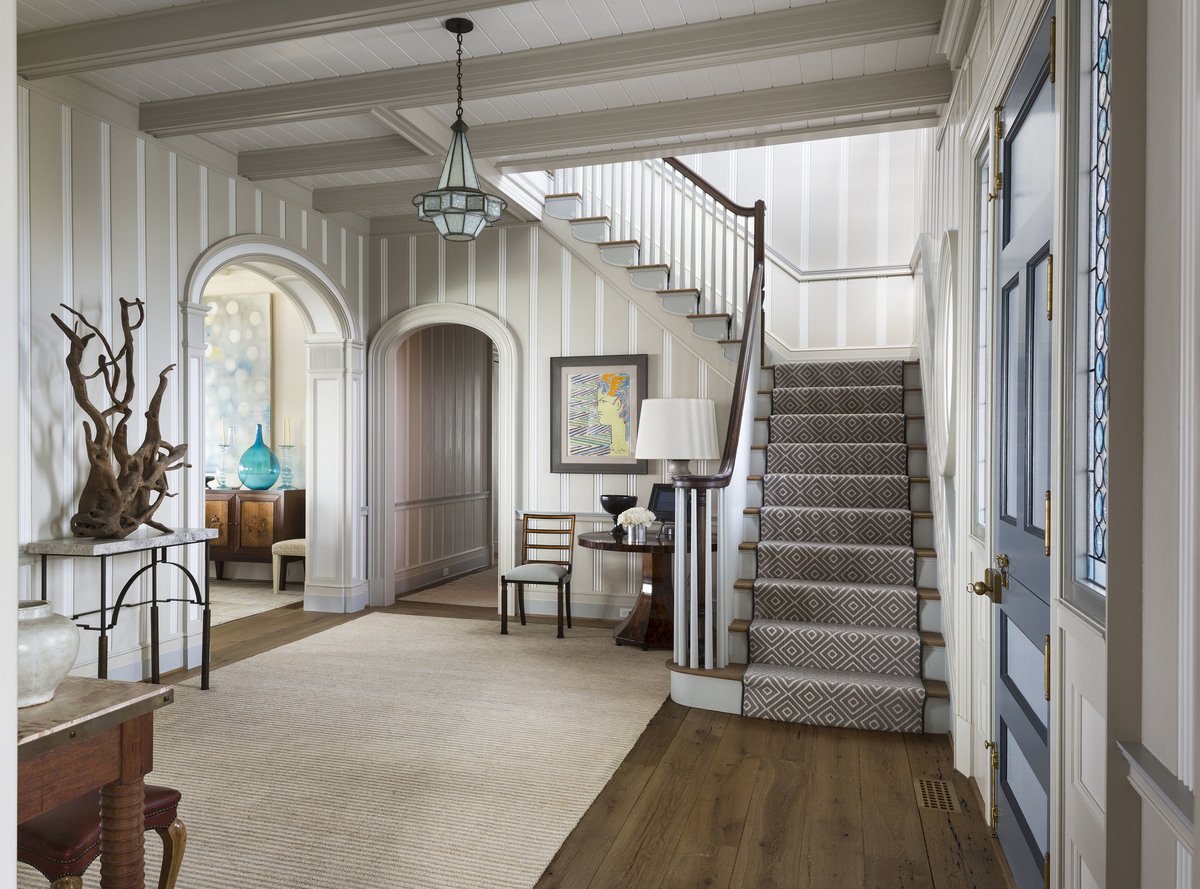 Robert A.M. Stern Architects designed this shingle-style house in East Quogue, New York, where the neutral foyer includes a bead-board ceiling with exposed beams and a patterned runner on the stairs. Photo by Peter Aaron / OTTO