July 5, 2020"I was unprepared for the purchase that would change the course of my career, and actually, my entire life," New Orleans–based designer Tara Shaw writes in her new monograph, Soul of the Home: Designing with Antiques (Abrams). It was 1998, she recounts, and she was shopping for a desk. "One Saturday I walked into a store that was unloading a fresh shipment [of antiques] from Europe, and there it was. Except it wasn't a desk at all. It was a gorgeous Louis XIV–XV armoire boasting a treasure trove of ravishing details. . . . It stopped me cold."
Shaw had been wholesaling fashion lines for seven years through two showrooms in Dallas, as well as traveling regularly to New York on buying trips. The armoire upended all that. In no time, she had passed her business on to her employees and started a new venture as a wholesale importer of antiques. "My plan was to go to Europe and fill containers with one-of-a-kind items," she says, the large antique carnelian cocktail ring on her hand, engraved with the words "Woman of Honor," flashing in the light as she flicks back her blonde hair. "I fell in love with New Orleans and set up a to-the-trade shop in an old cotton warehouse — no electricity and no bathroom. Dealers and designers would drive from out of state and sleep on blow-up beds at the door. Michael Bruno [the founder of 1stDibs] told me that this is what 1stDibs was about — the excitement of getting it right out of the container."
In 2000, Shaw recounts, "Veranda contacted me and asked if they could see my warehouse at the Port of New Orleans. And once they toured the warehouse, they asked to see my home. I was beside myself when my Victorian house made the cover." A call from Harry Connick Jr. and his wife, actress Jill Goodacre Connick, soon followed. "I had worked in design pro bono for years," says Shaw. "Harry and Jill were my first paying clients." Not a bad start, to be sure. These auspicious beginnings eventually led to her own furniture line, TS Maison — about 60 pieces of which she has licensed to a large brand — and a storefront on 1stDibs, Tara Shaw Ltd., where she sells her own furniture designs and antiques. A second Veranda cover, in 2015, featured her current château-inspired New Orleans home. Today, she employs a staff of five, a team she anticipates will grow when she completes renovations this month on an 11,000-square-foot building on Magazine Street that will house a public showroom and, above it, luxury residences.
Shaw has evolved a signature look that inventively mixes Continental antiques (Louis XIII through XVI, Empire, Italian and Swedish) with mid-century modern and custom pieces — all of them set against primarily white backgrounds. The success of the aesthetic, and its applicability to environments as varied as a rustic lake house and a refined art-filled Victorian pile, owes primarily to the warmth imparted by the well-worn finishes of the antiques. "That kind of patina," she writes, "the layers and layers of detail that show a chair or cabinet or secretary has been used for centuries — simply can't be replicated." Shaw is a sucker for "scattered losses" (areas where gold finishes have chipped away), beautiful wood grains pocked with wormholes, painted furniture that reveals two or three layers of color. These "imperfectly perfect" finishes, she believes, relax a room. Their authenticity also transmits a kind of soul, which can, in turn, be harnessed to convey the personalities of the people who hire Shaw to design their homes. These clients include a World Series champion baseball player, the owner of a professional football team, an internationally renowned celebrity chef and, of course, entertainment personalities like the Connicks.
"Soul has a spiritual meaning for me. It's the part of you that is uniquely who you are," explains Shaw, adding that for her clients, "the goal is that their home reflects who they are." It was important to the baseball player's fashionable young wife, for example, that their 30,000-square-foot estate in Mississippi convey a sense of glamour. Shaw set the stage with a scene-stealing 18th-century Italian gilt chandelier in the foyer, forestalling the potential ostentation with an installation by artist Bradley Sabin composed, she writes, of "black ceramic petals that flutter across the far wall like falling leaves." Bridging these extremes is a restrained Biedermeier library table and Swedish 18th-century stools. The arrangement is chic to the core.
The wife's dressing room is done in gray blue, with a turquoise 1970s pleated leather sofa. Otherwise, rooms are entirely white, with high-contrast black pieces and gilded or painted antiques scattered throughout. "My mother greatly influenced my love of white and the subtle aspects of a layered white interior," says Shaw, who grew up in pristine white, minimalist homes: first a gentrified farm outside Lake Charles, Louisiana, then suburban houses in Houston and Austin. However, she points to a still weightier factor in her preference. "Because of my lifestyle — I'm a plate spinner, a multitasker — it has more to do with craving the calm of a home that is serene. I also use beautiful textiles — mohair, velvet and aged textures like Belgian linen — because they create a subtle background for antiquities. They are luxurious partners."
Interiors by Tara Shaw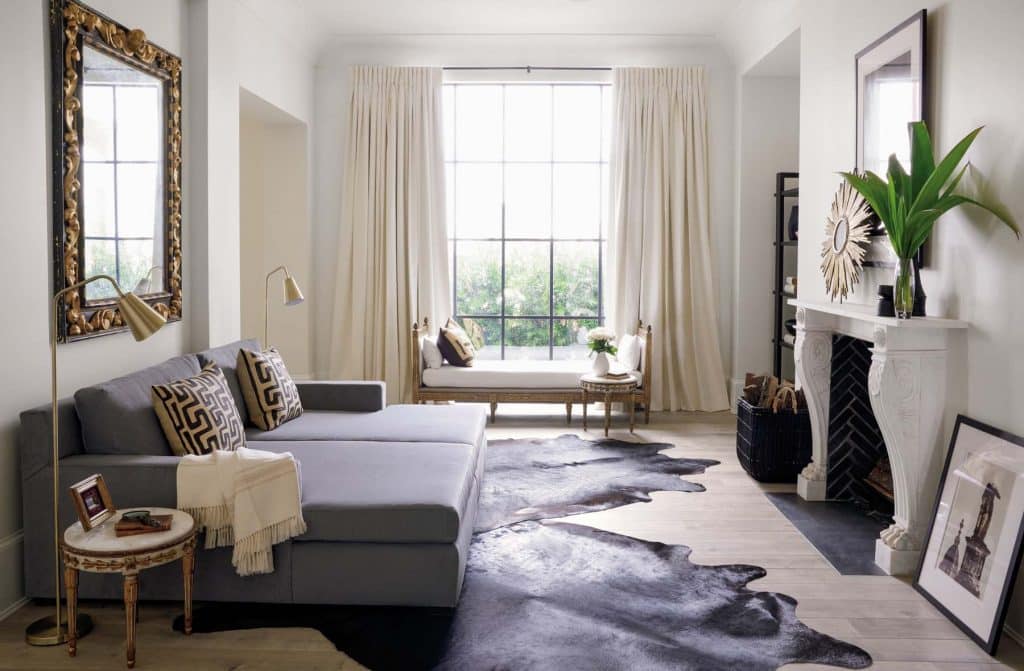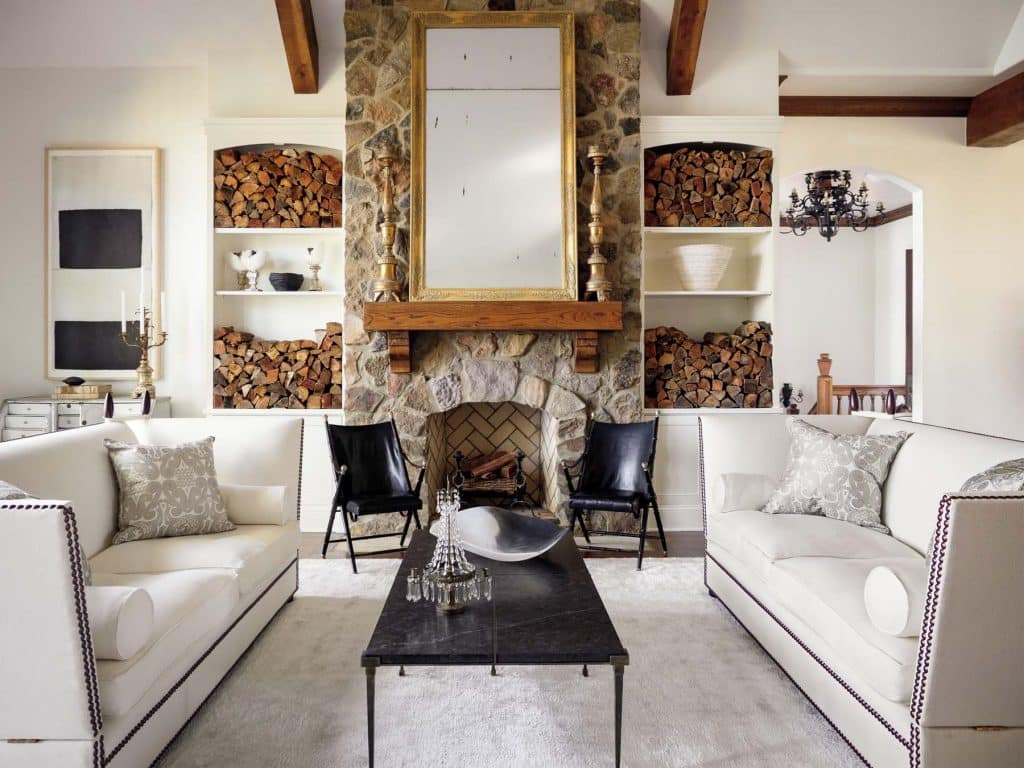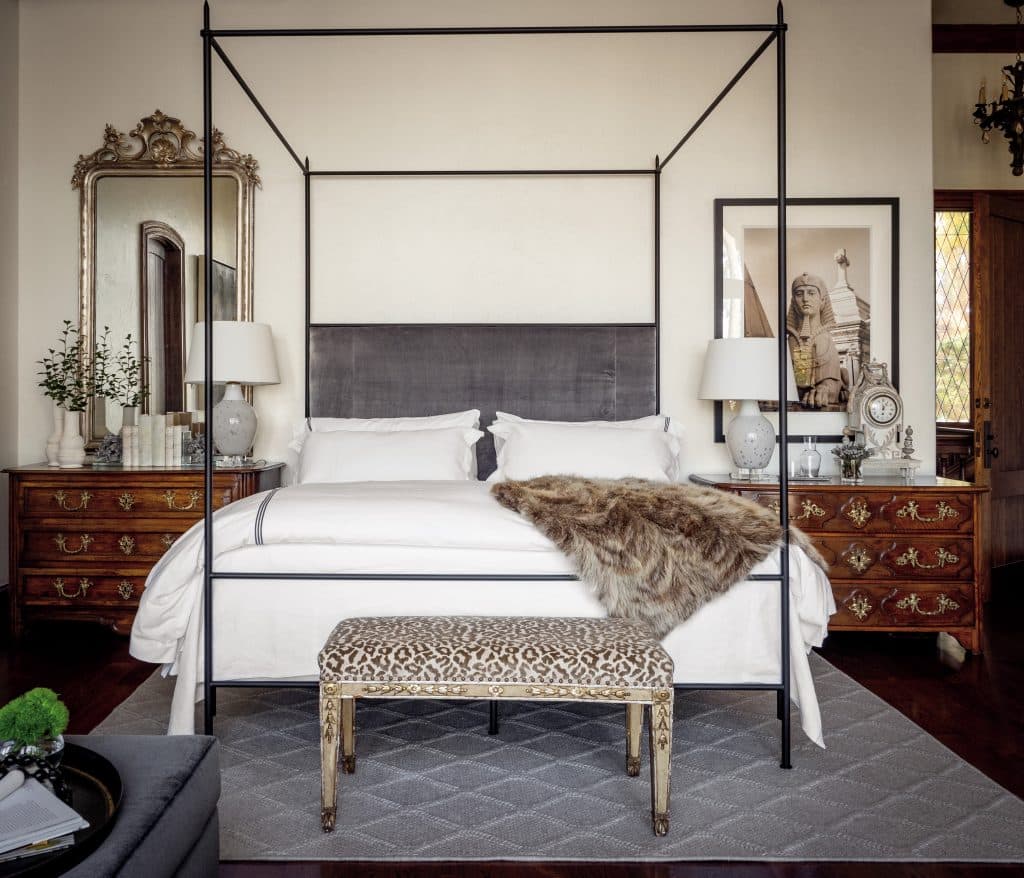 Shaw attended Louisiana State University, majoring in education, but quickly realized this was not her passion and left to pursue a career in fashion. After a stint as buyer for a department store, she opened her Dallas apparel showrooms. Then came the armoire (today it lives in the pool cabana of the home she shares with her husband, Robert "Robby" Walsh, and their whippets, Jack Shaw and Brother Lucca). The couple is hoping to buy a getaway in France this year. To design its interiors, Shaw will, undoubtedly, lean heavily on her passion for antiques. An antique, she writes, "can seduce you in a way that no assembly-line-produced good ever could. And if you fill your environment with pieces that make you feel that way, then guess what? You're probably going to fall in love with your environment, too."
Tara Shaw's Quick Picks