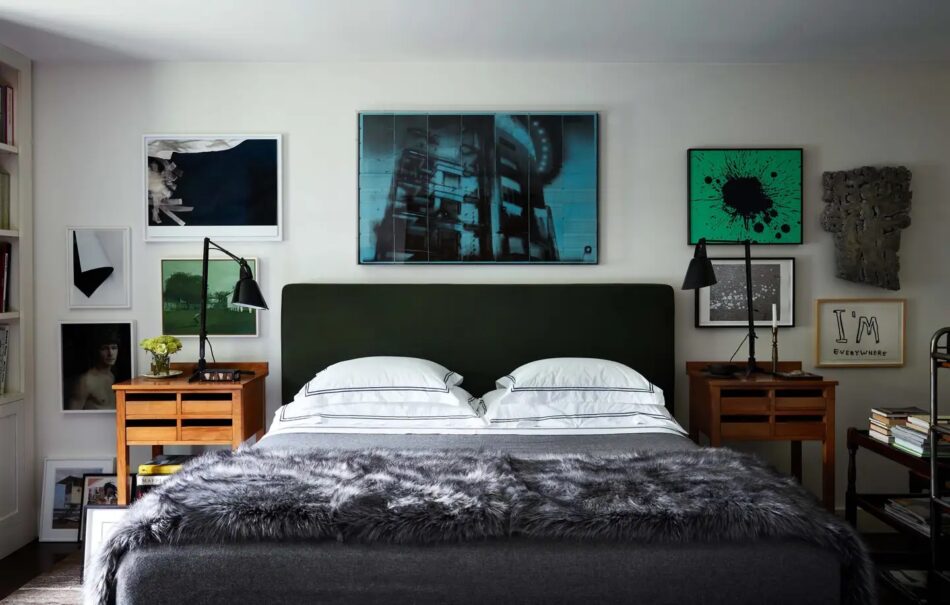 In the main bedroom of his East Hampton home, Robert Stilin framed the custom bed, upholstered in Loro Piana cashmere, with a mix of artworks by Wolfgang Tillmans, Antony Cairns and Andrew Brischler, among others.
They're complemented by some of Stilin's favorite 1stDibs finds: a pair of vintage Thonet maître d' tables that he repurposed as nightstands and two vintage Walligraph desk lamps.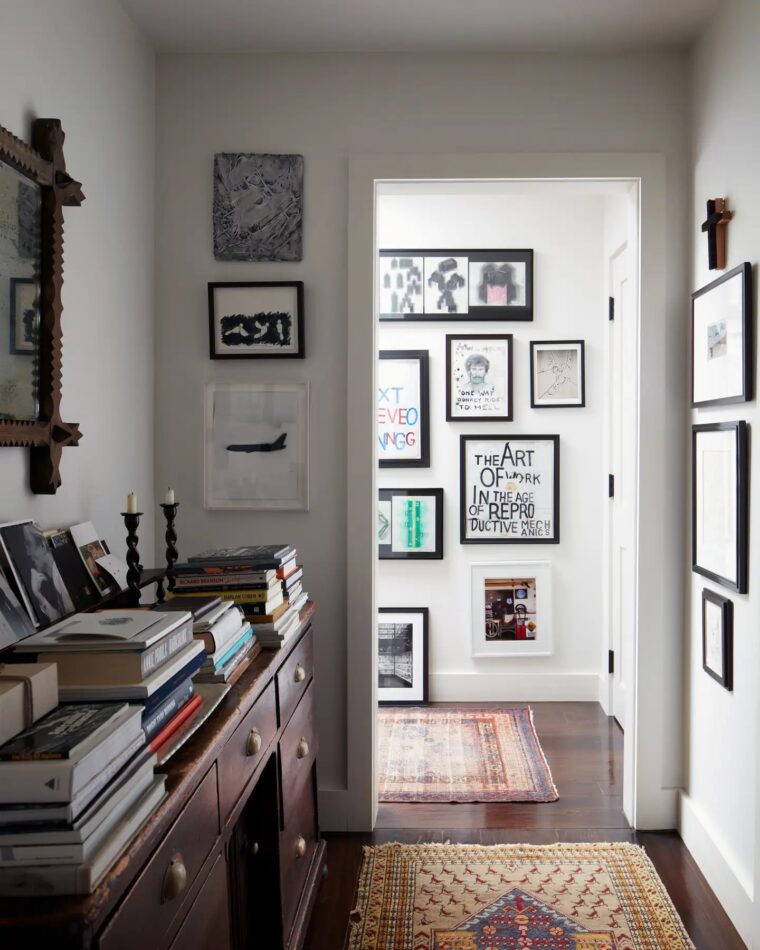 The seamless blend of contemporary art and vintage furnishings continues in the hallways. Stilin's curatorial approach? "I select each piece because I love it and know it will work for me and my home," he says. "That confidence and trust lead me to this place where I put it all together and it just works."
---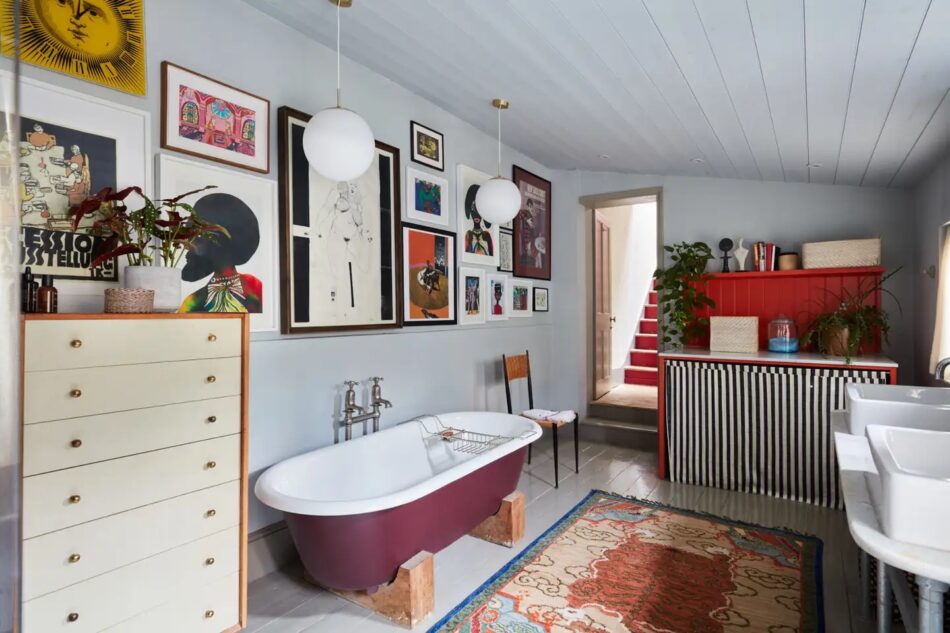 In her house in London's East End, Sophie Ashby doesn't reserve the art for the rooms where she entertains. "Truthfully, I ran out of walls and thought it would be fun to create a space that felt more like a gallery or a living room rather than a bath," she says of her whimsical family bathroom. "For me, art is really where the design process starts and ends. It ties everything together."
Her arrangement includes posters, drawings, tea towels and prints by such artists as Chris Ofili, Francis Bacon and Pablo Picasso.
---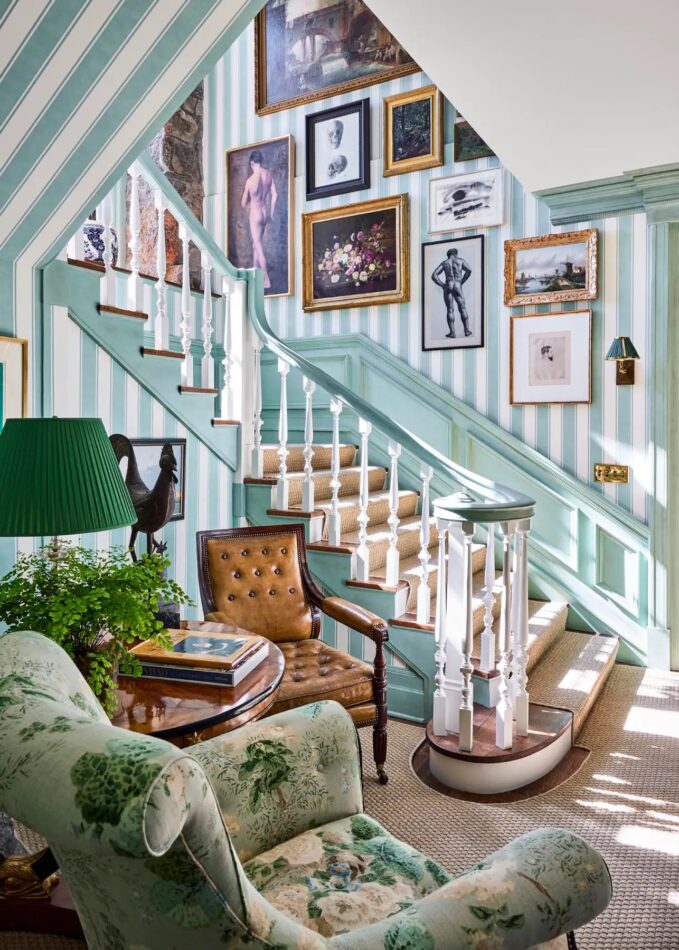 Miles Redd and David Kaihoi's design for an upstate New York home combines English country-house decor with updated 21st-century style. Against a striped wallpaper in the entry hall, they hung a group of still-life, landscape and portrait paintings to draw the eye up the stairs. For artful contemplation or a taking spot of tea, the team placed two antique chairs, a William IV mahogany bergère and a George IV upholstered library chair, in the nook under the stairway.
"Some people love handbags and shoes — we love art and artists," says Redd. "The push and pull of different mediums and different hands on interesting backgrounds always amazes and gives the eye so much pleasure. Placing art is everything."
---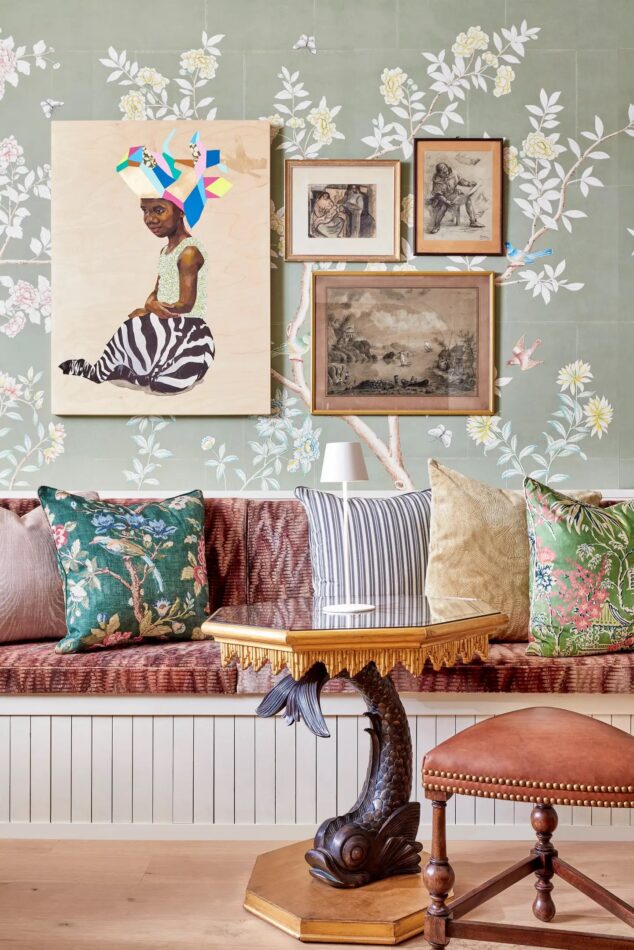 For an Atlanta showhouse, Corey Damen Jenkins installed what he calls a ladies' speakeasy in the basement of a Regency-style house. "I wanted to create an underground garden," he explains. "So, our goal was to design a space that felt like it was bright and airy and brought the outdoors inside."
A built-in banquette (which can seat 20!) is paired with accent tables from Maitland-Smith. Above it, a salon-style grouping features a contemporary portrait by Shanequa Gay and vintage works from 1stDibs seller William Word Fine Antiques. "The artwork is a requirement on this lower level, given the absence of windows," Jenkins notes. "It gives the eye a reason to travel the space, it breaks up the botanical motif on the walls, and it brings additional layers of interest, color and texture."
---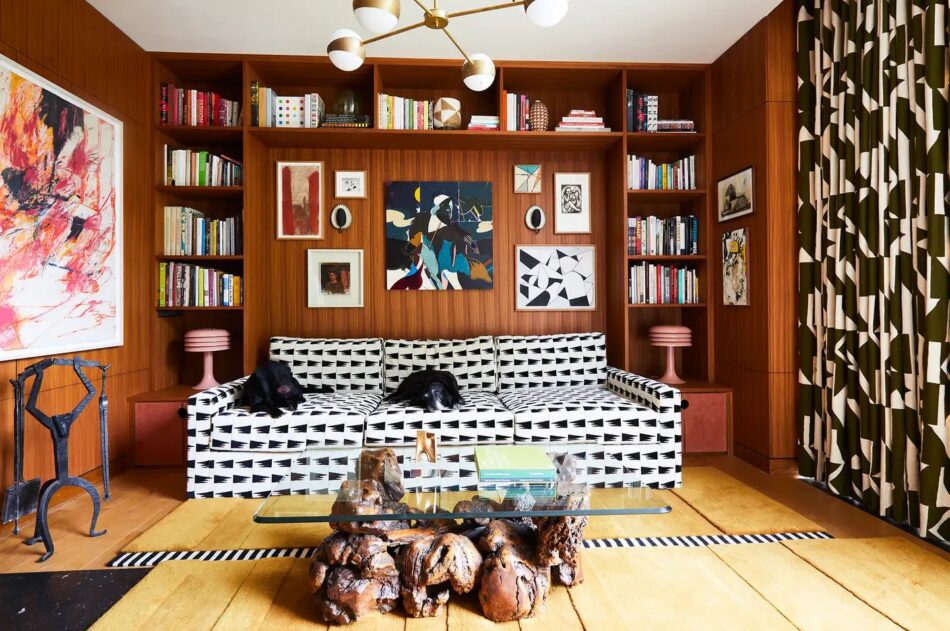 Peter Mikic outfitted the library in his Oxfordshire, UK, house with layered textures and materials to create a cozy haven and deployed the art to enhance the laid-back vibe. "The composition of the gallery wall is relaxed, adding a softness to the structured symmetrical bookcase," Mikic says. "The scale of the smaller artworks complements the books, while the sofa pattern adds to the overall feel."
Most of the pieces on the wall are by students or unknown creators. They play off the sofa, upholstered in an eye-catching graphic print from Schumacher. The pink table lamps — perfect for reading — are by Hans-Agne Jakobsson.
---
A group of works by Robert Longo forms a modern, dynamic composition in the primary bedroom of a Chicago home designed by Sasha Adler. "Rather than one large piece of art, this series really punctuates the otherwise incredibly calm space," she says. "The black-and-white pieces are neutral, but the movement gives them a sense of levity that brings so much energy."
Adler herself designed the white nightstands with brass accents, as well as the emerald-green-velvet daybed. She found the chandelier, by Bourgeois Boheme Atelier, on 1stDibs.