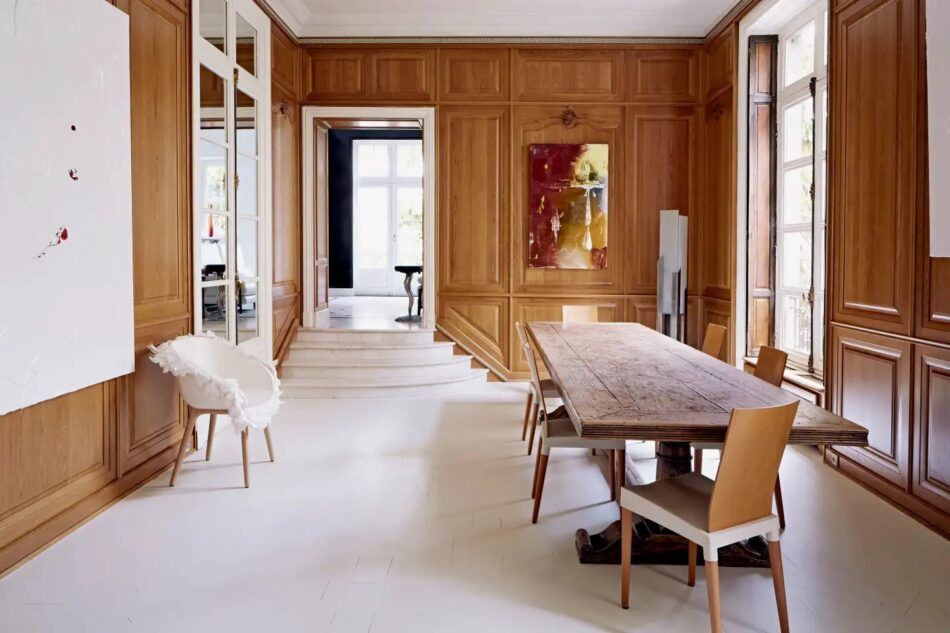 When designing a dining room in Paris's eighth arrondissement, Rafael de Cárdenas, the mastermind behind the New York–based firm Architecture at Large, had great bones to work with. The space, in a magnificent Haussmann-era hôtel particulier was sprawling and grand. The house, steps away from Parc Monceau, also had the type of details for which Parisian residences are known, including white-oak walls (which Cárdenas believes were installed in the late 19th or early 20th century) and generous, light-transmitting French doors.
"We restored the oak walls and even had one wall re-created and painted to match the weathering of the earlier paneling," the designer says of his initial work in the space, which was originally a sitting room. "Given the exuberance of the wood paneling, as well as the client's desire to have a house that felt contemporary, we let the walls be the most decorative element in the room." He made the tough decision to paint the floor in order to create a more neutral base for the furniture, given all the wood already there.
Before opening his firm, in 2006, de Cárdenas honed his aesthetic as a menswear designer for Calvin Klein and then as a creative director for the special-effects production house Imaginary Forces. That's why his visual conversations, such as the pairing of a locally sourced French country trestle table with a set of 1990s Philippe Starck for Kartell Miss Trip side chairs, feel so right. The white Piao paper side chair by Christoph John, Zhang Lei and Jovana Bogdanovic comes from the clients' own collection. The two artworks are by French contemporary painter Jean Dolande.
---
The living room of Milan-born interior designer Giampiero Tagliaferri's own Los Angeles home is like a hip private club where California modernism goes to meet postwar Italian cool. The residence was built in 1939 by architect E. Richard Lind — a protégé and colleague of the acclaimed modernist Rudolph Schindler — for his own use and is characterized by clean lines, an easy dance between indoor and outdoor spaces and the incorporation of natural materials like walnut paneling whose graining seems to flicker, even on a cloudy day.
In the living room, the woodwork not only frames the views of the greenery outside but also serves as a visual go-between, inviting the garden indoors. "These panels were cut to create patterns on certain walls, while they are plain and full height on others," Tagliaferri notes. "It feels very modern, even though it was designed more than eighty years ago."
The panels also provide a perfect setting for Tagliaferri's assemblage of vintage furnishings and artwork. "I specifically chose pieces in fiberglass, metal, leather and lacquer to create contrast with the background and visual tension in the design," he says.
There's a pair of brown leather Anel circular chairs by Ricardo Fasanello (who had a passion for cars and often incorporated wheel-like curves into his pieces), a white-leather and molded-fiberglass version of Joe Colombo's iconic Elda chair (named for his wife) and Angelo Mangiarotti's Eros side table — all found on 1stDibs. The cocoa-colored modular sofas and lounger are by German industrial designer Luigi Colani. There's also a Jumbo coffee table in Arabescato marble by Gae Aulenti and a collection of cactus-filled, cast-concrete indoor-outdoor planters by Adam Sirak. Other decorative flourishes include a tall, geometric Senufo bird sculpture, a cobalt-blue folded painting by Cesare Berlingeri and a large-scale photo work by conceptual artist John Baldessari.
---
The nearly century-old white-oak paneling and massive carved door in the dining room of a 1927 home in L.A.'s Hancock Park could easily have set a hushed, social-club-library tone were it not for the signature alchemy of Los Angeles interior designer and mid-century-decorative-arts expert Cliff Fong.
In Fong's interpretation, there's something distinctly California cool in the rhythms of the honey-blonde space. Perhaps it's the way Fong, who heads the design firm Matt Blacke Inc., deployed some distinctly unstaid furnishings, including a 21st-century petrified-wood and plywood dining table by Rick Owens and a sprightly set of Arne Jacobsen for Fritz Hansen Lily chairs. Or maybe it's the graceful reach of the 1950s wrought-iron Serge Mouille ceiling lamp mounted above, along with the pair of Stilnovo sconces on facing walls. The vintage Gerrit Rietveld Elling sideboard mimics the oak walls so eloquently it feels as if it were custom hewn to match them, while the corner sculpture by Jason Rhoades adds a spire of visual intrigue.
"This particular room expresses an emphatic feeling of progressiveness in the mixture of contemporary art and modern furniture set against a stately, strong and traditional backdrop," says Fong, noting that the homeowner is an art-world executive. "It's the contact between these values that my client and I most enjoyed exploring."
---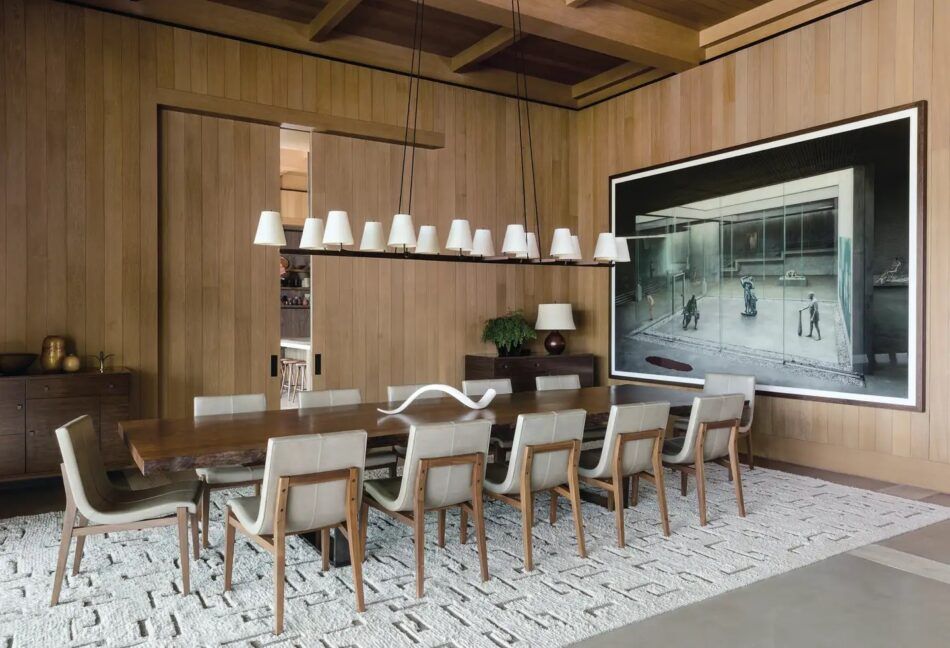 Plain-sawn white oak in a patinated champagne hue defines the dining room of an Aspen vacation home designed by Los Angeles–based Kerry Joyce. "The clients are avid art collectors and lovers of design," Joyce says, "so we wanted the home to be warm but not too dark, to recall the rusticity of Aspen without being stereotypical." In fact, he adds, "the entire house is paneled, which became the foundation and backdrop for all the other furnishing decisions."
Joyce employed rich walnuts, cerused oaks and bronze tones throughout the home, which was built by Backen, Gillam & Kroeger Architects. "These finishes look quite handsome juxtaposed with the mellow paneling," he notes. "I love the warmth that using natural wood brings to a room — particularly when it's done in a contemporary way, so that the room seems fresh and not dated."
He designed the custom walnut consoles nestled in the corners to subtly underscore the warm brown tones of Hudson Furniture's claro-walnut dining table. The paler wood of the arched backs of Holly Hunt's Siren dining chairs tie back to the lighter walls, while the tidy line of white shades along Jonathan Browning's brass chandelier offers a nice counter rhythm to the march of the seating. German photographer Andreas Gursky's Lehmbruck 1 presides over the room.
---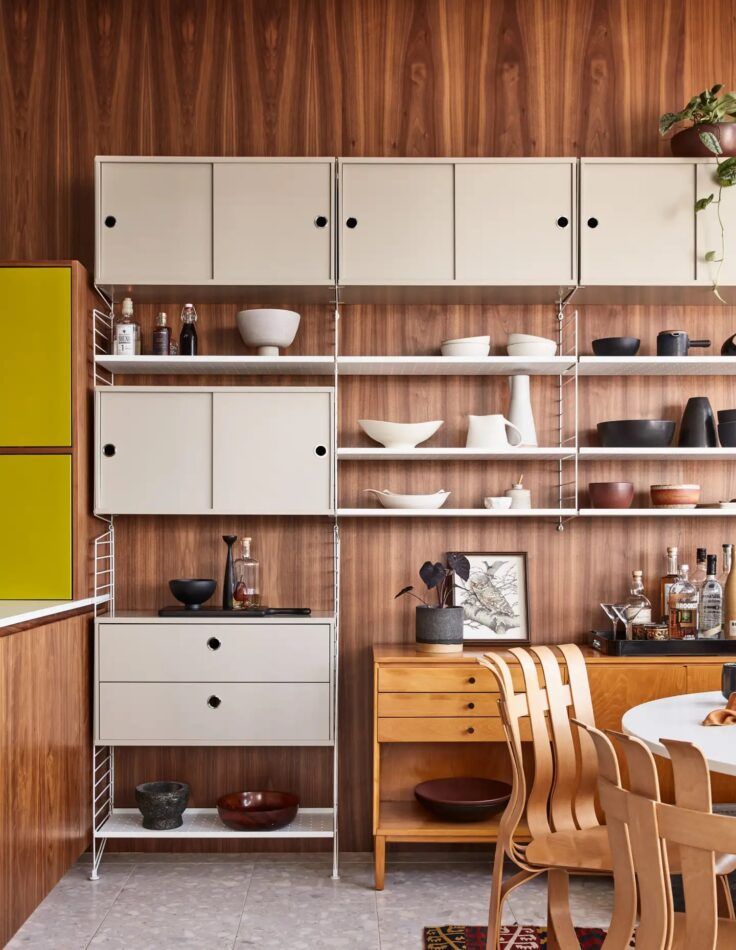 During the 1950s and '60s, California real-estate developer Joseph Eichler built nearly 11,000 tract-style houses in the San Francisco Bay Area and Los Angeles. Inspired by his own family's brief stint in a home built by Frank Lloyd Wright, he wanted to bring affordable mid-century-modern design to the middle-class. His housing featured clean lines, minimal ornament and natural materials.
"Eichler homes are known for their wood paneling," says Christine Lin, principal of San Francisco–based firm Form + Field, which was called in to revivify one of the developer's Bay Area residences, now owned by a pair of ardent cooks and art collectors. In the kitchen and breakfast nook, she notes, "the previous owners had removed the original paneling." She and her clients decided to bring it back as a nod to the home's history and chose vibrant, period-appropriate walnut veneers to do the job.
"The color of the wood in the breakfast nook ties in with the walnut cabinetry in the adjacent kitchen, so it feels like a cohesive space," Lin says. A system of off-white shelving allows the wood's lively auburn striations to peek through between the cupboards and drawers and serve as a background for the clients' collection of black, white and earth-toned ceramics and serveware. The Paul McCobb blonde-maple cabinet and Frank Gehry maple-and-plywood Hat Trick chairs are also the clients' own.
---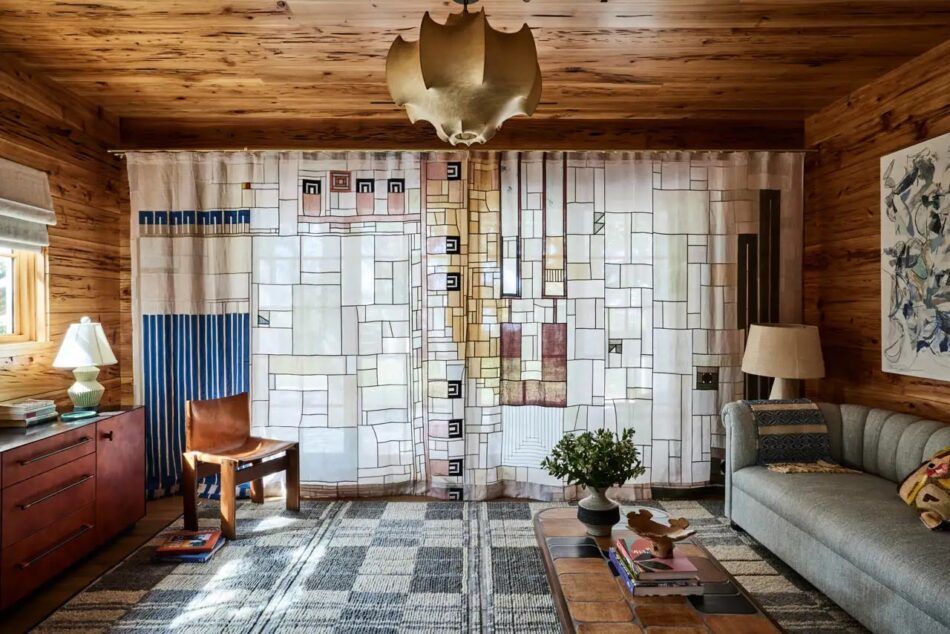 Miami-based Jennifer Bunsa deftly conjures a mood with her use of color, pattern and texture. For the study of a gut-renovated beach cottage in Jacksonville, Florida, her goal was to create a room that was at once warm, charming and family friendly while exuding an air of mystery. Also, per the homeowner's request, there were to be no white walls.
This was Bunsa Studio's third time working with the clients, an active family of five. Inspired by the simple 1930s cottages that were once abundant in the home's Ponte Vedra neighborhood, and by the weathered cottages of the New England coast, Bunsa used cypress wood throughout to add warmth. She switched to pecky cypress in certain rooms, such as the study, "to provide contrast, texture and differentiation." Pecky cypress, with its distinctive pattern of oblong holes, proved the perfect expression of the beachside ease that the designer and her clients sought.
Bunsa laid a custom rug by Christopher Farr across the hard oak floors and installed a large work by Los Angeles–based textile artist Adam Pogue as a scrim across the windows to add tone and softness. This creates a stained-glass effect as light streams in, touching the surfaces of the room's decor, which includes a heather-blue George Smith sofa, a BDDW credenza and a painting by North Carolina artist Brian Coleman. A 1960s Achille and Pier Giacomo Castiglioni for Flos Viscontea pendant light hangs bat-like over the tiled surface of Roger Capron's Shogun coffee table, which, like the 1960s Afra & Tobia Scarpa leather-and-walnut chair in the corner, was purchased on 1stDibs.
---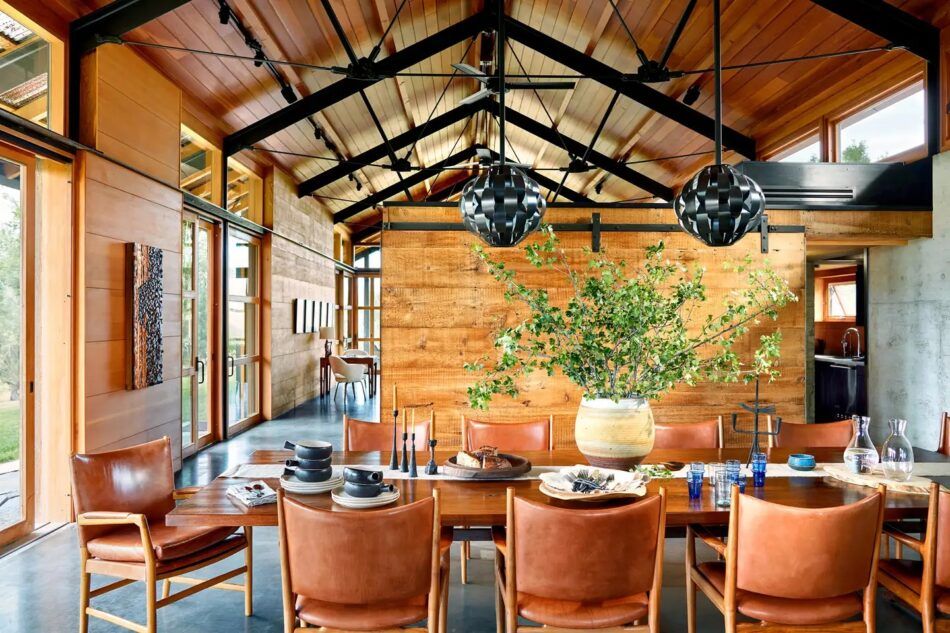 "There's nothing precious about this place," says Los Angeles–based Madeline Stuart, referring to the main living pavilion at LC Ranch, a complex of low-lying structures just outside Three Forks, Montana, on which she collaborated with David Lake, of San Antonio's Lake/Flato Architects. "This is a completely open house, and everyone — including the dogs — mills about from room to room, grabbing something from the fridge, hanging out in the living room or convening on the porch."
Constructed of concrete, black-steel framing and both reclaimed wood and new Douglas fir, the central building was inspired by the classic barns and sod houses that flecked the Montana prairie in previous centuries. (Indeed, LC Ranch's design includes some planted sod roofing, which helps it to blend with the landscape.) That called for furnishings that were comfortable, gutsy and durable, explains Stuart, who used lots of rugged upholstery, such as chestnut- and mahogany-toned saddle leather that would gain patina over time. "This is ranch living with a groovier vibe," she says.
The dining room, which is separated from the living room by a sliding barn door made of reclaimed wood, is a particularly high-traffic spot. Stuart designed the generously sized table, made from a single piece of claro walnut with a custom bronze trestle base, and paired it with a set of vintage teak-and-leather Hans Wegner chairs from Hostler Burrows. "We had to add to the original set, as there were only eight and the table seats twelve," she says. "We found others that don't necessarily match, but no one seems to mind."
Above the table hang two vintage Lightolier woven-metal globes that Stuart had painted to match the color of the steel trusses. Lake/Flato designed the armature to support them. Stuart bridged the dividing line between the dining area and the living room with a weighty 1970s artwork composed of small pieces of wood in various tones and shapes. "It's mesmerizing in its complexity and was a fabulous find at a terrific price," she says. "I love hunting for marvelous things that possess the ability to transform a space." Of the lofty, open room, which feels so at one with its surroundings, she notes, "The exposed wood structure and highly textural materiality of the space is an artwork itself."
---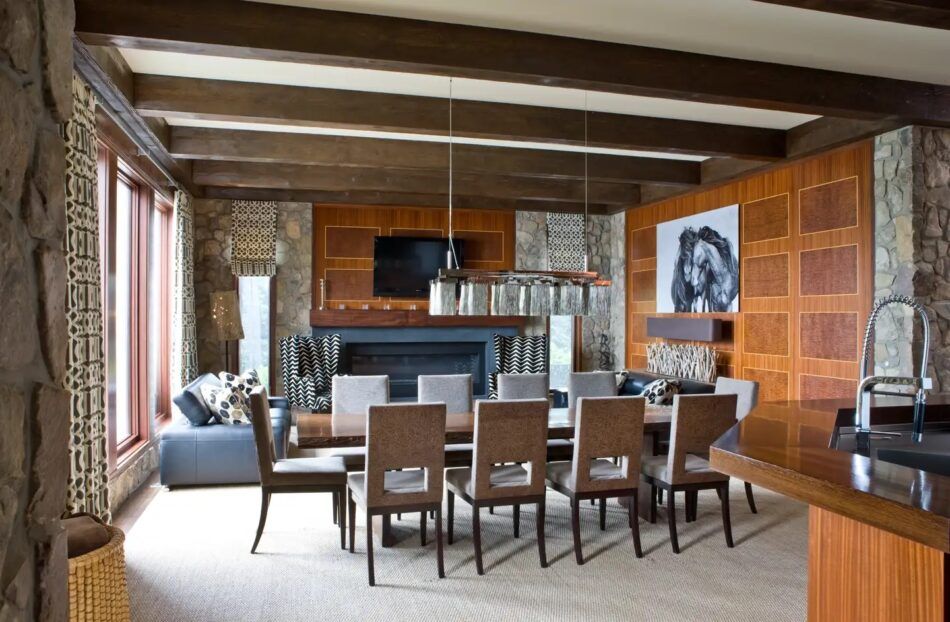 In the family room of a home overlooking the Southern River in Annapolis, Maryland, Robert Brown and Todd Davis, principals of Brown Davis Architecture & Interiors, deployed a distinctive, bold pattern of inlaid wood veneer to unify the space. "We used ribbon mahogany as the straight grain, maple wood for the frame inlay and madrone burl for the center fields," says Davis, whose Miami-based firm also has offices in Los Angeles and Washington, D.C. "It was designed to match the kitchen cabinets and help meld the two spaces. Paired with the cobbled pattern of the stone walls, it conjures a cozy environment that is at once rustic and inviting."
He and Brown chose a wood-slab table to give the room a lodge-like feel and a set of gray-upholstered Holly Hunt dining chairs that visually tie back to the palette of the stone; the glass chandelier overhead is also by Holly Hunt. A pair of custom wing chairs upholstered in a bold black-and-white zigzag pattern are tucked on either side of the fireplace. The slender floor lamp with a pierced metal shade to the left of the fireplace was found on 1stDibs. The horse photograph is by Romanian-born Canadian artist Roberto Dutesco, from his "Sable Island" series.
---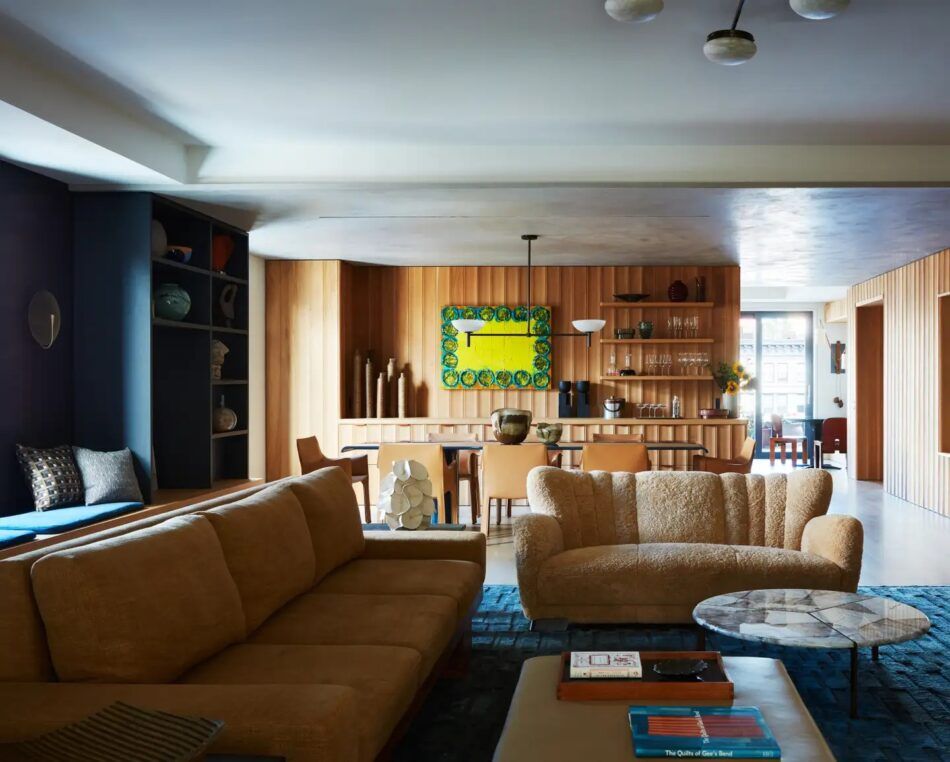 For the gut renovation of what had been a rather cold white-walled loft in New York's Chelsea neighborhood, Petra McKenzie and Jonah Kilday, partners in Brooklyn-based MK Workshop, collaborated with the project architects, Barlis Wedlick, and the clients on the decision to use wood paneling to tie the public spaces together. "We wanted it to work as a visual 'red thread' that the eye could follow throughout the dining and living areas," McKenzie explains. "By adding a good amount of organic material, we instilled a feeling of warmth and coziness into what had been an oversize, very modern space.
"Having a very large amount of white oak on the walls and the floor hugely influenced our choices for furnishings throughout," she continues. "We added deeply saturated, earthy colors to break up the wood surfaces and also stayed away, for the most part, from wood finishes on the furniture pieces. One big exception is the custom rosewood platform sofa with a huge exposed wooden back panel, which we designed as a statement piece for the space. The pronounced grain and rich dark color make it feel more like a piece of art floating in the room than like another wood finish."
They introduced a variety of other materials in the decor, like stone, steel, leather and heavily textured plush fabrics and rugs. "Even the custom-designed dining table has no wood parts and was instead crafted from high-gloss lacquered aluminum," McKenzie notes.
Many of the loft's pieces were purchased on 1stDibs, including the Afra & Tobia Scarpa leather dining chairs from MORENTZ in the breakfast area, the brass-and-alabaster Galerie Glustin ceiling lamp and the pair of mid-century Adrian Pearsall slate-and-walnut side tables from Patina Decor flanking the sofa.
Displayed along the back wall are decorative objects also found on the site, including a collection of Anfora vases from 2017 by Brazilian artist Domingos Tótora, a dark-bronze long bowl by FAKASAKA Design and a pair of iroko-and-oak goblets signed by Arno Declercq. Objects on the blue shelves at left include two red sea-fan specimens mounted on Lucite, a Cubist clay sculpture by Doug Rochelle and two hand-painted, hand-glazed mid-century works — a two-faced sculpture and a harlequin figure — by German folk-art ceramist Eva Fritz-Lindner.
---
"This kitchen is in one of the most beautiful prewar apartment buildings on New York's Fifth Avenue," says architect Peter Pennoyer. The space is part of a project he and his wife, interior designer Katie Ridder, took on in a Rosario Candela–designed building with covetable views of Central Park and the Frick Museum.
"The room is done entirely in quarter-sawn white oak with plain-sawn panels," says Pennoyer. "This is our go-to wood, as it has character, with varied grain, and takes stain well. It is also durable and available in solids, so we don't have to rely on veneers.
"The wood paneling pulls the whole room together, so that instead of contrast between cabinets and walls, we have an all-encompassing, tailored envelope that even frames the ceiling," he continues. The gleaming Calacatta marble of both the stove's backsplash and the room's skirting boards add a bright, clean accent.
Ridder selected two double-banded Holophane pendants from Ann Morris to light the kitchen island and a pair of Norman Cherner stools for occasional seating. Notes Pennoyer of the whole, "Wood brings warmth and character to a room and has the benefit of looking better with age, which is not always true of painted kitchens."
---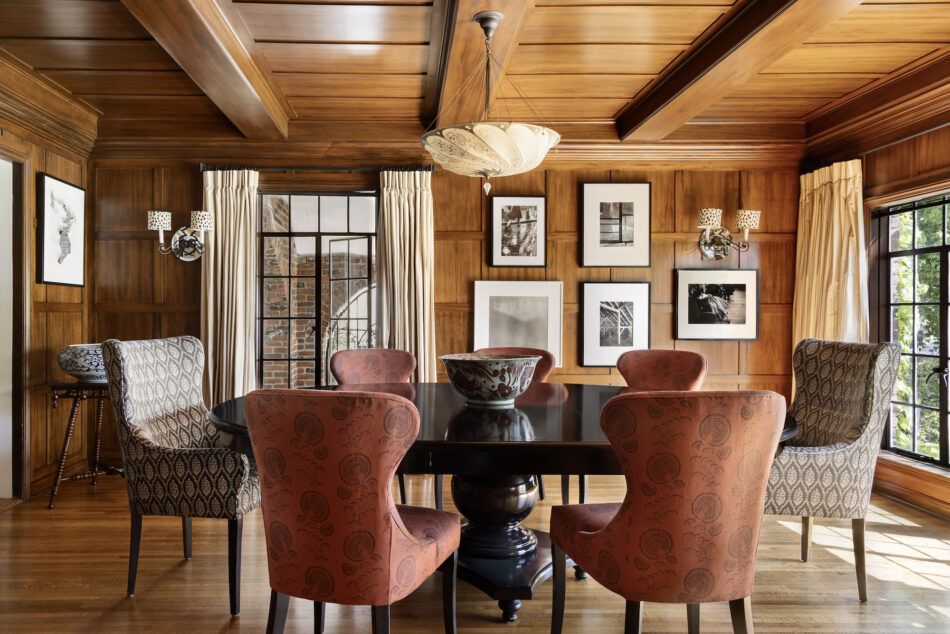 "There's really nothing as beautiful as natural materials in a room," says Los Angeles–based designer Betsy Burnham. "Wood brings depth, warmth and an overall richness to any space."
The mahogany-paneled dining room of a Tudor-style home that her firm, Burnham Design, transformed in L.A.'s Hancock Park offers an elegant case in point. The subtle grid of stile-and-rail paneling is original to the house and runs throughout the entry, dining and living rooms. "It's the first thing you see when you enter the house," says Burnham, "and the client wanted us to honor and respect it." She did so by bringing in an array of furnishings in a variety of wood tones, including the warm brown of the host and side chairs by Lee Industries and the darker, ebonized hue of the pedestal-base dining table.
"We chose an ivory-and-black stripe for the drapery, which mirrors the palette of most of the art — the clients are avid collectors of black-and-white photography — and brightens up the wood a bit," Burnham says. "And we kept this thread of black in the rest of the pieces, including the fabrics we chose for the chairs, which both have subtle black patterning."
Among the photographs on display are Wolf Suschitzky's 1937 Charing Cross Road, Thurston Hopkins's 1955 Sharing a Chair and John Szarkowski's 1950 Screen Door, Hudson, Wisconsin, all purchased through 1stDibs dealer Peter Fetterman. The bobbin side table in the corner, the sconces and the chinoiserie bowls were all found on 1stDibs, too. The clients' own vintage Art Deco silk pendant light provides the finishing touch.
---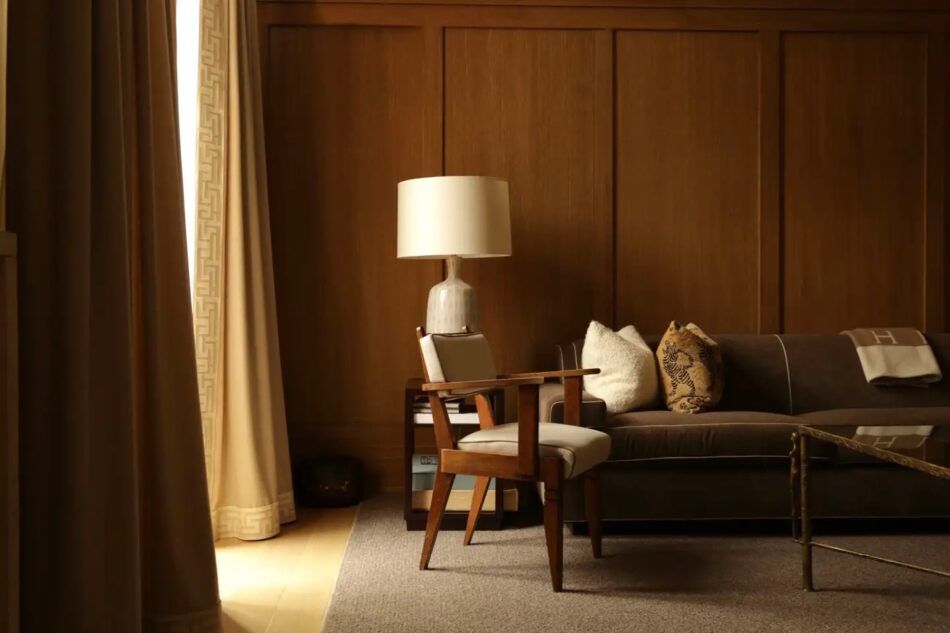 The quiet old-world quality of the light that shifts across the family room of a Brooklyn home created by Eli Dweck seems completely at odds with the fact that it is occupied by a busy family of five. Then again, Dweck had looked to the works of acclaimed 19th-century English architect Edwin Lutyens for inspiration when designing the ground-up build. The clients loved Lutyens's emphasis on form, symmetry, proportion and order. The interiors are steeped in these values too. Their expression is nowhere more apparent than in the sleek pattern of the family room's white-oak paneling.
"We took care selecting each panel for its tone and grain movement," says Dweck. On the street side, the panels meet floor-to-ceiling windows, which "bring natural light into the room and effortlessly mingle with the toasty wood tones." Against this, the designer layered in softer elements, like the bisque-toned Holland & Sherry drapes (trimmed in a classic Greek-key fabric by Samuel & Sons), a velvet Ferrell Mittman sectional sofa in a dusky cigar shade and an area rug from Weinstein by Stark. Smaller textural flourishes include throw pillows in wool shearling and nubby bouclé and a cocoa-and-beige Hermès blanket. The Edward Wormley side table, the metal-and-glass coffee table and the oak side chair upholstered in a colorway that's the reverse of the sofa's were all sourced on 1stDibs.
"Wood and other natural materials fill us with a sense of peace and ground us within time and space," says Dweck. "Bringing outdoor materials like wood inside is not only aesthetically attractive but has a calming energy."