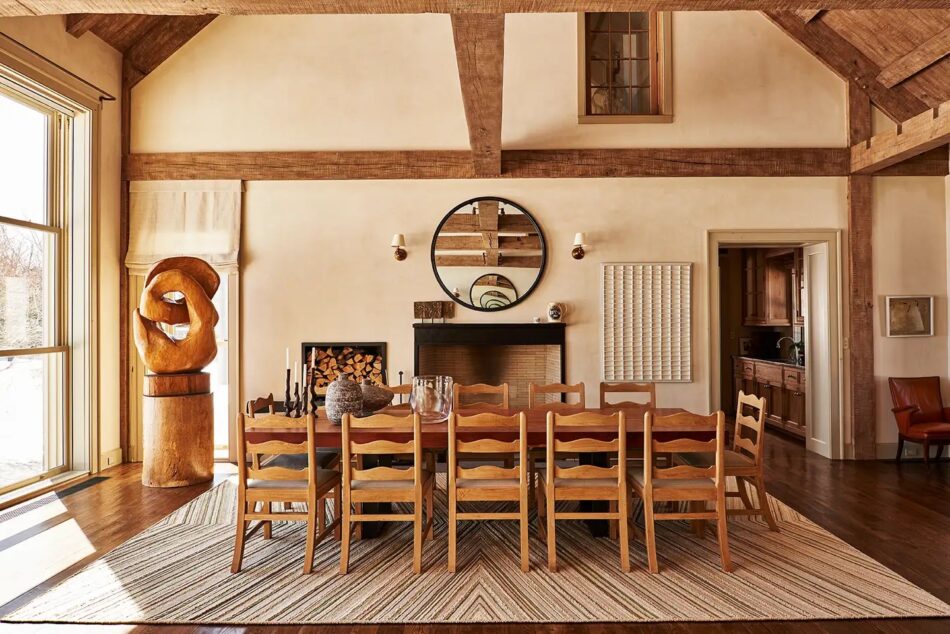 Interior designer Michael S. Smith says that for this barn-like post-and-beam Hamptons home by architecture firm Ferguson & Shamamian, he was "trying to concentrate on the most reductive aspects of vernacular American style — the organic, almost agrarian saltbox form — as a starting point but pushing them in an interesting way."
To that end, he conceived the dining area of the open-plan great room as a "vision of the materiality and simplicity of agrarian life," with handmade ladderback chairs from Jamb and a custom reclaimed-wood table. The carved mid-century sycamore sculpture by the self-taught French artist and furniture maker Alexandre Noll jibes with that embrace of handcrafted materials.
It also serves an important function. "Scale is hard in a barn — how do you humanize those tall open spaces and bring them down?" Smith asks, explaining that Noll's sculpture adds a weight and volume that ground the room's lofty airiness, so people don't feel dwarfed by its cavernous expanse.
---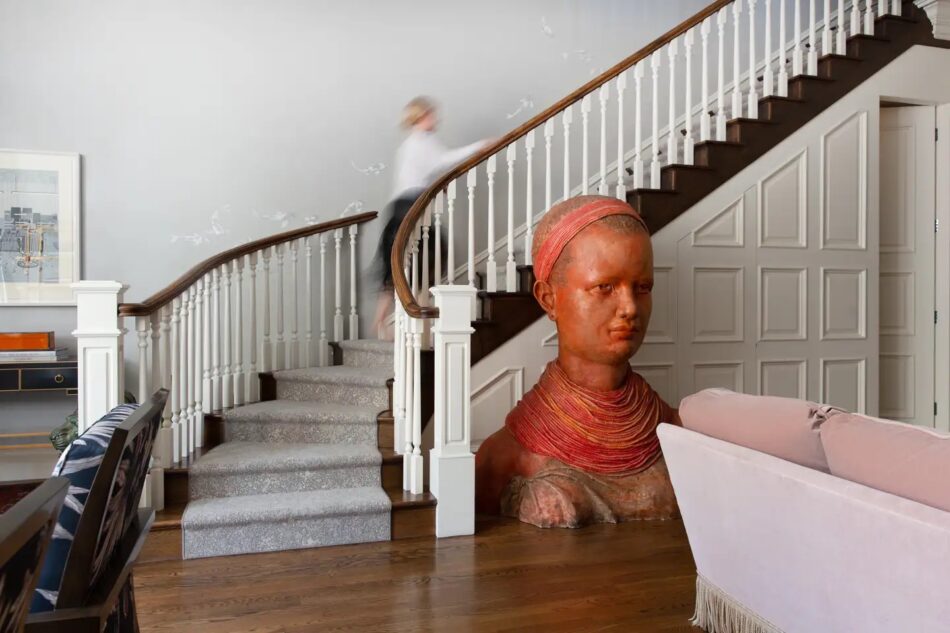 The collectors who own this home in San Francisco's Pacific Heights came across the unusual African sculpture that now dominates their entryway at San Francisco Academy of Art University while out on an evening walk. Called Tranquility, it was made from a single block of clay by an anonymous artist.
At the time, their residence was under renovation, so they had the stair adjusted to wrap partially around the work. A decade later, ABD Studio was brought in for another revamp, and "Tranquility became the impetus for many design decisions," says firm founder Brittany Giannone. "The team incorporated the same burnt-umber color of the clay throughout the space."
Despite its size, she notes, the sense of peace it radiates means that "most visitors do not initially notice its presence but rather will recognize later that they've walked by it." One exception was the owners' nephew, who crossed the room to avoid it until he was older. "Now, he has come to admire it," Giannone says.
---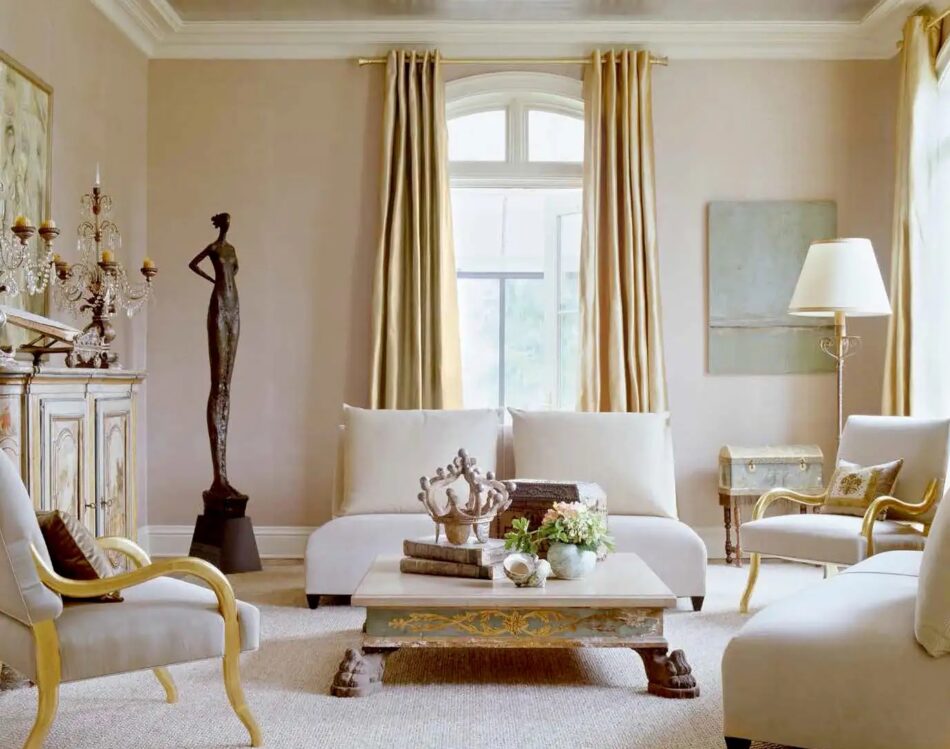 "I don't know that you can get a more impactful element than bronze in a room," says Tara Shaw, who designed this home in New Orleans for chef Emeril Lagasse and his wife, Alden. That belief led her to the Tom Corbin sculpture that surveys the living room from one corner.
At nearly six feet tall, she notes, it adds verticality to an otherwise low-slung group of furnishings, which includes contemporary seating and antiques found on her travels in Italy. The coffee table is a repurposed 18th-century altar with its original water gilding, to which she added a marble top and claw-foot legs. At left is a 19th-century Italian credenza topped by Florentine crystal candelabras from the same period. "I'm always looking to layer in textures, which I do by using work from artists and artisans," Shaw explains.
---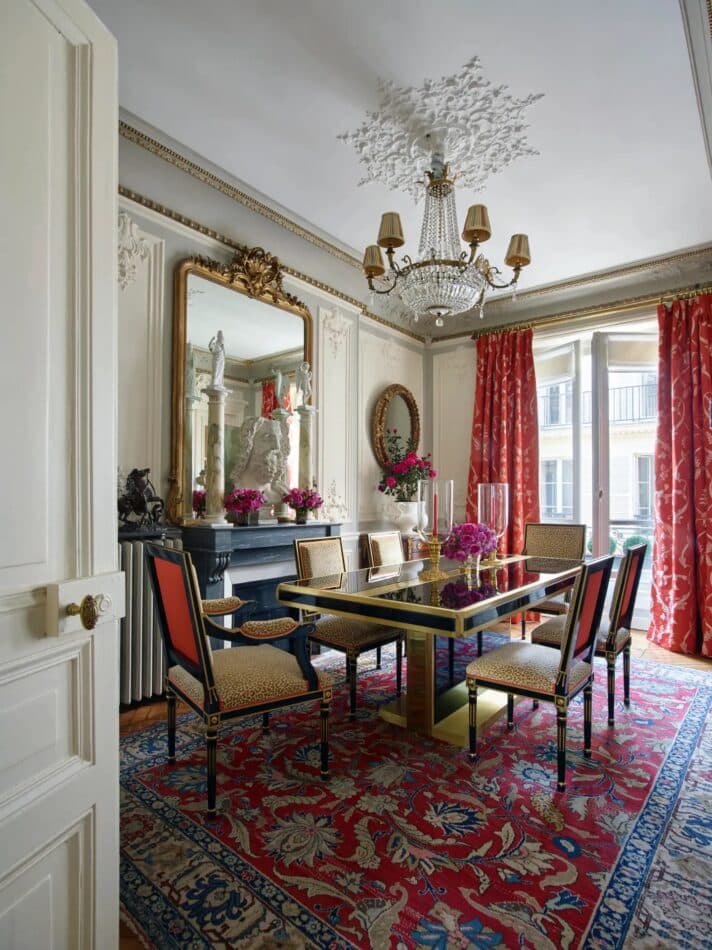 "I love using plaster sculptures in a room," says Timothy Corrigan, "because they provide strong visual impact but the soft white surface isn't overpowering in the way that bronze would be at the same scale." Case in point: the early-19th-century plaster bust of Zeus that Corrigan deployed on the mantel of this dining room of an apartment in Paris's 8th arrondissement.
Each unit in the 1800s Haussmann-style building occupies a full floor, so generously proportioned spaces are the norm. The bust, as well as the marble columns with bisque figures of Zeus's progeny Athena and Aphrodite, enhances the neoclassical envelope of the interior, which retains its original boiserie.
In the center of the room, Louis XVI–style chairs by Moissonnier (upholstered in Corrigan's own Madeleine velvet for Schumacher) gather round a 1970s table in lacquer and polished brass. Overhead is an 1865 Napoleon III chandelier.
---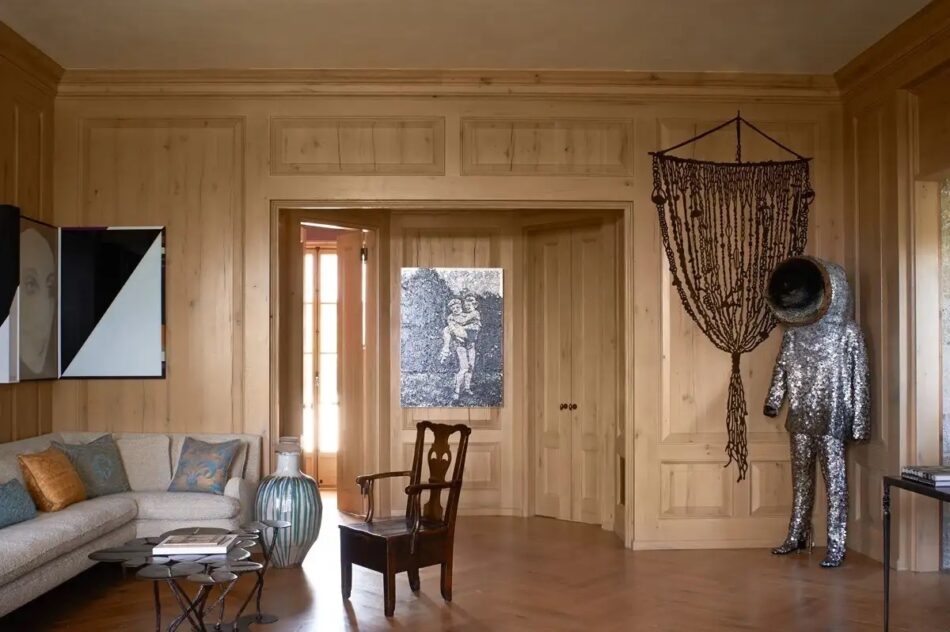 Art is integral to the lives of collectors Stephanie Ingrassia (a board member of Brooklyn Museum) and her husband, Timothy. So, it's little surprise that the estate they built on an old dairy farm in New Preston, Connecticut, shelters many important works. In this wood-paneled living room, "everything was very matte," says Ellen Hamilton, founder of Hamilton Design Associates. "It needed a little sparkle."
The requisite sparkle comes in the form of a sequined Nick Cave Soundsuit that stands in one corner of the room, as well as a Mickalene Thomas sequin portrait, pictured at center. Fortuny pillows on the Vladimir Kagan sofa add more-subtle shimmer, contrasting with the witty inclusion of a Belgian 18th-century latrine chair (chamber pot removed) on the other side of the Lalanne bronze coffee table.
---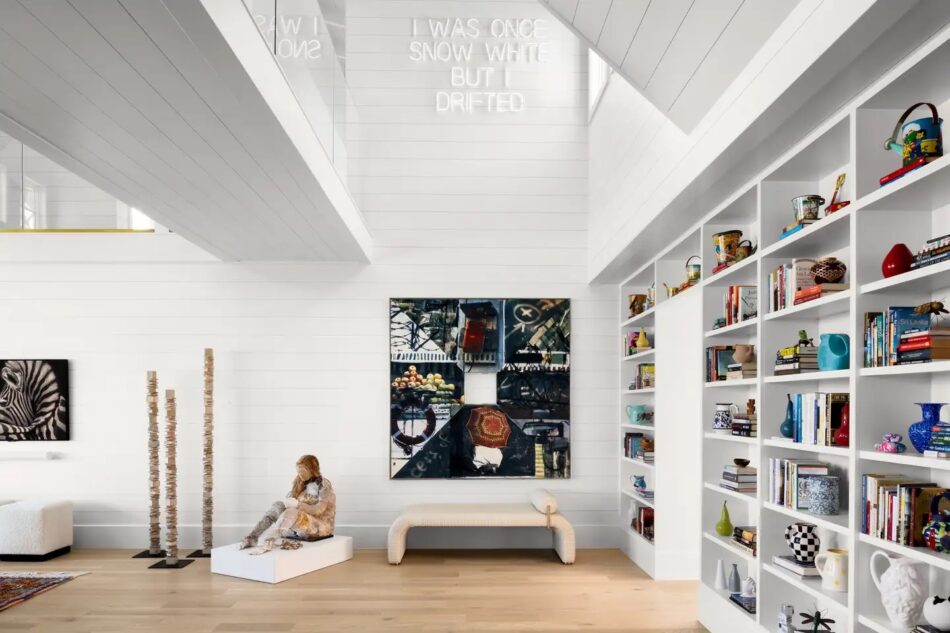 Jamie Merida's client rescued a beach house on Sanibel Island, Florida, that had seen better days and sought to make it her own. "We were looking for a way to exhibit her many collections," Merida says, including vintage painted sand pails, Thomas Moser furniture and ceramics. An entry hall, adjacent to a high-ceilinged great room, accomplishes some of this. Here, Leila Walker's Unknotted, a sculpture composed of shimmery, diaphanous fabrics over a metal armature, "stops your eye before it continues out to the view of the bay," says the designer, who raised it on a pedestal to give it more of a sense of presentation. "She loved how evocative it was of a little girl reading."
That piece is joined by a trio of stacked-stone totems. A painting by Darryl Pottorf (chief studio assistant to Robert Rauschenberg in the 1990s) hangs over a Global Views bench. Above is a neon work commissioned by the homeowner and inspired by a Mae West quote.
---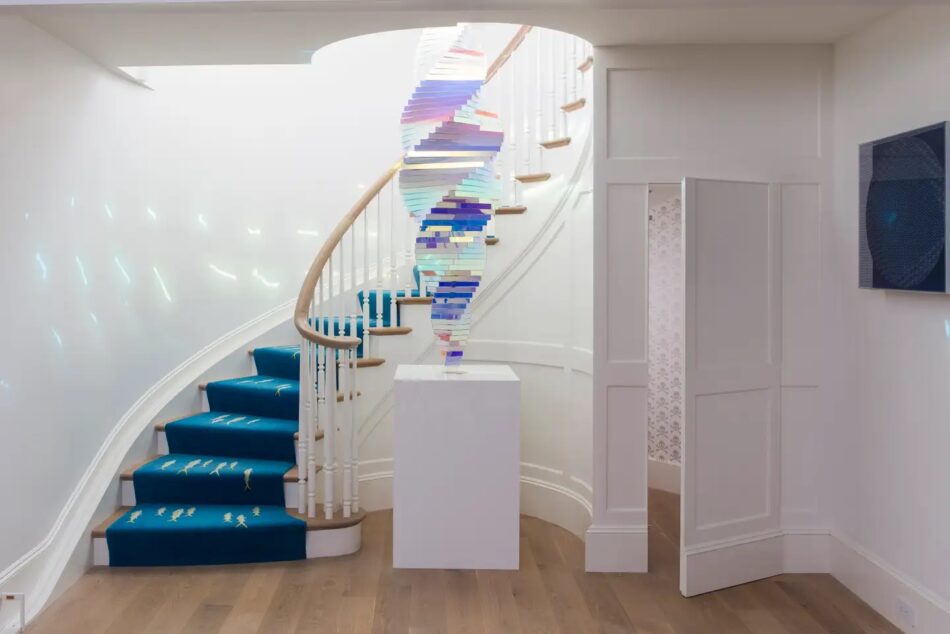 In the entry hall of a new home in Chappaquiddick, Massachusetts, Alyson Shotz's stacked-glass sculpture, incorporating dichromatic film, creates a mesmerizing effect. "It brings a sense of life and light to an inner space," says Elizabeth Georgantas, principal of Georgantas Design + Development. "It casts sparkles on the wall and up the stairs, and it changes throughout the day."
The piece's dancing displays of light and its feeling of twirling motion also possess an interesting synergy with the former ballerina who owns this house with her husband, a hedge fund executive. The couple commissioned the work directly from Shotz, who is best known for much larger sculptures and public installations. To the right is a work by Robert Savoie.
---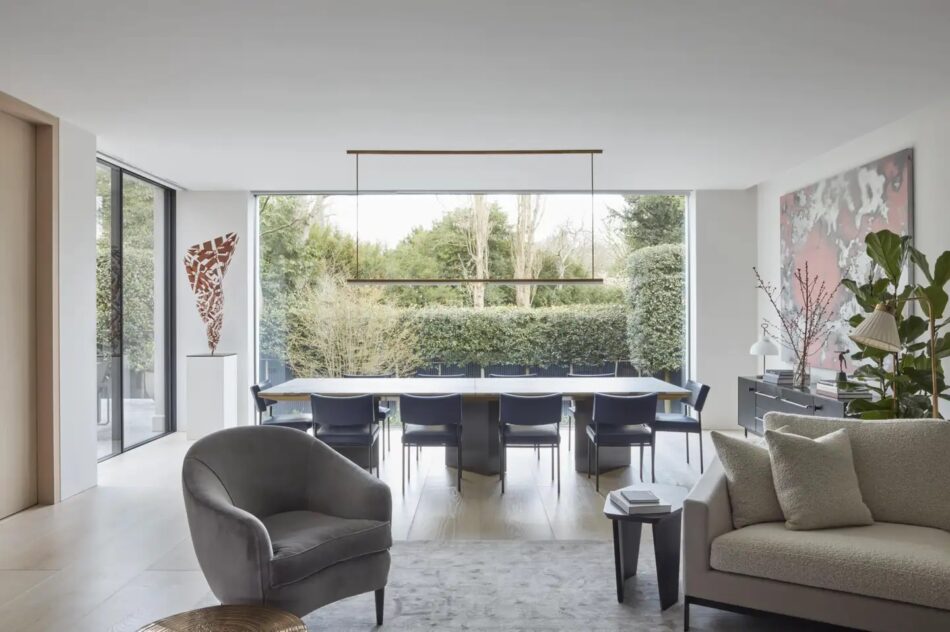 When developing the scheme for a gut renovation of this London home, Tamzin Greenhill concentrated on designing rooms that were "serene, balanced and symmetrical." In the lower-level dining room, she achieved this primarily with furnishings characterized by straight lines, such as a BDDW console, a custom table and chairs by postwar French designer Joseph-André Motte. But she animated the orthogonal neatness with art, placing one of Conrad Shawcross's Fracture sculptures, made of weathered steel, in the corner.
"The piece brings a totally different dimension to the room and, for me, completely makes the space work," she says. "It gives the room life. It feels like nature or like a tree, and I love how the light passes through it." The painting at right is by Toby Ziegler, whose oeuvre oscillates between representation and abstraction and contributes here to the sense of movement initiated by the Shawcross sculpture.
---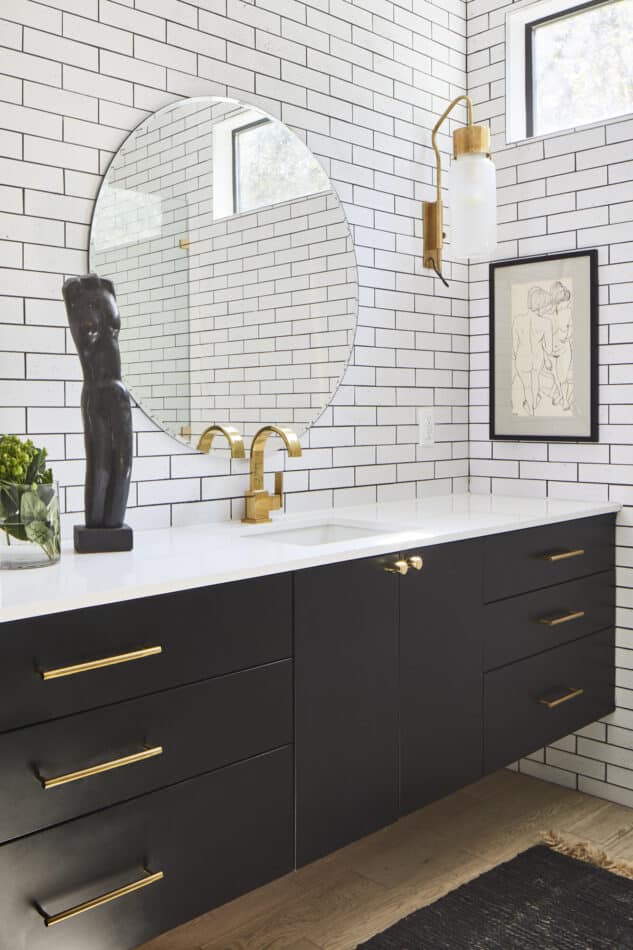 Bathrooms and kitchens are not places one usually expects to see sculpture. And that's the point for Sara Cukerbaum, founder of SLIC Design, in Austin, Texas. This bath is part of the primary bedroom suite she built onto her own circa 1963 bungalow in the city.
The white-painted terracotta bricks chime with the home's mid-century vibe, as do 1950s Luigi Caccia Dominioni brass lights, purchased through 1stDibs. Cukerbaum found the ebony-stained wood torso on her travels.
"When we bring art into a kitchen or bath," she explains, "it's to give it more character and personality. It makes the room feel more personal and also less like just a utilitarian space." The work on the wall adds a personal note, as well: It was created by her grandmother, who was an artist.
---
For clients who had relocated from New York to a Dolores Park home at the edge of San Francisco's Mission District, Lauren Geremia decided to include a piece of Manhattan in her interior design scheme. The piece in question is a reflective glass sculpture by artist Jeff Zimmerman, purchased from Tribeca gallery R & Company.
The work hangs in the living area of a long multiuse room that also includes a dining area, a kitchen and a breakfast nook. "I thought it would be dynamic to see the whole space in reflective spheres that are activated with any signs of life and draw your attention and your eye up to it," she says. Also visible in the spheres are the room's furnishings — among them, a pair of greyhound sculptures found through 1stDibs and a sofa from Phase Design.
---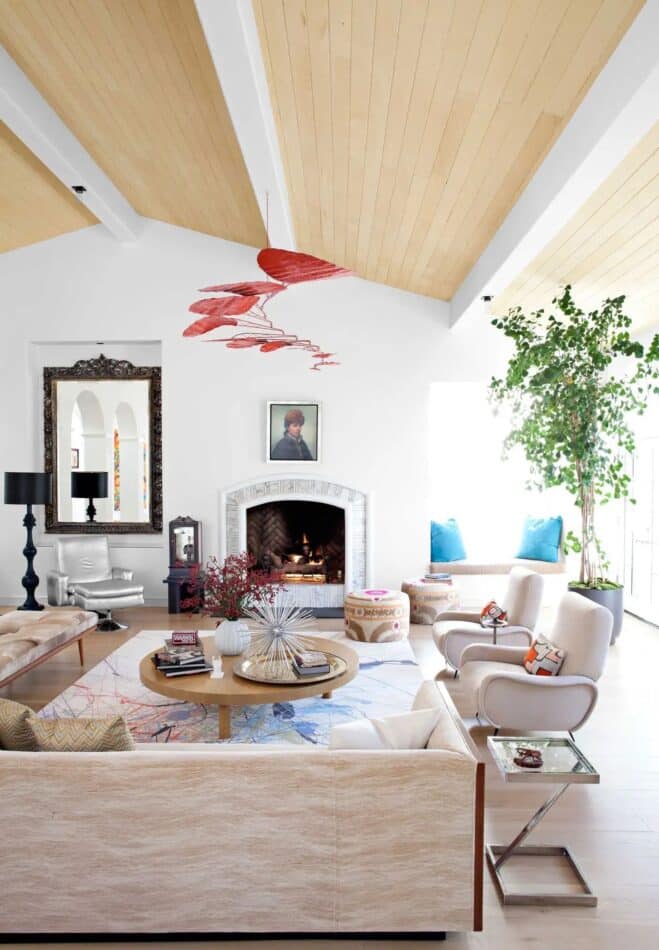 "Sculpture elevates a space," says Todd Nickey, of Nickey Kehoe. "We could have put a chandelier here, and people would have said, 'Oh, this is a living room.' But with the mobile, it feels more like a gallery."
Nickey notes that the vibrant red piece, conceived by Palm Springs gallery owner Colin Fisher, lends "a sense of animation and movement" to this living room, located in a renovated Malibu ranch house whose former owners include Charles Bronson and Olivia Newton John. The eclectic furnishings — original Gio Ponti chairs, custom Suzani poufs, a 1970s lounge chair upholstered in silver lamé — are joined by a mechanized Tom Haney sculpture, next to the fireplace, depicting a man hawking merchandise from inside his coat. Clearly, the homeowner is a collector with a sense of humor. The mobile, adds Nickey, "is the first piece I bought. We built the room around it."
---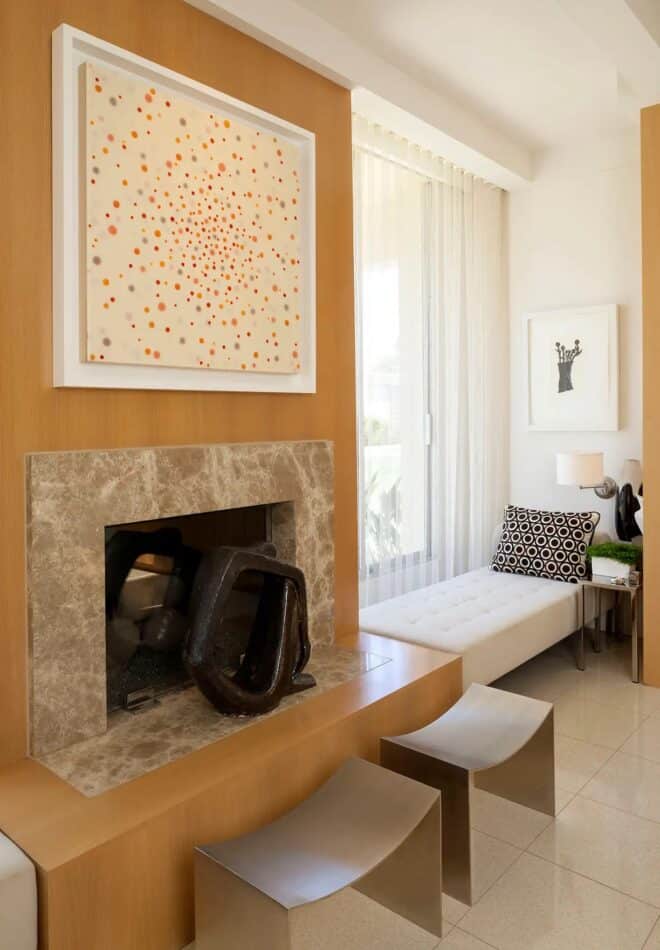 "I was attracted to the shape because it was a kind of a circle," says Vance Burke, referring to a ceramic sculpture by A. Knistian that he purchased in Palm Springs. It now sits in front of the kitchen fireplace in his Palm Springs home, framed by a mantel of Emperador marble.
"I'm always attracted to circles and squares," he explains. Circles repeat throughout the space: in a pigmented-glue work by Heidi Van Wieren above the fireplace, in the flowers of a Donald Baechler piece in the window seat and in a pillow made from a repurposed table runner from the 1950s.
"I like that the figure looks like he's warming himself by the fire," Burke says. "In a different setting, in that curled-up fetal position, he might have looked sad." Even the steel benches, where Burke and his guests can also warm themselves, "allude to a portion of a circle," he points out.
---
The clients who asked Marcus Mohon to renovate this large Fort Worth, Texas, residence for their growing family came to the table with exquisite collections of art and artifacts. In the family room, Mohon used an African Dogon ladder they had purchased on their travels as a sculptural element.
"Its strong graphic profile, heft and dark finish help balance the darker millwork and fireplace on the opposite side," he explains. "Its shape also stands in sharp contrast to all the straight lines and the clean nature of the millwork. This piece keeps the room interesting and dynamic." Materially, it also has a rapport with the chunky wood and rustic carving of two tables in the seating area. The custom sofa, A. Rudin sectional and chair from Gregorius Pineo all exhibit clean, modern lines and neutral tones that allow the textural qualities of these pieces to stand out.
---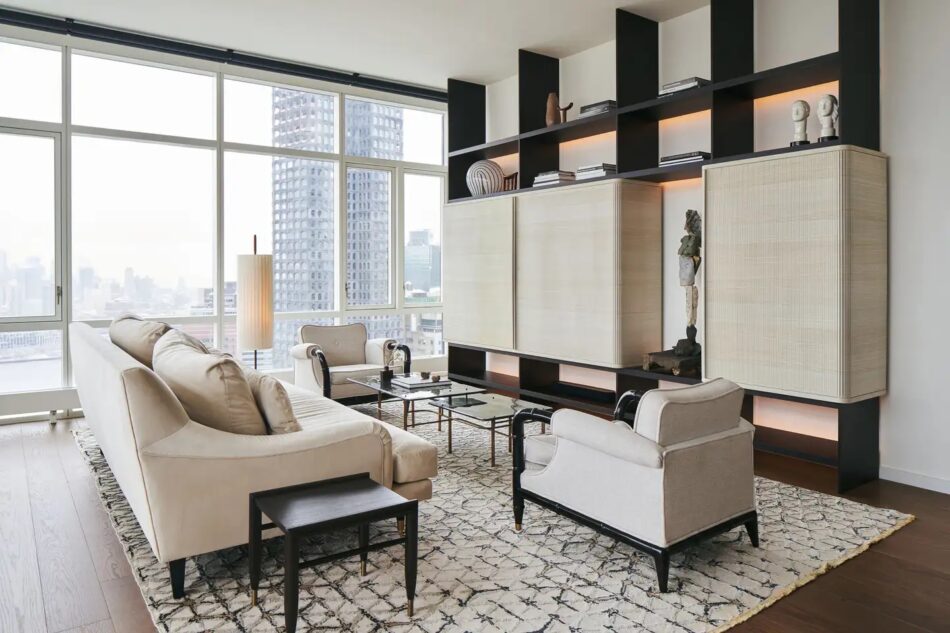 Bridging the dichotomies inherent in a residential tower that rises out of a 19th-century landmark was Magdalena Keck's mission in this 43rd-floor apartment above the old Temple Court Building in downtown Manhattan.
Keck went appropriately modern and swanky with the living room's Galileo sofa by Patrick Naggar, lounge chairs by Mexican mid-century architect Arturo Pani from Compasso and a coffee table in brass and cast glass by Bruno Moinard. The Dórica floor lamp by Santa & Cole mirrors the rounded corners of Keck's custom-designed tambour cabinet.
A niche in the latter holds the pivotal element, one that adds a sense of time and history. Leg with Blue Wing, a clay and bronze sculpture by American artist Stephen De Staebler, "pays homage to antiquity while capturing relationships connecting the body and earth," says Keck. "Art expands one's experience in the space. . . . It is the perception between the viewer and the work that creates the energy that in turn resonates through the physical space."
---
Refreshing a 1934 Regency-style home in Atlanta was the task before designer Melanie Turner and architect Yong Pak, and they tackled it with uncluttered spaces, bright color and tongue-in-cheek wit.
An example of the last is the placement in the family room of one of the owner's artworks — a bronze by contemporary sculptor Jean-Louis Émond. It sits on a pedestal before Andrew Moore's photograph of a museum's enfilade of galleries, Room 348, Detail, St. Petersburg, from Jackson Fine Art. Its scale makes the sculpture appear as if it's on exhibit in the museum too.
Bright white walls with classical details and sunny yellow Hickory Chair seating around a Made Goods pedestal table bring the 1930s residence into the now. Oly Studio's white modern sculpture creates an interesting counterpoint to the Émond nearby. Observes Turner, "The void in the room — meaning the sparer use of furnishings — elevates both sculptures."
---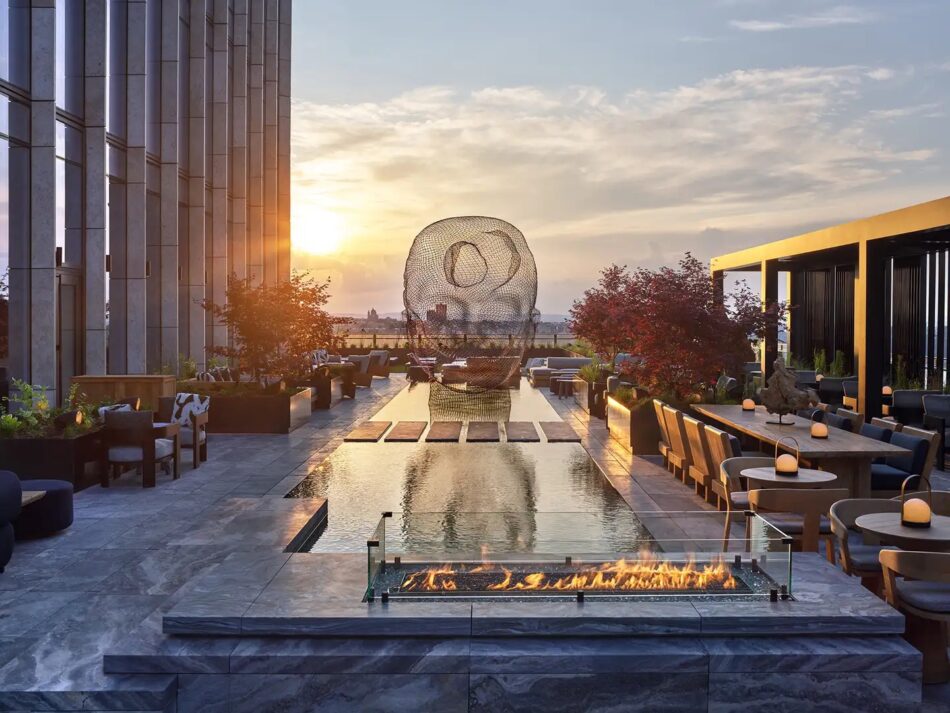 When the Rockwell Group designed New York's Equinox Hotel, it installed a monumental Jaume Plensa sculpture above the sleek reflecting pool on the rooftop terrace of Electric Lemon, the property's restaurant. Without it, the vibe would have been completely different. The space's individual elements — the light stone tiles, the dark the pool, the live-edge wood lounge chairs — in themselves would certainly have been evocative enough to create a "luxurious environment," says the firm's partner and studio leader, Greg Keffer, who spearheaded the project. But they attained depth and meaning with the inclusion of Plensa's artwork.
The design scheme has since changed, but Keffer feels the sculpture brought an incontrovertibly serene, still presence to whatever was around it. "We love how it added volume and drew the eye to the view of the Hudson River," Keffer explains. "Plensa's work evokes the human body, memory and spirit, all ideas we celebrated throughout the hotel."