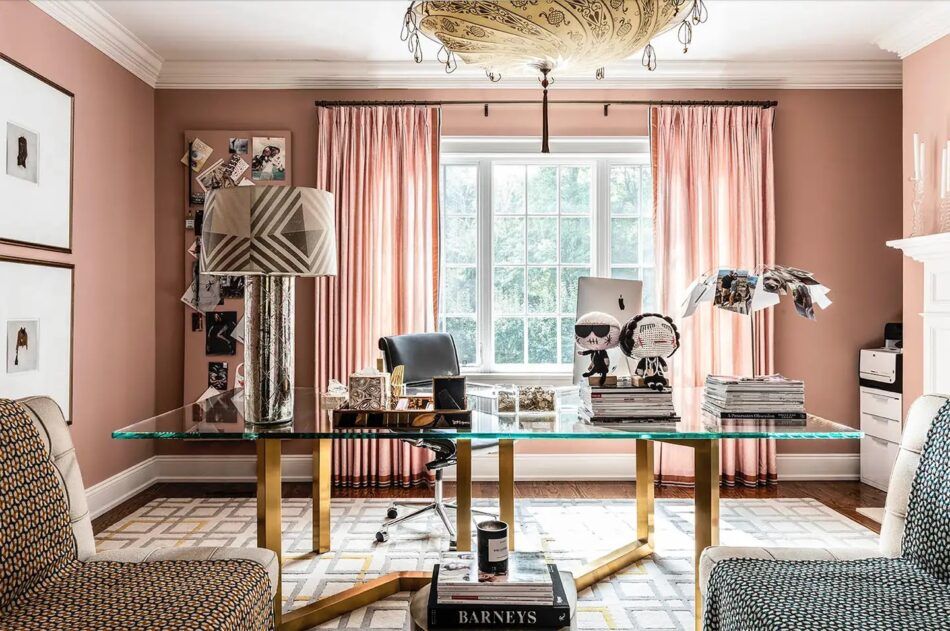 It's been more than 60 years since Mattel presented Barbie — and the world — with her first-ever Dreamhouse, a folding-cardboard dorm-style room done up in fuchsia tones.
With Greta Gerwig's live-action Barbie movie, starring Margot Robbie and Ryan Gosling, set to open July 21, 1stDibs thought it the perfect time to dream up a different sort of Dreamhouse, composed of 13 rooms where anyone who loves glamour — including a certain long-limbed, blonde-tressed doll with a penchant for pink — could feel gloriously at home.
---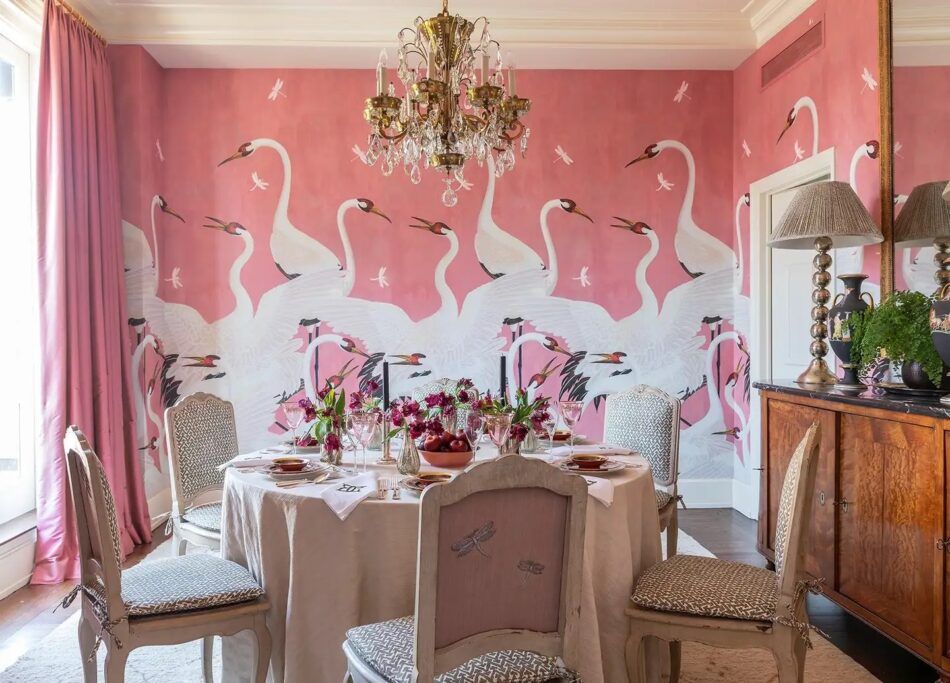 In the dining room of a terraced penthouse apartment on New York's Sutton Place, the sunlight that pours in through French doors highlights the bubble-gum-hued Gucci wallpaper, thrumming with a siege of large-scale herons and dragonflies.
Six 19th-century Louis XV–style dining chairs gathered around the circular table display silver-threaded dragonflies on their upholstered backs, "to draw the details of the wallpaper out into the middle of the room," says Courtney Coleman, one half of the New Orleans and New York design firm Brockschmidt & Coleman, who conceived the space. (Like the 1940s Maison Baguès chandelier overhead — in gilt and lacquered bronze, replete with pearls and crystal pendants — the chairs were purchased on 1stDibs.)
Bill Brockschmidt adds, "We countered the strong color of the walls and curtains with trace accents of black in the dining-chair upholstery, the neoclassical urns from Bardith and the marble-topped sideboard, which came from the collection of the client, a woman who divides her time among New York, Florida and Massachusetts."
While Barbie was nowhere on the duo's mind during the design process, Coleman admits that she was an early inspiration. "Growing up, my best friend and I created sensational houses for our Barbies with swatches of French damask fabric cadged from a family decorator and dramatic dining rooms where the china was custom-painted and the champagne — aka Sprite — was free-flowing!"
---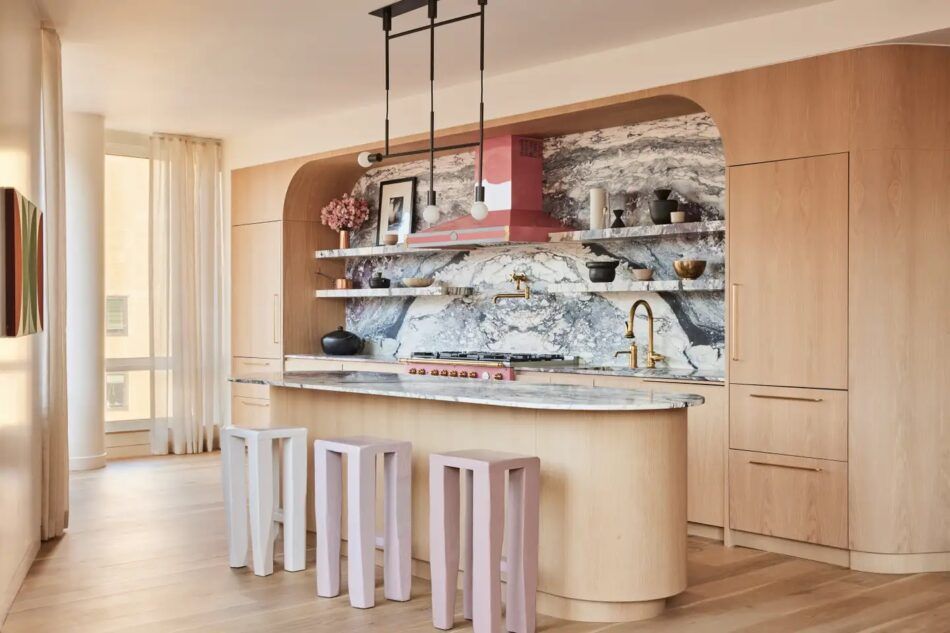 Although the first Barbie Dreamhouse had no kitchen (a radical omission, considering that dollhouses were meant to enchant young girls with the idea of domestic labor), it's easy to imagine Barbie, her sister Skipper and her best friend, Midge, perched in a leggy row atop the trio of David Larsen Studio stools that line a blond-wood kitchen island in an apartment in New York's Chelsea neighborhood. The home in fact belongs to a couple with three children who asked New York–based firm Le Whit for help with a remodel after they acquired the neighboring unit.
"The clients chose the stove years before we were tapped to renovate the space," says firm principal Liza Curtiss, explaining that she and partner Corey Kingston worked to incorporate Suzanne Kasler's distinctively pink La Cornue stove into their design. "We wanted it to stand out without sticking out, so we chose all the finishes with care."
The fashion-designer wife had always been fascinated by the curves and whimsy of Antoni Gaudí's architecture, which influenced their approach as well. "The recessed arch that surrounds the appliance, the vibrant striated arc of the backsplash stone and the pill-shaped curves of the island enhance the playful quality of the oven and downplay its utility." Also stylish and useful: the black metal Triple Kick light by Volker Haug, which was sourced on 1stDibs.
---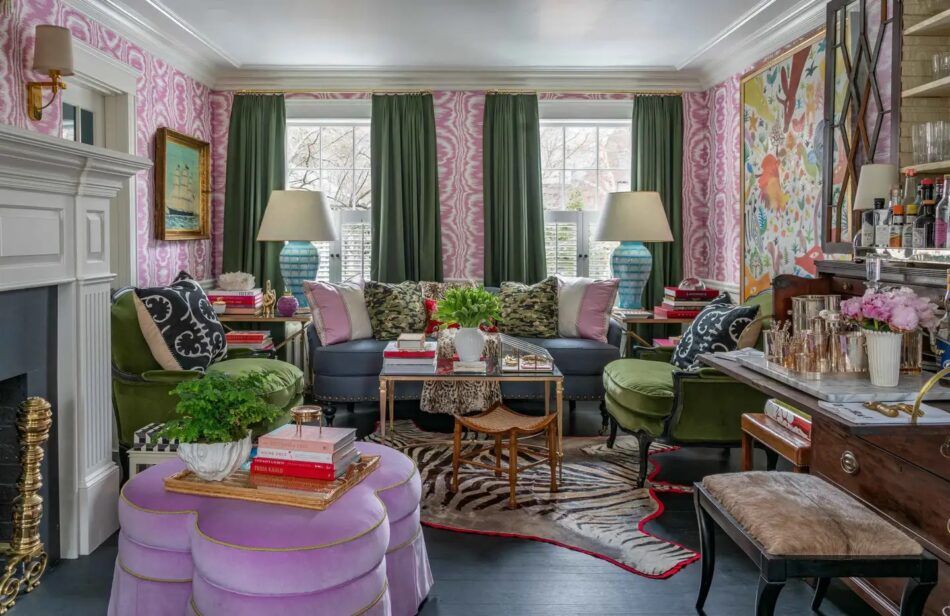 "Orchid pink is one of my favorite shades," Liz Caan says of the buoyant Raoul Textiles Amore wallpaper she chose for the living room of a 1923 Georgian Colonial in Chestnut Hill, Massachusetts. "Since it's a patterned paper and not a solid painted wall, it feels like the perfect bridge — it enhances the space and makes it feel upbeat and cheerful." Pointing to the 1770s English side chairs, the circa 1890 Liberty & Co. Thebes stool and the 18th-century mahogany secretary she used as a bar, the Newton, Massachusetts–based designer notes that the wallcovering "also makes the darker, brown antique pieces feel current and relevant."
Caan tempered the pink by dyeing the floors a rich matte ebony and hanging generous folds of army-green drapery. Animal-skin rugs and a panoply of throw pillows add to the room's texture. "Layering patterns gives the room a feeling of imperfection and harmony at the same time," she says. It's a strategy well suited to the homeowners, a family of five with two large Samoyeds who should probably not be allowed up on the celadon blue sofa. Barbie, with a golden retriever named Taffy, can likely relate.
---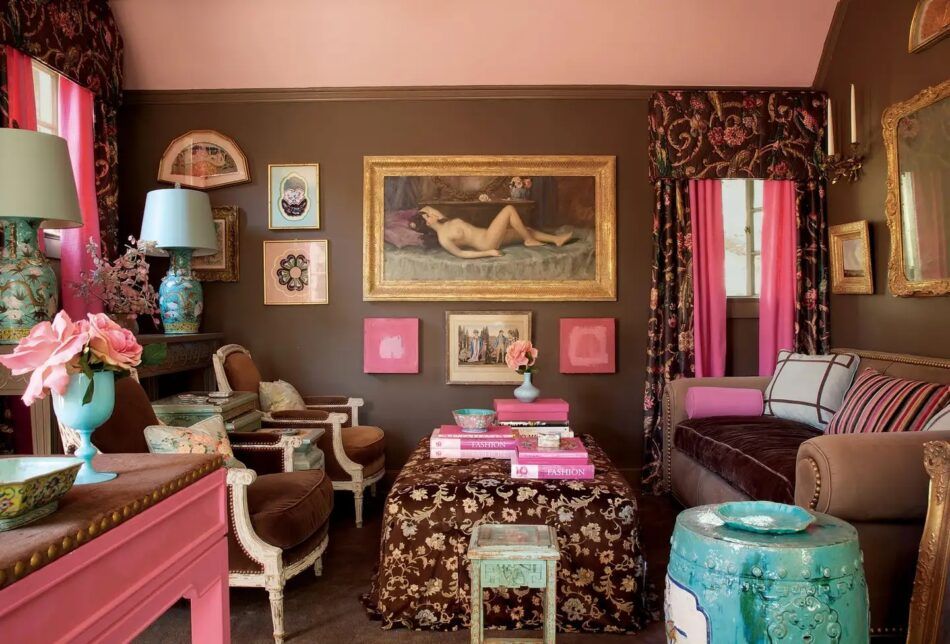 Mary McDonald's former home office, on the top-floor of a 1925 Beverly Hills manse once owned by philanthropist Harvey Mudd, offers a traditional take on study decor with a colorful twist. "I needed this room as my 'she space,'" explains McDonald, "so it had a desk and collections of things I loved: old portraits by family members, somewhere to lounge and bits and baubles from years of collecting my favorite things.
"But it needed a little hip definition to cut the granny fans and porcelain," she continues. "And since I simply love pink, I used it as a foil against the brown for pop and zip, pulling out the tone from one of my favorite Rose Cumming bird chintz fabrics." Flashes of turquoise throughout the room — as on the antique Chinese porcelain lamps, the classic Chinese garden stool and the simple milk-glass urn — inject additional zing.
---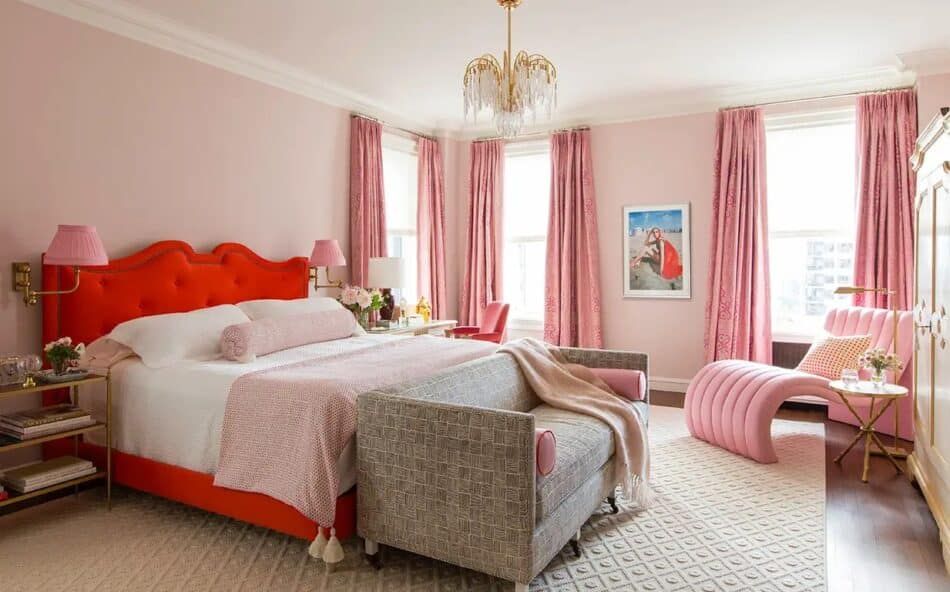 While the upcoming movie's production designer, Sarah Greenwood, saturated Barbie's on-screen bedroom in the doll's signature magenta pink (Pantone #e0218a), the hue is a little strident for an actual bedroom, says Chicago-based Summer Thornton, who used quieter tea-rose pinks for the curtains, bedding and decorative accents in the bedroom of a Lake Shore Drive apartment. (She also eschewed the film's heart-shaped bed with its sequined cover.)
"The owner is an artist and collector who loves color, so we designed a space where she could embrace it," says Thornton, adding, "I love when we can be unapologetically feminine." By upholstering the curly-bracket-shaped curves of the headboard on the Bunny Williams Home bed in a brilliant red fabric, Thornton turned an otherwise classic form into a subtle play on lips. She rounded out the ensemble with a tubular tufted lounger, a crystal-and-gold pendant light and Mark Shaw's 1957 photo Orange Scarf on Beach at Trouville.
---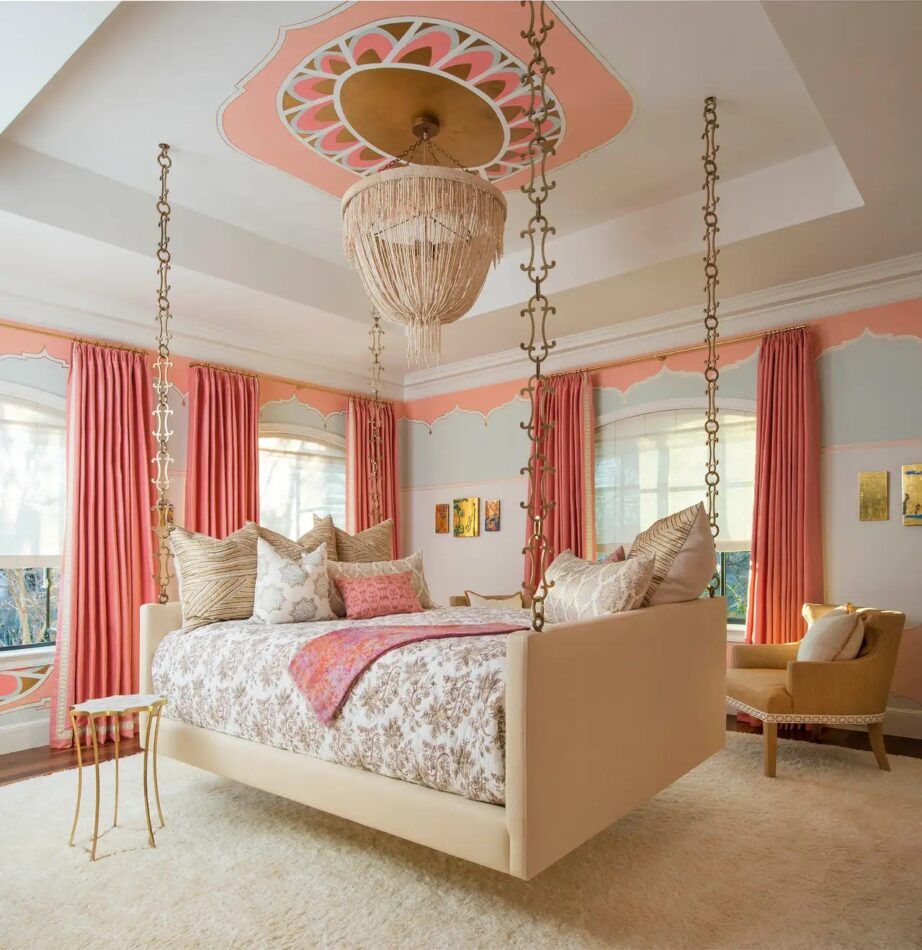 "I remember using my mother's Murano glass dish as a swimming pool for my Barbie house," Deborah Walker says with a laugh. "It was chic!" Also chic is the Dallas designer's custom bed, hanging from golden links in a teenager's bedroom in the city's Highland Park suburb.
"The client wanted pink," says Walker. "So, we used it to define the space — outlining the walls, creating a hand-painted ceiling medallion and framing the windows in matching drapery." The Made Goods Carmen chandelier, crafted from natural cocowood beads, casts a playful light on John Robshaw's distinctive floral bedding, which Walker says was a big inspiration here. "It really helped drive the tone and character of the murals."
---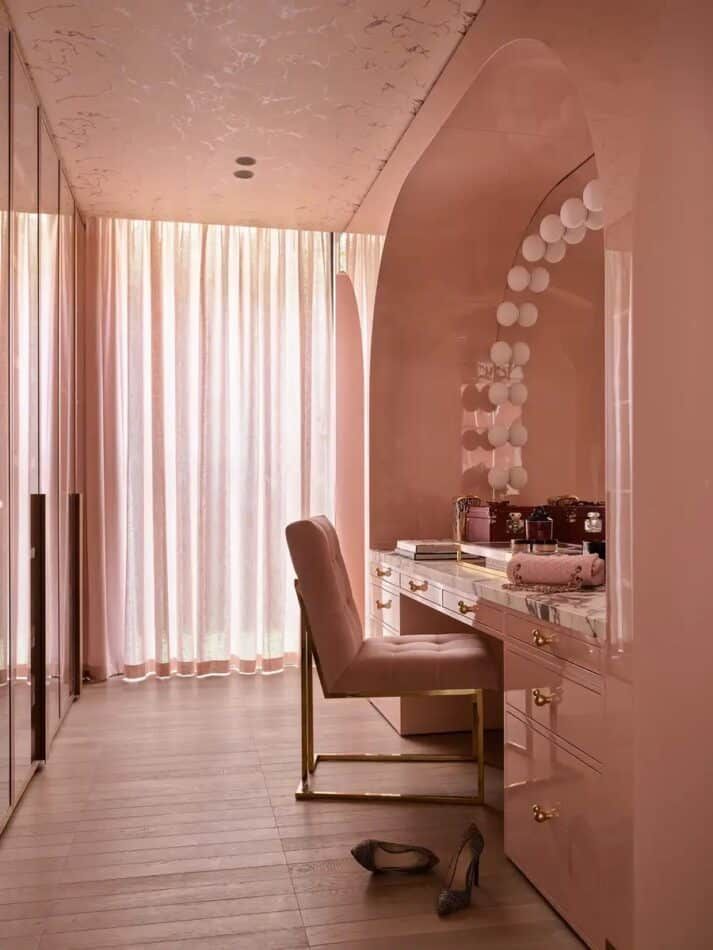 "It's possible Barbie and I operate on a similar wavelength," jokes Greg Natale regarding his approach to a 4,000-square-foot penthouse in the Toorak suburb of Melbourne, Australia, where 1980s Dynasty glamour is the actual cultural reference. The owners, a stylish young couple with a toddler who run a luxury-watch and jewelry business, have an affinity for pink and encouraged Natale to saturate the home in everything from soft blush to full-throated magenta.
The dressing room was meant to feel like a jewel box. "I love to set an evocative mood and imbue a space with drama, romance and a heightened sense of storytelling," says Natale, explaining his choice of Calacatta Viola marble for the countertop and Dulux's Naked Lady paint for the walls. Jonathan Adler's Goldfinger chair is pulled up to the vanity, which is accessorized with a Chanel Classic flap bag. "The dressing room has the ultra-exclusive air of a movie star's inner sanctum," says the Melbourne native. "My clients aren't interested in beige."
---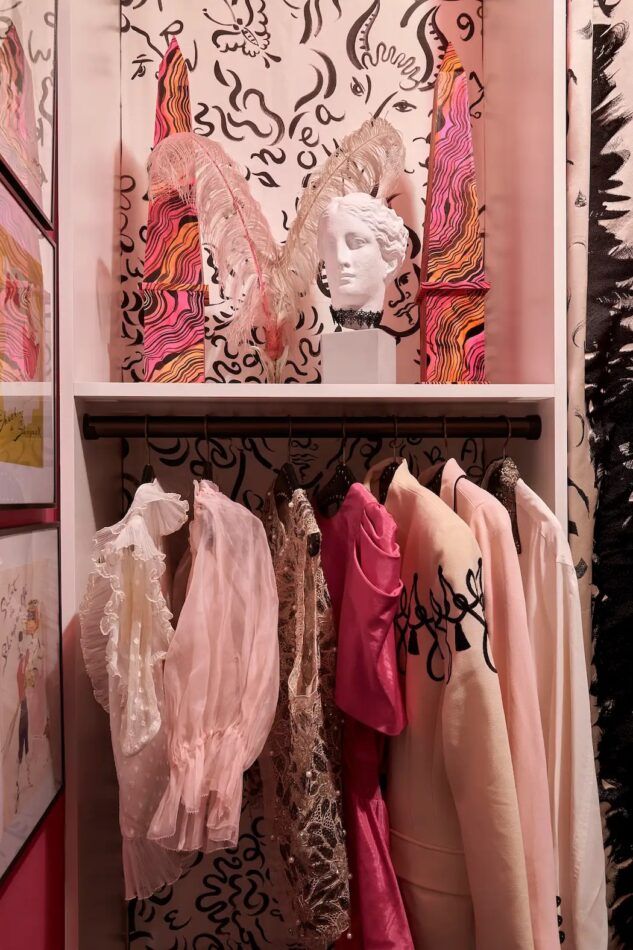 "No quiet luxury here — my earliest design influences were Barbie and Fran Drescher!" Brooklyn-based Tara McCauley says of her aesthetic. "Barbie definitely helped me develop my storytelling muscle. As a designer, my focus is always on visually conveying a specific narrative through a space."
When McCauley was asked to design the primary bedroom in a Greek Revival townhouse for the Brooklyn Heights Designer Showhouse last fall, she conjured Elsa Schiaparelli as her client. "Her signature color was Shocking Pink, so I transformed the room's walk-in closet into a fantasy dressing room of sorts, where art and fashion could coexist. I wanted the space to exude glamour and joy."
To that end, says McCauley, "I had the ceiling painted hot pink to cast a rosy glow throughout, used Clarence House silk satins for the curtains and incorporated playful elements like ostrich feathers." Vintage Schiaparelli perfume ads from McCauley's own collection (a gift from designer Harry Heissmann) line the walls. The pair of hand-painted marble-pattern obelisks are by South Carolina artist Thomas Engelhart; vintage fashions by Todd Oldham, Moschino and Henri Bendel, on loan from McCauley's closet, hang below.
---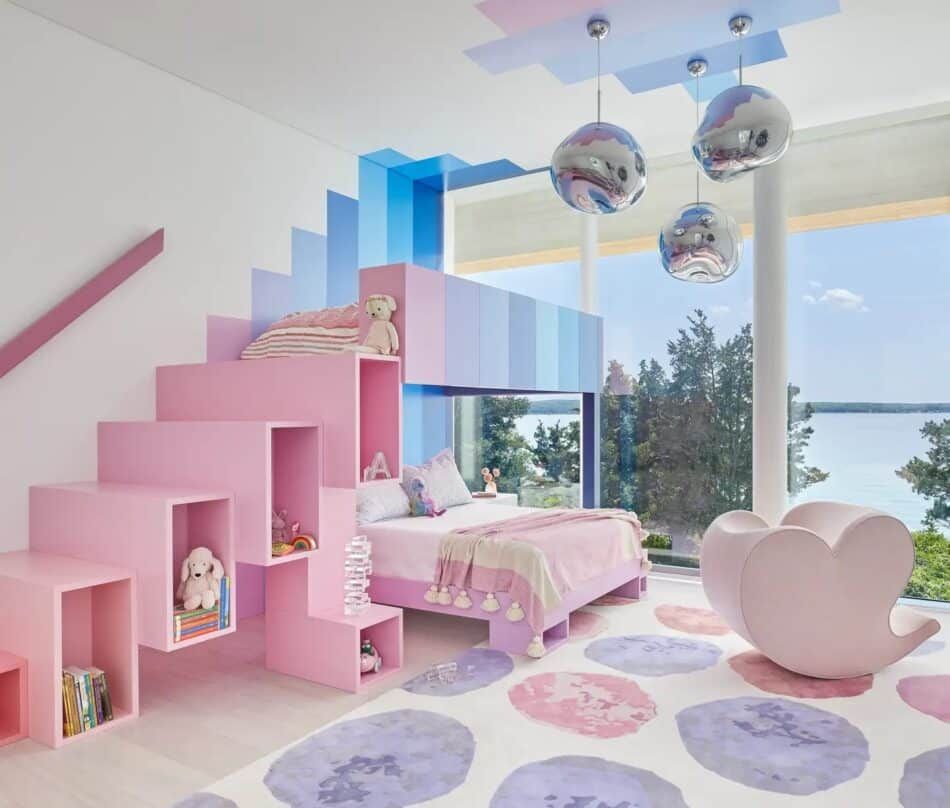 "This was meant to be a space for daydreams and imagination," says Daun Curry, describing the idea behind the pastel pink-and-blue staircase and cubbyhole decor of a child's bedroom in a Sag Harbor, New York, vacation home. The New York City–based Curry, who had previously designed the family's Fifth Avenue apartment, deployed Tom Dixon's Melt LED pendant lights and a Ron Arad for Moroso Soft Heart rocking chair (all found on 1stDibs) as key elements in what she calls the room's "experiential decor." Ironically, says Curry, her own childhood experiences were the polar opposite: "I was a wood-toy Waldorf School kid myself."
---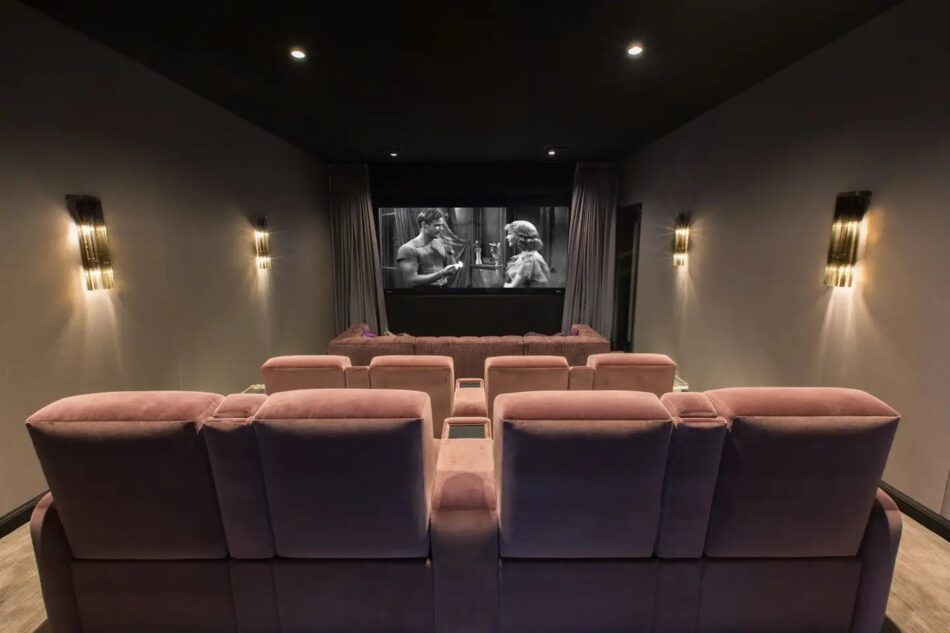 Adam Hunter was a Broadway actor (appearing in Les Misérables, Ragtime and Baz Luhrmann's production of La Bohème) before turning to interior design, so he knows a thing or two about creating drama in a room. The designer, now based in L.A., also knows a thing or two about pink, and not just because unabashed Barbie acolyte Paris Hilton is a client. "Barbie's bold aesthetic resonates with many designers, including me," he says.
In the screening room of a young couple's Brentwood home, theatricality is on full display. "We made sure to strike a balance between the dominant pink tones and contrasting elements like metallic accents [including Art Deco–inspired sconces] and rich textures." (Marlon Brando and Vivien Leigh, seen here in A Streetcar Named Desire, might cede screen time to Robbie and Gosling.)
---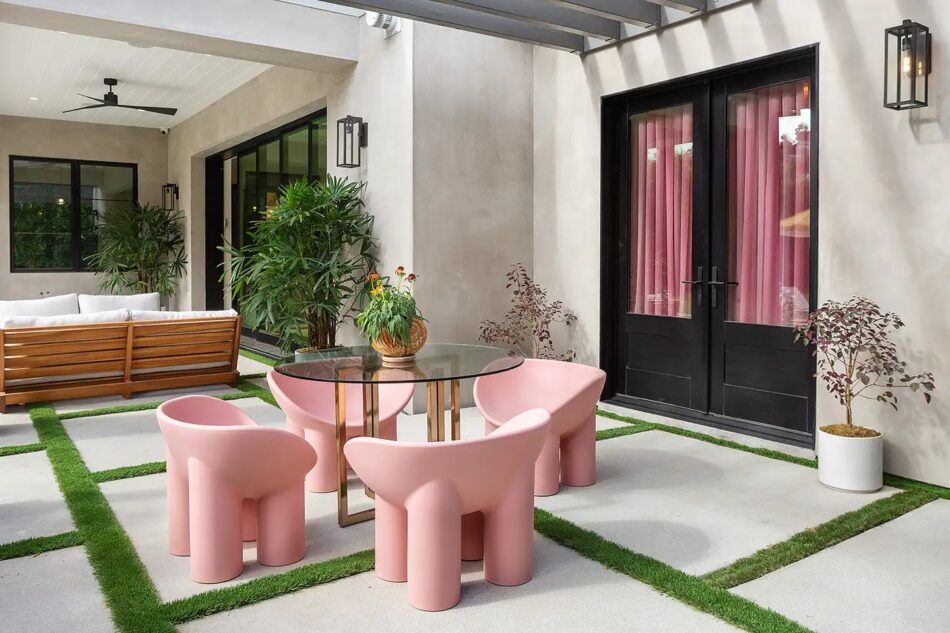 Demi Lovato's Los Angeles patio is a Dreamhouse moment come to life. Even the electric-green grass outlining the flagstones seems to be in on the vibe. The space is outside the singer-songwriter's Studio City farmhouse, created by Argyle Design's Kat Bell and James Drew, who worked closely with her on the project.
Since the patio lies just beyond the magenta and hunter green "glam room" where Lovato dresses for events, and the entertainer and her team often use the alfresco seating area to take breaks while they prep, Bell says she made sure the transition from indoor to outdoors felt organic by "bringing the palette of the interior to the exterior but in a softer way." Faye Toogood's iconic, flesh-colored Roly-Poly armchairs, found on 1stDibs, play a starring role. "They have a ton of personality," says Bell. "And we love incorporating furnishings that are functional but also whimsical."
---
It's hard to believe that Exhibition, Frampton Co's workspace and gallery in Bridgehampton, New York, is housed in an early-20th-century former agricultural workshop and wasn't born a disco. That's in large part thanks to the dazzling wraparound silk-screened and hand-painted paneling created by artist Elise Ferguson, which is "composed of a subtle gradient of five pink tones," according to Frampton Co founder Elena Frampton. Set against this vibrant backdrop are such iconic pieces as Johnny Swing's amoeba-like Murmuration bench (composed of welded quarters) and Wendell Castle's arched fiberglass Pinkie floor lamp, as well as a sofa, desk and rug of Frampton's own design.
---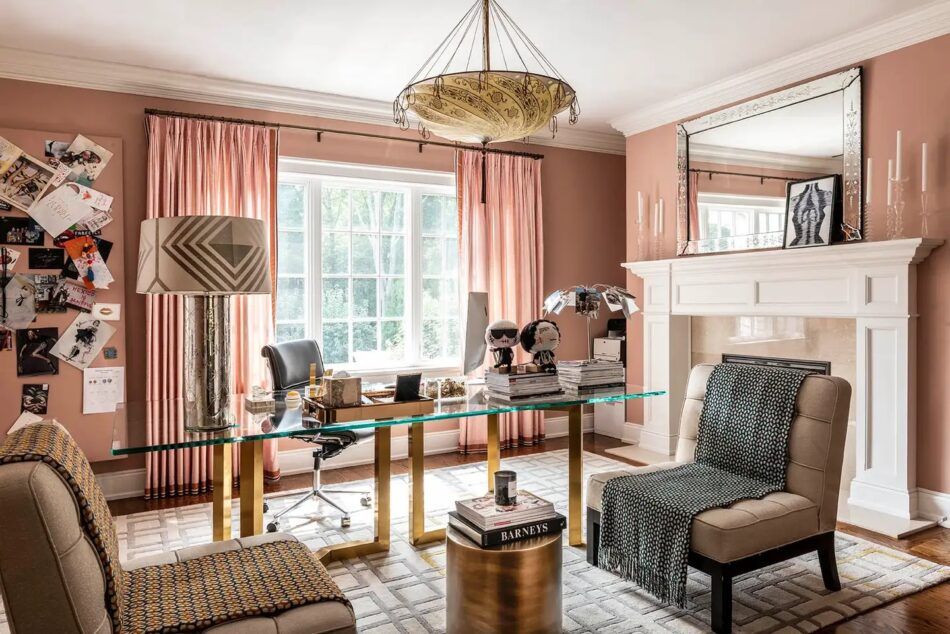 In the New Canaan, Connecticut, residence of a fashion blogger and entrepreneur, the color for the walls of the home office was "inspired by the skin tone of a Barbie doll," says Houston-based Lucinda Loya. "This led us to the shade we went with — Yves Saint Laurent's Nude Transparent 123 lipstick. When it comes to pink, I prefer warmer, muted tones that exist at the junction of playful and sophisticated."
Because the office was adjacent to the home's primary bedroom, Loya "felt it was necessary to give the room some edge and incorporate geometric lines, contemporary art and unexpected details." The hand-painted chandelier is by Fortuny, the print on the fireplace mantel is by Alexander McQueen, and the crocheted Karletto Giga and Coco Giga dolls are by House of Mua Mua.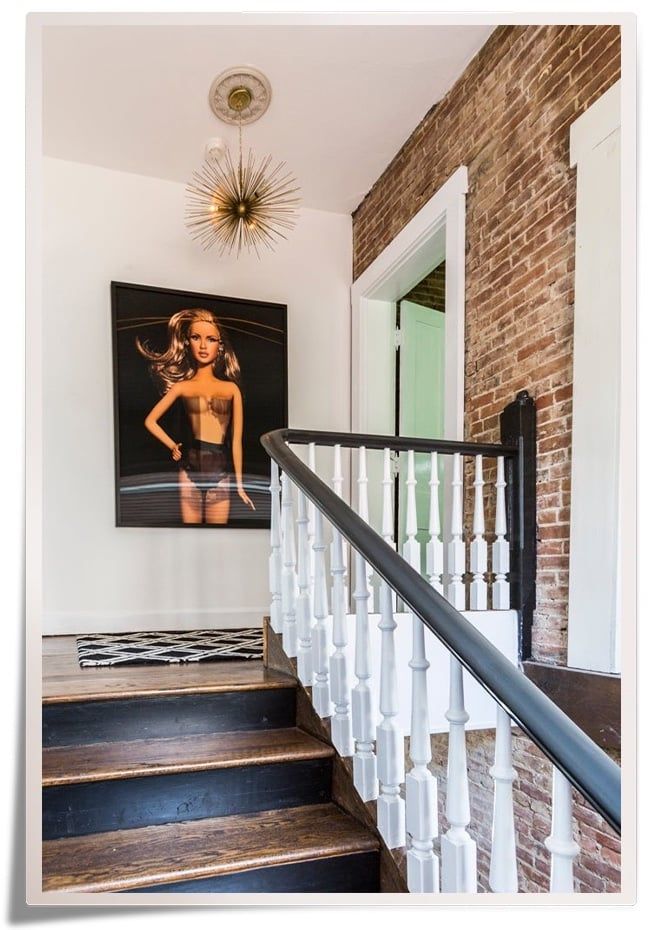 "Barbie is my alter ego," Loya says, on more a personal note. "I learned and dreamed about fashion through her expansive world, though I never had my very own — only hand-me-downs with missing limbs."
In Loya's own 1875 Louisville, Kentucky, getaway home, a Cécile Plaisance photo of Barbie titled Vogue, purchased from K plus Y Gallery, in Paris, has pride of place on the staircase landing, lit by a gold-leaf starburst pendant by Quorum International for an added shot of glam.