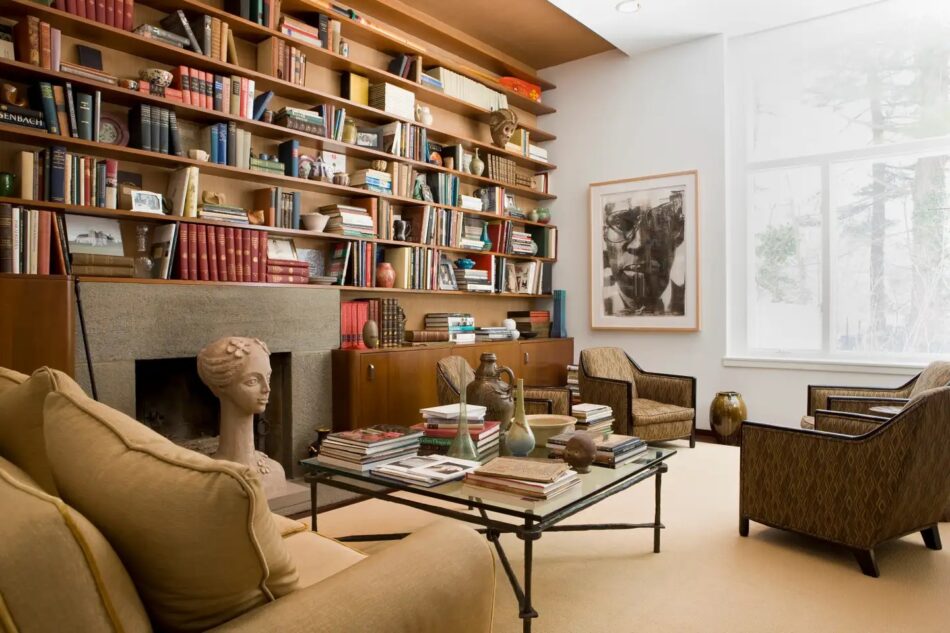 When designing the library for his own Philadelphia home, John Levitties, of JAGR Projects, created a conversation area from four low Jacques Adnet chairs. In addition to balancing the asymmetrical space, they offered other benefits. "Low chairs are very comfortable," the designer says. "There's something very appealing about their scale in respect to the millwork."
Connecting the area with the rest of the room is a glass-topped iron coffee table in the style of Diego Giacometti, designed by the firm and forged at a local ironworks. Levitties paired the custom piece with a cozy mid-century French sofa. Under the warm tan carpet, the original mahogany floors are stained a dark red.
"A library should be a cabinet of curiosities," Levitties says, noting that the objects on the room's shelves and picture rails frequently change. Above all, he adds, you should be led by your own tastes. "Have faith in the things you love!"
---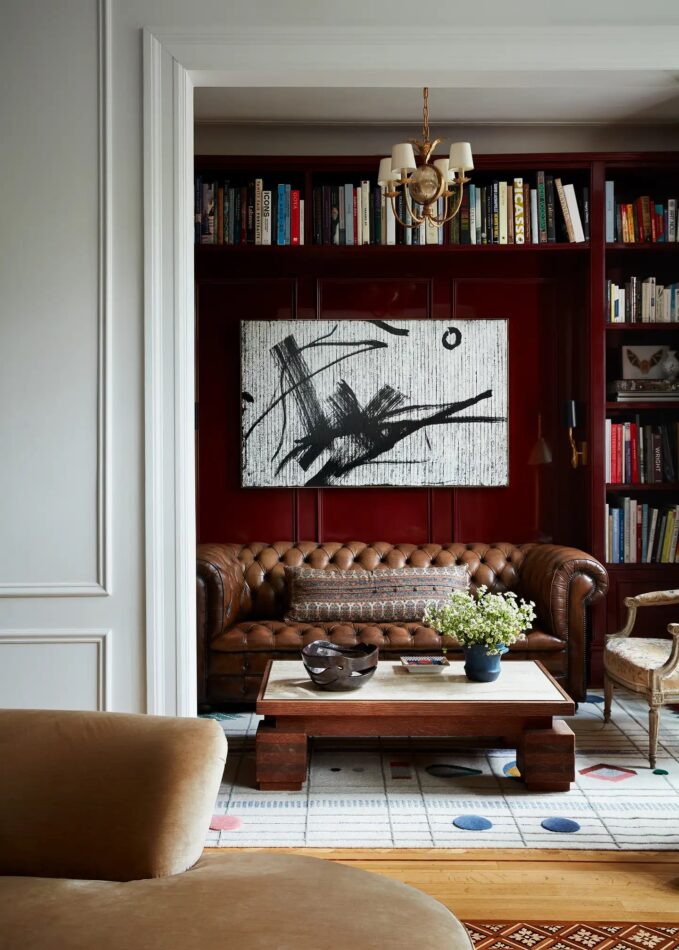 Counterintuitively, Neal Beckstedt decided to go dark in the small study of an apartment near New York's Gramercy Park. "When you paint a room a darker color," he explains, "you don't focus on how small it is. You just focus on the wow factor." He lacquered the walls a deep oxblood and installed a large Paul Dupré-Lafon coffee table with a travertine top, which helped create the illusion of more space. "I kind of overfilled the room in a way," he says. "But that actually works to its benefit to make it feel bigger than it really is."
To instill a little "earthiness and warmth," Beckstedt put a distressed-leather chesterfield sofa center stage and used the clients' own embroidered Louis XIV chair for a bit of contrast. Overhead is a graceful yet functional chandelier from E.F. Chapman. "I wanted something that was traditional and delicate while still giving a lot of light," he notes.
Finally, to "offset the seriousness" of the rest of the pieces, he added a contemporary rug with a geometric design from Nanimarquina. "I wanted to really swing the other way with the rug," he says.
---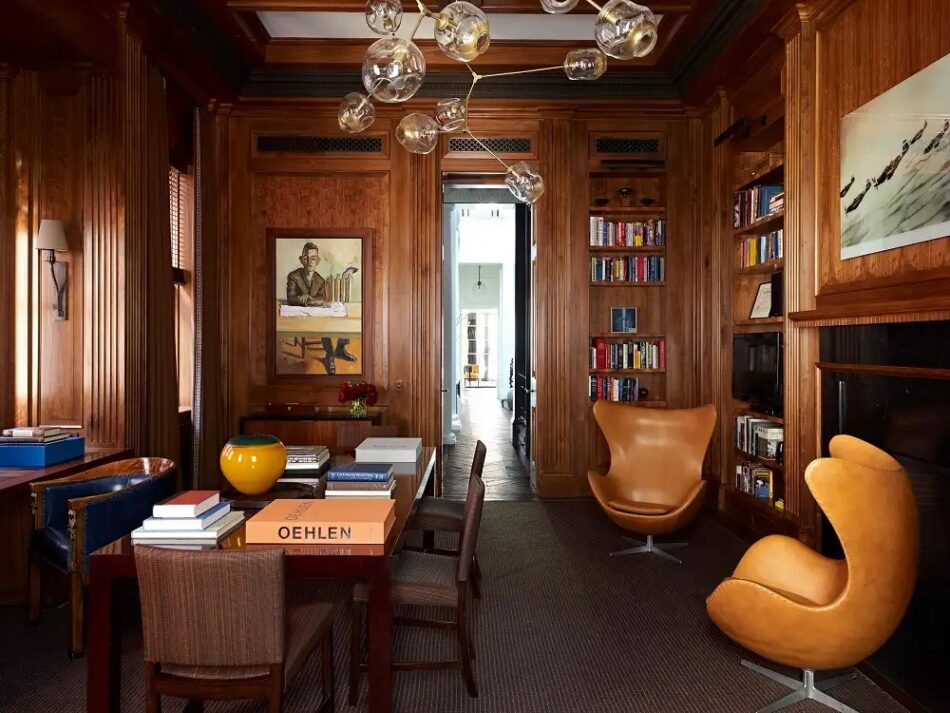 For the library of a townhouse in Boston's Back Bay, Heather Wells's client requested a handsome room that could be used as both a private office and a meeting space. With this in mind, instead of a traditional desk, Wells suggested a custom burl-wood conference table. To counter the formality of the client's own blue leather seating, she placed two mid-century Arne Jacobsen Egg chairs by the fireplace.
The lighting includes a single Jean de Merry Evasion sconce and a chandelier by Lindsey Adelman. For art, Wells chose a 1965 Alice Neel portrait, Maynard Stone, as well as Gerhard Richter's 2005 Mustangs.
The key to designing a great library? Wells says it's "figuring out all the layers of purpose" for the space.
---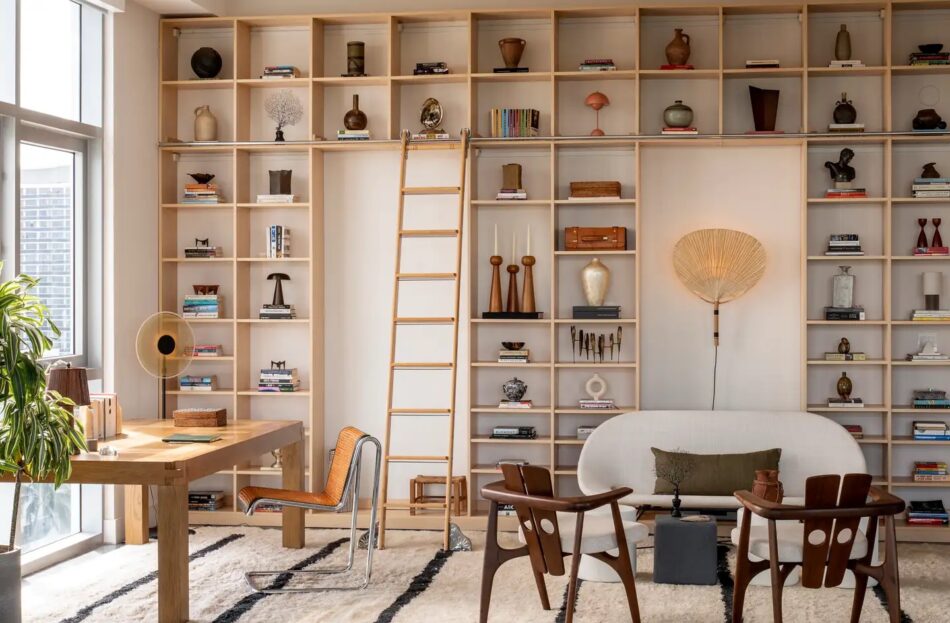 Not quite ready to start purchasing for the study/home office of a Miami Beach apartment he was working on, Greg Santos watched as an Augusto Bozzi for Saporiti sofa came and went in an online auction. Struck with a bad case of regret, he called Saporiti. He discovered that none other than Miuccia Prada had commissioned the design and, by chance, the company had one frame left.
A victorious (and relieved) Santos paired the sofa, upholstered in a snow-white fabric from Geiger, with Brazilian hardwood chairs by Sergio Rodrigues, chosen for their "sculptural and human-like" form. To complement the client's own Pierre Chapo–inspired desk, he selected an Arthur Umanoff chair, which combines style with comfort during long Zoom calls.
To provide warmth as well as light, Santos added an Ingo Maurer Uchiwa wall sconce, which plays off the wood of an existing modular bookcase that he reconfigured for the project. A trio of plaster pieces takes the place of a traditional coffee table. "We didn't want any sort of coffee table that had legs," Santos says, "because everything else in that space had legs."
---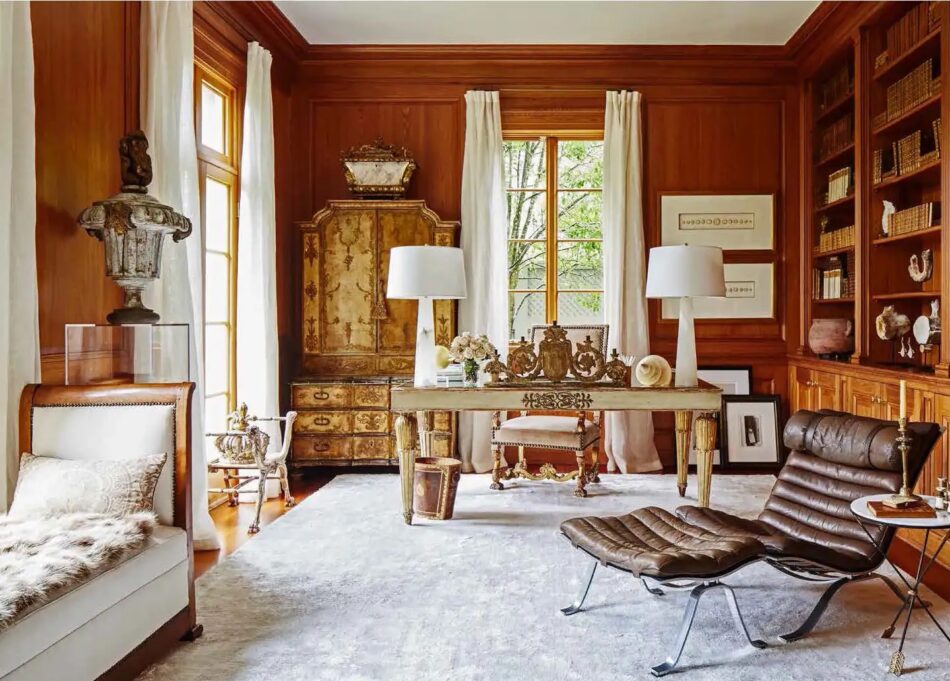 For Tara Shaw, extraordinary rooms are about the seamless melding of different eras. Take the study in her own New Orleans home, where an 18th-century Italian table turned desk is the focal point. It's topped with a reliquary that cleverly hides her computer and is bookended by two contemporary marble lamps. Just behind is an Italian secretary with the original polychrome detailing.
The Louis Philippe daybed by the window is often commandeered by Shaw's dog, who loves to look outside. Across from it, a mid-century Arne Norell chaise in buffalo hide provides a spot for the designer herself to lounge with a book.
The cabinetry is original to the home and is made from an interesting local material. "It was built out of all sinker cypress," Shaw says. "In other words, cypress that had sunk to the bottom of the water and was then reclaimed."
---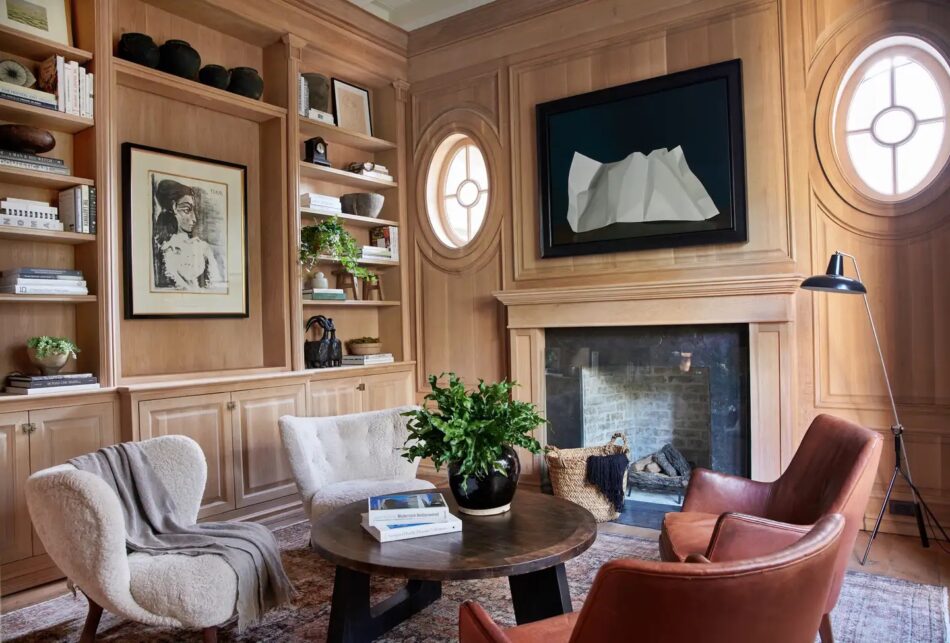 "The original shelving was painted, and we were surprised to find out that the wood underneath was white oak!" says Amber Lewis, of design firm Amber Interiors, referring to the library of a family home in Malibu. "So we sanded back the paint to reveal the original wood in all its glory."
To impart the sense of lightness that has become her signature, Lewis juxtaposed two Viggo Boesen Little Petra VB1 chairs in shearling with a pair of Arne Vodder leather club chairs. "We chose to do a mix of two styles of lounge chairs so the room didn't feel too put together or overly custom," she explains. "The pieces feel found and special."
Between the sets of chairs is a custom modernist wood coffee table anchored by an antique Turkish rug. The owners' art collection provided the finishing touches. "They had amazing pieces," says Lewis. "So, we just needed to make sure the library showcased them."
---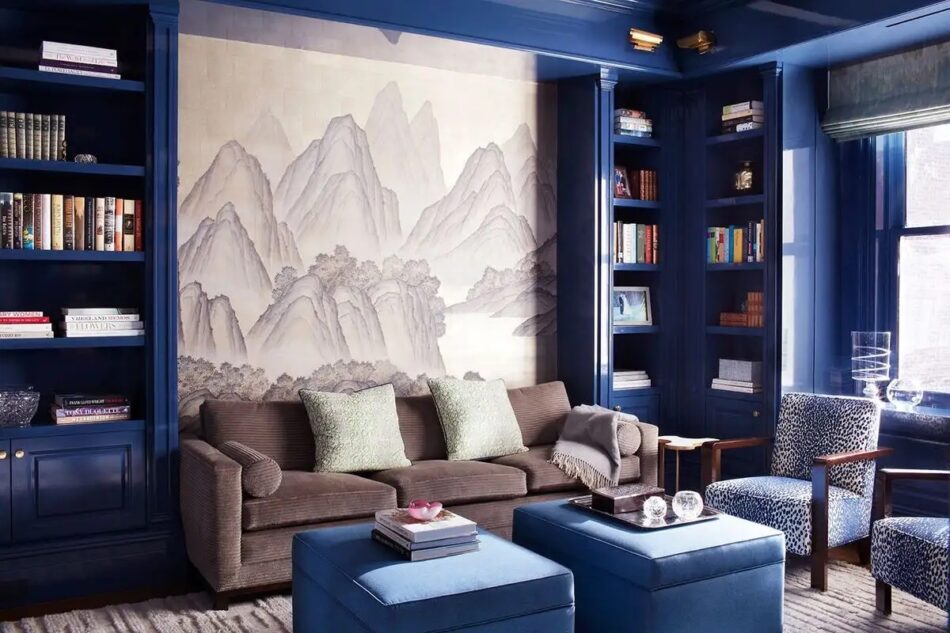 "I love a lacquered library," confesses Janine Carendi MacMurray, of AREA Interior Design. "It's a great way to bring in color that feels bold yet surprisingly neutral at the same time."
So, that's just what she gave the New York apartment of a client who loves the color blue. MacMurray selected a sepia wallpaper to complement the bespoke hue she created and custom enlarged the pattern to give the room a grander sense of scale. For another pop of sapphire, she covered a set of ottomans that double as storage in a kid-friendly blue felt.
MacMurray used a corduroy-like fabric from Jim Thompson for the custom sofa to create "a play on the vertical lines of the library with the horizontal lines of the furniture" and topped it with pillows in Fortuny's Moresco pattern. A custom Brunschwig & Fils rug echoes the lines in the sofa and wallpaper, as well as their soft earth tones. For a dash of pizazz, she covered two Swedish Art Deco chairs in Schumacher's Cheetah velvet and dotted the shelves and tables with objects from Kosta Boda, Orrefors and Christofle.
---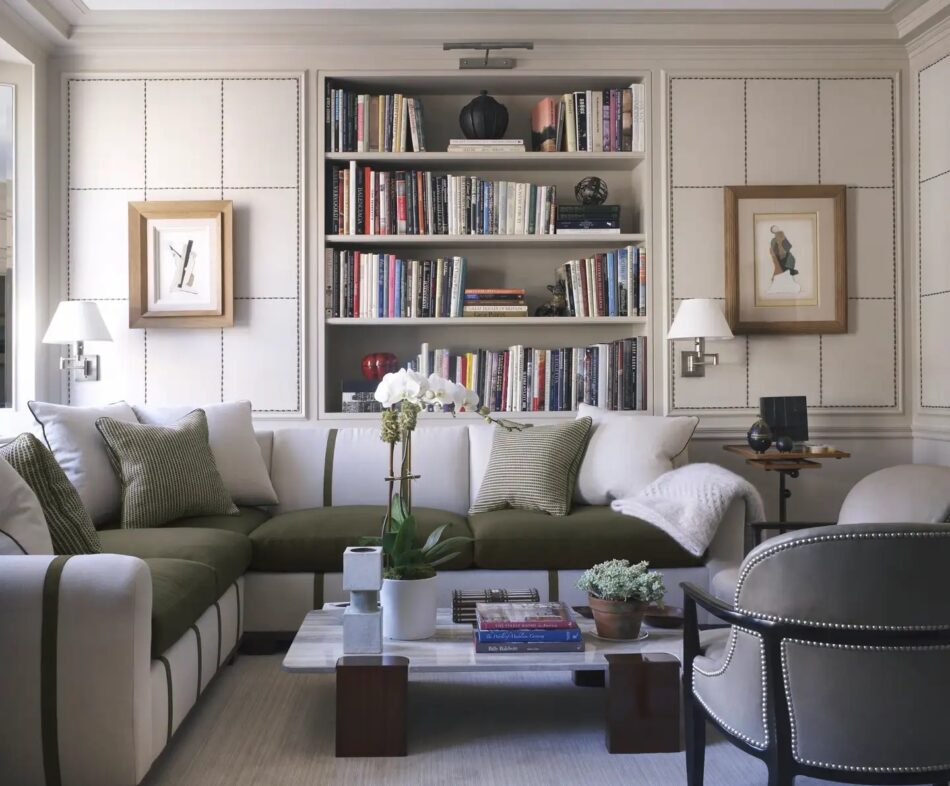 In an effort to breathe new life into the study of his own New York apartment without resorting to a gut renovation, David Kleinberg used a decorative nailhead treatment on what he calls "a very plain linen" to great effect on the walls. The trick was so successful that he extended the idea to the leather Edward Wormley chairs he'd kept from a previous apartment.
Kleinberg says the contrasting fabrics on the custom 1940s-inspired pull-out sofa serve to "break up the mass" of such a large piece in a small room. Next to it stands a small Swedish metalwork table the designer likens to a table de malade, or overbed table. "You can swing it over, it tilts, it goes up and down," he says. "It's quite metamorphic and does a lot of things." The coffee table is also convertible, in a way. Its wood trestles and marble top come apart to make room for the sofa's bed when guests come to stay.
As they drift off, visitors have a number of objects and artworks to contemplate, including a pair of Cubist Constructivist–style collages flanking the shelves.
---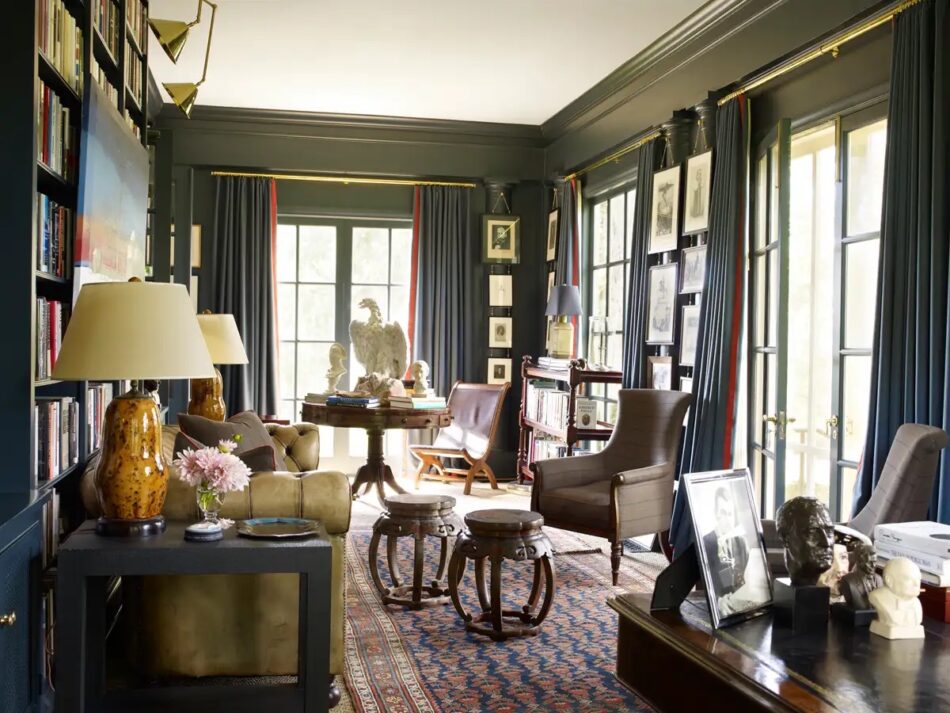 Converted from a sunroom by the design team of Brockschmidt & Coleman, the library in the Nashville home of Pulitzer Prize winner Jon Meacham houses not only the family's extensive collection of books but also the author's trove of presidential memorabilia.
Anyone who steps inside will instantly notice a large eagle — a terracotta architectural fragment that's been glazed white — perched on a circa 1830 English rent table stacked with books. Handling the overflow of titles is a William IV mahogany trolley, which lives just behind a 1935 Campeche chair, also made of mahogany and upholstered in Italian horsehair.
A pair of easily movable Edwardian chairs upholstered in Holland & Sherry men's suiting fabric sit in front of a set of French doors, while a traditional tufted chesterfield sofa in a light caramel leather is placed against the opposite wall. A pair of the clients' own lacquered stools take the place of a traditional coffee table.
Courtney Coleman's advice about putting together a home library: "Leave room for more books!"
---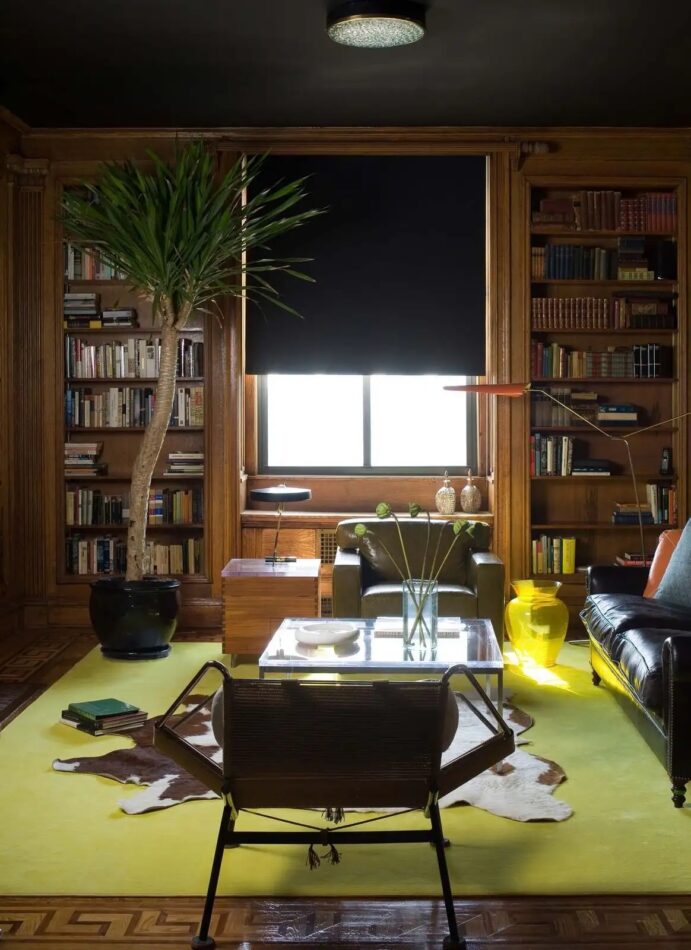 Except for the aroma of a pipe, the library in the Manhattan apartment created by Fawn Galli for the publishers of the Paris Review has all the atmosphere of an old-school club without the stuffiness. "I said, 'Let's make it clubby, but then let's f*** it up because I want it to feel personal and energetic, not sleepy."
Galli started with classic pieces like a leather club chair by Jean-Michel Frank and a George Smith sofa and added a clean-lined acrylic coffee table. A mid-century lounger by Hans Wegner provides another comfortable seating option. "The Wegner is a great TV or reading chair that looks good against the dark paneling," she says. "But then, we kind of messed things up with an acid-yellow rug."
Galli included an orange David Weeks for Ralph Pucci floor lamp for another burst of energy, as well as a tall tropical plant to draw the eye up. Finally, in a nod to the homeowners, Galli placed a Paris Review poster above the sofa.
---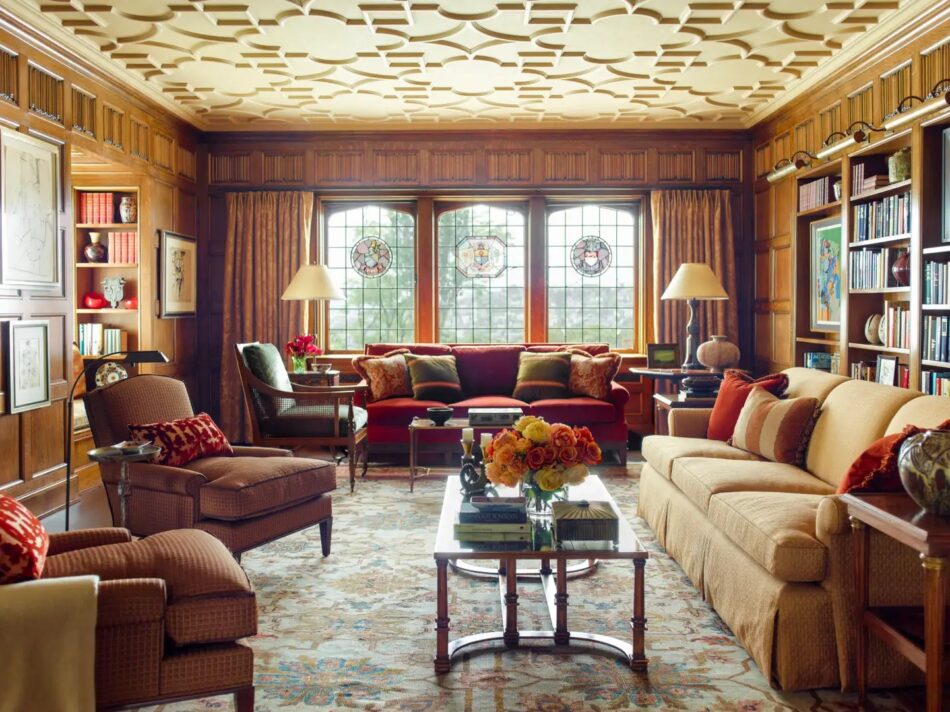 The owners of a Tudor-style Seattle home designed by Kylee Shintaffer get a particular thrill from the library when the weather turns cold. "Every winter, my clients come back to me and say, 'We just fall in love with this room all over again!' "
Mindful of the existing paneling and millwork, Shintaffer started with an antique rug. "The muted salmon tones and blues helped tell the story for the palette of the room," she says. She followed with a Rose Tarlow sofa in a soft ocher flanked by a set of custom mahogany and gilt tables based on a 1940s French design. Two Nancy Corzine chairs — the clients' own — in a subdued copper sit opposite a custom coffee table, while a mismatched pair of English tables (one a small sewing table, the other an octagonal Georgian piece) frame the russet sofa in front of the window.
Although primarily meant for reading and entertaining, the room also acts as a showcase for the clients' extensive art collection, which includes a Willem de Kooning and pottery by Picasso.
---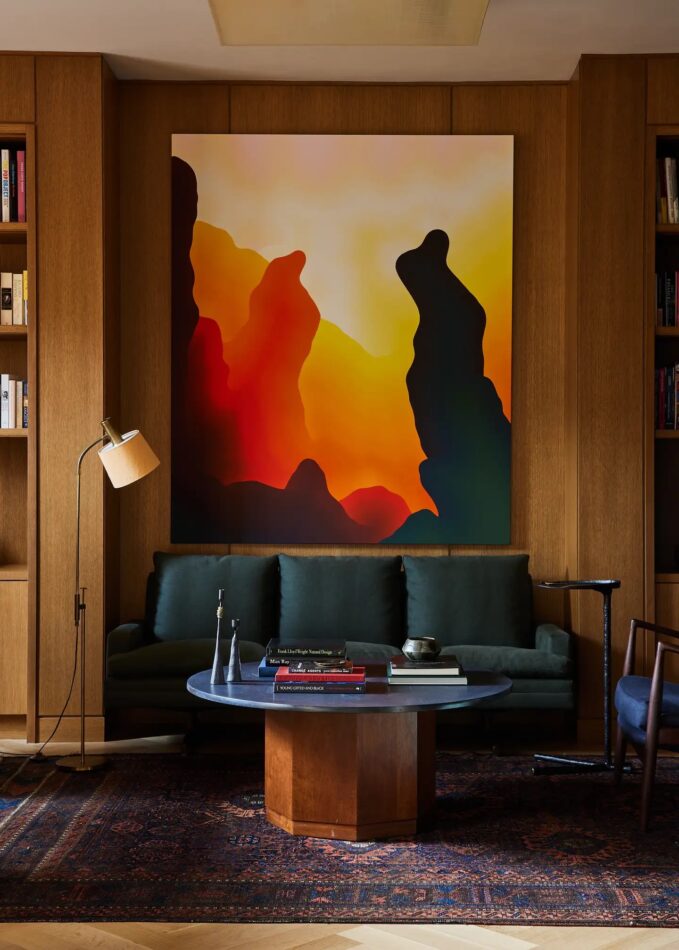 Christine Gachot, of Gachot Studios, used a Sam Friedman acrylic on canvas to create a laid-back and, some might say, sexy vibe in the study of an apartment on New York's Upper West Side. Pulling from the colors in the picture, Gachot chose a vintage Frederik Kayser sofa in teal and a Fred Kemp coffee table with a warm walnut base and slate top as focal pieces. Even the Falkenbergs Belysning floor lamp reflects the painting's golden hues and "provides a low layer of light in the evening."
In a delicate touch, Gachot added an Aline Hazarian Mir two-footed bronze occasional table from Maison Gerard — perfect for setting down a drink.