Many things give this dining room in a Trousdale Estates home in Los Angeles a strong personality — the striking ribbed cornicing, the deep blue de Gournay silk wallpaper, the 1971 Harvey Quaytman painting Mirror to Damascus. There's also the almost totemic Wagneriana floor lamp designed by Massimo and Lella Vignelli and the table and chairs in bird's-eye maple and satinwood veneer designed by Claggett Wilson in 1930 for the New York home of businessman and philanthropist Sam A. Lewisohn and his wife, Margaret.
But the most spectacular item is undoubtedly the monumental glass chandelier imagined by Carlo Scarpa and fabricated by M.V.M. Cappellin & Co. in 1927. "We were looking for a dramatic sculptural punch of color," explains Studio Shamshiri cofounder Pamela Shamshiri. "Plus, the room is quite rectangular and horizontal. So, we wanted something to help bring the eye up and break the length of the space."
---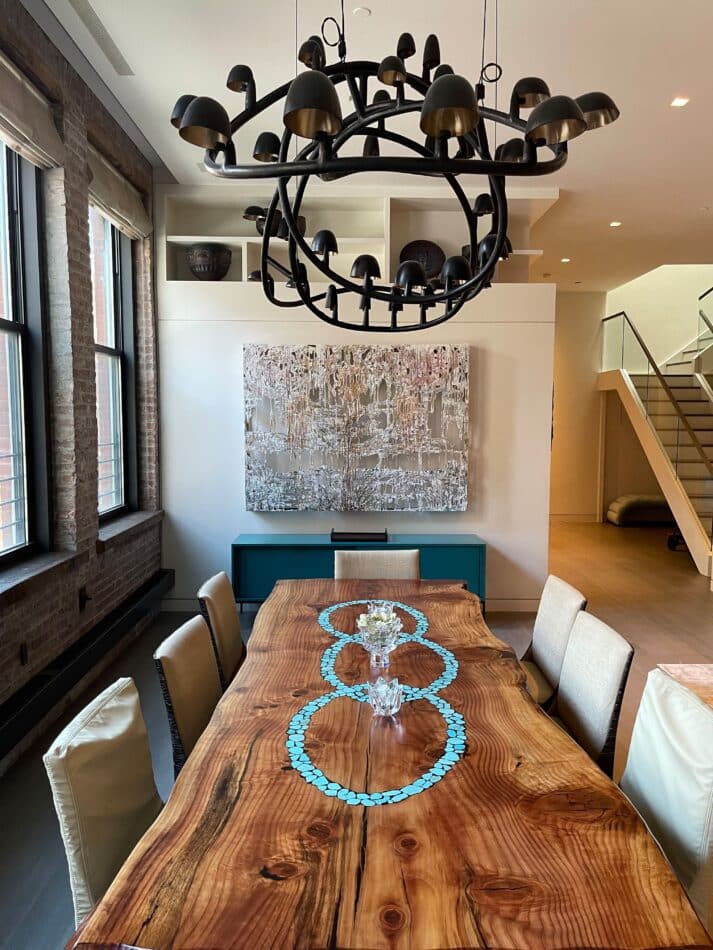 Manhattan-based designer Ernest de la Torre firmly believes that functional art is as important as fine art. A case in point is the limited-edition CL Arctic II chandelier by Dutch designer Frederik Molenschot that has pride of place in the dining area of a New York apartment he crafted in a 19th-century factory building just steps from the Hudson River.
The fixture's hammered-bronze metalwork provides a perfect counterpoint to the space's coarse red-brick walls. "I love the rhythm of its curves," says de la Torre. "It reminds me of a musical note. And it's always inspiring to see a material that is inherently difficult to turn twisted so effortlessly." He also appreciates the warm light reflected from the gold leaf in its cups.
De la Torre paired the chandelier with a custom table made of reclaimed redwood inlaid with turquoise, as well as a set of bespoke chairs in pen-shell-clad fiberglass, which are partly upholstered in leather from Poulain in Paris. "They had just the right shade of gold to go with the chandelier," he says.
---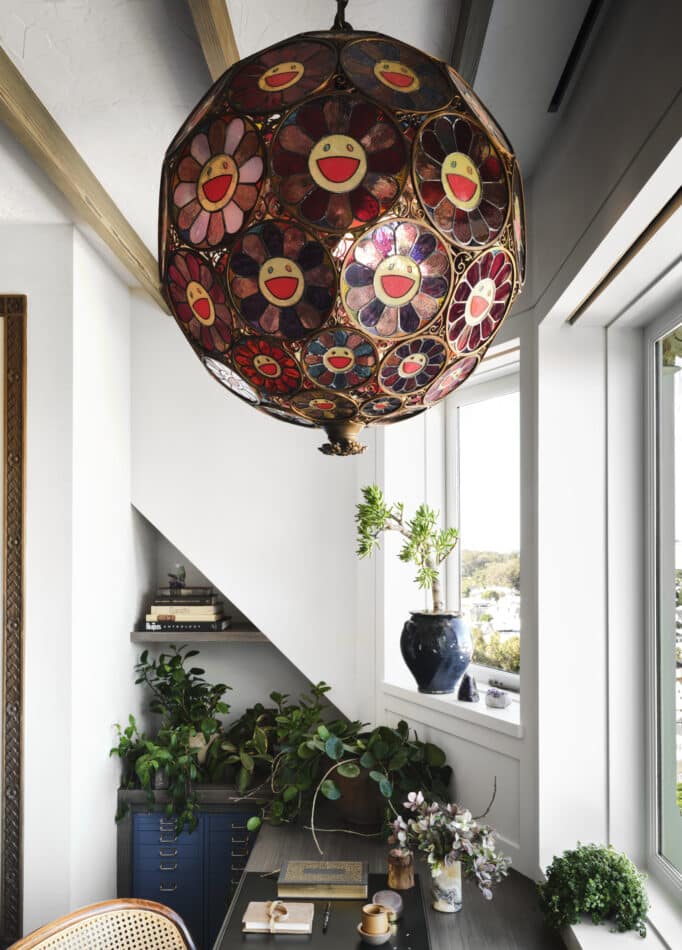 It's not every home office that has a chandelier originally created for the Château de Versailles. But then, this is no run-of-the-mill house. It's a historic estate in San Francisco's Haight-Ashbury district, where Jack London once lived and on whose top floor musicians like the Grateful Dead and the Steve Miller Band later rehearsed and recorded. Designer Nicole Hollis describes it as "a psychedelic design journey . . . that embodies the [current] owners' avant-garde vision while continuing San Francisco's artistic heritage."
This space was deliberately designed to be more serene, with its stained-teak desk and vintage Ward Bennett ash and cane chair. "The client wanted it to be a reprieve from some of the other, more colorful rooms of the home," explains Hollis. Still, the Takashi Murakami stained-glass Flower lamp adds a certain visual punch. It was originally displayed as part of the artist's retrospective at Versailles in 2010. "Lighting by him is very rare," notes Hollis. "So, coming across this piece was very exciting. I love seeing his iconic smiling flower in 3D. The super-happy and playful personality is a beacon of joy."
---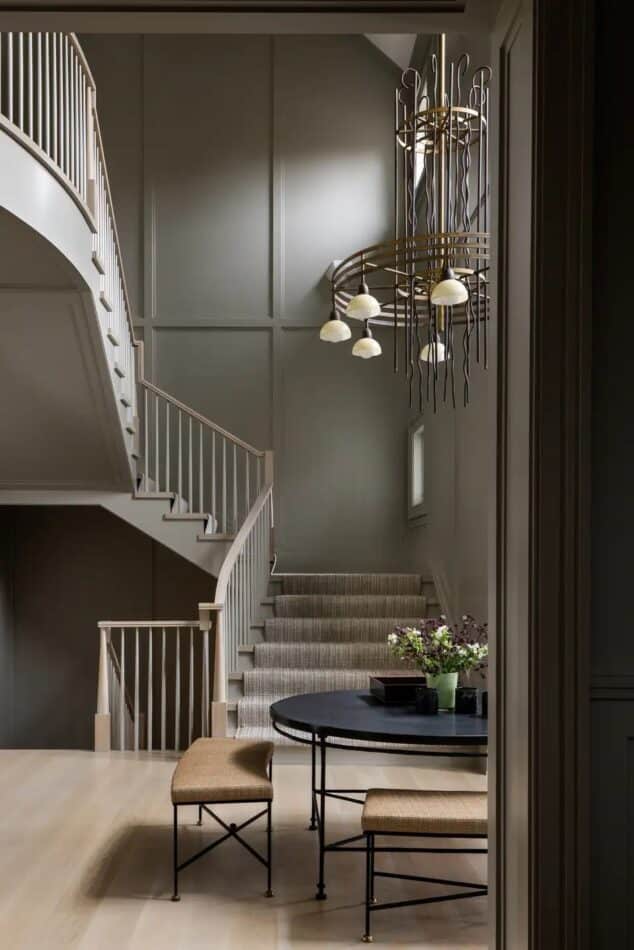 When decorating this vertiginously high-ceilinged entry hall in a home on the eastern tip of Long Island, Ries Hayes cofounder David Ries and studio director Emily Meroney had to address the issue of scale. They painted the walls in warm tones (Herbal Escape from Benjamin Moore) to prevent it from feeling too cavernous. They also chose a chandelier that would occupy the space and give it a more human dimension. "We needed a tall piece, which we were able to drop even lower with the help of our electricians and lighting-restoration team, who modified the chain," explains Meroney.
They found this one, made in Sweden in the 1930s of brass with opaline-glass shades, at MORENTZ. Although no information is available about its designer, it is known to have hung in the interior of a municipal building. Underneath it here, Ries and Hayes placed a 1980s forged-iron and black-granite table by Bob Bray and a set of 1960s British benches to which they added cushions upholstered in raffia.
And they couldn't resist sharing their find. "We loved the chandelier so much that we actually purchased its mate for another client," recounts Ries.
---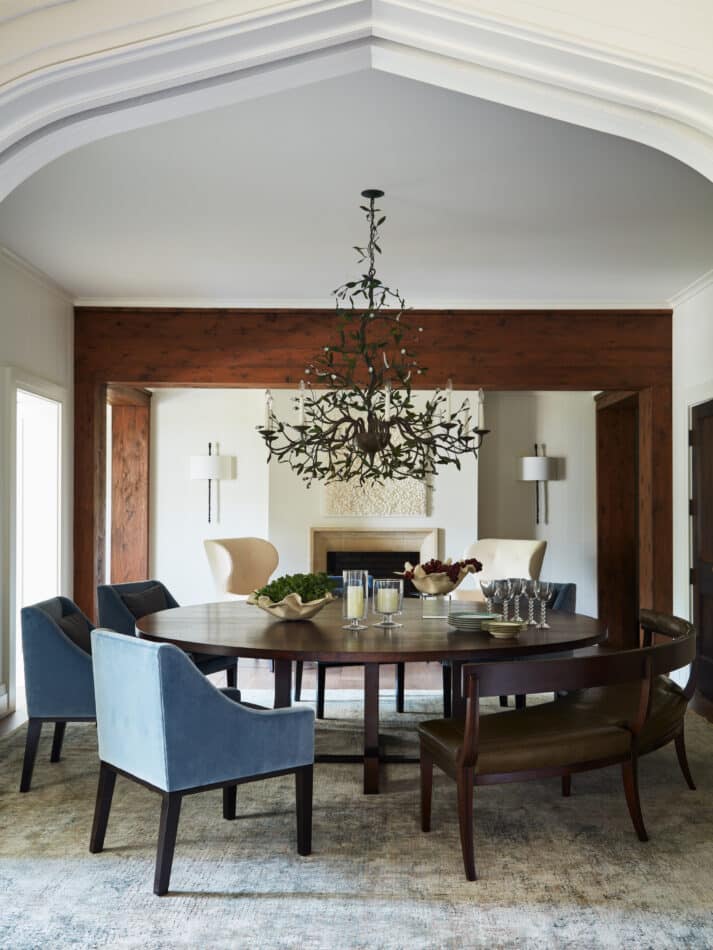 "This is an unusual space, as it is located without direct windows or views to nature," says McAlpine principal Ray Booth, describing the dining room of a Nashville home. To redress those lacks, he brought a bit of the outdoors inside in the form of an elaborate forged-iron and crystal chandelier from Cox London with olive-leaf-like elements. "The organic shape became a great focus to the room," he says. "Its verticality worked well too, as the room is fairly square in proportion."
In contrast to the rectilinear space, the furnishings are characterized by curves, whether the round Astrid table from Troscan, with its antique bronze base, the Bruno Booth bench from Costantini Design or the Linden dining chairs from Stewart Furniture.
---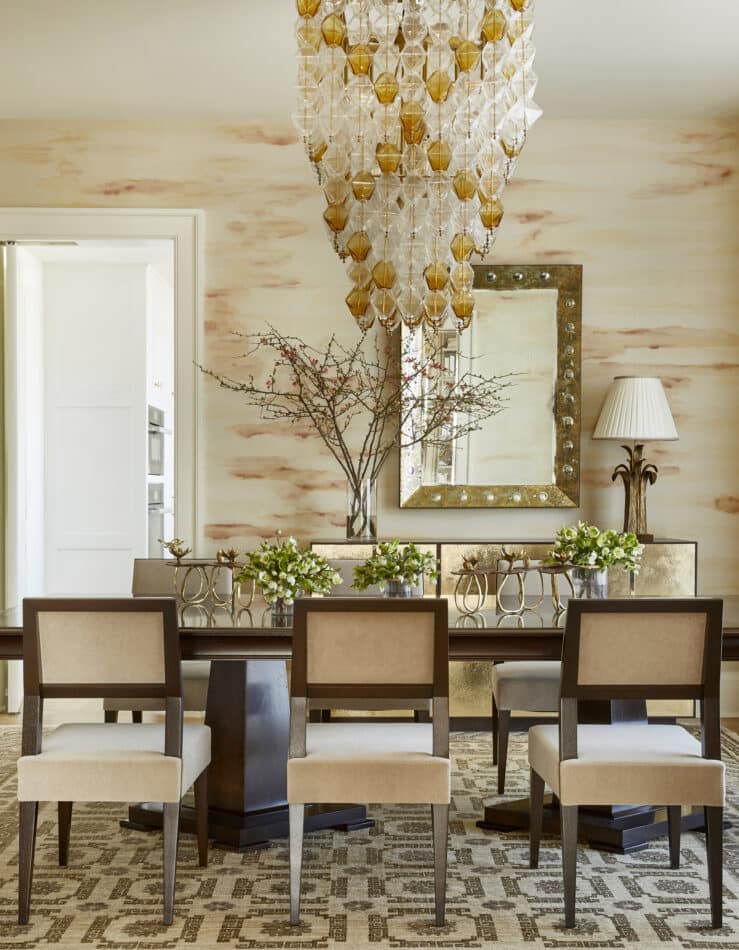 This Manhattan apartment "marries a breezy California sentiment with traditional Deco and a Park Avenue refinement," says its designer, Young Huh. The dining room is certainly a textbook example of how to combine elements in a fine equilibrium. It most notably brings together a hand-painted silk wallpaper by Fromental with a drop-dead vintage Murano chandelier in amber and clear glass from Adesso Imports.
"We were looking for something that felt glamorous and was a big moment," explains Huh. "The wallpaper has a softness and serenity to it. So, we liked the tension of adding something a little bolder, stronger." The fixture's verticality was also key. "It adds to the grandness of the room," she notes.
So do the custom chairs and hammered-brass credenza, the Keith Fritz dining table, the antique rug from Doris Leslie Blau and the 1970s Maison Charles table lamp from Bernd Goeckler Antiques.
---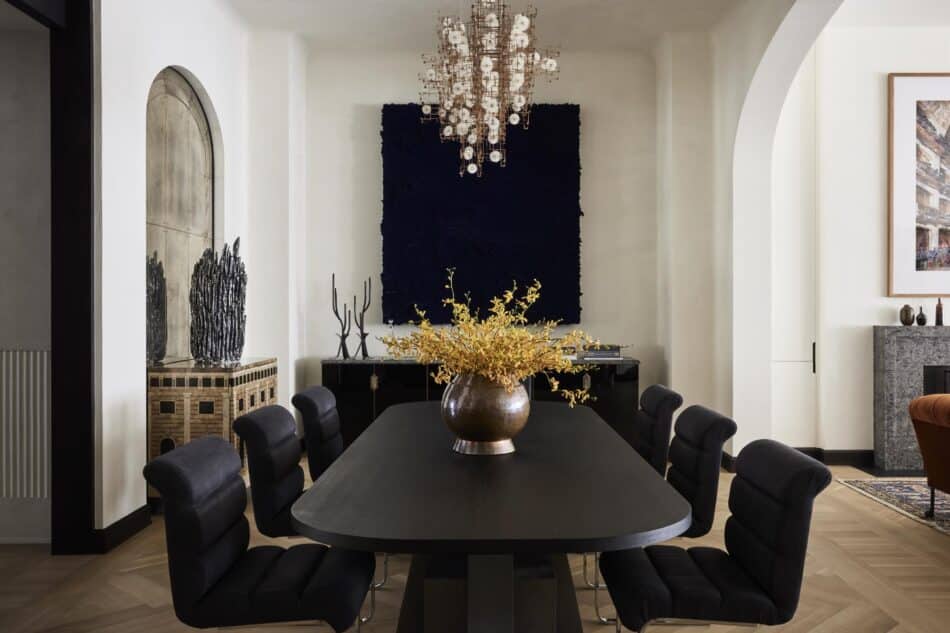 For John Gachot, encountering Studio Drift's Fragile Future chandelier was a case of love at first sight. "This is more than a chandelier, it's a sculpture," he says. "The aesthetic is strong yet delicate." It also proved to be the perfect counterpoint to the graphic elements in the dining room of a triplex in a late-19th-century building in New York's Soho belonging to a client from the fashion industry. Those elements include Jason Martin's moody 2017 artwork République, a custom Arno Declercq table and a set of vintage dining chairs by i4 Mariani for the Pace Collection. They are joined by a spiky ceramic by Portuguese artist Bela Silva, standing on a Fornasetti cabinet.
One thing that particularly fascinated Gachot was the way the light fixture was made. Real dandelion seeds are trapped inside a phosphorous bronze structure, which can be enlarged at will. "New circuits can always be added," he notes. "It can go on endlessly."
---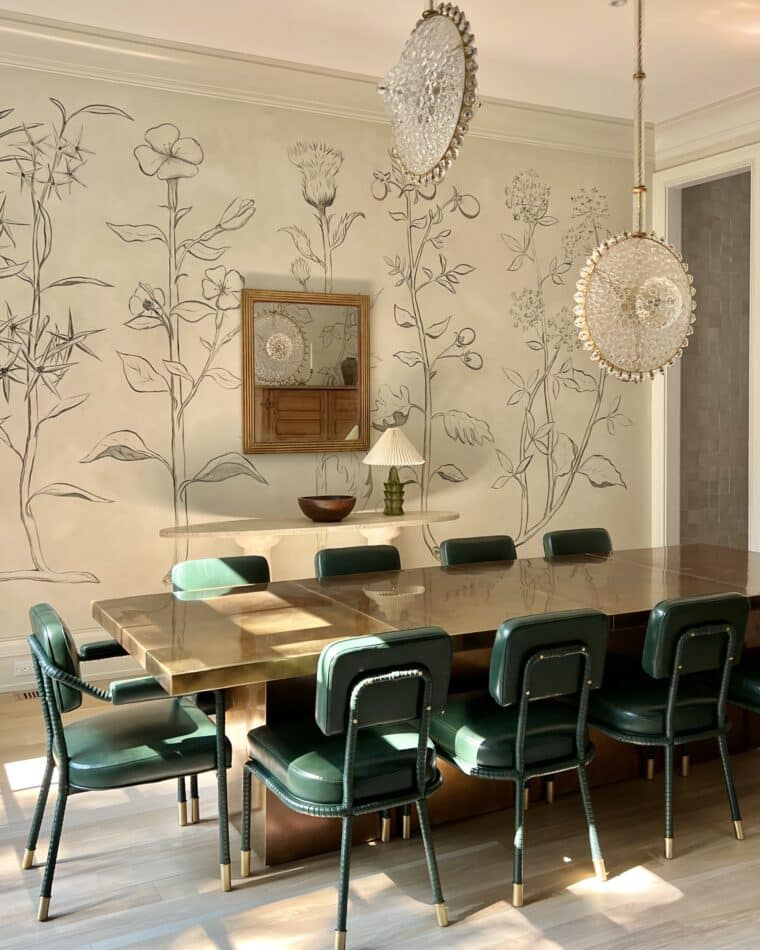 What is particularly striking about the pair of Sun Murano glass chandeliers in this Nate Berkus Associates–decorated dining room in Glencoe, Illinois, is the way they are hung. First, they are at a right angle to each other. "Something about placing them side by side in a straight row didn't feel right," explains Lauren Buxbaum Gordon, a partner at the firm and the lead designer on the project. "Having them perpendicular allows you to appreciate the details from multiple angles." Second, they are suspended at different heights. "That adds interest and helps the pendants waver between functioning as light fixtures and as art."
The chandeliers, acquired from Galerie Glustin at the Paris flea market, were chosen as a "funky, but necessary contrast" to the James Mobley mural. "I don't think the room would feel complete without them," says Buxbaum Gordon. "They add an edge." The other furnishings include a Matthew Cox table, a set of Easton dining chairs by And Objects, a fluted giltwood mirror from Skelton Culver Stefflen and a sculptural Swedish table lamp from Ponce Berga. The ensemble makes a striking impact, just as the designer intended. As Buxbaum Gordon explains, "The dining room is situated in the front of the house. You see it both when you step through the front door and come down the stairs. So, we knew it had to be extra special."
---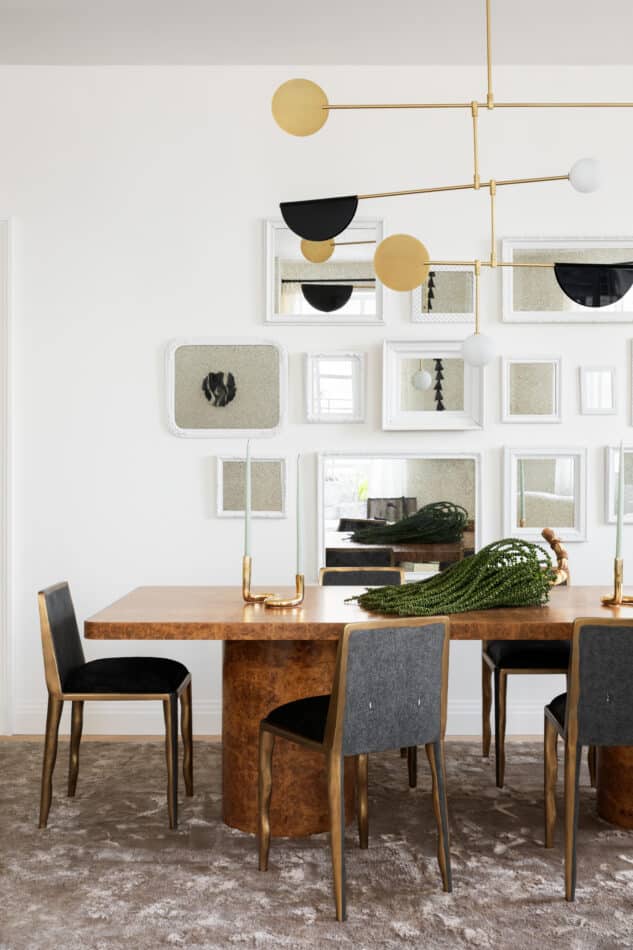 For Elizabeth Graziolo, principal at Yellow House Architects, working on a model unit in a landmark Art Deco building was "a once-in-a-lifetime opportunity," she relates. "Our design concept was to create a space that paid homage to vintage, glamorous New York." She did so by juxtaposing contemporary with classical pieces. This dining area, at one end of the open living room, has more of the former, including a bespoke table fabricated by the Brooklyn-based millwork company Adam Wilk Inc. and a set of shagreen and patinated-bronze Melting chairs by R&Y Augousti.
Above them hangs a steel, aluminum and Lucite Phase chandelier from the Toronto-based studio Anony, whose design was inspired by the different phases of the moon. Graziolo chose it for a couple of reasons: "We found [its] asymmetrical shape over the traditionally designed burl-wood table intriguing. And it also brought a strong presence while allowing for an airy view of the entire space."
---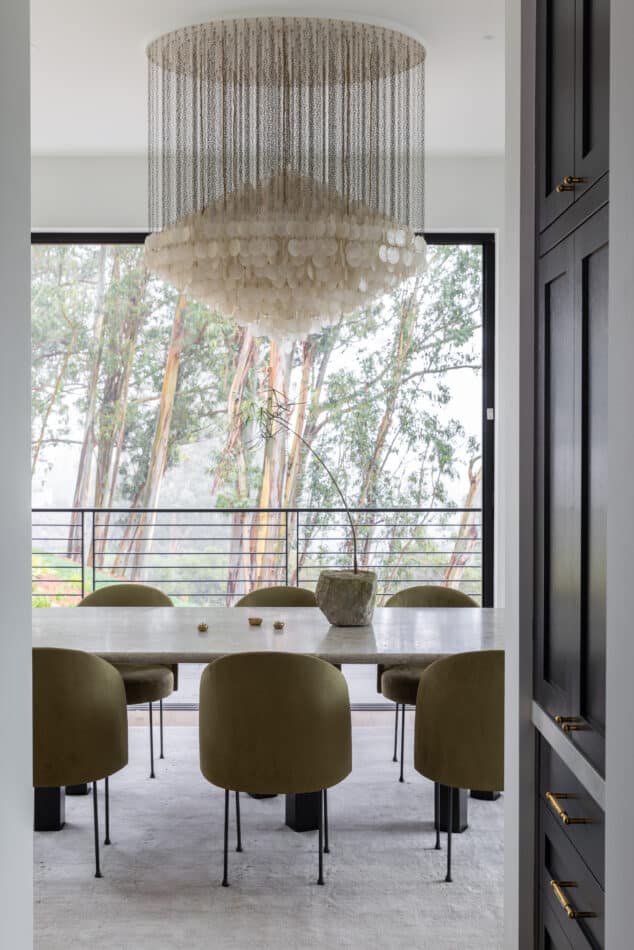 Getting the vintage Verner Panton chandelier from Formelibre, in France, to where it now hangs, in the dining room of a new-build house in Hillsborough, California, was a true labor of love. "It's so very big and dense," says designer Michael Hilal. "So, working out a way to transport it properly was a feat." Importation was also tricky, because it's made from shell. The whole process ended up taking some 13 months.
For Hilal, it was well worth the effort. "It's pronounced and makes a statement — the right statement," he says of the fixture, which the legendary Danish designer conceived in 1960 for the Swiss firm J. Lüber AG. "I wanted something that was visually impacting without dominating the space." He also loves the soft glow it emits ("the reflection of the pearled shell feels like candlelight") and the way it chimes when caressed by the wind. He decided to pair it with a custom quartz-topped table and bespoke chairs covered in a green Holland & Sherry suede, managing to do so in the nick of time. "We received it just two days before the house was finished," he recalls.
---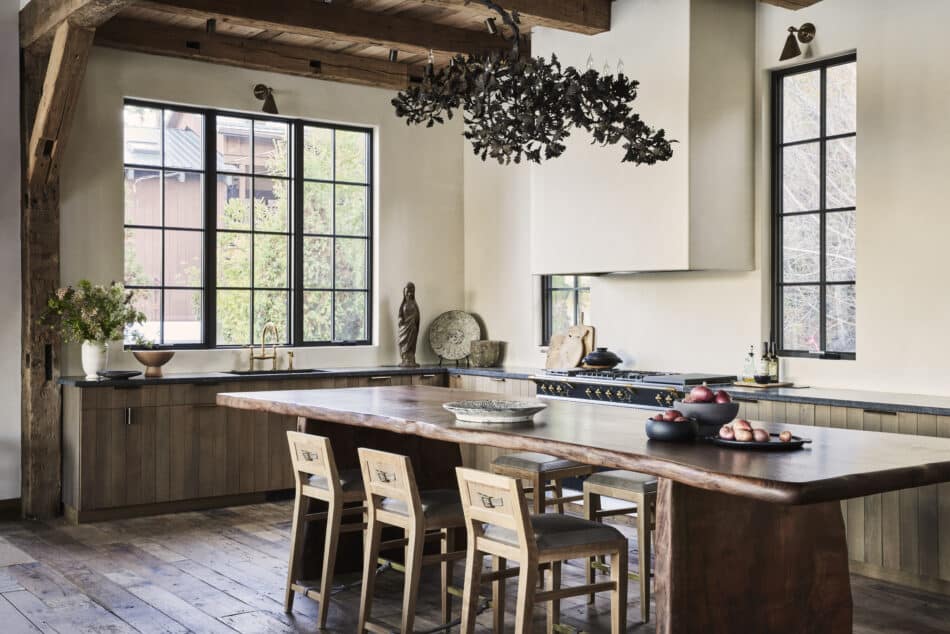 When Ohara Davies-Gaetano was commissioned to design a mountain escape on Flathead Lake in Montana, she faced something of a challenge — to create a kitchen for clients who don't really cook. Her solution was to imagine the space as more for gathering than for food preparation. To that end, she placed at its center a bespoke table, made from a slab of black walnut by a local workshop, in place of the customary island. She also opted not to have upper storage units and selected materials that harmonize with the architecture: The granite countertops echo the dark bronze tones of the windows and the natural oak of the cabinets blends with the wooden ceiling and column.
Her choice of chandelier — a bespoke item made by Cox London from sheet metal and brass — adds to the illusion, hardly resembling your typical kitchen fixture. "I liked its sculptural, organic nature and the idea of introducing a branch that creates a link to the natural environment," says Davies-Gaetano. "Its asymmetry also works well in the space. It really invites the eye to travel."