November 13, 2022On a rainy evening in Los Angeles earlier this autumn, newlywed interior designers Kat Bell and James Drew welcomed more than 130 guests — friends, clients, artists, decorators, retailers and assorted Hollywood folk — to the 1927 Spanish-style duplex where they live and work in the storied neighborhood of Whitley Heights.
"We like parties and beautiful things and sharing that with people," Bell explains. The couple, founders of interiors firm Argyle Design, organized the soiree to showcase their effervescent personalities and their firm's irreverent design sensibilities. "We want to be known for the diversity of our creative style and also our interest in new, up-and-coming designers and artists," Drew says. "Because you're only as cool as your friends."
The pair used the open house to show off recent works from their favorite emerging international and local talents, including Venezuela-born, L.A.-based ceramist Gabriela Forgo; Irish photographer Niall O'Brien; and London-born, L.A. transplant painter Jack Lewis. They displayed these among classic modern furnishings they covet — a Mies van der Rohe Barcelona daybed and a bronze 1960s Philip and Kelvin LaVerne cocktail table, among other pieces — on loan from Automaton.
Because of the rain, Bell and Drew recall, their guests couldn't stay outside too long, despite the patio's draw of an Arthur Umanoff bar and table the couple bought earlier this year. But everyone happily mingled indoors instead. And who wouldn't be happy amid the couple's impressive collage of furnishings?
Iconic designs — Isamu Noguchi Akari lamps, Eero Saarinen Tulip tables for Knoll, Pierre Paulin Ribbon chairs — effortlessly mix with audacious statement pieces. These include Gaetano Pesce's striped Up 5 "La Mamma" armchair and Up 6 ball-shaped footstool, Ettore Sottsass and Superstudio tables with graphic geometric designs, multiple Ingo Maurer light fixtures with feathered wings attached to bare bulbs and a Nanimarquina rug emblazoned with riotously colored doodles by designer Jaime Hayon.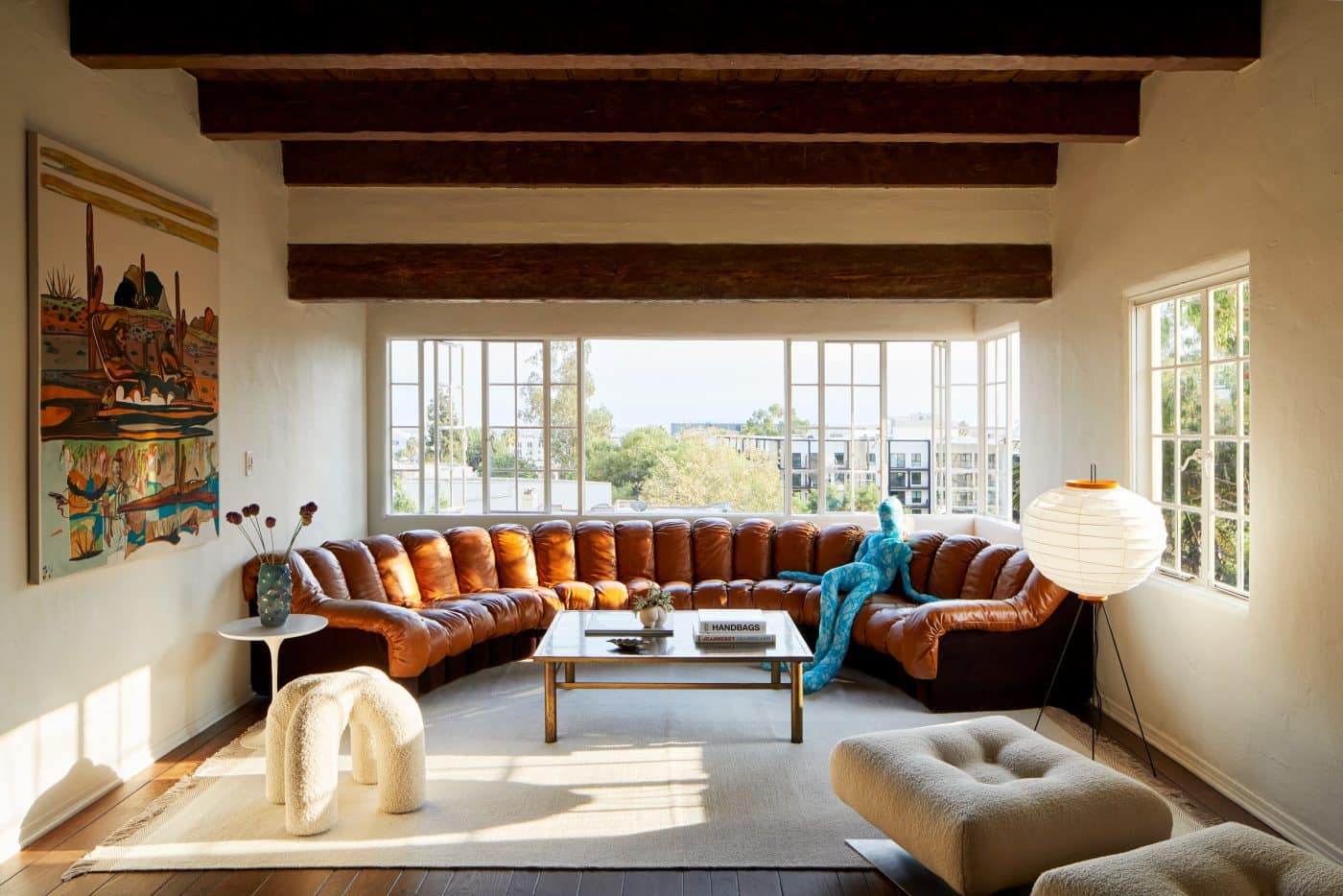 "People were sprawled out on every chair and surface," Bell says with a laugh. "The party was supposed to end at nine. By one a.m., it had turned into a real rager."
Since its founding, in 2020, Argyle Design has won commissions from high-profile clients — including pop star Demi Lovato, filmmaker Jason Reitman and restaurateur Jennifer Rush — and its two principals have become exemplars of a new generation of interior designers who haven't necessarily earned BFAs in the subject or apprenticed with established decorators.
Instead, Drew and Bell share an obsessive love of design informed by social media, online shopping and Internet research. During the early days of their courtship, they wooed each other by exchanging links to 1stDibs offerings by Italian and Brazilian modernists. They're equally inspired by travel, art and architecture — they got engaged during a stay at Frank Lloyd Wright's Curtis Meyer House, in Galesburg, Michigan — and they aim to build a community of designers and artists who offer an antidote to stuffy traditionalism.
Each had formative design experiences early in life. Bell, who grew up in Florida, remembers antiquing as a teen and scoring a pair of brass Milo Baughman bar stools for $75. Drew, a London native, studied film and video at Central Saint Martins, where he became fascinated with the worlds of fashion (especially the work of Alexander McQueen, Gareth Pugh and Vivienne Westwood) and art (by the likes of Lucian Freud, Damien Hirst and Tracey Emin).
Both pivoted to interiors during the pandemic. Bell had been a creative director at an experiential design firm, staging events for Veuve Clicquot, Mercedes-Benz and Levi's, among other brands, and forging friendships that would lead to Argyle's first A-list commissions. Drew had founded the film and video postproduction house Ethos Studios, where he remains an executive producer.
"We don't claim to be experts. It's more about what resonates with us: furniture and craftsmanship that has survived the test of time," says Drew, noting that they take inspiration as well from contemporary artworks they see at commercial galleries, museums and experimental spaces around town. "We also try to buy vintage or antique. It's more sustainable, and we often can't wait twelve weeks for something new."
Although the internet has helped democratize access to good design, the couple still sees a need, and a demand, for professional decorators — especially those who work in a less traditional way, as they do.
"Now that every piece of decor is accessible on your phone, it can lead people trying to decorate their homes by themselves into a state of 'choice fatigue,' " Bell says. "It goes a long way to have someone curate. And since people are spending more time at home, they want their rooms to have personalities."
Argyle Design happily fulfills such desires.
For Lovato's modern, new-build farmhouse–style house in L.A.'s Studio City, Bell and Drew designed a theater; a "glam" room, for doing hair and makeup; a music studio; and a "shroom" room, with a rainbow sectional and a cloud-shaped chandelier that reacts to sound. At Jason Reitman's home, they created a tiki-flavored living room.
Another California client wanted a "funhouse." So, the designers whipped up bedrooms that pay homage to Gucci and Hermès with custom wallpaper and accessories from the famed fashion houses. And they filled dark lounging spaces with a Roche Bobois Mah Jong sofa, swinging chairs and video arcade games.
It's in their own home and office, however, that Bell and Drew express their personality most clearly, through furnishings incorporating animal and face motifs, plus jolts of color, as in the conference room's green Guido Faleschini Tucroma chairs and cartoonish, wildly hued hooked-yarn wall hangings of Hannah Epstein.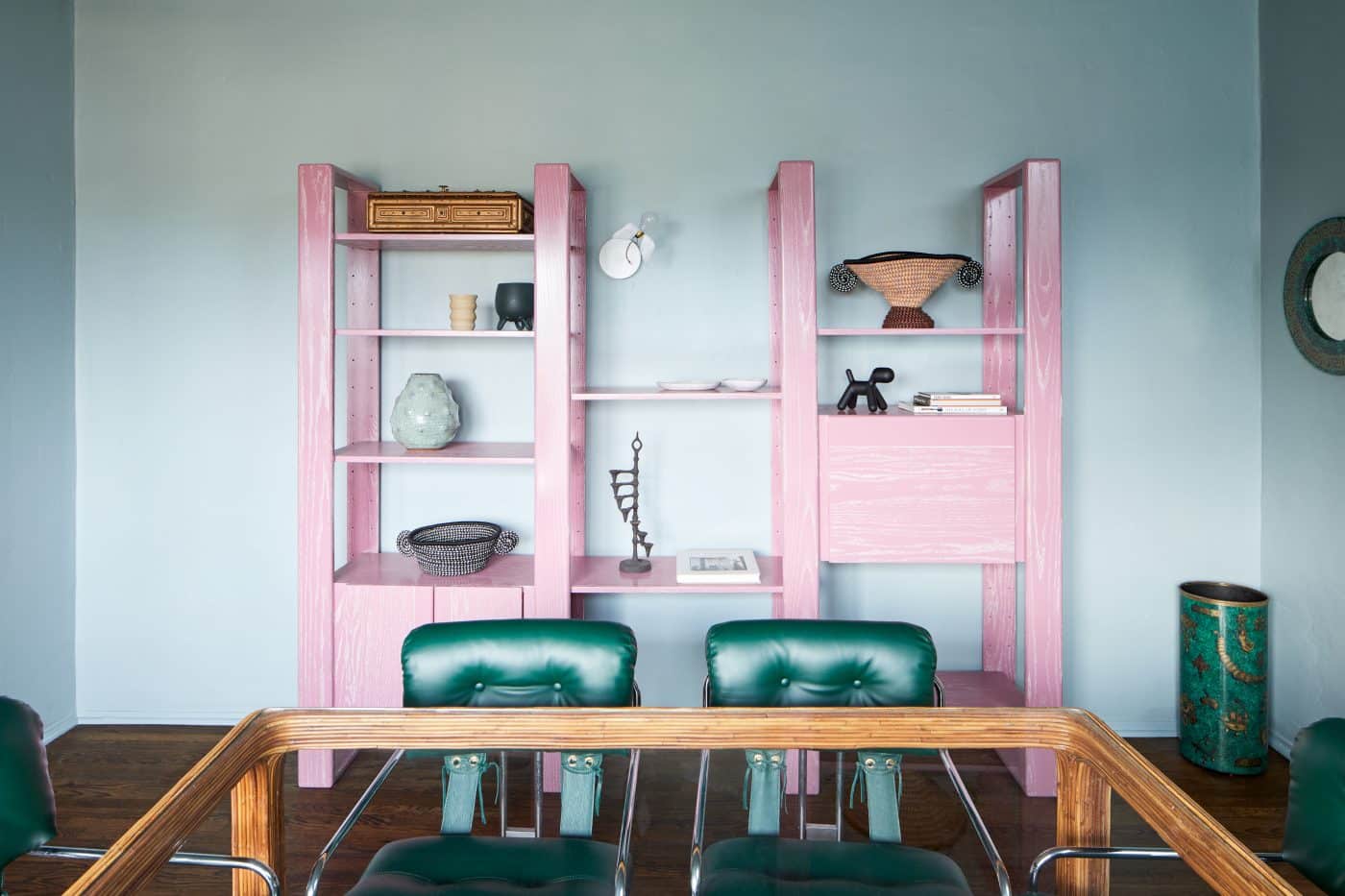 To balance this boldness, the couple favor an earthy palette and natural materials, deploying pieces like a leather Alessandro Becchi Anfibio sofa and chair, an Oscar Niemeyer Alta chair and ottoman in white wool and a Massimo and Lella Vignelli Metafora coffee table with postmodern marble legs. There's also rattan furniture in the manner of Gabriella Crespi, Dansk iron candlesticks, studio ceramics and Zambian woven baskets.
"The beams, archways and rough walls of the architecture are so specific, so we leaned into that," says Drew, explaining that they selected items that harmonize with the aesthetic of the house as well as a few that contrast with it, "like Memphis."
"James is more into Memphis than I am," Bell says with a sigh, admitting that she prefers things that are big, brass and enameled. "I like owning the Memphis pieces, but I wouldn't look at them and think, 'Oh, that's really pretty.' Mostly, I like the debate they cause."
On the other hand, the pair wholeheartedly agree on the beauty of the dining room's suite of 1930s Charles Dudouyt dining chairs with circular, shield-like backs. They've paired these surprisingly, but exquisitely, with a postmodern, minimalist Angelo Mangiarotti Eros table from Orange Furniture. "We tend to land on Italian design from the nineteen sixties, seventies and eighties," Bell says. "This is the world's heaviest table. I thought it might fall right through the floorboards."
In their "day room" — a smaller, less formal living space adjacent to their bedroom — the couple created a glistening hangout, with oversize Bower Studio arched mirrors, an Italian bar cart and a postmodern coffee table laden with books about designer handbags, London rave flyers, Apartamento magazine and the Studio Museum in Harlem. It's one of the many spaces where their ridiculously adorable bull terrier, Marlo Pomme de Terre, likes to nose around, looking for attention.
Marlo clearly loves the house, as do Bell and Drew. But it's a rental, and they imagine themselves somewhere else someday.
"Our dream is a modernist house with character — a Richard Neutra, Frank Lloyd Wright, maybe a John Lautner," says Drew. "New homes, smart homes, might have all the modern conveniences, but they have no heritage."
"We love homes that are architecturally intelligent," Bell explains, "a place where you can see the thought and love and care and design that went into it. Like an old church."
"Or maybe," Drew adds, "a big concrete Brutalist space." Bell wrinkles her nose ever so slightly. "We are very different," she concedes. "But our common passion is design."