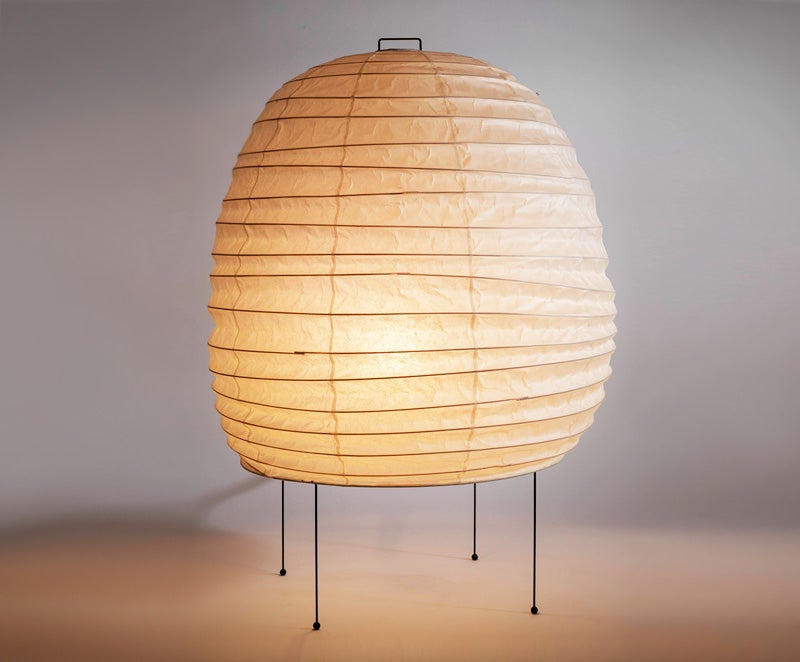 Iconic Designs
Akari Light Sculpture
About the Design
It was a trip to Japan in the spring of 1951 that inspired artist and designer Isamu Noguchi (1904–88) to create the Akari light sculpture. Noguchi was passing through the city of Gifu, in central Japan, and observed a traditional nighttime festival in which fishermen use cormorants to help them catch fish. Each boat was equipped with a chochin lantern to light its way. Noguchi — one of the 20th century's most inventive artists — was enraptured with the beauty of these traditional decorative lamps, which were made locally from mulberry bark and bamboo.
The artist met with Gifu's mayor, who explained that he was seeking a way to reinvigorate his city's lantern industry. Aiming to bring the chochin's traditional design into the 20th century, Noguchi made multiple prototypes with an incandescent bulb in place of a candle. He named the updated lantern Akari, which means both illumination and lightness in Japanese. Noguchi debuted his Akari light sculpture at an exhibition of his work at the Museum of Modern Art in Kamakura in 1952. It caught on immediately, not only as a piece of art but also as a functional design.
Since 1951, Noguchi's Akari lanterns have been handcrafted in Gifu. Fabricators stretch bamboo ribbing across molded wood forms, then glue washi paper — made from the bark of the mulberry tree — to the inside and outside of the resulting frame. Once the glue dries, the shape is set, and the internal wood form can be disassembled and removed. The lanterns are collapsible, a traditional feature that Noguchi insisted on keeping. They can thus be shipped flat around the world in shallow boxes or slender envelopes, and then easily unpacked and installed. This feature contributes to the sculpture's practicality. As Noguchi was fond of saying, "All you require to start a home are a room, a tatami and Akari."
Isamu Noguchi Akari Light Sculpture
More Isamu Noguchi Designs