"Everything has a beautiful line — each individual piece in the room has both a richness and simplicity, almost sculptural on its own," says Lucien Rees Roberts, of Steven Harris/Rees Roberts & Partners, describing this enclosure atop a townhouse in the Cobble Hill section of Brooklyn.
A built-in bench adds sunny window seating to the room's Charlotte Perriand stools and Clam chair (formerly attributed to Philip Arctander but now known to be an Arnold Madsen design), as well as Pierre Jeanneret loungers flanking a Jean Prouvé coffee table.
Rees Roberts intentionally kept the furniture modest in size. "Everything is of a certain scale and similarly proportioned," he notes, "which also allows the room to feel so generous."
---
In this Upper East Side living room by David Ries and Thad Hayes, a Ludwig Mies van der Rohe Barcelona daybed and a pair of Angelo Mangiarotti coffee tables (all found on 1stDibs), as well as a convex mirror by Line Vautrin, help create a sophisticated but welcoming atmosphere.
"A young family lives here," say the partners, "so the space needs to be more inviting and less precious."
---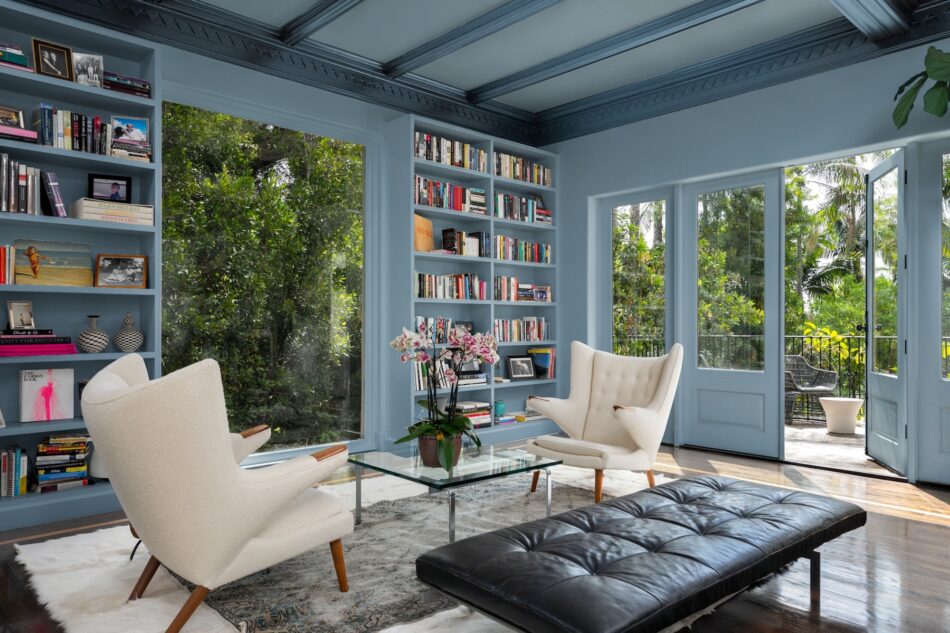 Hans Wegner Papa Bear chairs engage each other in conversation in this living room in a house in the Los Feliz neighborhood of Los Angeles. Against a backdrop of views and blue hues, these pieces with a presence "reign supreme," states designer Brigitte Romanek.
That said, the Poul Kjærholm PK 80 bench — which, like the chairs, was found on 1stDibs — brings its own personality to the party. "Eclecticism is my style," says Romanek, who created the comfortably luxe space for a family of design lovers. "It's important that the pieces come together with balance and are always supporting each other in a harmonious way."
---
An Isamu Noguchi Akari pendant perfectly suits the minimalist concept behind this Parisian kitchen, which Fabrizio Casiraghi designed as "a sophisticated lacquered box."
The lamp floats above a bespoke dining table in glossy walnut surrounded by mid-century chairs from 1stDibs. The goal, says Casiraghi, was to "create a masculine, cozy" apartment that's "easy to keep tidy."
---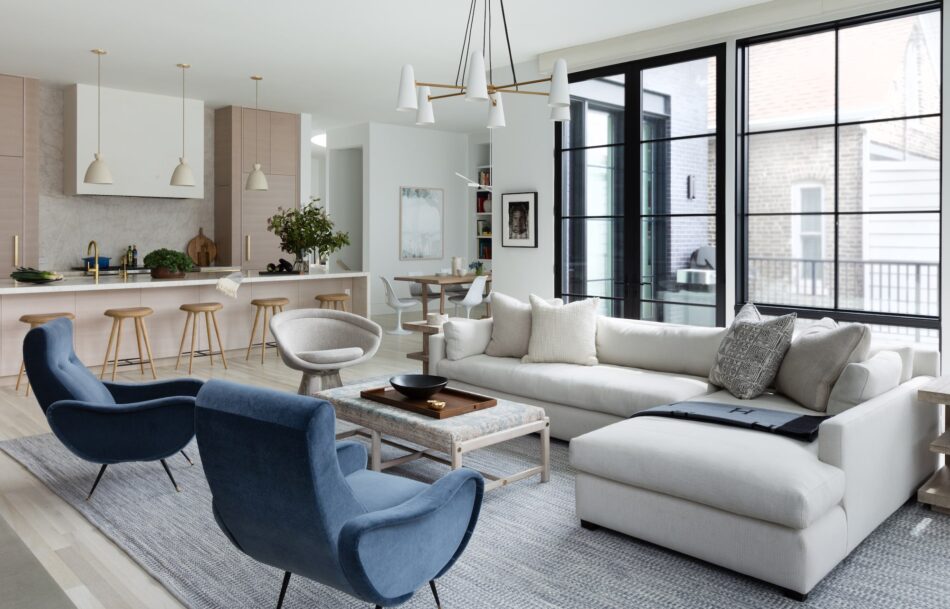 "This room is a great example of mixing old, new and classic," says Summer Thornton, describing a bright open-plan area inside a Chicago apartment belonging to a young family. "It's a big mash-up of styles that feels fresh and inviting at the same time."
The pair of vintage Marco Zanuso Lady chairs (spotted on 1stDibs) counterbalance the spacious sectional sofa. "These chairs brought a much needed lightness to the space," says Thornton. "I love the sculptural element they add to the room."
Their dark upholstery also provides contrast, she notes, while a 1966 Warren Platner for Knoll chair has a geometric appeal.
---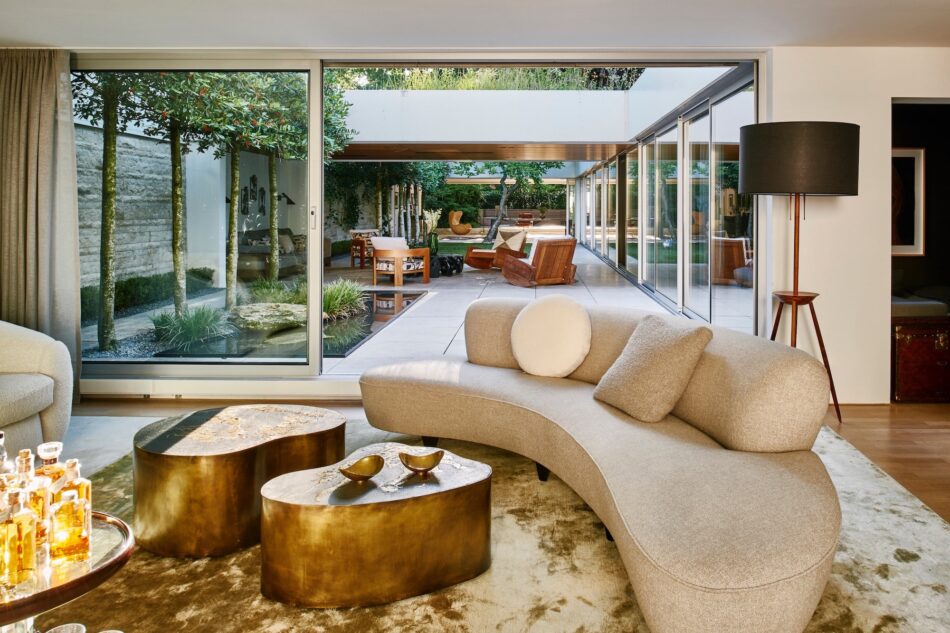 Robert Stephan felt a personal bond with the Vladimir Kagan Freeform sofa in the living room of this relaxed cosmopolitan home in Munich. "I met Vladi several times in his last creative years," he explains. The designer's fashion-industry clients also had a connection. "The husband dresses mainly in Tom Ford," says Stephan. "In the early 1990s, Bill Sofield furnished the Gucci stores he created for Ford with Kagan sofas."
Newly upholstered in a Pierre Frey bouclé, the vintage piece mingles with custom Bronzeforms coffee tables by Silas Seandel, a BDDW floor lamp and a shimmering silk carpet by Tai Ping.
"For me, it's not about being especially current," says Stephan. "It's more about being timeless. For that, my ingredients are designs that stand the test of time, sublime colors, high quality in terms of craftsmanship and different textures for a subtle atmosphere."
---
"There is a kind of swaying geometry that you can see at play," says architect Rafael de Cárdenas, describing the relationship among the key pieces in the Manhattan showroom he created for fashion designer Ulla Johnson.
The Ingo Maurer Uchiwa pendant lamp, drawn from Johnson's personal collection, is joined by a custom sofa designed by de Cárdenas, a Kazunori Hamana vessel and a marble table by Angelo Mangiarotti. "It's a showroom that's meant to feel almost residential — homelike," says de Cárdenas. "It's highly polished but also palpably personal."
---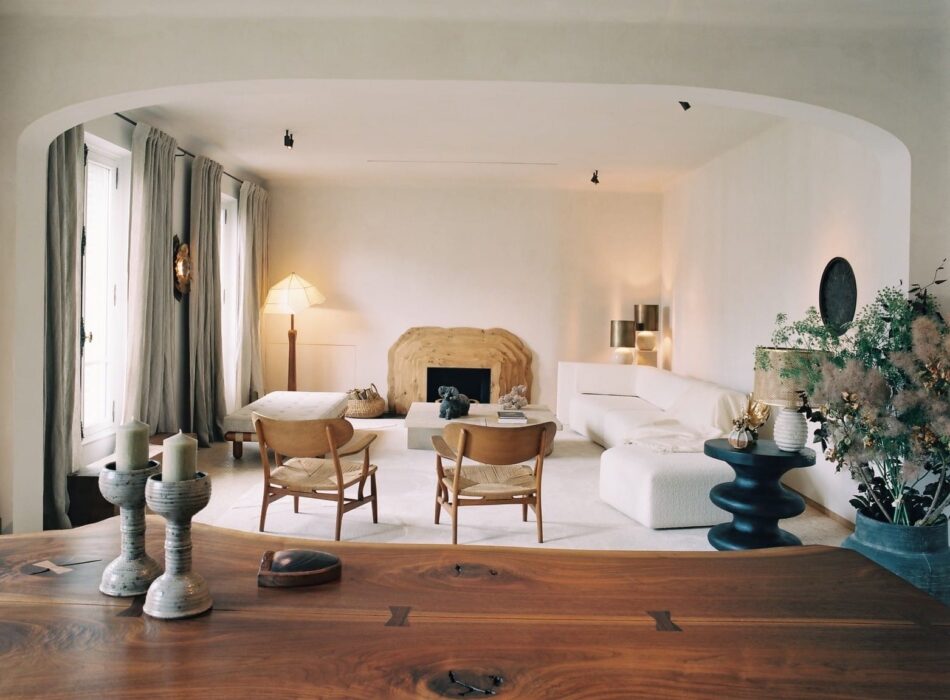 Inspired by Tadao Ando's Benesse House Museum, on Japan's Naoshima island, this apartment in Paris's Saint-Germain-des-Prés neighborhood was crafted as a tranquil refuge from urban bustle. Rather than showcase a standout move, Karel Fournier and Olivier Marty, of Studio KO, wanted the space to embody many design philosophies that together "create a unique atmosphere."
The living room, centered on a Pierre Culot travertine coffee table, includes a Christophe Delcourt sofa, a pair of Hans Wegner CH22 chairs, a T.H. Robsjohn-Gibbings daybed and a George Nakashima table. A curvy Julian Chichester Carlo side table adds a dark accent to an otherwise white space warmed by wood.
---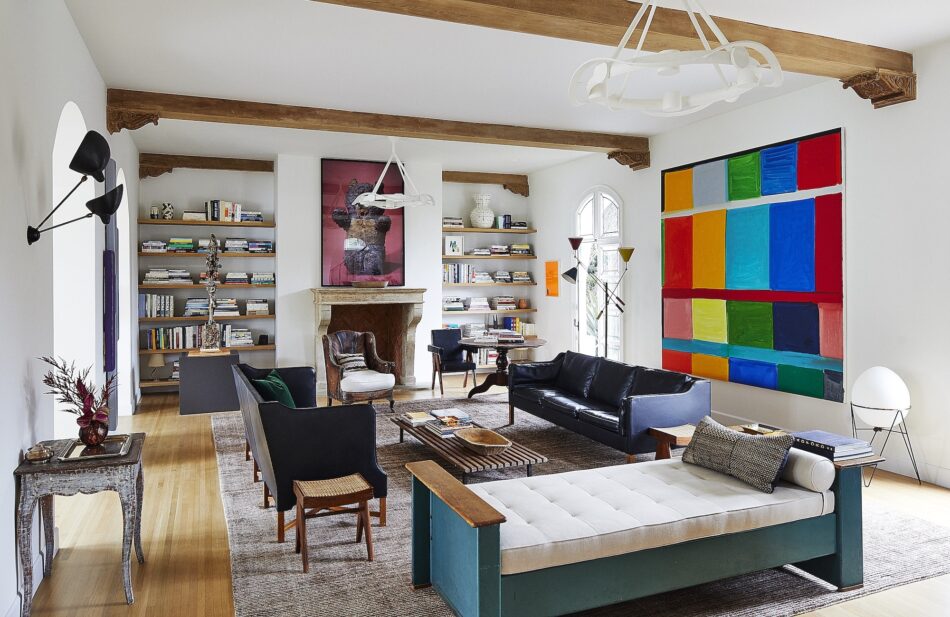 For a family in L.A.'s Hancock Park neighborhood, Matt Blacke Inc. founder Cliff Fong wanted to "create a comfortable and stimulating living space" on the same aesthetic level as their impressive collection of fine art. "That's why," he explains, "it was important to have pieces that were of historical importance and great design integrity."
In the living room, Stanley Whitney's bright grid painting is joined by a Jean Prouvé Cité daybed, Børge Mogensen and Kaare Klint sofas, a Charlotte Perriand bench, a Pierre Jeanneret chair and stools and Angelo Lelii's playful multistem Triennale floor lamp.
"It's the mixture of antique furniture, modern design and contemporary art that makes this interesting," says Fong. "My client is not living in any one time period that could be associated with a few pieces of furniture but hopefully something that feels fresh and unique to them."