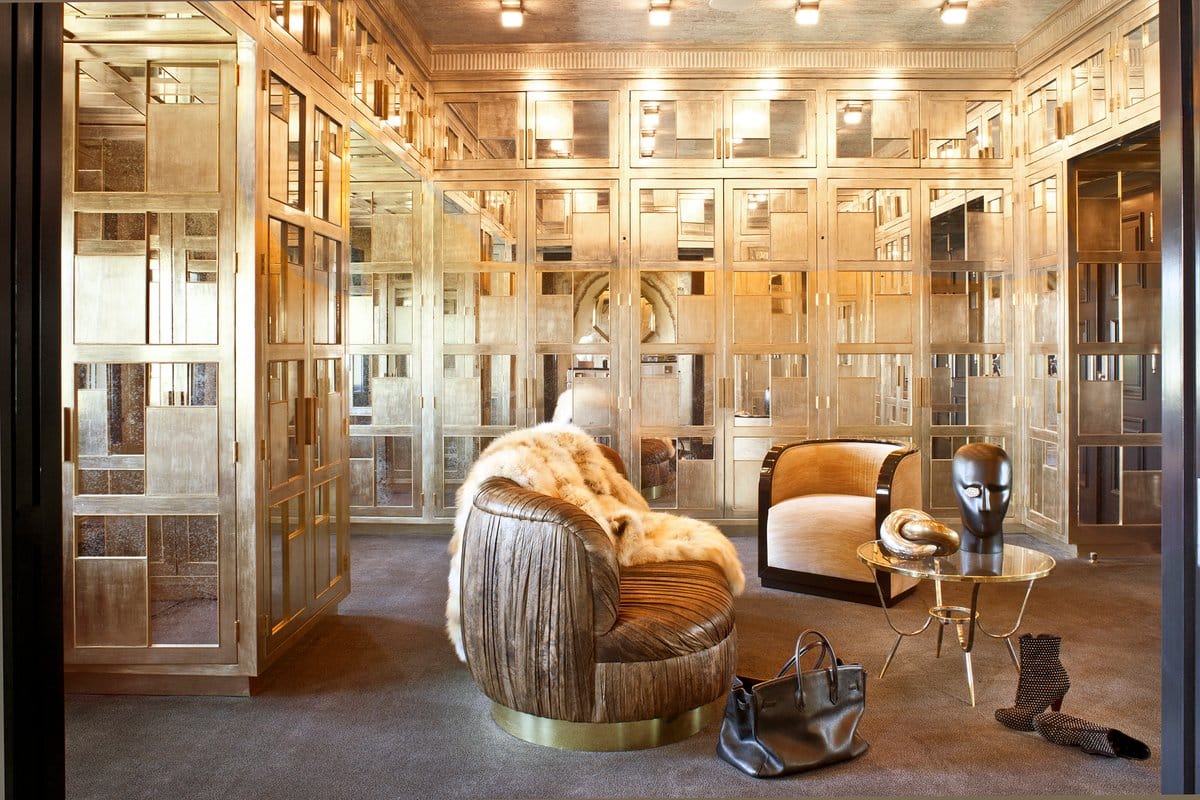 This gilded and mirrored Los Angeles closet by Kelly Wearstler features pieces from the designer's own line of furnishings, including a customized version of her ruched-leather Souffle settee.
Photo by Grey Crawford
---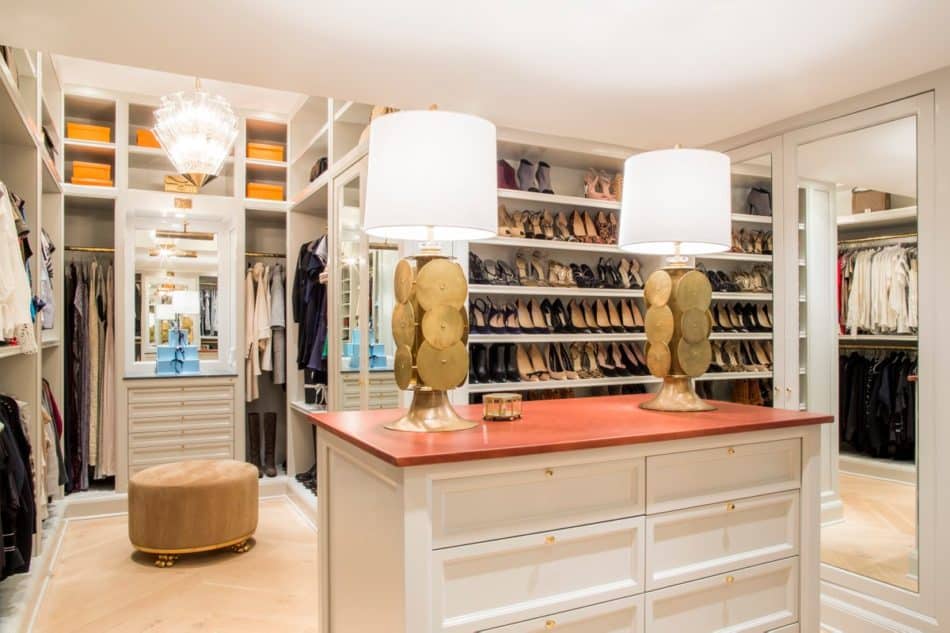 For this Seattle closet, Nate Berkus designed a leather-topped island and finished it off with a pair of vintage Murano glass lamps from 1stdibs. The ceiling light is by Fontana Arte.
Photo by Christopher Dibble
---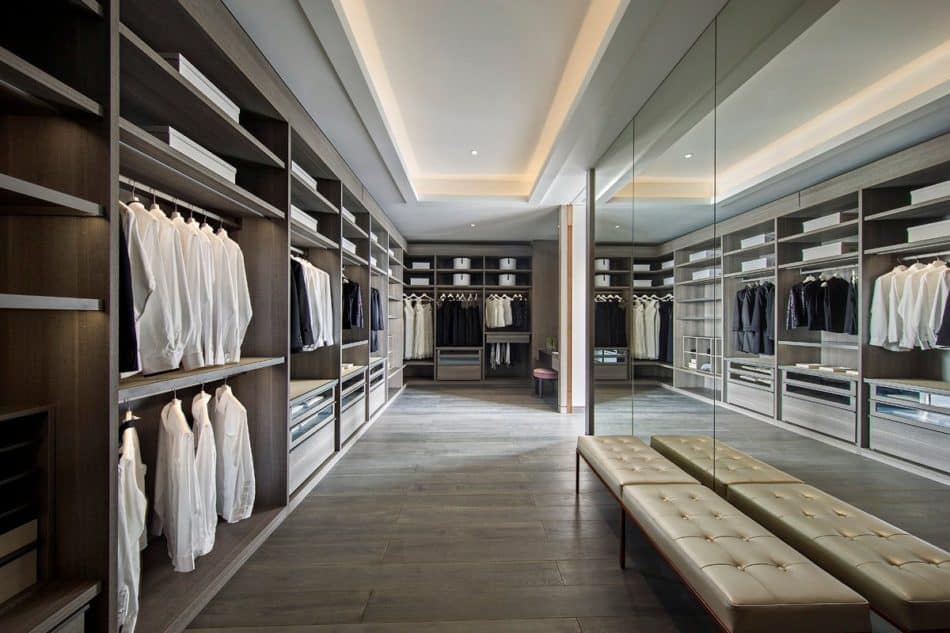 Kelly Hoppen designed this massive closet for a residence in China, and it includes a vanity, a wall of mirrors and plenty of drawers, shelves and hanging space.
Photo by Shenzhen Lv Feng Photography Ltd
---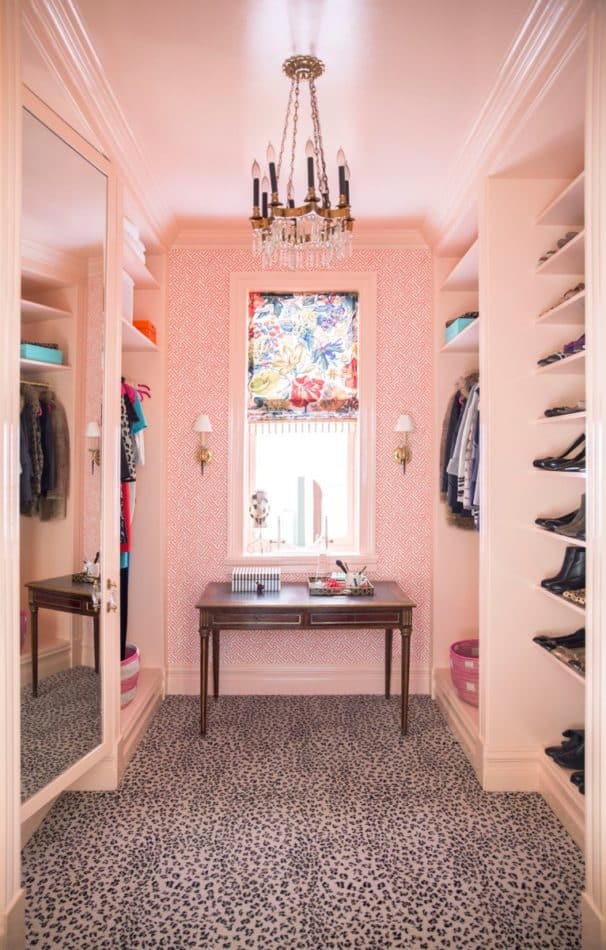 This pattern-heavy Chicago closet by Summer Thornton includes Greek key wallpaper, leopard-print carpet and a floral shade. A candle chandelier hangs from the ceiling.
Photo by N. Johnson, B. Ambridge, J. Thornton
---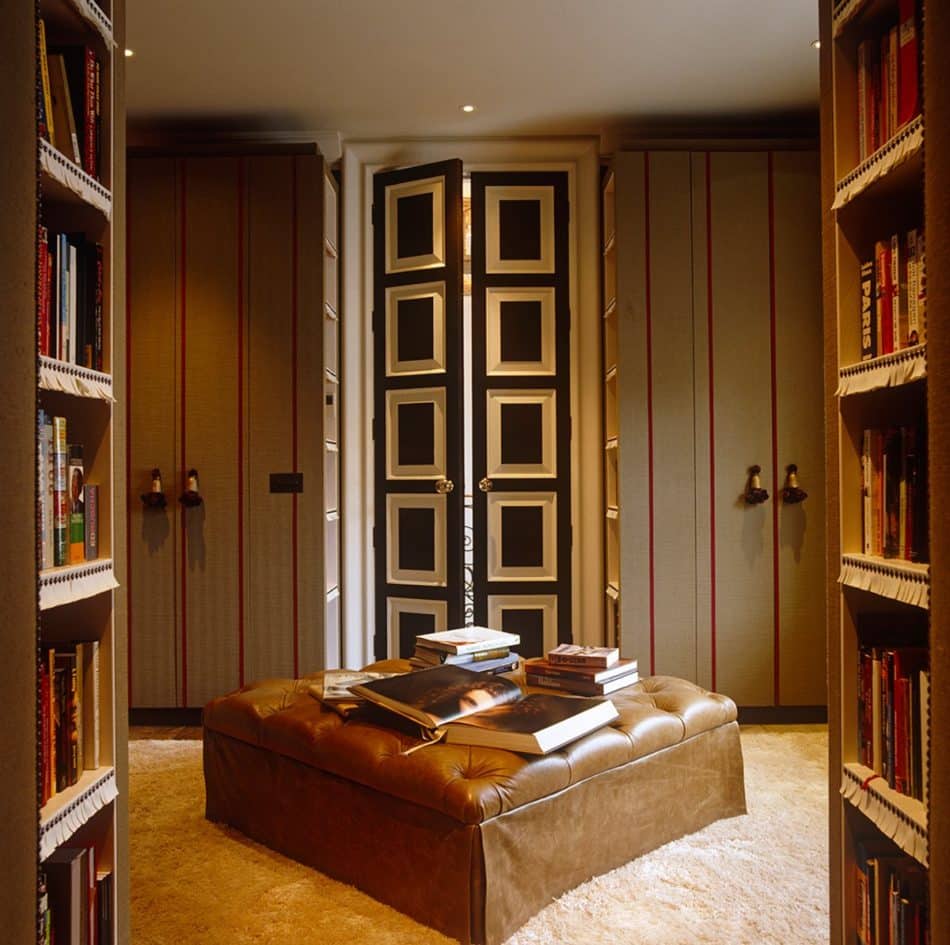 With shelves of books and a large tufted leather ottoman, this luxe London space by NH Design is part closet, part reading lounge.
Photo by Fritz von der Schulenburg
---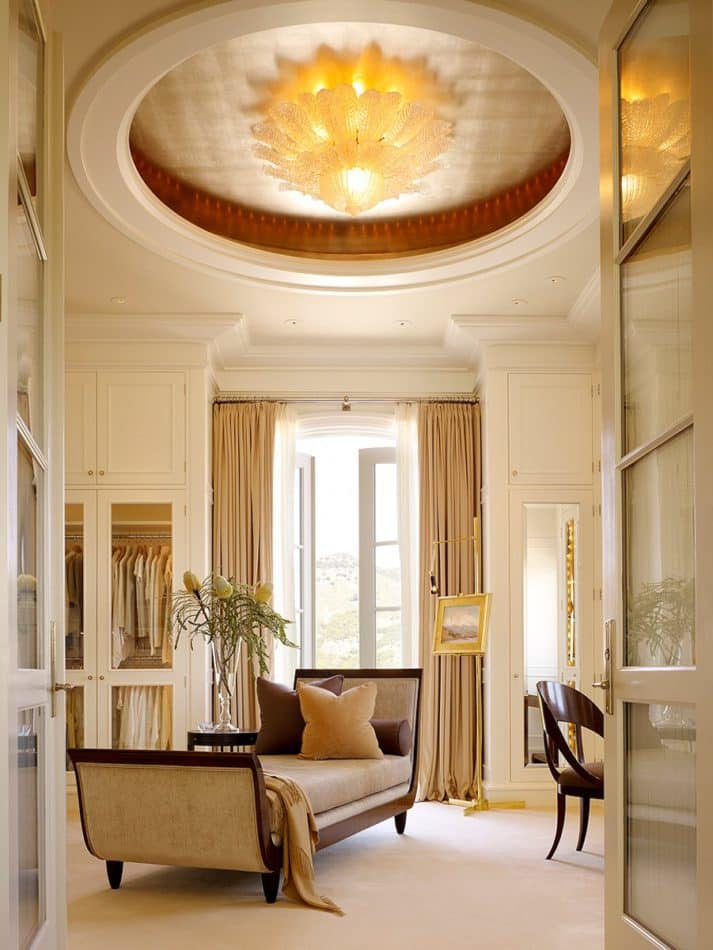 The Wiseman Group designed the interiors of this Napa, California, home by Richard Beard of B.A.R. Architects, where the client wanted a neutral palette with interest. A vintage glass chandelier hangs over the chenille-upholstered Art Deco daybed.
Photo by Matthew Millman
---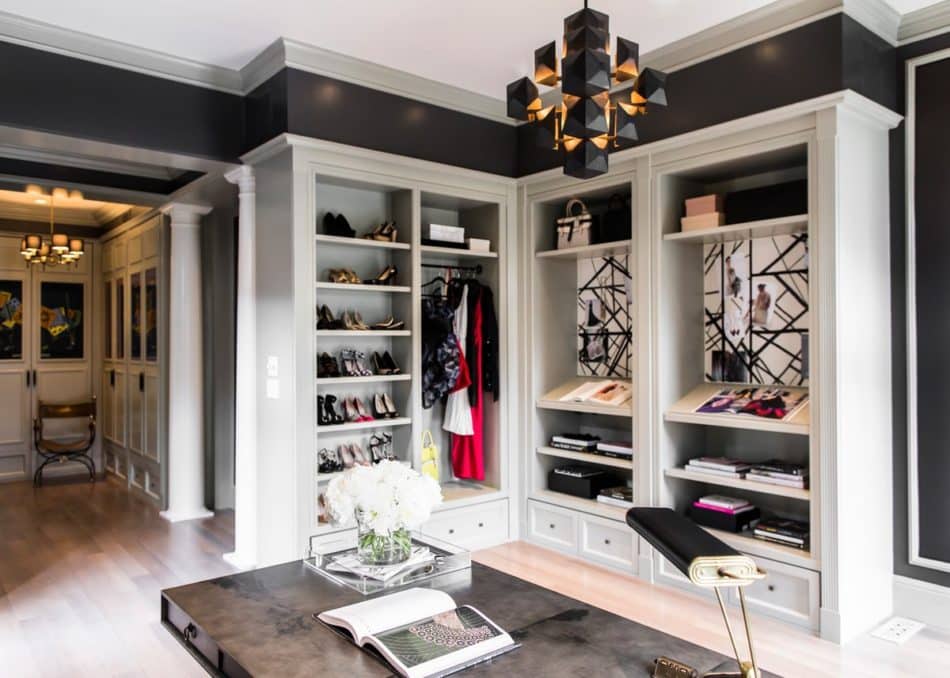 A graphic Blackman Cruz metal chandelier hangs over the closet and office that Catherine Kwong Design created for the 2012 San Francisco Decorator Showcase. Custom wood cabinetry filled with fashion books, clothing and shoes lines the wall, and closet doors display inset panels featuring Hermès silk scarves. At the center of the room is a Julian Chichester Cortes desk topped with a vintage Eileen Gray desk lamp.
Photo by Bess Friday
---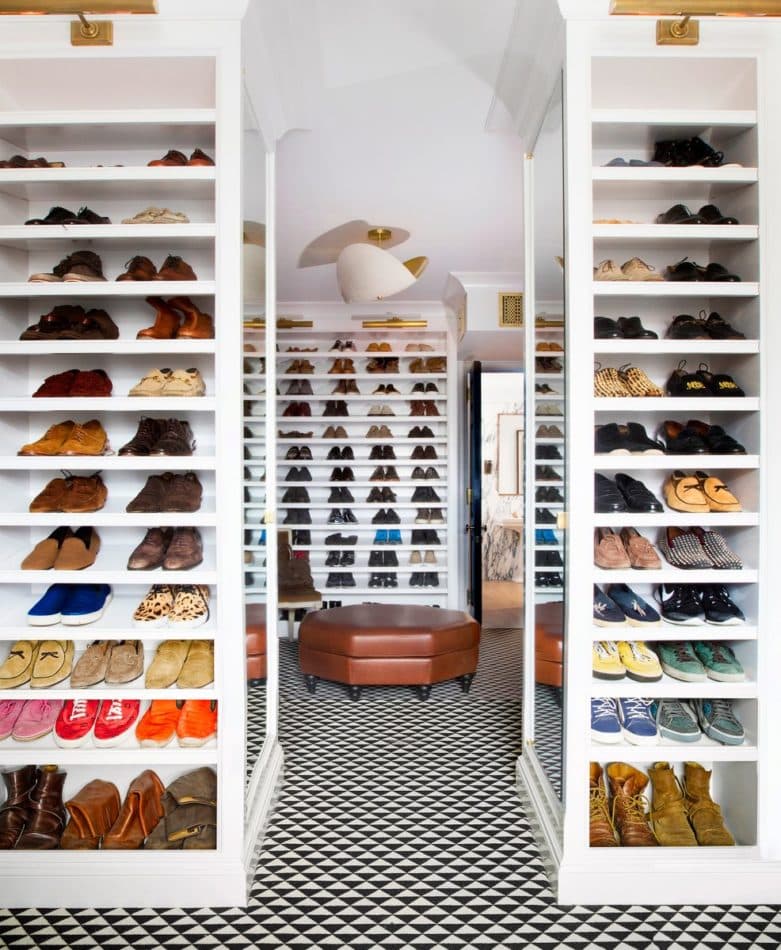 "The master dressing room in my New York apartment was almost entirely open shelving — the intention there is both practical and aesthetic," Nate Berkus says of his former duplex penthouse. "It's a wonderful thing to see every shoe and piece of clothing, beautifully arranged, and the gallery lights enhance the display. My Virgo nature makes it impossible for one thing to ever be out of place!" The carpet is by Saxony Carpet and the large folded brass shell pendants are by Jason Koharik.
Photo by Julie Holder Photography
---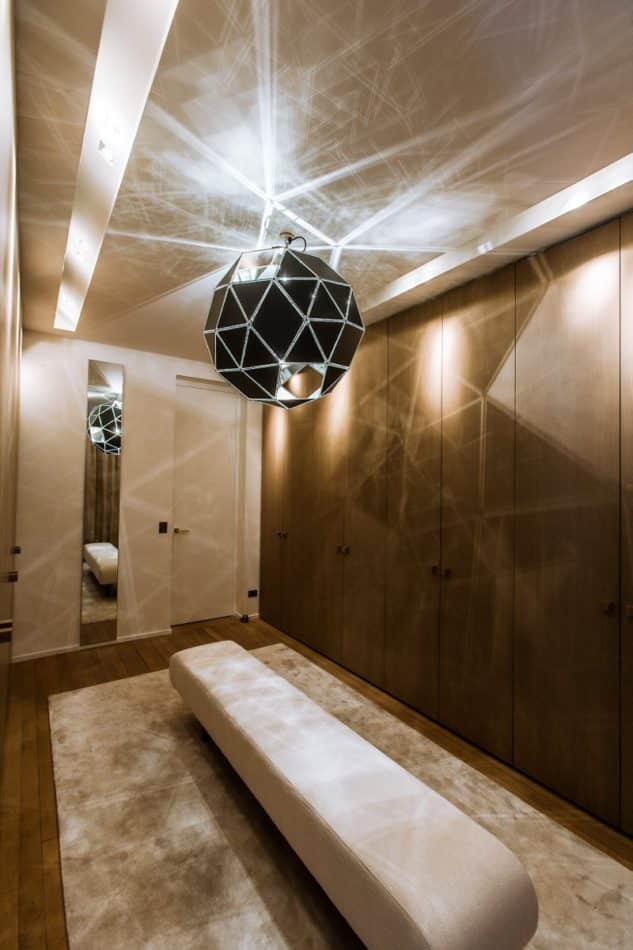 When Isabelle Stanislas designed the dressing room of this Paris apartment, she started from the top. "The beginning point was the Olafur Eliasson lamp," she says. Stansilas designed the closets, which have a grey oak finish, and the bench, which is upholstered in Dedar velvet. The silk rug is by Atelier Pinton.
Photo by Olivier Löser