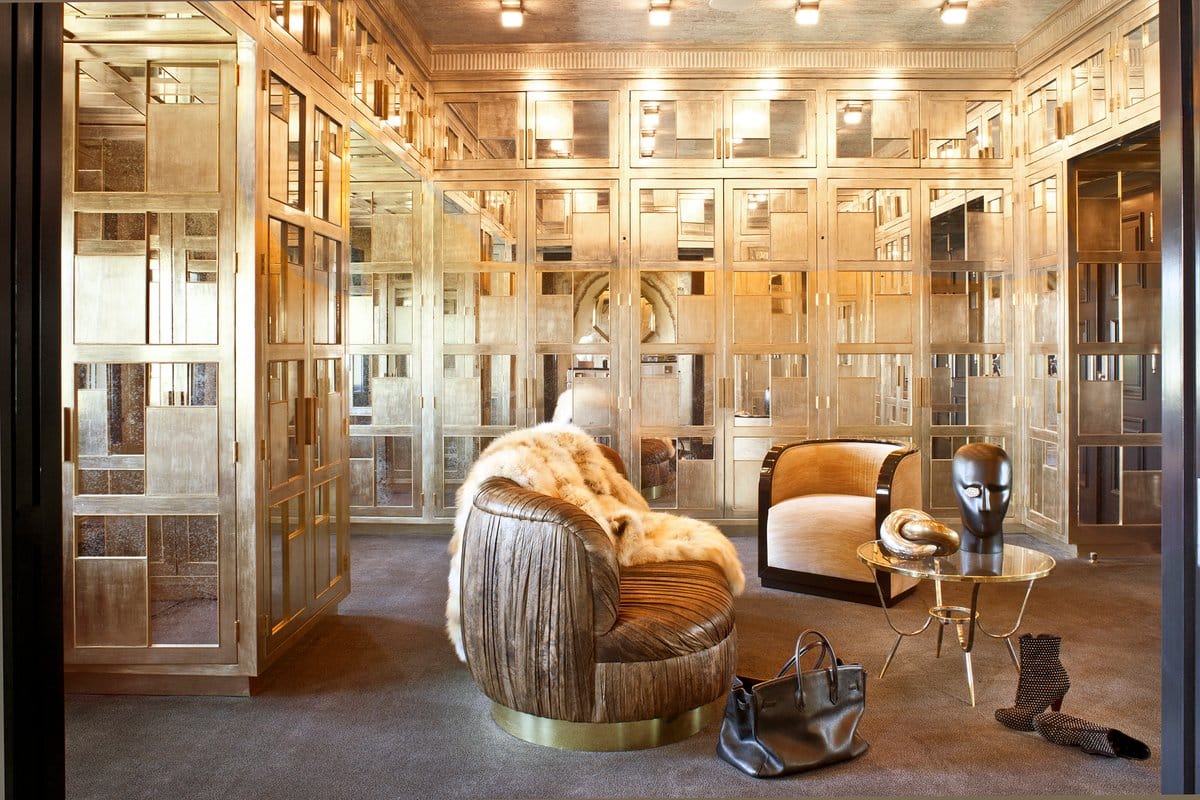 This gilded, mirrored Los Angeles closet by Kelly Wearstler features furnishings of her design.
Photo by Grey Crawford
---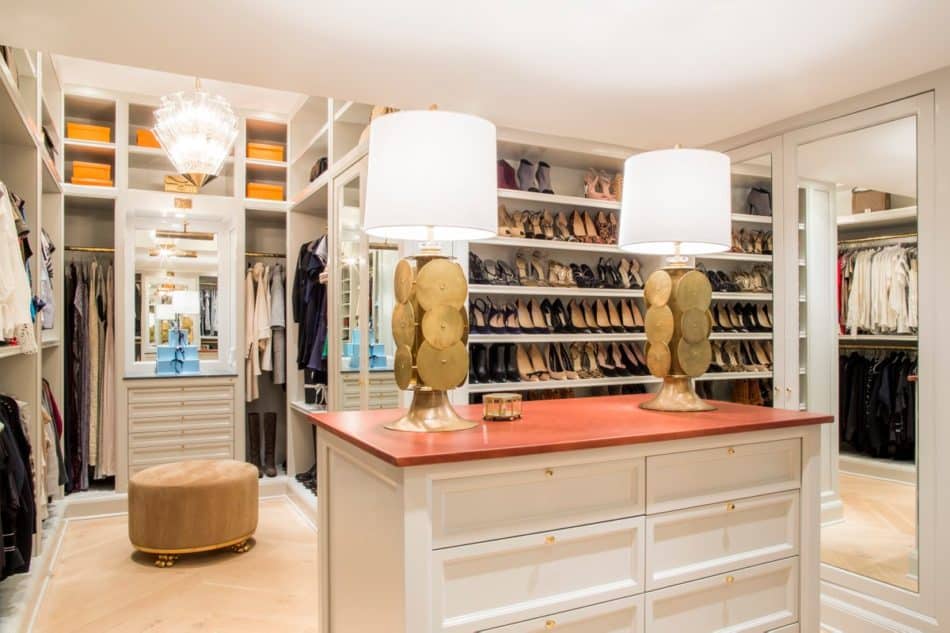 For this Seattle closet, Nate Berkus designed a leather-topped island and finished it off with a pair of vintage Murano glass lamps from 1stdibs. The ceiling light is by Fontana Arte.
Photo by Christopher Dibble
---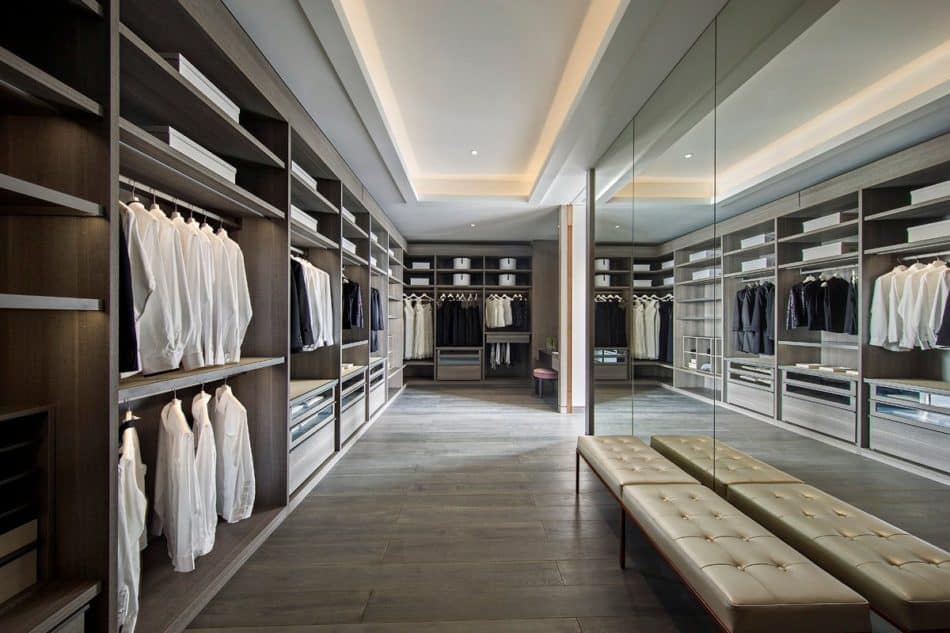 Kelly Hoppen designed this massive closet for a residence in China, and it includes a vanity, a wall of mirrors and plenty of drawers, shelves and hanging space.
Photo by Shenzhen Lv Feng Photography Ltd
---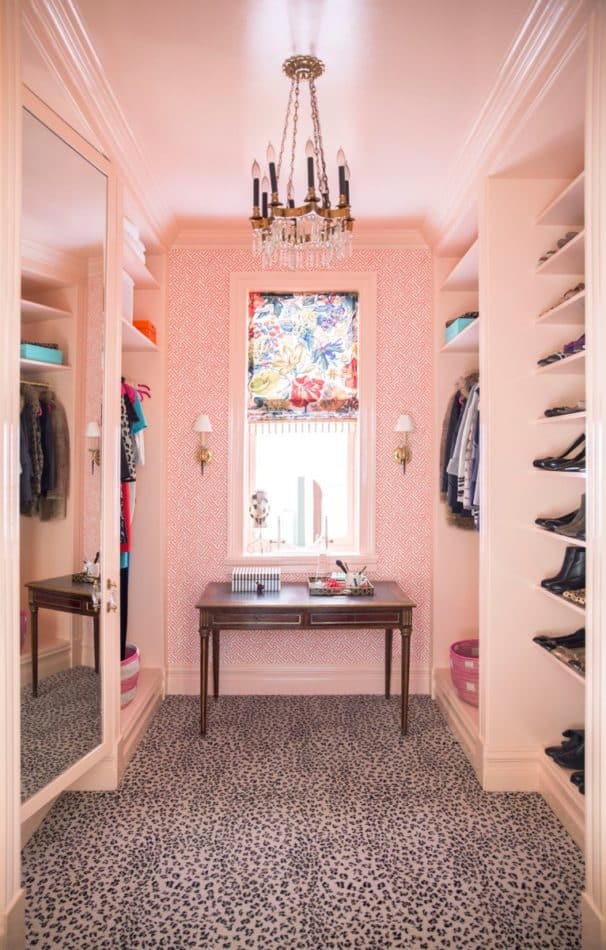 This pattern-heavy Chicago closet by Summer Thornton includes Greek key wallpaper, leopard-print carpet and a floral shade. A candle chandelier hangs from the ceiling.
Photo by N. Johnson, B. Ambridge, J. Thornton
---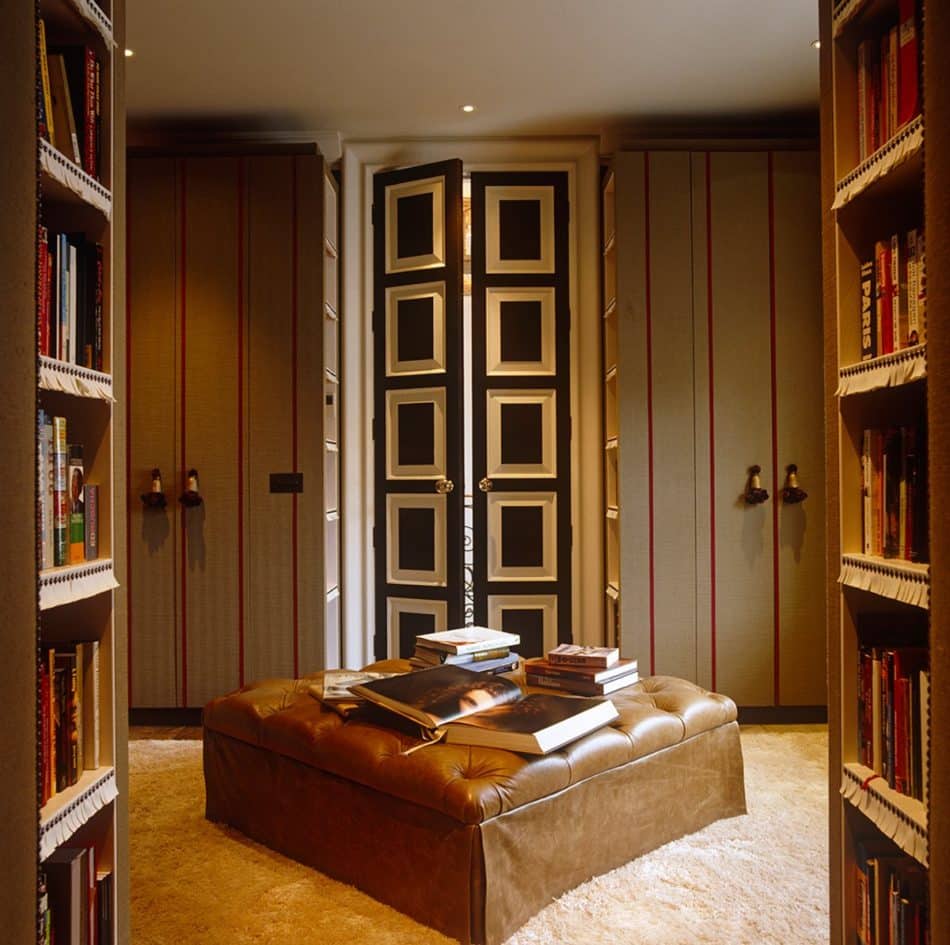 With shelves of books and a large tufted leather ottoman, this luxe London space by NH Design is part closet, part reading lounge.
Photo by Fritz von der Schulenburg
---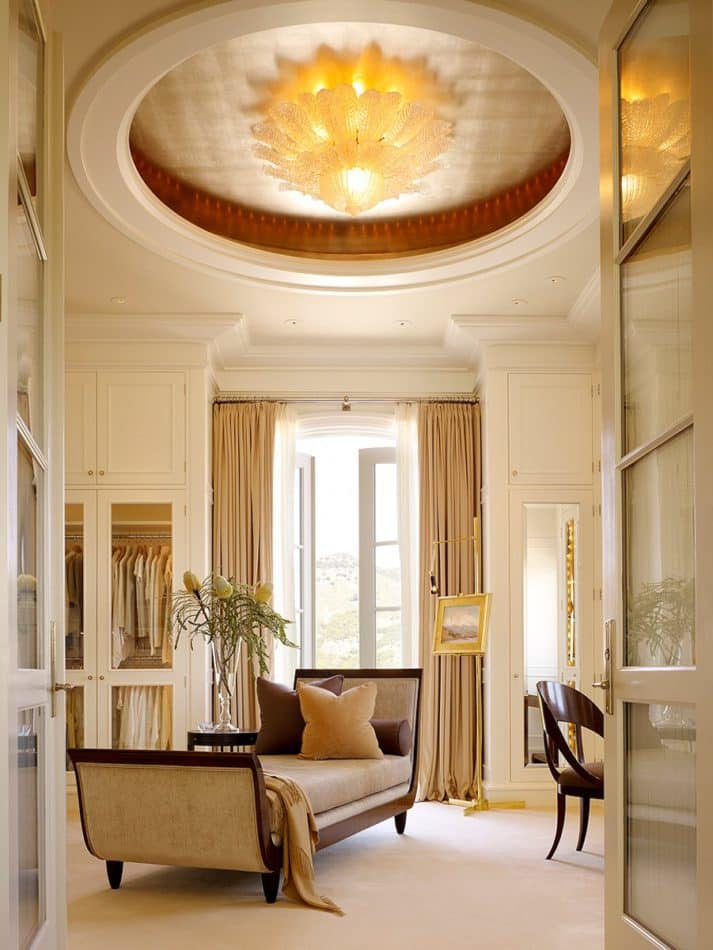 The Wiseman Group designed the interiors of this Napa, California, home by Richard Beard of B.A.R. Architects, where the client wanted a neutral palette with interest. A vintage glass chandelier hangs over the chenille-upholstered Art Deco daybed.
Photo by Matthew Millman
---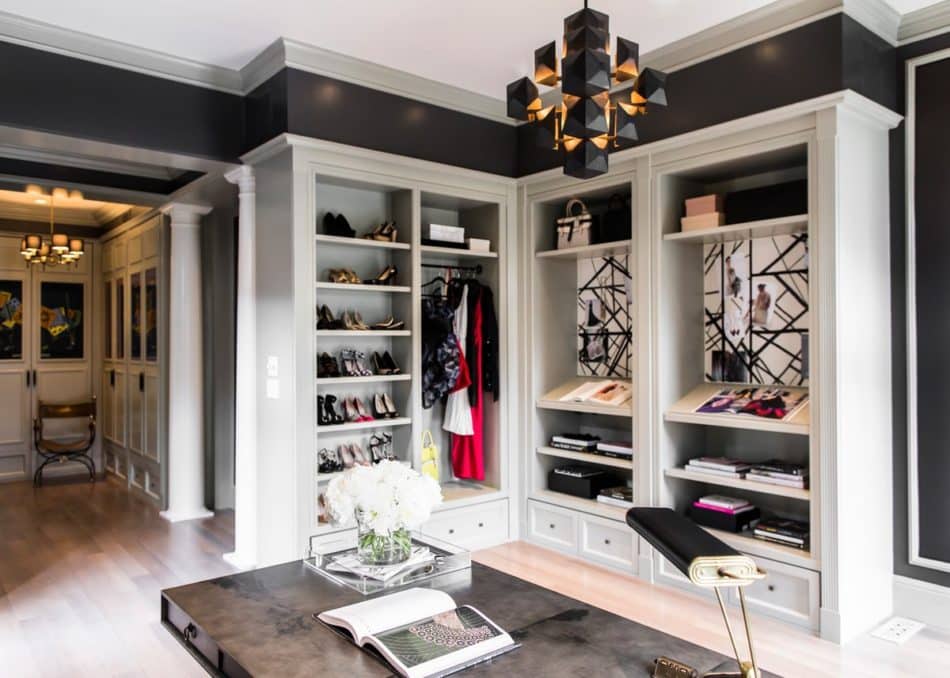 A graphic Blackman Cruz metal chandelier hangs over the closet and office that Catherine Kwong Design created for the 2012 San Francisco Decorator Showcase. Custom wood cabinetry filled with fashion books, clothing and shoes lines the wall, and closet doors display inset panels featuring Hermès silk scarves. At the center of the room is a Julian Chichester Cortes desk, which is wrapped in hand-dyed black vellum with a gilded steel base and sycamore-lined drawers. This desk is topped with a vintage Eileen Gray desk lamp.
Photo by Bess Friday
---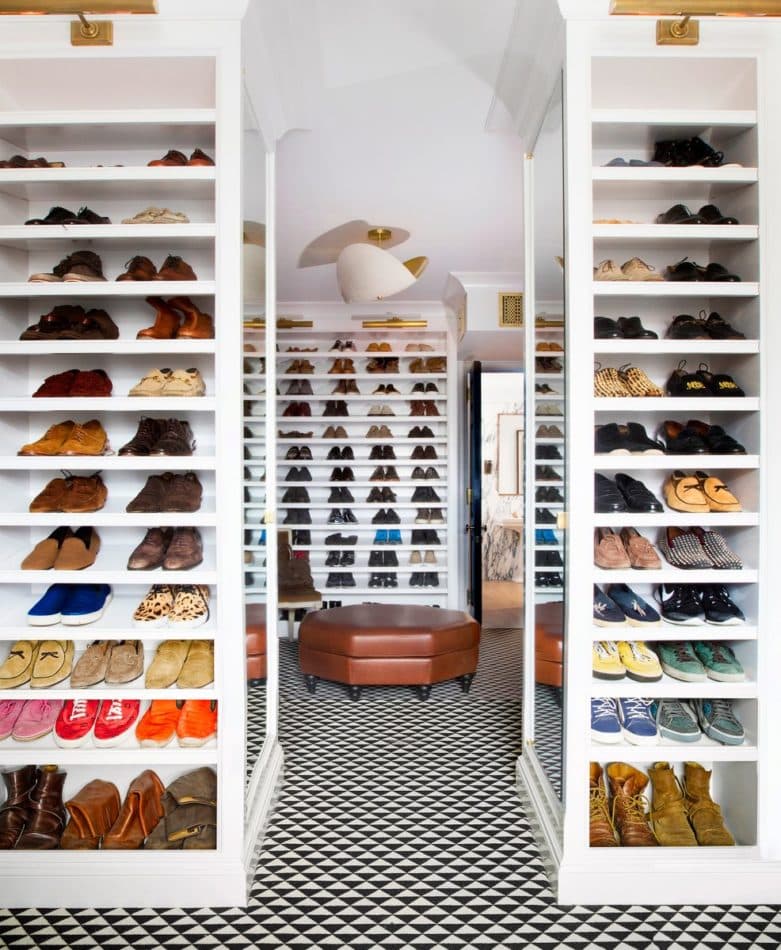 "The master dressing room in my New York apartment was almost entirely open shelving — the intention there is both practical and aesthetic," Nate Berkus says of his former duplex penthouse. "It's a wonderful thing to see every shoe and piece of clothing, beautifully arranged, and the gallery lights enhance the display. My Virgo nature makes it impossible for one thing to ever be out of place!" The carpet is by Saxony Carpet and the large folded brass shell pendants are by Jason Koharik.
Photo by Julie Holder Photography
---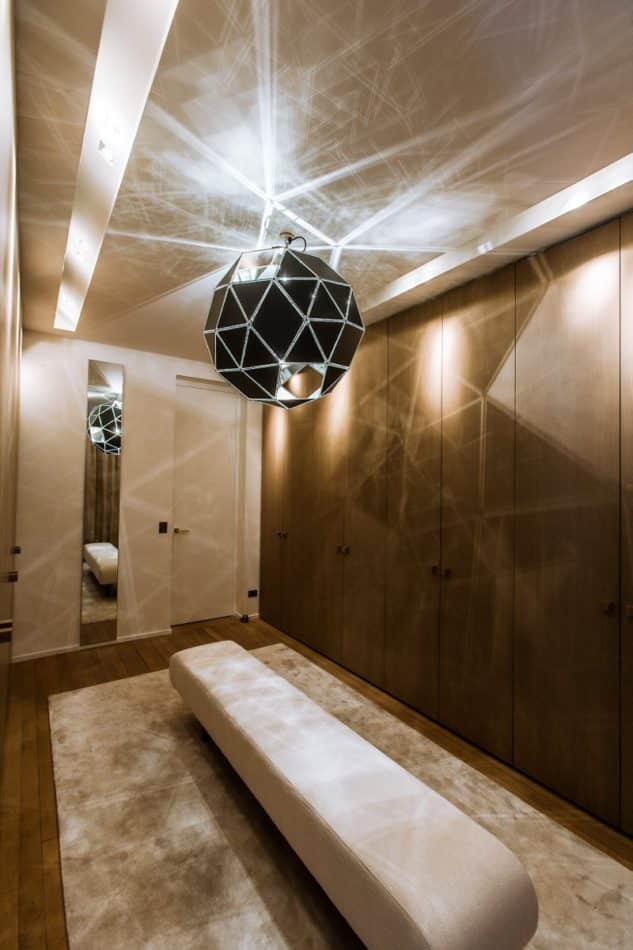 When Isabelle Stanislas designed the dressing room of this Paris apartment, she started from the top. "The beginning point was the Olafur Eliasson lamp," she says. Stansilas designed the closets, which have a grey oak finish, and the bench, which is upholstered in Dedar velvet. The silk rug is by Atelier Pinton.
Photo by Olivier Löser
---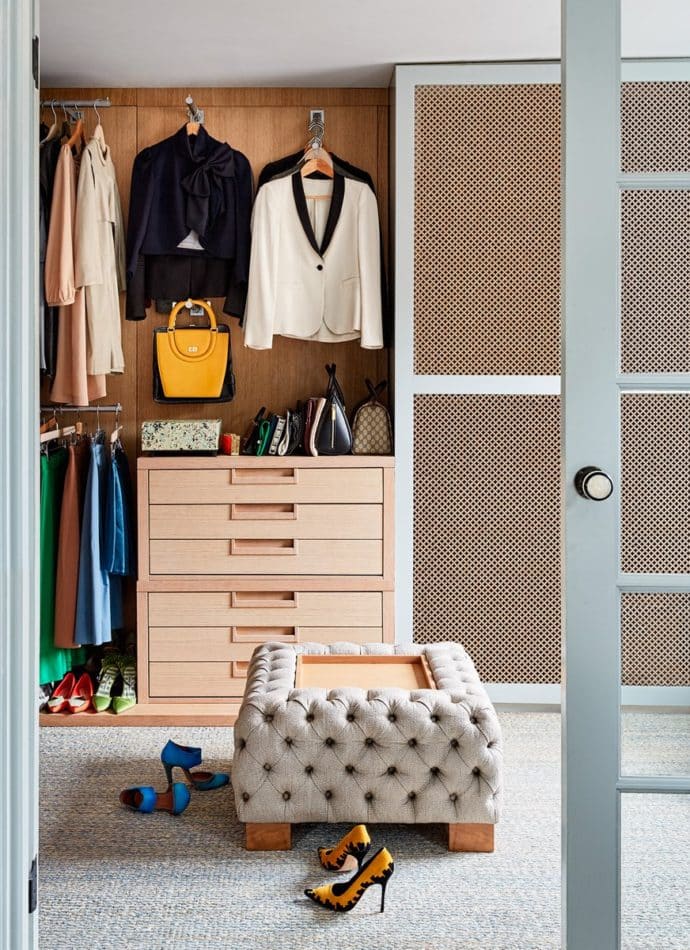 Ebba Thott and Nina Hertig of the design firm Sigmar created a bright, feminine dressing area in this West London flat, with light wood, a pastel palette and a tufted ottoman.
Photo by Petr Krecji
---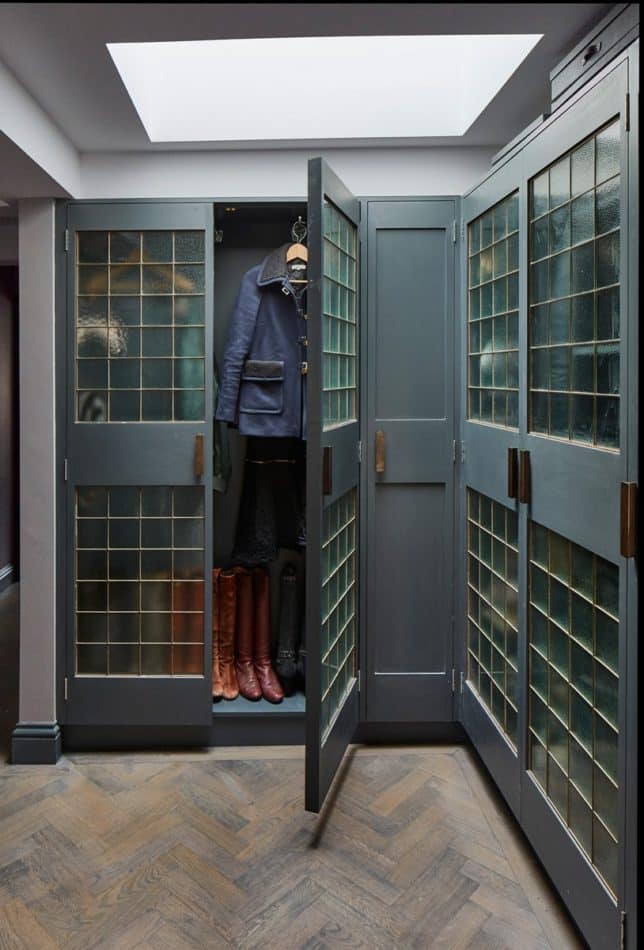 A skylight brightens the closet of the same London flat, which features glass-fronted wardrobe doors and herringbone wood floors.
Photo by Petr Krecji
---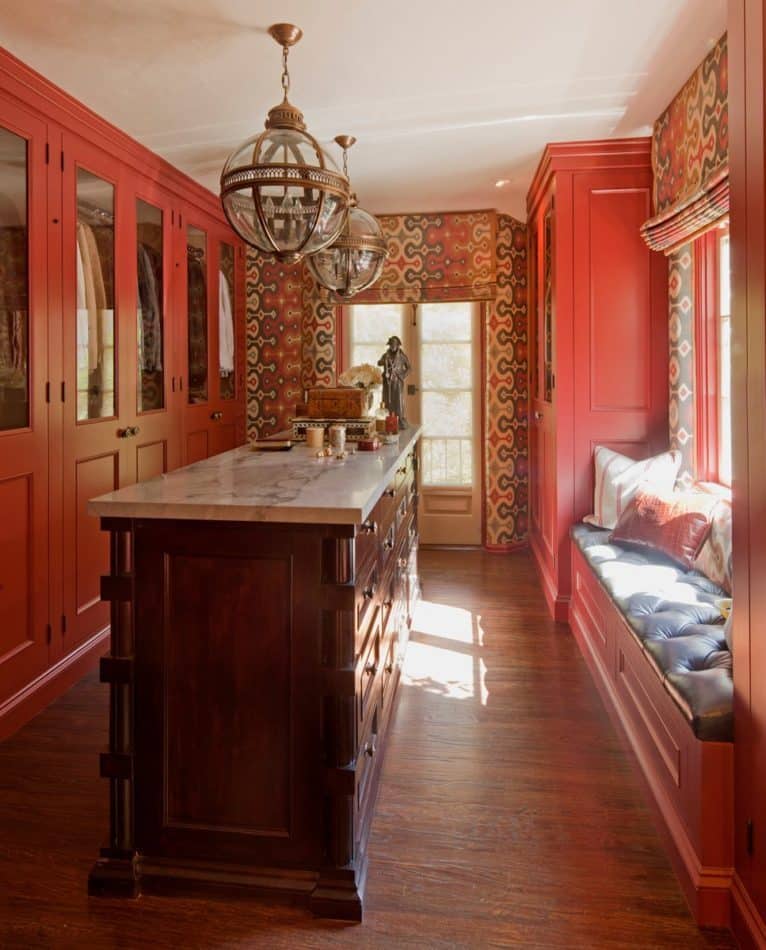 In the dressing room of Martyn Lawrence Bullard's Los Angeles home, the walls are covered in a fabric he designed for Schumacher, and the flooring and island are walnut.
Photo by Tim Street-Porter
---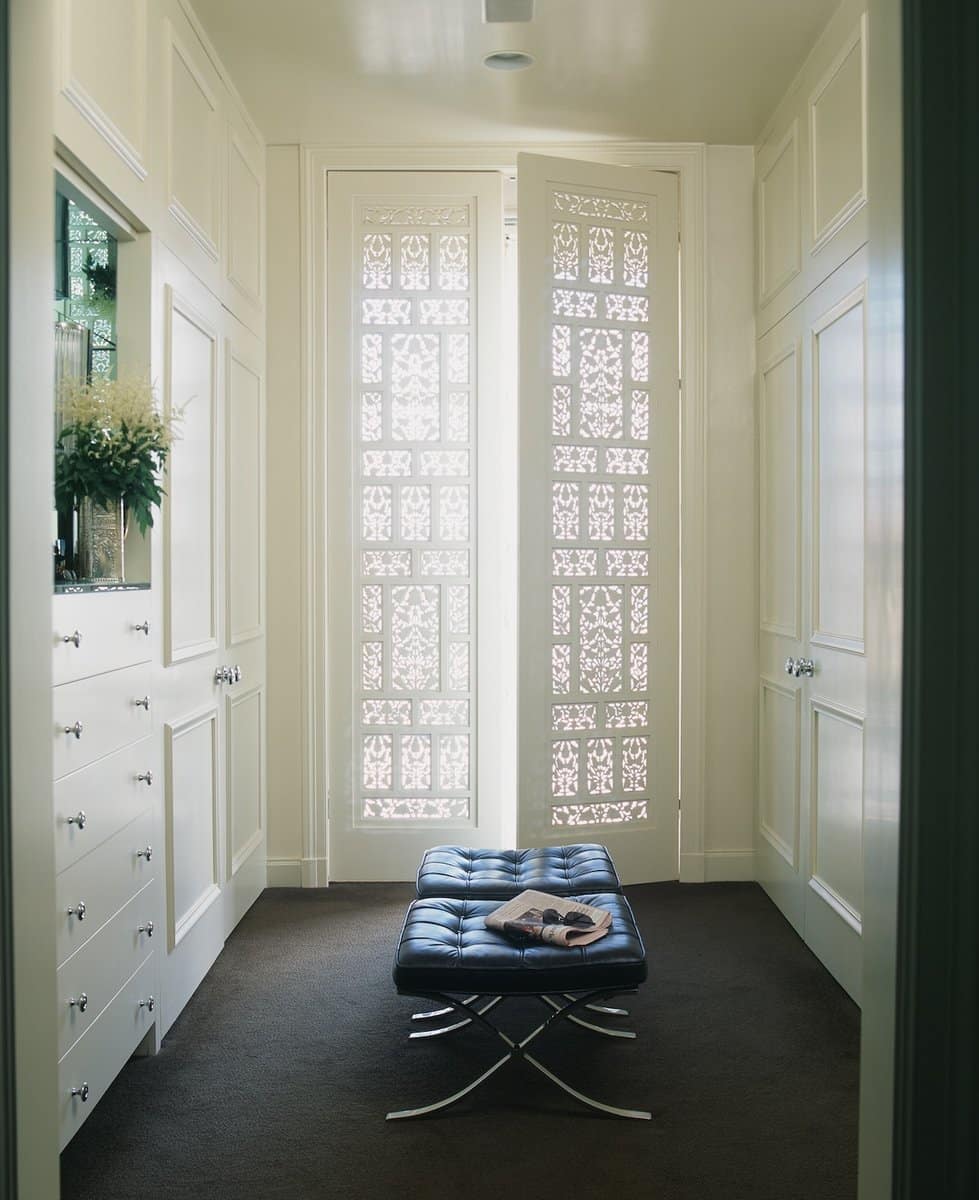 "We wanted to create an airy, floating feeling in this south-facing dressing room," Jeffrey Weisman of Fisher Weisman says of this San Francisco pied-à-terre. "There is a dramatic city view from the French doors but also a need for privacy. Our solution was to build 10-foot-tall shutters incorporating carved teak panels that filter the light and hint at the view beyond." To make the shutters, the firm built doors that incorporated vintage Indian teak screens. The includes Barcelona stools by Mies van der Rohe for Knoll and carpet by Stark.
Photo by Grey Crawford
---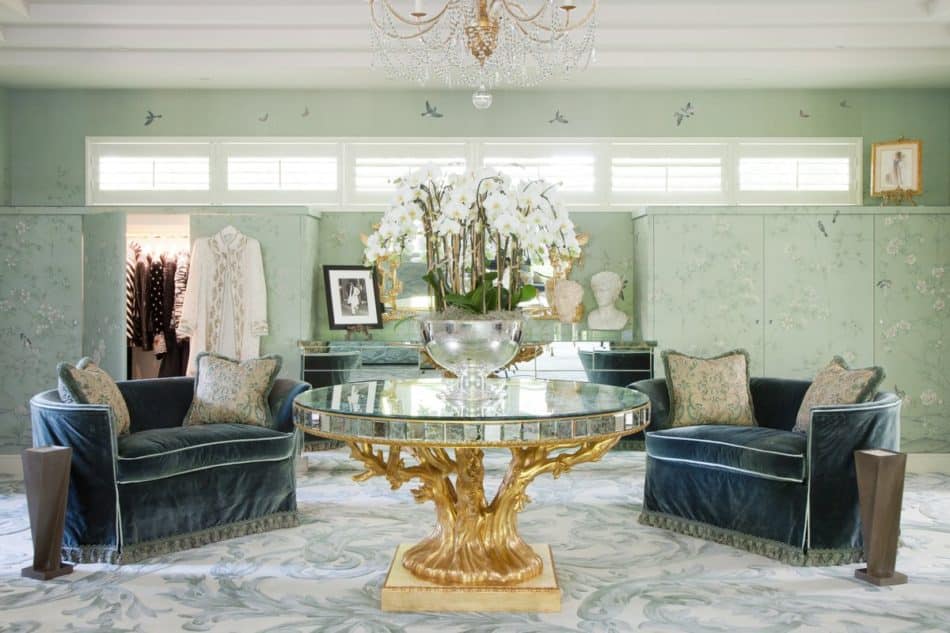 Philip Nimmo designed a 2,500-square-foot "closet retreat" in Shasta Lake, California, for a client who loves all things French. Paul Montgomery hand-painted the custom wallpaper, which covers the closet doors as well as the walls. The focal point of this space, the dressing room, is a mirrored twig table by Erika Brunson. On either side of it are velvet love seats from Nancy Corzine and Swarovski end tables designed by Gary Hutton.
Photo by Roger Davies
---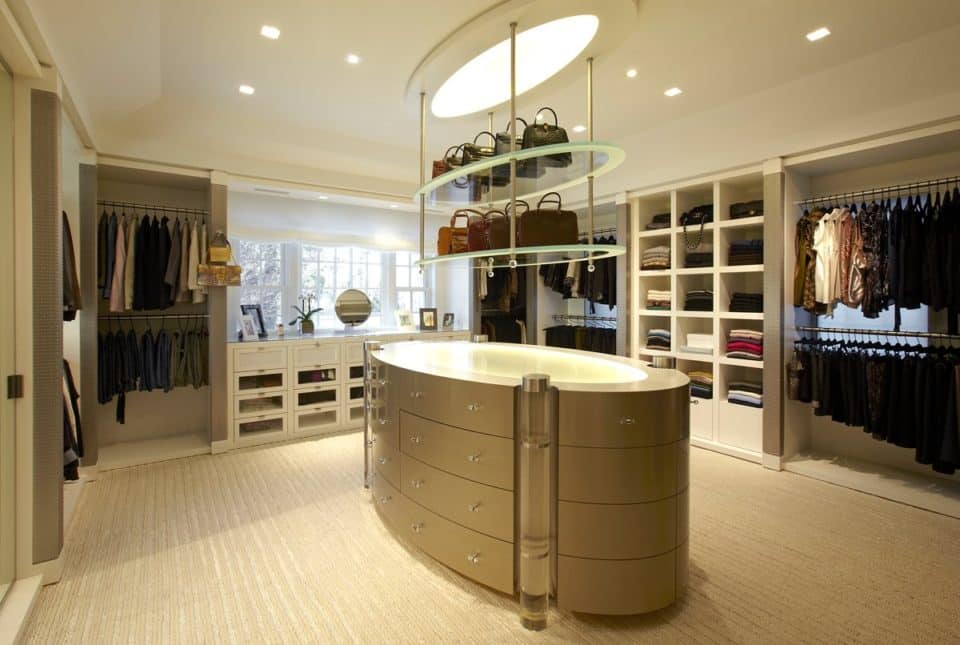 Fox-Nahem Associates designed this dressing room for a client in Greenwich, Connecticut, who was so desperate for new closet space that she was willing to give up the master bedroom sitting area. "The desire was for a closet that would be practical but at the same time have a very light and boutique type of feeling," says Joe Nahem. "We believe it achieves both." The custom island is finished in a silver metallic car paint with a frosted glass top and Lucite legs. The carpeting is a hand-knotted white wool ribbed rug installed wall to wall.
Photo by Peter Murdock
---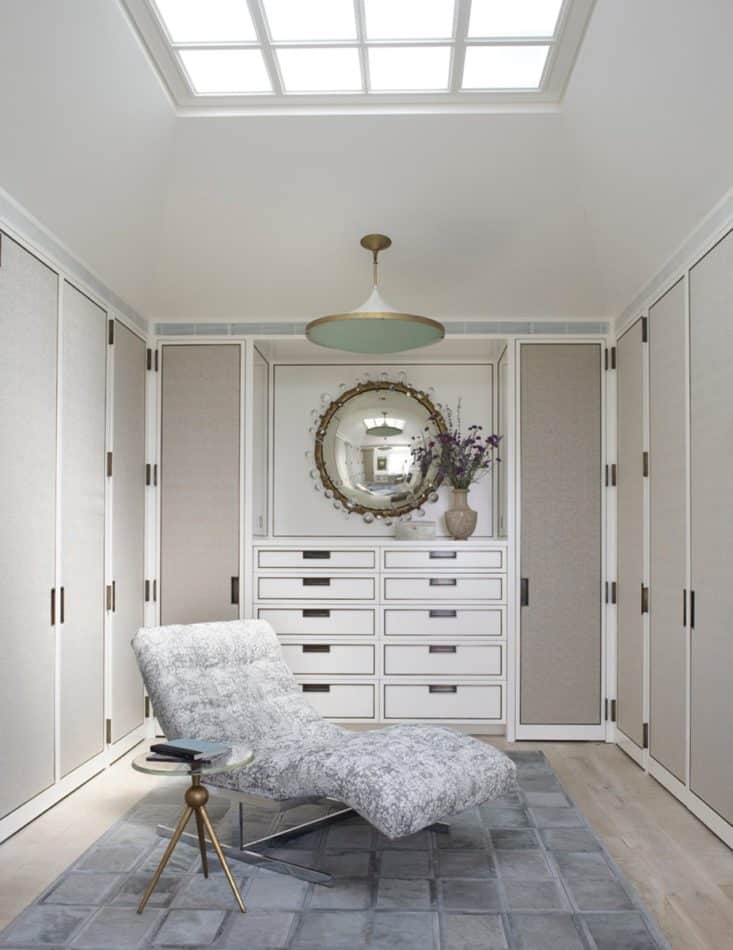 The owners of this Sag Harbor, New York, beach house tasked Cullman & Kravis with creating a space the would serve as a dressing room and office. The designers added upholstered closet doors with bronze surrounds to keep the clothes, shoes, TV and coffee bar elegantly concealed. The room features a Fontanta Arte pendant light and a Milo Baughman chaise on a hide rug by Kyle Bunting. An Herve Van Der Straeten bronze and crystal mirror hangs above the dresser.
Photo by William Waldron
---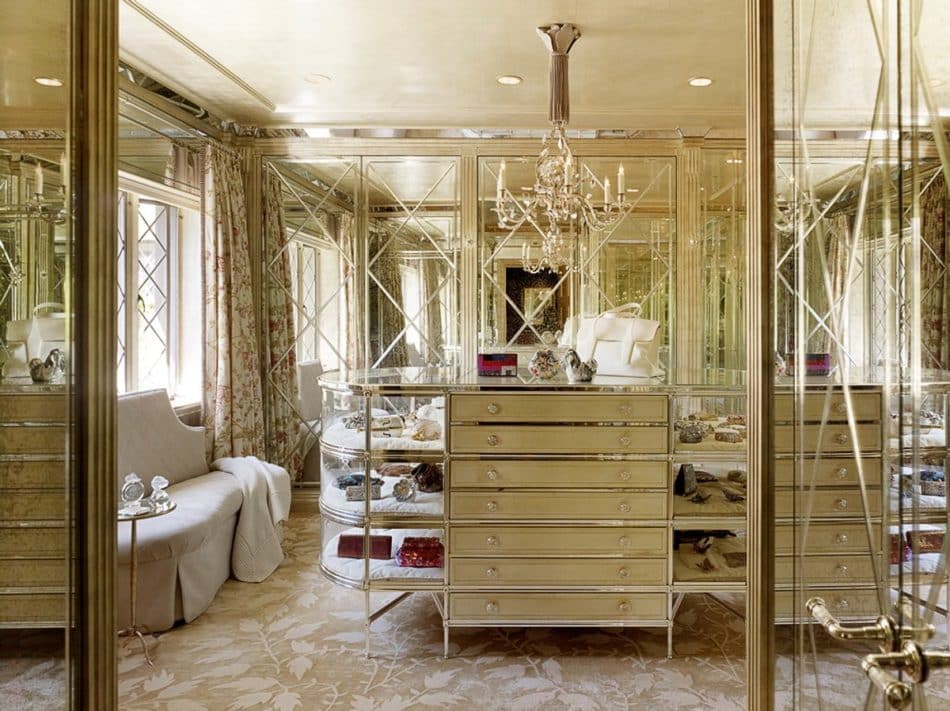 Mirrored panels, a chandelier and a pair of Knoll chaises add to the glamour of this Burlingame, California, dressing room by The Wiseman Group. Glass cases in the nickel and parchment vitrine display the homeowner's collection of Judith Lieber bags.
Photo by Matthew Millman
---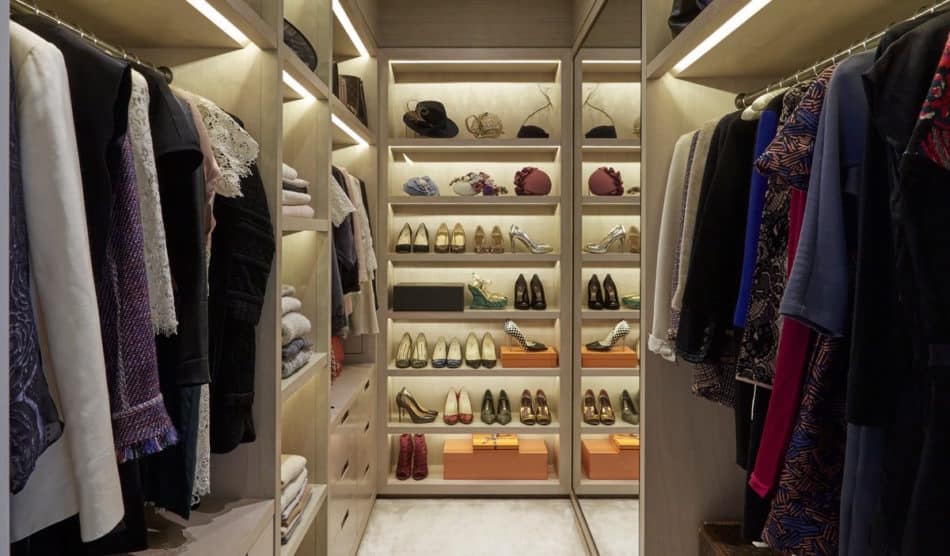 "We wanted to create a calm space that would serve as a neutral backdrop for our client's dressing room," Anna Bilton, design director at Helen Green Design says of this London home. "With no natural light, it was important to create a bright space so we opted for our own Helen Green Design Betulla finish — a contemporary birchwood veneer with a silver gloss — for the joinery and utilized LED strip lights fitted with a diffuser to create a soft glow which is reflected by the silk and wool carpet."
Photo by Helen Green Design
---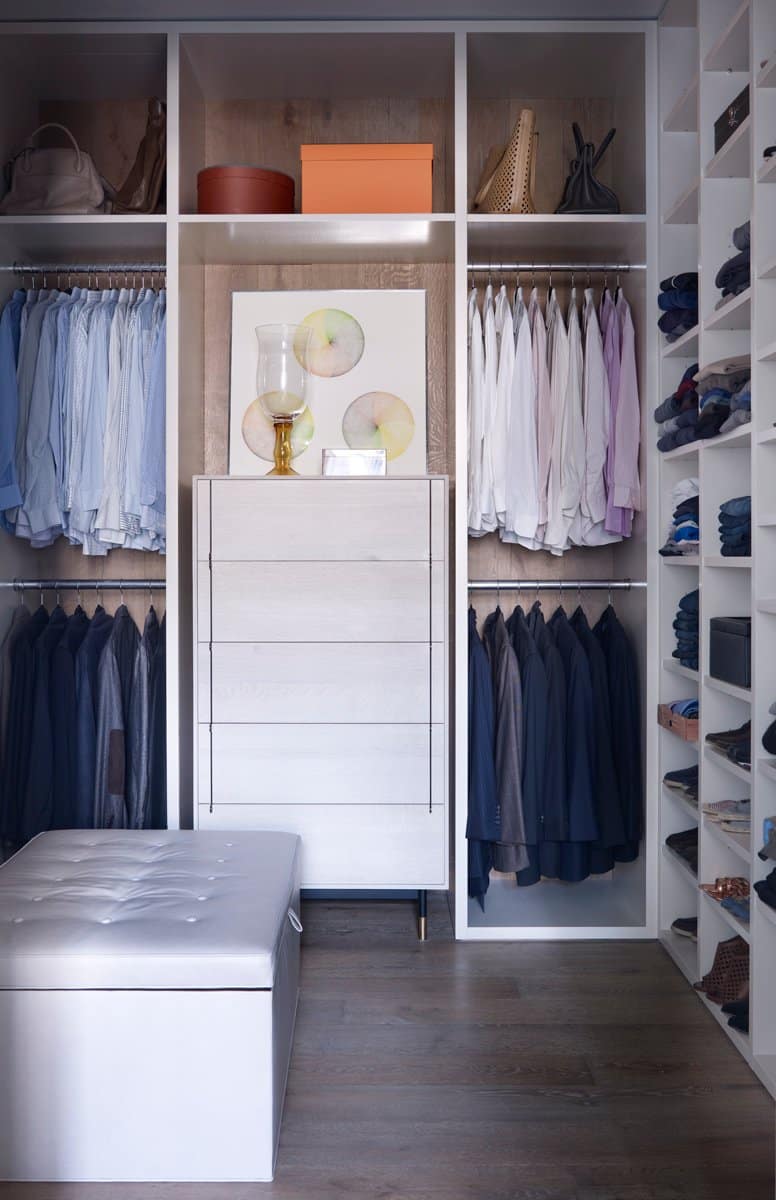 Shawn Henderson describes the design of this Manhattan closet as "budget friendly." He adds: "We bought additional flooring material and lined the walls with it, then applied lacquered dividers in front of it for contrast. We used the client's existing dresser, so it felt more unique and personal." Henderson designed the custom storage ottoman, and the dresser is by BDDW.
Photo by Steven Freihon