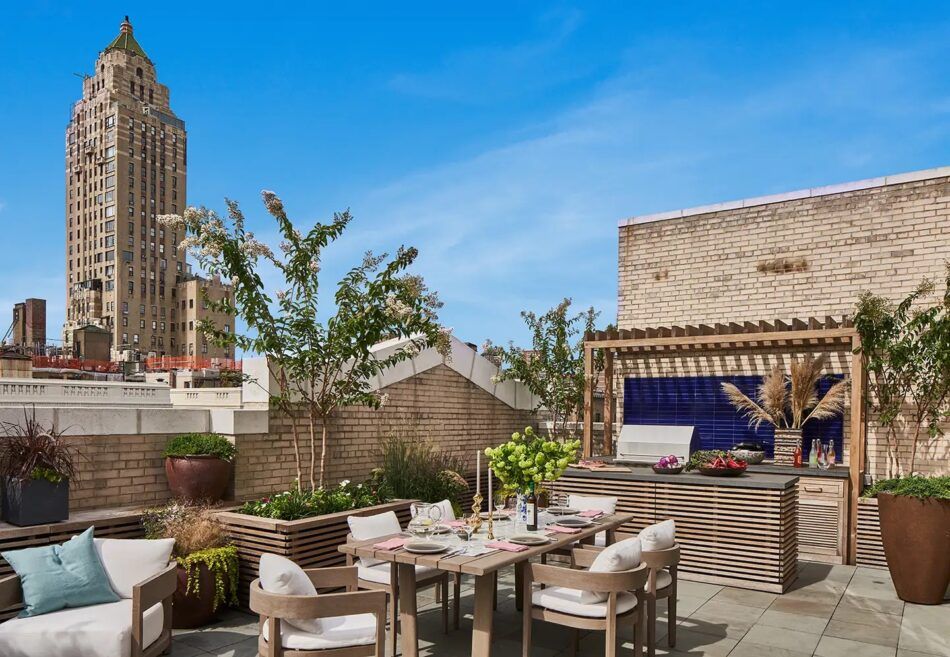 "The objective was to create a series of clearly defined outdoor rooms," Wesley Moon says of the sprawling terrace he designed for a Park Avenue penthouse on Manhattan's Upper East Side. "There's a living room centered around an outdoor fireplace, a dining room and a kitchen that also serves as a bar." The result is a space he describes as at once "inviting, relaxing and resort-like."
Built with New York City's meteorological smorgasbord in mind — as well as the busy lifestyle of a family of four with lots of dogs — the terrace "was kept simple, chic and easy to maintain," Moon says. Pointing to the horizontal lines of the sleek teak-wood enclosures, he adds, "The best part about this space is the view [which includes the famed Carlyle hotel's Art Deco tower], and I like how the design doesn't distract from that. I also love how the kitchen and bar area anchor the brick wall. The pop of blue ceramic tile adds interest, and the pergola keeps that elevation on a human scale."
Additional details — Peter Lane's 2018 rectangular Accordion vase standing near the backsplash, for example, and an array of large-scale terracotta and metal urns filled with plantings by Brooklyn-based landscape firm Arbor & Folly — heighten the oasis-like feel.
---
"In Northern California, indoor-to-outdoor living is the norm, so keep a close eye on how those two spaces relate to one another," advises Holly Hollenbeck, of San Francisco's HSH Interiors. "An outdoor room should be a continuation of the style and experiences found inside the home."
For a ground-up, contemporary glass-and-steel house in Mill Valley built for a couple of music-industry executives and their two Irish wolfhounds, Hollenbeck used color, texture and pattern to create a relaxed, bohemian world.
The owners wanted a rooftop terrace that worked as both an entertainment space and a quiet refuge. "We designed the firepit and had it clad in geometric black-and-white tiles by clé," says Hollenbeck, who offset that structure with a pillow-strewn Paola Lenti sofa and a macramé chair by B&B Italia. Moroccan lanterns of varying heights, a mismatched array of brass and clay planters, a Japanese garden seat and a red, yellow and black ceramic stool by the Venezuelan-born, New York–based artist Reinaldo Sanguino enhance the free-spirited vibe. "It's very special and really makes the space," Hollenbeck says of Sanguino's one-of-a-kind work, which she found on 1stDibs.
---
For the balcony of a 4,000-square-foot apartment located in the heart of Manhattan's Chelsea neighborhood, Petra McKenzie and Jonah Kilday, of the Brooklyn-based MK Workshop, "played with texture and warmth as a response to the building's austere materials," explains Kilday, noting that the apartment is home to a family of five "who wanted a private area to get away from the hustle and bustle of the city."
The custom-designed MK Workshop sofa (upholstered in an eye-catching Sunbrella Merriweather Terracotta fabric) adds pizzazz and neatly counterbalances the linear blue geometries of the building's exterior siding. The curvaceous sofa includes built-in planters lining its back — "to bring nature into the space," says Kilday.
Patricia Urquiola's Mesh marble-topped coffee table for Kettal and Zachary A. Bitner's deceptively lightweight Aileen side table in resin, stone and fiberglass pick up on the circular rhythms established in the upholstery. "It's a wonderful place to sit back and enjoy the New York City skyline," says Kilday.
---
When Alexandra Loew was asked to reinvent a large contemporary Marina del Rey home for an active family of six, she knew it would require some imaginative thinking: The house was originally designed for a diamond dealer and came with a shark tank and chess set built into the roof and a disco in the basement.
"We focused on French high-modernist homes in urban contexts, particularly those designed by Robert Mallet-Stevens in Paris's 16th arrondissement," says the Los Angeles–based Loew. "We wanted it to feel like a townhouse of that era — urban, industrial and luxe — which is a departure from the typical beach vibe of Southern California."
Set on the Silver Strand — a slender strip of land that runs between the Venice canals and the Pacific Ocean — the house has views of water in every direction. White plaster walls, discreet black-metal railings and planked-wood floors provide an International Style–backdrop for the sun-drenched outdoor space. Loew outfitted it with a brilliant blue Sabi sofa by Paola Lenti from which to enjoy the vistas, along with Lenti's glossy stainless-steel and lava-stone Sciari table and playful Plump Chain Outdoor tubular knit throw.
And that shark tank from the previous owners? It's now the rooftop's swimming pool, with a clear acrylic bottom that serves as the ceiling for the living room below.
---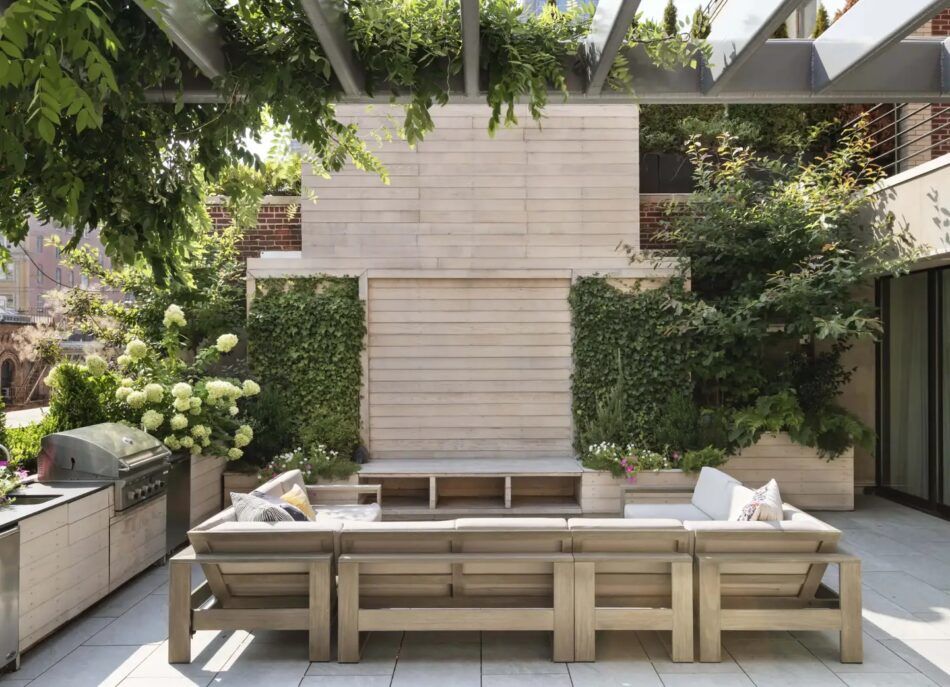 "The outdoor terrace nearly doubles the apartment's square footage, which is a luxury in New York, especially when you have growing and active children," says Britt Zunino, describing a penthouse deck she and her husband, Damian, partners behind the Manhattan-based Studio DB, built for the home of a young family in the city's Tribeca neighborhood. "The main area has a full outdoor kitchen, firepit and retractable screen for family movie nights. There is also a sheltered dining area, a quiet swing zone and a more active area with a plunge pool and turf for the kids' activities."
The clients wanted the decor to feel California casual and easy, an ambience Studio DB evoked with teak furnishings and decking and bleached-stone pavers. The plantings, designed by Dimastery, in Brooklyn, are lush and layered.
---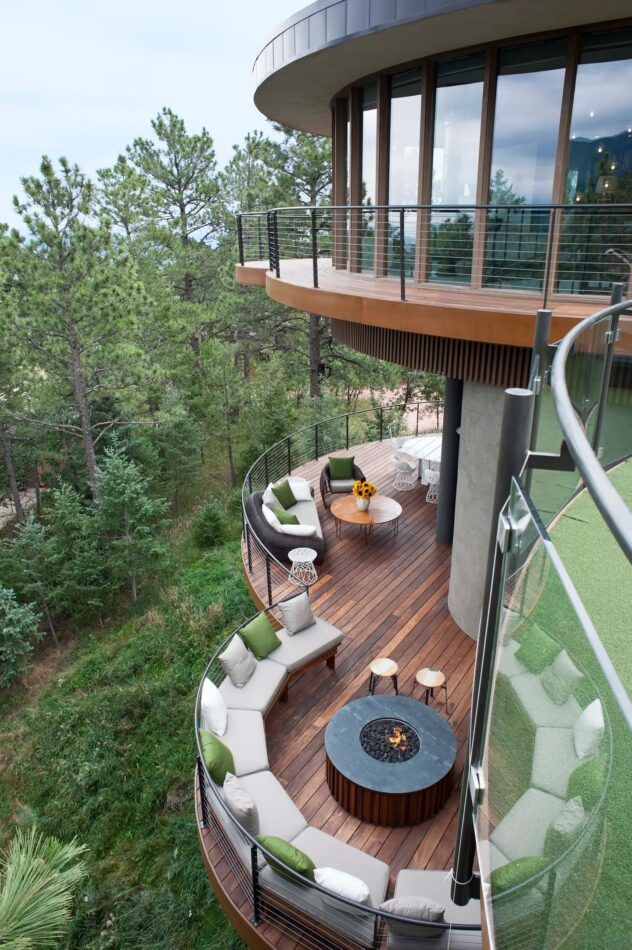 The redesign of Round House, a unique mid-century-modern home set on a wooded slope of Cheyenne Mountain above the historic Broadmoor resort in Colorado Springs, was a labor of love for architect Emily Summers, since it's her family's vacation home. "Three generations visit throughout the summer," the Dallas-based Summers says of the house, designed in 1968 by local builder and developer Don Price for his own family. Conceived as a trilevel series of overlapping concentric circles, the structure "is a perfect example of organic architecture," she notes. "It seems to float in the mountains, with amazing views of the city."
To capitalize on those views and blur the line between interior and exterior, she added rings of terraces outside the curved glass walls and installed a putting green on the roof of the dining room (for her golf-obsessed husband and son). "Comfort, flexibility and sun protection" were always top of mind, says Summers, who designed built-in seating and a custom dining table for the lower deck. Additional flourishes are provided by Kenneth Cobonpue's Croissant sofa and Lulu lounge chair, a teak-and-brass Peter Hvidt table and a pair of wood-seated Piet Hein Eek stools placed near the firepit.
---
When Kathleen Ryan, of New York's Ychelle Interior Design, was tapped to redesign a penthouse terrace atop the landmarked 19th-century Nolita building known as the Brewster Carriage House — once home to the most luxurious carriage maker in the country, with Astors, Fricks and Vanderbilts as clients — her Seattle-transplant clients told her they "wanted the outdoor space to give them the feeling of being right back at home in Seattle," says Ryan. "They also love to entertain, so they wanted it to feel like an extension of the open kitchen and living room inside."
The roof garden, accessible from the living area by a copper-railed staircase, features irrigated plantings, an outdoor sound system and a full outdoor kitchen. "We added overhead dimmable lighting on strings, so all of the outdoor spaces have the effect of ambient twinkling lighting," says Ryan. "There's also a large grill and wine storage, so they never need to leave the space while hosting a party."
Roomy bleached-wood seating with throw pillows upholstered in David Sutherland fabric — from the clients' Seattle home — provides laid-back perches from which to admire views that include the gold dome of New York's iconic Police Building and the puzzle-like structure of Herzog & de Meuron's "Jenga Tower." Oversize zinc and ceramic planters sourced from the 28th Street flower district, a series of wood stepping squares embedded in the grass and a wood picnic table found on 1stDibs further the sense of West Coast cool.
---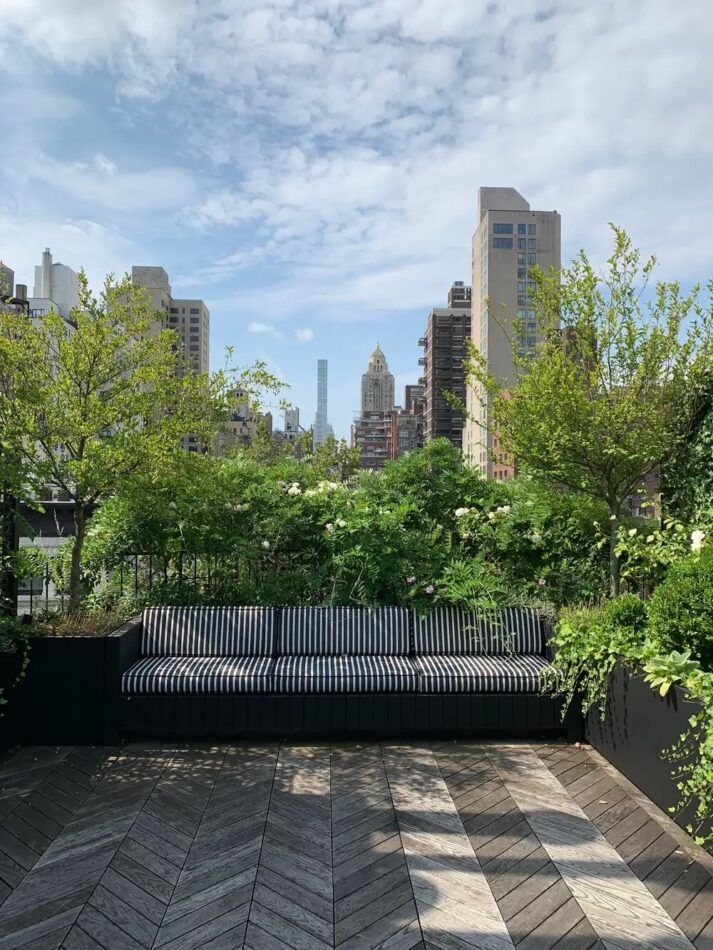 "We are big believers in keeping outdoor spaces simple and classic, much like our design for all interior spaces," says David Lawrence, cohead with Carlos Garciavelez of the New York–based Carlos David. "So, if the budget allows — as it did for this design — using custom-made planters and furniture is key." Lawrence is speaking of a rooftop terrace the pair created in partnership with Harrison Green landscape architects for a six-story Upper East Side townhouse that is home to an art-collecting philanthropist-cum-clothing designer and her family of five.
"It's a little like designing the interior of a yacht," says Lawrence, describing their tightly detailed plan. Built-ins, including a striped sofa, were made to "fit like a glove in order to create a more visually cohesive design." Against an English-garden backdrop of white roses, ivy, trellises and a herringbone-patterned Brazilian Ipe-wood deck, "we kept the color palette simple by using our all-time favorite combination of classic black and white offset with green," says Lawrence, noting that "keeping the colors and materials less 'busy' allows the terrace to feel more spacious." More romantic, too, apparently: After finishing it, Lawrence and Garciavelez became engaged on the rooftop garden they had designed together.
---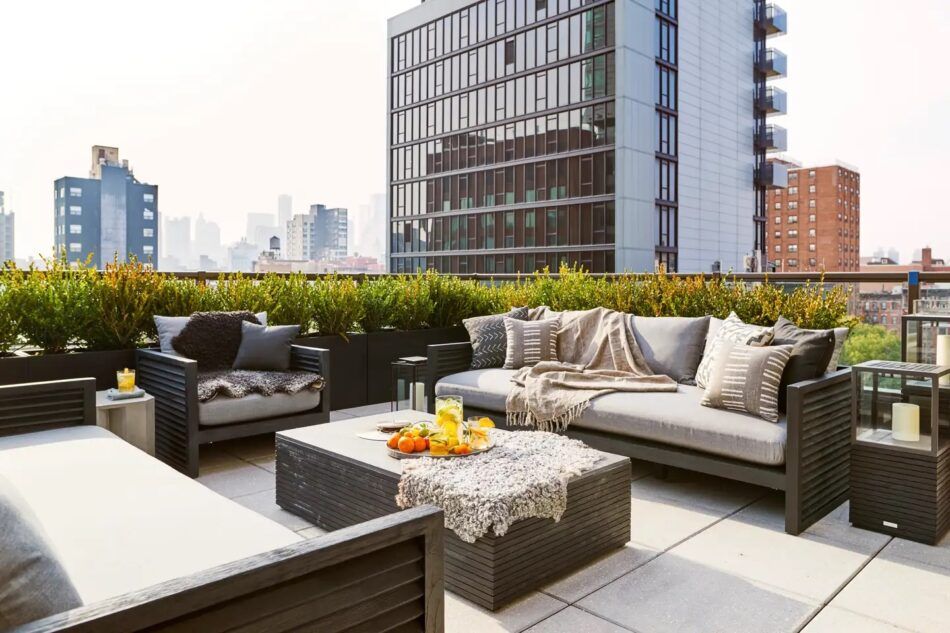 For the 1,600-square-foot terrace of a three-bedroom apartment on Orchard Street on New York's Lower East Side, Timothy Godbold took his color cues from the gray-black tones of the high-rise's facade. The Australian-born, New York–based designer deployed dark-stained wood furniture from Australian maker Harbour and used hedge plantings to create separate areas for "suntanning, dining and conversation."
The young financier client "was mindful that the space should look good to anyone peering down from one of the building's higher floors," says Godbold. "But he also wanted to create a sense of privacy." Godbold responded to those needs by selecting seating, tables and hurricane lamps with louver-strip details, to underscore the lines of the gridded cityscape all around, and artfully positioning the foliage for pockets of seclusion — a rare luxury in a city as bustling as New York.