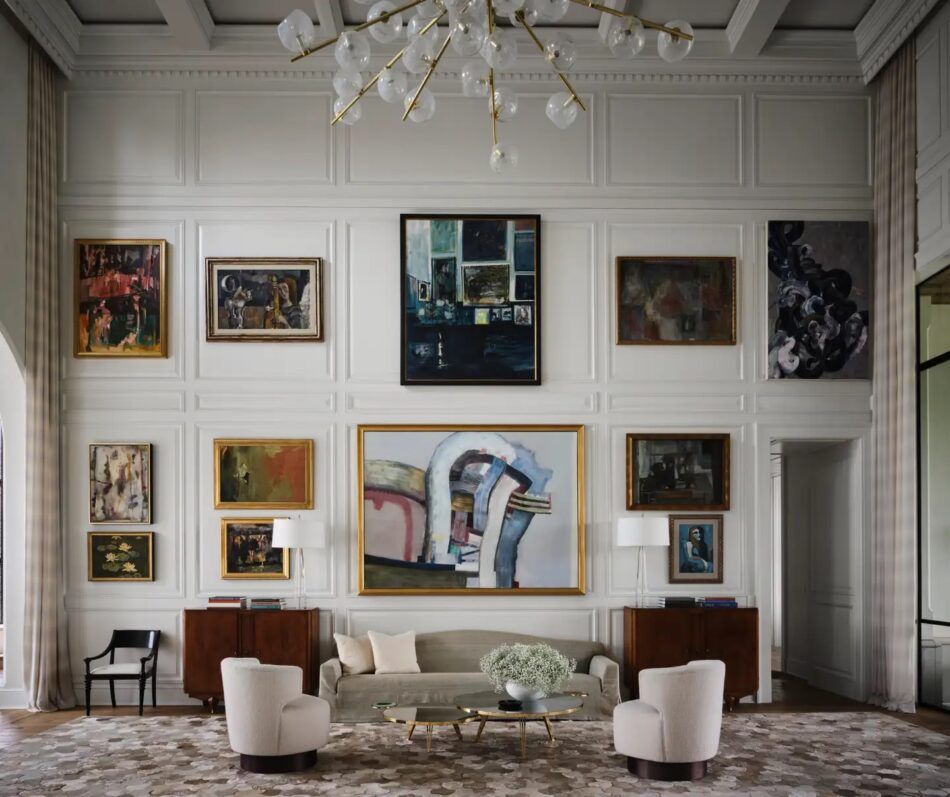 The vast living room that Fern Santini created for jewelry designer Kendra Scott's Lake Austin home features 24-foot-high ceilings, stile-and-rail wall panels and a curated selection of artworks. "The overriding design philosophy for the interior was that it should feel 'accumulated,' as if the family had lived there for generations," says the Austin-based Santini.
An image of Gertrude Stein's iconic 1920s Paris salon, lined with works by the likes of Picasso, Matisse and Renoir, was a source of inspiration. The paintings on Scott's walls (gathered in collaboration with art consultant Amy Sawtelle) span numerous time periods and include works by Texas artists, providing the perfect balance of artful, hip and historic.
Santini used nuanced shades of taupe, cream, brown and pistachio, along with a panoply of textures, to add depth and richness to the setting. "We have everything from cowhide to cashmere, velvet, wool bouclé, linen and silk," she notes. Equally impactful are the layers of lighting, "all dimmed to the right degree," which bring the soaring space down to a human scale.
The mix of furniture includes a sweeping, camelback Christian Liaigre Basse Terre sofa and a trim pair of 1930s French buffets. There's also a pair of bronze-based Mesa swivel chairs by Holly Hunt, as well as an ebony-finished Corfu armchair from Dennis & Leen, near the window. The Gaspare Asaro Riflesso tinted-glass coffee table was found on 1stDibs, as was the brass and hand-blown Murano-glass Constellation chandelier by High Style Deco.
"It's a bit theatrical, a bit literary and completely cosmopolitan," Santini says of the composition. "It is also full of comfortable furniture to spend hours in. I think the best rooms are always a mix of contemporary, vintage and antique, and that is definitely happening in this room."
---
"We wanted to create something wow — something that felt collected," says New York designer Jessica Schuster, describing the serene cream-and-silver-hued primary bedroom she designed for the Soho loft of a young family. "We kept the fabrics monochromatic and muted to enhance the sense of calm and balance in the room. The palette really directed our hard and soft choices."
Those choices included finishing the walls and ceiling in "a soft and buttery lime wash from Domingue that makes the space feel light, warm and cozy," Schuster explains. "The carpet is a nylon fabric that feels like silk but is incredibly durable. The quiet tones and surfaces helped float the design between contemporary and historic and allowed us to build layers of interest."
Lending the space a timeless edginess are mid-century designs that Schuster found on 1stDibs — namely a pair of 1960s Italian opaline-glass globe sconces from Two Enlighten Los Angeles and an Oscar Niemeyer Alta chair reissued in the aughts — as well as a reedition teak-and-cane Pierre Jeanneret bench. These mix fluidly with contemporary pieces, such as a pair of Lawson-Fenning bedside tables, an Inés Benavides CUBB steel side stool and an upholstered bed designed by Kelly Wearstler.
---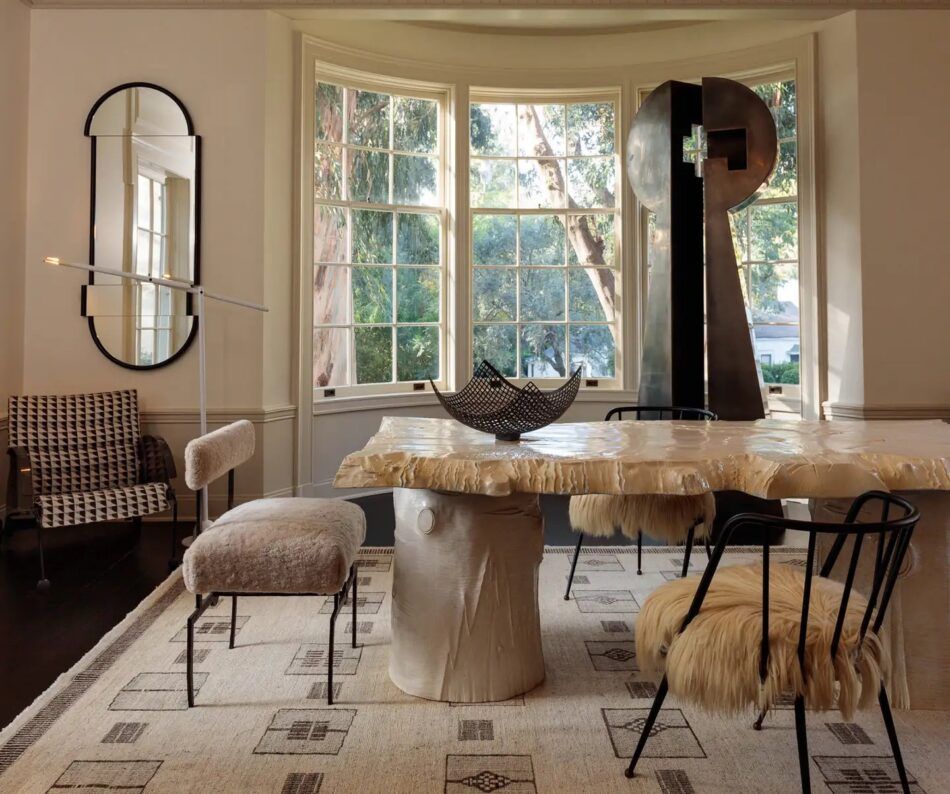 Kelly Wearstler's own take on tone-on-tone design can be seen in her dining room at Hillcrest, the exquisite 1934 Beverly Hills villa she bought in 2005 from the estate of James Bond–movie producer Albert R. Broccoli. "One way I achieve depth and visual interest with a monotone or limited color palette is through a dynamic mix of treasures, organic materials and patterns," Wearstler says on Instagram about the room.
Wearstler is known for highly charged, risk-taking interiors that boldly blend styles, eras, colors and textures. Here, she applied that daring touch in a quieter way — colorwise, that is — creating what she terms "a wintery, dreamy, off-white space."
"This cozy, cream-colored dining room," she notes, "features a vintage ceramic table with a white, trunk-like base set with a combination of chairs, including 1960s styles from the Paris flea market and my Sonnet chair." The blackened-steel Sonnet is upholstered in textural goat hair. The vintage rug is Scandinavian, and the mirror is by British designer Lee Broom.
---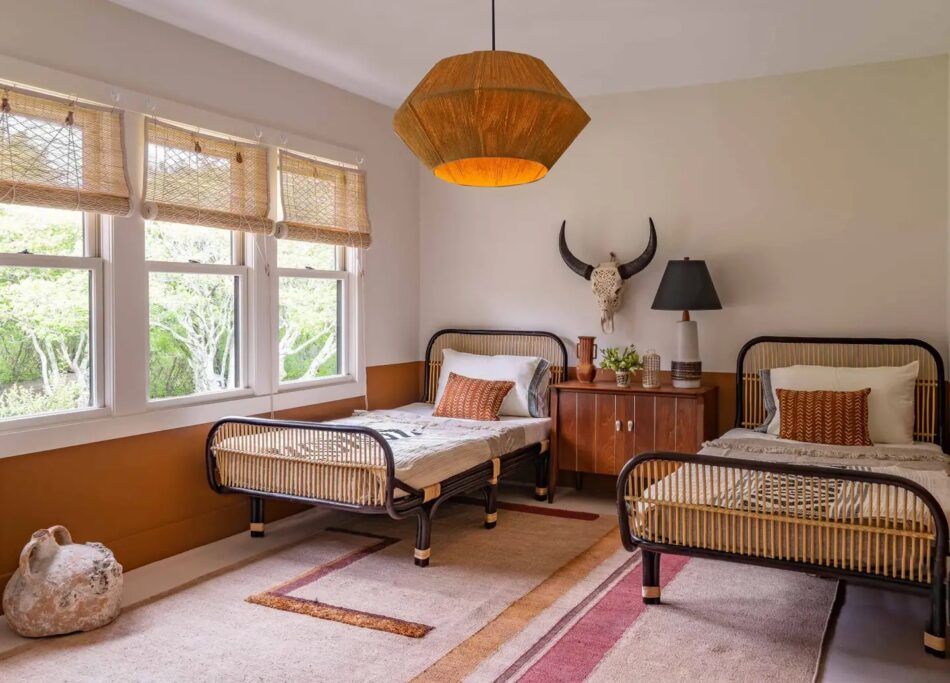 Boston-based Nina Farmer had just returned from a trip to Marrakech when she started work on a Martha's Vineyard vacation cottage, and she quickly found herself tapping into her Morrocan sojourn for inspiration.
Her decision to paint the children's bedroom a bicolor pattern of sand and sienna was inspired by the walls of the Douiria Museum (now the Marrakech Museum of Music). "When working with a muted palette, it's important to have some high and low notes," says Farmer, whose debut book, Timeless by Design, has just been published by Rizzoli. "I think the room is successful because of that mix of earthy tones and texture."
Intriguing, sculptural furniture and objects also play a key role in the room's success. "It's really a must with a pared-back interior," says Farmer, citing as examples the custom bentwood twin beds (based on the design of a French daybed) and the intricately carved buffalo skull, which she found at an antiques market.
Vintage pieces, including the teak mid-century nightstand and the ceramic-and-walnut table lamp by Gordon and Jane Martz for Marshall Studios, were found on 1stDibs, as was the 1940s Gunnar Nylund for Rörstrand red-and-brown-glazed vase.
---
"The modern design of the room acts as a counterpoint to the traditional, Georgian-style architecture of the home," says Greenwich, Connecticut–based Douglas Graneto, referring to the sharply edited dining room he crafted for a house in Westchester County, New York. "The polished silver-and-gray palette creates the perfect backdrop for the furniture's dramatic, sculptural shapes and allows things to pop."
Among the first items chosen by Graneto and his clients, whom he describes as "highly involved," were the stainless-steel Dragon chandelier by Barlas Baylar and the O-based, walnut-topped dining table by Hudson Furniture. "Everything else supported those choices, including the custom mirrors and curtains and the plastered walls, which add additional layers of movement to the room."
Holly Hunt's leather-upholstered Aileron dining chairs encircle the table, a Willy Rizzo–inspired console sits in the corner, and Michael Aram's centerpiece, replete with glinting silver spheres, adds a sophisticated finishing touch.
---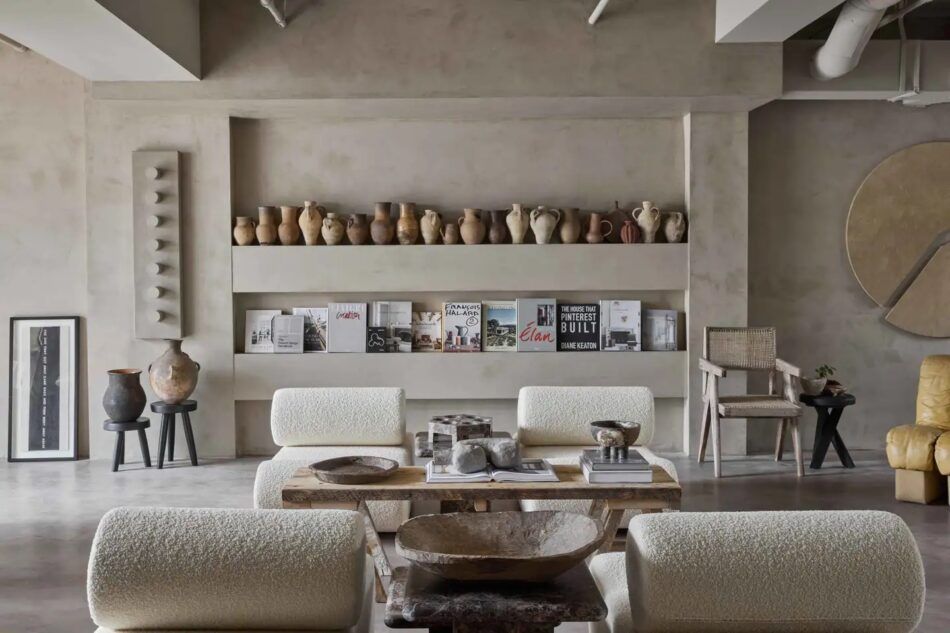 "Working with a neutral palette allows you to play with different textural elements and materials without overcomplicating the space," says Toronto-based Montana Labelle, explaining her eponymous firm's overarching design strategy. Known for cocoon-like interiors usually awash in luminous layers of Venetian plaster paint — in tones ranging from cream to gray, sage and fawn — Labelle says her goal is "to create spaces that feel both lived-in and timeless."
Those adjectives clearly apply to the main atelier of her Toronto studio. Staged like a living room, it's used as a design cauldron of sorts — Labelle is constantly changing the room's landscape, mixing vases, stools and other one-of-a-kind pieces found at flea markets with items of her own design and a choice selection of iconic (often mid-century) furniture.
The room's four off-white-bouclé, roll-cushion lounge chairs, for example, are individual sections of a 1960s Klaus Uredat Corbi modular sofa for COR. Set between each pairing is a honed brown-marble Toadstool side table that Labelle designed. A muted-yellow de Sede DS-600 modular sofa sits to the right of the built-in bookcase. "The inspiration here was to create an inviting space that showcases our style of design and feels like you are at home in your own living room," says Labelle.
---
When Brazilian-born, New York–based Andre Mellone, of Studio Mellone, was asked to design a home office for a glass-walled pool house in his native city of São Paulo, he envisioned a space that engaged with the building's modernist bones, celebrated the lovely surrounding garden and, most important, showcased his client's exceptional collection of furniture.
"Woody, natural colors and materials just felt right," Mellone says of the room's walnut, taupe and mahogany tones. Low-profile custom bookshelves don't obstruct views, while a locally sourced sisal rug, dyed to a warm terracotta, grounds the decor in simplicity and subtle texture.
"We didn't want the architecture to compete with the exceptional furniture program, which included an heirloom desk chair and cabinet by Pierre Chareau," Mellone says of the iconic pieces, which date to the 1920s. There are also a sinuous pair of Frank Gehry's 1960s cardboard Contour chairs and a vintage teak occasional table by Jens Risom. The mid-century modern powder-coated-metal torchère by Swedish architect Max Bill and the 1950s desk lamp were both found on 1stDibs.
---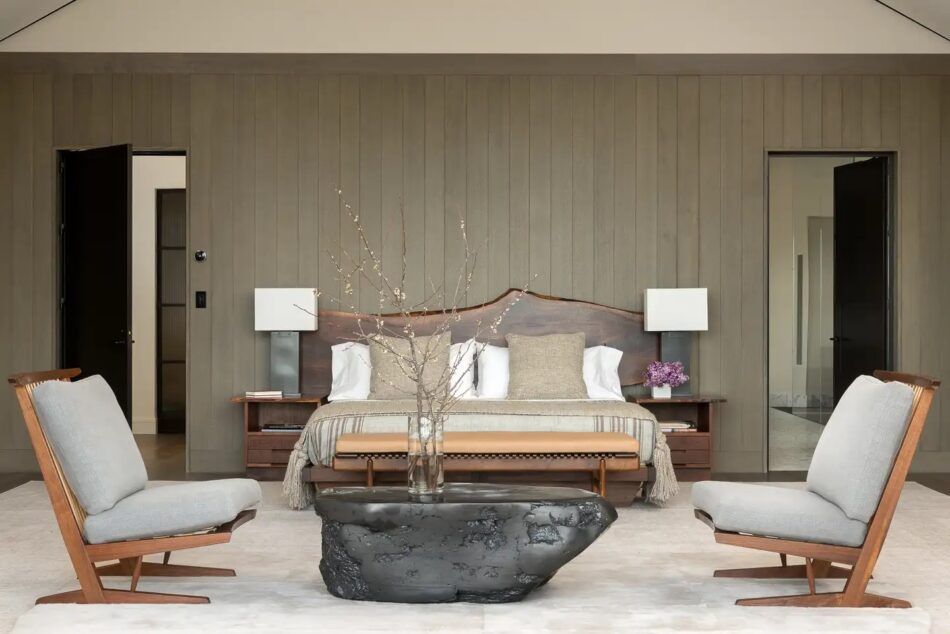 Tapped to rethink a Napa Valley mountain retreat for longtime clients, Ruso Panduro and Russell Groves, of New York–based Studio Panduro, turned to the mist-covered, rugged woodlands of the surrounding Mayacamas Mountains for inspiration. "The irregular forms, the ever-shifting palette of browns, grays and charcoals naturally and harmoniously convey a sense of calm and relaxation," Panduro explains.
To imbue the house's primary bedroom suite with that tranquil sensibility, the pair selected distressed-oak paneling in a weathered shade of gray that lends the room a treehouse feel, as does the warm taupe of the floor boards. A George Nakashima black-walnut headboard with built-in side tables "was sited on axis to take in the views," says Groves. It also provides a pedigreed element to the nature-centric theme. The cocktail table, designed by artist Jim Zivic, is hewn from petrified coal and features a polished top and bright zinc butterfly joints. It's flanked by a pair of mid-century walnut chairs upholstered in a cloudy white.
---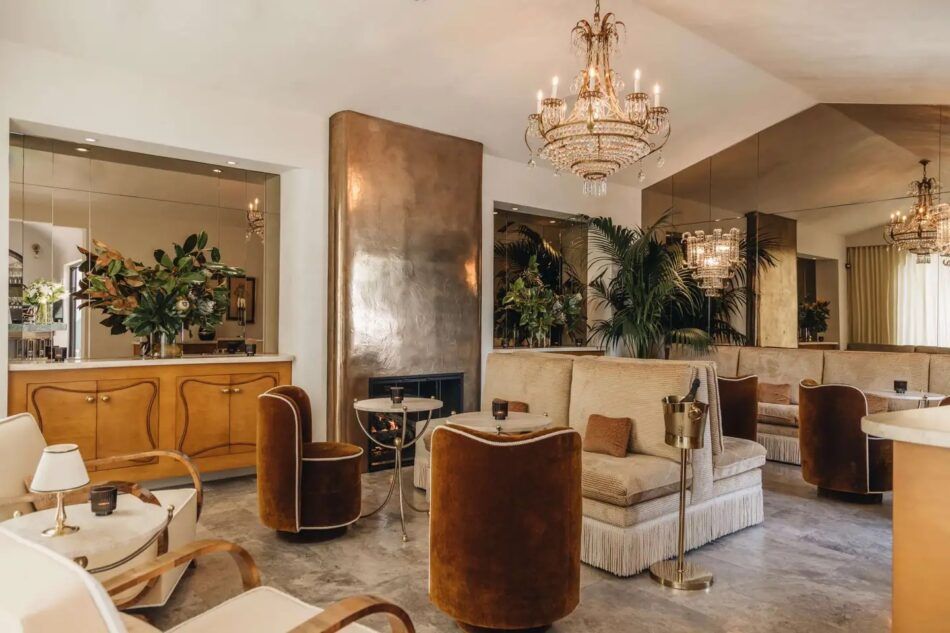 "We wanted to inject the ambience of a California sunset into an alluring environment that honored the restaurant's French roots," says Night Palm Studio's Tiffany Howell, explaining her design for the lobby and reception area of Caviar Kaspia's West Hollywood outpost. (Arcady Fixon, a Russian émigré to Paris, opened Kaspia's Place de la Madeleine flagship in 1927.) "With almost entirely custom fabrication for this project, it was important that the aesthetic was coupled with shapes and fabrics that exuded a lush timelessness."
To that end, the Los Angeles–based designer covered the sweep of banquettes and curved-back, Deco-style chairs with velvet in luminous shades of amber, cognac and pale gold. "We enhanced the palette with effervescent, soft, reflective tones and objects that felt complementary to champagne," says Howell. "We even included the bronze fireplace as a nod to the natural golden glow that seeps into the space throughout the day." Mirrors and mirrored paint reflect the soft light emanating from the Murano-glass chandelier and add shimmer to a room that, Howell says, is "glamorous, moody, sculptural and elegant."