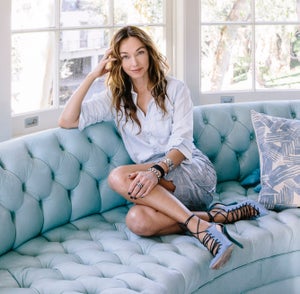 ;
Kelly Wearstler's eponymous global luxury lifestyle brand is renowned for its distinctive designs and sophisticated soulful vibe pioneered by the celebrated interior designer. The brand's breadth of influence spans from residential and commercial interior design to curated collections of furniture, lighting, rugs, fabrics and trims, wall coverings, luxe bedding, fine china, decorative home accessories, jewelry and objets d'art. With a signature style that juxtaposes raw with refined, melds color, sophistication and spirited spontaneity, and seamlessly blends diverse periods of furniture under one roof, Wearstler has revolutionized the look, feel and meaning of modern American design.
Wearstler's designs attract and inspire an enviable roster of A-list clientele from the film and music industries, as well as top celebrities, and tastemakers worldwide. Her trademark sumptuous and vibrant interiors imbue luxury hotels and grand residences from Beverly Hills to the Caribbean and around the globe. Among Wearstler's expansive and diverse lifestyle portfolio are collaborations with some of the most respected global brands across the luxury market space. Wearstler's lifestyle brand boasts its own bespoke furniture collection as well as a favored and long-standing presence on vintage and antique online retailer 1stdibs.
Showcasing the definitive world of Kelly is the brand's flagship Kelly Wearstler boutique on Melrose Avenue in Los Angeles. Hand-cultivated by Wearstler, the stylish enclave houses a curated art, fashion and design library, artisanal furniture, curiosities, one of a kind vintage pieces procured from travels around the world as well as Wearstler's own design collections. Exclusive pieces of the designer's collections are available at the illustrious Kelly Wearstler Boutique on the Decorative Home floor at Bergdorf Goodman in New York, and her extensive collections are sold internationally at fine boutiques, premier department stores and Wearstler's robust online boutique kellywearstler.com.
Read More +
Featured Articles
A Fashionable Alliance
The glam Hollywood interior designer Kelly Wearstler has teamed up with Shantell Martin, an artist known for her graffiti-like ink drawings to create a limited-edition line of furniture and fashion items, now available on 1stdibs — while they last.
Read More