There are enterprising designers, and then there are empire builders. When Kelly Wearstler started her namesake business, in 1995, she worked alone out of her Los Angeles apartment. "Sixteen-hour days, seven days a week," she recalls. "The studio has truly grown organically over the years."
Today, Wearstler presides over a behemoth, many-tentacled enterprise. One part is involved with residential interior design for such high-profile clients as Cameron Diaz, Gwen Stefani and Ben Stiller. There is also a team dedicated to hospitality design, including for projects like the recently opened Proper Hotels' properties — developed by her husband, Brad Korzen's Kor Group — in Austin and Santa Monica. Then, there are her ever-expanding product designs in a multitude of categories: This year, she added new carpets and runners to her collection with the Rug Company, collaborated with Georg Jensen on a tableware and centerpiece collection and partnered with Ann Sacks on a line of encaustic tiles and with Lee Jofa on a line of fabrics and wallcoverings, with an even newer collection due out early next year. Each season sees fresh additions to Wearstler's lighting lines, as well.
Wearstler also has a storefront on 1stdibs where she sells a mix of her own furniture and lighting designs and a curated selection of pieces of different styles and periods, like early-20th-century horn chairs and a 1980s acrylic coffee table. And if that weren't enough, she's just released her fifth monograph, Kelly Wearstler: Evocative Style (Rizzoli).
As one flips through the pages of the book, they seem at first to reveal a Kelly Wearstler entirely different from the one discovered in the earlier monographs, such as her first, Modern Glamour (Regan Books), from 2004. The interiors in that volume abounded in reflective surfaces, bright colors and pastels, decorative wall treatments, sculpted valances and pelmets and fashion details. Wearstler herself was pictured throughout in couture outfits, striking poses in rooms she designed or sifting through bolts of fabrics in a trade showroom.
Her work back then was classified as the new Hollywood Regency — much to Wearstler's dismay. It's easy to understand her reaction. Although the glam quotient of her projects jibed with the style, her aesthetic was far more sophisticated than that of the many wannabe designers who were merely peddling Dorothy Draper and William Haines retreads.
In contrast to those earlier interiors, the ones in Evocative Style are daring and a little dark. Wearstler pushes the envelope with artist-made furniture and lighting that can seem spiky, naked or raw. Her palette has deepened, too. The interiors feel erudite and more substantial, the room layouts like sculptural forms assembled in a tense conversational dynamic. "Each project is a unique exploration of curiosity and experimentation that leads to a constant evolution," says Wearstler. "With every new project comes a different context and set of parameters, and new and interesting passions, art forms and interests."
In the latest interiors, she is drawn to furniture that is boldly scaled and, often, graphically patterned, mixing such pieces with one-off creations by artist designers like Roland Mellan, Lindsey Adelman, Katie Stout, Misha Kahn, Entler Studios, Susan for Susan and Anton Alvarez. "For me, it is the power of the line," says Wearstler. "I think it goes back to my love for graphic design. There is so much strength and beauty in the simple line. Pair this with geometries and artisanal fabrication, beautiful materiality and you have exceptional pieces of furniture. In essence, furniture as sculpture."
Of course, no matter how distinct in style, both the early and most recent work springs from the same impulse. Wearstler's signature approach to interiors has been described as marching right up to "over the top" then taking a step back. It exemplifies Jean Cocteau's dictum: "Tact in audacity is knowing how far you can go without going too far." In that sense, Wearstler is doing what she has always done, albeit in a more confident way, with bigger budgets, a larger proportion of important furnishings and art and more of her own designs. The Hollywood glamour that got her noticed decades ago toed the same elusive line of good taste that her blend of blue-chip pieces, Memphis Group furniture and challenging works by emerging artist-designers does today.
"My aesthetic has always been about mixology," Wearstler explains, "the juxtaposition of contemporary and classic, masculine and feminine, raw and refined. Important vintage and soulful historical reference points that lend such spirit to a space. And I'm always discovering new artists, new forms of expression and fine-tuning my own eye and approach to creating distinctive spaces."
So, however stark the contrast appears between the two monographs — and between Wearstler's work then and now — the sensibility remains consistent. Asked to describe the constants in her career, she answers, "My love of materiality, the juxtaposition of styles and eras, textural plays and color. My philosophy remains to love color, take risks and stay curious."
Kelly Wearstler's Quick Picks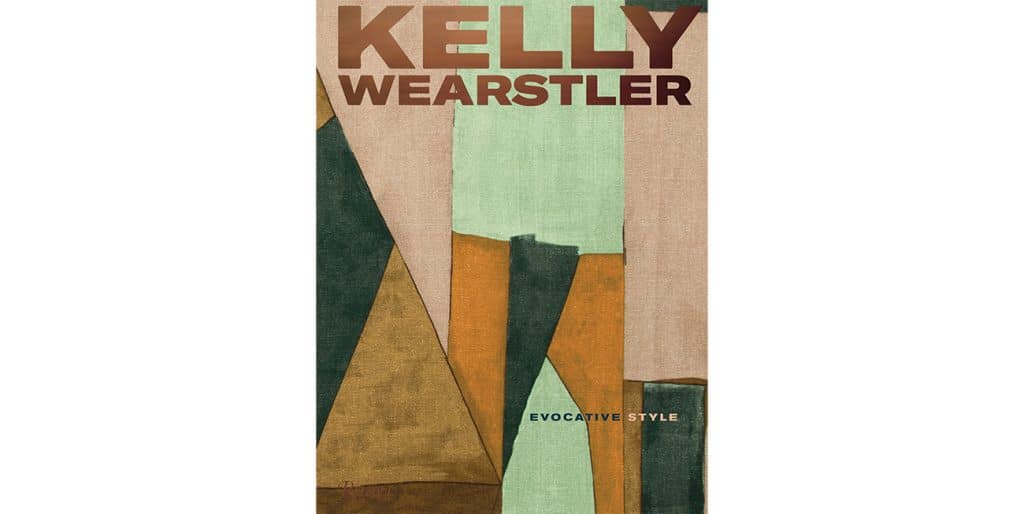 Or support your local bookstore.