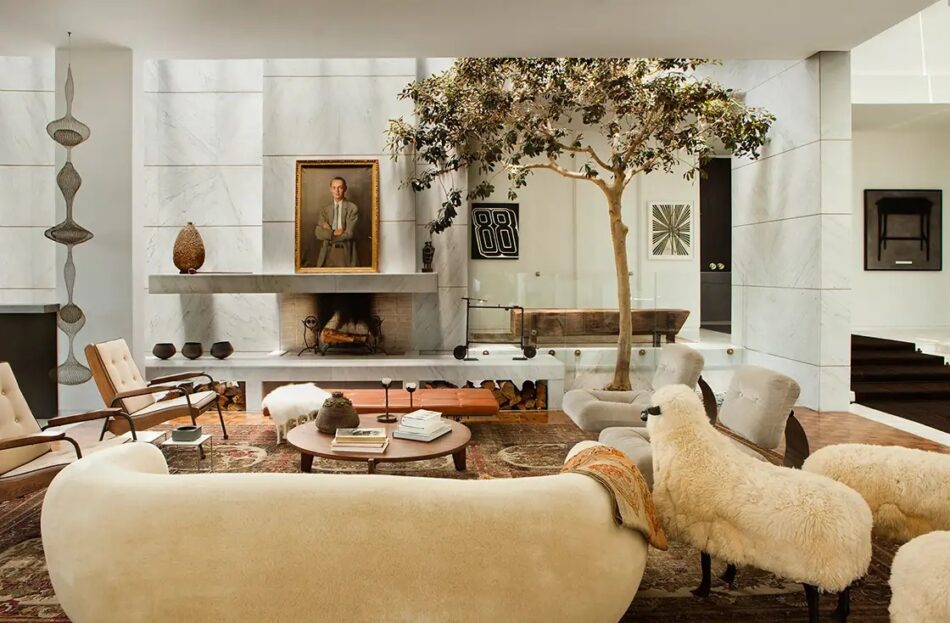 What ever happened to white on white on white? Top-to-bottom leopard print? Kitchens with enough stainless steel to sink a ship? Interior design trends may not move as fast as gold futures or be as fickle as fashion, but they, too, are subject to swings of the pendulum.
1stDibs has been quantifying international design swirls and eddies for the past six years in our annual online Designer Trends Survey. The most recent findings illuminate eight directions our designers anticipate taking in 2023 to create dazzling living spaces and, hopefully, contribute to a better world.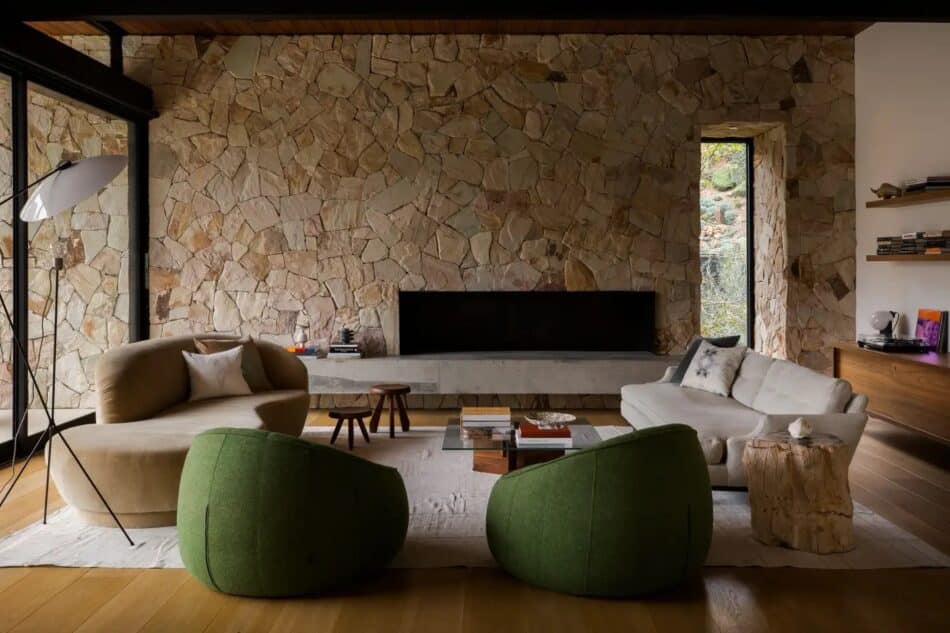 The overarching trend of the past year, expected to continue into 2023, is biophilia, or love of nature — a heightened appreciation of all things organic, from leafy shades of green to earthy materials like stone, wood and bronze. After so much unwelcome confinement during peak COVID, the desire to connect with the natural world has become a dominant theme.
"We were inside for so long, people want to be immersed in nature and natural materials," says San Francisco–based designer Michael Hilal, who constructed a rugged sandstone wall for the living room of a newly built California home, which he then filled with organically shaped seating and hand-hewn wood pieces. "While the idea might feel boho on its face, the look has become very sophisticated, with people using natural materials in a curated, thoughtful way."
Read on for more of the 2023 forecast.
---
1. Sustainability Is Destiny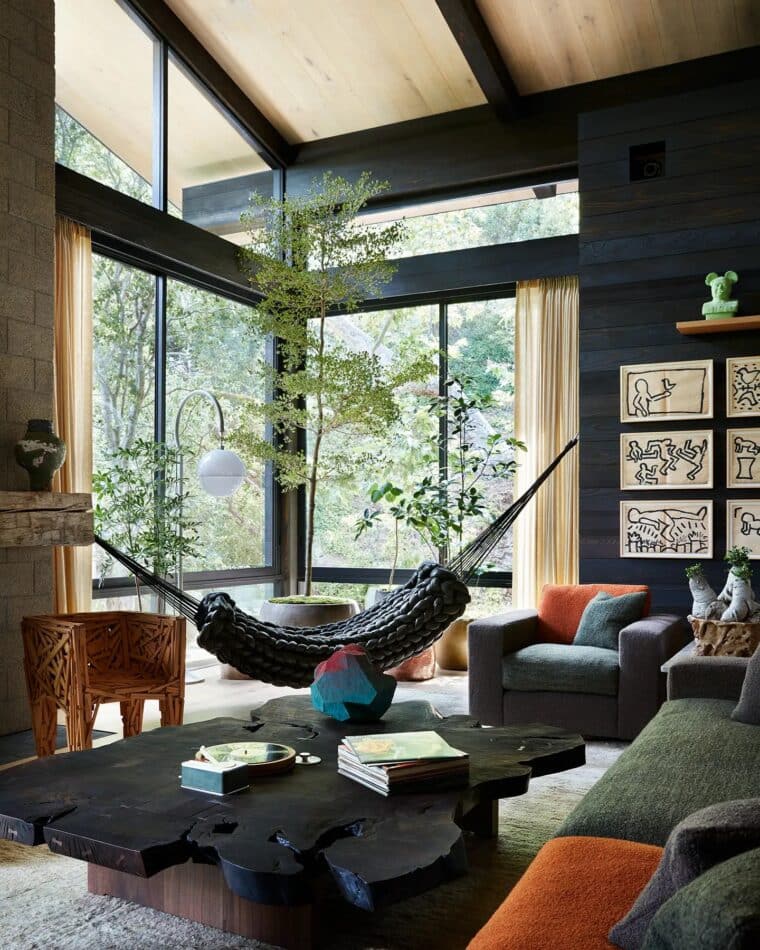 A whopping 94 percent of designers surveyed identified sustainability as the trend most likely to continue in 2023. That includes such things as use of responsibly harvested woods and recycled fabrics, maximizing natural light and improving indoor air quality with plants, which 91 percent predicted will remain a major trend going forward. A perfect example: the skylit Beverly Hills living room by L.A.–based mother-son team Clements Design, who centered the soothing organic shapes of mostly mid-century furnishings around an actual living tree.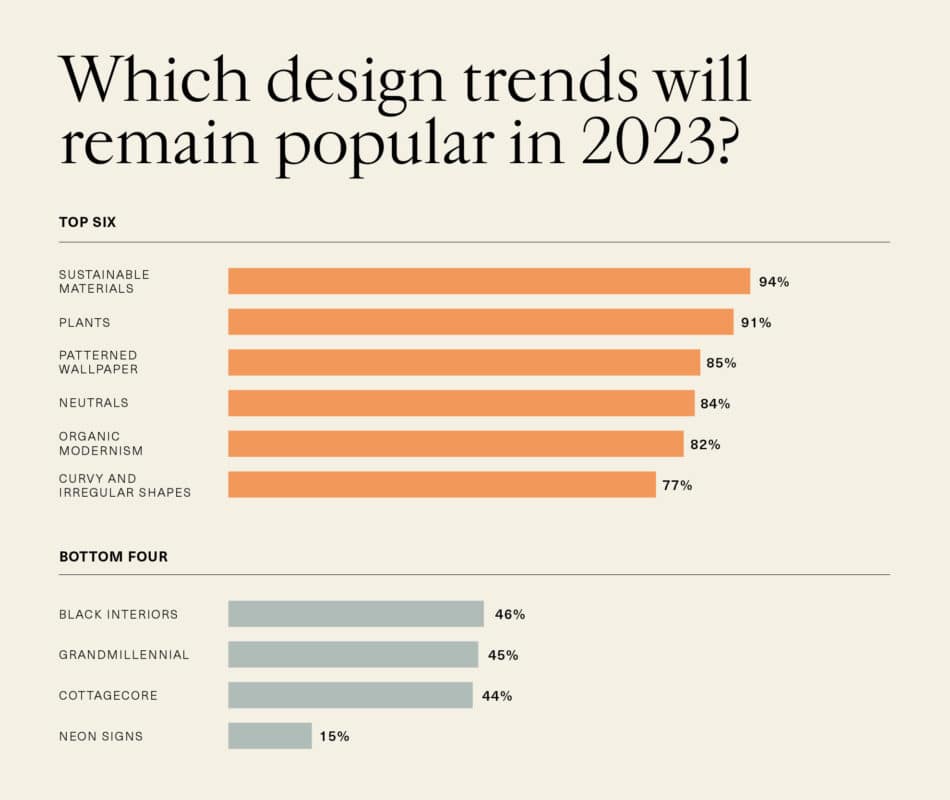 Thanks to expansive walls of glass, Studio Shamshiri seems to have incorporated a whole forest into a Los Angeles living room filled with dark, jewel-toned velvet upholstery, a chunky hammock and a massive, showstopping live-edge coffee table. The curvy, irregular shapes of organic modernism will prevail, say 82 percent of those surveyed, along with floral-patterned wallpaper (85 percent) and neutral colors (84 percent), all visual signifiers of the awakening interest in our planet and its precious resources.
Neon signs, black interiors, cottagecore and grandmillennial style are looks our designers will be happy to see do a slow fade in 2023.
---
2. 1980s Revival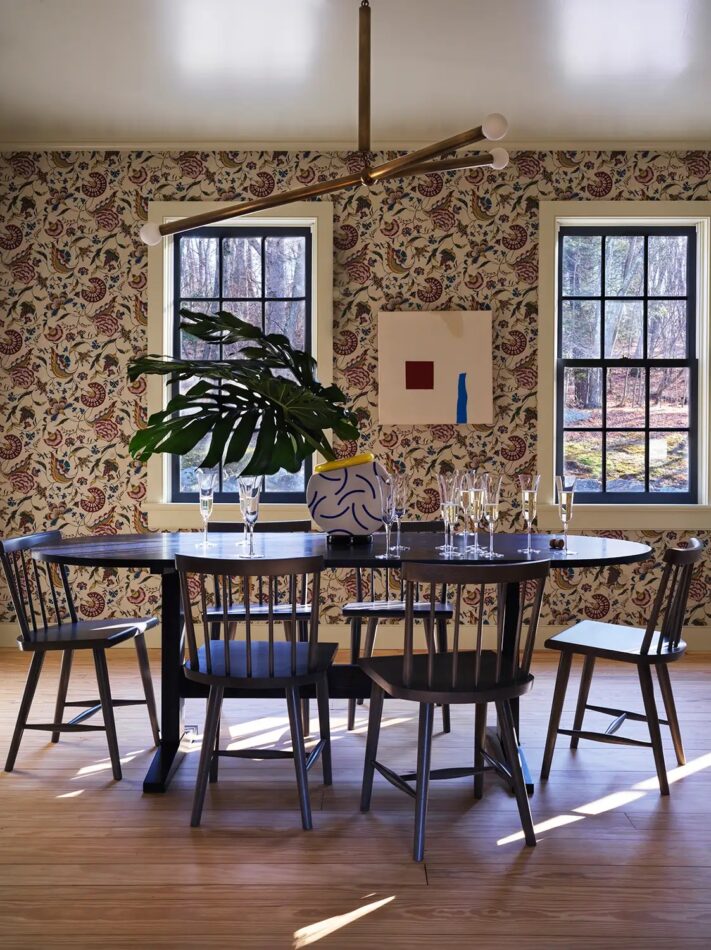 The 1980s — think pastels and chintz — will live to see another day in 2023, said 28 percent of designers surveyed, besting even the ever-popular mid-century modernism of the 1950s (23 percent). In Connecticut, design firm Hendricks Churchill captured the "everything goes" insouciance of the '80s by updating a farmhouse dining room with intensely patterned wallpaper, spindle-back chairs, a modernistic chandelier and a postmodern ceramic vessel.
Just last year, the 1970s were having a resurgence, ranking tops in our survey, but the decade's molded plastics and shag carpets dropped to 12 percent from 36 percent in the latest go-round.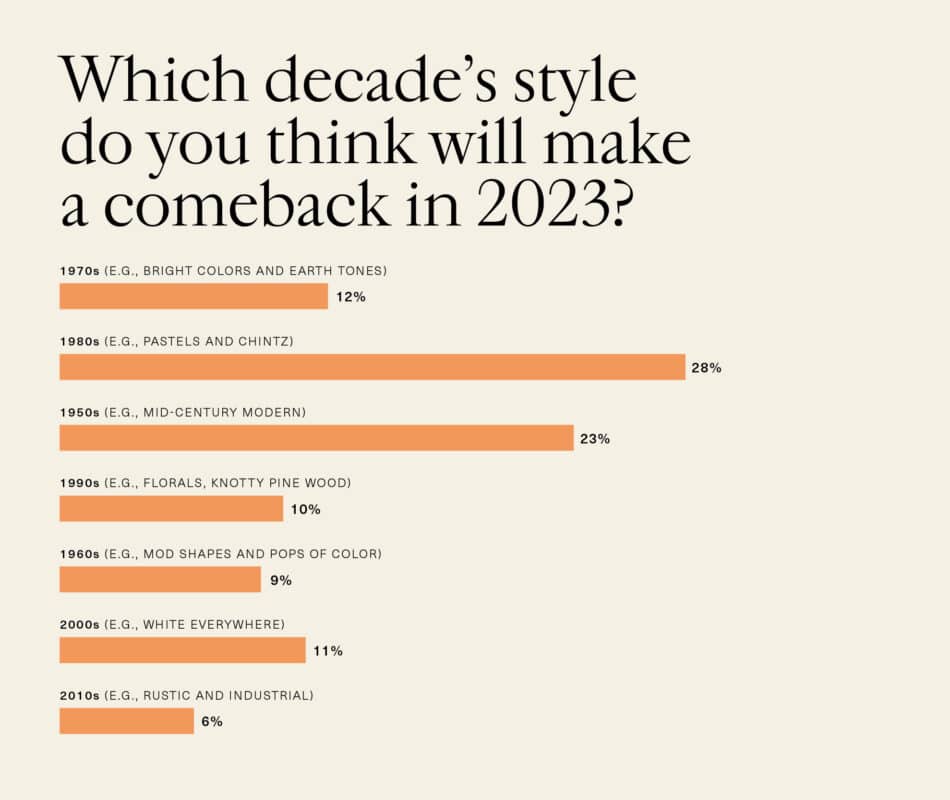 ---
3. Green Continues to Flourish
Green hues, from palest to deepest, are having a heyday, but it was emerald green that headed the list for the third year in a row, with 23 percent of designers calling it the current fave; it's followed closely by sage green at 22 percent. Designer Adam Hunter really went for it in Santa Monica, enveloping a glamorous kitchen with Art Deco touches in custom cabinetry boldly painted a rich green.
"Green, especially a mellow gray-green mix, is definitely a go-to color for our projects these days," says Brooklyn-based designer Elizabeth Roberts. "It's practically neutral in that it coordinates well with so many palettes."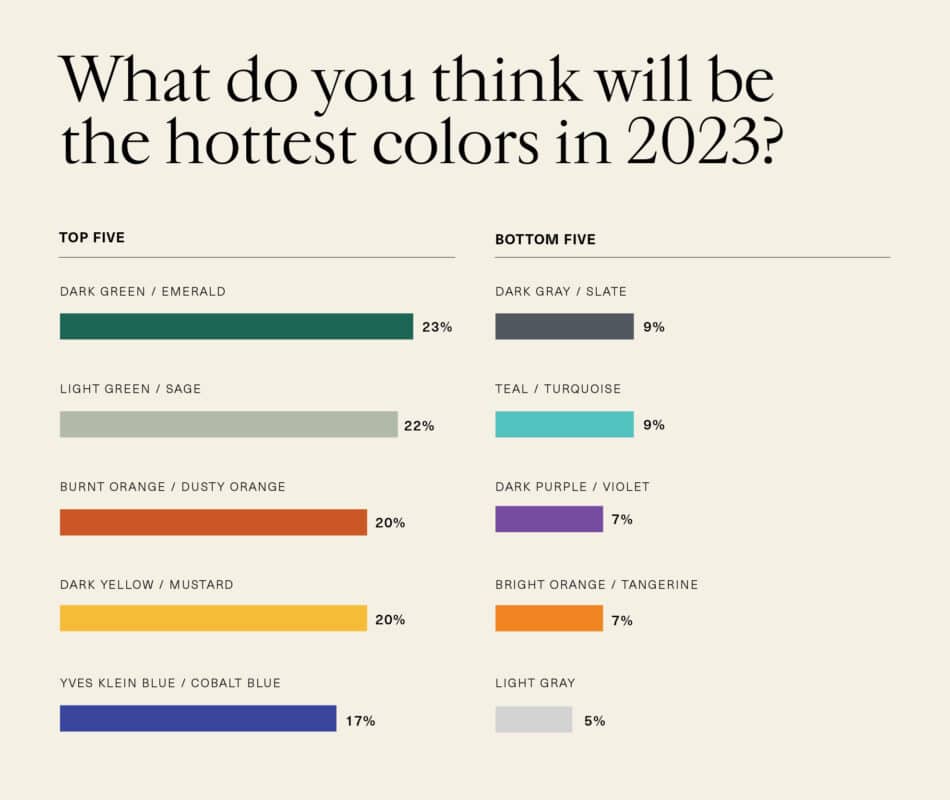 Other hip hues are burnt orange (20 percent), mustard yellow (20 percent) and cobalt blue (17 percent). Lavender (14 percent) spiked by 8 percentage points from the year before, with mauve rising by 4 points to 13 percent, lending credence to the notion that 1980s colors are on their way back.
White declined in popularity overall, endorsed as the number-one color by only 14 percent of designers in our survey, versus 24 percent the year before. Gray, too, has had its day, with light gray receiving just 5 percent of votes. Kitchens are an exception. There, white still reigns supreme, say 39 percent of designers surveyed; it's followed by light greens, dark greens and light brown or tan.
But even in the kitchen, Seattle-based designer Heidi Caillier has embraced the move away from an all-white aesthetic, choosing light green cabinetry for her own Tacoma, Washington, home. "There's a shift in the direction of warmer earth tones — browns, greens, terracotta — and away from stark white and gray interiors," she says. "People crave comfort these days. They want their homes to feel lived in and cozy, not sterile."
---
4. Organic, Floral and Large-Scale Patterns Hold Sway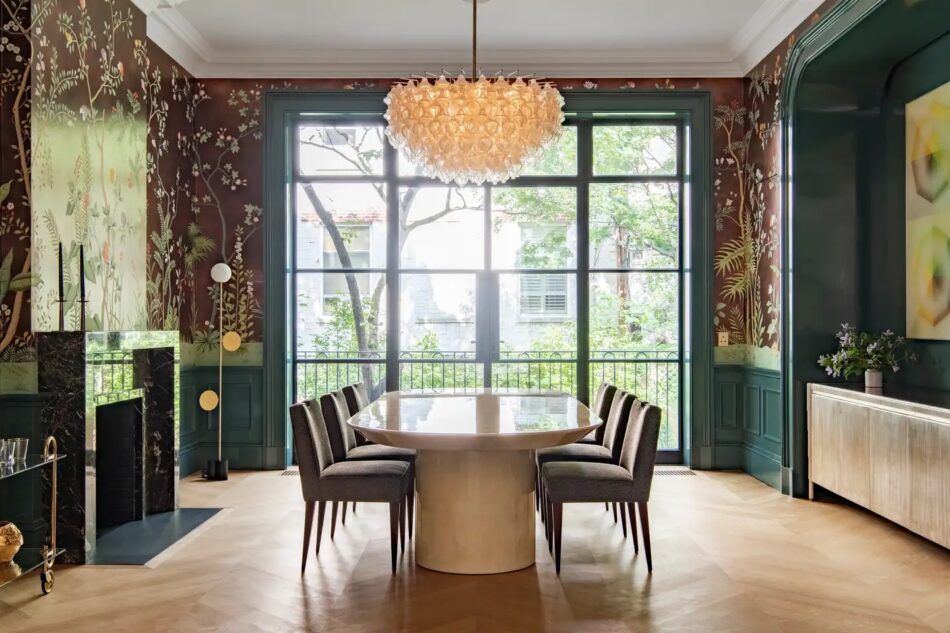 Large-scale prints (21 percent), organic motifs (18 percent) and florals (16 percent) — as seen, for example, in the San Soucis wallpaper from de Gournay, used by Elizabeth Roberts for the dining room of an elegant Brooklyn townhouse — are expected to dominate in 2023. Animal prints, at 4 percent, are down in the low single digits along with some other favorites of yesteryear, including tribal patterns and ikat.
---
5. Natural Materials Eclipse High Shine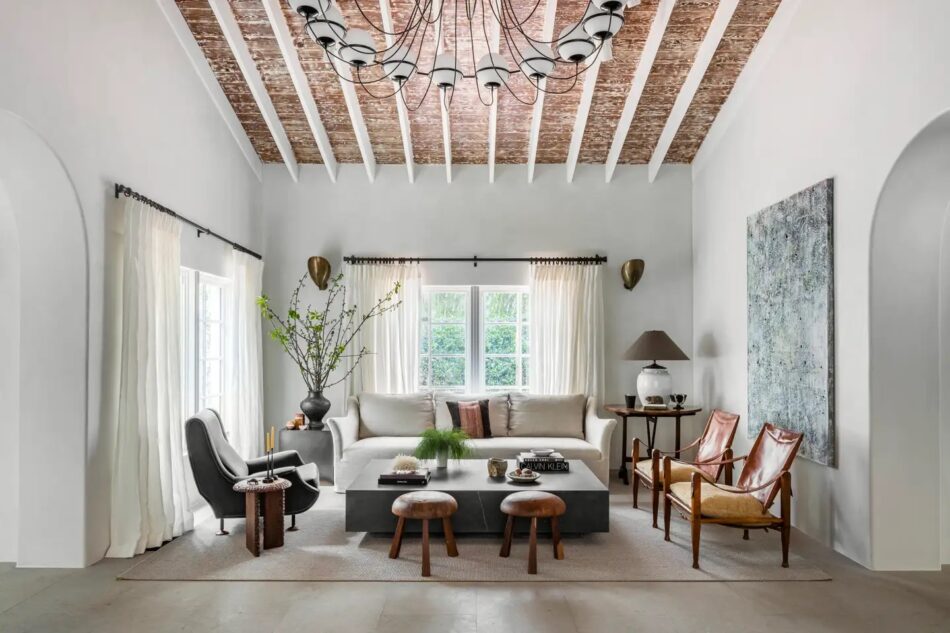 Of 18 options, wood and plaster tied for first place, each receiving 24 percent of votes. Collarte Interiors used wood multiple ways in a Mediterranean-style Miami living room — in the mottled beamed ceiling, Scandinavian armchairs and sculptural stools and side tables. Bronze came in at 20 percent, followed by natural materials in general and leather specifically, both at 19 percent.
Other subtle metals, such as copper and nickel at 12 percent and 11 percent, are also expected to find favor. In times past, gold, rose gold and chrome were the be-all and end-all, but anticipated use of such shinier materials is low for 2023.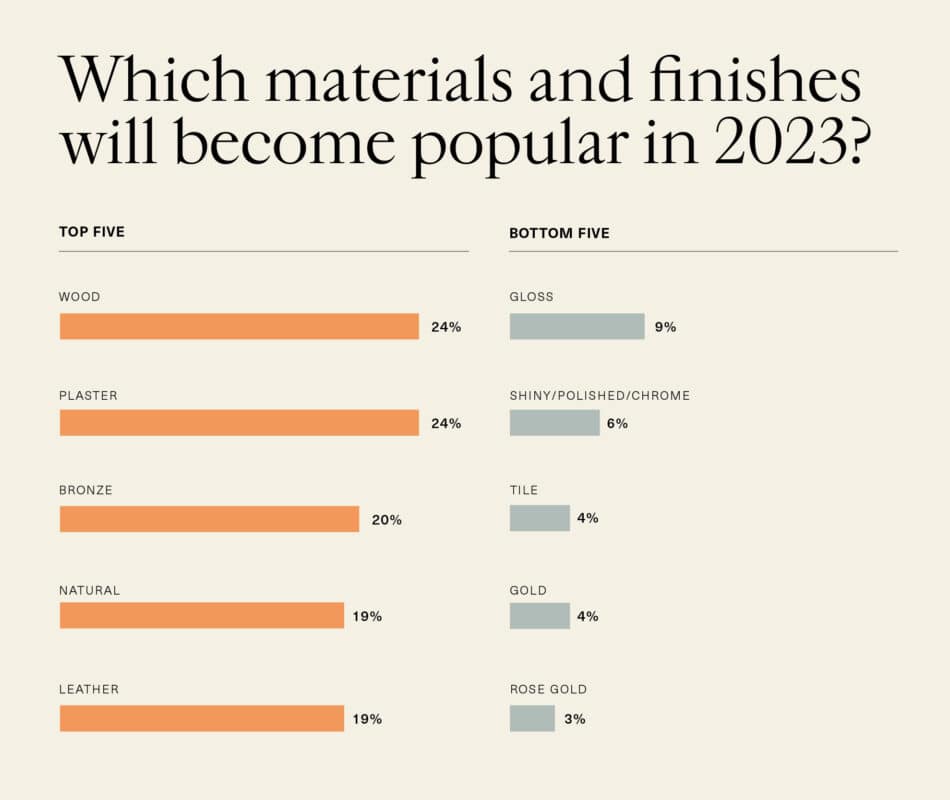 Roberts's Brooklyn dining room reflects the newfound popularity of unlacquered brass (19 percent), seen in candlesticks, light switches and a bar cart from Fontana Arte. "Unlacquered brass adds equal parts formality and warmth," she says.
On the West Coast, Caillier has noticed the same tendency. "Our clients are drawn to unlacquered brass, a living finish that will patina over time." Regarding stone, which 19 percent of designers endorse for 2023, Caillier says: "People are more open to marble and soapstone for their kitchens. It feels like the heavy quartz trend is fading a bit."
---
6. Iconic Designs Are Still Statement-Making
An elite selection of 20th-century furniture and lighting endures at the top of 1stDibs designers' lists from year to year. When asked about 16 seating pieces, 16 percent of those surveyed expect Eames chairs to be the hot seats (still!) of 2023, followed by Vladimir Kagan's swoopy Serpentine sofa (14 percent) and Hans Wegner's elemental Wishbone chair (11 percent), deployed in the garden-level kitchen of an Upper East Side townhouse by Deborah Berke Partners.
Ligne Roset's Togo seating (ranking number four, at 7 percent, in defiance of the declining '70s trend), the Mies van der Rohe Barcelona chair (6 percent), Mario Bellini's Camaleonda sofa (5 percent), Marcel Breuer's Wassily chair (4 percent) and Faye Toogood's Roly Poly chair (2 percent) also have their fans.
Perennially popular lighting choices will remain so, including Murano glass pendants and chandeliers (according to 25 percent of respondents), Isamu Noguchi's paper Akari lamps (16 percent) and Venini-esque mushroom table lamps (11 percent). Waning in favor is a longtime classic, the PH Artichoke lamp from Danish maker Louis Poulsen, down to 6 percent from 26 percent for 2022.
---
7. Artisans Are in Demand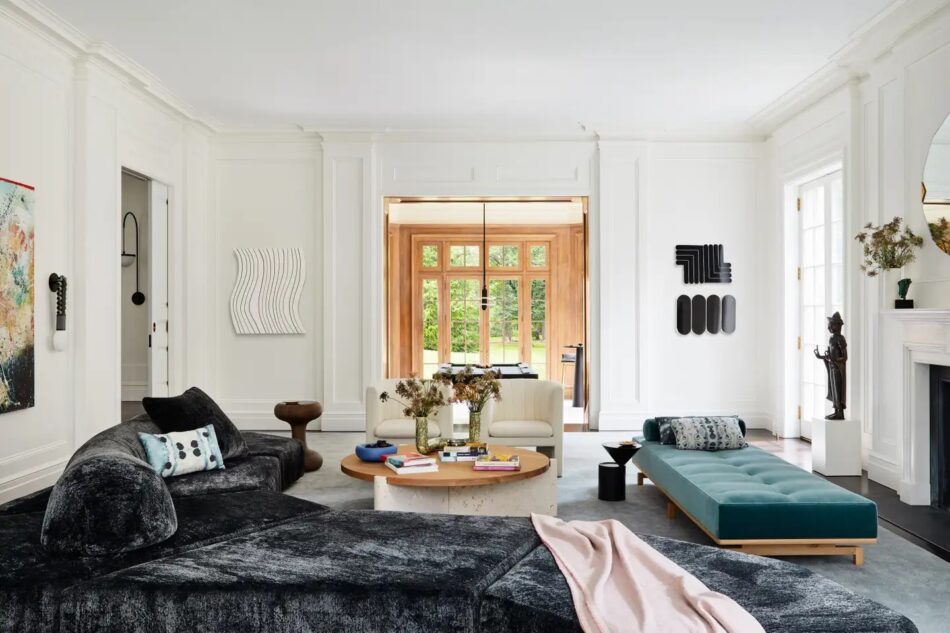 The vast majority of designers — over 80 percent — have bought at least one custom-made piece over the past few years. They've also sourced non-custom pieces from a broad swath of categories — from artisanal to mass-manufactured, vintage and antique to contemporary.
The non-customized share expanded from 43 percent in 2018 to 53 percent in 2022, our survey results show, while the use of customized pieces declined somewhat, from 58 percent to 47 percent during the same period.
In addition, it's clear from the stats that purchases from artisanal makers are strong and steadily rising. Fewer than 50 percent of designers said they planned to source from individual craftspeople four years ago; that number has risen significantly for 2023, to an impressive anticipated 65 percent, and even higher (76 percent) in the UK.
And no wonder: that's how you get highly original results, as in the intriguingly eclectic living room of a Scarsdale, New York, home by Lucy Harris Studio.
---
8. Sculpture Makes an Impact
Sculpture rules the day, with 44 percent of designers planning to spec more sculptural works in 2023; paintings are just about as popular at 43 percent. Drawings and photography are close behind, each at 33 percent, with prints at 20 percent. Husband-and-wife design team Gachot paired a muscular tabletop piece by contemporary artist Eric Astoul with a 2017 mixed-media work by Simone Shubuck in an Upper West Side living room in New York.
NFTs and digital art, which only 14 percent of designers said they were keen on using more of in 2023, haven't yet made their mark, while interest in once-popular poster art has slumped to 6 percent.
---
Industry Outlook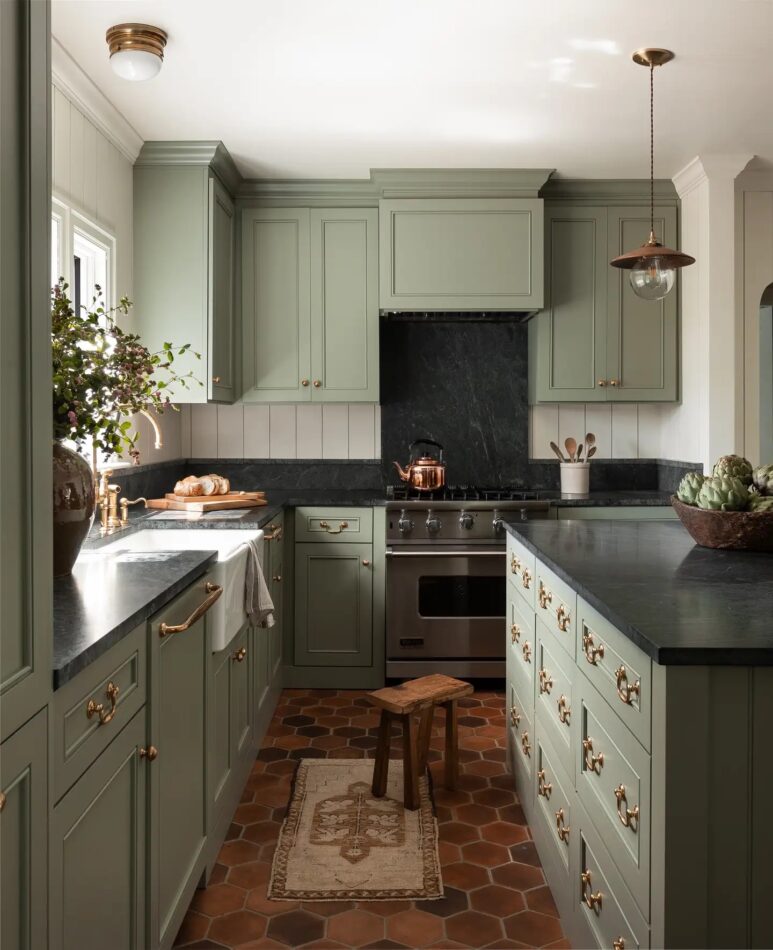 A majority of designers, 58 percent, expect to see growth in 2023, although that number has declined somewhat, down from 67 percent for 2022. The remainder anticipate no change or a drop in the number of projects they'll be taking on in the coming year, perhaps because their clients feel freer to focus on travel and other pursuits.
But while interest in quarantine-friendly spaces, like home offices, has taken a big hit — the number of designers reporting a surge in actual home office commissions received declined from 28 percent in 2020 to 19 percent in 2022, and only 32 percent of designers anticipate them in 2023, compared to 66 percent who expected them two years ago — enthusiasm for the heart of the house is holding steady. In the emerging-from-COVID era, kitchens and living rooms are taking precedence once again. Fifty-six percent of designers look forward to kitchen redos and upgrades in the year to come; 45 percent expect to tackle living room projects.
---
Survey Methodology
1stDibs' annual online Designer Trends Survey, which began in 2018, is conducted by Surveys & Forecasts, LLC, a strategic research consultancy based in South Norwalk, Connecticut. The latest survey, conducted from August to September 2022, tabulated responses from 880 interior designers who are members of 1stDibs' Trade 1st Program. Respondents who completed the survey were emailed a virtual gift certificate for $25 (UK respondents received certificates for £25).
The majority of participants (79 percent) were U.S.-based, with the next-largest group from the UK and Ireland (10 percent). Sole practitioners and small companies of two to four people accounted for 68 percent of all participants. The average number of projects completed by respondents in the preceding year was just over seven.