I love the whole look and vibe of seventies leather," exclaims Martyn Lawrence Bullard. "It's disco fabulous!" The Los Angeles designer known for his high-style interiors is not alone in his enthusiasm. A few years ago, he had a love-in over the look with Tommy and Dee Hilfiger when designing their retro-groovy pleasure palace outside Miami, the screening room of which is furnished with Ubald Klug's trippy 1973 Terrazza "seating environment." If ever there was a landscape made for louche lounging, it was this glamorous topography of super-caressable De Sede leather, the Swiss manufacturer of ne plus ultra luxurious leather furniture. Credit for its revival as an emblem of decadent '70s cool, however, probably goes to Stephen Alesch and Robin Standefer, of New York's Roman & Williams, who riffed on the design back in 2009 when creating the site-specific billowing banquettes at the Top of the Standard, the penthouse restaurant at the High Line's Standard hotel. They sought to create a dining room that would pay homage to Warren Platner's ultra-glitzy 1976 Windows on the World interior, while also alluding to natural forms, with the banquettes flowing like a river through the space.
That rare blending of the showy and organic is the real appeal of '70s leather seating. As the dealer Daniele Lorenzon, of the Milan-based gallery Compasso, puts it: "It's warm and unique but still industrial. It relates to nature, land, earth — and at the same time to mass production." That "authentic, raw and refined vibe" is what attracts Kelly Wearstler to the period, too. The Los Angeles designer, known for interiors that shout pizazz, says the furniture has "a sense of exuberance unequaled by any other era."
In fact, the furniture evokes an era (which actually began in the mid-1960s) when experimentation ruled, or at least provided a reason to break the rules. Just about every area of society felt a sudden urge to be wayward, to push boundaries — and buttons. In the promotional material for Sacco, the original leather-clad beanbag chair (the "beans" were polystyrene pellets), produced by Zanotta in 1968, its creators — Piero Gatti, Cesare Paolini and Franco Teodoro — naughtily note that it is light enough to be "loaded into a car and transported anywhere, to a meadow, under a tree . . . for making love." Unsnap a couple of straps, and Alessandro Becchi's luscious leather 1971 Anfibio sofa for Giovannetti flips open into a sheepskin-covered bed. It became the signature couch of the Playboy Clubs.
While getting lucky was clearly on these designers' minds, they were equally titillated by such formalist fantasies as eliminating furniture legs. Through joint research with several forward-looking furniture manufacturers into state-of-the-art industrial processes, they explored ways of employing polyurethane foam to serve as both cushion and structure, offering a whole new range of seating concepts. Designers and manufacturers saw these non-assembled "global forms" as functional mass-produced sculptures, much like artist multiples, then very much in vogue. Pop art was the inspiration for some of the works, like the 1970 Joe chair, a giant leather baseball mitt conceived by Jonathan De Pas, Donato D'Urbino and Paolo Lomazzi for Poltranova as tribute of the famous Yankee Joltin' Joe DiMaggio.
To promote these experimental pieces and create a critical foundation for this exciting merging of avant-garde art and design, a group of Italian companies sponsored the landmark 1972 Museum of Modern Art show "Italy: The New Domestic Landscape," which documented the cultural quake that technology-savvy young designers had triggered, the aftershocks of which we are still feeling nearly a half century later.
"They were expanding on the research of the International movement, on the designs of Le Corbusier and Mies van der Rohe," says Larry Weinberg, the principal of New York's Weinberg Modern design gallery, who began dealing in '70s leather seating not long after he got into the business, in 1994. Back then, of course, furniture of the 1950s was what was most people sought out. Nevertheless, "you avoid leather at your own peril," he says. "It's a primal material that has something that fabric doesn't. It has a feel we understand in our reptile brain." And the sensuous appeal of leather from this period can't be underestimated.
"The pieces often have a marvelous patina, because of the quality of the leather," says Lorenzon. "The leather of Cassina was amazing." For Weinberg, it's De Sede's designs that offer "the best quality in leather and construction" of the various vintage pieces that show up on the market.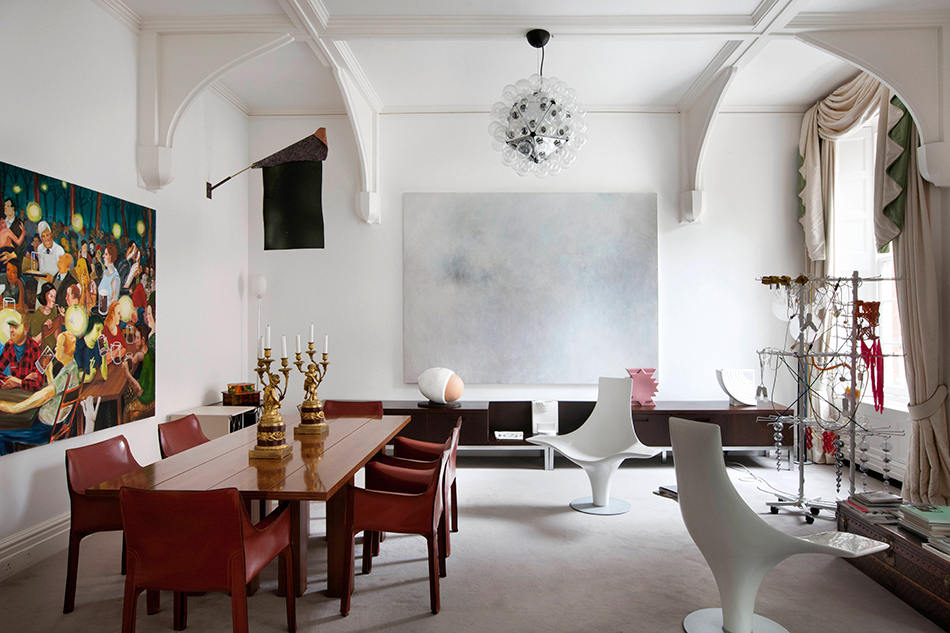 The piece of furniture that most obsessed designers back then was Le Grand Confort, in which Corbu turned the classic upholstered seat literally inside out by encasing the leather cushions within a metal chair frame. The husband-and-wife team of Tobia and Afra Scarpa and Gianfranco Frattini both produced variations on it for Cassina that were at once bolder and more refined: the Scarpas with their 1969 Soriana seating collection of armchair and sofa and Frattini with his 1970 Sesann suite of armchair, love seat and sofa. In all these designs, a few delicate chrome bars, barely visible amid the voluptuous volumes of leather-covered polyurethane foam, hold the seat together.
Mario Bellini wasn't interested in merely composing variations on Corbu's radical achievement; he wanted to surpass it. In 1965, he produced for Cassina the modular system Model 932, which used a discreet leather belt to secure various configurations of foam cushions together instead of a metal frame. So that the cushions would hold their shape when the belt was tightened, a semi-flexible cartilage-like sheet was inserted inside the foam construction. In 1972, Bellini debuted Model 623, another modular system, this one fashioned exclusively out of cold-molded plastic foam, with its tightly sewn leather coverings serving as the only additional structural support. To create a sofa of the desired size, one simply strapped the requisite number of  modules together. Also that year, he introduced the now classic Camaleonda, a contemporary take on the tufted leather sofa, composed of sectional elements that could be mixed and matched to create a seating landscape uniquely suited to the space.
In 1973, Bellini went off in another direction, fashioning a tubular-steel seat that he encased in cold-molded plastic foam before sheathing it in leather. Calling it Le Bambole, meaning "the dolls," a slang term for young women, he hoped it would approximate "a living body, pleasant to touch and embrace, soft and safe." He used the same design approach of clothing a metal frame in leather when designing the Cab side chair in 1976. The covering  zipped snuggly down its legs, like the reverse of a woman's knee boot.
Meanwhile, in France, the designer Michel Ducaroy was experimenting with leather-covered polyurethane-foam seating for Ligne Roset. His early explorations led to the remarkable Togo seating system, which was launched in 1973. Constructed out of complex layers of glued polyurethane foam neatly secured by a quilted polyester covering encased in elegantly pleated leather, Togo possessed a casual sophistication while being immensely comfortable. It soon became a classic of contemporary French design and has been in continuous production by Ligne Roset ever since.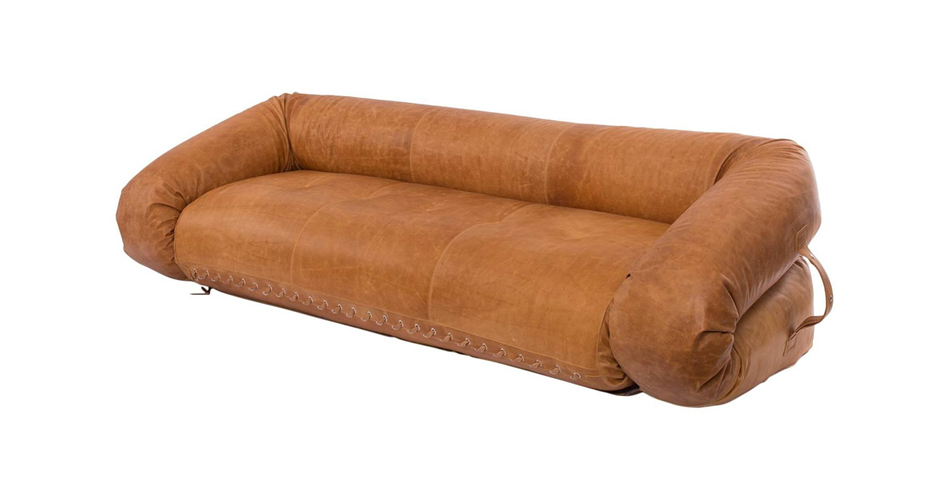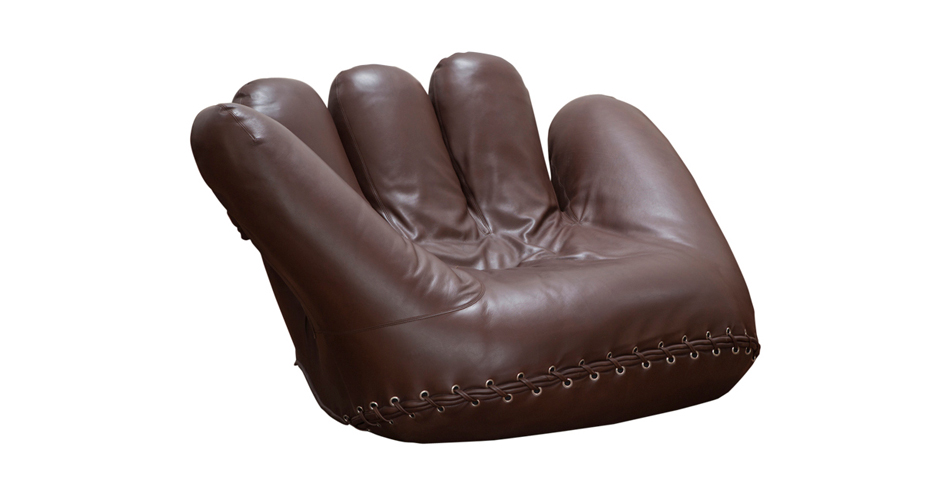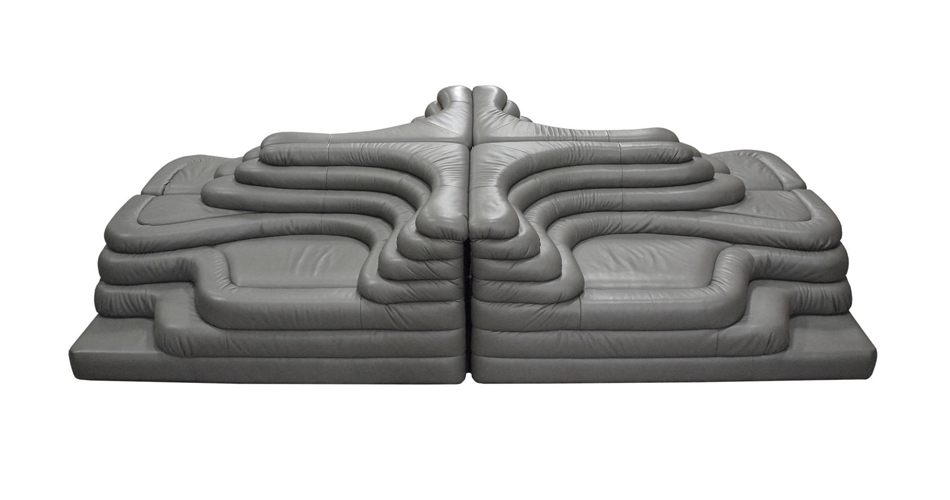 But perhaps the most collectible leather design from this period, and surely among the most inventive, was the 1972 DS-600 or Nonstop sofa from De Sede. Conceived for maximum comfort and flexibility by a threesome of Swiss designers — Ueli Berger, Eleonore Peduzzi-Riva and Heinz Ulrich — it is a complex construction of zipped-together down-filled, leather-upholstered segments, resembling zipper teeth, that can be configured into conventional or free-flowing shapes. "It's a nostalgic emblem of contemporary design," says Patrizio Chiarparini, principal of New York vintage design gallery and agency Duplex, which represents De Sede in the States. Weinberg thinks it may have been the most popular of the European leather seating systems sold in the U.S.
Of course, it's wasn't just the Europeans who were experimenting with innovative leather seating. There were equally adventurous designers in the United States as well, although their designs were not as driven by new industrial technologies. In California, for example, the American architect Paul Tuttle produced designs that seem very much in conversation with Mies's Barcelona chair and Thonet classics. "He was interested in paring down furniture forms, not overstuffing them like the Europeans," says Gerard O'Brien, of the Los Angeles design gallery Reform. For O'Brien, the most collectible works of this little-known but highly esteemed designer are "the first iteration of the 1968 Zeta chair — the one in the Los Angeles County Museum — and the 1976 Arco chair," both of which were produced by the Swiss manufacturer Strässle. Extraordinary works of minimalism, they have an almost Platonic purity.
"Maybe it was the influence of Europe, but Brazilian furniture of the late nineteen sixties and seventies had more curves," says Carlos Junqueira, of New York and London gallery Espasso, which specializes in Brazilian modernism. "This is especially true of the designs of Ricardo Fasanello. He used leather not only because we Brazilians love it but also because of the way it keeps its shape." One of the most intriguing of Fasanello's designs is the Anel armchair, which is composed of a leather-upholstered ring of enameled steel positioned at a 45-degree angle from its cushioned stool seat so that it appears to be suspended in air. Several years ago, the Dallas designer Laura Hunt commissioned 12 of them from the Fasanello studio, now run by his widow, for the dining room of a 26,000-square-foot villa in Cabo San Lucas. Fasanello's widow balked, at first, because of the difficulty of making the design comfortable enough to serve as a dining chair. Hunt, however, believed that the house, Barragán-esque in feel, required seating that was quintessentially modern and sculptural. With Junqueira's help, she persisted, and a year and a half later, she had the chairs. She was delighted with the result: "They are as contemporary as anything you'll ever see." The same might be claimed for all the classics from this period, which says volumes about their enduring appeal.