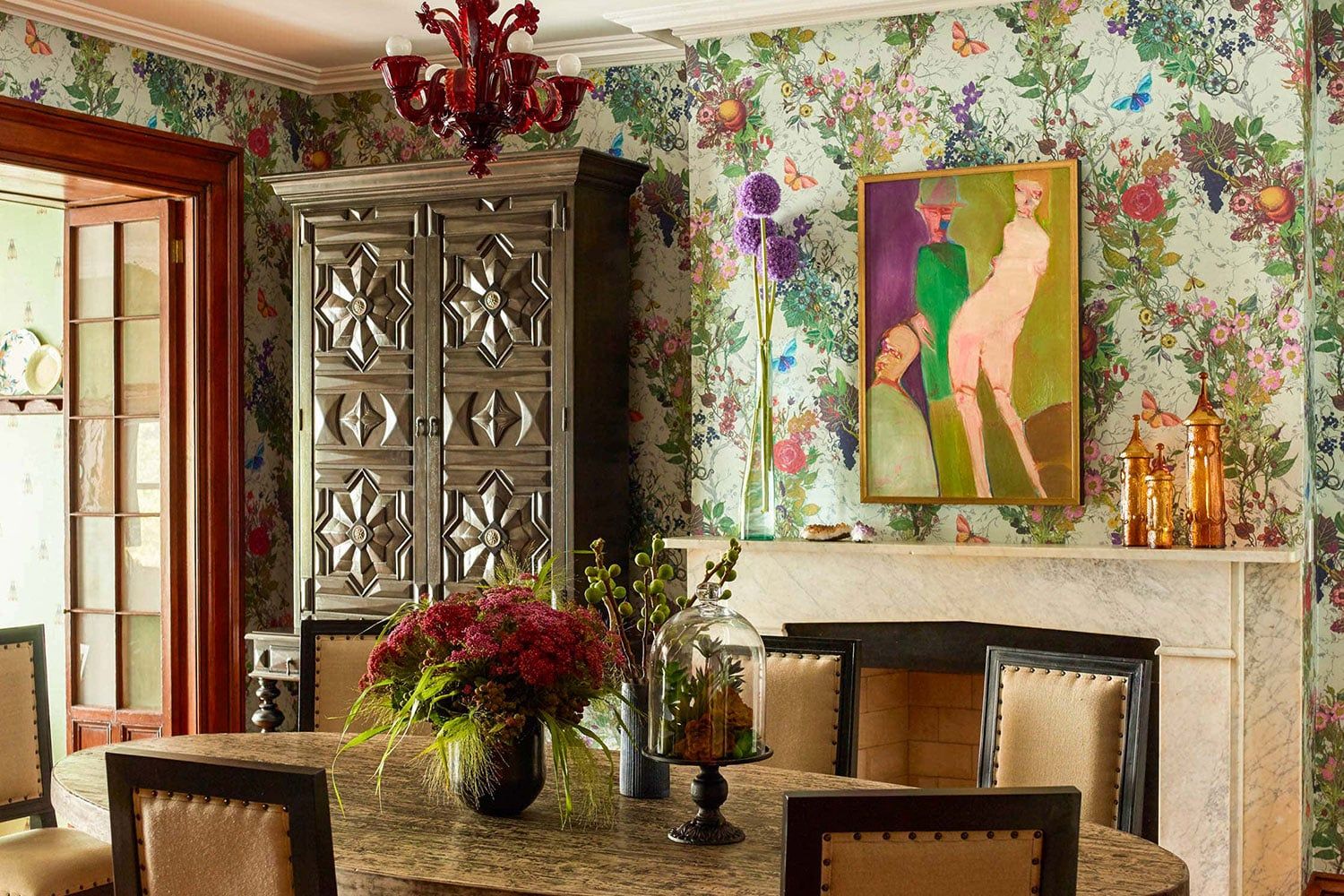 Chintz — you may know it as the pattern that exploded in the 1980s and was tossed aside in the '90s, or for its reappearance as a popular and lush decor element in 21st-century interiors. What exactly is chintz, how did it make its comeback and how do you decorate with it? We explore all that, plus share insights on using the floral fabric from designers who employ it in their interiors today.
---
What Is Chintz?
Chintz is a printed cotton fabric with a glazed finish and multicolored patterns. The term originally applied only to the textile, used for upholstery, curtains and clothing. Today, it refers as well to the fabric's characteristic floral patterns, seen in such decorative elements as wallpaper The heavily saturated designs are most often composed of natural motifs, such as flowers and leaves.
Chintz has a rich history, so next we'll discuss the origins and evolution of this vibrant fabric and the patterns adorning it.
---
History of Chintz Fabric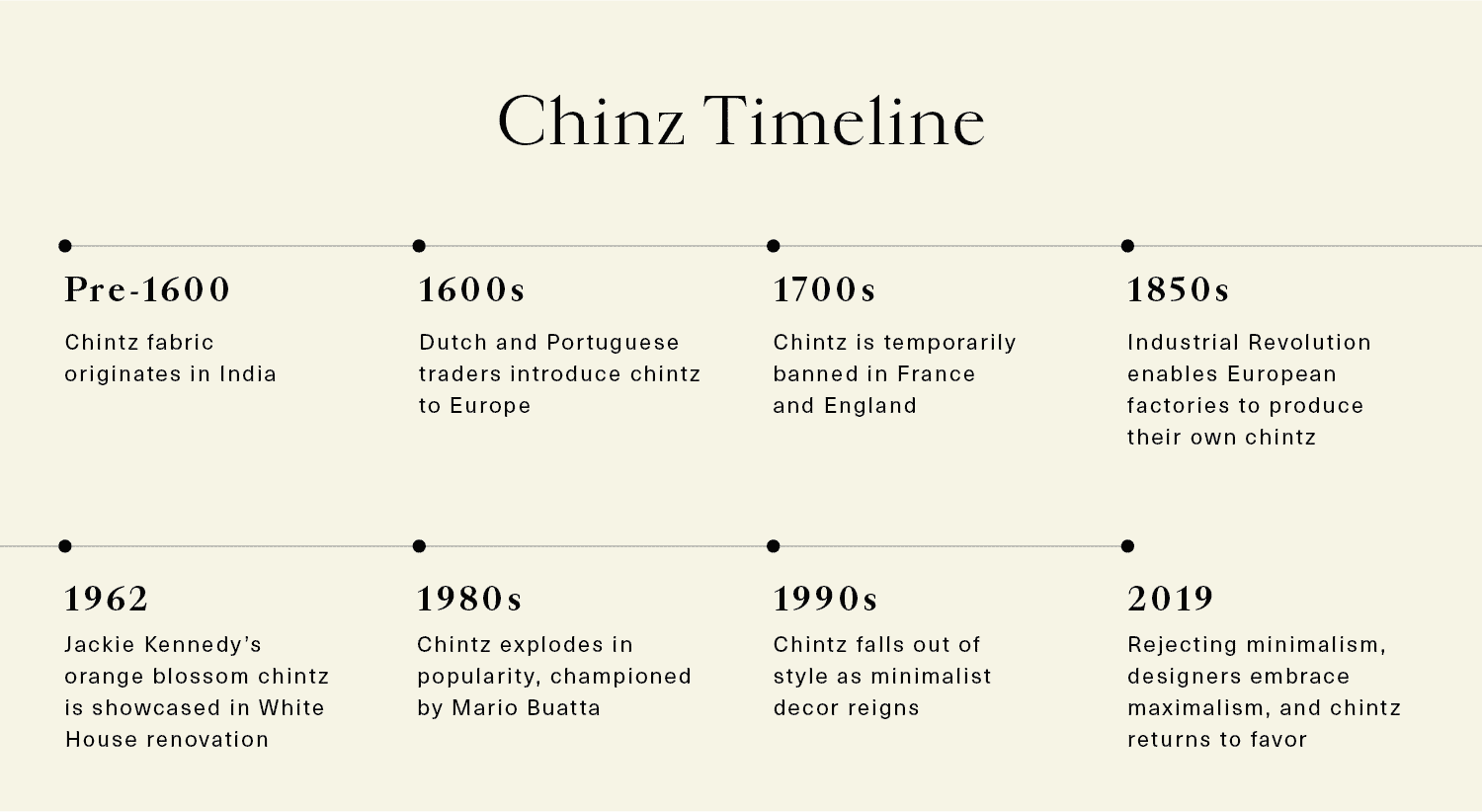 Chintz fabric originated in India. The word chintz comes from the Hindi chint, which means "spotted." Between 1600 and 1800, chintz was woodblock printed or painted on calico, a cotton fabric originating in Calicut. The dyes used were made from plant pigments, which produced vibrant colors.
In the 1600s, Dutch and Portuguese traders introduced chintz to Europe, where it was made into upholstery and dresses. In the late 17th century, the imported fabric was in such high demand that England and France banned its sale for nearly 70 years to protect their own textile mills, which were not yet able to reproduce chintz designs.
Thanks in part to innovations introduced during the Industrial Revolution, by the mid-1800s, European factories were producing their own chintz fabric. Victorians appreciated that the glazed finish made it easy to wipe clean.
In the early 1900s, the fabric began to fade from favor. Jackie Kennedy brought it back into the spotlight when she showcased an orange blossom chintz bedroom in her 1962 White House renovation. Chintz reached a heyday in the 1980s, boosted by Princess Diana and the popular Laura Ashley brand. Designer Mario Buatta, known as the "Prince of Chintz," championed its use in decor, creating floral-filled interiors.
The 1990s saw major pushback against the 1980s chintz craze, exemplified in IKEA's memorable "Chuck Out Your Chintz" advertisement urging families to replace flowery prints with minimalist beige and white decor. As it fell out of style, chintz became synonymous with gaudy, and "chintzy" came to stand for anything cheap or lacking in taste.
---
Chintz's Comeback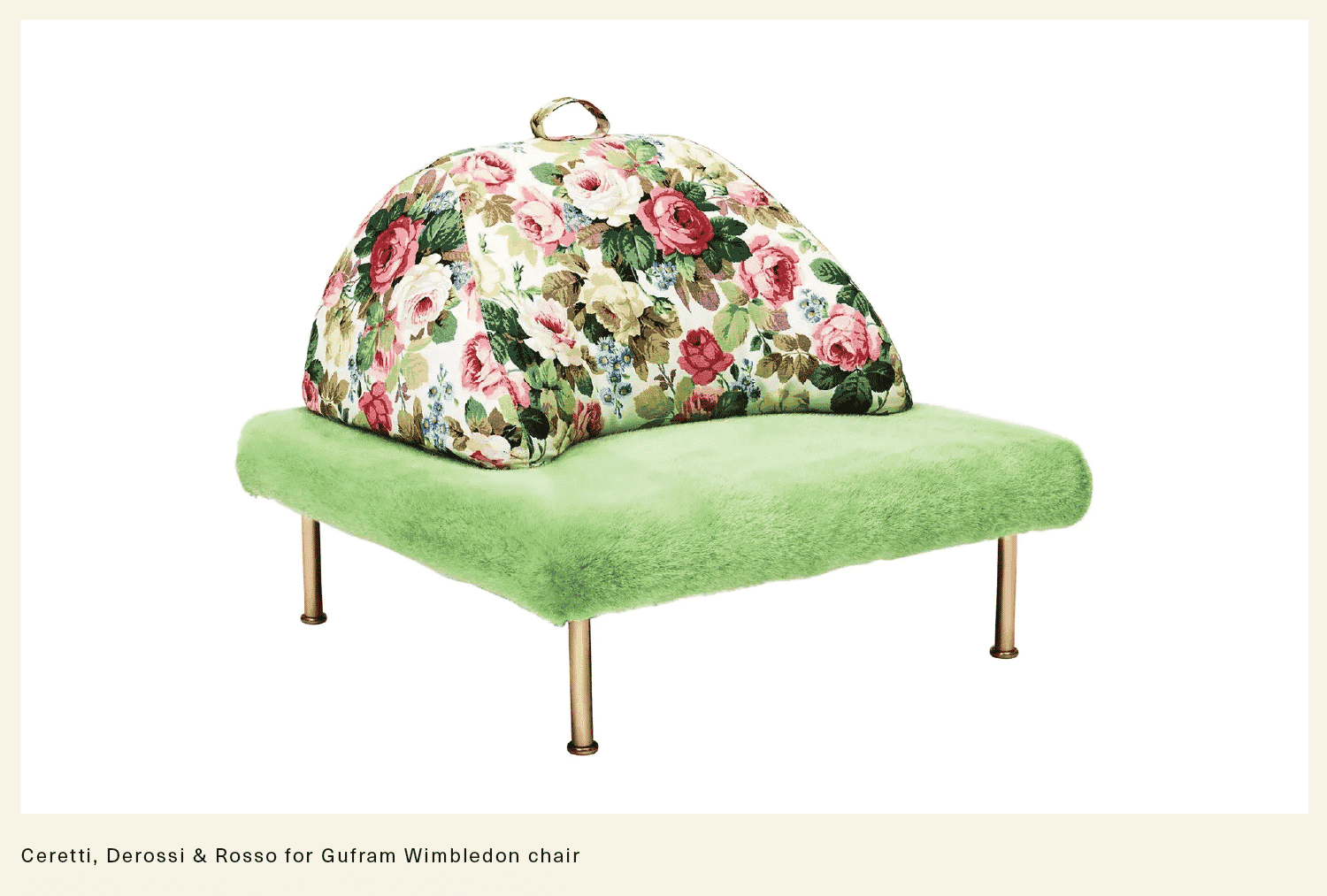 Chintz has rebounded of late. No longer considered "chintzy," the fabric is once again embraced by designers for its decorative patterns and bold colors. This is thanks in part to the maximalism that has taken the design world by storm. Reacting against minimalism, the style celebrates exuberance, displayed in the mixing of textures and patterns. Chintz fits right in.
"Chintz has made a comeback in recent years," notes New York–based designer Kati Curtis. "Especially this past year, as people looked for more coziness, softness and comfort in their homes! The huge success of Mario Buatta's auction a couple of years ago shows that chintz is back, and we really wish it had never left."
Chintz's floral patterns also speak to the current trend of bringing the outdoors in and drawing inspiration from nature. The Grandmillennial style, which favors traditional ruffles, embroidery and flower motifs, has also contributed to the chintz reviva as well. Floral wallpaper and furniture are back in a big way, contributing a traditional touch to a contemporary interior by softening and complementing the decor's geometric, modern shapes.
---
Pattern Examples
Here we present a selection of chintz patterns and show how today's designers are incorporating them into their interiors.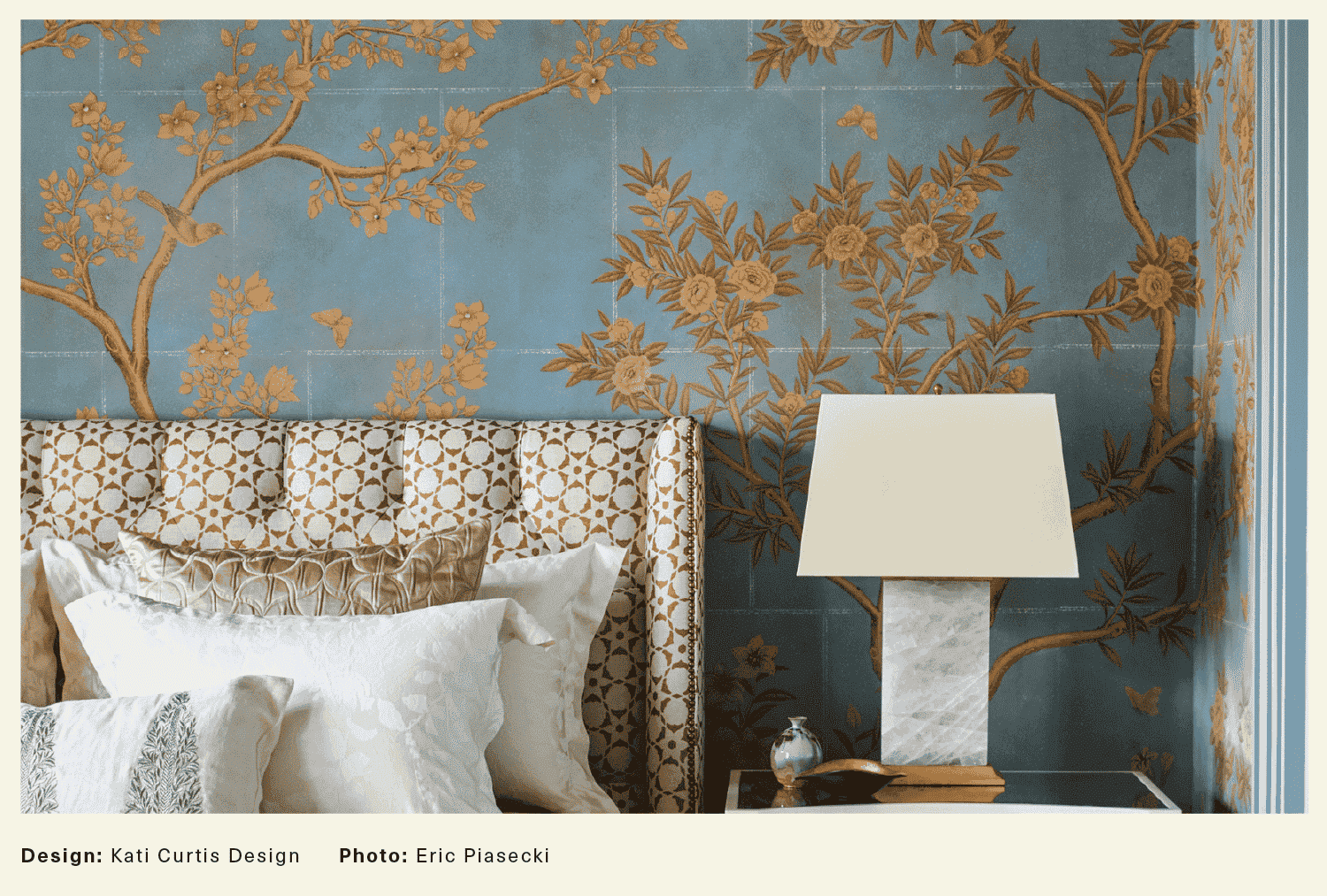 This colorful bedroom in an Upper West Side pied-à-terre is clad in blue chintz wallpaper with a tree design, creating an elegant contrast with the space's more-contemporary elements.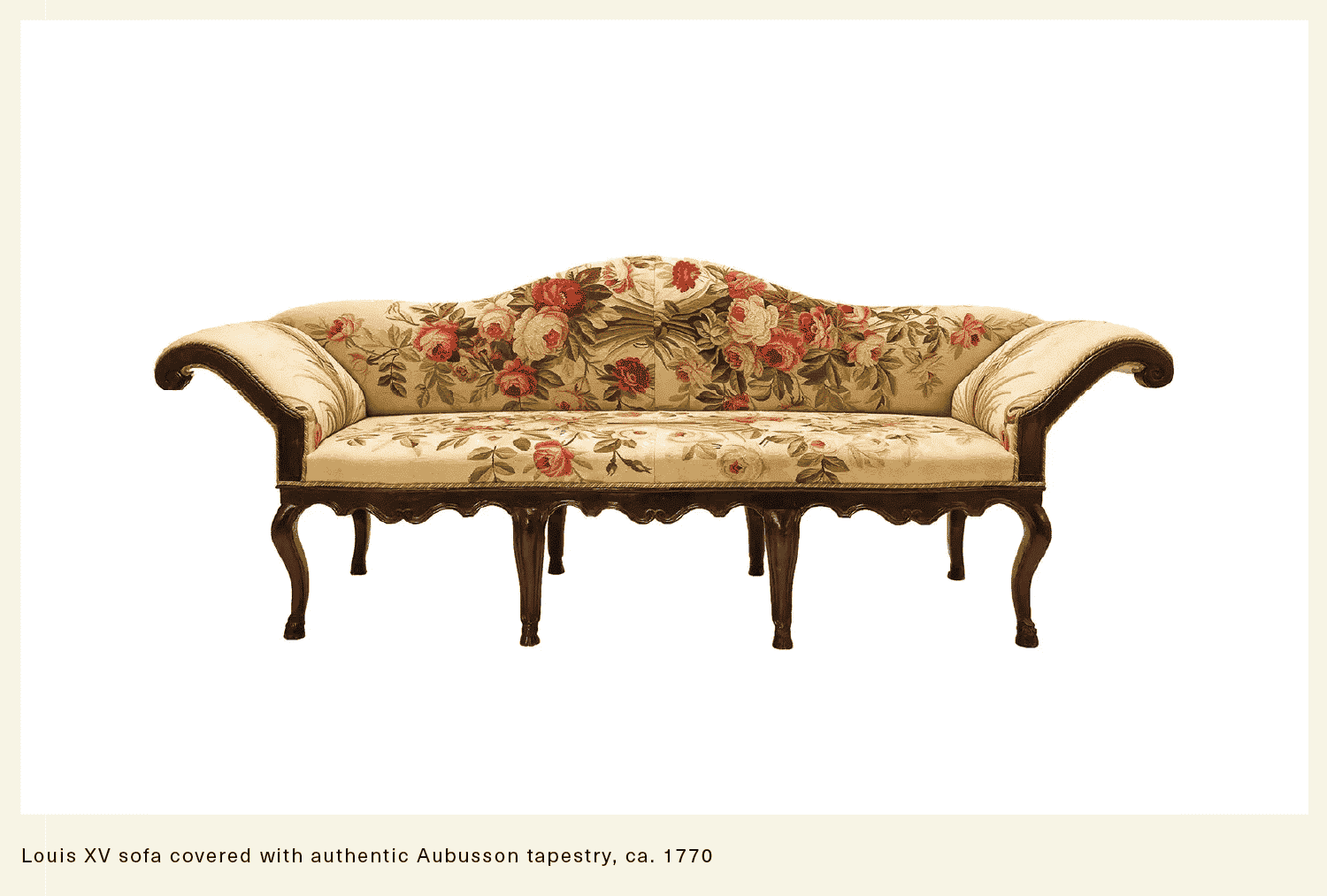 The floral Aubusson upholstery gives this antique Louis XV sofa a colorful lift.
---
How to Decorate with Chintz Patterns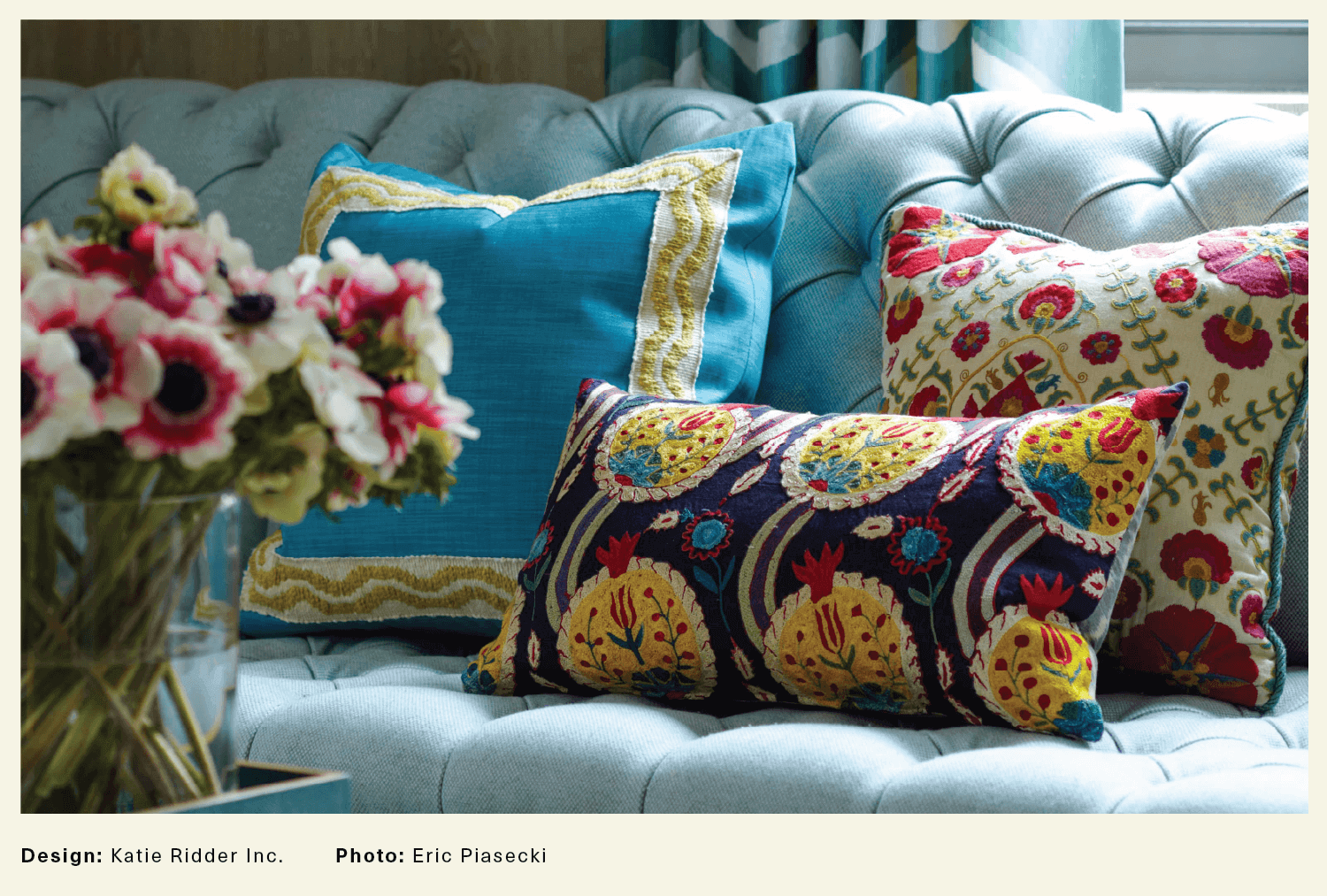 Chintz is undoubtedly having a moment as a cheerful and homey pattern, so how do you decorate with it?
Curtis suggests juxtaposing chintz with other textures. "I like to pair a shiny, smooth floral chintz with a rough linen ticking stripe or a textured fabric — I like the mix of the rough and refined," she says. As for the best places to incorporate chintz in the house, she cautions, "Chintz can be quite delicate and doesn't wear very well, so I like to limit its use to curtains, pillows and seating that doesn't get much wear and tear. If I'm using it on a sofa, I'll upholster the back and sides in chintz and do the cushions in something a bit more forgiving."
To update a traditional chintz pattern, designer Katie Ridder, known for her expert mixing of hues and styles, suggests choosing a fabric with a colorful background, perhaps chocolate brown or gray. "The floral patterns," she explains, "will look different from 40 years ago, when they were printed mostly on a cream background. If you order enough yardage, most fabric houses will custom color for you, and just choosing a different background is easy." She also advises employing chintz in places "where it isn't folded, so you see the large scale. Walls and upholstered chairs are where I would use it, with a solid sofa and solid curtains."
Chintz curtains, furniture upholstery and decorative pillows can all make statements with their vibrant floral prints. Here are additional pointers for deploying the pattern in your decor:
If you're considering using a large chintz motif, choose your fabric first and then base the colors of the room around it to tie everything together.
Faded colors will create a vintage atmosphere, while bright patterns are more eclectic and contemporary.
Small chintz patterns are lovely on accent pieces, such as throw pillows in a sitting room.
When using chintz for curtains, remember that a decorative floral pattern may look quite different on a small swatch than spread across a large surface. Try to obtain a large sample of the fabric you're considering before purchasing it, to get an idea of how the full curtain will look.
A touch of chintz can set the mood of a room, introducing a colorful, soft and traditional nuance to a contemporary space. For pieces that will help bring your floral interior to life, peruse our large selection of furniture and decor on 1stDibs.