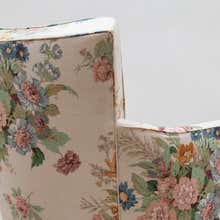 FLORAL CHINTZ
Chintz is a printed cotton fabric with a glazed finish and multicolored patterns. The term originally applied only to textiles, used for upholstery, curtains and clothing. Today, it refers as well to the fabric's characteristic floral patterns, seen in such decorative elements as wallpaper. The heavily saturated designs are most often composed of natural motifs, such as flowers and leaves.
Chintz fabric originated in India. The word chintz comes from the Hindi chint, which means "spotted." Between 1600 and 1800, chintz was woodblock printed or painted on calico, a cotton fabric originating in Calicut. The dyes used were made from plant pigments, which produced vibrant colors. Thanks in part to innovations introduced during the Industrial Revolution, by the mid-1800s, European factories were producing their own chintz fabric. Victorians appreciated that the glazed finish made it easy to wipe clean.
While the 1990s saw major pushback against the 1980s chintz craze, it has rebounded of late. No longer considered "chintzy," the fabric is again embraced by designers for its decorative patterns and bold colors. This is thanks in part to the maximalism that has taken the design world by storm. Reacting against minimalism, the style celebrates exuberance, displayed in the mixing of textures and patterns. Chintz fits right in.
Chintz curtains, furniture upholstery and decorative pillows can all make statements with their vibrant floral prints. A touch of chintz can set the mood of a room, introducing a colorful, soft and traditional nuance to a contemporary space.
Find rugs and carpets, seating, lighting and more in the floral chintz collection on 1stDibs.