February 26, 2023The current design-world buzz phrase "biophilic design" is the offspring of "biophilia." The term was coined, according to Pulitzer Prize–winning New York Times Science Times columnist Natalie Angier, "by the Harvard naturalist Dr. Edward O. Wilson to describe what he saw as humanity's 'innate tendency to focus on life and lifelike processes,' and to be drawn toward nature, to feel an affinity for it, a love, a craving."
Biophilic design's origins are often traced back to the green building movement that began in the 1990s. (The Environmental Protection Agency's LEED program, for example, was launched in 1998.) But we could easily argue for earlier antecedents. One basic tenet of modernist architecture, for example, was the erasure of boundaries between inside and outside through ample use of glass. If you've ever stood inside Philip Johnson's 1949 Glass House, in New Canaan, Connecticut, you instantly comprehend the vitality and spiritual essence of this oneness with nature.
Flash-forward to 2014, when the architecture, design and consulting firm Terrapin Bright Green published a research paper that introduced "natural analogues." Defined as "organic, non-living and indirect evocations of nature," these included "objects, materials, colors, shapes, sequences and patterns found in nature [that] manifest as artwork, ornamentation, furniture, décor, and textiles in the built environment."
The decorative arts have long exhibited those sorts of evocations in natural motifs (something made crystal clear in 1stDibs new spring catalogue). This was perhaps most extravagantly apparent in the ornate Belle Époque style of Art Nouveau. From approximately 1890 to 1910, the movement's talented designers produced furniture, glass and architecture in the form of — or adorned with — gently intertwining trees, flowers and vines.
By itself, France, where the style was arguably at its height, gave the world art glass by Émile Gallé, graphic arts by Alphonse Mucha and Eugène Grasset and biomorphic furniture by Louis Majorelle, which threatens to entwine you in its sinewy lianas, as well as the famous Paris Métro station entrances of Hector Guimard.
The style flourished in other countries, as well. Long before Audrey Hepburn and George Peppard shopped for an engagement ring at Tiffany & Co., its founder, Louis Comfort Tiffany, developed iridescent favrile glass that he formed into floral shapes as well as stained-glass lamp shades. The latter, esteemed by connoisseurs and tastemakers, became so ubiquitous that almost everyone I knew as a kid had faux versions hanging over their dinette sets or casting a moody glow in their clubby dens.
In Barcelona, the architect Antoni Gaudí pursued a highly personal form of Art Nouveau known as Catalan modernisme. He intended his playful, elfin abodes, nestled in the green hills of the city's Parque Güell, to appeal to young families with children, who love whimsy and fairy tales. On my first encounter with these homes, in my 50s, I felt in such communion with nature that I imagined a Lilliputian me sitting on a mushroom cap for dinner or swimming through a tiny pool of water trapped on a leaf as I explored the park.
For some Art Nouveau designers, nature-based ornamentation became an obsession. Gaudì's chief competitor, Lluís Domènech i Montaner, rendered so much plant life — in glass, plaster, tilework, wood — at the city's Palau de la Música Catalana you might worry that, after too much time spent there, you would be completely swallowed up by vines and blossoms, never to be heard from again.
The English practitioners of Arts and Crafts, whose dates roughly coincided with those of Art Nouveau, considered such outré ornamentation excessive. While not completely eschewing plant motifs, they applied them almost parsimoniously to furniture and furnishings (on drawer hardware, for example). Notable exceptions were W.G. Keight silverware, Moorcroft pottery, Archibald Knox's designs for the department store Liberty & Co., John Pearson's and the Guild of Handicraft's repoussé copper accessories and mirrors, and, of course, the wallpapers and textiles of William Morris, the movement's most impassioned prophet, who famously declaimed, "Wherever nature works, there will be beauty."
Of course, it was inevitable that these influences would cross the Atlantic. An early manifestation of Arts and Crafts' American moment was Fulper, Rookwood and Roseville pottery. Hand-painted florals and gourd-like shapes were the pieces' most obvious characteristics. Though the Arts and Craft style has never been a personal favorite, I have always admired the ethos of the movement, which implored us, after the failed promises of the Industrial Revolution, to reconnect to craftsmanship and the natural world.
For centuries, and even millennia, cultures have revered both as inspirations for life and art. People were creating "natural analogues" before anyone ever dreamt of such a label.
I've always been beguiled by Japanese painted panel screens, produced since at least the 17th century. Their enveloping forms are like magical immersions in nature. Deploying them in homes made inhabitants feel literally surrounded by dense forests, ocean waves, misty mountainscapes or flocks of majestic cranes. (Cormandel screens, made in China using precious lacquer and mother-of-pearl, primarily depict courtly scenes, although landscapes are a close thematic second.)
Most origin stories, of course, lead us to Africa, and that of biophilia is no exception. Furniture and objects from the Cradle of Humankind in the Great Rift Valley and beyond are all about natural materials — woven-grass baskets, Ashanti stools carved from single blocks of wood, drinking cups made of red clay, headdresses of birds' feathers, cowrie shells and animal hair.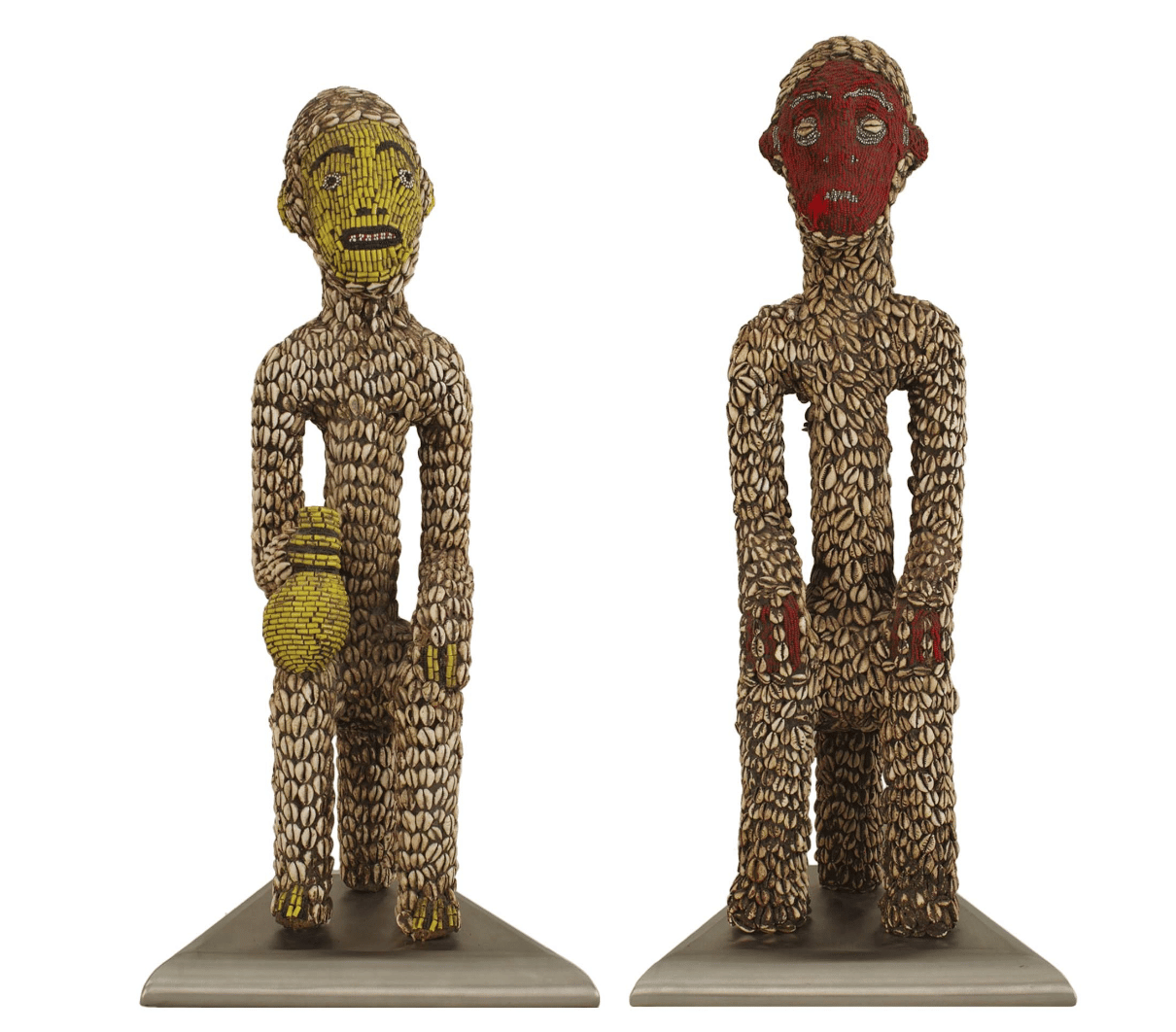 Every time I have the opportunity to hold one of these, I feel the secret life of the natural elements they're made from. They are associated — physically and spiritually — with animist beliefs that all things contain a primal sentience that connects them with us. How else to explain the use of such objects in the interiors of modernist stalwarts from Pablo Picasso to Eileen Gray?
On a purely decorative level, rustic furniture and objects can both engage with a home's natural surroundings and create a dramatic contrast to those surroundings. In the 19th-century's Adirondack Great Camps, for example, wildly imaginative furniture made from twigs and birch and willow branches allowed "rusticators" from the big cities to feel more fully attuned to the unplugged outdoor experience. Similarly, the stump tables we use today (clear references to furniture of the early American West) bring organic texture and nature's touch to rooms of even the most elevated sophistication.
And what of the popularity of live-edge plank tables? Having long written about contemporary crafts, I've encountered many artisans who swear wood possesses a soul that tells them what it wants to be.
This concept was a core principle for the Ming and Qing dynasty makers of huanghuali furniture in China and continued to influence iconic craftspeople like Wharton Esherick, Phillip Lloyd Powell (who collaborated with Paul Evans) and, of course, George Nakashima, whose butterfly-jointed plank tables established him at the top of the (wood) pile.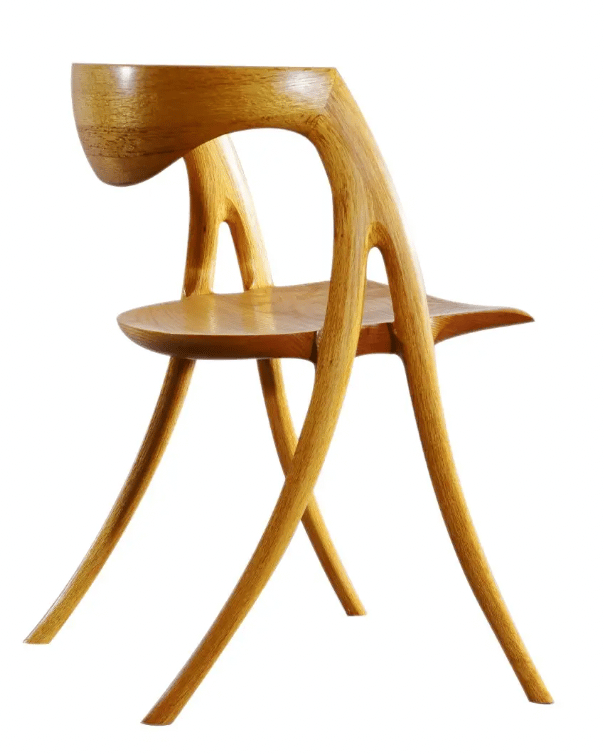 Those butterflies, which came to be known as "Nakashima joints," allowed the designer to bring attention to the natural splitting of the wood, turning it into an asset to celebrate rather than something to hide. Contemporary artisans — from David N. Ebner, on New York's Long Island; to Brazilian designer Zanini de Zanine Caldas — still put into practice methods based on this principle.
Serious biophilic design theoreticians would no doubt take issue with some of these analogies, protesting that biophilic design is not about decorating with flowery fabrics and accessories but about creating meaningful relationships with nature. Indeed, some aesthetic genres — Rococo, anyone? — exploited nature purely for decorative purposes, then dipped their interpretations in bronze doré or applied gold leaf. You could call it, without speaking metaphorically, gilding the lily.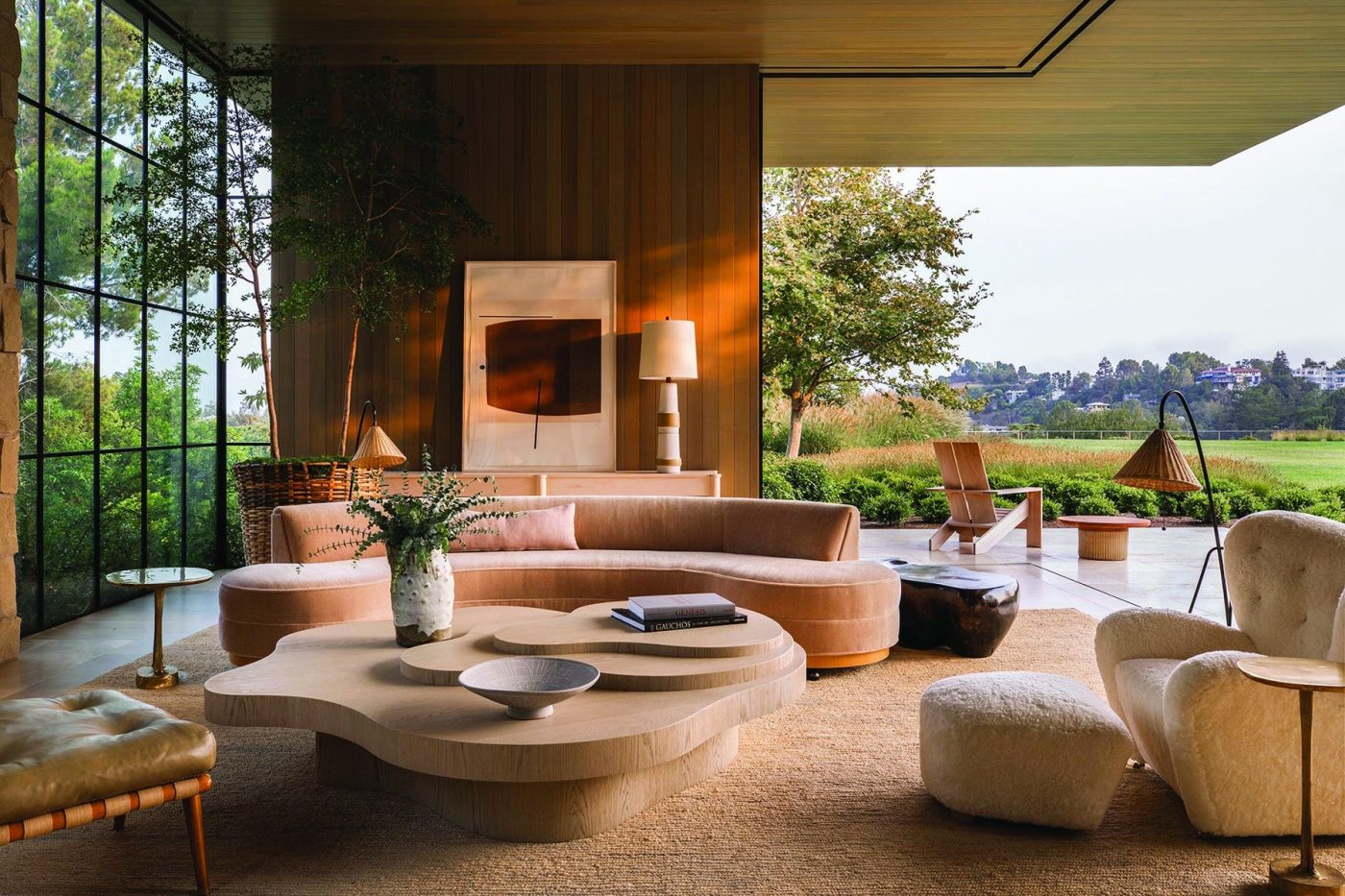 But it seems evident that architecture and design are returning to nature in more appreciative ways. Thus, we have furniture that responds to contemporary realities like the climate crisis through the use of an increasing number of sustainably harvested materials. Then, there's the push to inject greenery into our cities (witness the popularity of vertical gardens), the unwavering desire for spaces flooded with natural light and the rise of faux-bois furniture, which is more chic than it has ever been. We could even view the current revival of green palettes and chintz as celebrations of the living, growing things that are increasingly in danger of being lost.
Indeed, everywhere you turn, design seems to be following Joni Mitchell's imperative: We've got to get ourselves back to the garden.