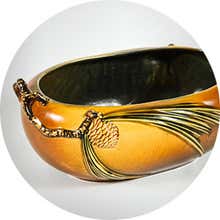 Roseville Pottery (USA)
Along with Stickley furniture and the copper lamps of Dirk van Erp, the works of the Roseville Pottery are treasured staples of the American Arts and Crafts movement. The straightforward naturalism of Roseville ceramics represent a frank, American aesthetic distinct from the more stylized European Art Nouveau works of the same period. Roseville Pottery works are the essence of honest artisanry.
     Founded in Roseville, Ohio in 1890, the company originally focused on flowerpots, mixing bowls, and other household items, but branched out into art pottery in 1900. Roseville pieces typically feature decorative motifs inspired by nature—the company's Pinecone and Blackberry patterns are perennial favorites among collectors—and glazes in warm, earthy shades of brown and gold. The Pinecone pattern was the brainchild of art director Frank Ferrell, who sculpted the prototype for each piece by hand. His most successful ideas went into mass production, while others were limited to only a few experimental pieces. These "experimentals" are now the most sought-after Roseville wares—look for the company's hallmark on the bottom or side of a piece, along with a number or (in some cases) even a note.
     As you will see from the items on these pages, Roseville Pottery produced ceramics of timeless and enduring warmth and beauty. They merit a place in every collection of American design.
Applied Filters
10 results
Creator
:
Roseville Pottery
Clear All